Finding out the unique and old by driving the Apache Trail in Arizona
Anyone looking for a unique Southwestern experience just outside of the busy metropolitan area of Phoenix should take the time to explore the Apache Trail. This off the radar road trip and attraction mostly known by locals takes you back immediately to the desert landscape, mountains and history of the Southwest still untamed.  You will love this fantastic drive along the Apache Trail to some spectacular vistas and amazing landscapes along the way. Check out all the highlights of driving the Apache Trail in Arizona below.
Exploring the scenic wonders of the Apache Trail
Although the area is a favorite spot for locals coming to use the lake for water recreation, the areas just past the reservoir at Canyon lake are relatively quiet when you pass Tortilla Flats where the roads eventually become dirt roads leading all the way to Roosevelt Lake.
This scenic road takes you past Apache Junction through Superstition Mountains, old mining and Ghost town venues, Tortilla flats, one lane bridges and a variety of sparkling blue lakes and reservoirs until you make it to the main destination at Roosevelt Lake. Following are some highlights of what you will see when you visit the area.

Goldfield Ghost Town
Just outside of Apache Junction is the first attraction just to the left side of AZ 88 with a series of old run down buildings resembling an old ghost town with a gold mine called the Lost Dutchman mine which supposedly was mined by a sole individual. The town itself is more of a tourist destination but filled with unique architecture and artifacts scattered around the area make it a worthwhile stop if not for taking some interesting shots of the town and mine.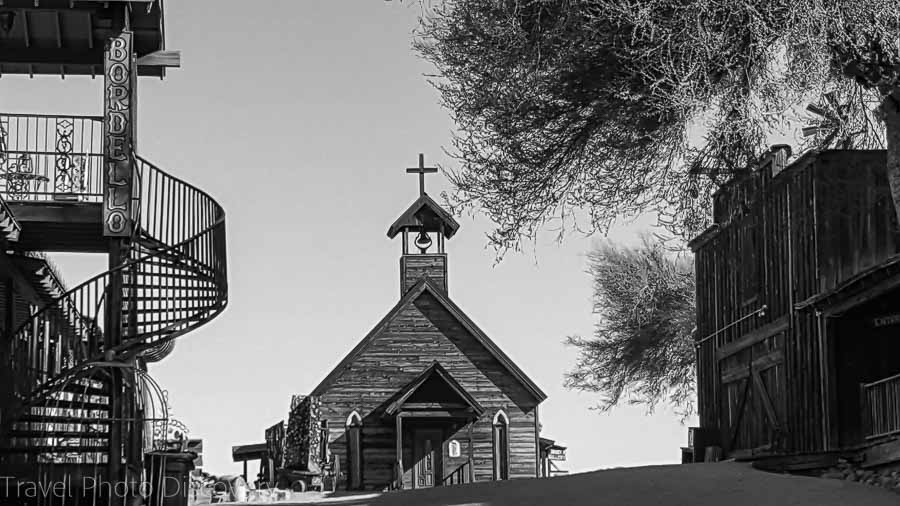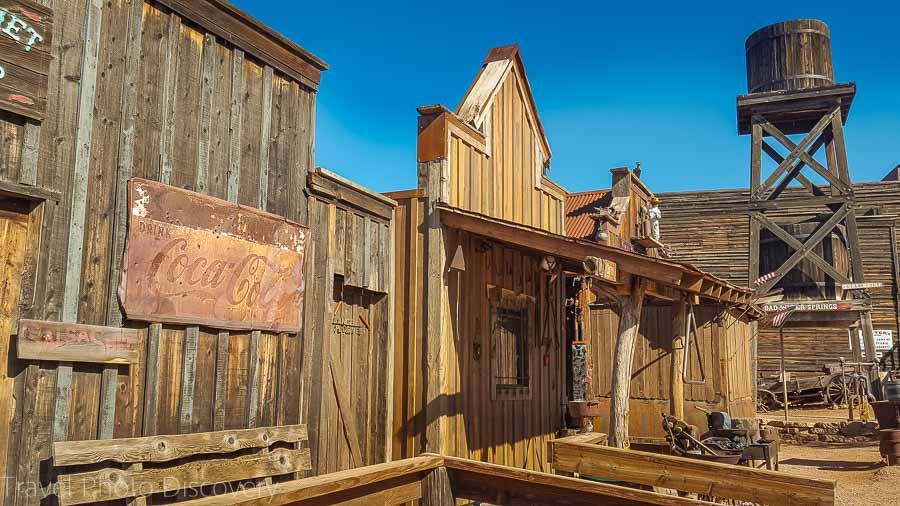 Superstition Mountain and Lost Dutchman State Park
A huge solitary rock jutting out into the desert landscape designates the Lost Dutchman State Park with a series of trails that lead up into the Superstition wilderness and mountain. If you have time to explore the park and take some of the trails to the mountain peaks,  the views from above would be spectacular. For  more information about the park and trails, you can check out their website here for more details.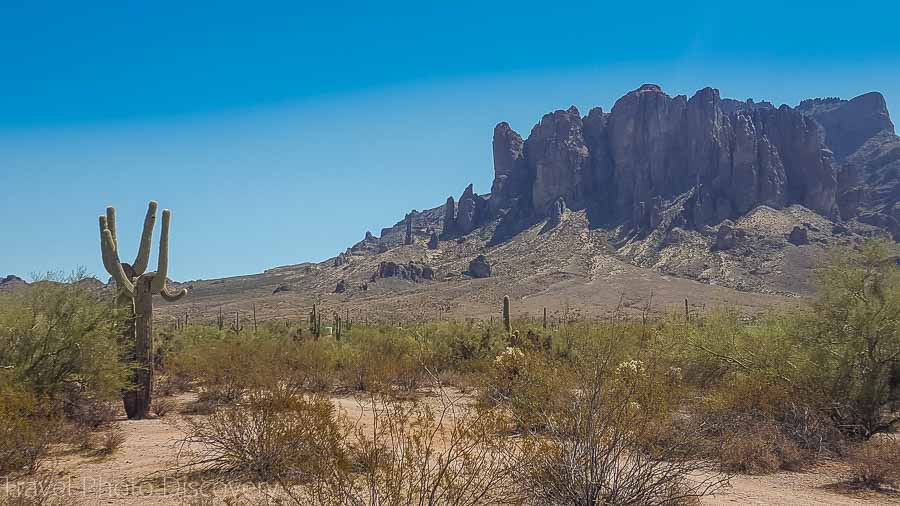 Elvis chapel and Superstitious Mountain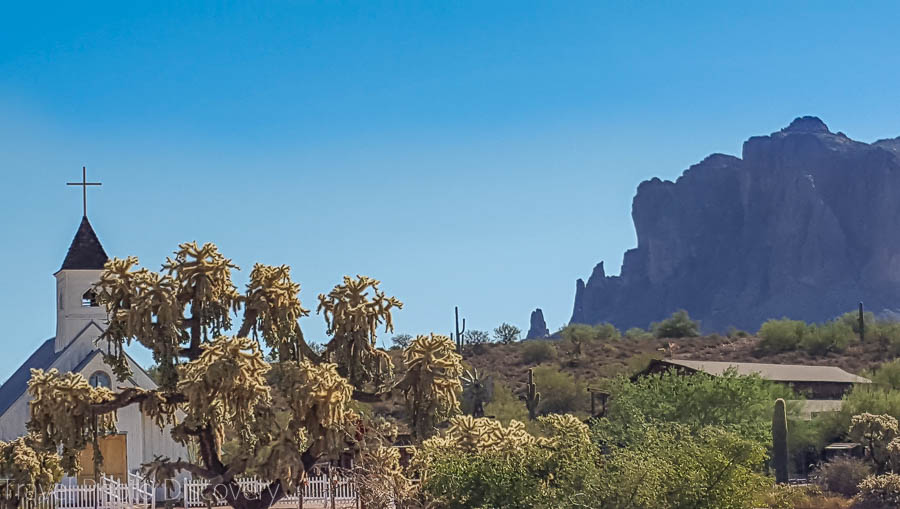 Canyon Lake
While driving through Tonto National Forest, the first lake you will come across will be Canyon Lake (there is a nice vista point at the top of the hill before the road starts downhill). A lake created by damming the Salt river, Canyon Lake is very popular with boaters, fishing and other water related recreation. The views at many of the vista points and boat launches is worth a stop and enjoying the magnificent views around the lake. There are a variety of trails you can take with more vistas, remote streams and canyons including Fish Creek and La Barge Canyon.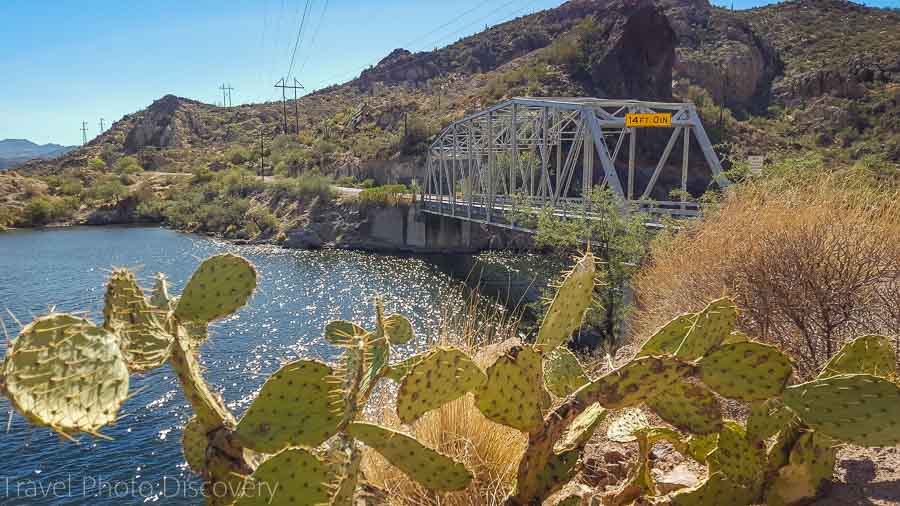 A series of Single lane bridges at Canyon Lake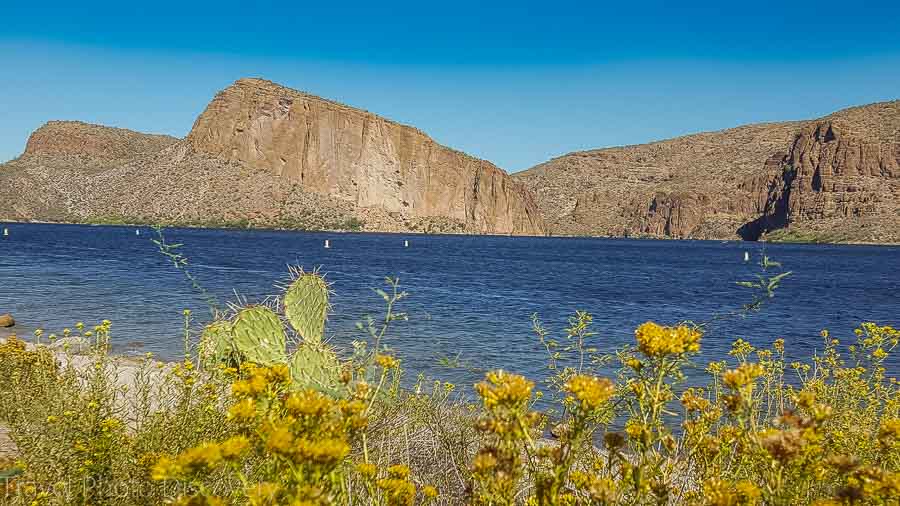 Tortilla Flat
You'll eventually come across a pit stop called Tortilla Flat, an old western settlement with a general store, café and bar along with a scattering of old farm and mining equipment and western memorabilia around the buildings. The fun bar is lined with dollar bills all over the front and bar area and is worth a drink or just look-see-photograph opportunity.
Dollar bills line the bar walls at Tortilla Flat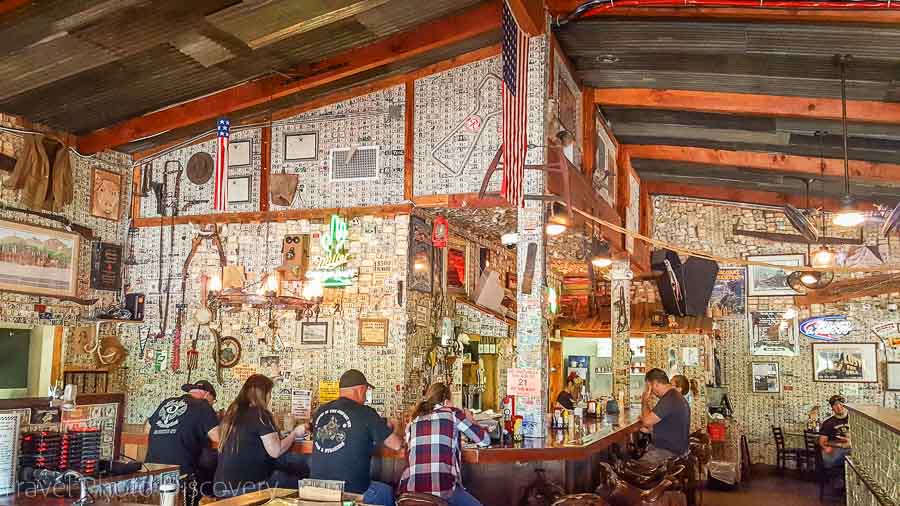 Apache Lake
Driving further down mostly dirt roads, the drive becomes slower and after about 28 miles leads to the larger Apache Lake with limited access to the water and recreation areas. This is the second largest of the four Salt River reservoirs and just like Canyon Lake is a popular recreation and watersport area. The resort area also has a marina, RV park and three motels and a campground for overnight stays.
 
Water recreation and sport on Apache Lake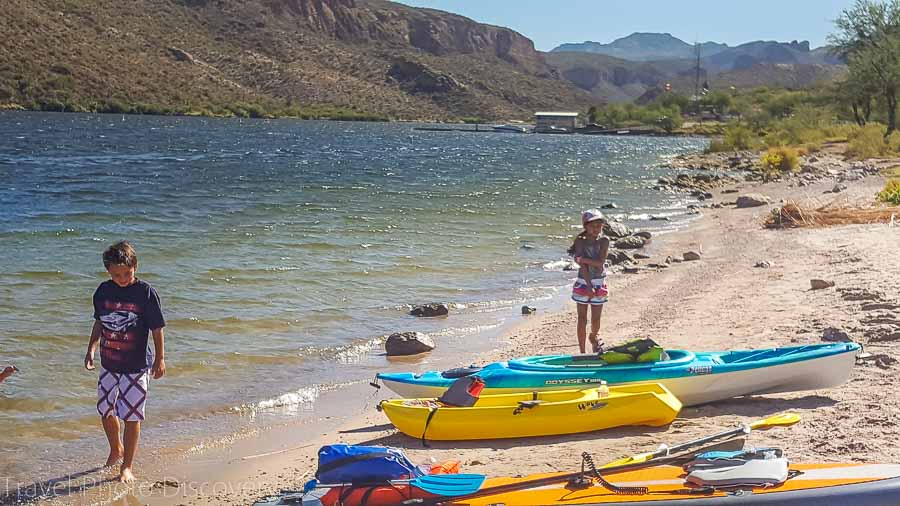 Roosevelt Lake
With the completion of the Roosevelt dam in 1911, Roosevelt Lake is known as one of the largest man made lakes in the United States.  The Theodore Roosevelt Dam is impressive at a height of almost 300 feet and is one of the largest masonry dams in the world. The lake, water distribution system and dam have all created more fertile agricultural land within the Arizona desert and Phoenix metropolitan area.  The lake area is also very popular for water sports, fishing and camping along with many wildlife preserves along the lake.
How to get there
East of Phoenix at Highway 60 and Apache Junction (look for Apache Junction exit on Highway 60) – the Apache trail is also known as Highway AZ 88. The two lane road is paved from Apache Junction all the way past Tortilla flats and after a few miles becomes mostly dirt road. The 40 miles of road is varied from paved to dirt road on steep, winding and relatively slow roads on the dirt areas.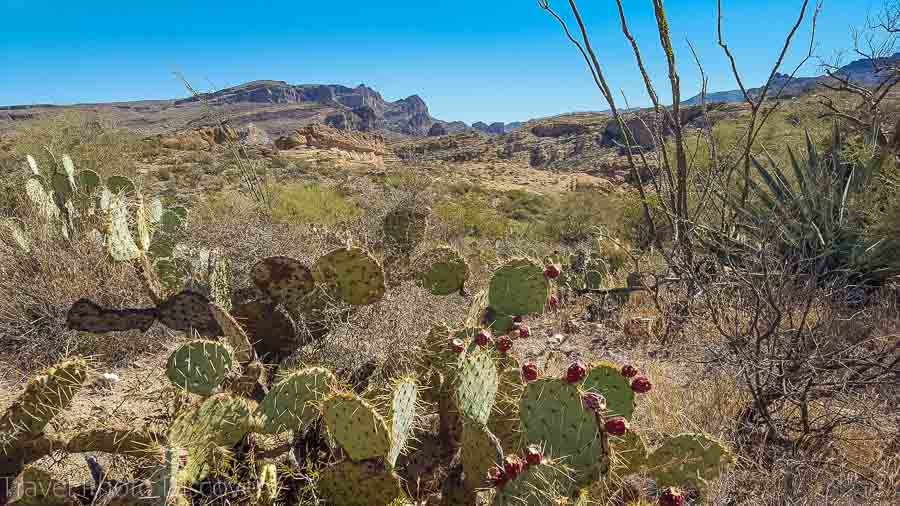 Details if you drive the Apache Trail
Since the Apache trail is mostly a dirt road leading up to Roosevelt Lake and dam, make sure that your car is in good shape since most of the drive is fairly remote. Rental car situation are fine since the road is well maintained and you will be driving relatively slow on some of the winding portions of the trail. For information on car rental agencies that will give you the best coverage and prices check out the following rental agencies below
Priceline car rentals and bid up to 40% off current rental rates
Hertz Rental cars, save 40% when you pay now
Travelocity Car rentals for current prices and availability
Where to stay close to the Apache area or Phoenix Metropolitan
There are plenty of accommodations within the Phoenix metropolitan area, but closer to the Apache trail you can find limited motels in the Apache Junction area or the resort areas along Apached Lake and Roosevelt Lake.   Depending on whether you want to just take a day trip or extend your stay along the Apache Trail, you can find accommodations by using these popular hotel sites below – if you book through this post, it does help support my website.
Trip Advisor Phoenix deals and reviews
Price line current prices and promotions for Phoenix Metro area
Hotels.com in the general Phoenix Metro area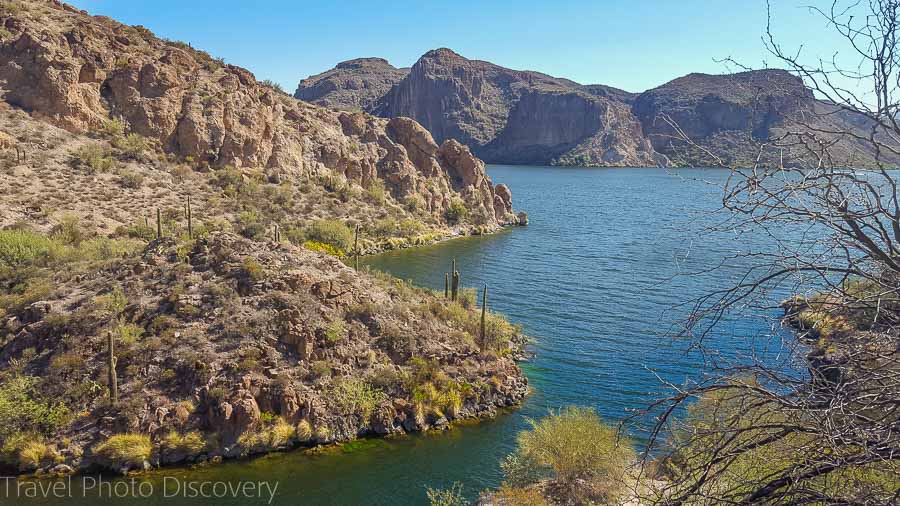 Check out these other Arizona posts below
Road trip from Sedona to Jerome
Things to do around Flagstaff, Arizona
Getaway weekend to Phoenix Arizona
Road trip to Walnut Canyon National Park
Road trip to Waputki National Monument
Best places to photograph Sedona
Visiting Sedona landscapes and photography
Exploring the Montezuma cliff dwellings
Have you been through the Apache Trail outside Phoenix?
Did you want to travel and experience this historic and cool area outside of Phoenix area? Please share your thoughts below.
Thanks for visiting today and checking out this post on Driving the Apache Trail in Arizona, hopefully you will be able to see and experience this fascinating southernmost island in the Florida Keys. If you enjoyed the images and post, could you please share it with any of the social media buttons located around the post.
If you like what you see, come and check out my other social media channels for more updates, including Instagram, Pinterest and Twitter
Note – this site contains affiliate links and if you do purchase directly from this post, it does help to support my site, thank you very much for doing so.