Get up close with wildlife and explore diverse gardens at Living Desert Zoo. An unforgettable adventure for nature lovers of all ages
Welcome to Living Desert Zoo and Gardens, where you'll find all sorts of wild and wonderful creatures! Get ready to have some fun and meet some furry, feathered, and scaly friends from around the world. You can also check out our beautiful botanical gardens with exotic plants and gorgeous flowers. Whether you're a nature lover, animal enthusiast, or just want to have a good time, Living Desert Zoo and Gardens has got you covered. So why wait?
Visiting the Living Desert Zoo and gardens in my experience is a unique, colorful and wonderful way to see and enjoy nature, wildlife and beautiful landscape all in one place.
Let's go on an adventure and explore all that this amazing place has to offer!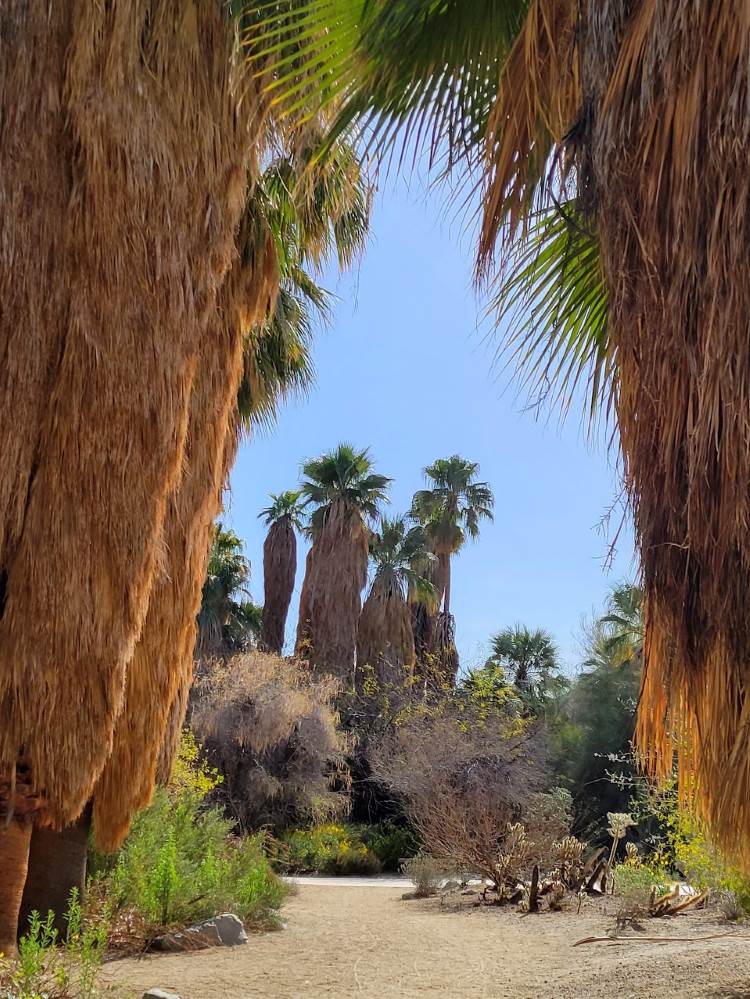 How to get to the Living Desert Zoo and Gardens
If you're coming from Palm Springs, the easiest way to reach Living Desert Zoo and Gardens is to take CA-111 S and then merge onto I-10 E. After driving for approximately 13 miles, take exit 135 for Monterey Avenue and turn right onto it. From there, make a left turn onto Portola Avenue, followed by a right turn onto Desert Willow Drive. You'll find the entrance to Living Desert on your right-hand side. Depending on traffic conditions, the journey should take around 25 minutes.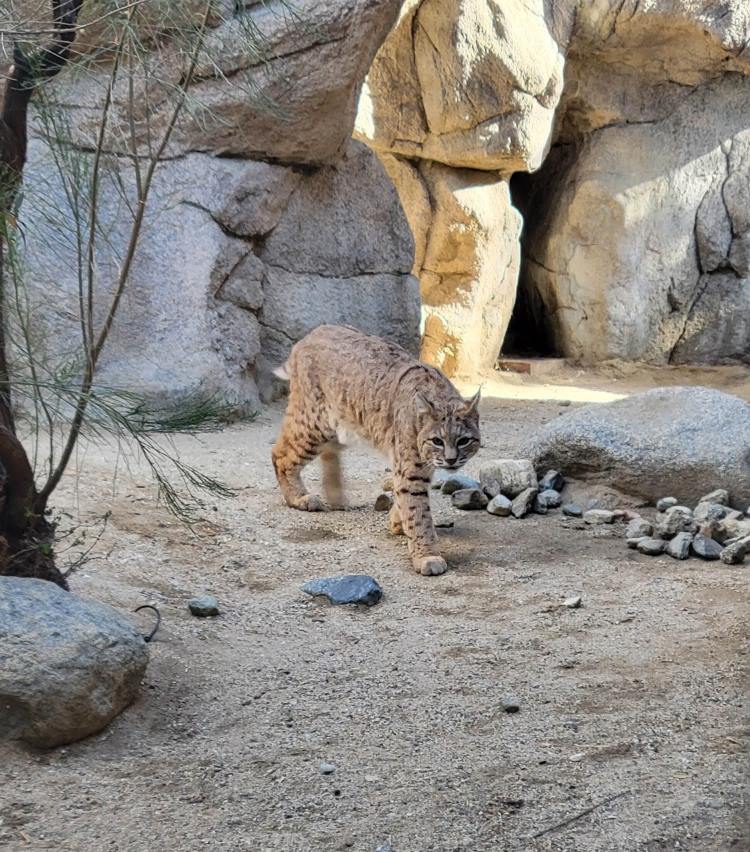 Highlights to visiting the Living Desert Zoo and Gardens
Living Desert Zoo and Gardens has numerous must-see attractions
African Safari is a guided tour through the savannah where visitors can see giraffes, cheetahs, and zebras up close
Endangered Species Carousel features beautifully crafted endangered animals such as gorillas, elephants, and tigers
Jaguar Habitat allows guests to observe powerful cats lounging, playing, and hunting
Gecko Gulch is a desert habitat exhibit of fascinating lizards with unique adaptations
Wildlife Wonders Show is a live animal show with birds of prey, reptiles, and other creatures
Visitors are sure to make unforgettable memories at Living Desert, whether they're first-time visitors or seasoned regulars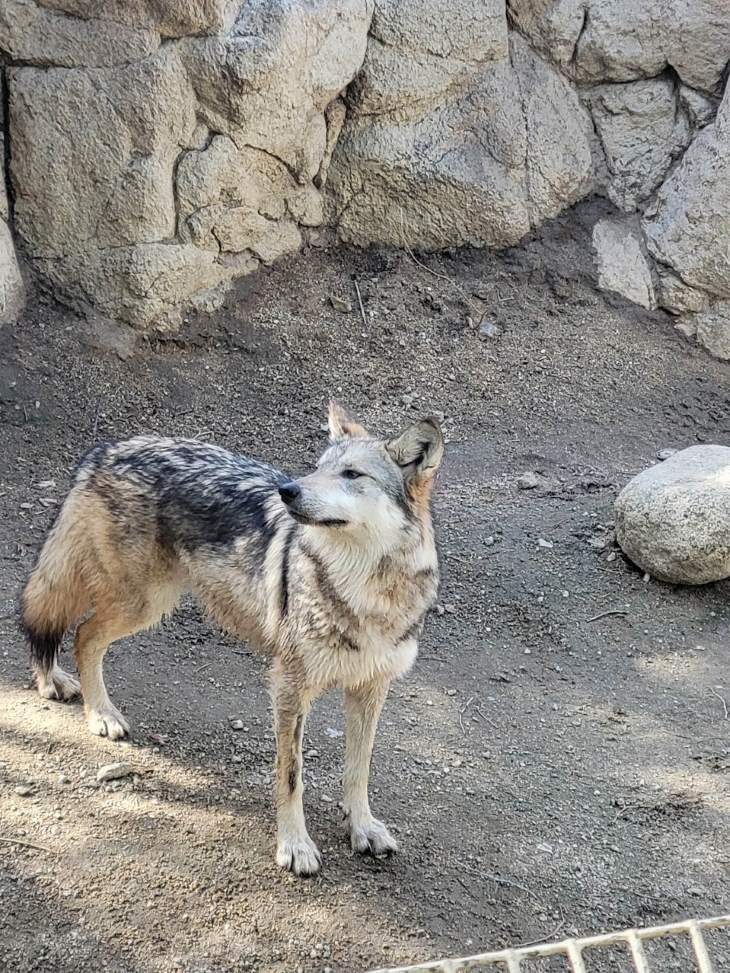 Very natural habitat for native animals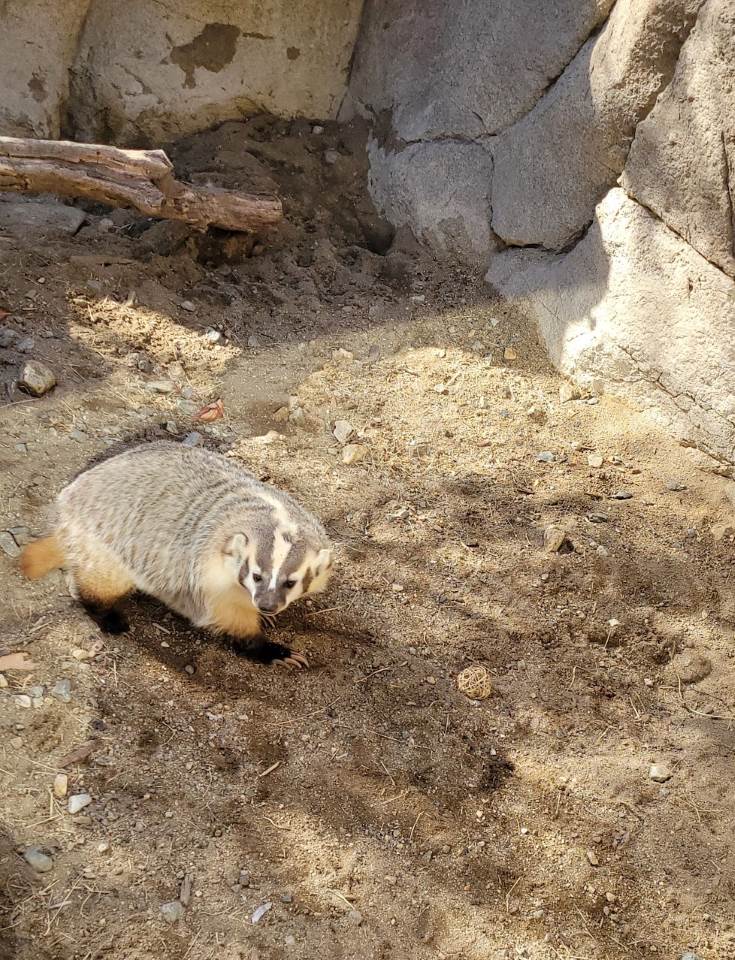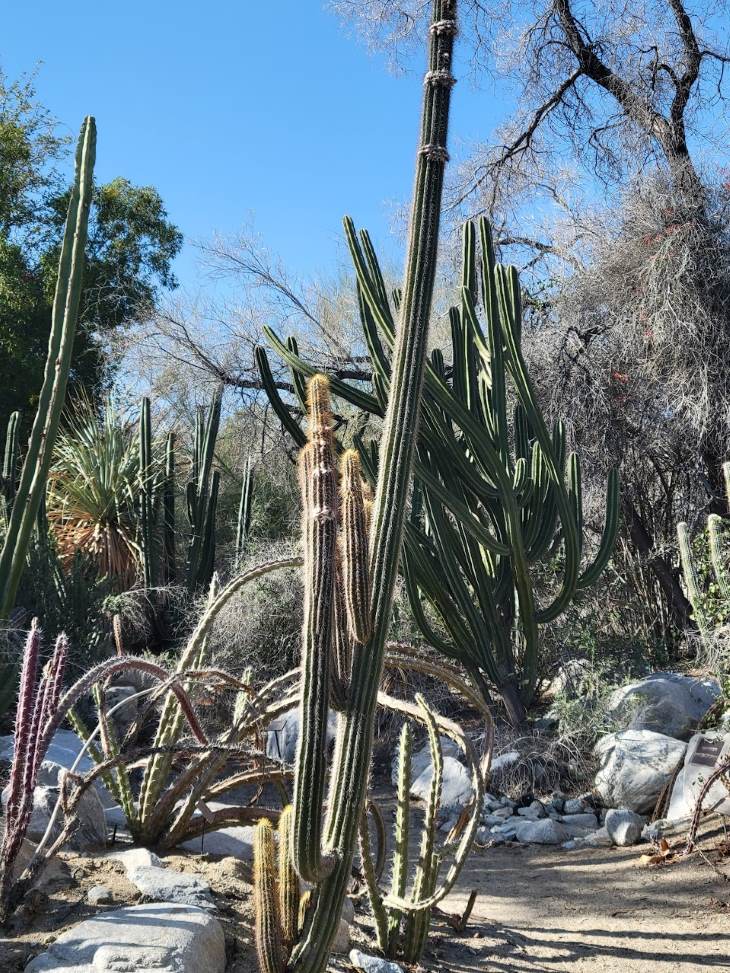 Visit the impressive Botanical Gardens at the Living Desert
The zoo features a beautiful botanical garden with exotic plant species from around the world.
Visitors can enjoy vibrant blooms and unique cacti in the garden.
The botanical garden is divided into different sections, each with different themes and landscapes.
The North American Desert section showcases plants and animals native to the region, while the African section highlights the flora and fauna of the savannah.
The Australian Garden section displays plants from the continent and showcases the country's diverse landscapes.
The Mojave Desert Garden showcases unique plants that are well-adapted to the harsh desert climate.
Visitors can observe the life cycle of butterflies at the butterfly exhibit.
The botanical garden provides a perfect opportunity to relax, learn, and appreciate the beauty of nature.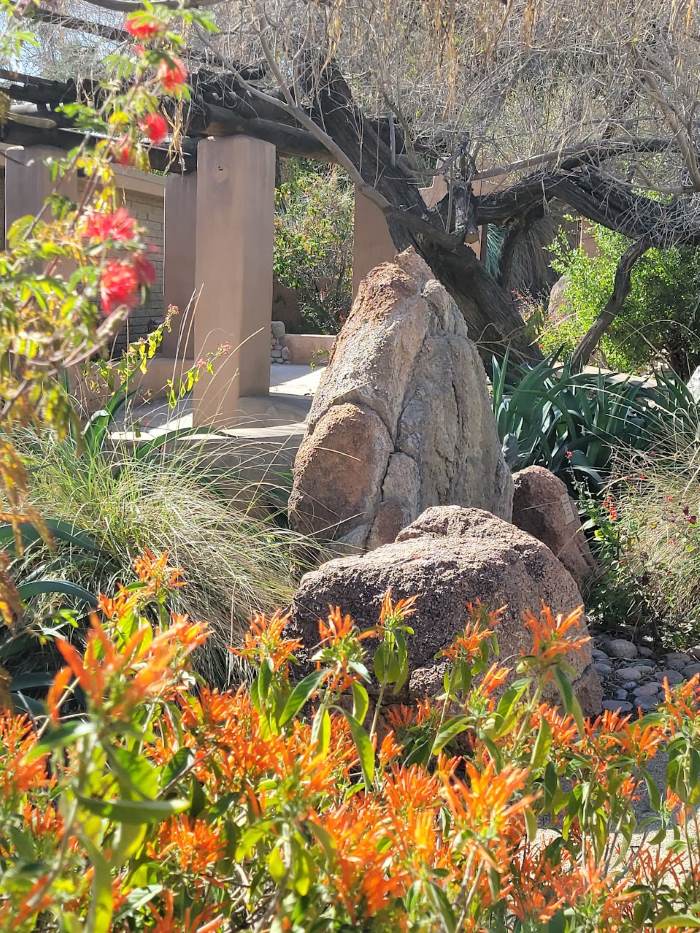 Home demonstration garden
There are a few home demonstration gardens with outdoor rooms to mimic the typical desert environment in a home environment and using arid and desert landscape and plants. It is a fun way to explore and imagine creating your own private outdoor space that is inviting and not just a typical cactus or succulent garden in this hot and dry climate.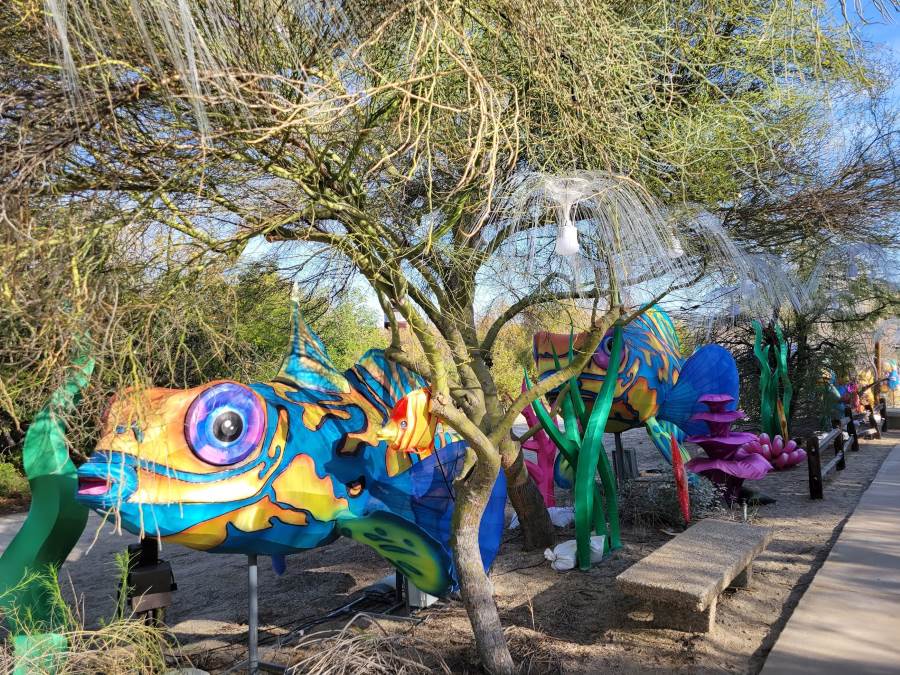 Kid Focused Exhibits and discovery areas
Outside of the zoo exhibits there's so many fantastic kid friendly discovery centers around the park grounds starting with this fabulous merry go round with whimsical characters that just draw you in for a fun ride on this colorful ride.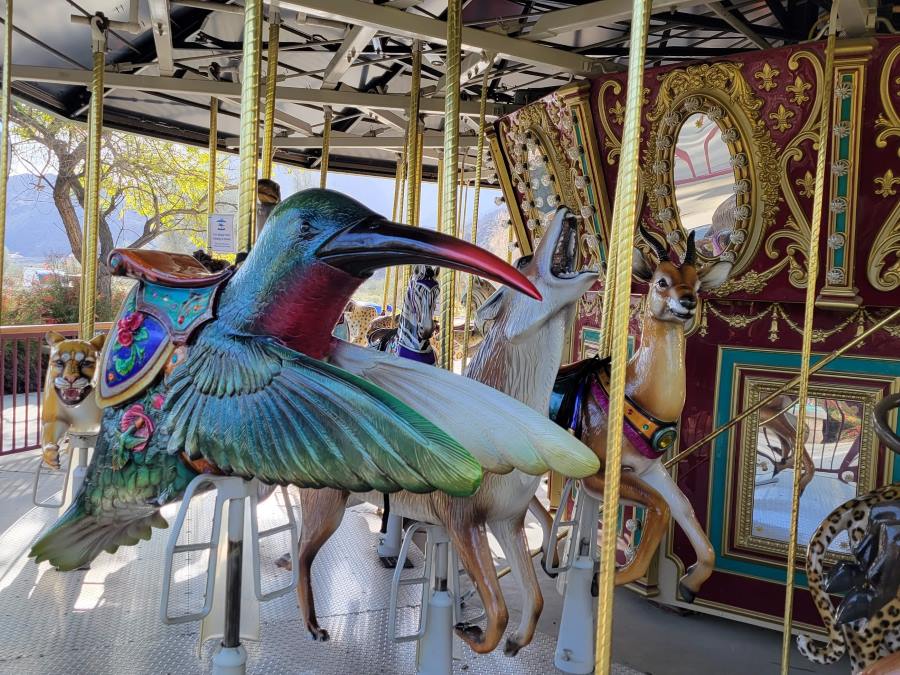 Outdoor Train Exhibits
Towards the entrance of the zoo area is an expansive outdoor railroad display that is so much fun with animated areas, moving trains and depictions of western towns and landscapes that mimics real life environments. You'll see dressed up train engineers that love to share some story and background to this really amazing exhibit kids naturally flock to and enjoy viewing.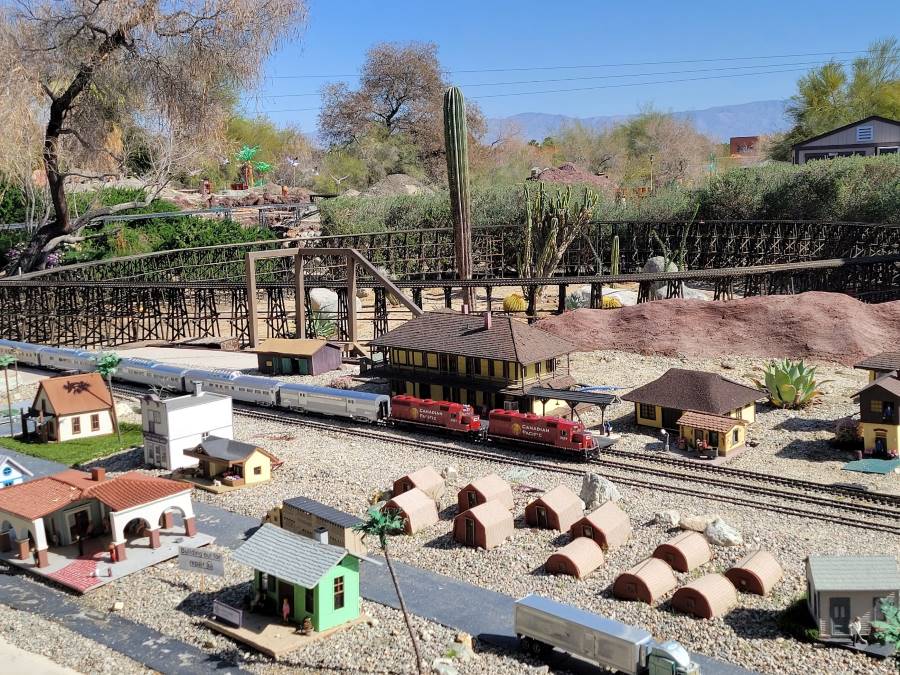 So many amazing displays, towns and landscapes in this outdoor train exhibit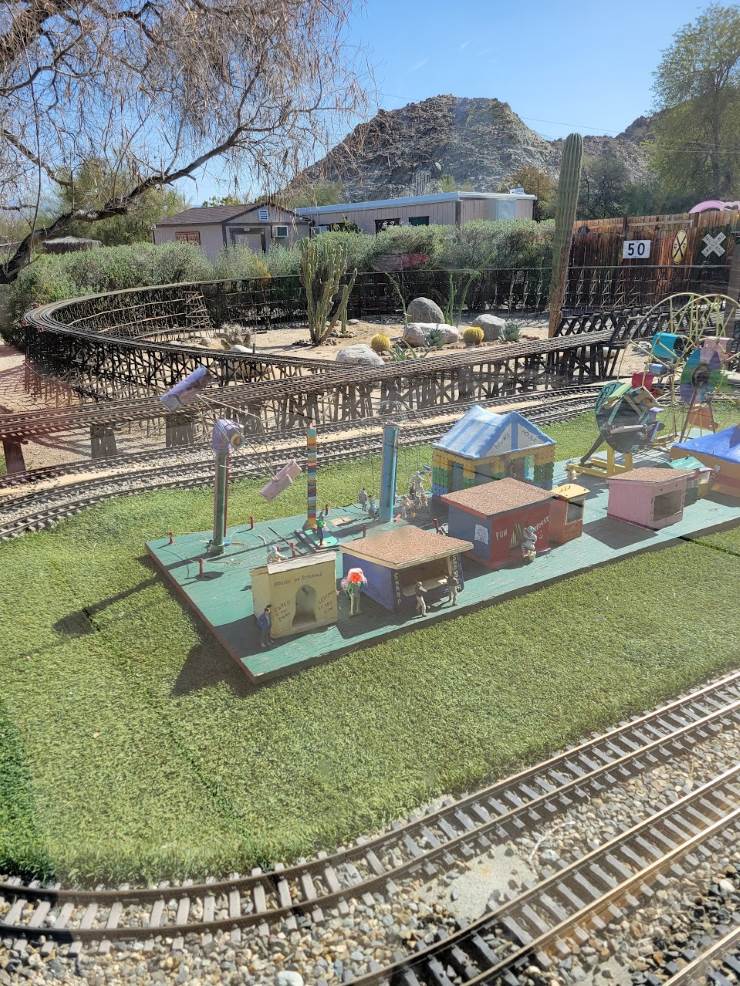 Glow in the Park Exhibit
This fabulous night exhibit called Glow in the Park is a popular experience for both kids and adults. You'll find these super-sized and surreal blow up and lit up exhibits that just take you to another magical world. Lit up at night time, this is the thing to experience with children or just adults at heart looking for fun, colorful and an entirely different experience to do at nighttime. The GLow in the Dark event is a totally separate experience from the day time park visit, but you can purchase a combo visit pass to see both events. Check out the details to this event below.
You'll just have to imagine what these fantastical scenes would look like at night time wandering around these lit sculptural pieces and fun displays in so many different themes to explore.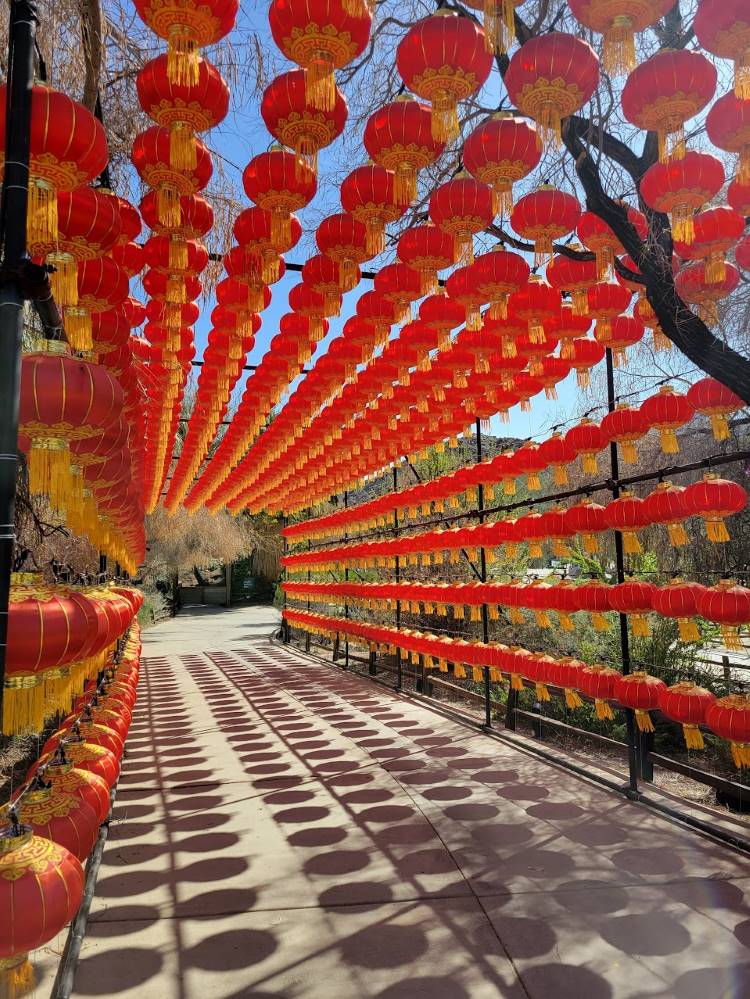 This would be so magical at night time, wouldn't you agree?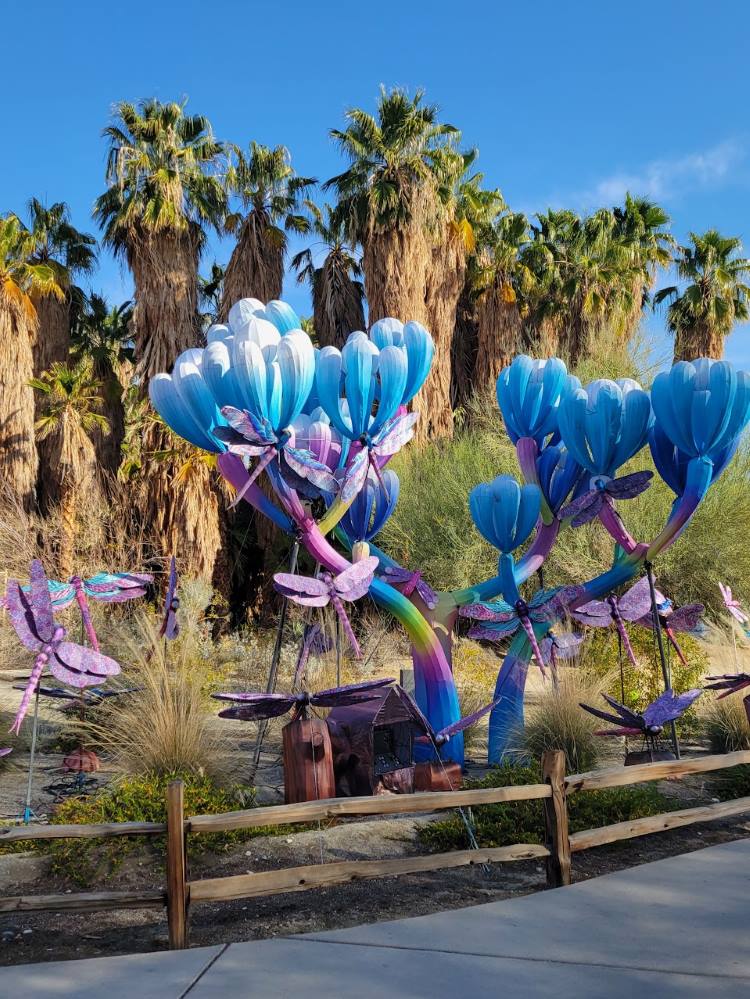 To find out more details on the Glow in the Park event and hours, check out their webiste here for more details.
Discovery areas for children at the zoo park area
Outside of visiting the zoo areas, there are regular events that happen at the Living Zoo that make it a really fun and special experience for children to learn and enjoy their visit.
You can learn more about these special events here for more information and fun things to do with kids at the Living Zoo. There's also camp, lecture series and field trips or virtual experiences available for children to participate in.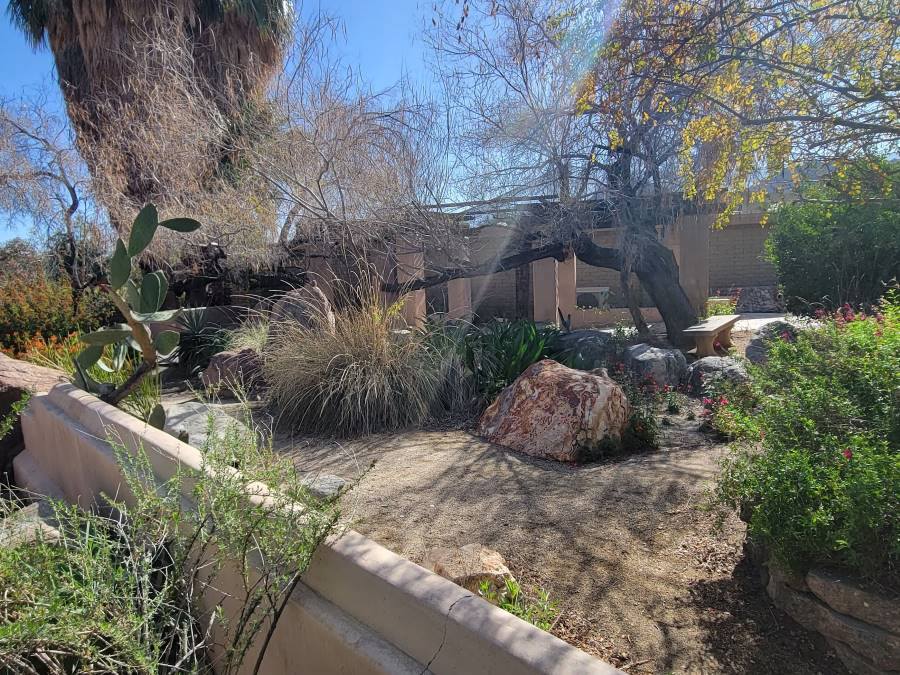 Some tips on how to visit the Living Desert Zoo and Gardens
Here is the outline for some tips on how to visit the Living Desert Zoo and Gardens:
Plan ahead: Check the hours of operation, ticket prices, and any special events or exhibits that may be happening during your visit.
Wear comfortable clothing and shoes: Ensure that you wear comfortable clothing and shoes appropriate for the weather, as you will be doing a lot of walking.
Bring sunscreen and a hat: The desert sun can be strong, so it is advisable to protect yourself with sunscreen and a hat.
Bring water: It's crucial to stay hydrated, especially in the desert climate. Bring a refillable water bottle or purchase water at one of the park's concession stands.
Follow the rules: Respect the animals and the environment by following the park's rules and regulations. Stay on designated paths, do not feed the animals, and dispose of trash properly.
Take advantage of the guided tours: The Living Desert offers guided tours that can enhance your experience and provide you with more information about the animals and exhibits.
Take your time: Don't rush through the park. Take your time to fully appreciate and enjoy all that the Living Desert has to offer.
Explore these other places of interest in the Palm Springs area
Check out these other posts visiting Palm Springs
If you are visiting the Palm Springs area, check out these other fun attractions and places to visit in the area.
Visit to Indian Canyons at Palm Springs
Explore these top attractions in Palm Springs
The Cabot Museum in Desert Hot Springs
Palm Springs to Joshua Tree National Park
Palm Springs References
If you are planning on visiting Palm Springs area and this museum check out their websites
The Living Desert Zoo and Gardens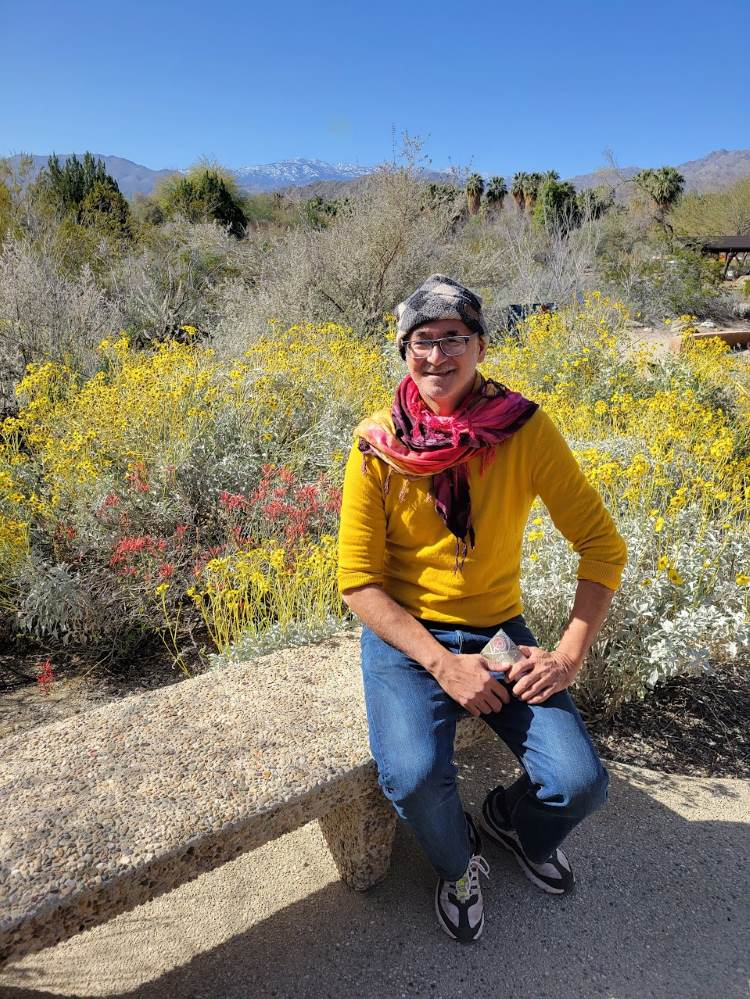 Conclusion to visiting Living Desert Zoo and gardens
Exploring the Living Desert Zoo and Gardens is an unforgettable adventure that allows you to connect with nature and discover the wonders of diverse ecosystems. With attractions like the African Safari and the botanical gardens, there's something for everyone to enjoy. By following these tips and taking your time to discover the park's beauty, you're sure to create lasting memories. So, plan your visit now and get ready for an experience that will stay with you forever!
I hope that this post has been helpful to planning your visit to the city and if so, please do share it with any of the social media channels and buttons located below.
Disclosure – some of the links above are to affiliate sites that are either reviews or recommendations if you book helps to keep our site running at no additional cost to you. We appreciate your supporting our website meanwhile.
Sharing is caring 🙂