Travel bloggers share a perfect romantic getaway
for Valentines day
So it's just around the corner and you have no idea about what to do for that special someone in your life….how about traveling somewhere romantic as a getaway? Here are some of the most romantic places to visit around the world from travel bloggers sharing some of the best places to visit.
Crete, Greece
"Chania on the Greek island of Crete is well-known among honeymooners. The calm old harbour is ringed by restaurants and bars with plenty of outdoor seating to you can gaze out across the sea. Or walk along the sea wall with your sweet heart and watch as the sun dips over the town."
Jade Johnston http://ouroyster.com/
Lovers Bridge Paris (Pont de l'Archeveche)
Lovers from all over the world attach 'love locks' to the bridges in Paris as a symbol of everlasting love.  Together, they then throw the key in to the Seine river below.  It is the ultimate romantic gesture for everlasting love.  This concept is now seen in many countries all over the world, not just in Paris.
Nicole Connolly (& Michael Wright)
Suitcase Stories www.suitcasestories.com
Cape Town, South Africa
"Cape Town is a wonderful city to visit, whatever the time of year, but especially for Valentines. There is so much of interest here, whether it be a romantic trip to the top of Table Mountain, venturing along the Garden Route, or doing something a little bit different such as making your own perfume at Kumanov Cosmetics. It's also a great location for seeing some spectacular sunsets. This shot was taken from the terrace at the 12 Apostles Hotel & Spa at Camps Bay on the outskirts of the city, where you can enjoy a romantic Valentine's dinner."
Maupiti, French Polynesia
Two hours by ferry-boat from Bora Bora lies the most pristine, idyllic and romantic island in French Polynesia: Maupiti. Hardly touched by the tourism industry, and much cheaper than her big sister, Maupiti is Polynesia's hidden gem. To get there: Take the Maupiti Express ferry from Bora Bora in the morning. Once at the dock in Maupiti, hire a bike from one of the local vendors (there are plenty) and ride to the western point of the central island. Leave your bike on the beach and wade across the sandbar in waist-deep water (watch out for the sting rays!) to the isolated motu (outer island ring) surrounding the central peak. My husband and I made the day trip form Bora during our honeymoon three years ago. We spent the day on our "private beach" motu and even indulged in some
skinny dipping
! It was the most romantic day of our honeymoon!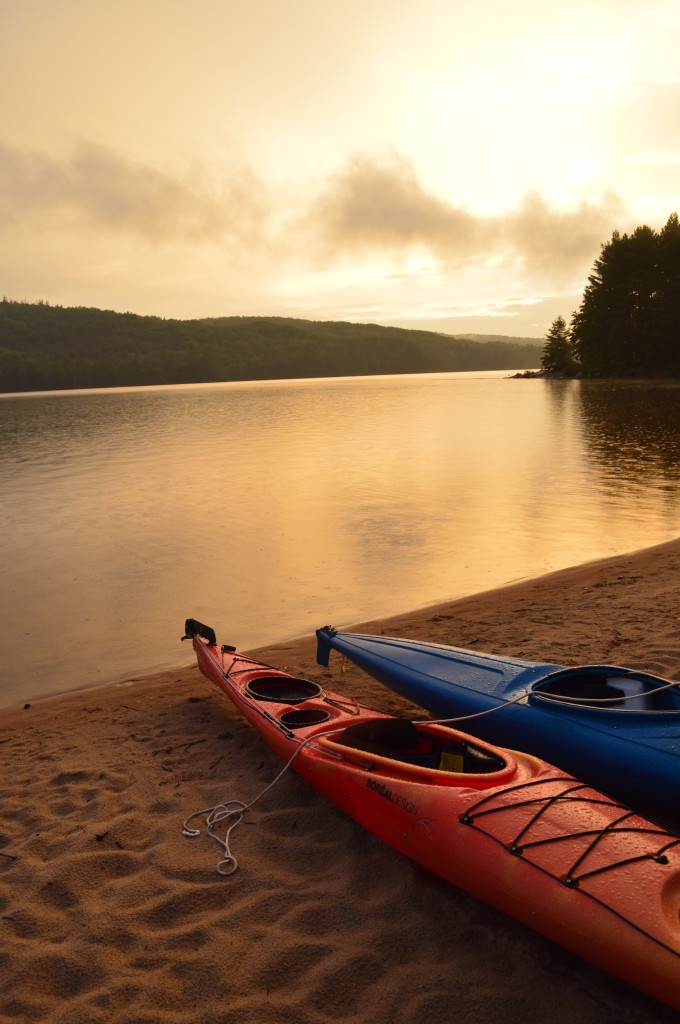 Ontario's Algonquin Park
The piercing cry of the loon reverberates across the polished glass lake. Pine needles fall from above and skittle across the roof of the tent, all while there's a faint crackling of snapping cedar and maple from the neighbour's campfire.
Welcome to Ontario's Algonquin Park. Imagine picnics on the beach, late nights melting Brie and roasting marshmallows on the fire, sipping fine wine from Tupperware. Active folks can channel the romance and mystery of legendary Canadian painter Tom Thompson as they retrace his footsteps around the park, while those more inclined towards relaxation will surely find plenty to do within the confines of the tent
Vanessa Chiasson at www.turnipseedtravel.com
 French Alps
There is no better and more romantic destination for Valentines than French
Alps. Imagine this scenario. You are staying in a lovely and awfully French
mountain village. All covered with snow. Magical white all around. During
the days you go crazy on the snow. During the evenings you enjoy romantic
walks and dinners with some local wine. You can be sure your darling will
thank you in all kind of ways while snuggling by the fireplace in the
chalet. Happy Valentines!
Marysia Maciocha at http://www.mytravelaffairs.com
Perast, Montenegro
"At the top of my list for romantic destinations and Valentine's Day getaways would have to be Perast in Montenegro.  It is in a small old town in a beautiful location, surrounded by mountains in the Bay of Kotor.  You can hire one of the boats at the water's edge with a driver for a trip around the bay and, perhaps, stop off at one or two of the islets, like Our Lady of the Rocks.  Then, in the evening, you can relax with an aperitif as the sun goes down before having a romantic dinner at one of the waterside restaurants, like the one in the photograph."
Prague
Prague might not immediately jump to your mind when you think of romantic holiday getaways, but this Eastern European city has all the trappings of a romantic city. Prague, especially in February, evokes a feeling of having walked into a fairy tale land–the soft snow falling on cobblestone streets; the castle on the hill; the Charles Bridge and winding walkways; the cafe dedicated solely to hot chocolate. It's the perfect place to book a romantic hotel with a view of the Old Town Square and cozy up to your loved one to stay warm.
Vienna, Austria
Vienna does not limit its romantic charms to lovers– instead, romance envelops the entire city, no matter if you arrive in the arms of your partner, in the company of a friend, or completely alone.

Vienna flirts quietly, through the tip of an Alpine hat, the playful piaffe of the graceful Lipizzaner horse and the gentle chiding of the bow-tied waiter in a fin de siècle cafe.  Allow the city to seduce you and you will be rewarded with something far more meaningful than a fleeting affair– the experience of Austrian "gemütlichkeit," a word that defies English translation, but can be felt in the warm welcome, coziness, and unhurried nature of the Viennese people.

Kristin Francis, http://souvenirfinder.com
Opatija, Croatia
Squeezed between the mountains and the sea, this small resort town in Croatia is a perfect romantic getaway. Opatija developed in 19th century as the resort town for international elite and Austrian-Hungarian nobility. The town witnessed many romances and inspired many musicians, artists and writers back in the day. Twelve km long seafront promenade, beautiful parks, gorgeous 19th century architecture, and lovely seafront terraces, make Opatija a perfect place to escape a quotidian with your loved one.
 Ibiza, Spain
When most people think about Ibiza they think of it as an island that doesn't sleep and that it is just one giant party but the truth is there is so much more to the Island. This past summer I had to pleasure of attending a wedding in Ibiza in the town of St. Eulalia and experience a type romanticism I never thought was possible on the notoriously famous party island. Part of the wedding was for the wedding party to go to Cafe Del Mar in Sant Antoni de Portmany for the sunset (seen above). Here I witnessed not only the bride and groom but other couples share a moment of love that I cannot put into words. I even had an intense moment of love, spirituality and peace with a girl I had just met that week during this sunset. It is hard to describe the feeling that comes over you at Cafe Del Mar when watching the sunset but I can definitely tell you that this feeling was the farthest the stereotype that is Ibiza. Sometimes the most romantic of places are where you would least expect it.
Los Cabos, Mexico
Hard to believe we've been married for 32 years but my husband first proposed to me on Valentine's Day that many years ago. You always remember the place and setting on the special days of your life. We were at the historic Maryland Inn in Annapolis on a snowy mid-winter evening. As the years pass, starry-eyed young coupledom tends to give way to the real-life stresses of juggling work, parenting and caregiving, so it's nice to set aside time on the day of love and friendship (Día del amor y la Amistad, as its called in Latin American countries) to relax, remember and restore. Our ritual for the past eight years has been to return to Los Cabos, Mexico where we escape the wrath of cold East Coast winters to bathe in the warmth of the sun and golden sand. Time slows down and makes way for romance when you're watching the waves beat against the rocks and wash up on the shore in between dazzling sunrises and sunsets.
Irene S. Levine, PhD at IreneLevine.com and MoreTimeToTravel.com
17 Mile Drive, Carmel, California
Approaching the 17 Mile Drive situated on the Monterey Peninsula you are likely either visiting to be a part of the golfing legends that have walked the fairways of Pebble Beach or to relax on scenic beaches lining the Pacific Ocean.
However, there is much more to this region that will capture your imagination, especially if you have interest in photography, natural beauty or romantic bliss. Nature is abundant here with the jagged cliffs and rocks being a haven for wildlife, Bird Rock being a perfect example of thousands of species flocking here year round. The Lone Cypress sits proudly, the sole survivor of climatic conditions that batter this stretch of coastline.
To read more about A Brit and A Southerner's experience on the '17 Mile Drive', visit our post here: http://abritandasoutherner.com/2014/01/15/17-mile-drive-on-the-monterey-peninsula/
 Almuncar Costa Tropical, Spain
The Wagoners Abroad tell us why they fell in love with Costa Tropical in the Costa del Sol and the sunny Mediterranean coast of Spain. Here's 65 reasons to reasons to visit their Costa Tropical Spain.
http://wagonersabroad.com/love-costa-tropical-spain/
Saint Lucia
Postcard-worthy, idyllic and breathtaking are all words that get throw around in travel writing far too often; however, Saint Lucia is truly a destination worthy of such descriptions. This romantic destination is filled with powder white sand beaches, translucent blue waters full of colorful corals and tropical fish, all-inclusive hotels that cater to couples with private hot tubs and ocean views, and an array of activities that allow lovers to share unique experiences together. Climb to the top of Gros Piton — a UNESCO World Heritage Site that's also a volcano —  and take in beautiful aerial views; go ziplining through the rainforest; stroll through exotic flora and take a hot spring mineral bath at the Diamond Botanical Garden; ride ATVs along the beach; or just sip a cocktail in your private Infinity pool gazing at a sunset over the iconic Pitons.
Jessica Festa is the editor of Epicure & Culture as well as Jessie on a Journey
Lake Louise, Canada
Lake Louise is the perfect romantic destination for active couples that enjoy spending quality time together, surrounded by nature's beauty. Lake Louise is a joy to visit in any season, but has a lot to offer couples looking to embrace winter while rekindling the spark.

Couples can enjoy ice-skating on Lake Louise, the Victoria Glacier and snow covered Rocky Mountains setting the perfect romantic scene. Each year, an intricate ice castle is built to highlight one of the world's most breathtaking skating rinks. Dog sledding is another favorite activity for couples visiting Lake Louise. It doesn't get any better
than being snuggled together under warm blankets as you glide by the mountainous peaks.


By Rhonda Krause of Travel? Yes Please! http://www.travelyesplease.com


Hawaii at Sunset
There's nothing like being at any of the Hawaiian Islands during sunset timeframe….yes it's cliché but ever wonder why it's the most popular honeymoon destination?  Well it could be the sunsets, an amazing dinner facing the evening event and maybe a little stroll on the beach after dinner? There are gorgeous road trips to scenic beaches or snorkeling spots, beautiful hikes in a rain forest or waterfall, even a romantic sail at sunset, it's all ready if you have an adventurous or romantic nature.
Noel Morata at https://travelphotodiscovery.com
Hopefully this has put you in a romantic mood and maybe consider any of these Valentine getaways or even something more local to your home town. Really, just spending some quality, enjoying a view or sunset and appreciate the simple moments in life together that's a wonderful way to celebrate any day together.
If you enjoyed this, please pin it!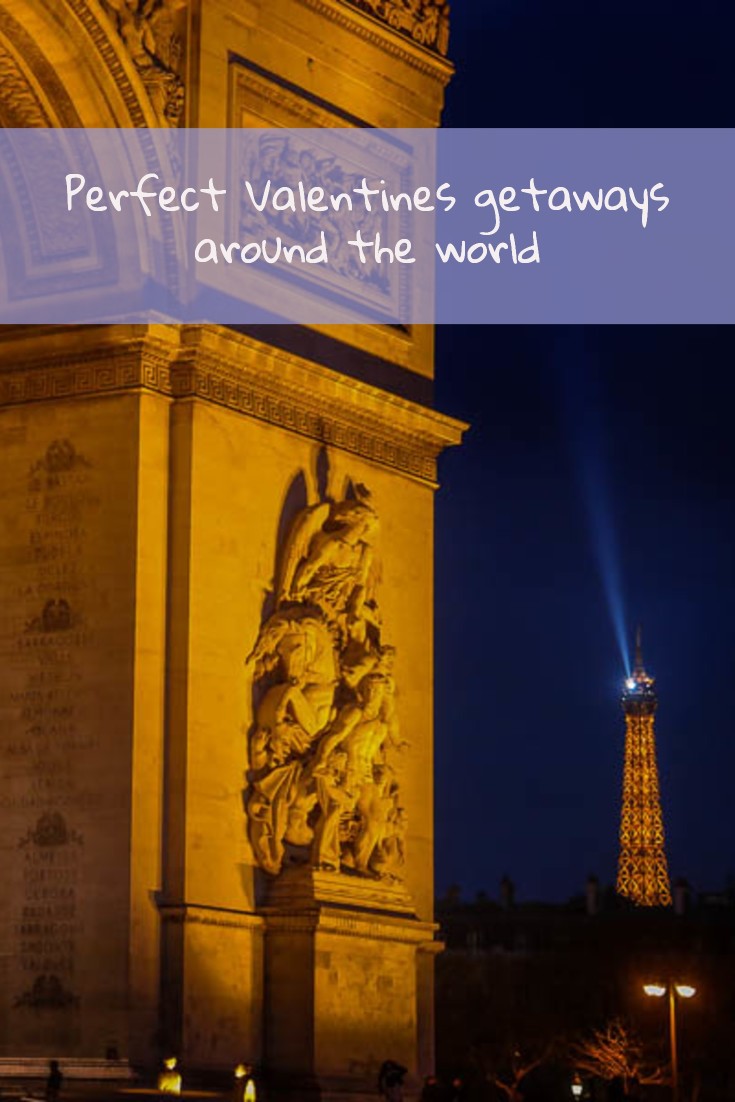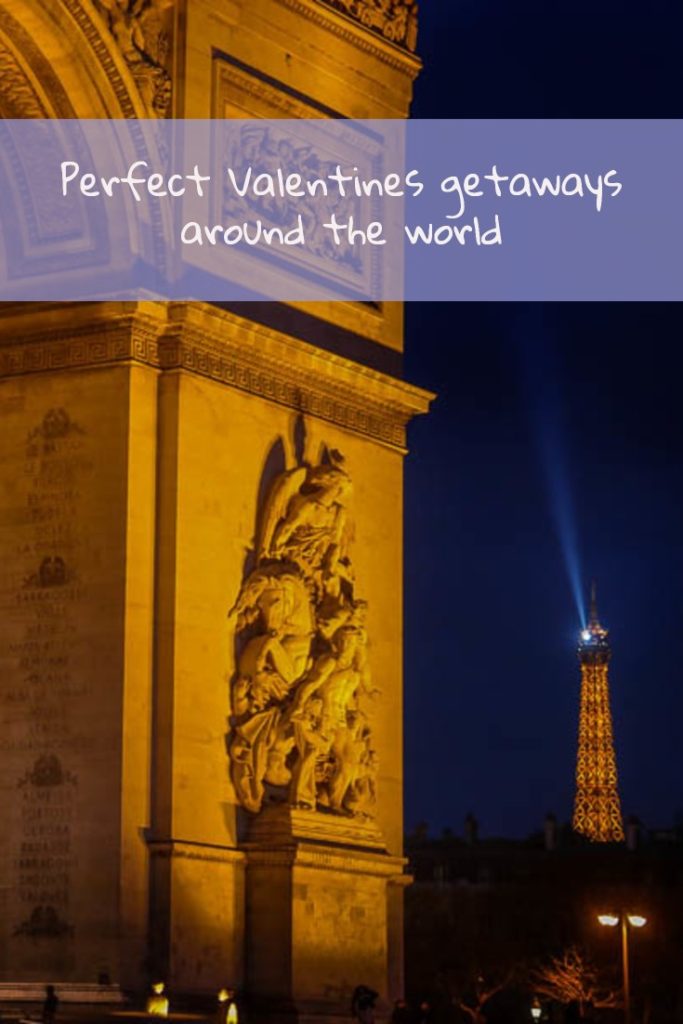 If you enjoyed the post on Travel bloggers share a perfect romantic getaway for Valentines day, please do share it with any of the social media buttons below, thanks so much!