14 Best Things To Do In Whistler, BC Year-Round 
Whistler is a stunning Canadian alpine town that's just 2 hours from downtown Vancouver, and has made a name for itself as one of the top ski destinations in North America. Many people don't realize, however, that Whistler is also an exciting destination to visit year-round, and offers incredible hiking opportunities, nature walks, and thrilling outdoor activities that make for the perfect adventure getaway in the mountains. To help you plan your trip, here are the best things to do in Whistler that should definitely be on your itinerary.
Best Things To Do In Whistler

1. Ride The Peak 2 Peak Gondola
One of the best things to do in Whistler that you don't want to miss is riding the Peak 2 Peak Gondola, which was also named as one of the top landmarks in Canada by TripAdvisor.
The Peak 2 Peak Gondola connects the summits of Blackcomb and Whistler mountains, and provides access to over 20 miles of hiking trails and 8,000 acres of ski trails. During your ride, you'll enjoy sweeping views of mountain vistas, glaciers and the Fitzsimmons Valley. Once you reach the Blackcomb mountain summit, be sure to take a photo of the Olympic Rings!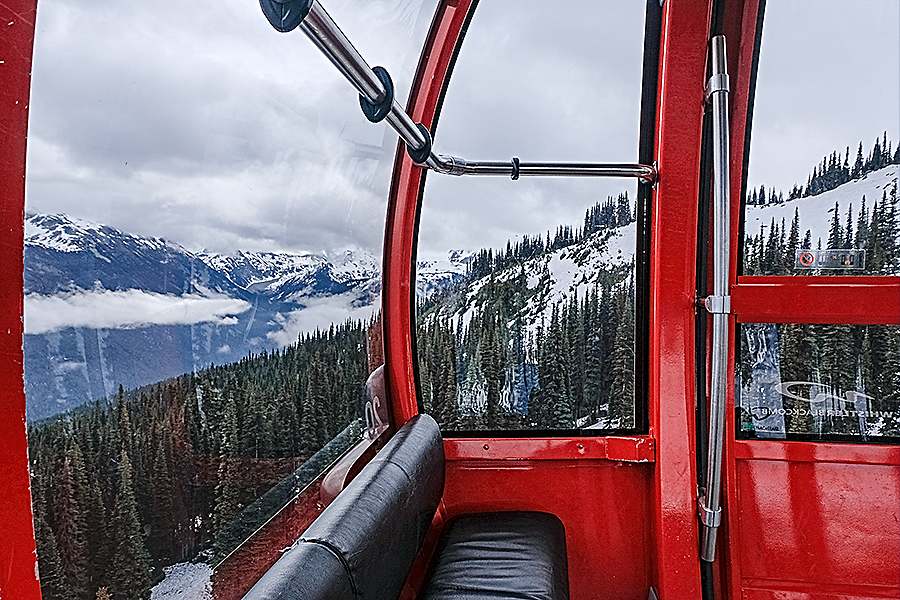 2. Fly Through The Trees On The Longest Zipline In Canada
One of the most thrilling things to do in Whistler is to experience the longest zipline run in Canada. The Sasqatch line with Ziptrek Ecotours is over a mile long, and you'll fly over the scenic Fitzsimmons Valley at up to 60 MPH. If you've ever wanted to go ziplining, this is the place to do it, even for first-timers!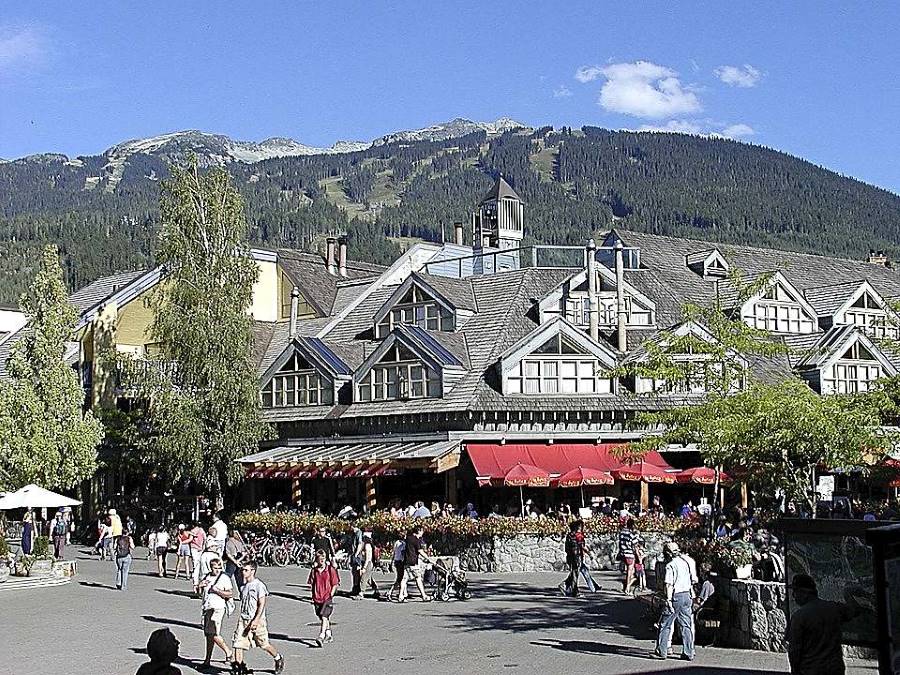 3. Explore The Shops In Whistler Village
For a more relaxing afternoon, one of the best things to do in Whistler is to walk through Whistler Village to visit the shops. The village has over 200 shops to explore with a mix of franchised favorites like Patagonia, and charming independent boutiques like 3 Singing Birds. This is also another place where you can take your photo with the Olympic Rings, and you'll always be surrounded by views of the mountains.
4. Taste The Local Brews
Whistler is home to three breweries that make for the perfect apres-ski or pre-dinner drink. Coast Mountain Brewing, Whistler Brewing Company and High Mountain Brewing Company all serve up craft beers by the glass, or have options for flights so you can taste both their seasonal offerings and staple brews.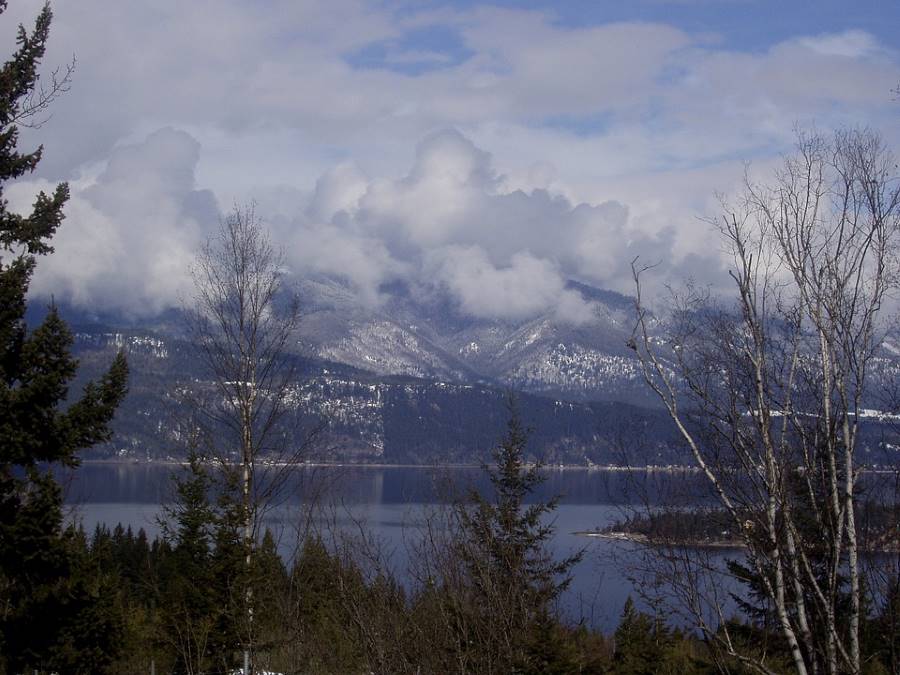 5. Walk Around Lost Lake
One of the easiest things to do in Whistler that also provides scenic views is the Lost Lake trail. This 2.5 mile loop around the lake is backdropped by the surrounding mountains, and because there's no elevation gain, it makes for a relaxing stroll by the water. There are also facilities to rent canoes to take out on the lake to extend your visit.
Lost Lake is known to have black bear sightings in spring and summer, so be sure to brush up on bear safety tips before hitting this trail.
6. Bike The Valley Trail
The Valley Trail is a 28-mile paved path that connects Whistler Village to scenic overlooks, lakes and picnicking areas, and is a car-free area designated for bikers, runners and walkers. In the summer, the best route to take is Whistler Village to Rainbow Park, where there's a small beach area that's perfect for cooling off on warm days. In the winter, this path is used for cross-country skiing.
If you're interested in biking the Valley Trail, there are a few places in Whistler Village that rent bikes, including Evolution Whistler Bike Rental and Whistler Sports Rentals.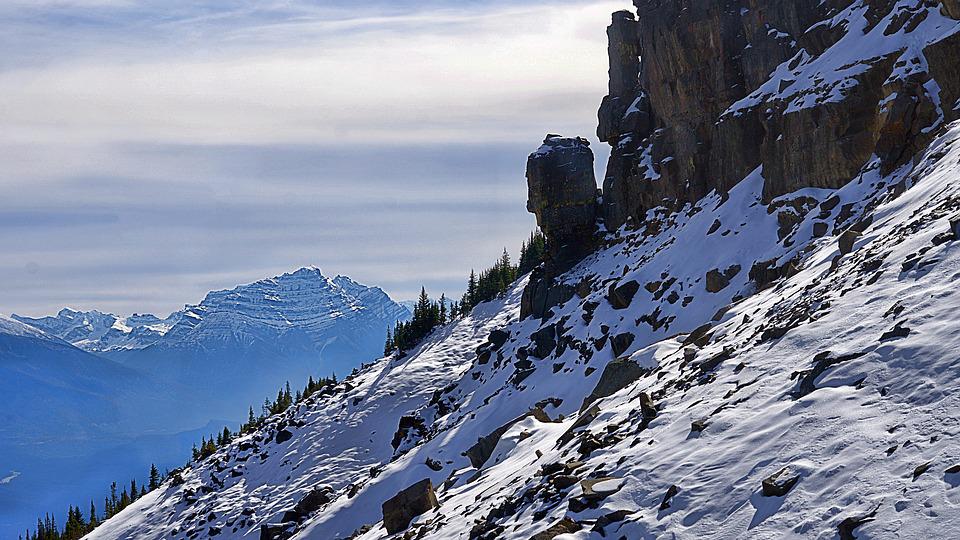 7. Hit The Trails
There is no shortage of hiking trails that are accessible right from the village, and one of the best things to do in Whistler in the summer and fall is to hit the trails.
If visiting in the summer, one of the best hikes to take is the Wedgemount Lake trail. This hike is a challenging 8-mile loop trail that rewards you with breathtaking views of this emerald lake nestled in the mountains. This trail is best done in the summer so you have plenty of daylight hours and won't feel rushed.
For easier or moderate hikes, consider Brandywine Falls Trail, Whistler Train Wreck and Millar Creek Trail and Whistler Peak. Whistler Peak offers another opportunity to see an emerald alpine lake for stunning photo opportunities.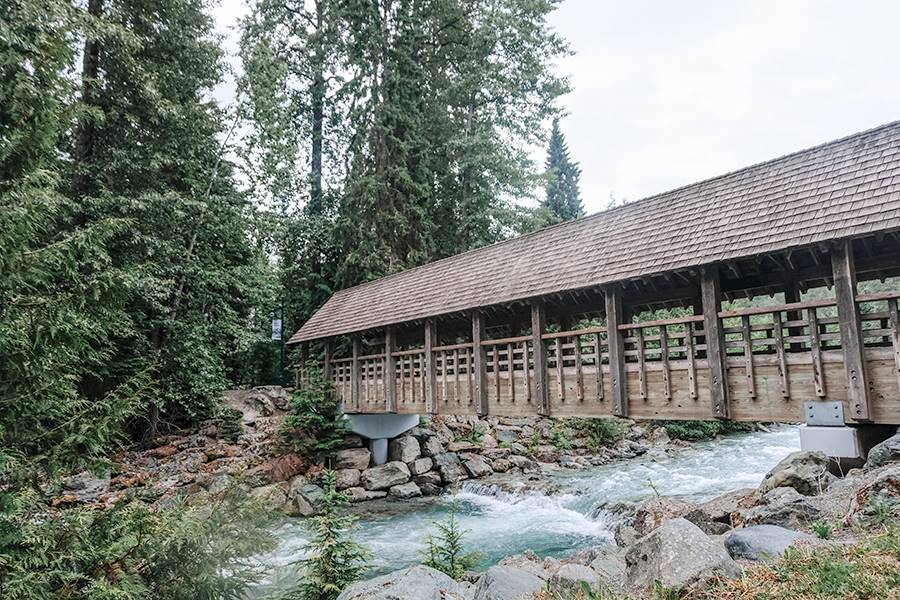 Things To Do Near Whistler
8. Drive The Sea To Sky Highway
Regarded as one of the most scenic drives in Canada, the Sea To Sky Highway is one of the best things to do in Whistler, and is what connects Whistler to Vancouver. If you drove from the Vancouver area, this route is how you'll get to Whistler, but if you came from another direction, you can easily take this drive from Whistler Village as a half or full day trip.
The entire drive takes about 2 hours one-way without stops, but there are so many wonderful scenic overlooks and places to stop along the way that include waterfalls, parks and beaches, that you can easily make a whole day of it.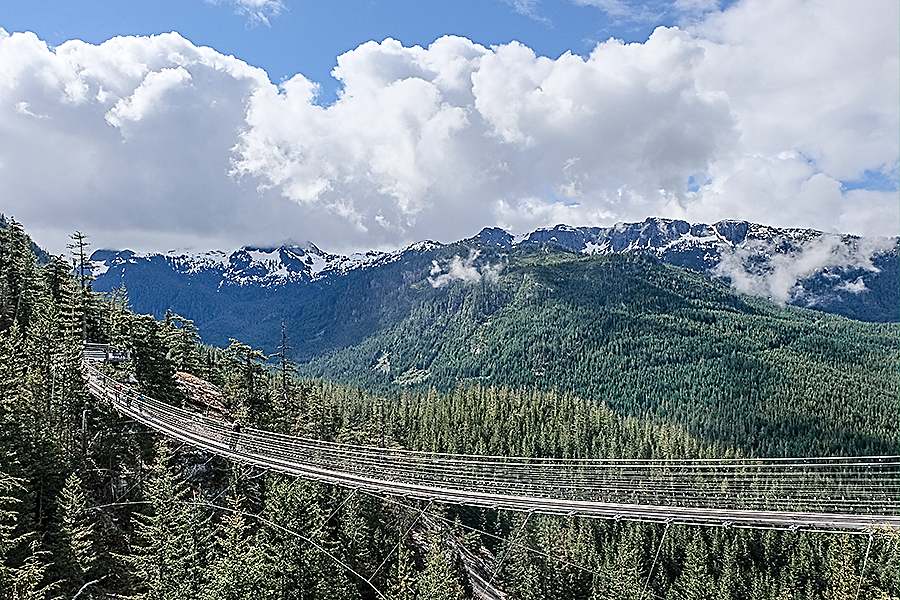 9. Ride The Sea To Sky Gondola To Sky Pilot Suspension Bridge
One of the best stops to make on the Sea To Sky Highway is the gondola that takes you to Sky Pilot Suspension Bridge. Located in Squamish, and about an hour from Whistler, this gondola ride is absolutely worth the stop. Not only are the views of the turquoise lakes on your ride up absolutely stunning, the suspension bridge will have you feeling like you're walking in the clouds.
After your walk across the Sky Pilot Suspension Bridge, there are over 10 trails to explore around the mountain, as well as two restaurants and a cafe to grab food and snacks while you enjoy the views.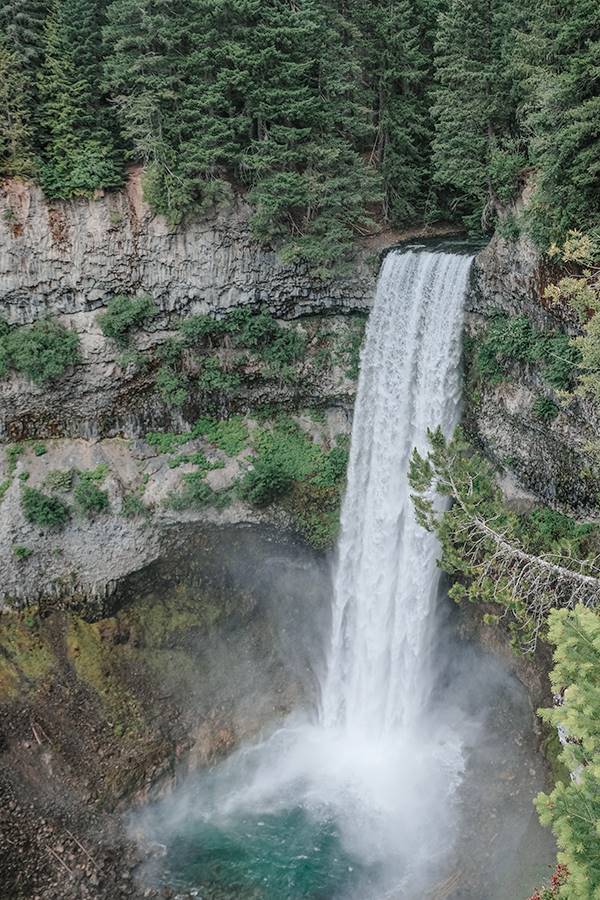 10. See One Of The Highest Waterfalls In British Columbia
While there are a lot of waterfalls near Whistler, the best one to add to your list is Shannon Falls, which is the third highest waterfall in British Columbia. This is also another easy stop to make during your drive on the Sea To Sky Highway. Shannon Falls is over 1,100 feet high, and makes for an impressive view as you admire it from the bottom.
Things To Do In Whistler In The Winter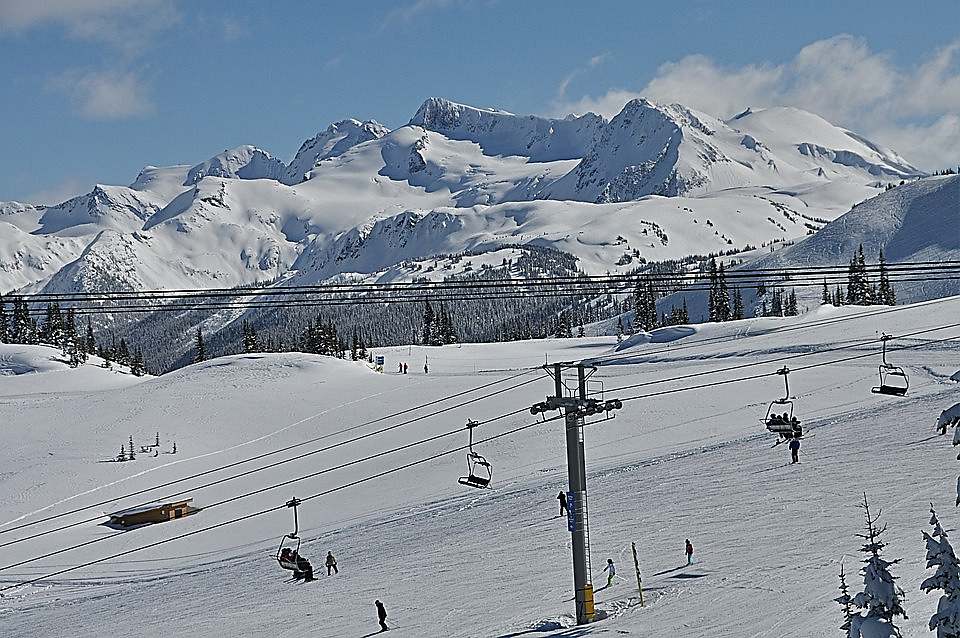 11. Hit The Slopes
One of the best things to do in Whistler in the winter is to hit the slopes, and with over 100 trails to choose from, ranging from beginner to black diamond, it's unlikely you'll ever run out of new ones to explore.
Whistler is a true ski-in, ski-out village, so as long as you stay right in the village, you'll be able to walk to the base of Blackcomb Mountain, and take a lift that will connect you to all the trails. And, as mentioned above, you can take the Peak 2 Peak Gondola to get over to Whistler Mountain for even more options.
12. Go Snow Tubing
If you need a break from skiing, one of the best things to do in Whistler in the winter is to visit the Bubly Tubing Park to go snow tubing. Perfect for all ages, you'll be able to soar down hills spanning about 1,000 feet in length, and then take the conveyor belt ride back to the top.

13. Enjoy The Views On A Scenic Sleigh Ride
One of the more relaxing things to do in Whistler in the winter is to take a sleigh ride through the village and a nearby forest. This 1-hour tour starts at dusk so you can enjoy views of the village aglow with lights, and also stops in a warming hut in the woods for a comforting cup of hot cocoa.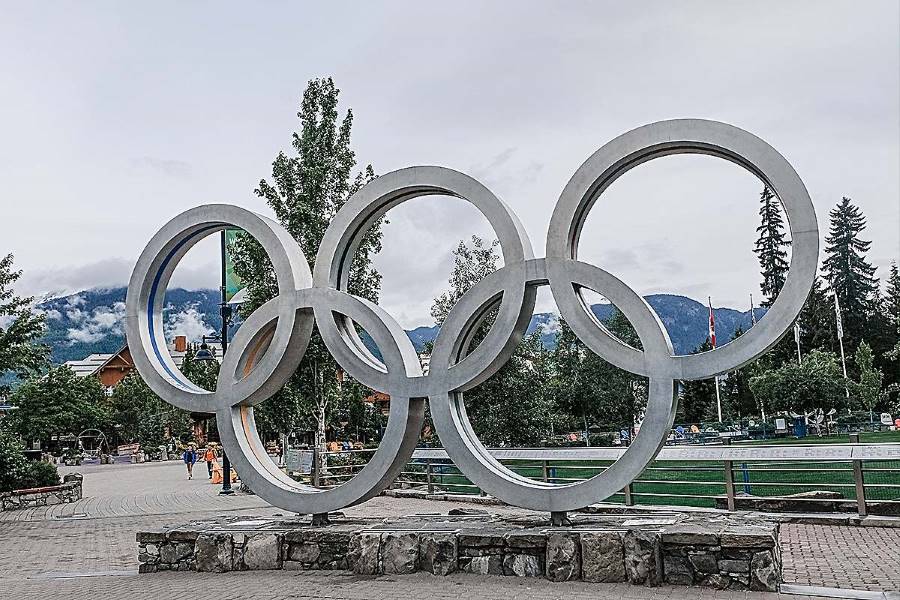 14. Ice Skate Under Twinkle Lights
In the winter, the Whistler Olympic Plaza is transformed into a winter wonderland ice rink, where you can skate under the glow of twinkle lights at night. During the day, you can take in views of the mountains and the Olympic Rings. This rink also provides ice skate and helmet rentals.
Best Time Of Year To Visit Whistler
While Whistler is a year-round destination, the most popular time to visit is in the winter for skiing and snowboarding, and this is when prices will be at their highest. June is also a great month to visit, as the weather will be warmer and perfect for hiking, and you'll be able to snatch up some great deals on accommodations before the busy summer season increases prices again.
How To Get To Whistler
The best airport to fly into is Vancouver International Airport, which is about a 2-hour drive to Whistler. From the airport, you can either rent a car and drive to Whistler, or make a reservation on the Whistler Shuttle, which offers pick-up at the Vancouver airport.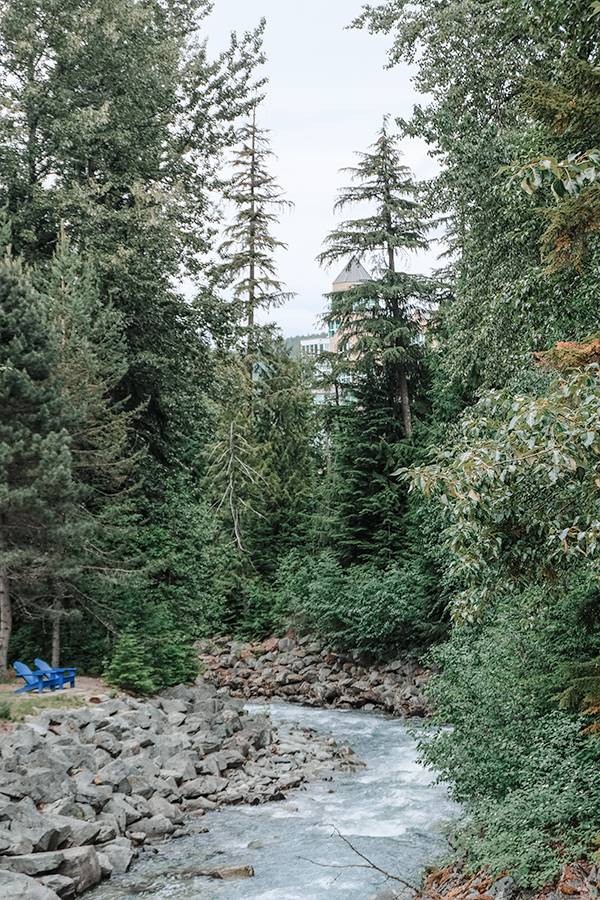 Final Thoughts On The Best Things To Do In Whistler
Now that you know all the very best things to do in Whistler, you're ready to plan your own mountain adventure. Whether you're most excited to visit in the winter to hit the slopes, or are planning a summer trip to hike the trails and explore the waterfalls, Whistler is the perfect year-round destination for a memorable getaway.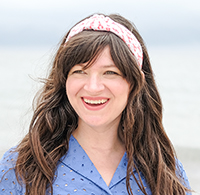 Author Bio:
Sam is a travel writer that covers the New England region of the U.S., but has a passion for travel all over the world. So far, her favorite destinations have been Italy, Iceland and Thailand, and her biggest goal is to one day get to Antarctica. When she's not exploring the world, she loves visiting the coast of New England, and spending time with her husband and two dogs in her Upstate, NY farmhouse.