Exploring the Enchanting Beauty of Ilocos Norte, Philippines: A Journey to Remember
If you are interested in looking for a quick and fun getaway outside of Manila, then this 3 day itinerary to Northern Luzon is a fantastic trip. The Northern part of Luzon, primarily the Ilocos region is rich in culture and historical monuments, Unesco sites, unique little towns and beautiful landscapes throughout the district. This 3 days visiting Ilocos Norte, Philippines is the perfect trip to discover this wonderful area of Northern Luzon with highlights to the many attractions and local places of interest.
What to do and see in Ilocos Norte
How to get to Ilocos Norte
Flights through Manila International Airport take less than an hour to reach the regional capital at Laoag, Ilocos Norte and is serviced through a few carriers. You can also take comfortable buses that service the manila route through various destinations and you can create a customized itinerary through the many cities along the way up through the various regions in Northern Luzon. From the Capital city, you can either arrange customized tours yourself, or get to the various regions via local buses that will take you to Vigan City and other attractions in the region worth visiting.
For a shorter 3 day/ 2 night getaway, I would recommend flying up and taking the regional buses from the airport to the different cities and local attractions in the area.
Weather and best time to visit Ilocos Norte
The weather in Ilocos Norte, Philippines is generally characterized by two seasons: the dry season and the rainy season. The best time to visit Ilocos Norte is during the dry season, which typically runs from November to April.
During this period, the weather is relatively dry and temperatures are more pleasant, ranging from around 25 to 32 degrees Celsius (77 to 89 degrees Fahrenheit). The skies are usually clear, making it perfect for outdoor activities and sightseeing.
In contrast, the rainy season in Ilocos Norte lasts from May to October. This period experiences increased rainfall, occasional typhoons, and higher humidity levels. While some travelers still visit during this time, it's important to note that certain outdoor activities may be affected by the weather conditions.
To enjoy your visit to Ilocos Norte to the fullest, it's recommended to plan your trip during the dry season when the weather is more favorable for exploring the region's stunning landscapes, historical sites, and vibrant culture.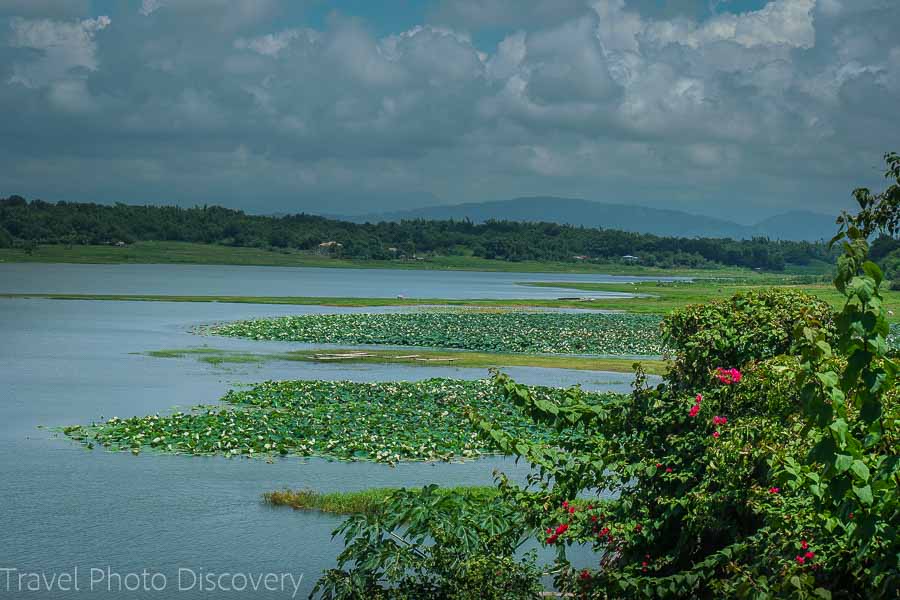 Day 1 – Arriving Laoag
The regional airport at Laoag is easy to navigate and basically you can take a tricycle bike, Jeepney or private car to take you to the city center. There are many regional bus companies that service the region to go to the various cities in Northern Luzon, you can check on these bus line with Partas bus lines here for more details and time frames. There are also private drivers for direct pick up from the airport which you can arrange through various tour companies with lodging accommodations and tours.
I decided to start from the furthest location south at Vigan City and then travel back up north to Laoag, but you can easily do the reverse itinerary. The bus ride from Laoag to Vigan takes about three hours to reach the city center and you can ask to get out from the main square at Plaza Salcedo or at the bus terminal for that carrier. Once you get out at the terminal, it is easy to catch a tricycle or taxi and check in to your hotel.
Visiting Vigan City in Ilocos Sud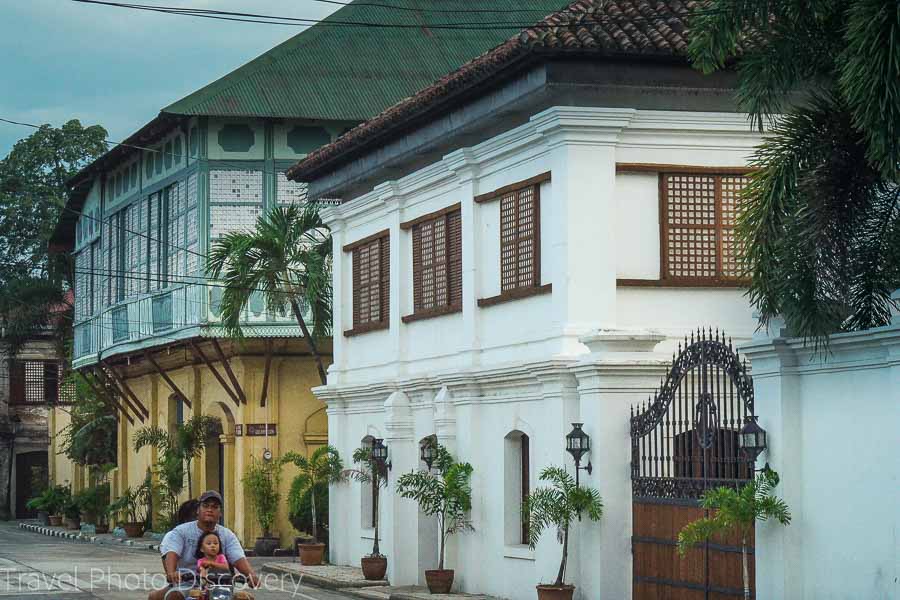 Accommodations in Vigan City
There are many unique inns and private homes that have been converted into boutique hotels which really add to the experience visiting the city. Here are some of my recommendations of places to stay below.
Places to stay in Vigan City
Hotel Luna – nicely restored with a swimming pool, the comfortable rooms and modern amenities make this stay and close proximity to Calle Crisologo ideal in the historic district.
Hotel Salcedo de Vigan – Beautifully restored colonial home in the heart of the historic district with spacious rooms, fantastic buffet breakfast and friendly front desk service.
Vigan Plaza Hotel – A grand colonial home restored with beautiful antiques, large rooms with historic details and features in the rooms and main room. In the historic district with comfortable sized rooms.
Check out these other listing reviews with Trip Advisor here for current prices and availability.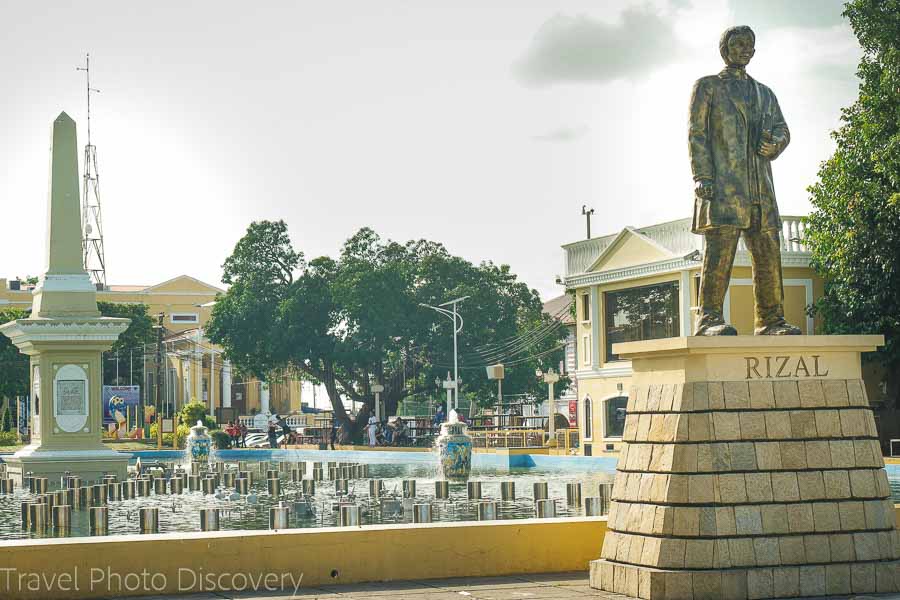 Touring Vigan City – Ilocos Sud
Vigan city retains its historic heritage as a colonial Spanish cities in the Philippines. It is one of the most intact cities and well preserved in the city center, old historic buildings and private homes that have been converted to inns and other tourist venues. There are many things to do and see at Vigan City to warrant staying in Vigan for the two nights of your visit. After an early afternoon arrival and check into the hotel, I decided to hit up some of the more popular attractions to visit in the area. First up was a visit to Calle Crisologo, a cobblestone street in the historic district filled with Colonial homes and businesses converted into galleries, tourist shops and eateries to sample local specialties. I found this beautiful street filled with lots of tourist venues and interesting shops to explore. I loved to take photographs of the street and the colorful horse-drawn buggies called kalesas that pass through the street and other popular attractions in town. I loved to also stop into the many snack places around the street to sample some of the local sweets and other savory dishes.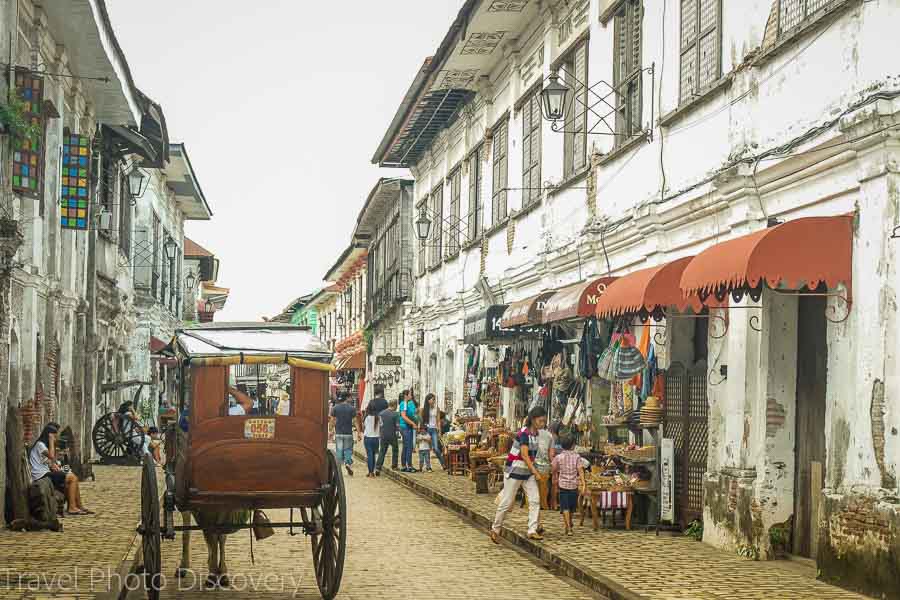 Exploring Calle Crisologo – the historic district of Vigan City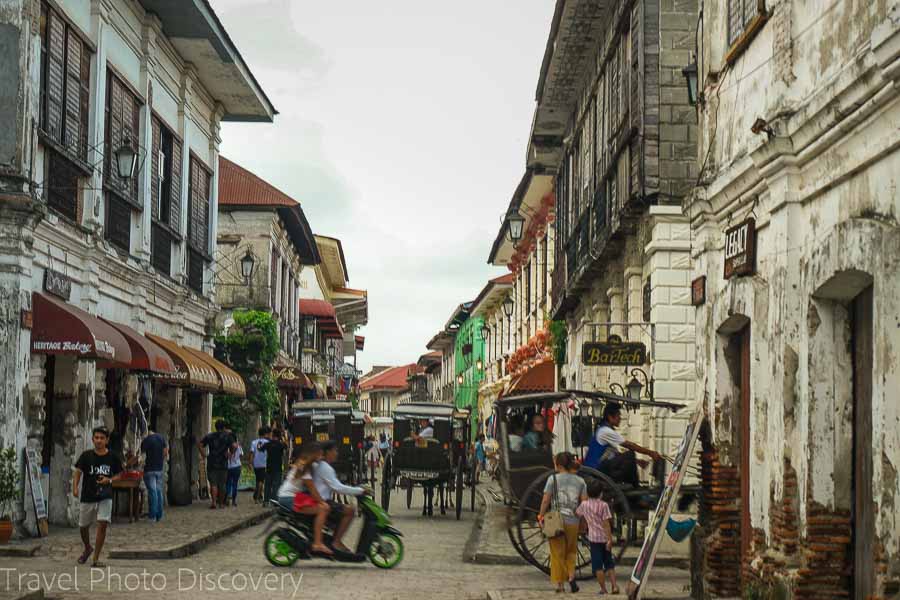 After walking through the entire Crisologo street, you end up directly at Vigan Cathedral in Plaza Salcedo – the main square of Vigan with a beautiful water fountain show that happens every night. There are many services happening at the church and in the side area is a museum that houses the bishops personal effects and cathedral treasures. I checked out the church and a service was happening at the time so I couldn't easily walk around the inside to take photographs.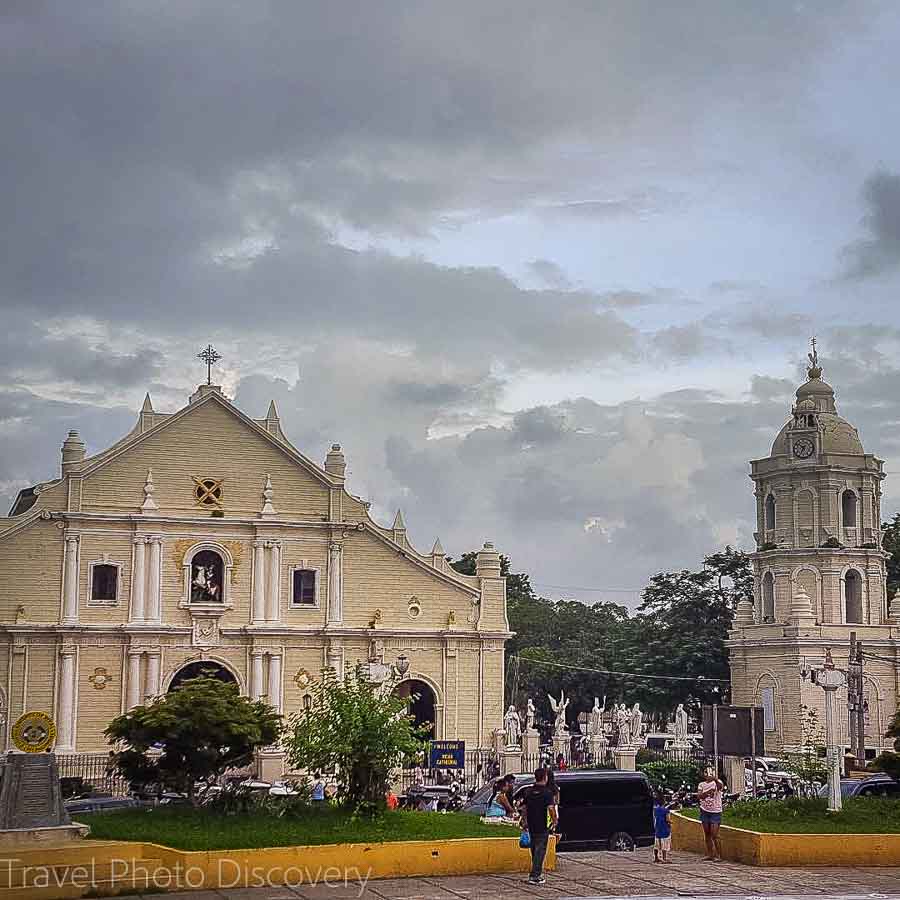 After checking out the church, I headed out to a popular snacking spot called the Empanadaria to try some of the local favorite snacks – local empanadas and fried Okoy (shrimp and bean sprouts) that they fry up and serve with hot sauce or tasty vinegars.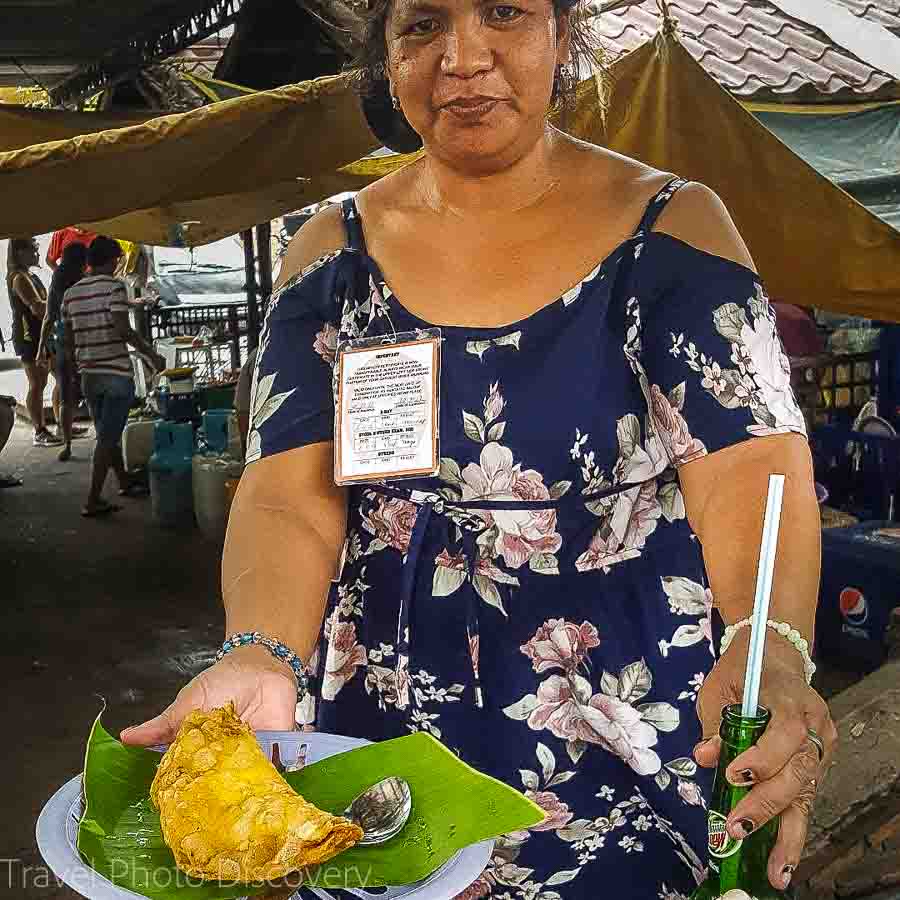 Around the square and water fountain area are some nice spots to take pictures of the cathedral from a distance or just hangout and enjoy the street scene. I ended up finding a shady spot and trying out some of the local ice cream from smart vendors that ply the area as an easy sell to the hot days on the square.
 
Day 2 Vigan and surrounding areas
After a restful sleep, I had a full day ahead of places to visit around the city starting with The Vigan Public market. This large indoor market is a fantastic place to shop for cheap souvenirs, snacks and try some local dishes while checking out the many food items and seasonal products being sold in this massive market. I ended up checking a lot of the local woven fabrics and straw products and found some excellent prices and even bargained in the process which was a lot of fun. You can easily spend more than a few hours here, but I decided to head out and take a tricycle to the many landmarks including Baluarte zoo, Syquia mansion, Bantay church and belfry and other attractions. To get more of the highlights touring the main attractions of Vigan, check out this post sharing Vigan's landmarks here for more details.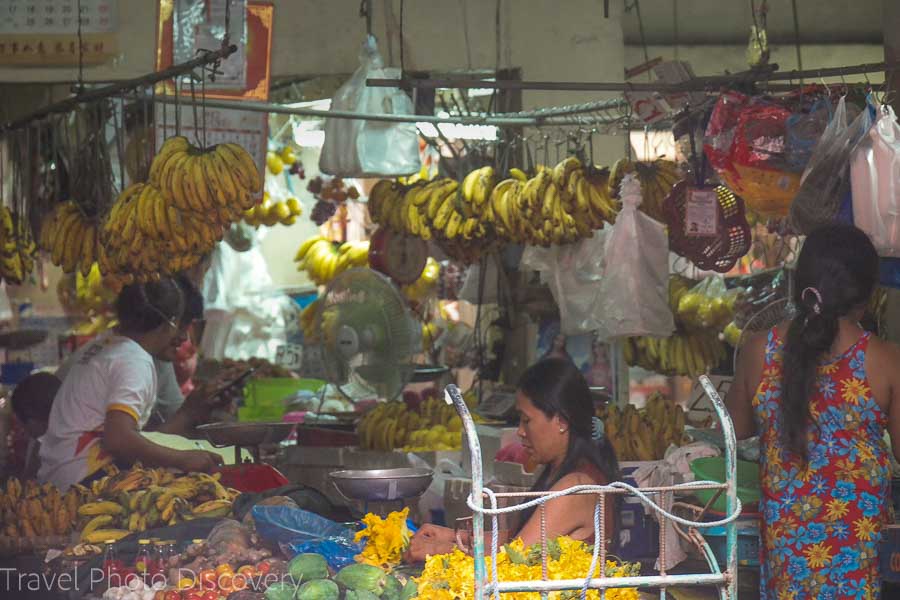 Exploring Vigan market stalls and local food specialties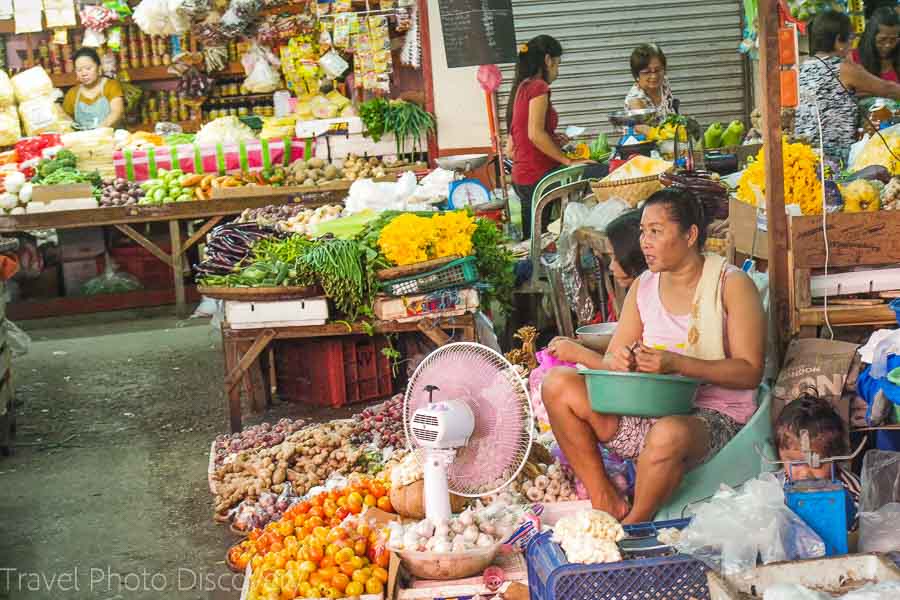 Checking out the Bantay church and bell tower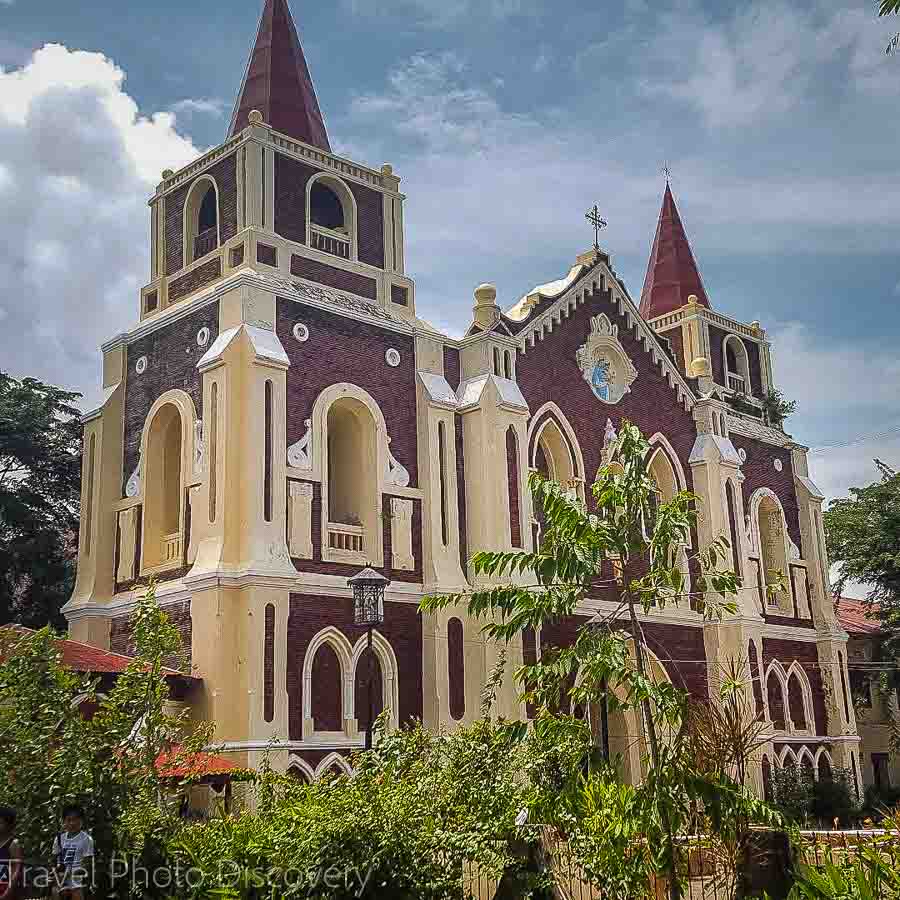 Tip – before you get into a tricycle, make sure you tell the driver where you want to go and ask for the price – average prices to go to a site is from 40 to 60 Pesos depending on the distance. Price to get to the zoo from the public market was 60P or 1.10USD.
There's a lot to see and do in this colonial capital of Ilocos Sud, primarily visiting many of the historic homes converted into living museums, restaurants and other tourist focused sites. On top of that are some great places to buy local handicrafts, hand made goods and other specialty foods from the region that make this an attractive city to visit for a few days or more.
 
Dining in Vigan City
Vigan City is known for the many local Ilocano specialties that are a favorite for the regional capital, here are some suggestions to try the various foods of the area.
Empanada stalls – on the end of Plaza Burgos are some casual food stalls that make the famous empanada, okoy, noodle dishes and other fried food specialties of the region. This is worth checking out if you are in the mood for a quick snack.
Calle Cristologo – the historic street has plenty of cafes and fine dining restaurants that feature specialty and local foods from the region. Many venues have daily specials and early dinner menus at fantastic prices to try to delicious food from the region.

Check out the Vigan farmers market
Located on the 2nd floor you will find a variety of vendors offering baked goods and desserts, take out food or casual pick up food you can eat at the tables surrounding the various vendors. Specialties worth trying here include loggonisa (local sausage) fried okoy, empanada, bagnet (fried pork belly) and pinakbet (vegetable stew).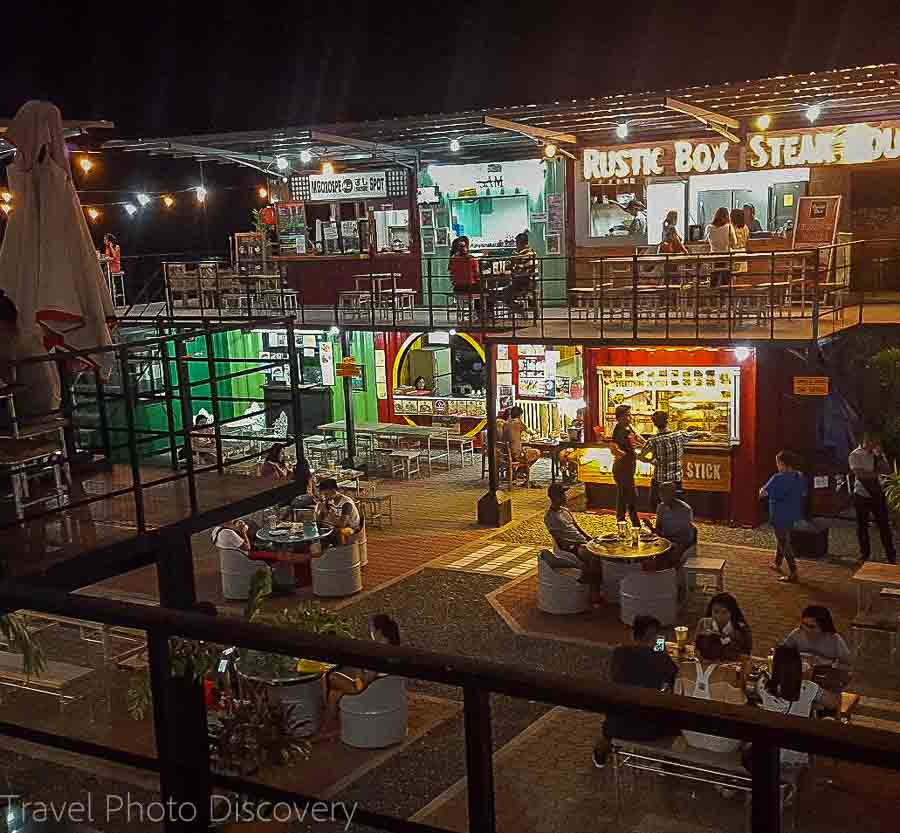 For a different dining experience, I heard about this new eating concept called Sitio Container Park just outside of the city, so I take a tricycle to get there. This is actually containers fashioned into an eating and entertainment venue with a lot of choices for places to choose from. The food choices are fantastic and the hard part is deciding what type of food I wanted to try either more traditional or fusion type of cuisine. After checking out all the food venues, I settled on a fusion dish with a seafood paella which was fabulous served with a local San Miguel beer. I also loved the live local entertainment going on with a local band performing and some karaoke performances which was really spectacular (those Pilipinos can really sing well). This was the perfect ending to a long day and I enjoyed all the activities and was ready for a nice sleep.
Exploring Ilocos Norte
Day 3 – return trip to Laoag
I woke up early to get packed and get back to the Vigan market to do some last-minute shopping and picking up more snacks. ( I bought some of the local fresh sausages called Longanisa for some family to take back as pasalubong – gifts). The bus station is next door, so it was a perfect excuse to drop by the market a 2nd time. At the station, you get a numbered ticket and eventually pay for your fare – when the bus arrives, they announce the number for you to get in the bus from the order of purchase. This return leg, I book a ticket to Paoay, my first stop.
Tip – Make sure to tell the driver where to let you off at Paoay and that you'll want to visit Paoay church just outside of the town. They stop at many places along the way so you need to have them alert you of where to get off.
Paoay town and Church
At the town stop, there are a few tricycles available to go to the main attractions which you can book separately or negotiate a tour for your visit along with a transfer to Laoag, your destination. I opted to negotiate a tour and drop back to Laoag to save from the hassle of booking each let. (paid about 700P or $12 USD for about a 5 hour tour). First stop was a visit to the Unesco World Heritage site at Paoay Church dedicated to St. Augustine. There are four Unesco sites around northern Luzon and Paoay church is the most popular and monumental church worth visiting. While it is still cool, it is best to explore the outside areas and the beautiful garden next to the church ( there is also a nice souvenir shop in the garden worth visiting or getting a cool drink to enjoy in the garden).
Since it was lunch time, I also walked around the many restaurants surrounding the church and decided to choose a buffet lunch place that offered the local specialties of the area including the bagnet, local sausages, sweet meats, vegetable stews and other noodle dishes which I didn't get the names of. It was extremely hot, so it was nice to just relax and eat in a covered area with friendly workers chatting me up on where I was from and why I was traveling solo.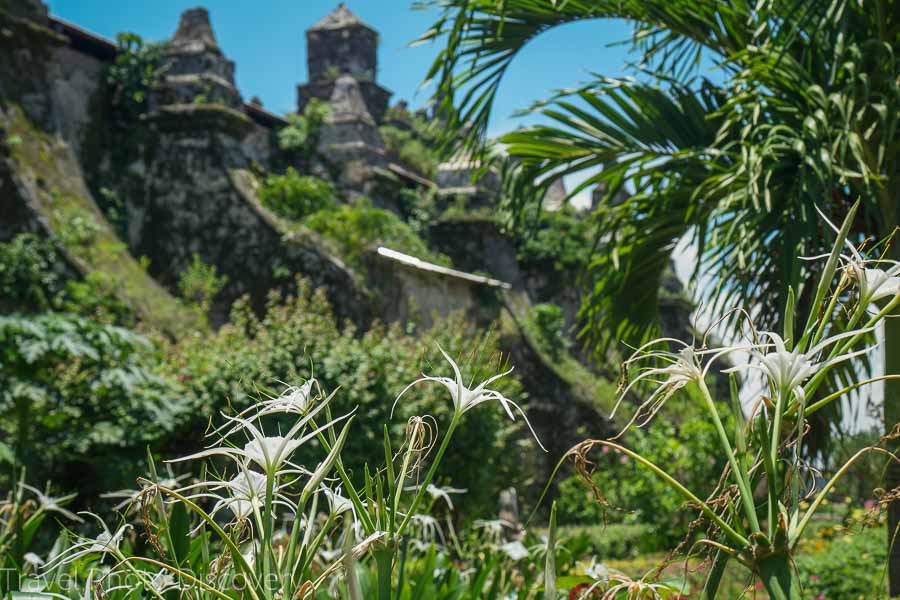 Paoay church gardens and interior details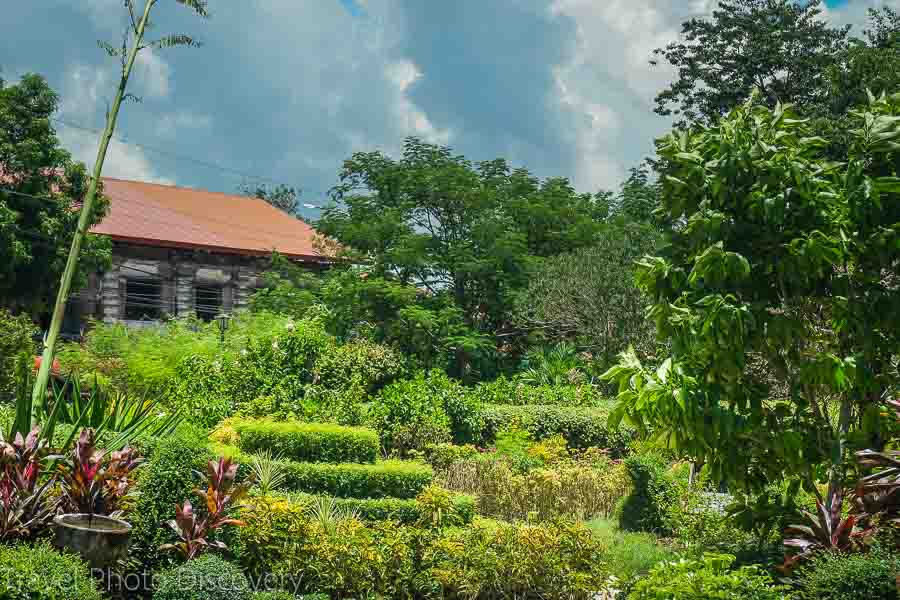 Interior of Paoay church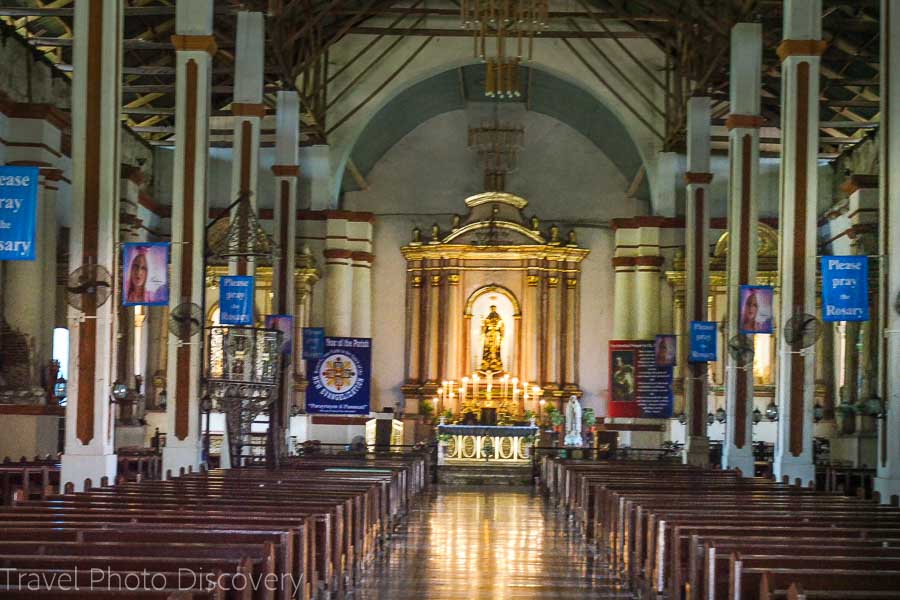 After a nice lunch, my driver takes me to the next stop which is Malacanang palace of the North ( this is Marcos mansion in Ilocos). The beautiful getaway home of the Marcos family fronts a gorgeous lake and golf course area and is styled in the Vigan architecture that they favored, in an indoor/outdoor style with few doors outside of the main front door. Large and simple rooms fronting a huge patio area with no doors relate to a casual elegance to the place where the Marcos where free to relax in all this privacy. The guard gives me a private tour mostly in the local Tagalog language which I was able to pick up some of the words, but you can easily do the tour on your own with signage and other placards detailing what each room was used for and some of the accomplishments the family was able to carry out around the country (Even though most considered him a complete dictator).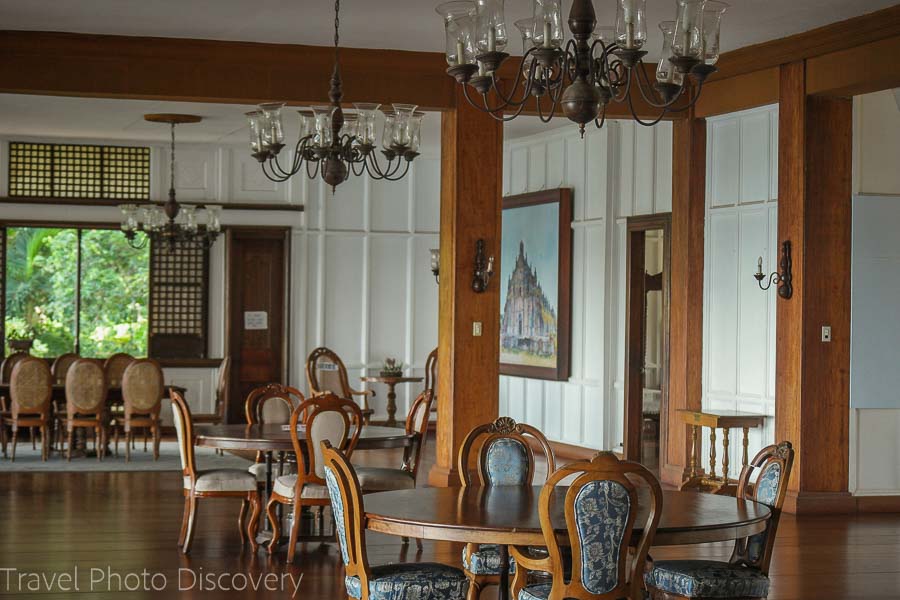 Touring Malacanang palace of the North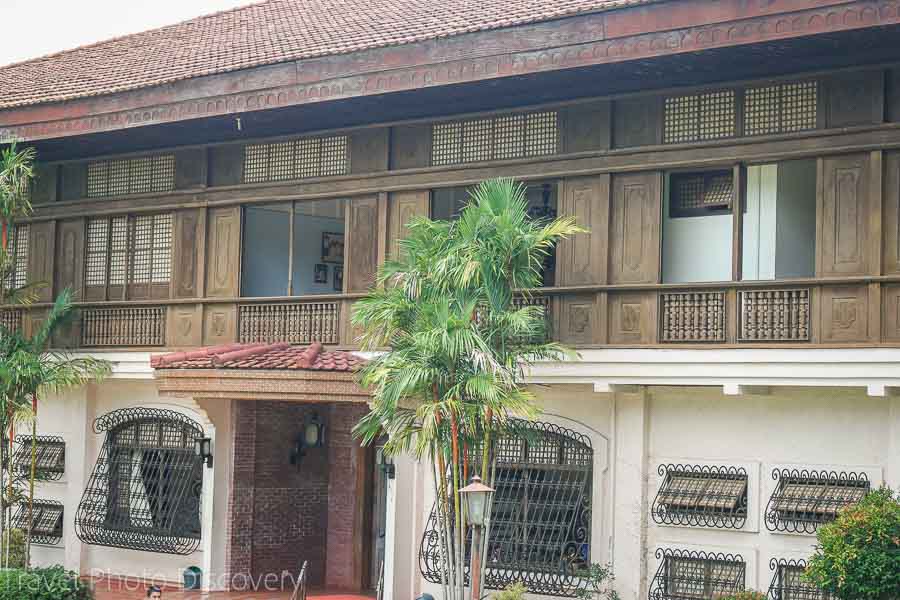 Your free to spend as much time on the property as you like and there is a small gift shop with local products and crafts being sold. One of the employees tell me where to stop to buy more local woven fabrics for something I wanted to have tailor made in Manila. I asked the driver to stop there since it was on the way back to the Marcos Museum in Paoay town and had a nice visit with the owner who showed me bolts and bolts of fabric and the history of the coop weavers that she represents in the area which was interesting. For those interested in visiting or learning more about the local weaving specialties in the area, you can check out this website for more details.
A visit to the Sand Dunes of Paoay
This is another popular attraction in the area where you can do sand boarding or dune bug riding through the dune areas and my driver took me on a detour of the area. But you do have to book a tour in advance which I didn't do since I wanted to initially just tour and take a picture of the dune areas. Considering that it was a mostly muggy and humid day, I decided to opt out of this and head back to Paoay to check out the Marcos museum.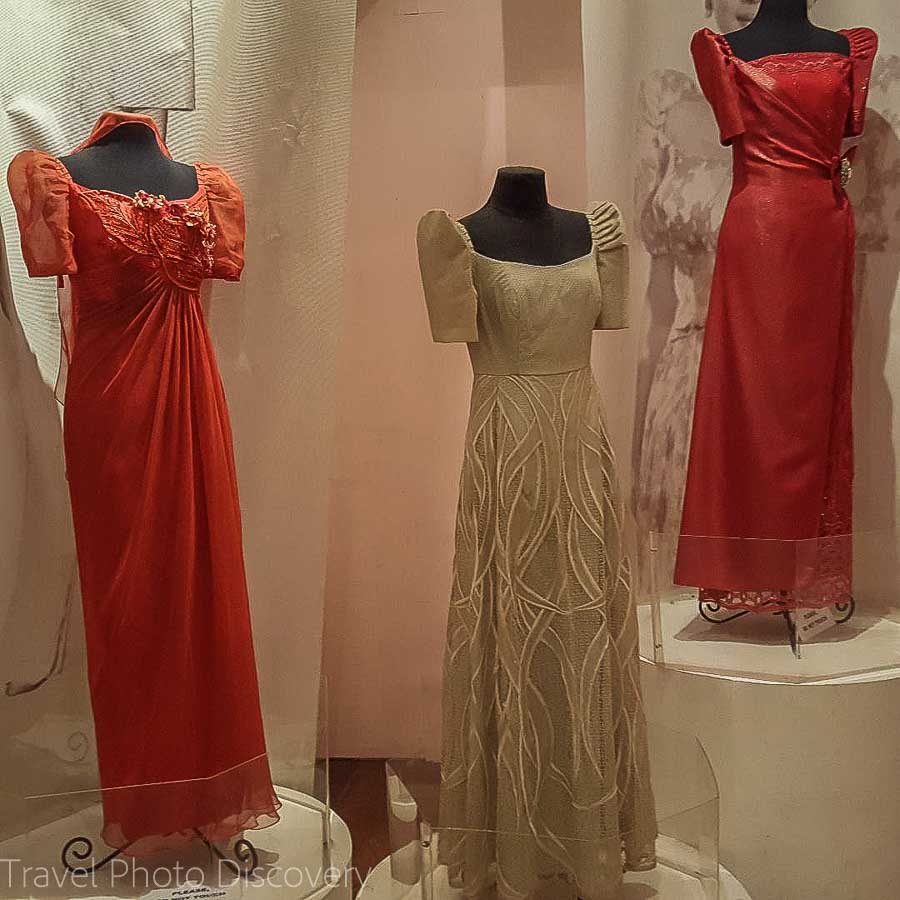 Marcos Museum
Back in Paoay town, you can walk around the town area and check out the museum that details the Marcos ascension into power in the Philippines and artifacts belonging to the family. Its interesting and small so you can do these visits very quickly. After this visit – it was a quick ride all the way to Laoag where I asked my driver to take me to the county museum and a last visit to the town square area.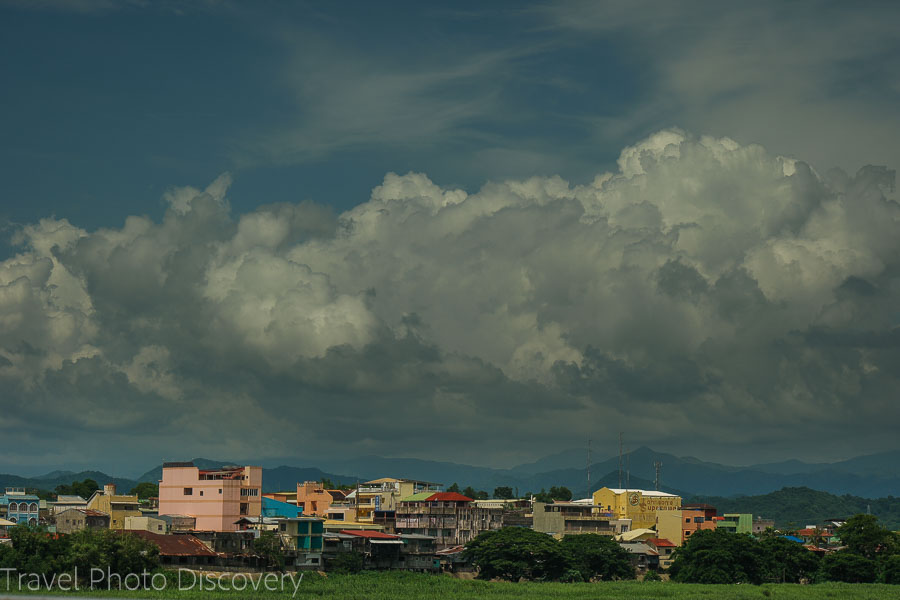 Touring around Laoag City
Back in the city, my driver takes me to the county museum which is a warehouse filled with local crafts and typical products made from the area – the back of the museum houses a typical home your walk through to see the various rooms and objects you would find in each room which was interesting.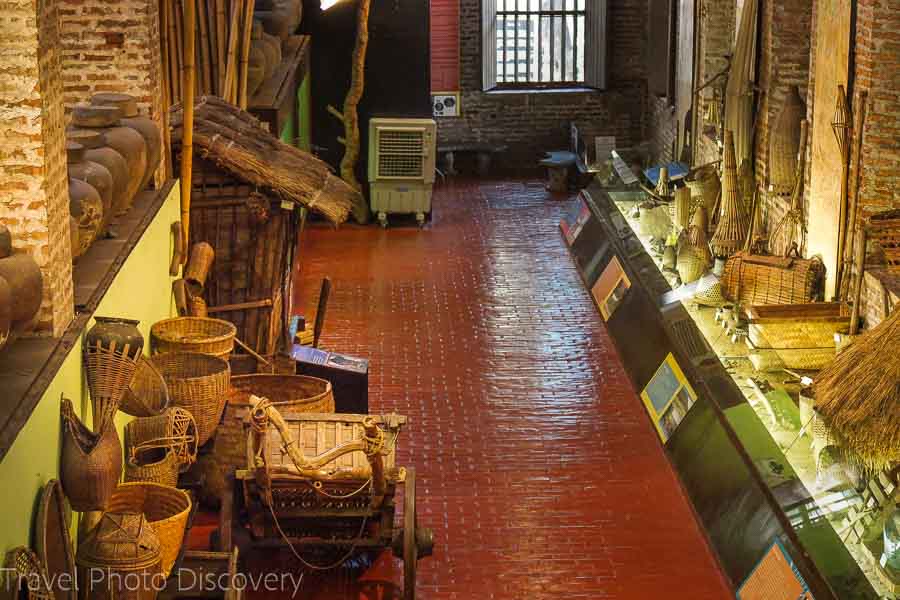 My driver takes me to the city center instead of back to the airport and since I had a later flight that evening, I wanted to enjoy the rest of the afternoon walking around the main squares and checking out the church, downtown and finding a spot to eat for dinner.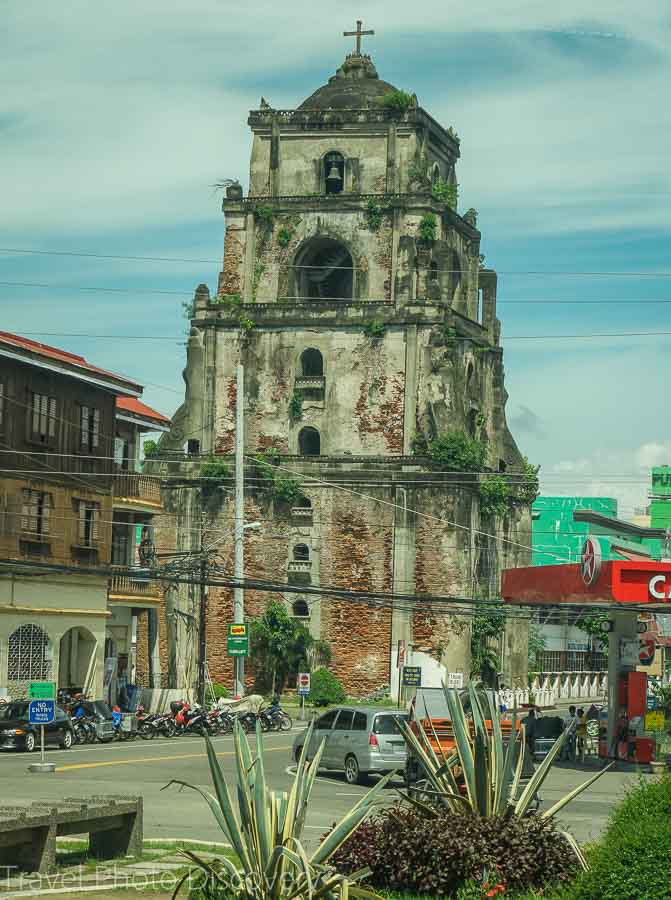 I check out the Laoag church which is also in a baroque style, further away from the church is the original bell tower which is the city's main landmark. Close by is a large square where everyone was hanging out and eating some local ice creams and cool drinks to cool off from the hot afternoon sun. I end up checking out a barber/spa nearby and ask to have a foot massage and pedicure after a long three days of walking everywhere on my tour. This fantastic one hour massage and pedicure set me back a big 250P or $5.00 USD – a bargain and my feet really enjoyed the small splurge. Afterwards, I went back to the square and enjoyed a refreshing cold coconut drink with fresh coconut meat and then afterwards I walked around looking for a dining venue and settled on a café serving some delicious fried chicken with a local pancit palabok (a local noodle and shrimp dish). I still had about an hour to kill so I walked around the city hall and square to check out a local event happening around the square and just enjoy the venue and people watching.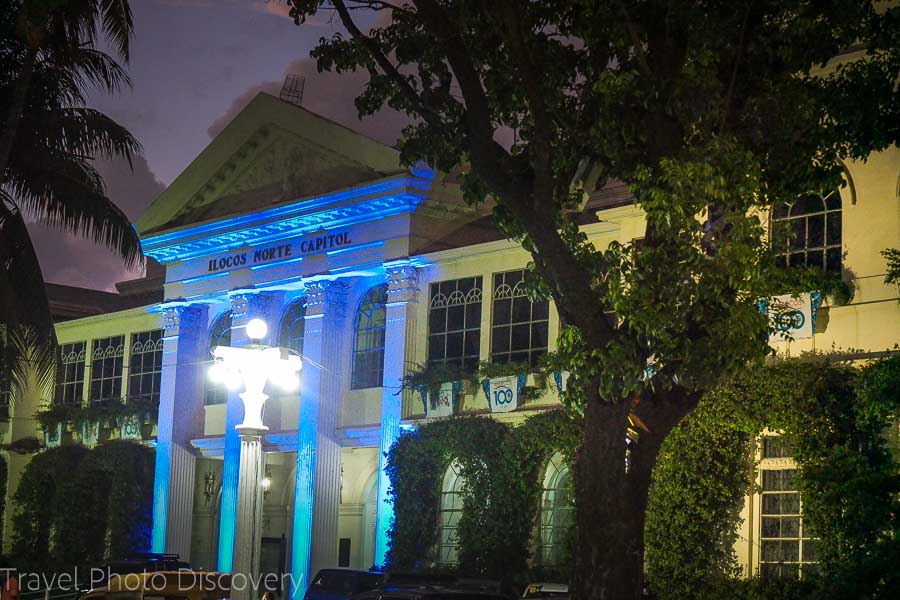 What local foods to eat at Ilocos Norte
Ilocos Norte, Philippines is renowned for its rich culinary heritage, offering a wide array of delicious local dishes. Here are some must-try local foods when visiting Ilocos Norte:
Bagnet: A beloved local delicacy, bagnet is deep-fried pork belly that is incredibly crispy and flavorful. It's often served with a side of garlic rice, atchara (pickled papaya), and vinegar for dipping.
Empanada: Ilocos Norte is famous for its empanada, a savory pastry filled with a mixture of ground meat (typically longganisa or Vigan-style sausage), grated green papaya, egg, and various spices. The empanada is deep-fried to perfection, resulting in a golden, crispy crust.
Pinakbet: Pinakbet is a popular vegetable dish in the region. It is a flavorful mix of native vegetables such as bitter melon (ampalaya), eggplant, okra, squash, and string beans, cooked in shrimp paste (bagoong) and sometimes with the addition of pork.
Dinakdakan: Dinakdakan is a traditional Ilocano dish made from boiled and grilled pig's ears, face, and other parts, chopped and mixed with onions, chili peppers, calamansi juice, vinegar, and pig brain (optional). It has a unique tangy and creamy flavor.
Igado: Igado is a hearty dish made from pork tenderloin or pork belly, liver, and various vegetables such as bell peppers, carrots, and peas. It's cooked in a soy sauce and vinegar-based sauce, resulting in a savory and tangy flavor.
Poqui-poqui: Poqui-poqui is a simple yet delicious dish made from grilled or roasted eggplant, onions, tomatoes, and eggs. The ingredients are sautéed together, creating a flavorful and slightly smoky taste.
Return to Manila
My evening flight departed around 9pm and it was easy to find a jeepney or tricycle ride back to the airport from the city center. If you are thinking about doing this tour here are some more suggestions and details to doing this itinerary or if you prefer to stay in Laoag for the night and explore the rest of Ilocos Norte in northern Luzon island.
Where to stay in Laoag City
There are many historic inns and hotels that are centered in the regional capital worth spending a night or a few nights if you also want to explore the beaches and coastal areas and attractions to the northern tip. Here are a few recommendations on unique places to stay in the city.
Bellagio Hills Hotel – just outside the city and fronting beautiful Paoay lake, this quiet boutique hotel is elegant, modern with comfortable and spacious bedrooms with classy interior design and fantastic front desk service
Rivermount Hotel and resort – located just outside of the city in a quiet area fronting the river with modern and clean rooms and serene environment with breakfast service.
Java Hotel – unique hotel design and ambience with nice amenities to include swimming pool, basket ball, tennis and playground area with spacious well appointed rooms.
For more listing reviews through TripAdvisor,check out these listings here for current prices and availability.
How to get around Ilocos Norte
Getting around Ilocos Norte is relatively easy, and there are several transportation options available for visitors to explore the region. Here are the common ways to get around in Ilocos Norte:
Tricycle: Tricycles are a popular mode of transportation in Ilocos Norte. These are motorized vehicles with a sidecar that can accommodate a few passengers. Tricycles are commonly used for short distances within towns and nearby attractions. Make sure to negotiate the fare before boarding.
Jeepney: Jeepneys are iconic and colorful public transportation vehicles in the Philippines. They operate on specific routes and can take you to various towns and destinations within Ilocos Norte. Jeepneys can be a more affordable option for traveling longer distances.
Buses: There are provincial and commercial buses available in Ilocos Norte. Provincial buses connect major towns and cities within the region, while commercial buses offer routes to and from Manila and other provinces. Buses are a comfortable option for longer journeys.
Vans: Vans are commonly used for private tours or group travel in Ilocos Norte. These can be rented with a driver for a specific duration or on a per-trip basis. Vans provide more flexibility in terms of itinerary and can be a convenient option for exploring multiple attractions in a day.
Rental Cars: Renting a car is another option for getting around Ilocos Norte. There are car rental services available, and having your own vehicle provides the freedom to explore the region at your own pace. However, be aware of the local traffic rules and road conditions.
Walking: Depending on the proximity of attractions or destinations, walking can be a viable option, especially within town centers or if you're exploring a specific area. In the larger cities of Laoag and Vigan city, you can definitely walk around the historic districts in each city.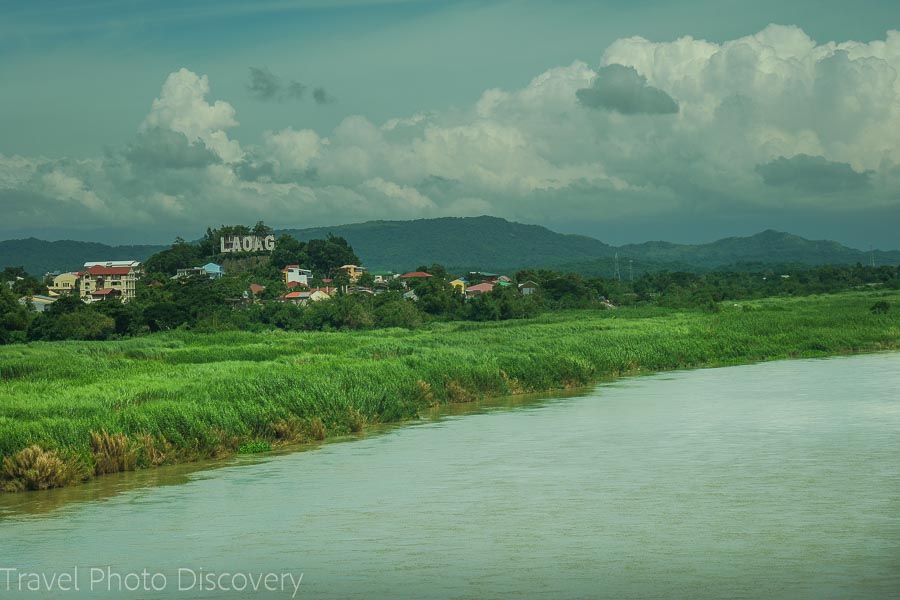 More details to your 3 day tour of Ilocos Region
You can definitely see a lot of places and attractions in the Illocos region of the Philippines or even extend it out for a longer period. Here are additional tips to traveling in the area.
Pack light for a short trip since you will be going on a few tricycle rides and don't want to carry a lot of things
You can bring or purchase a bag if you find a lot of things to buy which you can also hand carry – the planes allow up to two hand carries and don't typically check the weight.
Rides through the area are buy regional buses, jeepney and tricycles, but you can opt for a tour package arrangement for more comfortable rides – but most of these tours do require a minimum of two people or you have to pay for the single supplement to do this type of tour
Hotel accommodations vary according to the type of place and rate, here are some of my suggestions on places to stay while visiting Ilocos
You can easily extend your stay in Paoay or Laoag to visit more of the coastal areas up to the tip of Northern Luzon and can arrange a group tour or do things on your own. Check out this site for doing more tours of the areas in Northern Luzon.
Other places worth exploring in Ilocos Norte include the La Paz Sand dunes, Juan Luna Shrine, the Kapurpurawan Rock Formation, Cape Bojeador Lighthouse, the beaches at Pagudpud, and The Bangui Windmill.
Conclusion for 3 days visiting Ilocos Norte, Philippines
You can see a lot visiting Ilocos Norte in the Philippines. In just three days, explore the historical charm of Vigan City, taste delicious Ilocano cuisine, visit the Bangui Windmills and Kapurpurawan Rock Formation, experience the Paoay Sand Dunes, discover cultural treasures like Paoay Church and Malacañang of the North, and enjoy the beautiful beaches of Pagudpud. Immerse yourself in Ilocos Norte's rich heritage and create lasting memories.
Thanks for visiting today and checking out this post on the 3 days visiting Ilocos Norte, Philippines, if you enjoyed the images and post, could you please share it with any of the social media buttons located around the post.
If you like what you see, come and check out my other social media channels for more updates, including Instagram, Pinterest and Twitter
Disclosure – There are affiliates links on this posts which provide a small commission to support this site at no extra cost to you. Thank you for reading, and happy travels