5 UNESCO World Heritage sites near Munich: Explore these historic and cultural sites (updated 2023)
Modern humans have been living in Bavaria for more than 300,000 years. In fact, in 2019 scientists found a 11.6 million-year-old skeleton of a now-extinct genus of great ape 80 kilometers west of Munich. It was able to walk on two legs challenging the belief that bipedalism developed in Africa.
In more recent history, the Romans built powerful cities like Augusta Vindelicorum or Castra Regina, while during the Baroque time the Electorate of Bavaria produced world-renowned artists like Johann Baptist Zimmermann and the Asam Brothers. It is a unique cultural landscape and the UNESCO officially recognized it multiple times. The World Heritage sites in Germany are numerous and there's quite a few to explore in the Munich area
In this post, I am going to show you 5 UNESCO World Heritage sites near Munich you can easily visit by train. I know, many tourists will focus on visiting Neuschwanstein Castle. And that's okay. The castle is beautiful after all, but I do want you to know that there are quite a couple of other places that are equally as fascinating! But there are so many other fascinating Munich sites to explore with the Unesco Germany status worth exploring if you have the time to do so.
Why visit these Unesco sites around Munich
After exploring the top attractions around Munich, you maybe wondering what else there is to do in the region that is an easy day trip? These 5 historic sites are all Unesco World Heritage sites that are easy to get to by train and worth exploring. With unique architecture, beautiful squares and that iconic German presence in this smaller towns and cities that really appeal to what most visitors expect to see visiting Germany, these sites are inviting and deliver when you visit them. The picturesque towns of Bamberg, Regensburg, Ausbrug,  Wieskirche and Blaubeuren are tourist destinations on their own but with easy access from Munich through train service, you can also explore these sites and towns very easily and enjoy a day out from Munich.
Weather and best time to visit Munich
Munich experiences a continental climate, characterized by cold winters and mild to warm summers. The city has distinct seasons, each offering its own unique appeal. The best time to visit Munich depends on your preferences and the activities you plan to enjoy.
Summer (June to August) is the peak tourist season in Munich. The temperatures range from 20°C to 30°C (68°F to 86°F), and the city comes alive with festivals, outdoor concerts, and beer gardens. It's the perfect time to explore the English Garden, visit the famous Marienplatz, and enjoy the vibrant atmosphere. However, it's worth noting that summer is also the busiest time, so expect larger crowds and higher accommodation prices.
Spring (March to May) and Autumn (September to October) are pleasant seasons to visit Munich. The temperatures range from 10°C to 20°C (50°F to 68°F) during these months. Spring brings blooming flowers and a sense of renewal, while autumn delights with colorful foliage. These shoulder seasons offer milder weather, fewer tourists, and more affordable accommodations.
Winter (December to February) in Munich can be quite cold, with temperatures often below freezing. However, if you're a fan of winter sports, such as skiing or ice skating, this is an ideal time to visit. The city is also known for its charming Christmas markets, where you can experience the festive atmosphere and indulge in traditional treats like gingerbread and mulled wine.
It's worth noting that Munich experiences frequent rainfall throughout the year, so it's a good idea to carry an umbrella or raincoat, regardless of the season.
Visit these fantastic Unesco sites around Munich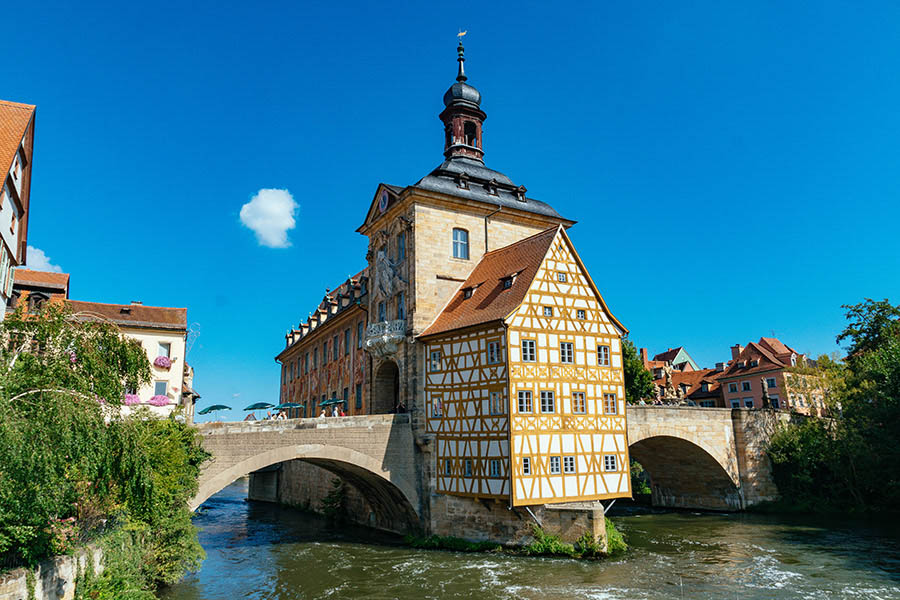 1. Bamberg
I doubt there is a single German travel guide without a picture of Bamberg's beautiful half-timbered town hall in it. Sadly, a lot of the major cities in Bavaria fell victim to the bombs of World War II. Munich or Nuremberg are just two of the most devastating examples. The old of Bamberg, however, survived the war almost unscathed.
From the 12th century onwards, the city played an important role in Southern Germany and the pristine architecture of the medieval old town reflects it. As you stroll through the streets lined with half-timbered houses you cannot escape the feeling of walking through a fairy-tale.
Abutting one Bamberg's seven hills, you'll find the mighty cathedral of the prince bishops who ruled the city between 1245 and 1802. Right next to it, there is an imposing palace where they resided like kings and impressed diplomats with a stunning flight of staterooms. Of all the UNESCO World Heritage sites near Munich, Bamberg is by far the most popular (and crowded).
If you are looking for an overnight stay in the Bamberg region, consider these well reviewed accommodations and current prices here.
2. Blaubeuren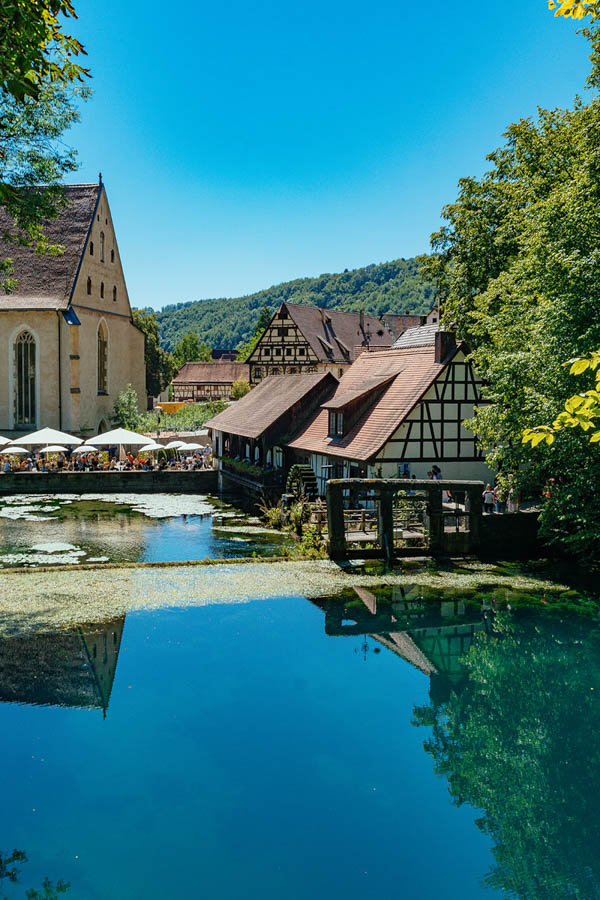 The Blautopf ("blue pot") in Blaubeuren has been a tourist magnet for well over a hundred years. The intense teal fountain is the entrance for an underground cave system that stretches for uncounted miles through the Swabian Jura. Together with the enchanting medieval old town, it's almost like a picture book.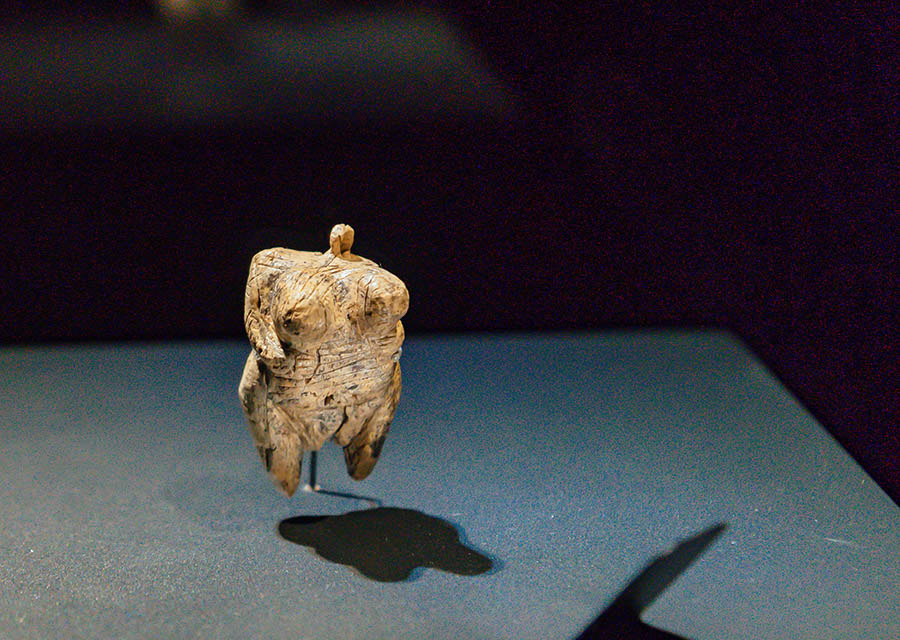 The status of the city changed drastically in 2008 when archeologists unearthed the Venus of Hohle Fels in one of the caves the region is famous for. The tiny venus figurine made of mammoth ivory was dated to be more than 35,000 years old and is one of the earliest depictions of the human body ever.
In ensuing years, archeologists found many other artworks and musical instruments from the Aurigancien which made the UNESCO inscribe the "Caves and Ice Age Art in the Swabian Jura" as a World Heritage site in 2017. Today, you'll find a fantastic museum in Blaubeuren where you can view these priceless artifacts.
If you are looking for an overnight stay in the  Blaubeuren region, consider these well reviewed accommodations and current prices here.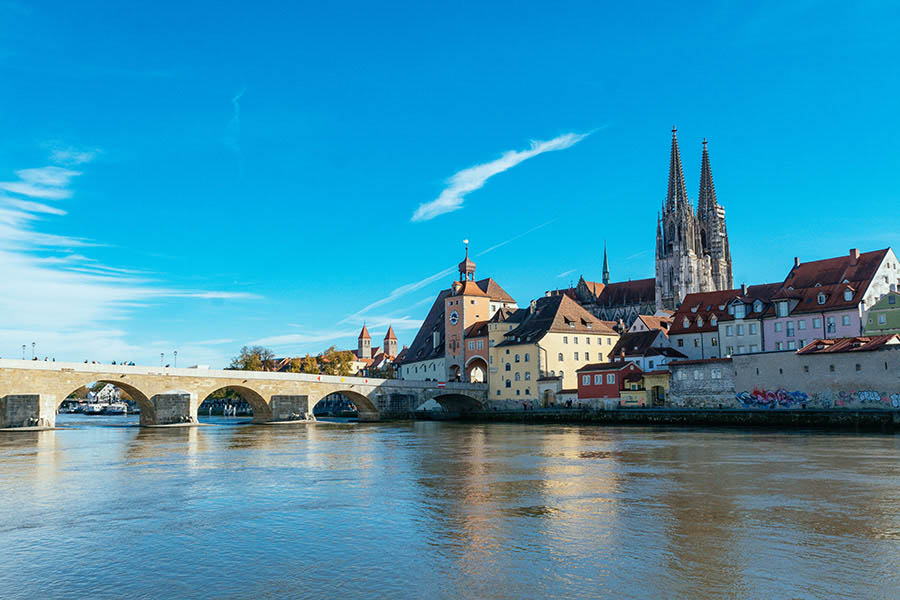 3. Regensburg
There are many day trips from Munich, but Regensburg will easily come out at the top. It's the home of a powerful Thurn und Taxis clan. They shaped (and owned) the German postal service like no other family and grew rich beyond comparison in the process. Today, you can visit the St. Emmeram Palace where the head of the family, duchess Gloria of Thurn and Taxis, still lives today.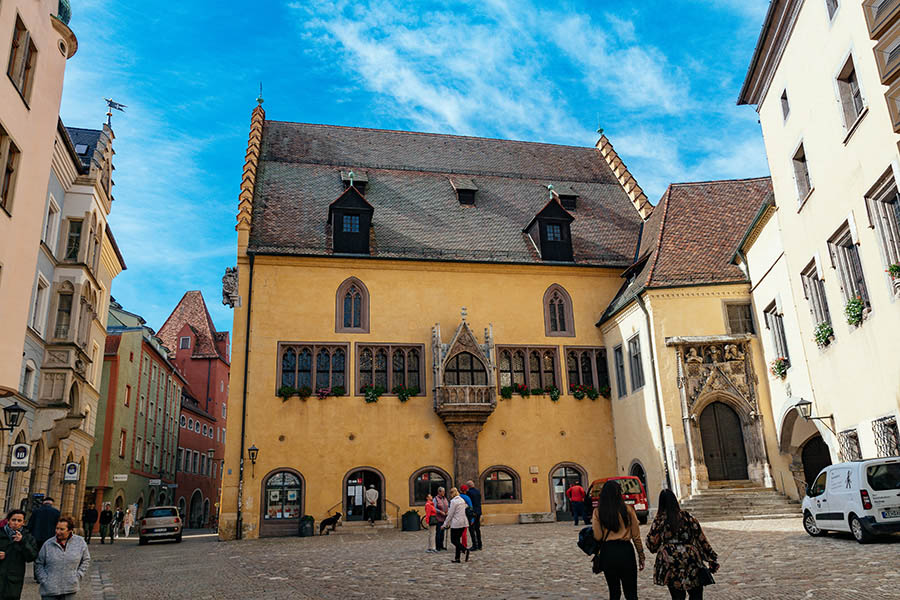 Then there is the medieval old town of Regensburg (the actual world heritage site). A mighty bridge leads over the Danube and lay the foundation for the wealth of the trade city in the 12th century. Regensburg was also the seat of the Perpetual Imperial Diet of the Holy Roman Empire until the 19th century.
Last, but certainly not least, you will find the neoclassic Walhalla memorial only a short ride on the public bus outside the city. It was built at the end of the 19th century to enshrine statues of the most important German politicians, artists, and composers. Apart from the historic significance, it's also one of the best places to enjoy a view of the Danube valley.
If you are looking for an overnight stay in the Regensburg region, consider these well reviewed accommodations and current prices here.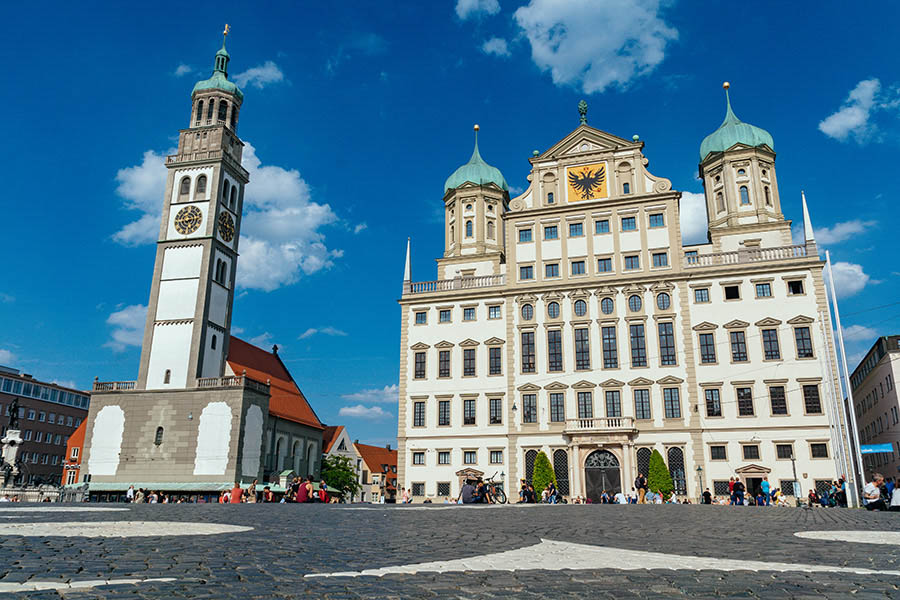 4. Augsburg
Augsburg is the most recent addition to Bavaria's panoply of UNESCO World Heritage sites. The ancient water management system of the city was recognized as a unique example of how humans made of the power of water in 2019.
At the beginning of the 15h century, Augsburg was one of the very first cities in Europe that had water towers to supply every household in the old town with the coveted wet – an unprecedented luxury back then. At the end of the 19th century, Augsburg was again the first city in the world to have an engine-powered waterworks.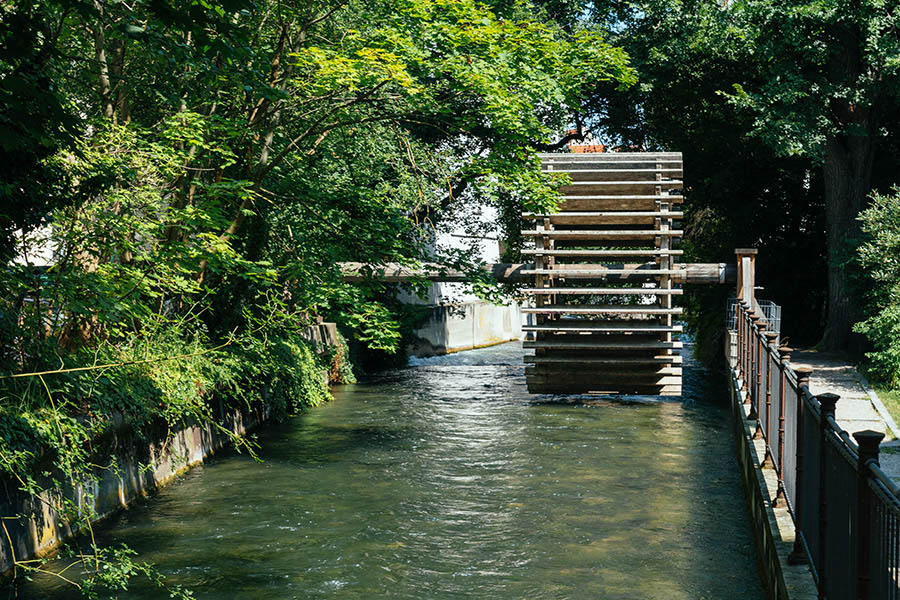 The reason Augsburg could afford such a prominent display of wealth can be found in its long history. Starting from 15 BC, it was the capital of the Roman province Raetia. In 1276, it became a Free Imperial City and would remain so until 1806. The Fugger, which would advance to the richest family of the renaissance age, shaped the city as much as the silversmiths, which set the standard of quality in Europe for centuries.
You'll find visible remains from all these periods. Like the oldest social housing complex in the world, the golden splendor of the Schaezlerpalais, or Augsburg cathedral with its stained glass windows from the 12th century. And here is the best part: It only takes 30 minutes to get from Munich to Augsburg by train!
If you are looking for an overnight stay in the Ausburg  region, consider these well reviewed accommodations and current prices here.
5. Wieskirche
Deep down in the very south of Bavaria, you can explore a region called Pfaffenwinkel. The name (which could be translated as "corner of the parsons") derives from the fact that the people in this part of Bavaria are deeply religious. As a result, there is no place in Germany with a higher density of churches and monasteries. Together with the beautiful setting at the foot of the Bavarian Alps, fame was almost guaranteed.
The Church of the Wies (or Wieskirche in German) is perhaps the most prominent example of this devotion. Right in the middle of nowhere, almost literally in the middle of miles and miles of pasture, you can marvel at an outrageously lavish rococo church which was recognized as a UNESCO World Heritage site in 1983.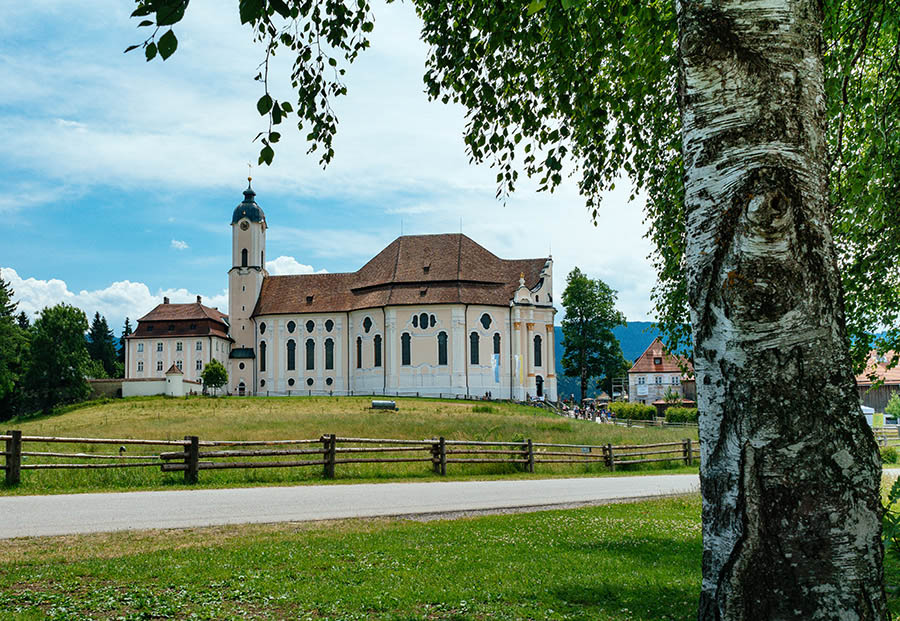 The church and its adjacent Steingaden Abbey were designed by the brothers Johann Baptist and Dominikus Zimmerman. It's a famous pilgrimage site and in the 18th century, the local abbot decided to build a new church to reflect the importance of the site. Things quickly got too expensive and the Abbey would never truly recuperate, but the resulting frescos inside the church are one of a kind. It's like stepping through the gates of heaven itself!
It's hard to make a cut here because there are many other amazing sites near Munich. But as a tourist, I'm sure you don't have unlimited time. Most people just stay 3 days in Munich, which leaves enough time for one day trip. But maybe I was able to convince you to stay a bit longer in my beautiful hometown, eh?
If you are looking for an overnight stay in the Wieskirche region, consider these well reviewed accommodations and current prices here.
How to get to the Germany Unesco sites around Munich
Getting to the UNESCO sites around Munich can be done through various transportation options. Here's a guide on how to reach each site:
Historic Centre of Regensburg:

By Train: Regensburg has excellent train connections from Munich. Regular trains run from Munich Hauptbahnhof (main train station) to Regensburg Hauptbahnhof, with a travel time of approximately 1-1.5 hours.
By Car: You can also drive to Regensburg, which is around 130 kilometers (80 miles) northeast of Munich. The journey takes about 1.5-2 hours, depending on traffic conditions.

Würzburg Residence with the Court Gardens and Residence Square:

By Train: From Munich Hauptbahnhof, you can take a direct train to Würzburg Hauptbahnhof. The journey usually takes around 2-2.5 hours, depending on the train. Trains run frequently throughout the day.
By Car: Würzburg is approximately 260 kilometers (160 miles) northwest of Munich. The drive takes around 2.5-3 hours, depending on traffic.

Pilgrimage Church of Wies:

By Train: To reach the Pilgrimage Church of Wies, take a train from Munich Hauptbahnhof to the town of Weilheim in Oberbayern. From there, you can transfer to a local bus or taxi to reach the church, which is located in Steingaden. The total travel time is approximately 2-2.5 hours.
By Car: The Pilgrimage Church of Wies is about 100 kilometers (62 miles) southwest of Munich. The drive takes around 1.5-2 hours, depending on the route and traffic.
For all these destinations, it's advisable to check train schedules and purchase tickets in advance, especially during peak travel seasons. Additionally, consider using navigation systems or online maps to ensure a smooth journey by car.
Public transportation in Germany is well-developed and efficient, making it convenient to reach these UNESCO sites around Munich. However, always check for any updates or changes in transportation schedules and routes before your trip.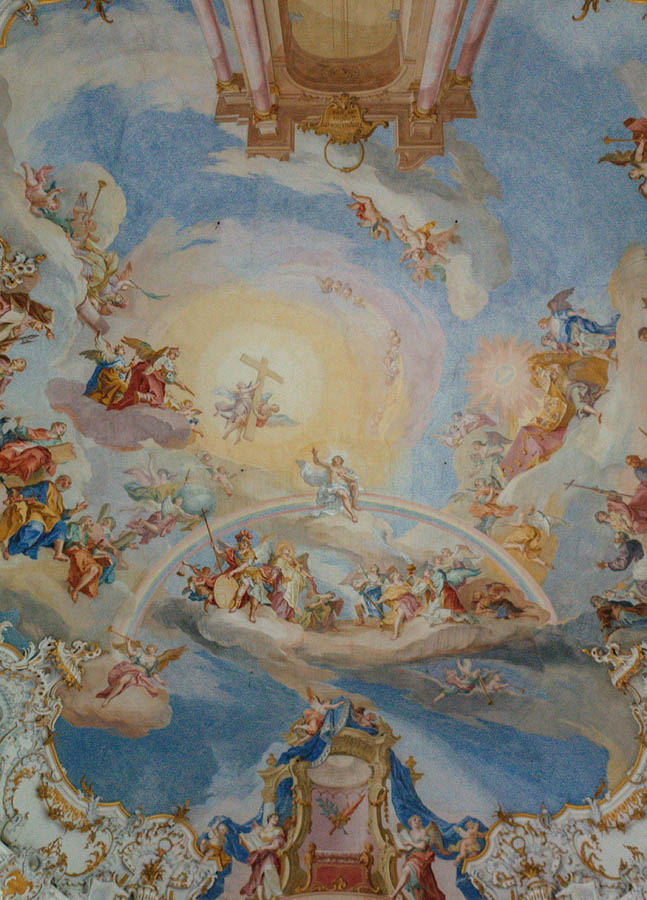 More inside tips to visiting the Unesco World Heritage sites near Munich
Certainly, here are some lesser-known UNESCO World Heritage sites near Munich that you might find intriguing:
1. **Prehistoric Pile dwellings around the Alps:** Visit archaeological sites in the Alpine region that reveal the lives of prehistoric communities. These sites provide a fascinating glimpse into ancient cultures and their use of wooden pile dwellings.
2. **Margravial Opera House:** Explore Bayreuth, where you'll find this Baroque masterpiece. It's not as famous as some other sites but boasts exquisite architecture and hosts various cultural events.
3. **Upper Middle Rhine Valley:** Take a scenic drive or cruise along the Rhine River to witness stunning landscapes dotted with castles, historic towns, and vineyards. The romantic charm of this region is often overshadowed by more prominent destinations.
4. **Würzburg Residence with the Court Gardens and Residence Square:** This opulent palace and its gardens are often overlooked but are a testament to the architectural brilliance of their time.
5. **Fagus Factory in Alfeld:** Architecture enthusiasts will appreciate this early 20th-century building, which is considered a precursor to modernist design. It's an industrial site with a unique aesthetic.
6. **Pilgrimage Church of Wies:** Nestled in the Bavarian Alps, this Rococo-style church is a hidden gem. Its interior is a masterpiece of decorative art and a peaceful place for reflection.
7. **Bamberg:** While Bamberg itself is well-known, its entire old town is a UNESCO site. Explore beyond the central area to discover quaint alleys and charming corners that often escape the tourist crowds.
These lesser-visited UNESCO sites offer a more intimate and authentic experience of Bavarian culture and history, away from the bustling crowds of more famous attractions.
Pin this for later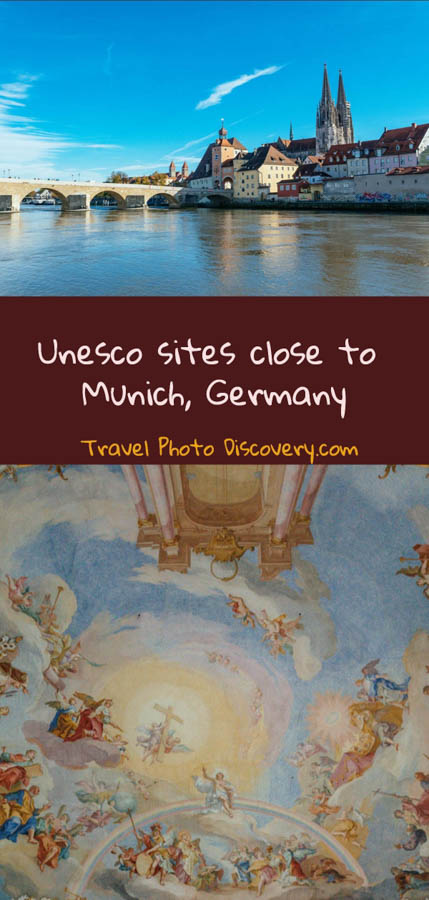 Author Bio
About the author: Norman has been living in Munich for more than 20 years and looks back on over 30 years of travel experience. When he is not reclining in the pool of a fantastic luxury hotel or exploring one of the most remote corners of this planet, you will find him writing about his hometown on his blog called The Munich Guide.
Would you visit these Germany Unesco sites around Munich?
Aren't these amazing Unesco sites in Germany to explore, would you visit any of them? Please share this in the comments below.
Conclusion to visiting these Germany Unesco sites around Munich
Exploring the UNESCO World Heritage sites around Munich offers a fascinating journey through Germany's rich history and cultural heritage. These sites showcase the diverse architectural styles, breathtaking landscapes, and profound significance of the region. Here's a summary of the UNESCO sites near Munich:
Thanks for visiting today and checking out this post on 5 UNESCO World Heritage sites near Munich. I hope you are inspired to plan a visit and enjoy these wonderful attractions. If you enjoyed the images and post, could you please share it with any of the social media buttons located around the post.
If you like what you see, come and check out my other social media channels for more updates, including Instagram, Pinterest and Twitter
Disclosure – Some links in this article on 5 UNESCO World Heritage sites near Munich are affiliates which provide a small commission to support this site at no extra cost to you. Thank you for reading, and happy travels