Photo by Chandrashekhar Basumatar, CC BY 2.0
7 Magnificent Temples of India
India is a country where temples have always been viewed from a perspective which goes beyond the realms of worship. A temple in India represents a beautiful amalgam of sages and their devotees by bringing them under a single roof. Apart from spiritual development, temples in India also play a major role in economic and social development of the country.
India is a land of varied religions, customs, faiths and dialects. Yet, one can proudly say that our sacred places have always tied us together as a united nation.
Without exploring the rich heritage of temples in India, any visit to this country would be called 'incomplete'. In a country that worships 2 million gods, establishing the magnificence of one temple over the other can never be a glib task. In spite of such situation, history has showered on us, enough facts that have made few temples the majestic symbols of faith for thousands of years. Let us talk about the magnificent temples of India that have been the centers of devotion from centuries.
Weather and best time to visit India
India is a vast and diverse country with varying climates and regions, so the best time to visit depends on where you plan to go. Here's a general overview:
Winter (October to March):
This is considered the best time to visit most parts of India. The weather is generally pleasant, with cooler temperatures and lower humidity. It's an excellent time for exploring cultural sites, going on wildlife safaris, and enjoying outdoor activities. However, popular destinations like Rajasthan can get quite crowded during this peak tourist season.
Summer (April to June):
Summers in India can be extremely hot, especially in the northern plains. It's a good time to visit hill stations in the Himalayas or the southern states, which offer respite from the heat. Ladakh in northern India is also accessible during this time, but the rest of northern India can be uncomfortably hot.
Monsoon (July to September):
The monsoon season brings heavy rains to most parts of India. While some travelers avoid this time due to the rain, it can be a beautiful time to visit lush landscapes, especially in regions like Kerala and the Western Ghats. However, travel plans may be disrupted by flooding, and outdoor activities can be limited.
Shoulder Seasons:
The months of October and March, just before and after the peak winter season, are considered shoulder seasons. During these times, you can still enjoy pleasant weather with fewer crowds. It's a great time for budget-conscious travelers.
Festivals:
India is known for its vibrant festivals, and the best time to experience them can vary. For example, Diwali, the Festival of Lights, is celebrated in October or November, while Holi, the Festival of Colors, typically falls in March. Plan your visit around these cultural events for a unique experience.
Remember that India's climate varies greatly from region to region, so research the specific destinations you plan to visit for more detailed weather information. Regardless of when you visit, India offers a rich tapestry of culture, history, and experiences that are sure to leave a lasting impression.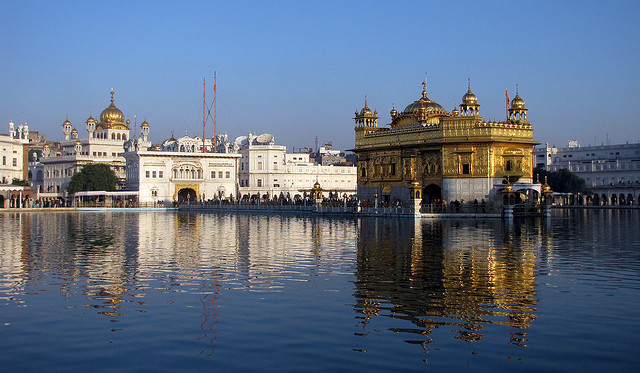 Photo by jasleen_kaur, CC BY-SA 2.0
Location: Amritsar
State: Punjab
Guru Arjan Dev, the fifth Sikh Guru, laid the foundation of the Golden Temple in Amritsar, Punjab. Its construction was carried out on the periphery of a lake, which is today known as 'Amrit Sarovar'. Also known as 'Shri Harmandir Sahib' or 'Darbar Sahib', the Golden Temple is one of the 'costliest' temples in India because of the expenditure incurred in its construction.
Guru Granth Sahib, the holiest text of the Sikhs, was first placed in the Golden Temple. Since the day of its inception, Darbar Sahib has been the epitome of religious harmony and even today, the four doors of the temple welcome people with an open heart, irrespective of their religion, faith or ethnicity. It is believed that the 'Sarovar' in the temple compound has medicinal powers. The pilgrims who visit the temple never forget to take a dip in the holy water.
Venkateshwara Tirupati Balaji Temple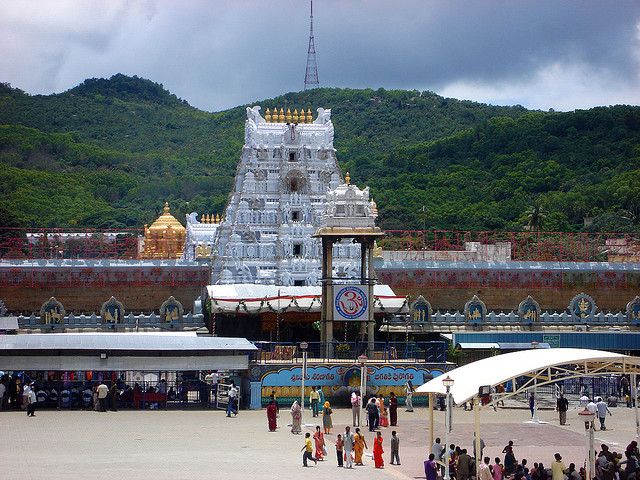 Photo by Chandrashekhar Basumatar, CC BY 2.0
Location: Tirumala
State: Andhra Pradesh
Popularly known as 'Tirupati Balaji', this temple is often termed as one of the richest temples on the Indian soil. As the name suggests, Venkateshwara Tirupati Balaji temple is dedicated to Lord Venkateshwara, an avatar of Lord Vishnu.
Among numerous festivals that are celebrated in the temple, 'Brahmotsavam', a 9 day festival, is the most celebrated one. Tirupati is also widely known for a unique ritual in which devotees get their heads tonsured in large numbers. Interestingly, the temple earns about 6.5 million USD through hair auction on an annual basis.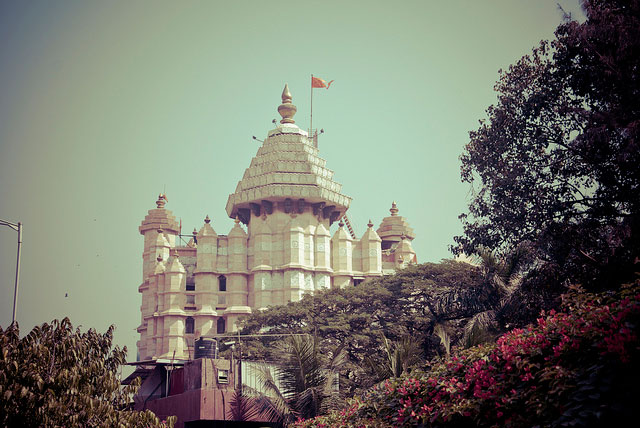 Photo by Will Will, CC BY-ND 2.0
Location: Mumbai
State: Maharashtra
Built in 1801, Siddhivinayak Temple in Maharashtra is dedicated to Lord Ganesha, who is widely known as the destructor of pathologies. In Hindu culture, Lord Ganesha, the supreme deity of Siddhivinayak Temple, is believed to be the first one to be worshipped before the initiation of any work.
The inner walls of the temple are plated with gold and wooden entries are carved with the different avatars of Lord Ganesha. Siddhivinayak Temple is most visited by celebrities including Bollywood stars, cricketers and politicians.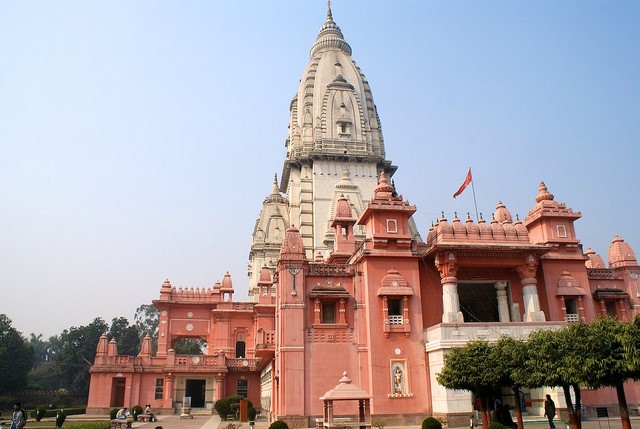 Photo by Ramón, CC BY-SA 2.0
Location: Varanasi
State: Uttar Pradesh
Dedicated to Lord Shiva, or 'Vishwatma', Kashi Vishwanath Temple is believed to be the prime centre of worship for the Hindus. Of the twelve 'Jyotirlings' of Lord Shiva that exist in India, one has been enshrined in this holy temple.
Located on the banks of river Ganga, Kashi Vishwanath Temple has been believed to be powerful enough to liberate human beings from the sins of their life. In Hindu culture, it is believed that a visit to the Kashi Vishwanath Temple can help one attain the ultimate liberation of the soul.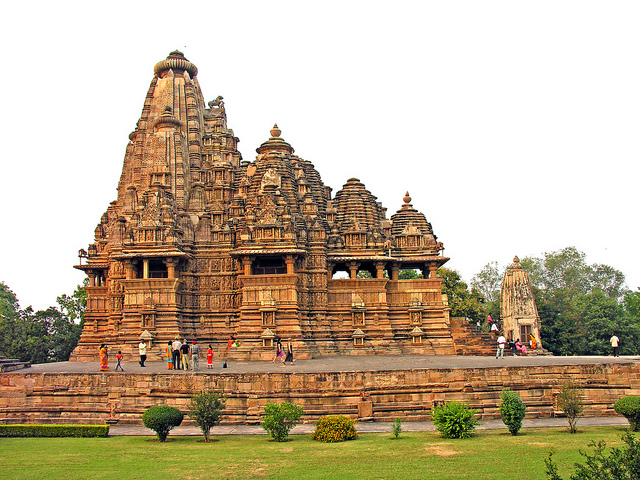 Photo by Dennis Jarvis, CC BY-SA 2.0
Location: Khajuraho
State: Madhya Pradesh
Built in the 10th century, the temple of Khajuraho is famous for its erotic carvings and paintings. Despite of being a temple, the architecture is known more for its consummate artistry and less for religious purposes.
The temple of Khajuraho represents a unique amalgam of Hinduism and Jainism. Out of three groups that the temple is divided into, Southern and Western portions are dedicated to Hindu deities: Shiva and Vishnu. The eastern part, on the other hand, is dedicated to Jainism and attracts more followers from this sect.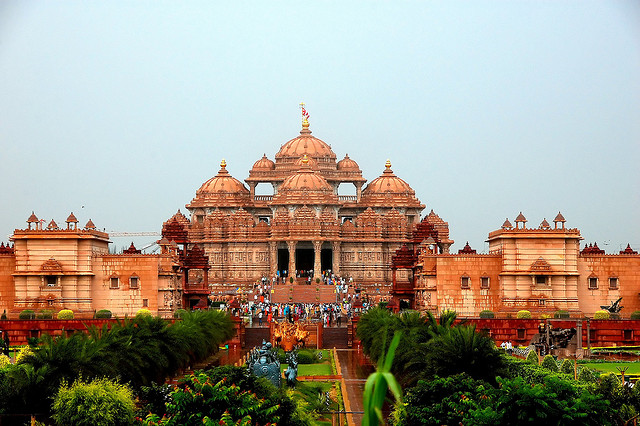 Photo by Russ Bowling, CC BY 2.0
Location: New Delhi
State: Delhi
This modern day Hindu temple, which is situated on the banks of river Yamuna, was constructed on the principles of Vastu Shastra. Dedicated to the principle figure of Swaminarayana faith, Lord Swaminarayan, this temple has recently become one of the most visited places in India. It is said to attract 70% of all tourists who visit Delhi.
The temple showcases movies, books and statues related to the Swaminarayana sect during the day time. Unlike other Hindu temples, Akshardham Temple attains a magnificent form during the night with its famous light and sound show that attracts visitors in large numbers.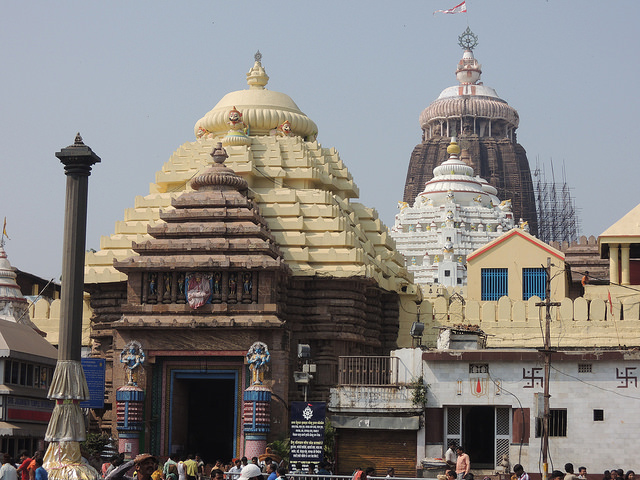 Location: Puri
State: Orissa
Built in the 12th century, Lord Jagannath Temple a.k.a Lord Krishna Temple is housed with 20 shrines of Hindu deities. Restricted entry for non-Hindus is one of the most eccentric features of the temple. Lord Jagannath Temple is famous for being one of the four holiest places (Char Dhams) of the Hindu devotees. The annual 'Rath Yatra' of the Jagannath Temple is the biggest event of the temple and is attended by millions of Hindu devotees every year.
Even after hundreds of years of their inception, our magnificent temples still stand strongly as the centers of belief in the country. One simply cannot think of traveling across India without visiting these majestic symbols of faith. As Mark Twain has rightly said on India – 'In religion, all other countries are paupers and India is a millionaire'.
Inside tips to visiting these 7 major temples in India
Visiting the major temples in India can be a spiritually enriching and culturally immersive experience. Here are some inside tips to enhance your visits to these sacred sites:
Sunrise Visit:
Arrive early to witness the breathtaking sunrise over Angkor Wat. It's a popular practice, so be prepared for crowds.
– **Respectful Attire:** Dress modestly, covering your shoulders and knees. This is a sign of respect at religious sites.
Varanasi, Uttar Pradesh (Kashi Vishwanath Temple):
– **Early Mornings:** The early morning hours along the ghats of the Ganges River are magical. Attend the Ganga Aarti ceremony at sunrise for a spiritual experience.
– **Local Guides:** Consider hiring a local guide to explain the significance of the rituals and the city's history.
Meenakshi Amman Temple, Madurai, Tamil Nadu:
– **Visit Timing:** Plan your visit early in the morning or in the evening to avoid the heat and crowds.
– **Footwear:** Remove your footwear before entering the temple premises, as it's customary and a sign of respect.
Akshardham Temple, Delhi:
– **Security Check:** Expect security checks, so travel light and avoid carrying bags or large backpacks.
– **Fountain Show:** Don't miss the impressive musical fountain show in the evening, showcasing India's cultural heritage.
Tirupati Balaji Temple, Andhra Pradesh:
– **Online Booking:** Pre-book your darshan (visit) online to skip the long lines. There are different types of darshans available, so choose the one that suits you.
– **Laddu Prasadam:** Partake in the famous laddu prasadam offered at the temple. It's considered a blessed offering.
Golden Temple, Amritsar, Punjab:
– **Langar Experience:** Join the community kitchen (langar) for a meal. It's open to everyone and reflects the temple's spirit of equality and service.
– Head Covering:** Cover your head with a scarf or bandana as a sign of respect before entering the temple premises.
Khajuraho Group of Monuments, Madhya Pradesh:
– **Guided Tours:** Consider hiring a local guide to understand the intricate carvings and the historical context of these temples.
– **Light and Sound Show:** Attend the evening light and sound show to learn about the history and legends associated with the temples.
Always show respect for local customs and religious practices when visiting temples in India. These tips can help you make the most of your visits, allowing you to appreciate the spiritual and cultural significance of these magnificent sites.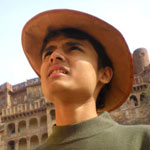 Author Bio:
Rohit can aptly be defined as a traveler in the body of a writer. He loves to explore the hidden side of Indian culture and maintains a blog – Trans India Travels. Ancient sacred places have always grabbed his special attention and he never ceases to explore them.
Conclusion to visiting these major Indian temples
Visiting the major temples of India is a profound and enriching experience that allows you to delve into the heart of India's spirituality and culture. Each temple is a testament to centuries of devotion and artistry, offering unique insights into the country's diverse religious traditions.
As you explore these sacred sites, you'll be mesmerized by the intricate architecture, the rhythm of daily rituals, and the deep sense of spirituality that pervades the air. The spiritual energy and historical significance of these temples create an atmosphere of reverence and wonder that leaves a lasting impression.
Remember to approach your visits with respect for local customs, dress codes, and religious practices. Engage with the local community, learn about the stories and legends behind each temple, and embrace the opportunity to connect with a spiritual heritage that has endured for millennia.