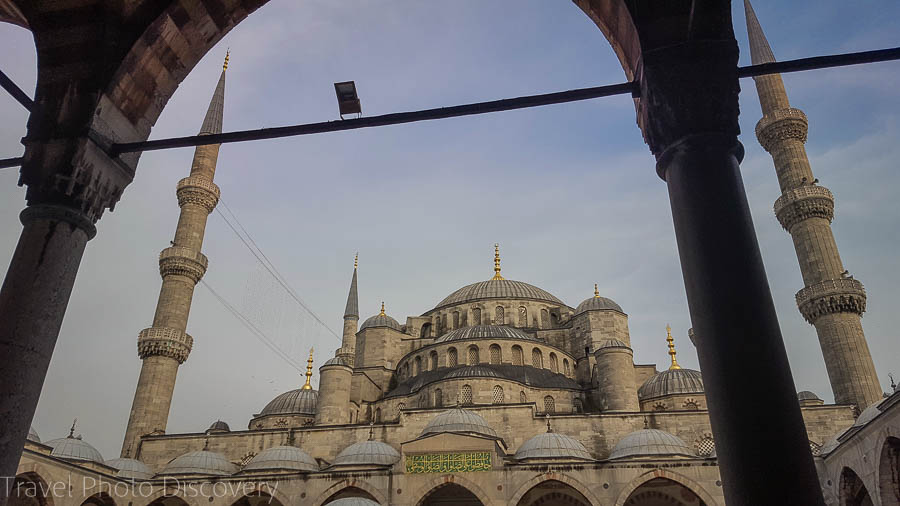 Once a stopover along the silk road, Turkey has long been a crossroads between East and West. As a result, the country has a rich culture steeped in history and traditions with warm hospitable people.
Mixed together it makes holidaying in Turkey an unforgettable experience. And I have to say both our Turkey holidays have left us wanting more.
From visiting ancient ruins and hectic bazaars, to soaking in thermal pools, there's an amazing array of things to do in Turkey. So, we've made a list of seven sensational things to do in Turkey. To help you decide what to do on your next Turkey travel trip.
Places to visit in Turkey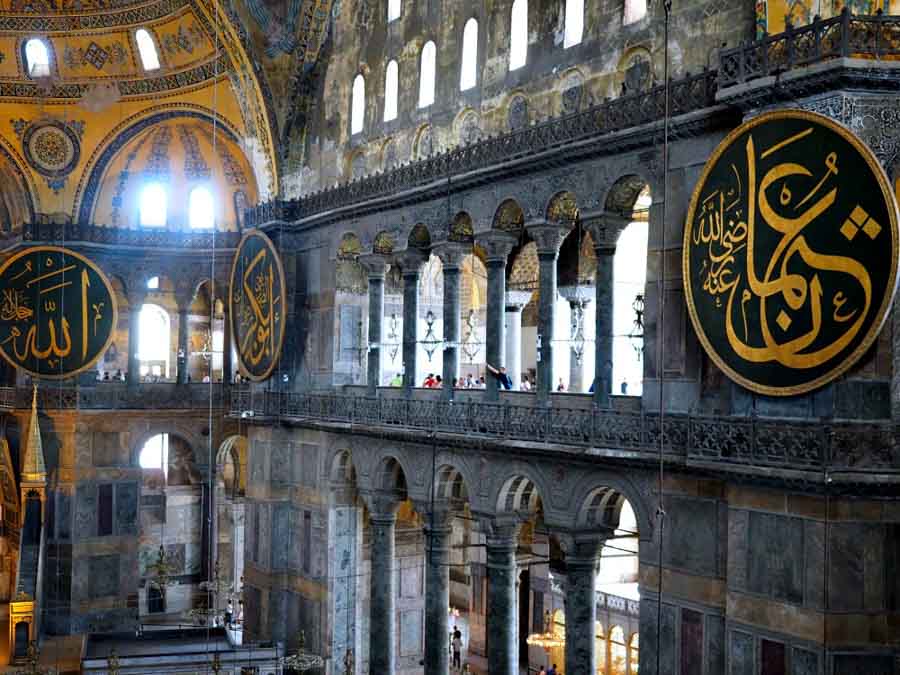 1) Explore Sultanahmet
Of all the must-see places in Turkey, it's Istanbul and the area known as Sultanahmet that stands out for us. Jam-packed with mosques, churches, palaces, and centuries old buildings Sultanahmet is the most atmospheric place we've ever been.
Nowhere in the world does the call-to-prayer sound as hauntingly beautiful as it does at the Blue Mosque. Sit on a park bench and let the soul-stirring tones wash over you as the sun sets behind the graceful mosque. You'll find some of the most famous Turkey attractions in Sultanahmet in your Istanbul sightseeing.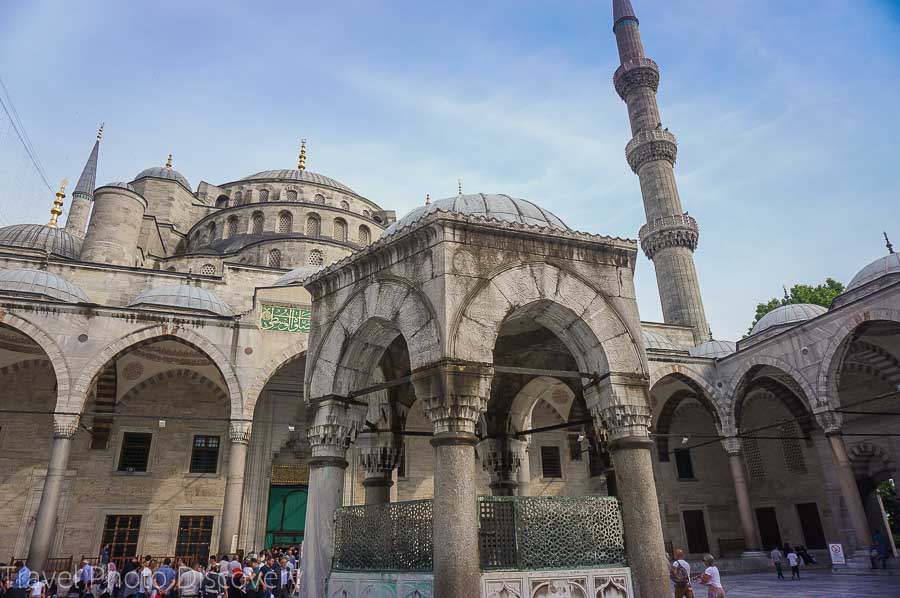 Highlights include the Blue Mosque, Topkapi Palace and my favourite, the captivating Hagia Sophia visiting Istanbul. Be sure to visit the Basilica Cistern to add something different to your Turkey sightseeing. It's amazing what you can find hidden beneath a city.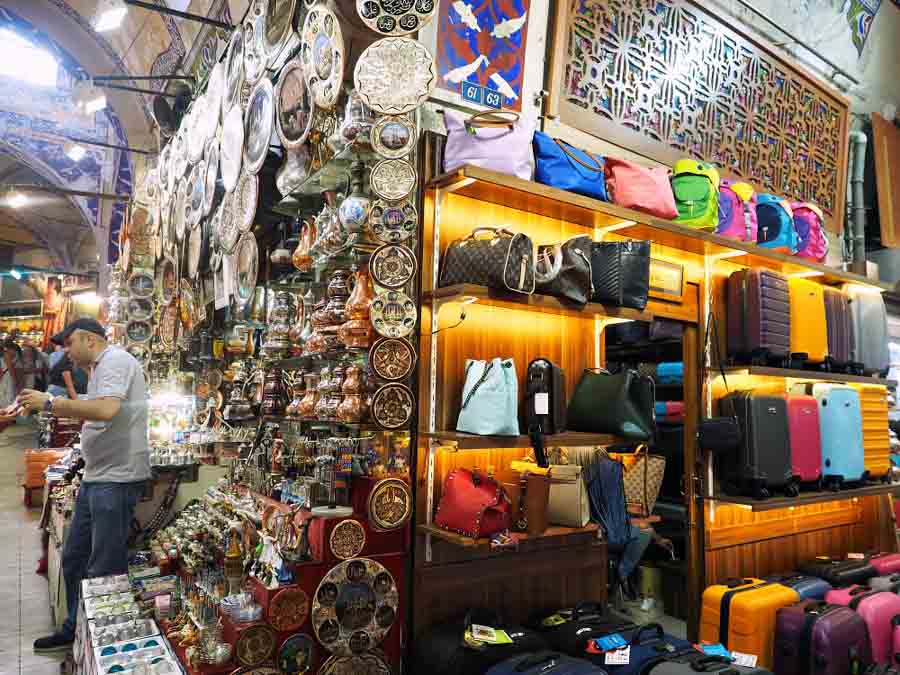 2) Shop At The Grand Bazaar In Istanbul
Said to be the first shopping mall ever built, the Istanbul Grand Bazaar (Kapali Carsi) is the beating heart of the old city. Sprawled over a huge area the colourful and chaotic bazaar is as impressive as it is confusing.
Try your hand at bargaining at one of the thousands of shops bursting with all kinds of goods. From jewellery to carpets, to spices and trinkets, to soap and lamps your head will explode with all the options.
Walk under one of the stone arches and dive into the labyrinth for a mind-blowing experience on your Turkey vacation. Just try to visit without buying something. I dare you!
Visiting Istanbul is fun and doing this three-day Istanbul tour and experience will give you the chance to experience all the main attractions in the city.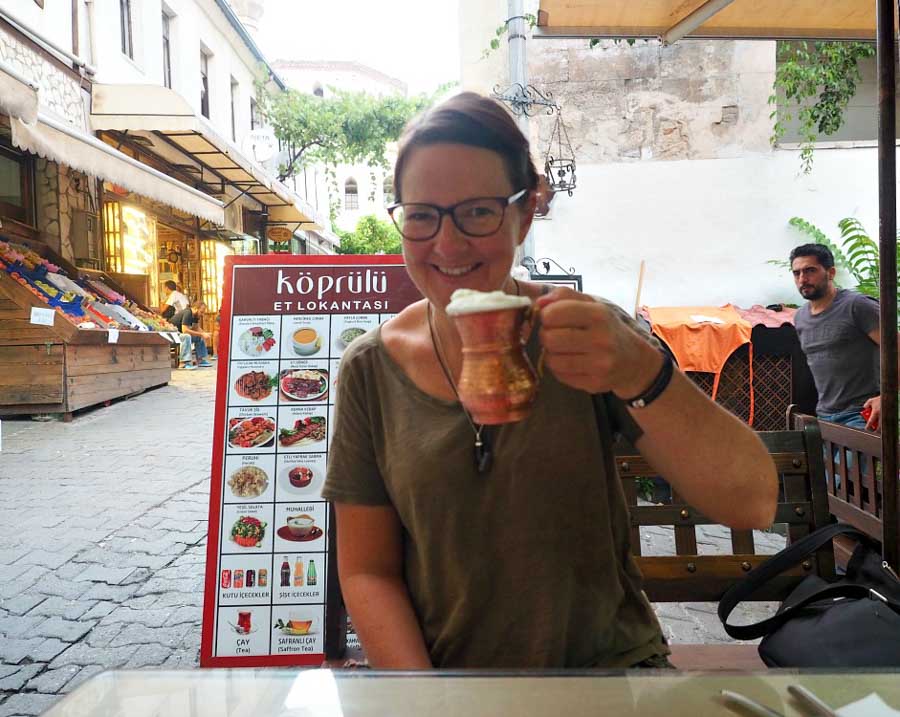 3) Drink Some Delicious Ayran
Ayran is an unusual drink that is made with yoghurt, water, and salt. That's right. Salt. You won't get a sugar hit from this drink. Ayran is popular throughout the Middle East and it's considered a national drink in Turkey.
I must admit on our first tour of Turkey, I thought ayran was darn awful! But second time around I became a raving fan and I drank it with most meals. Everyone should try it at least once on their Turkey holiday. Gulp it down with a big plate of kebabs.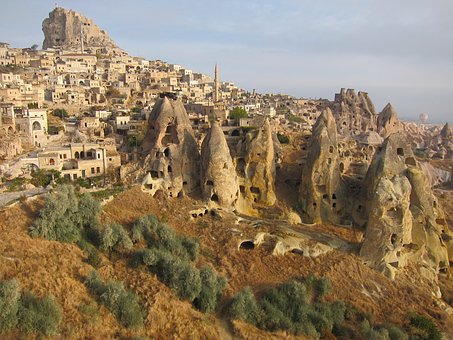 4) Visit Goreme Open Air Museum In Cappadocia
The Cappadocia region of Turkey has one of the most unusual landscapes on earth. Many years ago, ancient volcanic eruptions covered the area with thick ash which solidified into soft rock. Wind, water and time went to work creating a moonscape of towering boulders.
Then people came along and turned the rocky wonderland into a network of caves with living quarters, places of worship, store houses and even entire towns. The Goreme Open Air Museum is a UNESCO World Heritage Site and one of the best places to visit in Turkey.
Dating back to the 10th century the massive monastic complex was once home to monks and nuns. Now it's a famous Turkey tourist attraction. It has superb rock-cut churches with radiant frescoes, whose colours still retain their original glory. For a truly magical experience visit Goreme during winter. It's like something out of a dream.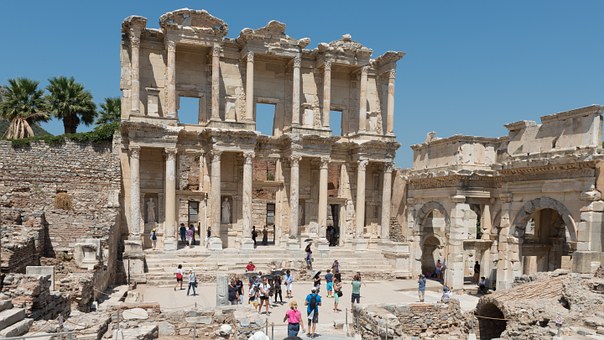 5) Scramble Over Ancient Ruins
If there's one thing I love to do when I travel, it's to visit ancient ruins. And there are tonnes of ancient places to see in Turkey. In fact, Turkey may have more ancient ruins than just about anywhere else.
But what's even more remarkable is how intact so many of them are. Nowhere is this more evident than at the highly popular Ephesus. Famous for its Temple of Artemis and breathtaking library, Ephesus is incredible. And it's one of the most popular Turkey attractions.
But we had fun wandering around the less well-known historical Turkey sights. Like Laodicea where you can walk along colonnaded Syria Street without another tourist in sight. Or stand in the biggest ancient stadium in the world at off-the-beaten track Aphrodisias. You can even see the archaeologists at work.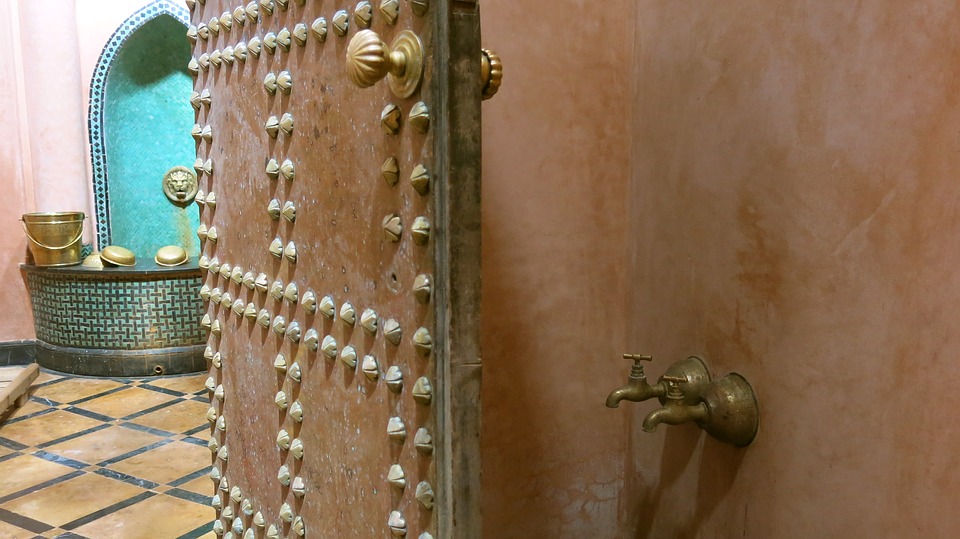 6) Have A Hammam
A visit to a Turkish bath or hammam is a unique cultural experience that you're unlikely to ever forget. Like Roman baths hammams have marble interiors, columns and domed ceilings. And patrons lie on raised circular platforms as sweat oozes from their pores.
But far from the peaceful aura of a luxury western-style spa, hammams are lively social hubs. It's where friends and neighbours meet to discuss politics and swap gossip.  Even so, Turkish baths take cleanliness to whole new level. From the sauna, to the body scrub, to the soapy massage and buckets of water, layer upon layer of grime and dead skin are washed away.  Your skin will be so clean and polished it will positively gleam!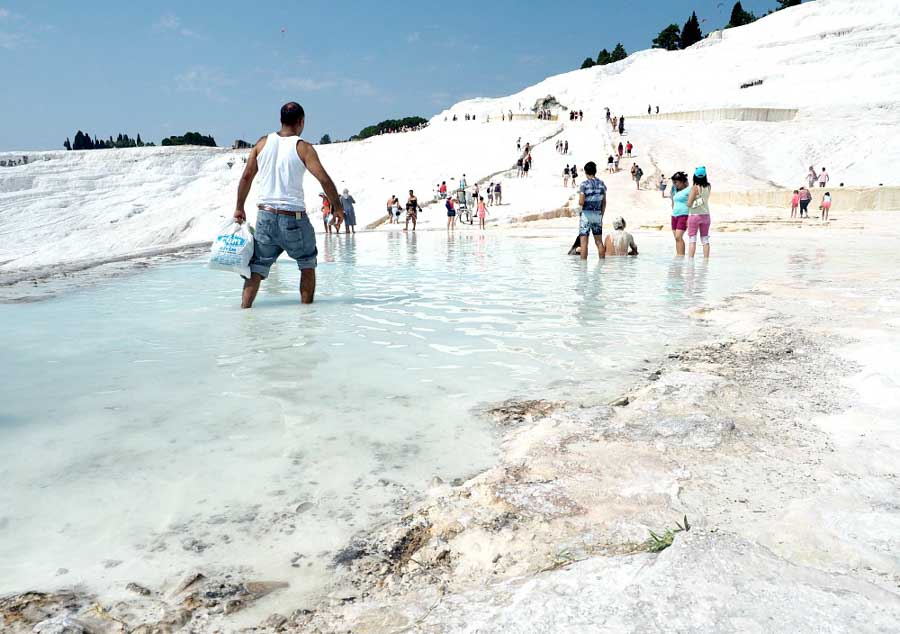 7) Splash In A Thermal Pool At Pamukkale
Pamukkale has two things I love, epic landscapes and ancient ruins. Pamukkale means "cotton castle" in Turkish. And from a distance the terraces look like a castle made of fluffy white cotton. For centuries mineral rich water has flowed over cliffs creating calcium deposits of blinding white terraces filled with stunning blue water.
People have travelled to Pamukkale since Roman times to soak in the mineral-rich water. We even saw people coating themselves from head to toe in mud! Once you've finished splashing around in the pools take a walk amongst the ruins of Hierapolis that sit above the terraces. And be sure to pop into Cleopatra's pool for a dip amongst centuries old marble columns. Just like the Romans did.
Final Thoughts about visiting Turkey
Turkey is a richly historical land with a fascinating culture and jaw-dropping scenery. And there are many more places to visit in Turkey than can be listed here. Why not visit and discover them for yourself?
Enjoyed this post – please pin it!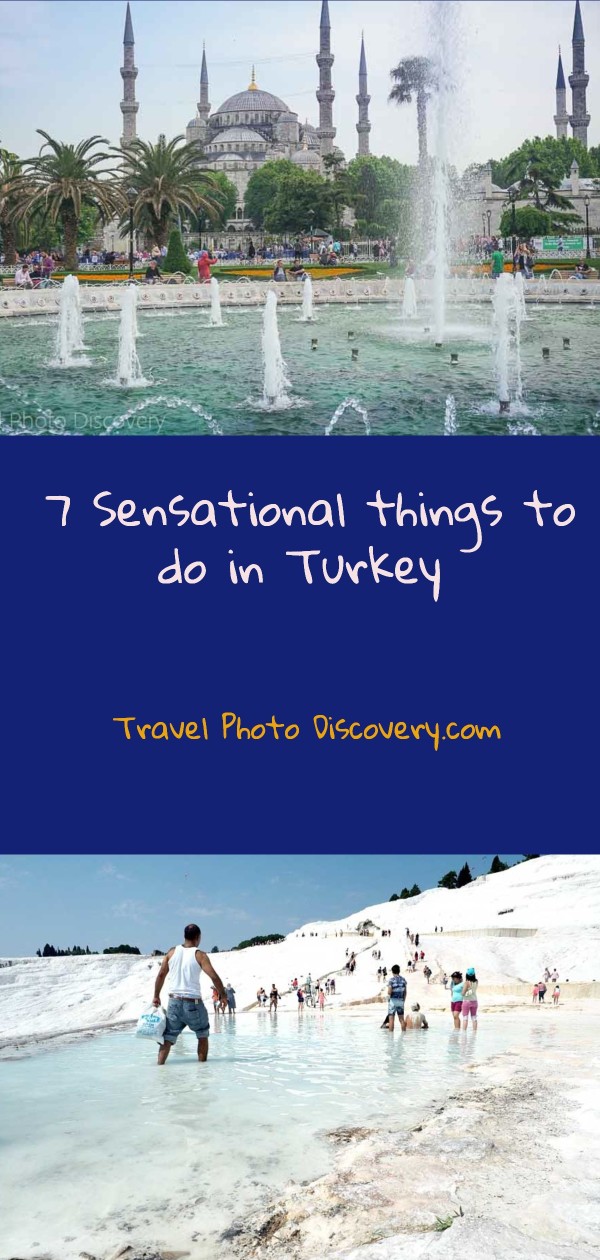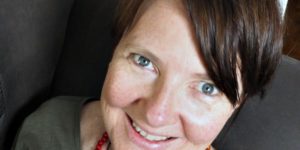 Audrey's Bio
Audrey is a coffee drinking adventurer who has spent the last 30 years travelling with her partner Andrew. In 2017 they set off together on a 13-month career break to wander the world. She loves nothing better than helping others to follow in their footsteps.
Follow her at Gumnuts abroad.com
Thanks for visiting today and checking out this post on 7 sensational things to do in Turkey, if you enjoyed the images and post, could you please share it with any of the social media buttons located around the post.
If you like what you see, come and check out my other social media channels for more updates, including Instagram, Pinterest and Twitter
Disclosure – There are affiliates links on this posts which provide a small commission to support this site at no extra cost to you. Thank you for reading, and happy travels.