A Christmas parade in Hawaii
Christmas parades are popular in Hawaii, in fact almost every community throughout the islands will sponsor a local holiday parade with lots of local faces, politicians and civic members of the community being present and sharing the holiday cheer to the crowds. It's a lot of fun seeing many friends and family take part at the parade and greet neighbors and associates along the parade route.
The Christmas holiday parade in Pahoa is just one of those parades I love to see because it is certainly atypical of the type of parade you would normally see during the holidays. It's that spirit of live and let live, diversity and acceptance that makes this one of the most zany if not colorful parades throughout the islands.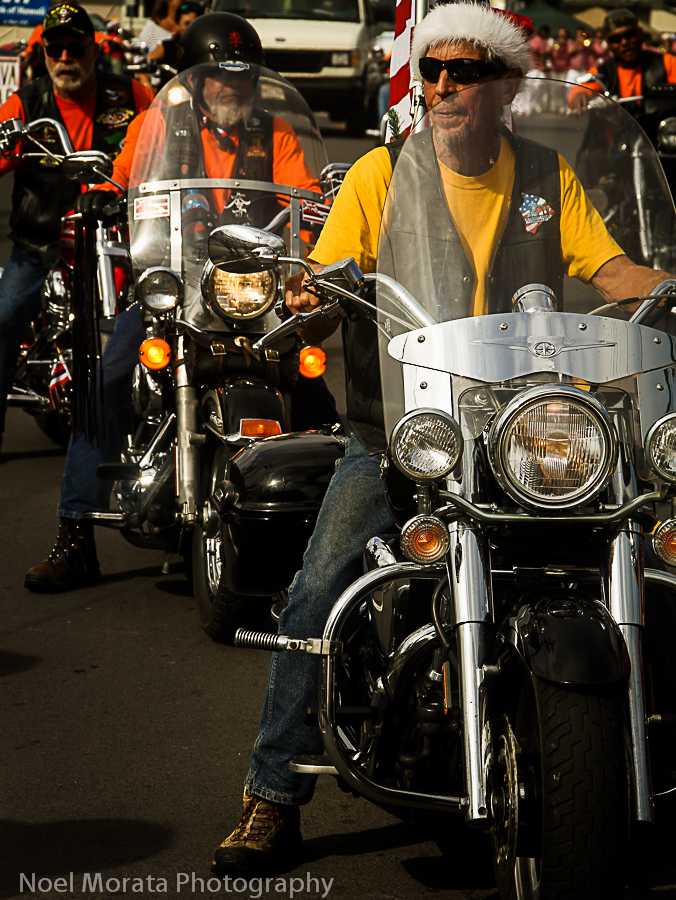 The biker contingent is here with their Harleys
Of course you will see the typical Christmas processions like the Harley biker groups that love to start the parade and blast their engines so everyone hears the loud rumbles.  Then there's the local politicians, bands and other local civic groups that are there to march and create visibility for their particular group.
 
I love seeing and photographing more of the personal and quirky things that I may come across during the procession, here are just some of my favorites at this parade:
So sad, I think this kid is probably tired of having his mom dress him up every holiday for this parade, I'm sure the first time was cute, but this time it's a little boring being on the wagon again….
Our local county band is in Christmas colors this morning and spreading some Christmas cheer, it's always nice to see a group of dedicated people support a variety of parades and other civic functions around our island and show some music and Aloha.
I think the Hare Krishna group always participates at this holiday parade and probably only this one in all of Hawaii, shows you how diverse and tolerant people are here for sharing the Christmas spirit. Now if I only knew what the egg looking carriage that is being pulled at the parade supposed to represent, I keep forgetting to ask….
Our local marching ukulele band is now spanning all different ages and ethnic groups….it's nice to see music being passed on to the younger generations with sharing lessons and showing how beautiful music being shared spans all generations and is wonderful to hear especially at parades.

The little wiener dogs also have a spot on this parade with the local Puna wiener dog contingent…I love the spirit of this one dog with his assisted wheel – it keeps him going the length of the parade and maybe even further down the road!
Well what's a holiday parade without our own Elvis driving down in a silver Cadillac convertible, thanks for making a guest appearance today Elvis, love the outfit and cool glasses.
What's a parade without a local dance group performing some fun and campy salsa and latin routines to spice things up on the parade route.  Keep it feisty girls with your rainbow colors and sassy wigs!
Equestrian rides are always fun to watch, here a mother and young paniolo (rider) show us some festive xmas cheer along the parade route.

I love watching dogs and their owners, there's always some wonderful moments of joy and humor with pets at these parades.  I love the picture below with the child and her puppy, it's so innocent and sweet, don't you think?
Of course there's always the quirky and eccentric people showing up to the parades including the chicken man biking around with his baby chickens.
Of course this year Santa is trying something new instead of the bright yellow fire trucks he is stylin' in a bright red mustang with his sexy elf assistants….way to change it up this year Santa!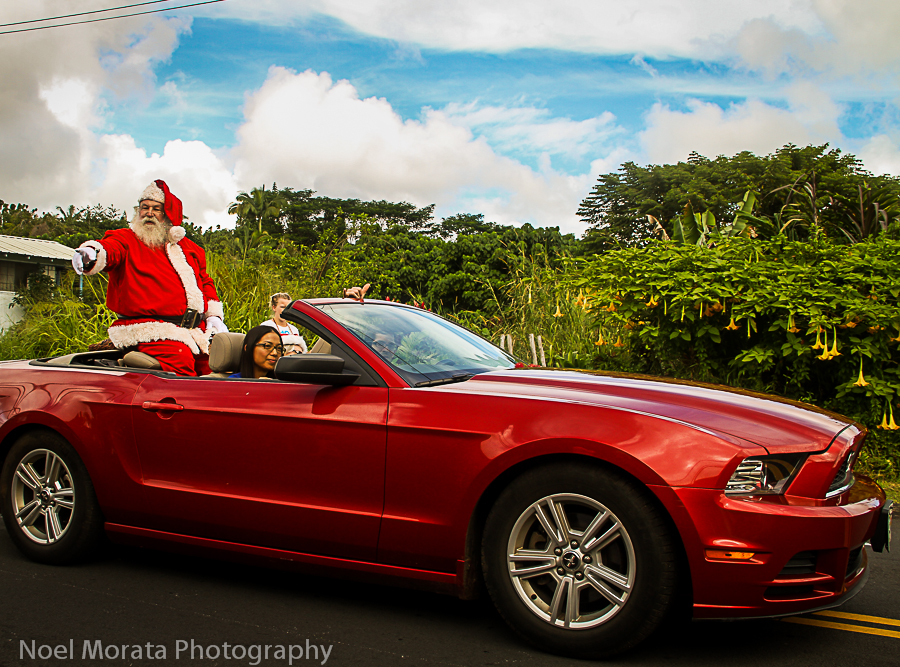 Santa's in a supped up Mustang this year
Well that's a quick look at how we do our Christmas parades in Hawaii….hope you enjoyed the fun tour, maybe you'll come and see this next year? Thanks for visiting A Christmas parade in Hawaii, if you enjoyed the post, could you kindly share it with any of the social media buttons around the post, thanks so much.