Amanjiwo Borobudur in Central Java
Arriving at an Aman resort is a testament to understated elegance, this is easy to see and experience when you enter the Amanjiwo resort at Borobudur. A round structure both modern and stupa inspired, it mimics the incredible temple grounds of Borobudur below with a sophisticated and contemporary flare. Once you enter the mysterious round facade, you step down a series of galleries and lounging rooms, eventually leading down to the main hall, and suddenly you have finally arrived at Amanjiwo. In front of you is a grand room with open views to an expansive stone veranda, lush jungle and the magnificent temple of Borobudur below.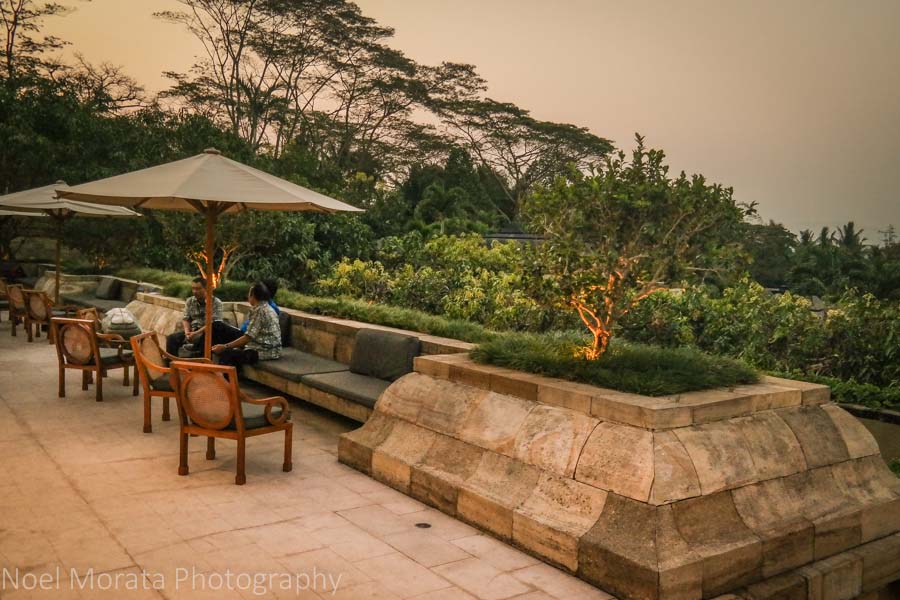 Relaxed and refined at Amanjiwo
I'm immediately drawn to the stone veranda with these huge elevated planters of aromatic trees filled with jasmine, plumerias and gardenia.  The delicate and scented white flowers perfume the entire courtyard and easily places you in a relaxed state of mind and you want to enjoy the comfortable outdoor lounges. Front and center down a stone pathway through the hidden villas, you are given these exotic views of Borobudur in a sea of green forest exactly like how you would see this its ancient and natural environment.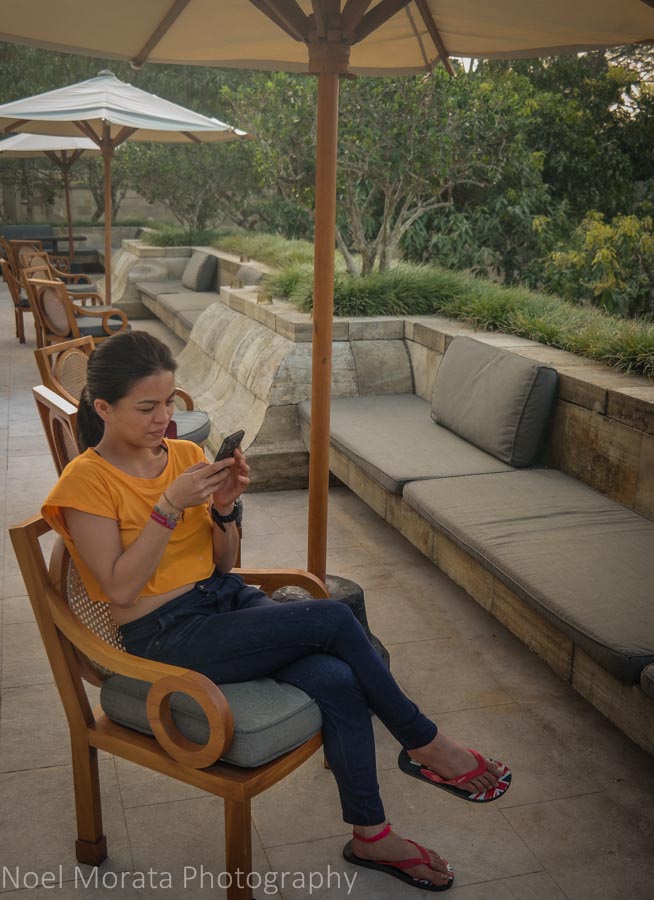 Amanjiwo successfully incorporates the environment and historic treasure of Borobudur temple with a modern and refined palate of colors, luxury appointments, and exceptional service.  This resort pays tribute to the ancient Unesco site below in simplified and almost hidden purpose. Most of the resort and separate villas are built along a hill and are mostly hidden from any views within a forest of emerald-greens and earthy browns.
Tea service at Amanjiwo
Before lunch is served, a elderly woman attracts my attention next to a raised platform with a patterned batik spread and some delicious specialty sweet and savory delights. She is preparing an herbal tea made with a variety of plant roots, leaves and other fresh herbs for a healthy afternoon drink. Methodically, she prepares the ingredients by mashing, mixing and boiling the water and then pouring the tea mixture into earthen brown cupsThe first taste is mild, not sweet but filled with earthy and herbal flavors that mimics the floral aromatics around the courtyard. I also try some of the local sweets which are in these bamboo steamers – one is a savory sticky rice with some sweet mince meat filling and the second is purely sweet and spongy cake, almost like a soft angel cake with a hint of vanilla and almond. I savor my tea and savory bites on those plush lounge chairs while looking at Borobudur below. I will be visiting the temple for a 3am sunrise tour and wondering how amazing that experience will be while I'm viewing it from above.
Savory delights
Lunch service at Amanjiwo
We are slowly ushered into the dining room – an opulent and yet casual room with comfortable communal seating with huge wall hangings, patina silver leafed ceilings and stylish chairs. It's both relaxing and elegant at the same time. The lunch menu is placed above the place settings, it is a simple menu with regional Makan Malam cuisine served with refined and international palates in mind. Service is quick and attentive even with our large group of visitors, it seems effortless and evenly paced with the dishes served perfectly.
We are served the following dishes for lunch
Salad with fresh peas, carrots, tomato and local string beans in a creamy parmesan vinagrette dressing.
The entree was a refreshing crispy and succulent Ayam chicken with locally grown tomatoes and cucumber and jasmine rice.
Lunch at Amanjiwo resort was simple and a perfect combination of local flavors and spices. It was a pleasant and wonderful way of seeing Borobudur temple for the first time and in a different vantage point looking down to th temple from Amanjiwa. Afterwards, I did an early sunrise tour of the sacred temples at Borobudur, please do check out my recent Borobudur post here.
Thank you for visiting Travel Photo Mondays at  Amanjiwo Borodubdur, Indonesia series of places I'm currently visiting just to give you an update to my whereabouts around the world. Thanks for visiting today, please do visit the other bloggers participating in today's link up below. If you like what you see, come and check out my other social media channels for more updates, including Instagram, Pinterest and Twitter.
Thank you for hosting me on this tour Wonderful Indonesia and Ministry of Tourism of the Republic of Indonesia, all thoughts and opinions are my own.