American Southwest road tour Tours4Fun
I recently took a national parks tour of the Southwest with Tour aggregator Tours4Fun which was spectacular. The three day program was jammed packed with amazing national parks, monuments and natural wonders, it was definitely a must do tour when you want to book a trip through Tours4Fun. When a tour program is just a short timeframe especially for just three days, it makes sense to work with a tour provider that does all the main logistics, tour program, housing and food preparations all in one booking. It's not easy preparing all the small details to prepare for all the fantastic places we visited in the Southwest and worth the price for a smooth tour lead by a fantastic and personable guide.
Here are some of the highlights of the tour
The starting point in Las Vegas was fairly straight forward, we were required to meet before 7am so we could have a prompt departure and have more time to explore.  Our guide, Jennie, cheerfully greeted everyone and quickly gave us a summary with all the nuts and bolts requirements, the typical disclosures and form filling,  a nice meet and greet session followed by our planned  itinerary summary. This was  so well executed that we were able to leave the parking lot by 7:20 which is pretty amazing considering the amount of coordinating effort to get the forms ready, the carriage packed and everyone completely in sync with our travel plans for the three days.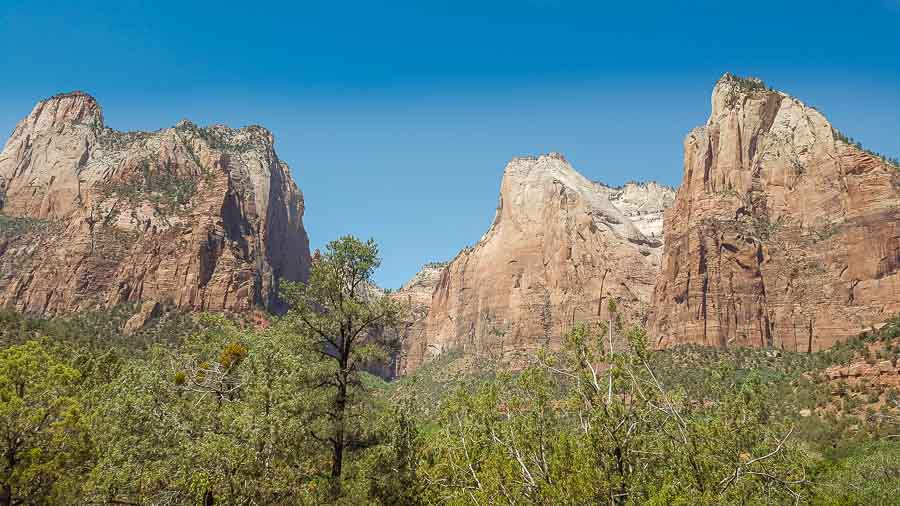 Zion National Park
In no time we were headed out to our first destination which was Zion National Park, about 3 hours drive north of Las Vegas. Passing through scenic desert terrain on smooth freeways, we quickly made it to the exit and feeder road to the park entrance. The scenery driving into the park became even more spectacular with rolling hills, little towns turning into dramatic peaks and rugged hill terrain. Once inside the park entrance, our guide expertly gave a quick history to the park and detailed our free time to go out and explore trails or points of interest within the allocated time frame. Jennie tells us explicitly that this is simply 'A taster' to the national parks of the southwest and we will just get to see some highlights and later we might want to go back later for a more extended visit. Having visited Zion just a month earlier, I decided quickly to cover some of the areas that I did not see the first time and immediately jumped on the first trolley that came in just right after we parked the van. I toured three amazing sites: Whispering mountain trail, the Court of the Patriachs and the canyon lookout point along the Virgin river.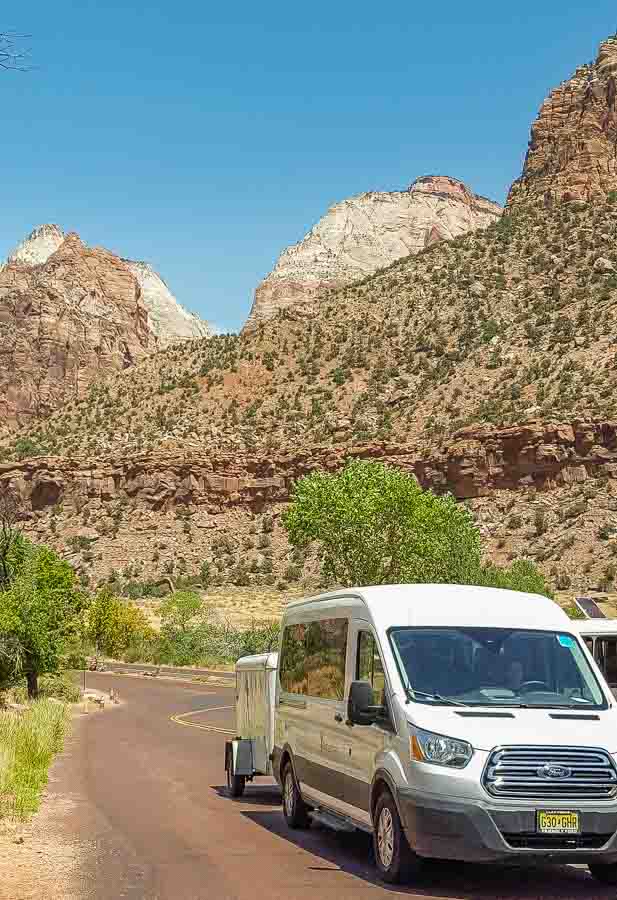 Bryce Canyon
The wonderful thing with our newly formed group was that everyone did show up right on time at our meeting point and we quickly headed out through the east side of the park heading to Bryce Canyon. This would be our afternoon tour where we had another 3 hours or so to choose what trails or areas that we would like to explore during this short time frame. I decided to tour the rim of the canyon so I would be able to see more interesting vista points and landscape along the way. This ended up being the perfect option because I was able to spot an amazing rainbow developing over dark skies right above the canyon – it was an amazing experience to witness and then photograph.
That evening, we camped just outside of the national park at a classic KOA campground and had to put up our own tents. Afterward tent set up we quickly had dinner in a pavilion with delicious salads, brisket or chicken barbeque and an wonderful fire where we could roast marshmallows and have the some yummy Smores. This was the perfect way to end the night in the Bryce area.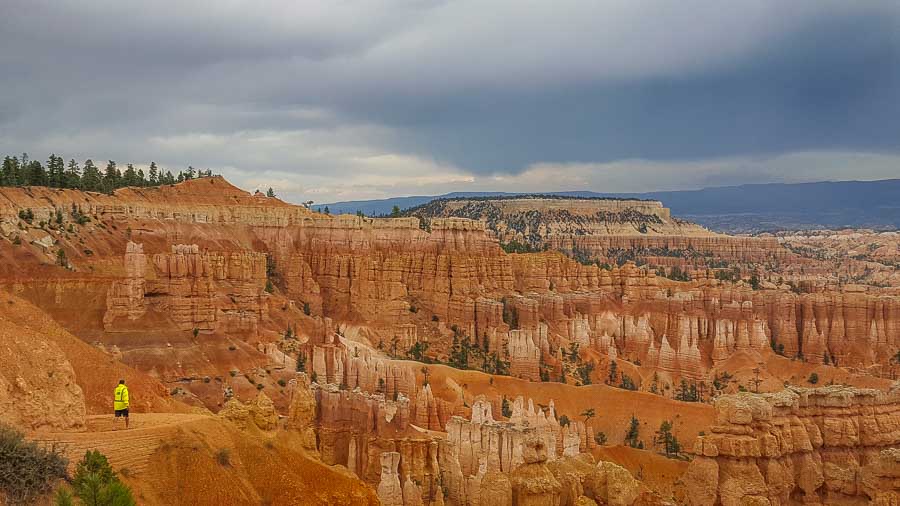 Taking a selfie fronting Bryce Canyon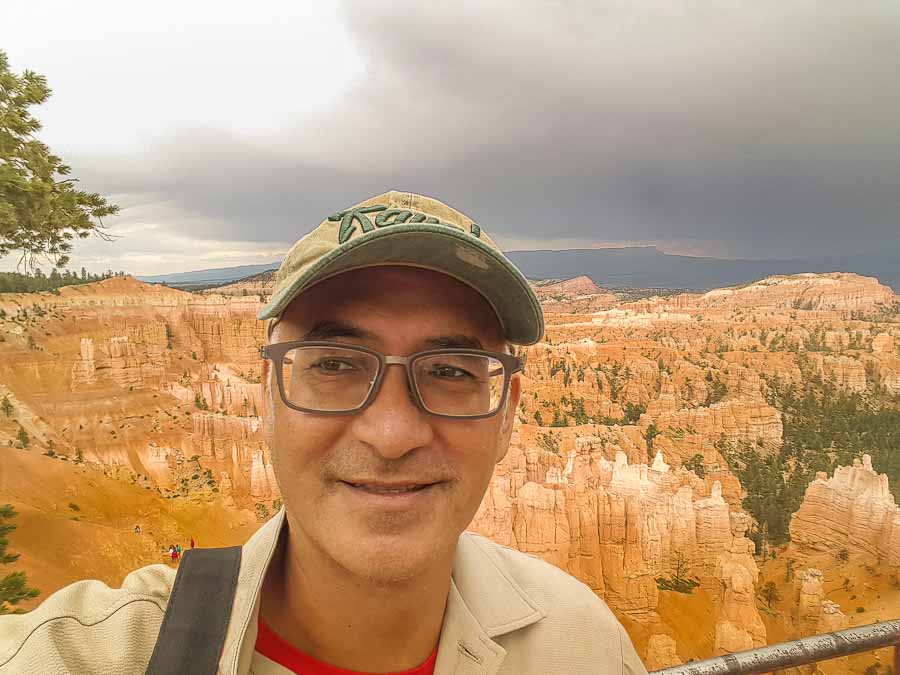 Campfire and Smores Outside Bryce Canyon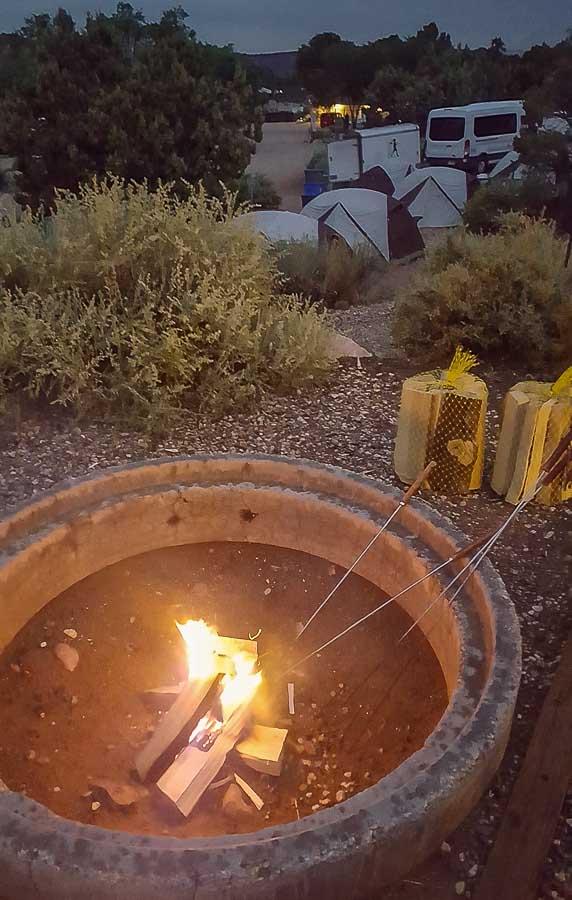 Lake Powell Scenic panorama
We were off for another short morning hour ride to our first destination on day 2 to Lake Powell to check out the visitors center and dam. The largest national recreation park in the United States, Lake Powell is a well loved spot for boating, fishing and other water oriented activities on the Colorado River. We first stop at one of the popular vista points to check out the lake from a hill site and then drive down to the dam and bypass bridge. A quick stop to the visitors center and our guide gives us a half hour to walk around the dam and bypass bridge to view the dam and river views below of the Colorado.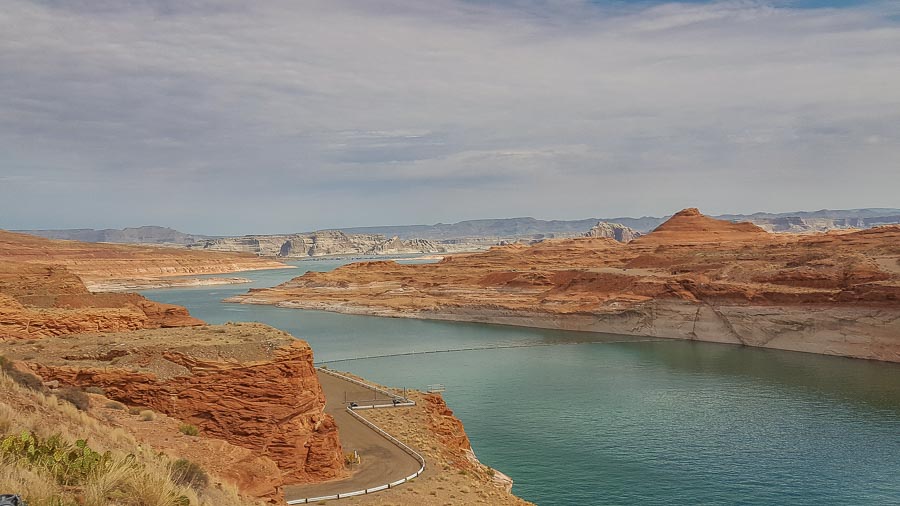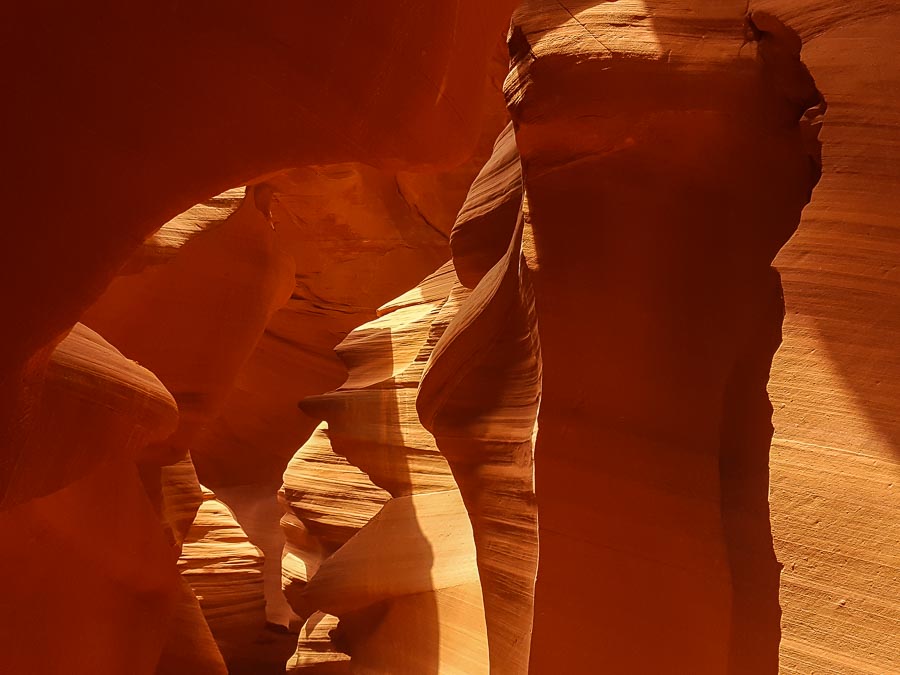 Antelope Canyon
After our tour of the Lake Powell area and the Glen Canyon Dam, we proceed to the next stop,  the now famous Antelope Canyon that has been popularized with stunning photographs shown on Facebook and Instagram. And no wonder, both the upper and lower canyons are simply stunning to visit – we are booked for a 12 o'clock spot touring the lower canyon. Fortunately the guides have a nice rapport with the Indian guides at Antelope and we are quickly led on a tour ahead of the throngs of waiting tourists which saved us over an hours wait in the hot desert sun. While waiting to enter the submerged canyon, our guide gives a cool sand demo with water to show how the canyons were created and we then go ahead with climbing down a series of steep stairs down to the caverns below. You instantly are greeted with amazing rock and sand formations curving and twisting in incredible directions and the light cast around left some stunning colorations. The hour tour kept getting better all along the many stops we took and the guide offered some of the best photo spots to take along the route. Upon exiting, lunch is prepared in once of the pavilions – a hearty sandwich with mixed salads to feed our hungry group.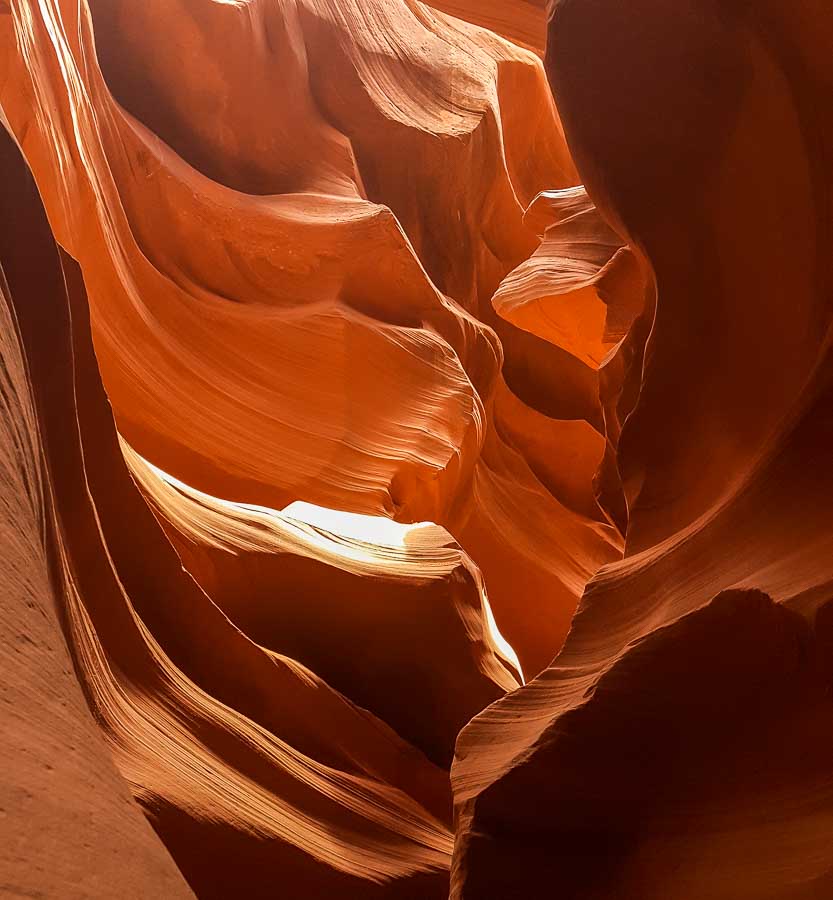 Touring and camping at Monument Va
lley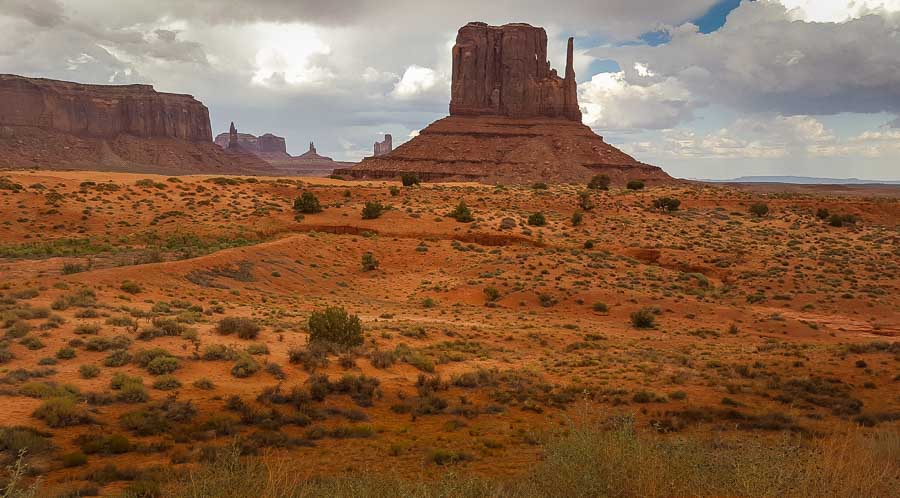 Afternoon destination and evening sleepover was to the incredible Navaho park at Monument Valley. Noted as the finest parks in the Navaho nation, Monument just wows you right from entering the area. Another downpour diverts our group to wait out the storm in the visitors center and magically after watching another video, we are blessed with cool and pleasant weather for a jeep drive around the many formations and viewpoints around the park. Our driver even treated us to a fantastic Indian flute demo in one of the canyons with lovely acoustics – it was a special and unique experience shared with our group while we headed back to the park entrance.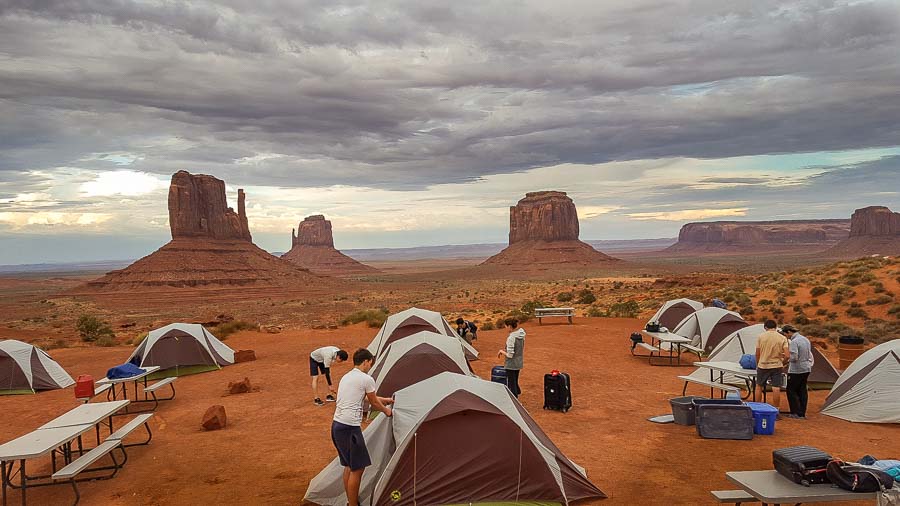 Our next stay for the night and camp site which was set right on the rim of the canyon which was quite  spectacular. Of course everyone set up their tents quickly so we could view rainbow skies and then a spectacular sunset while we dined on tasty Navaho tacos. This was a savory funnel like cake topped with chili, salsa, cheese and greens and the fun thing was you could eat it any way you like to enjoy all the tasty food. After a wonderful dinner and sunset experience, most of the group walked back to the campsite full and ready for another well deserved sleep.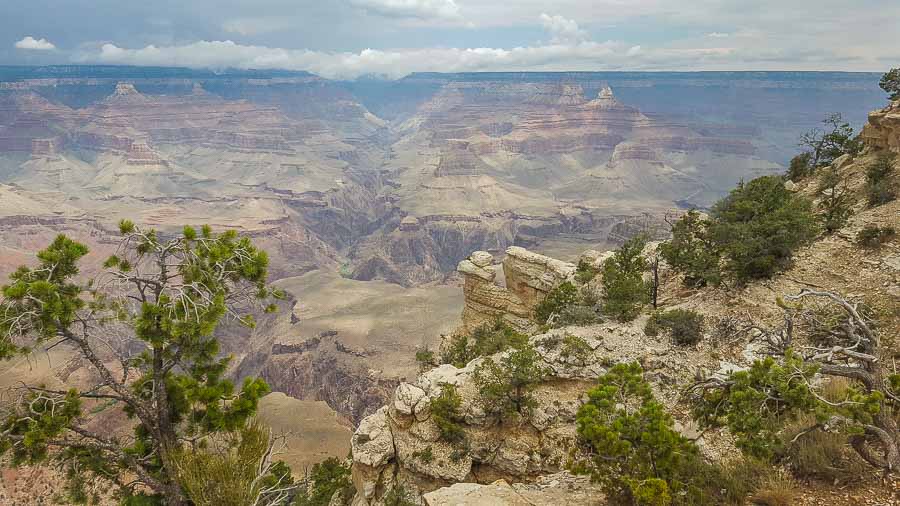 Day 3 and the Grand Canyon
We woke up to simply stunning sunrise views on the rim and ate a simple breakfast as we quickly broke camp to continue our adventure. First stop for the morning was an Indian trading post crossing the Colorado with some incredible art, collectables, and Indian souvenirs.
The road trip traversed the scenic lower Colorado Canyon and we finally made it to the Grand Canyon. You don't realize your there until you casually drive by and the first views on the canyon just pop into view and giving everyone that wow moment. This was to be our longest visit with three hours of personal time to tour anything we want with everyone practically doing the rim trail to the historic village – about a two mile route. Relatively flat with paved paths, the rim trail was easy with many stunning vista points to different views of the park. In the midway point is the geologic museum and when you enter the village there are historic treasures like the Hopi House, El Tovar, Kolb studio, Hermits rest and the Lookout studio. I was able to see most of the village with a good overview visit of the rim trail within the three hour time frame. Our bus left promptly in time for our drive back to Las Vegas and a stop at Route 66.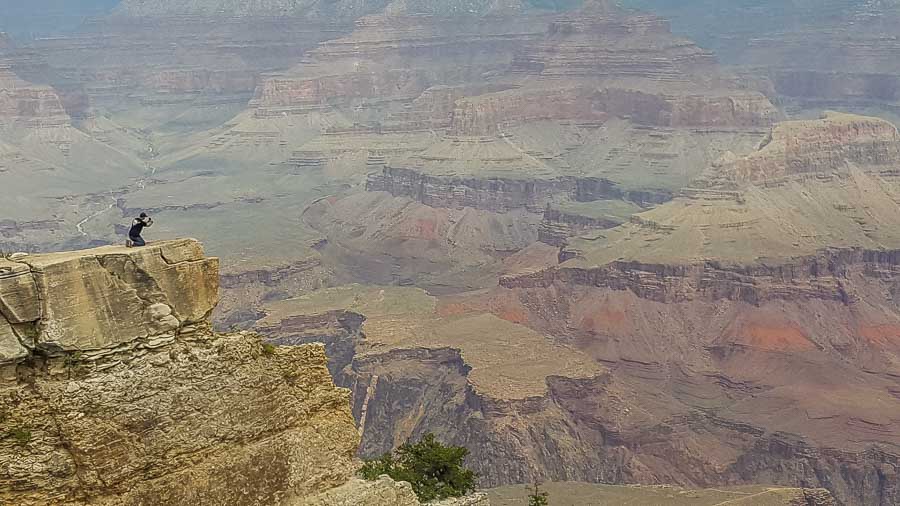 The last stop off point on the drive back to Las Vegas was a visit to Route 66, a historic pre highway road that connected Chicago to Los Angeles. The small town of Seligman, retains many of the fun memorabilia and kitschy shops, graffiti and cool roadside displays of the route 66 timeframe. We all indulge in classic burgers, hot dogs and really thick milk shakes for our last meal before we head back to through the Lake Mead area and finally back to Las Vegas and quick photo shoot before everyone is dropped off.
Tours4Fun road trips
I look the three day Southwest national park tour here which really a wonderful way to enjoy visiting the parks with a well curated and organized tour under capable hands. Many in our group chose to camp, but you also have an option of upgrading to a hotel which is typically close to the campsite and good quality hotel. A tour like this would have taken a long time to plan all the logistics and detail planning, so it was a better option especially with those with shorter travel time frames. Tours4Fun is also offering a 30% discount on their 7 day National parks tour here, only available on my website.
I enjoyed the trip and would recommend taking this tour or any of the other fantastic tours of the national parks offered with Tours4Fun. This online travel aggregator also offers many regional small group tours of the United States and many popular international locations on their website. So do check out their main website here for the latest deals offered.  If you do book any of the tours from this post, this will help to support my efforts in running this site, at no additional cost to you.
Thanks so much for visiting and checking out this post on the American Southwest road tour Tours4Fun. I hope that you take some time to visit some of the amazing national parks in the United States and after taking their tour, I think this is tour and the other national park tours are good way of touring with very capable and engaging guides.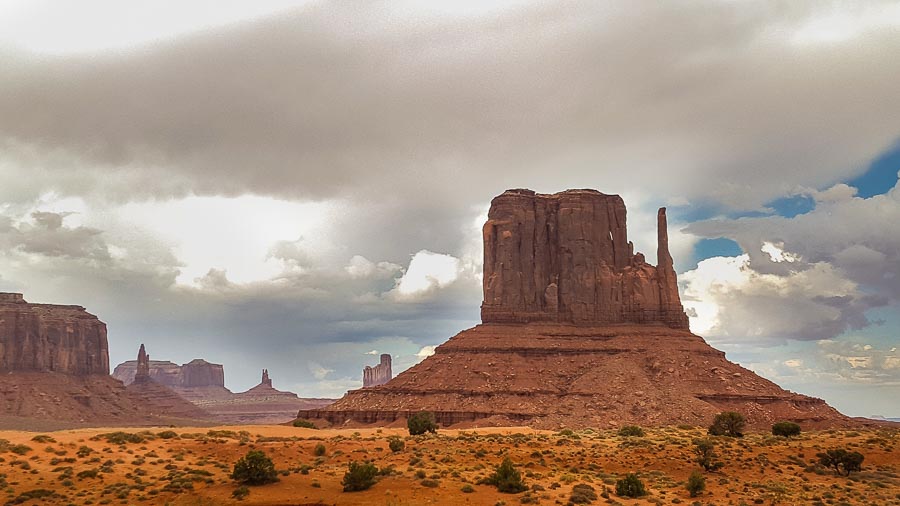 Disclosure – this post was done in collaboration with Tours4Fun and featuring one of the national park tours of the Southwest. All opinions and thoughts are my own and I would definitely recommend touring this way. This post has affiliate links and help my blog out if you do purchase from this post – I thank you for supporting this site.