Bangkok street food (the best markets, food areas and street foods to try)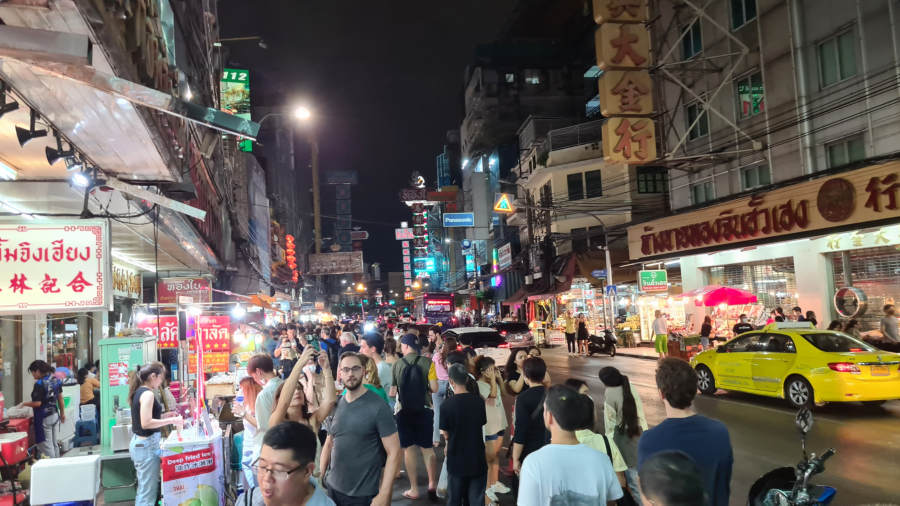 The Bangkok Street food scene is an amazing to experience tasting delicious, cheap and savory food from the streets of this bustling and chaotic city. Once you see and smell street food being prepared by a local vendor, you must slow down and enjoy this wonderful eating experience from the streets of Bangkok. In my experience of writing about food and eating out, Bangkok definitely offers some of the tastiest and inexpensive street food you must try when you visit this city. The city is literally associated with a street food culture that is well recognized and popular with locals and visitors alike and you find street food on almost every corner around the city that will tempt you to stop and see what goodies to check out and eat.
If you love good and cheap food, Bangkok ranks as one of the top foodie cities to enjoy the really authentic and local flavors you'll find on the markets and streets of Bangkok from simple carts, food stalls to more traditional cafe style set ups in the many markets and food areas around the city.
With all the plethora of food carts, outdoor markets and food stall eateries at every corner on the block, it really is overwhelming to see all the many choices of street food and difficult to find the real gems and delicious foods to eat around town.
We will try to share some of our favorite spots and venues for you to check out so at least you can find some of these venues and place them on your radar for what to eat in the area you might be visiting in Bangkok.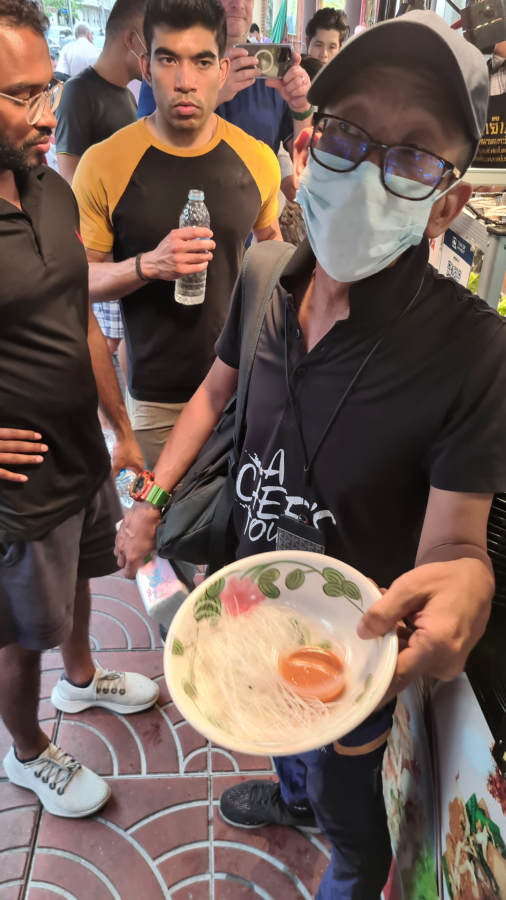 Some tips to eating street foods around Bangkok
Here's some general tips to eating around the streets of Bangkok to know ahead of time.
Mondays typically have fewer vendors because many take Monday as their day off and street cleaning days also happen on Mondays. So, you can opt for food courts and local restaurants to try on those days when most vendors are closed for business.
Visiting around attractions to the adjacent sois or neighborhood streets  will typically have a collection of street food stalls, snacks and local eateries along with tourist venues to attract visitors. So, there's plenty of choices of places to snack or eat if you are hungry while visiting the local attractions.
Is it safe to drink the tap water in Bangkok?
No, tap water is not safe to drink in Bangkok outside of major hotels that filter their own water. Bottled water is inexpensive and can be found sold everywhere in the city.
Is the ice safe in Bangkok?
Generally, ice is safe when it is produced and sold commercially which is most of the case sold and used everywhere from small vendors to large business venues.. You will know that it is commercial ice when there is a cavity or hole in the middle of the ice cube which is the mark of the ice making process like other countries.
How spicy hot can you tolerate?
Thai people love to eat spicy and very hot dishes and if you are not familiar with how hot a dish can be then you should stick to mild or not spicy. Many street venues will prepare the food dishes to order so you can choose/point to the peppers in quantity or say no if you prefer no peppers in your dish.
What to look for in a good food venue?
The typical tell-tale signs of a good food venue is always high turnover, long lines, made to order foods and being able to see the raw ingredients and how they are used and prepared in the dish they are creating will tell you a lot about the owner's sense of cleanliness, quality ingredients and care of preparation.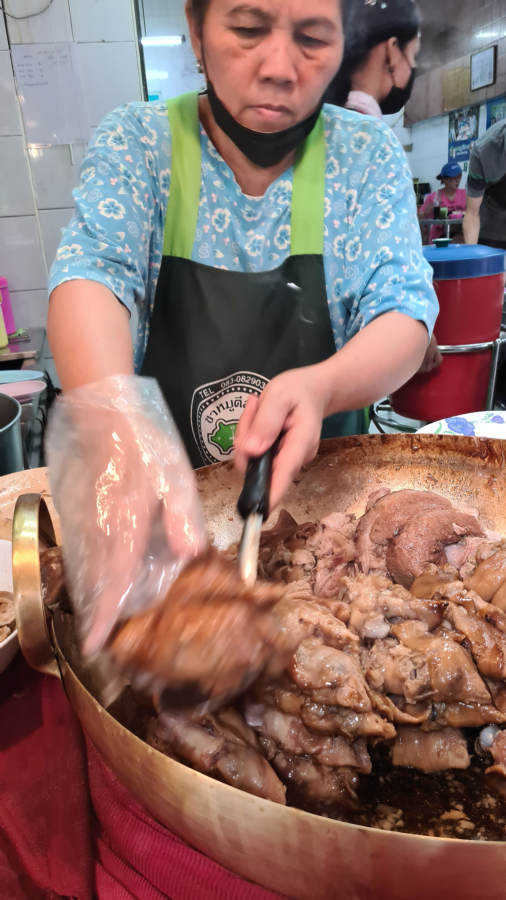 Typical street foods to try around Bangkok
With so many amazing dishes and street food to try around the city it is hard to get it wrong. But just to be on the safe and tasty side, these are the types of street foods that you will typically find at many venues around town that is sold and worth looking out for.
Som Tam – Green Papaya salad
Known locally as Som Tam, this is the most popular salad sold in Bangkok. With a delicious combination of sour, sweet and spicy green papaya and flavored with fish sauce, lemongrass, crunchy peanuts, tomatoes and dried shrimps, this dish is rich in flavors and also a low-calorie meal in itself.
Khao Pad – Thai style fried rice
Khao Pad is typically Thai style fried rice made with garlic, eggs, fish sauce or oyster sauce, sugar and lime for a sweet, salty, sour and spicy combination and vegetables like bell peppers, onions and bean sprouts.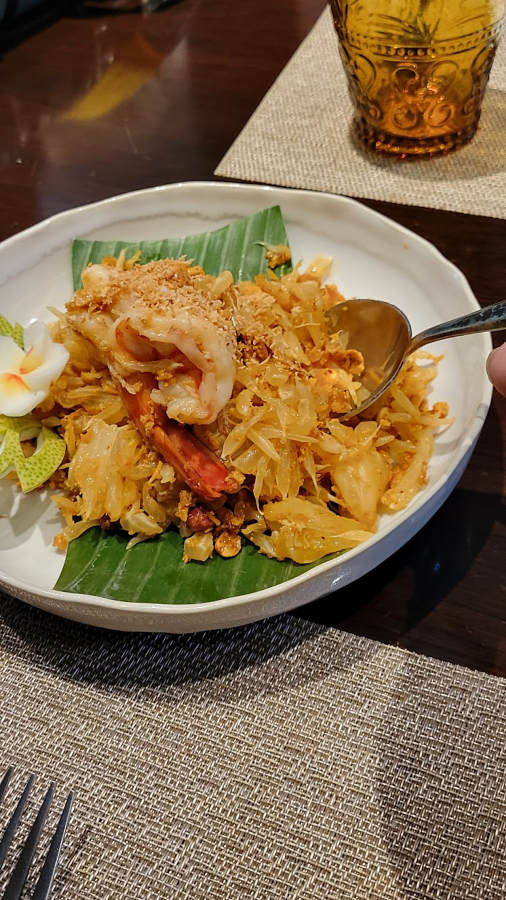 Pad Thai Kung
This popular dish is found in many market vendors for the delicious sticky like flat noodles with shrimp or kung as it is pronounced here. Offering a sweet, sour, spicy and salt, this dish has all the savory components to make this a very popular street food dish. You can find this dish at many street food stalls to mom and pop shops and then to finer dining establishments around the city.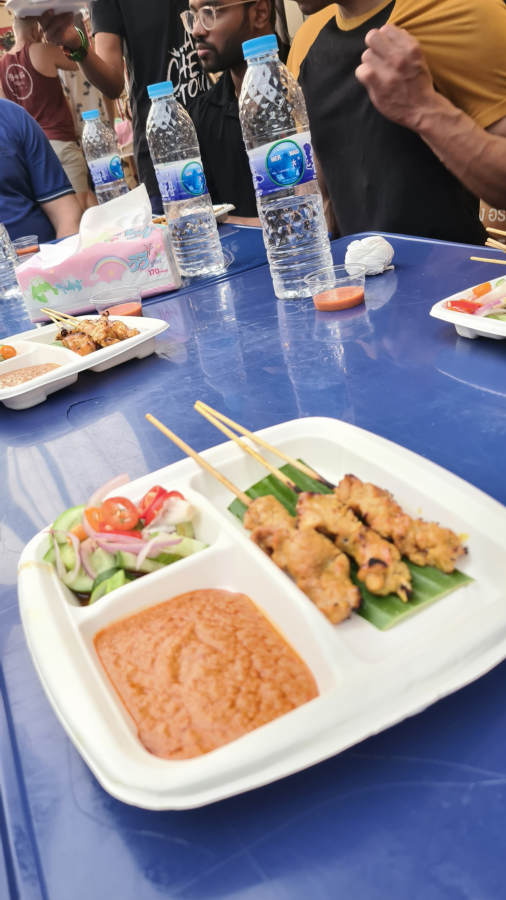 Gai / Moo Bing
Probably the most aromatic smells you will find in any market with grilled meats of chicken or pork skewers are found at most markets and priced per stick. The savory sweet dish is marinated in a variety of soy, sugar, fish sauce and oyster sauce, garlic and white pepper to taste.

Kaao Laad Kaeng (curry on rice)
A type of food to order curry where you can pick the amount of the ingredients offered and a price is quote to cook up this curry style dish. The more ingredients the more pricy overall is still very cheap street food in Bangkok. Typical entrees includes chicken, pork, beef or seafood typically added to the top of the rice curry dish.
Pad Krapao Moo
This is an easy stir-fried dish of pork and basil another standard dish you can find at the markets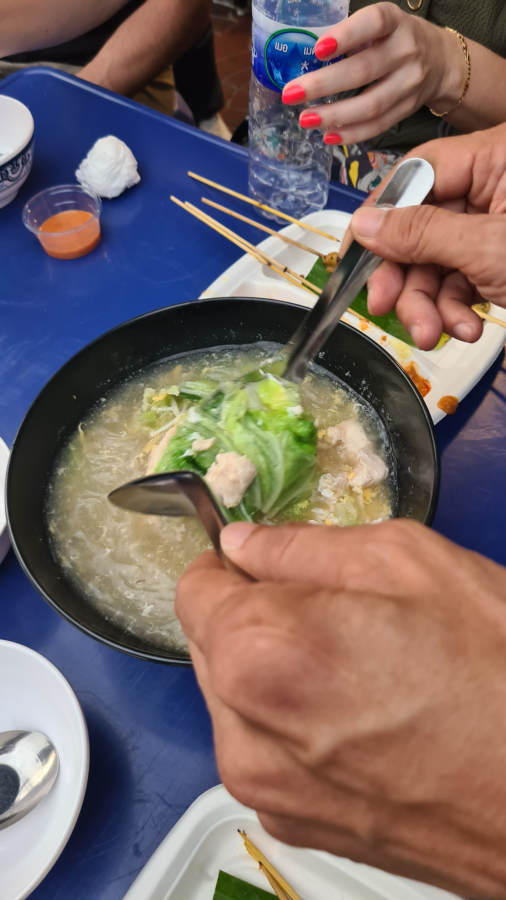 Guay Tiaw – Soup Noodle dish
There's so many varieties of soup noodle dishes to choose from starting with the type of noodles you can choose and then the toppings to include pork, fishballs, vegetables, seafood or chicken. These dishes are always made to order and served piping hot with your choice of vinegars or hot sauces to match. It is typically a cheap dish and filling bowl that you can get for under 40-60 baht depending on what toppings you choose.
Khao Mun Gai
This simple street food dish is basically steamed chicken over rice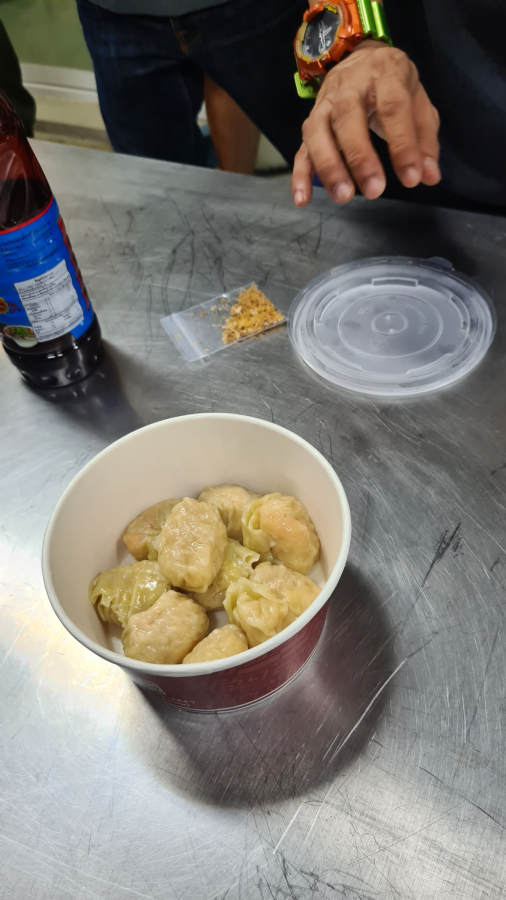 Dim sum
There are so many dim sum ready dishes that are steamed in big steamers and ready for take out service. The most popular being Siu Mai and Har Gao which comes so delicate and savory tasting. These delicious dumpling dishes are so addictive and easy to eat as street food that you can easily try everything offered at one spot.
Pla Pao
A delicious fish dish that is barbecued in salt and as basic as it gets served fresh and hot
Sai Krok Issa
this is a popular sour sausage that is made of the sour issan sausage that is done locally in the area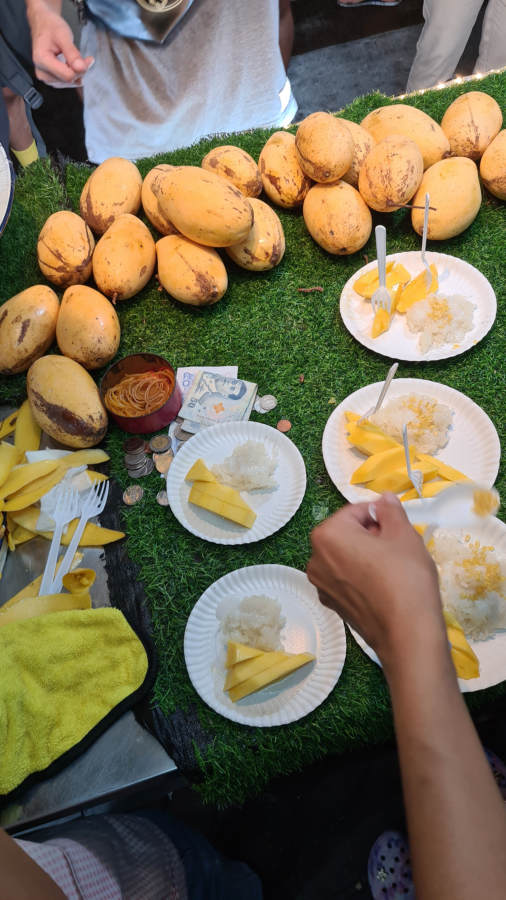 khao niaow ma muang
Sticky rice and mango is always everyone's favorite go to dessert in Bangkok. Simple ingredients of fresh mangoes, sticky rice, palm sugar and coconut mike. The taste of ripe mangoes with coconut infused rice makes this a complete winner to finish off any street food scene.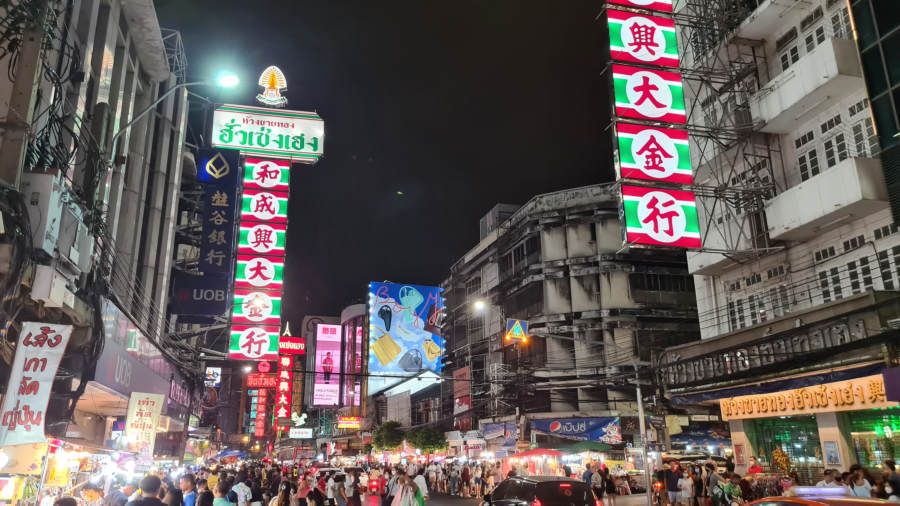 Main outdoor markets around Bangkok
You'll find the largest amount of food stalls centered in these larger and popular outdoor markets and neighborhoods in Bangkok. These are some of the most popular places to visit with a plethora of food stall vendors to choose from.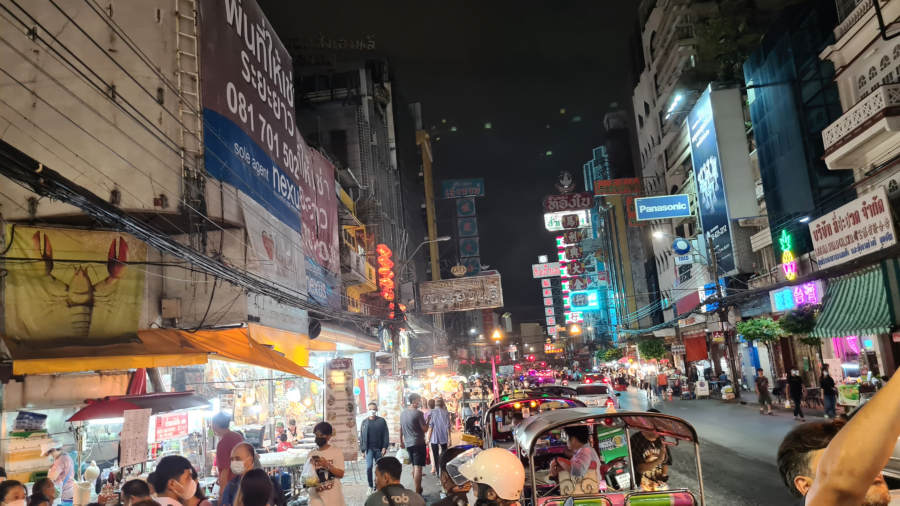 Chinatown – Yaowara
Probably the most well-known street food market area in Bangkok is centered around Chinatown or Yaowara as it is known. The main street area for food stalls is located around Yaowarat Road where you will find a variety of street food vendors from barbeque, seafood, noodle dishes, dim sum, Thai – Chinese snacks and desserts and so many other take away foods. There are also a variety of Chinese restaurants all around the market area to enjoy for a sit-down meal.
Typically the longer lines to a stand will tell you that those are the local favorites and the earlier you go, the better the chance for you to sample more of the food offerings here without excessive waiting.
tip – try to order smaller portions so you can have a better experience trying a variety of offerings like what locals will also enjoy doing and sampling a variety of dishes from barbeque, to soup to more substantial nood dishes or seafood specialty dishes.
Bangkok Old town – Koh Rattanakosin
The street food scene here at Bangkok Old Town is legendary and located all around the narrow streets in the district. The best pad Thai in Bangkok is considered to be made here and called Pad Thai Prat Pee or 'Ghost Gate Pad Thai'.
The best times to explore this market is daily from mid afternoon to late in the evening when all the locals are out shopping and eating.
Khao San Street Food
The area around Khao San Road and Soi Rambuttr hosts many streets food options to choose from both venues. You will find so many options to choose from including fried insects, fried rice, noodle dishes to a variety of soups like tom yum soup
The area caters to more backpack and foreigners so the food options tend to be cheap and tasty which is what this crowd is typically looking for cheap and inexpensive food so you will have many choices of Thai street food and also inexpensive restaurants to choose from. Just beware of the more touristy venues that do offer Pan Asian or international dishes and will charge premium prices to attract the tourist crowd.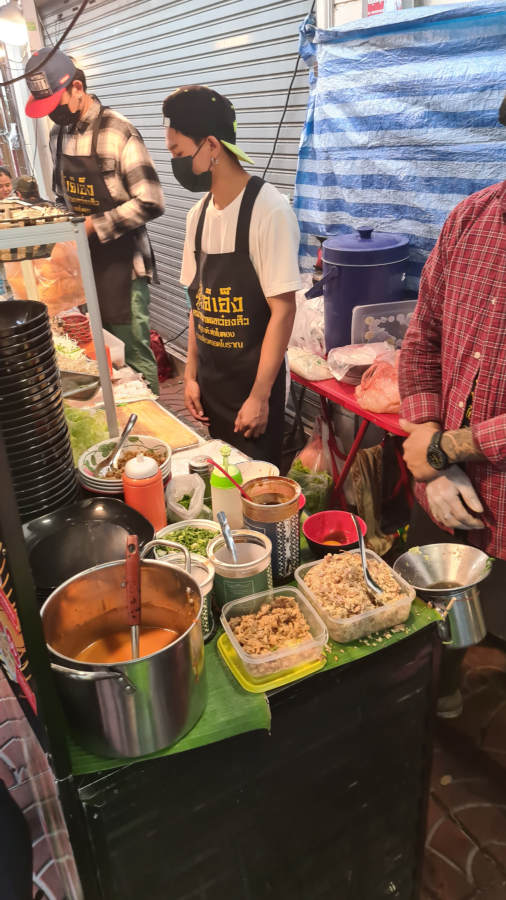 Bang Rak
This is the area of immigrants that have settled in this ancient part of Bangkok and bringing their own food ingredients and culture. Combining Chinese, Thai, Indian and other mixed cultures, this has adapted into the popular vernacular of Thai cuisine and street food. You'll find traditional favorites like crispy pork, rice porridge, roast duct, pork dumplings, roti, curries over rice and a variety of snacks and other foods to go and sample at this popular foodie area. This relatively small area is packed with so many food choices that you can walk around and check everything out before you decide on what dishes you might want to try here.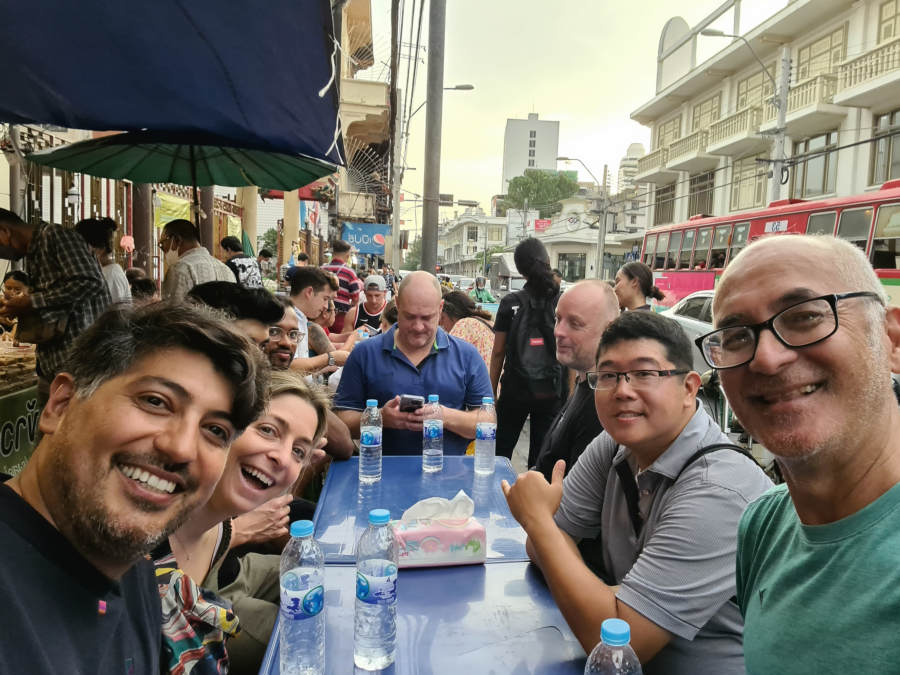 Experience a food tour in Bangkok
Probably one the best ways to learn about food culture and tasting some of the best dishes here in Bangkok is to do a food tour experience. At the Bangkok Chef's Tour, they take out all the guessing game to what foods to try with a tour that is specifically created by a local chef. If you are lucky, you can even sign up for a tour with that chef to take you around the streets of Bangkok and primarily around the Chinatown area.
Here, you will tour some of the most well-known and even off the beaten path areas of Chinatown to discover some of the best street foods that make this one of the most popular foodie focused venues in town. This includes delicious foodie venues like some of the tastiest chicken satays, local sausage in creamy curry, peppery soup and pork belly and onto the most to die for Mango with sticky rice dish.
To find out more about this food tour, check out their website here for more details to having an exceptional food experience that will be the highlight of your visit to Bangkok.
Picture with the actual check that created the bangkok Chef tour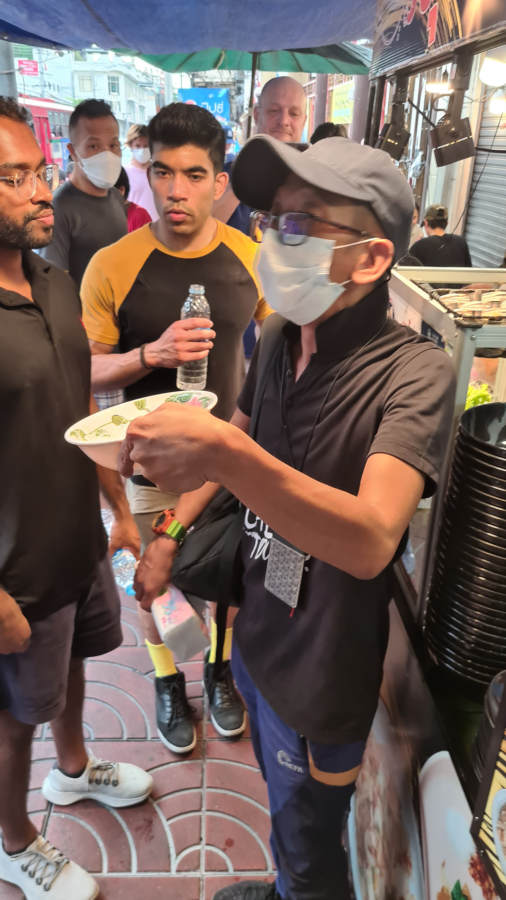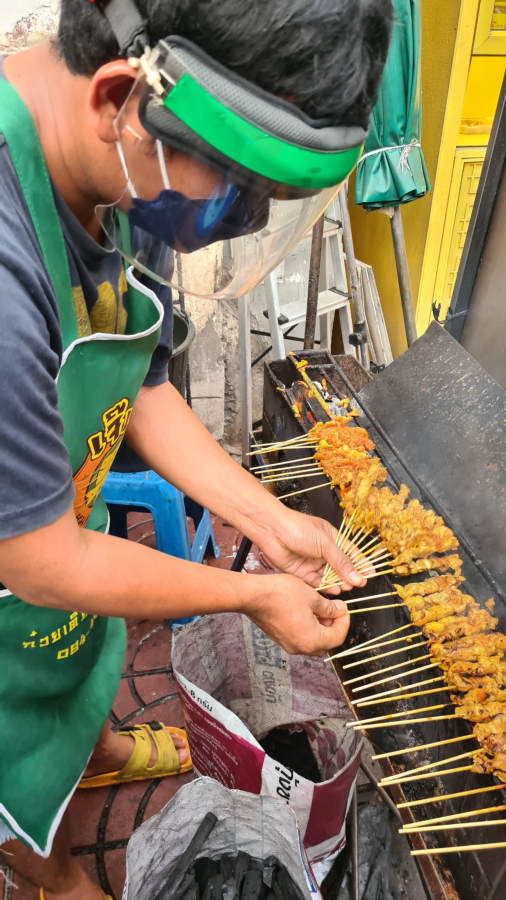 Conclusion to the Bangkok street food scene
You will enjoy having a fantastic food experience on the streets of Bangkok whether you try a food tour that can lead you to taste some of the best dishes in an area or strike out on your own and see or smell what is attractive or smells amazing to you.
Thanks for checking out this post on Bangkok street food, it really should be on your list of worthwhile experiences to try here in Bangkok.
Hope that this post has been helpful to planning your visit to the city and visiting some of these popular eating spots around the city, please do share it with any of the social media channels and buttons located below.
Disclosure – some of the links above are to affiliate sites that are either reviews or recommendations if you book helps to keep our site running at no additional cost to you. We appreciate your supporting our website meanwhile.
Sharing is caring 🙂