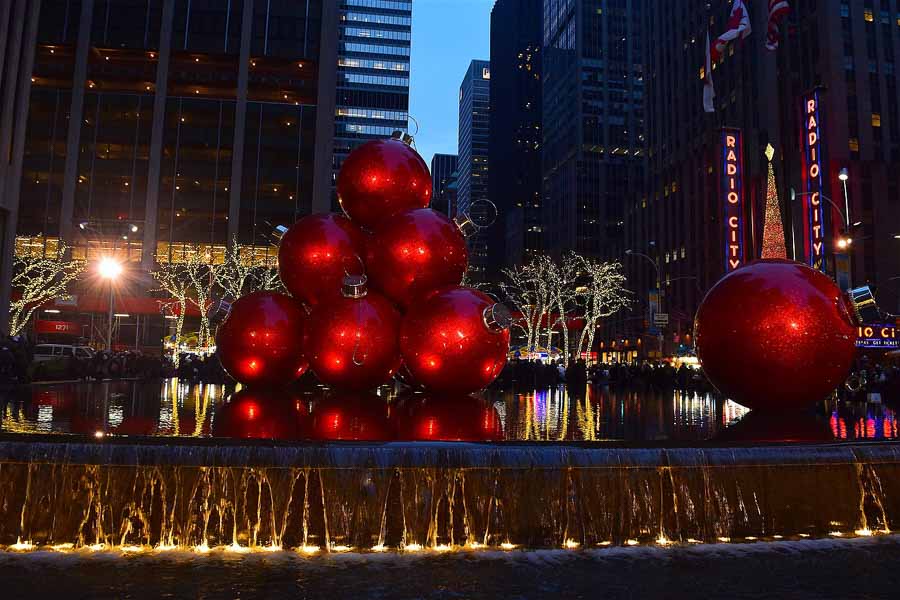 Christmas destinations in the USA, Canada and Mexico is quite spectacular with so many wonderful places in the Americas to celebrate the holidays. Whether you choose a sunnier and warm spot or a panoramic snow filled wonderland, Christmas is stunning with lit up squares and decorations, Christmas pageants and parades or many holiday inspired events at a place locals love and visitors get to enjoy the mood and spirit of this special place. You'll love visiting all these wonderful places from top bloggers who share their best  places to spend Christmas in the Americas and tips on what to see and do in the area.
These following locations below will help put you in the Christmas spirits and hopefully you'll get the chance to visit some of these fantastic places to celebrate the holidays.
The best places to experience Christmas in the Americas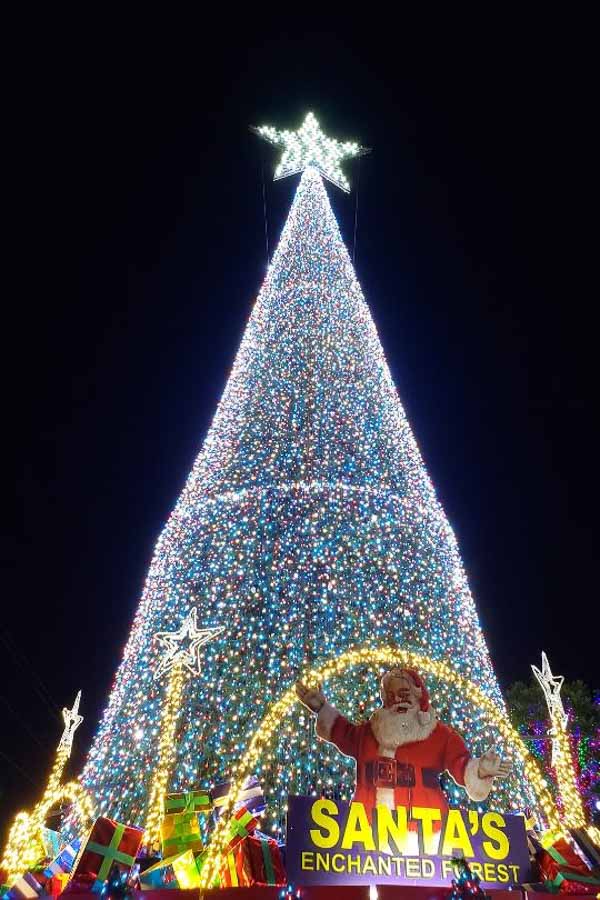 Christmas in Miami
Ask anyone from Miami if they know about Santa's Enchanted Forest and they will absolutely tell you, "Yes!" Not only is it the best place to see holiday lights and decorations in Miami, it also has rides, food, and you can even met Santa himself!
This holiday theme park has been entertaining Miami families since 1982. One of our favorite parts is when you first enter the park and you're walking under trees lit up by millions of lights. There are also fun and interactive holiday displays and a 90-foot Christmas tree.
When you're done oohing and aahing over the lights, head on over to the Ferris wheel or any of the over 50 rides they have. And of course, make sure to stop at a few of their food stands for mini donuts, funnel cakes, giant turkey legs, and more.
Considered the world's largest Christmas theme park, it's a place you absolutely must visit if you're in Miami during the holiday season.
Vicky with Buddy the Traveling Monkey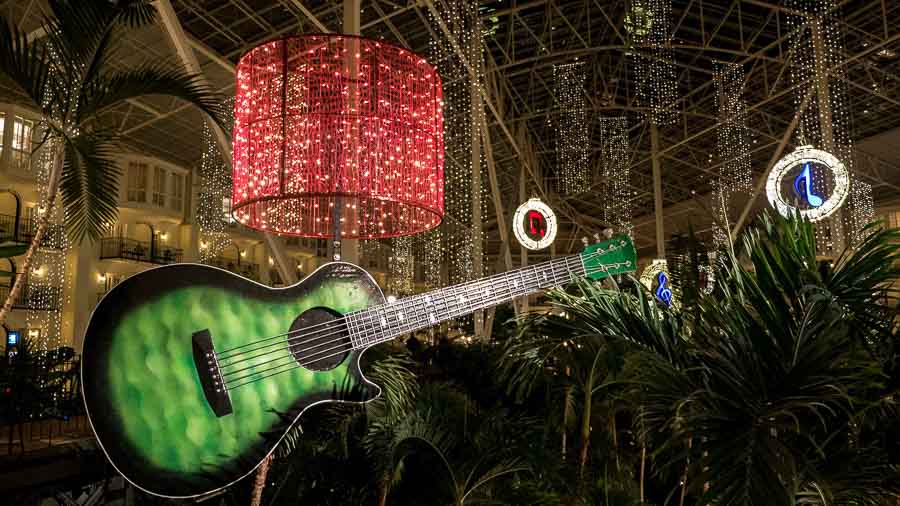 Christmas in Nashville
There are so many wonderful ways to experience Christmas in Nashville, Tennessee. First, you must see the massive Christmas lights display at the Gaylord Opryland event, "A Country Christmas". There are over 3 million twinkling lights and impressive Christmas displays all over the resort, both indoors and outdoors. In addition to the traditional Christmas decorations, you'll notice music themed lights to commemorate the fact that Nashville is the "Music City".
Next, "Dickens of a Christmas" in Franklin is a must visit Christmas event. Historic Franklin is the perfect backdrop for this Victorian themed Christmas celebration. There are people wearing Victorian outfits, many characters, live music and dance, and the entire main street is closed down for pedestrian traffic only. You'll be able to do some of your Christmas shopping here, too.
Some other events in Nashville include the Music City Winterfest in Centennial Park, Holiday LIGHTS at Cheekwood, and the Christmas tree lighting ceremony at Public Square Park. As you can see, Nashville is a fabulous place to be for the holiday season with so many festive events and celebrations all over the city.
Lauren with Justin Plus Lauren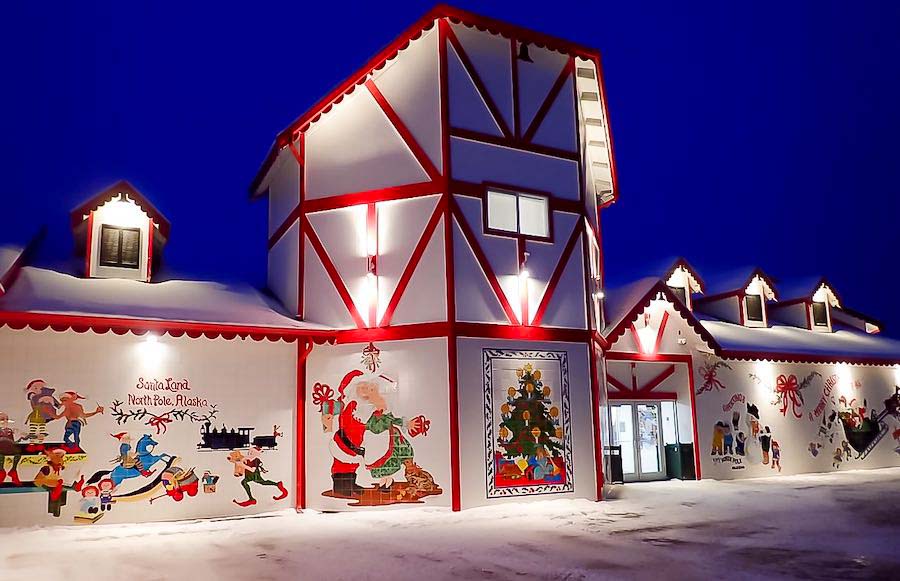 Christmas in the North Pole, Alaska
When it comes to spending the perfect white Christmas in a true winter wonderland, not many places compare to Santa Claus House in North Pole, Alaska. Add this to your chances of seeing the Northern Lights and you create an irresistible Christmas destination.
It's no wonder that tourists travel from all over the world to experience Christmas in the home of Santa and Mrs. Claus. Take it from this Alaskan locale, the Santa Claus House is a must-see any time of the year.
Getting to Santa's residence is hard to miss with its vibrant white and red colors standing in sharp contrast to the skies above. Right on the parking lot, a supersized Santa Claus welcomes to the North Pole.
Step into Santa's home and get ready to be surrounded by all things Christmas, North Pole, and the Northern Lights. There is no short supply of decor and gifts to take home with you. And before you leave, get a shot with the real-life Santa and Mrs. Claus (psst! children and adults are welcome). There are many more things to do in Fairbanks and North Pole, Alaska!
Tip: Visiting November through March? Opt for an all-wheel-drive car and if possible, a rental with autostart. There's no better feeling than getting into a pre-heated cozy car in the thick of winter.
Louisa Moje of La Passion Voutee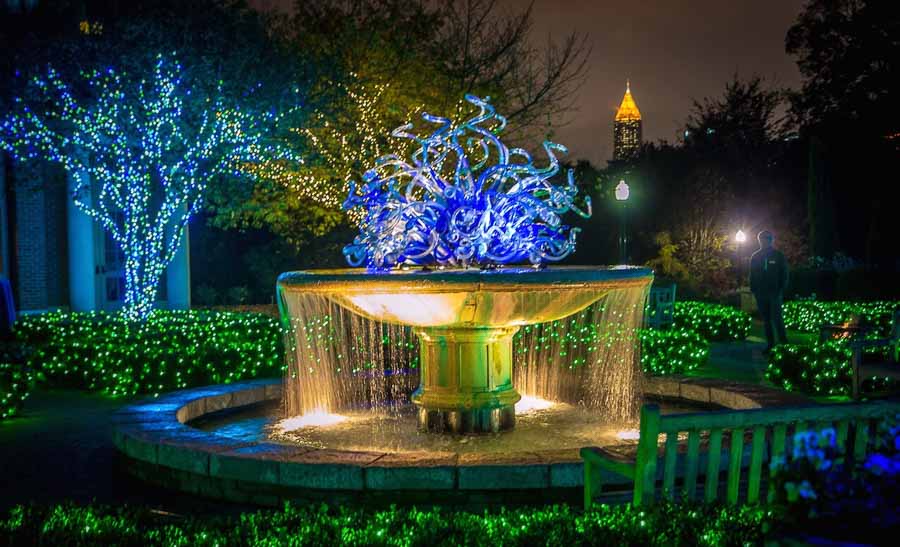 Christmas in Atlanta, Georgia   
Though we truly love traveling the world, we also love Christmas in Atlanta (where I was born and raised) so much that we basically never leave home for the holidays. You could go out every single night from mid-November through the end of December and still not cover all of the great Atlanta Christmas events. For people who love Xmas lights, there's the Atlanta Botanical Gardens' Garden Nights, Holiday Lights, Lake Lanier Islands' Magical Nights of Lights, and Callaway Gardens' Fantasy In Lights (which National Geographic rated among the Top 10 Christmas Light Displays in the World). Warm weather in the Deep South means there's no white Christmas here. But you can go sledding at Stone Mountain's Snow Mountain, go ice skating at the Battery Atlanta, and see the Chinese Lantern Festival and German Christkindl Market in Centennial Park. Kids love riding the iconic Pink Pig at Macy's Lenox Square, seeing Rudolph the Red-Nosed Reindeer live at the Center of Puppetry Arts, watching the Christmas Parade on Peachtree St, and much more. With all of these awesome holiday activities on offer, is it any wonder this is our family's favorite time of year to explore the ATL?
Bret Love & Mary Gabbett of Green Global Travel, check out their post on Christmas events in Atlanta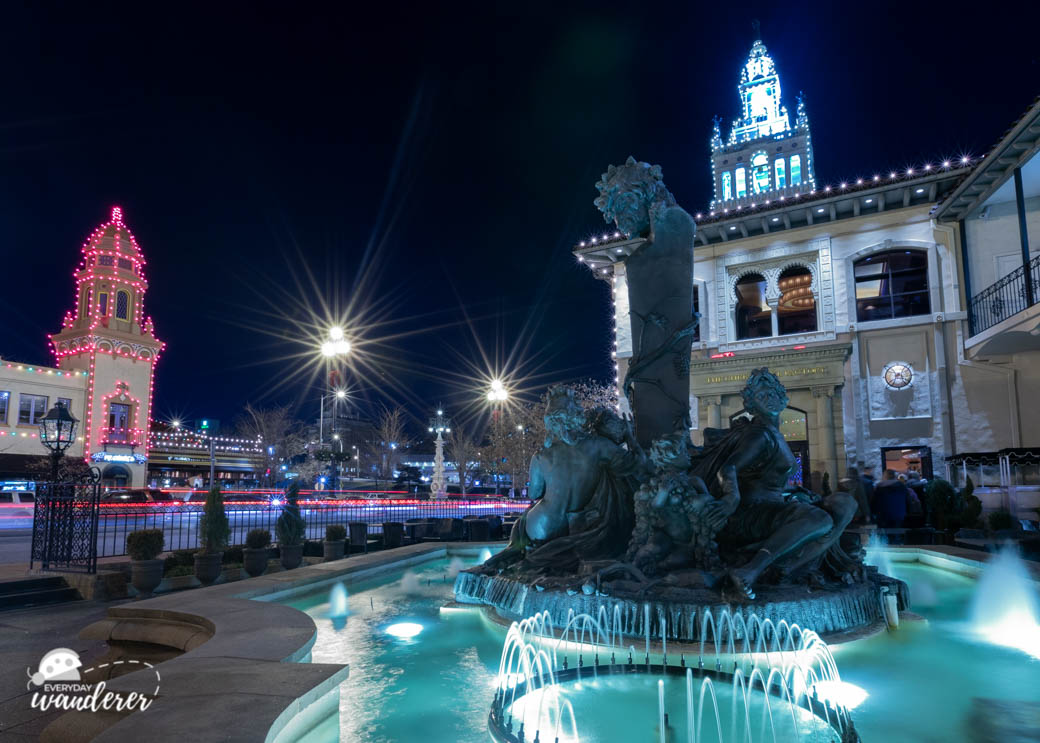 Christmas in Kansas City
From snowy New England to tropical Hawaii, Thanksgiving is typically considered the start of the Christmas season in the United States. After enjoying a hearty feast of savory turkey and scrumptious side dishes, many Americans will begin trimming their Christmas tree as they glide from one family-and-friends-filled holiday into the next.
But in America's heartland, tens of thousands of Kansas Citians kick off the holidays with a special tradition dating back to 1925. The Country Club Plaza Lighting Ceremony has evolved from a single strand of 16 brightly colored lights strung above a doorway to more than 80 miles of lights with 280,000 multi-colored bulbs outline every window and tower of the Country Club Plaza.
So after polishing off their pumpkin pie, pedestrians fill 15 blocks closed to cars in the Seville-inspired outdoor shopping district. As carolers sing, a special celebrity guest and a child helper chosen randomly from the crowd flip the switch at precisely 6:54 pm on Thanksgiving evening. With that single motion, the dark (often cold and sometimes dreary) night is transformed into a spectacular scene full of bright bulbs and cheery color.
If you are in Kansas City between Thanksgiving evening and mid-January, be sure to swing by the Plaza and gaze at the gorgeous lights between 5:00 pm to 3:00 am daily.
Sage Scott with Everyday Wanderer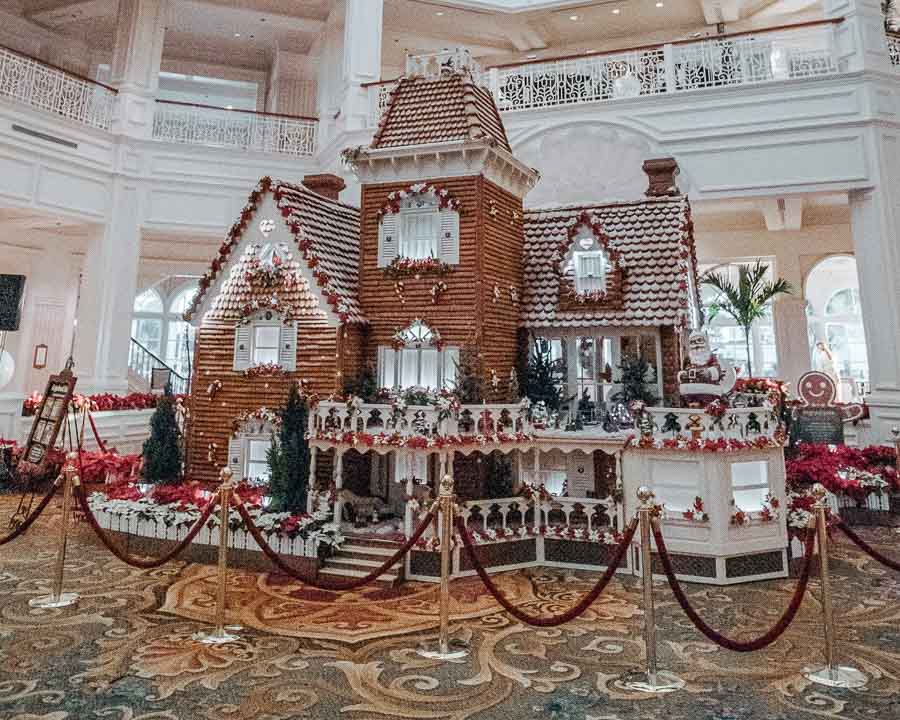 Spending Christmas in Orlando
Christmas in Orlando is not your typical white Christmas. Instead, Floridians often celebrate in short-sleeved shirts and flip flops. Since we don't have the typical snow-related activities, Orlando's Christmas events focus on what we do have: beautiful weather and lots of water.
One of the more unique Christmas events in Orlando are our boat parades. Many of the chains of lakes in Orlando feature a boat parade near Christmas. Local residents decorate their boats in Christmas lights and Christmas decorations, competing for pride and sometimes cash prizes. Locals hang out on their boat docks while visitors hang out in lake front parks to take in the boat parade. Often Santa makes an appearance on one of the boats as well.
While Orlando doesn't have frozen lakes, several areas set up ice skating rinks for the month of December and leave them up until the New Year. Winter Park and the University of Central Florida have two of the most popular skating rinks. With beautiful weather throughout most of December that is warm enough to not need more than a light jacket even at night, you can enjoy skating to Christmas music surrounded by Christmas decorations.
Of course, if you are looking to visit the theme parks, they all have special Christmas events, but several do require an extra ticket. You can check out the decorations in the Disney hotels and at Disney Springs for free though. Even without visiting the theme parks though, there are plenty of things to do for Christmas in Orlando.
Christine with Live Love Run Travel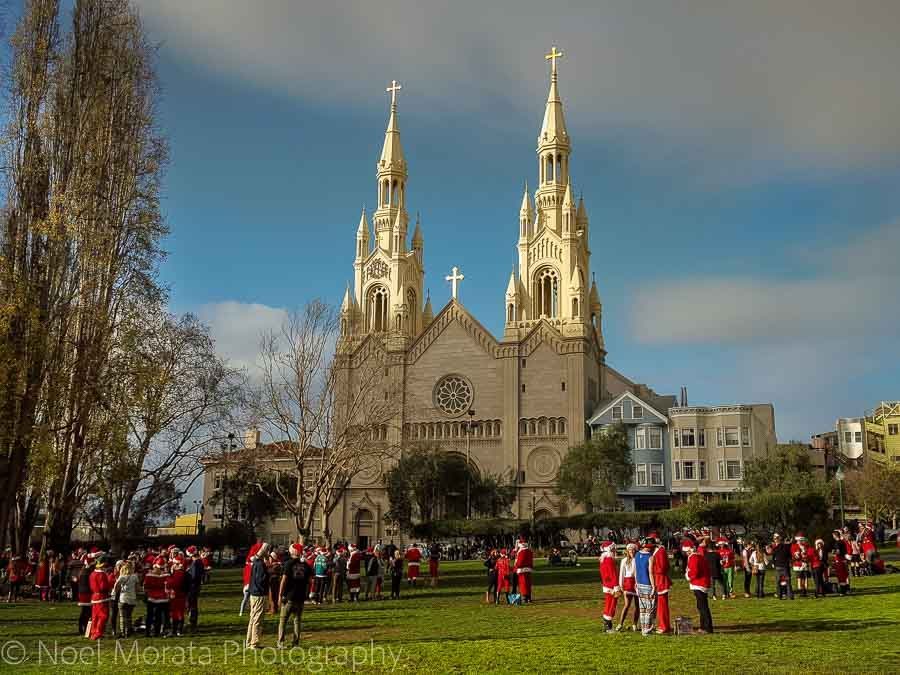 San Francisco for the holidays
San Francisco is festive and all decked out for the holiday season and starting with the crazy Santa's day bash where the city is filled with Santa dressed visitors checking out all the entire city and neighborhoods in Santa Claus outfits like it was one big bash. You'll find the city awashed in colorful lights, holiday cheer and events focused on holiday fun like harvest festivals, Christmas pagents, Christmas gift fairs and other events geared towards the holidays. All the main attractions are festive and dressed up for the holidays which is perfect for photographs with friends and family celebrating the season in the city. San Francisco is fun to explore in all the neighborhoods, outdoor venues and tourist sites and just being in the environment or enjoy the many beautiful areas of the city.
You can check out my favorite Christmas spots to visit in San Francisco here to see the best places to celebrate and enjoy some Christmas lights and other holiday cheer for more inspiration and what to see and do in the city.
Noel with Travel Photo Discovery

Chicago for the Holidays
The Magnificent Mile Lights Festival is an annual tradition in downtown Chicago that warms the spirit. It begins the Friday before Thanksgiving, and the stretch of Michigan Avenue from the Chicago River to Oak Street becomes a winter wonderland. Pioneer Plaza is home to Festival Lane. It's party central, with live music, holiday-themed activities, and treats from Chicago favorites including Garrett Popcorn and Eli's Cheesecake.
The party continues on Saturday, and stores along one of the most popular shopping districts in the world offer discounts. Thousands line the streets to get the best spot for that evening's parade. It kicks off at 5:30 pm and is led by Grand Marshals Mickey and Minnie Mouse. As they head south, the switch is flipped and two hundred trees festooned with a million lights lead the way. The evening ends with a rousing display of fireworks. All-in-all, this is a truly magical holiday experience and is not to be missed.
Check out Theresa's post on the Magnificent mile lights festival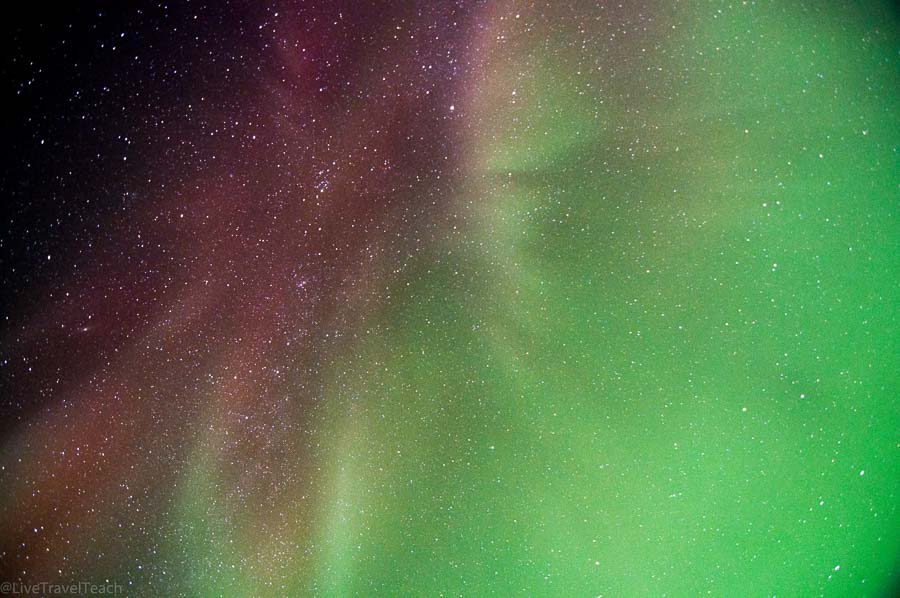 Spending Christmas at Fairbanks, Alaska
Fairbanks, Alaska is the best place in America if you want to have a white Christmas. Fairbanks has a dancing christmas light show, northern lights and is right around the corner from the North Pole! The dancing christmas lights are a great for the whole family and can be enjoyed from the warmth of your car at George Horner Park. Just tune the radio to their station and cruise through a colorful light show and enjoy the holiday music. An encore of red and green aurora borealis awaits you most evenings this far north. If you're visiting on a cloudy day try driving to Murphy Dome where you can gain some elevation and find an easy parking spot.
Christmas in Fairbanks means you're just a short drive to the North Pole where you can pose with Santa, enjoy a cup of hot cocoa and find a gift for everyone who couldn't join you on this vacation. There is a reindeer farm nearby and ice sculptures too. A trip to Fairbanks isn't complete without a dip in the nearby Chena Hot Springs, especially if you're looking to get away from the cold. Then again, some of you may want to swing by the famous University of Alaska temperature display and your next Instagram photo showing how far below zero it is. Cold winters also mean you'll have the opportunity to try snow sports like cross country skiing, fat tire biking or ice skating. There are plenty of rentals available in town so don't worry if you can't bring your own gear. If you're looking for a Christmas holiday away from home you're sure to love Fairbanks!
Mike Still @LiveTravelTeach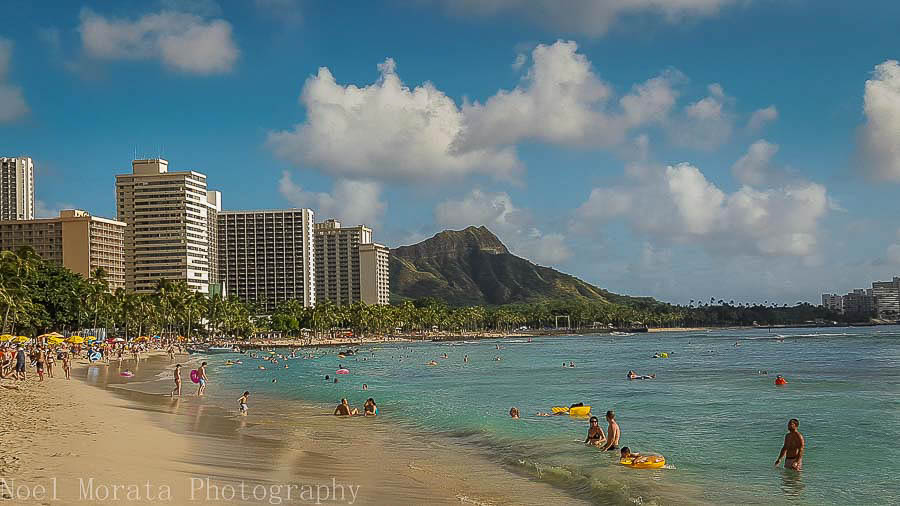 Christmas in Hawaii
Christmas in Hawaii captures the best of the holiday spirit and trimmings but with a warm tropical flare. You can be outdoors in your shorts but still go to a Christmas themed parade, holiday fair or event, Christmas program or just an outdoor market to buy some fun souvenirs and things to fill up your Christmas stocking. There's plenty of Christmas cheer and events that happen In all the islands to bring in the holiday cheer, but you can also enjoy some wonderful outdoor fun, eat delicious food and explore the many fun places around all the islands. It really is nice to celebrate with friends or family in Hawaii, even if you are traveling solo, there's plenty to see and do here for the holidays.
While you are visiting the main landing hub at Honolulu, check out all the fun things you can do here for in Honolulu or just around the island for inspiration and planning a Christmas visit to Oahu.
Noel With This Hawaii Life
Visiting Canada for the Holidays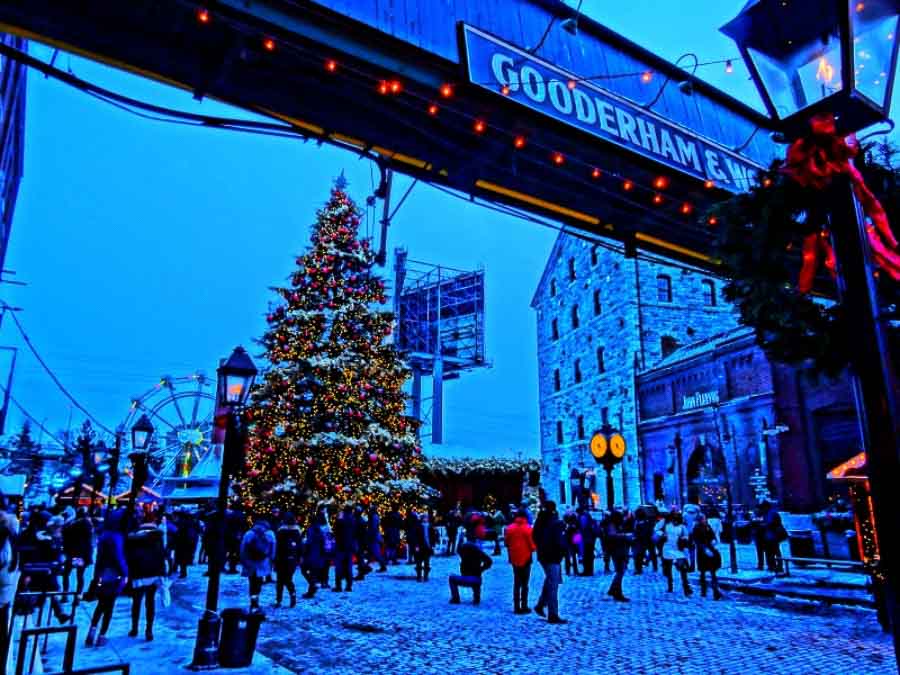 Toronto for the Holidays
If you're looking for incredible places to go for Christmas then head to Toronto, Canada. With a dusting of snow, Christmas markets, and jolly times to be had for all, Christmas in Toronto is a magical time of year. The historic Distillery District hosts the best Christmas market in the city, with traditional huts selling everything from tasty treats to sparkling ornaments. If you want to beat the crowds and avoid the admission fee visit during the week but make sure to stay on until evening descends and the lights are all a glow.
Other must visit events and markets across Toronto are Holiday Fair in the Square – great for children and the young at heart and the One of a Kind Show – for all the unique gifts. And a visit to Toronto at Christmas time isn't complete without a wander by the festive window displays at Hudson Bay and a stroll through the Eaton Centre to marvel at giant reindeer, one of Canada's largest Christmas trees, and to meet Santa himself.
Check out Stephanie's post on a Toronto Christmas Spirit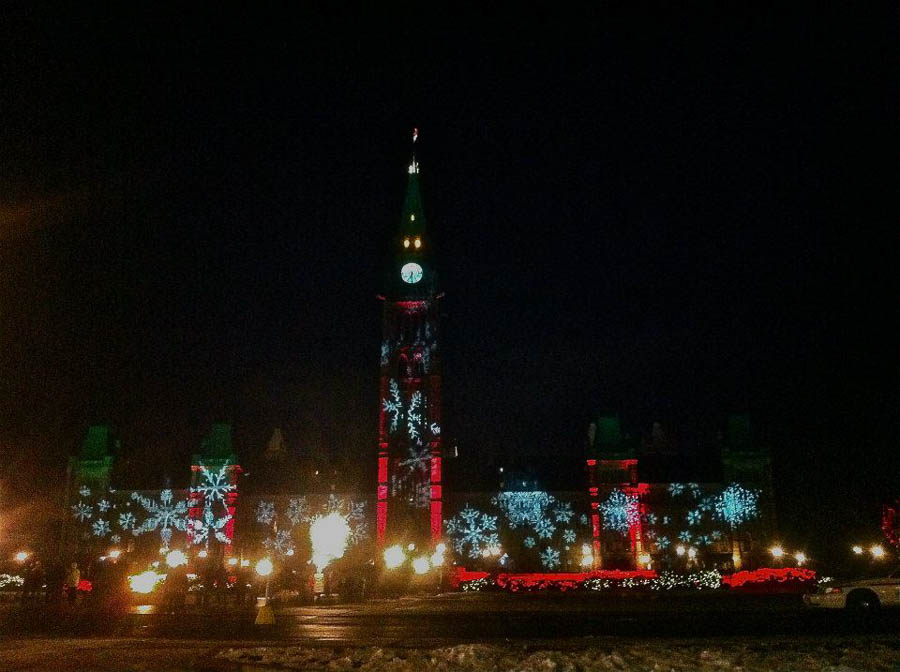 Unique places to go for Christmas – Ottawa
The capital of Canada, Ottawa, is the epitome of a Christmas winter wonderland. When the festive Christmas season hits, the whole city switches into holiday mode, and there is a ton of unique Christmas events and experiences to enjoy. As Christmas is widely celebrated in Canada, the capital goes above and beyond to make the Christmas season known, and you will surely feel the Christmas love.
One unique Christmas event Ottawa hosts is the Parliament Hill Light Show, which is a festive-themed light show displayed right on the parliament building in the downtown core. The building itself is beautiful and is made even more enchanting with the light show that is free and viewable every night.
In addition to the light show, there is an ice skating rink built right on the parliament buildings front lawns, and people are welcome to skate around while admiring the beautiful surroundings.
Christmas in Ottawa is full of exciting and unique activities you do not want to miss.
Samantha Karen with Sam Sees World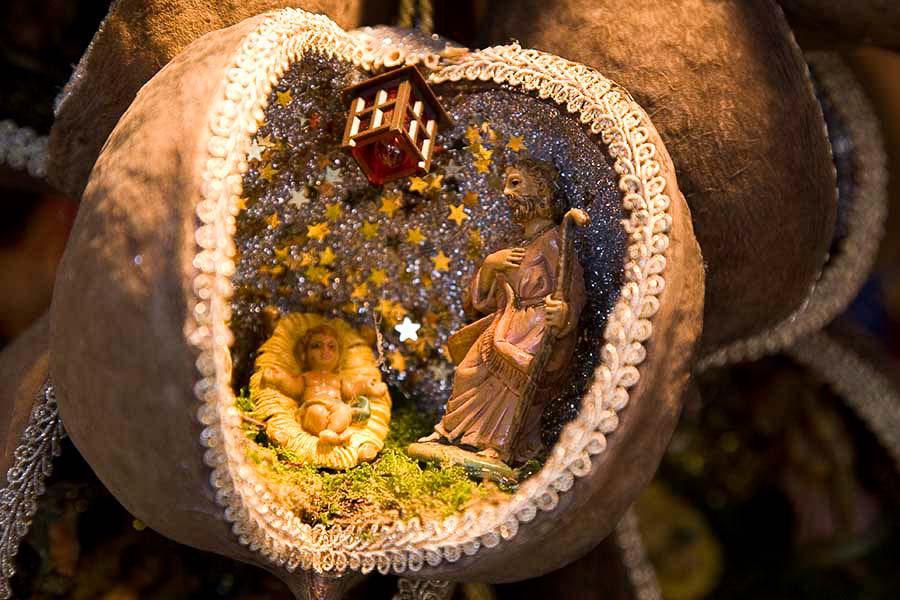 Christmas in Quebec City, Quebec
Quebec City exudes a romantic charm in the countdown to Christmas. Seasonal decorations and festive lights adorn the Instagram-friendly lanes of the historic Petit Champlain district. Pierre-Dugua-Da-Mons Terrace is a great spot to take in the scene.
Tasty seasonal dishes with European heritage, including grilled sausages and marzipan-filled stollen cakes, are sold at the wooden huts of Quebec City's German Christmas Market, which continues until 23 December. Ordering a cup of mulled wine is one way of warming your hands in cold weather between browsing the handcrafted products on stalls.
Looking for a Christmas thrill? Try riding the toboggan run at Dufferin Terrace. The seasonal attraction runs below the grand Fairmont Château Frontenac hotel. The hotel is one of the city's best-known landmarks as well as one of the chicest places to stay while exploring and taking in the vibe.
If you like activities, rent skates at the Place D'Youville. The ice rink is located between the Palais Montcalm, Capitole Theatre and Saint-Jean Gate, a celebrated part of Quebec City's historic fortifications.
Stuart Forster of Go Eat Do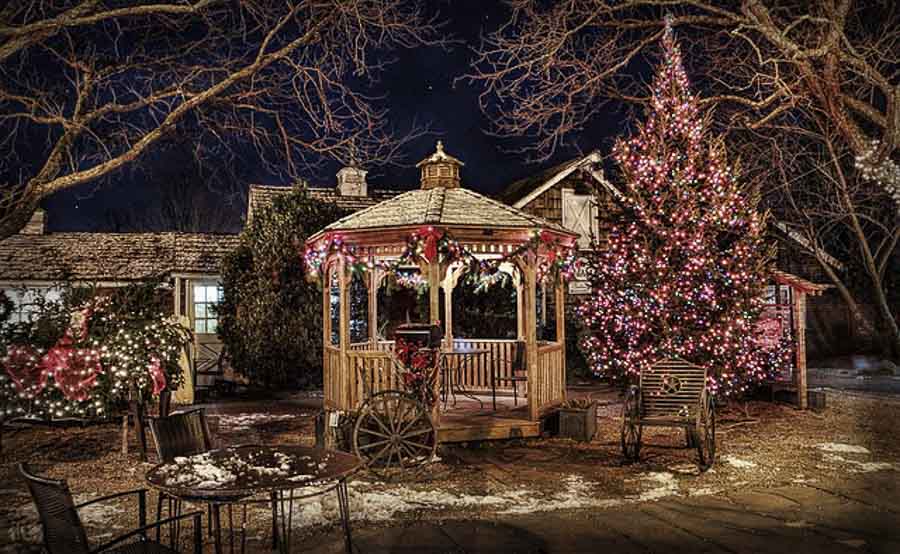 Montreal in Christmas
Visiting Montreal at Christmas is the perfect time to enjoy the winter holidays. Needless to say, you will never have trouble finding something festive to do during the Montreal Christmas season. Though it can be pretty cold in Winter in Montreal, there are plenty of outdoor events, with festivals honoring the snow, night lights and holidays.
You will get to see the magic of Christmas lights in the Santa Claus parade that starts in November, a tradition since 1925. Thousands of children wait just to get a glimpse of Santa Claus with 10-15 floats proceeding.
Christmas Fireworks at Old Port is another spectacular show that you shouldn't miss in Montreal. This pyro musical show starts at 8 pm on every Saturday.
The Museum of Fine Art's Volunteer Association arrange a nice concert of Christmas music, performed by professional choirs and musicians. This Christmas concert will offer you a nice ambience in this holy festival.
If you want some unique Christmas themed gift, you can get from some of Montreal's Christmas shopping pop-up events that open in mid-December.
Montreal is no doubt a stunning city to enjoy an amazing Christmas vacation. There is a high chance to get snowfall here during the Christmas season which adds more beauty to this Canadian city.
Trijit Mallick with BudgetTravelBuff
Christmas in Mexico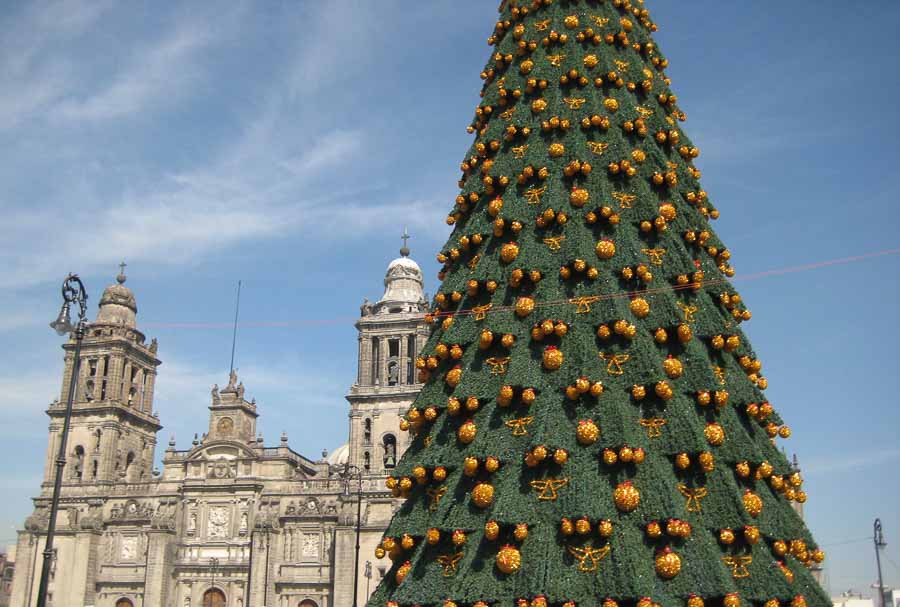 How to spend Christmas and New Year in Mexico City
Winter holidays in Mexico City are a big deal and not just a one-day celebration. In fact, you will start seeing parades, concerts and other festivities starting from December 12th, but officially Christmas celebrations start from December 16th. That's when Las Posadas are held.
"Las Posadas" is Spanish for lodging, or accommodation so, during this festivity, neighbors go door to door, singsongs and ask for shelter. Also, people host parties at home with food, drinks, and piñatas. Holiday markets sell Christmas trees, food, and souvenirs outside of every neighborhood. Some of the big ones are Coyoacan Market, the Grand Christmas Bazaar in the Lázaro Cardenas Market or Jamaica Market.
Head to Zocalo (the downtown area) to admire a huge Christmas tree and skate on the skating ring in the very city center surrounded by all the lights and decorations.
Please note that most restaurants and shops are closed for Christmas Eve and Christmas Day.
Inna from The Executive thrill seeker
Pin this for later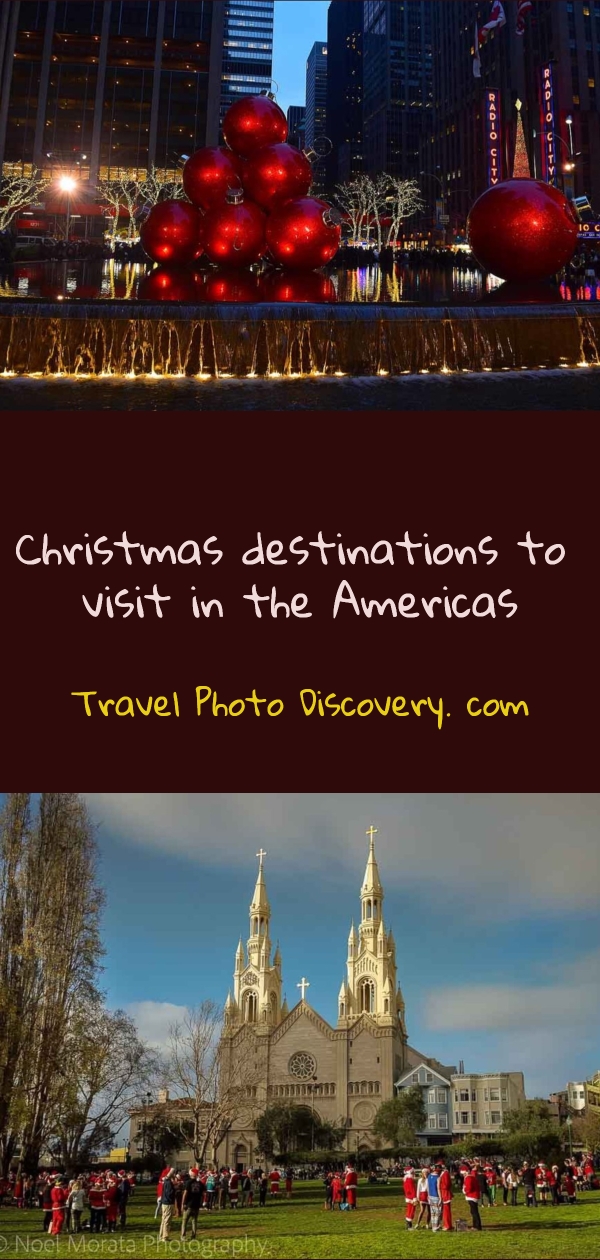 Thanks for visiting today and checking out this post on best places to spend Christmas in the Americas. I hope you are inspired to plan a visit and enjoy these wonderful attractions. If you enjoyed the images and post, could you please share it with any of the social media buttons located around the post.
If you like what you see, come and check out my other social media channels for more updates, including Instagram, Pinterest and Twitter
Some links in this article on best places to spend Christmas in the USA are affiliates which provide a small commission to support this site at no extra cost to you. Thank you for reading, and happy travels