There are so many fantastic places to visit around Colorado, a place filled with natural wonders, historic landmarks and monuments, colorful cities and other points of interest. There's a lot to see and do in the state and this post shares some of the best places to visit in Colorado now. Check out the best places and some secret places from travel bloggers and journalist sharing their must visit destinations around the state.
Best places to visit in Colorado now
Best Urban metro places around Colorado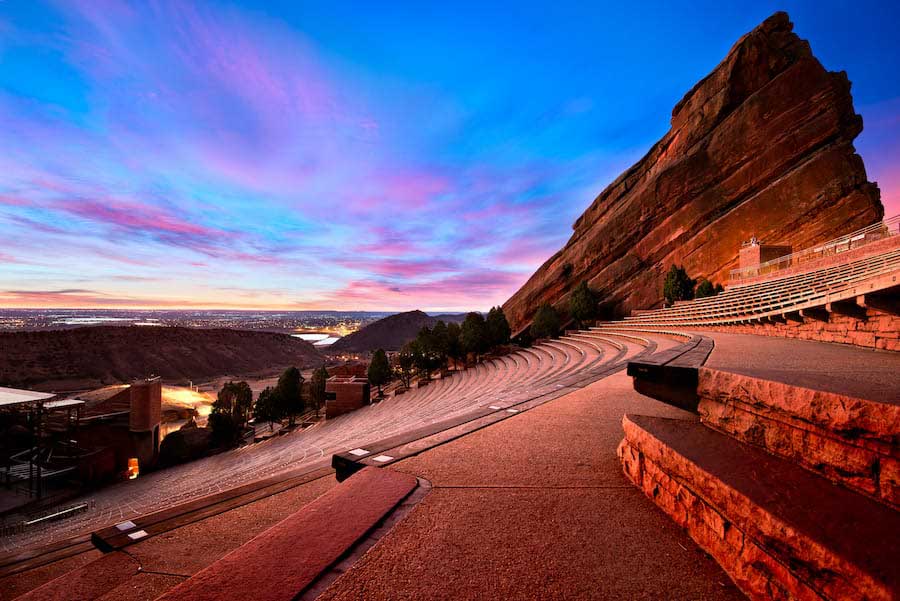 Weekend experience in Denver
While looking for the best places to visit Colorado, nothing quite beats spending a weekend in Denver, the state capital. Sitting up in the mountains, the city is affectionately called the Mile High City and it is full of great places to explore. Denver is famed throughout the US for its cultural activities and is home to some of the best museums in the country, such as the Denver Art Museum.
Just outside of Denver is one of the area's most impressive cultural hubs, the Red Rocks Amphitheater. The large amphitheater holds regular concerts, with some of the world's most famous musicians gracing its stage and playing to over 9,000 people. The rocks provide perfect natural acoustics, and the site was probably used by indigenous people for gatherings for many centuries prior to its more modern form.
Within the city, the Art District is a hive of creativity and plenty of galleries and boutiques can be found within the district. Creativity in Denver stretches beyond the traditional arts and the city has a vibrant food scene as well as some of the region's best craft breweries. Take a break from the city and head out into the nearby mountains to enjoy some of the many seasonal activities available close to the city. During the cold winters, many of the city's inhabitants head out into the mountains to tear up the slopes for a day.
Megan with MeganStarr.com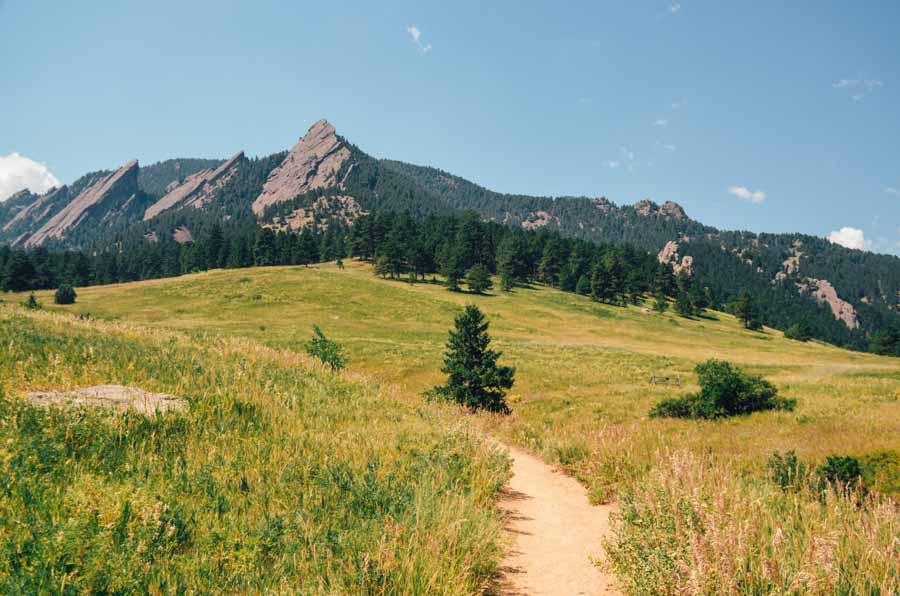 Boulder, Colorado
Denver's neighbor, Boulder is a hip college town that sits about 30 minutes northwest from the Mile High City and is one of the coolest places to visit in Colorado now.
But besides being home to University of Colorado Boulder (the biggest university of the state), this town is also known as a gateway to adventure. Located at the foothills of the Rocky Mountains, Boulder offers superb opportunities for hiking, rock climbing and mountain biking.
Visitors typically spend no more than a day in Boulder – the town is a popular stop on a way to the Rocky Mountain National Park, the crown jewel of the Colorado Rockies.
However, if you love the outdoors, Boulder will keep you busy for weeks, there's so much to do here! And the best part is that you don't have to drive for a few hours to enjoy all these things, unlike some of the popular destinations along Interstate-70 in Colorado.
Summer is the best time to visit Boulder, with tons of cool trails for all levels and wonderful scenery. But if you come here in winter, check out the nearby Eldora Ski Resort.
From hiking to the iconic Flatirons, to driving up Flagstaff Mountain, shopping and grabbing a bite along the busy Pearl Street, Boulder doesn't disappoint!
Daria with The Discovery Nut
Ski destinations in Colorado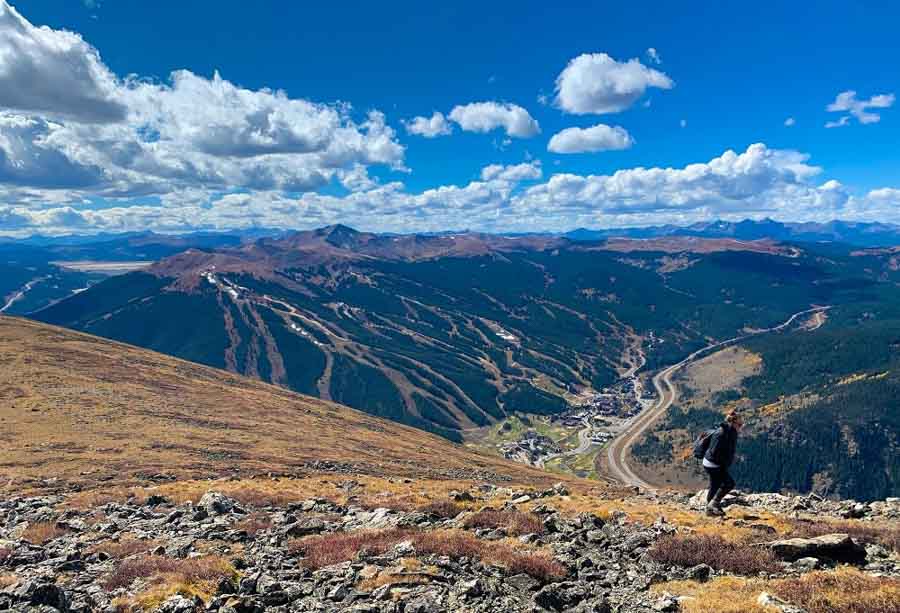 Copper Mountain, Colorado
Copper Mountain, Colorado is one of the most quaint, underrated and undiscovered ski resorts within a short drive of Denver. That's because it's nestled directly between two of the state's most popular resorts: Breckinridge and Vail.
While Copper doesn't get the recognition it deserves at times, that's quite alright because that also means it's far less crowded than the nearby popular resorts. Copper Mountain is accessible by vehicle and is just an hour-and-a-half drive from the heart of Denver.
Its tallest run peaks at 12,313 feet above sea level, making Copper Mountain the ninth-highest groomed ski and snowboard trail in the United States. If that doesn't sell you, maybe the 26 lifts leading to 140-plus trails over three mountains and 2,450 acres of terrain will.
Oh, and it's home to one of 12 Woodward facilities in the world, which is the public training facility that jump-started the careers of thousands of professionals and Olympians across the globe.
But Copper isn't just fun in the winter. It's absolutely stunning in the summer. Copper Mountain has a stellar golf course, which also features the highest elevation tee box in America, and many other outdoor adventures like downhill mountain biking, hiking and rock climbing.
So if you want pristine powder and half the crowds as more well-known ski resorts or you're looking for an affordable Colorado destination in the summer with breathtaking views and incredible hiking, Copper Mountain, Colorado is where you'll want to go.
Jarrod with Ramble Around the World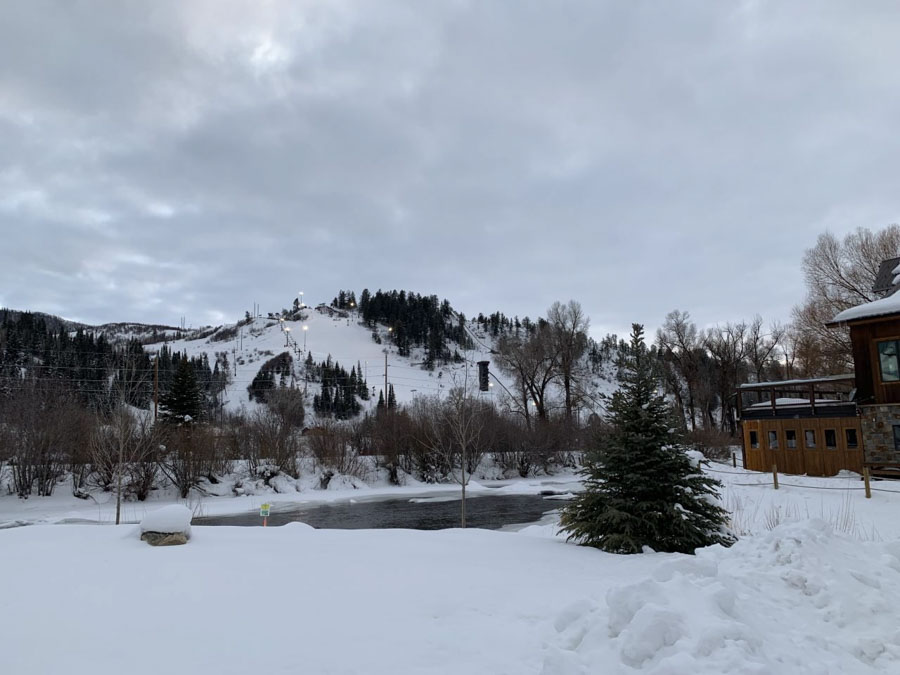 Steamboat Springs
Steamboat Springs is a year-round destination located in northern Colorado's Yampa Valley. A trip to the mountain town is perfect for those looking to enjoy the outdoors. It provides access to hiking trails, beautiful lakes and winding streams in the summertime and ski slopes in the winter.
Regardless of the season, you can enjoy the hot springs the town was named after by visiting the Old Town Hot Spring which includes eight hot pools, two waterslides, and an aquatic rock climbing wall.
For a winter visit, ski the 169 trails at the Steamboat Springs Ski Resort or visit the Howelsen Hill Ski Area which is perfect for beginners only costing $15 -$30 a day. In the summer there are numerous hiking and mountain bike trails in the area for any fitness level and plenty of fishing spots like Pearl Lake.
Our personal favorite way to spend time in Steamboat Springs is staying at Vista Verde Ranch.  The all-inclusive guest ranch allows you to experience the outdoors without sacrificing comfort with three gourmet meals a day, comfortable cabins, and expert guides to take you to the various activities in the area.
Dan & Michelle – HoneymoonAlways.com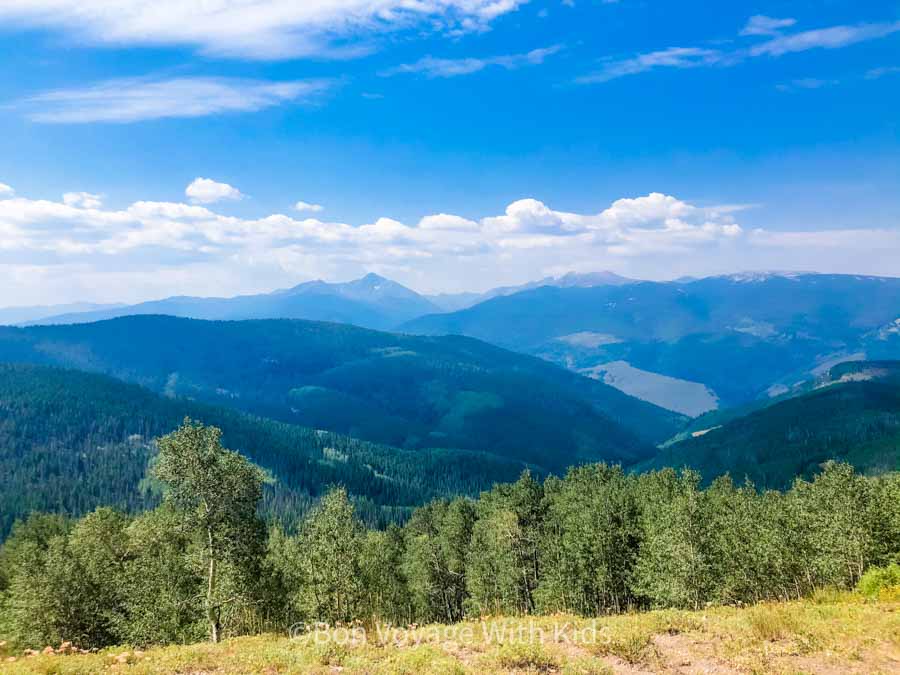 Ski heaven at Vail
One of our favorite places to visit in Colorado is Vail.  While known for its epic skiing – and let's be honest, it is EPIC! – Vail is also a fantastic place to visit in the summer as well!  With a vibrant visitor community, there is much to do to entertain outdoor lovers of all kinds.  Starting with the gorgeous Vail Village and the Lionshead base, plenty of shops and outdoor dining is available in this picturesque village that is reminiscent of an alpine ski resort in Switzerland.  In fact, home to a Swiss-style fondue restaurant and two Austrian restaurants, you could close your eyes and think you are in Europe.  Hiking, mountain biking, garden walks, a mountain coaster, and scenic rides on the gondola are some of the many ways to see and enjoy the breathtaking views of the region.  The many condo rentals and hotels offer pools and hot tubs, and the local stream is a dream for any fan of fishing.  Winter offers some of the most incredible skiing for fans of the slopes. The Legendary Back Bowls are legendary for a reason!  Families will love their top-notch ski and ride program for the kids, while they enjoy challenging but mesmerizing ski experiences of their own.  With so much to do in such a gorgeous setting, Vail is one of the must-see places to visit in Colorado. If you are looking for fantastic places to stay in Vail, check out these cool digs and Air BnBs.
Keri with Bon Voyage with Kids
Best natural, parks and scenic areas around Colorado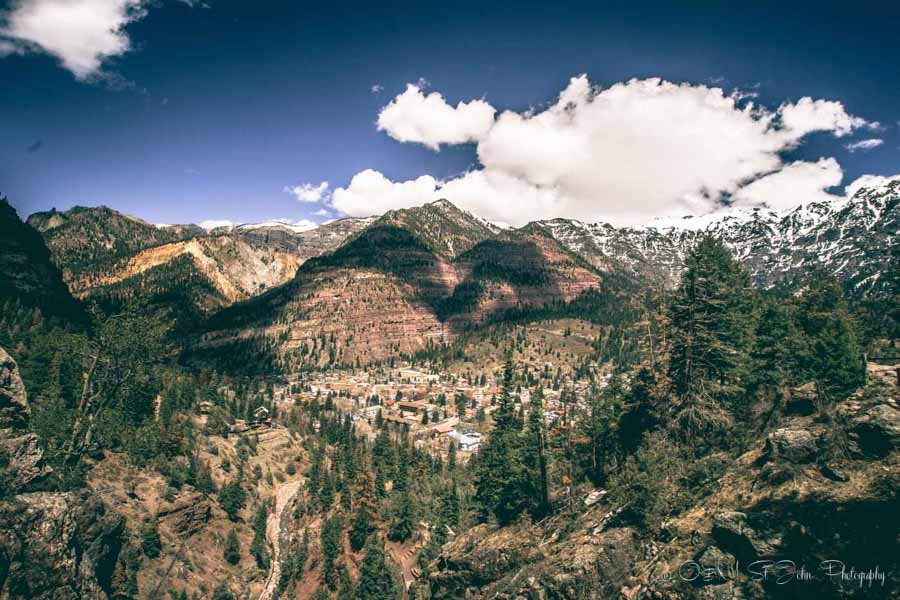 A visit to Ouray
Ouray became a fast favourite on our Colorado road trip. This charming mountain town has been dubbed the Switzerland of America for its picturesque setting and hiking opportunities. The main street is reminiscent of its mining history and lined with cozy cafes and friendly locals who occupy them.
The Perimeter hike is a six mile trail which explores the mountain range surrounding Ouray. It offers a birds eye view of the town and has four waterfalls and five bridges along its length.
Ouray is also known for its geothermal activity. Orvis Hot Springs has ten unique natural pools ranging in temperature from 65 to 112 degrees. Most of them are outside in a pristine mountain setting, making it an ideal place to take in the natural scenery of the area.
If you are up for a drive, don't miss the Million Dollar Highway or the Dallas Divide. The Million Dollar Highway runs from Ouray to Silverton and is one of the most picturesque highways in the nation. While the Dallas Divide is a mountain pass, located about 30 minutes from Ouray, which is of equal beauty.
Contributed by sustainable travel bloggers Oksana & Max from Drink Tea and Travel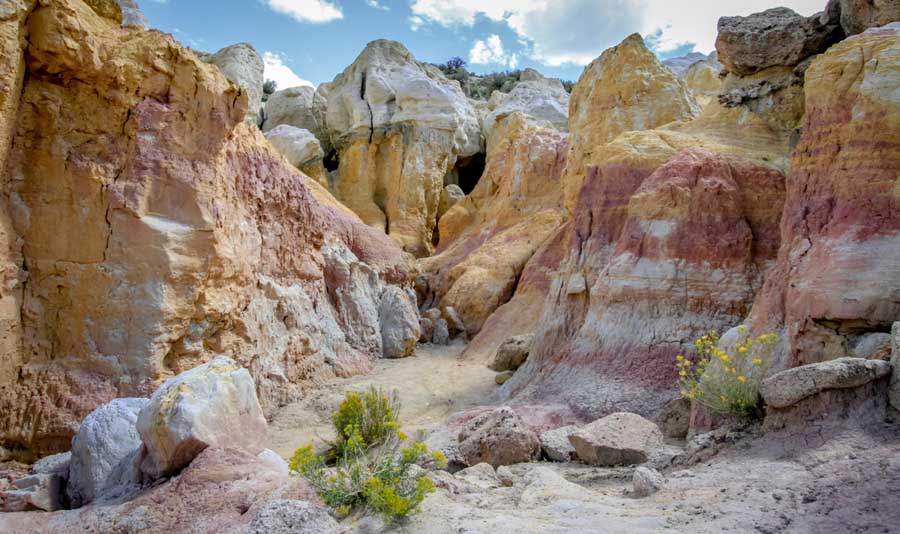 The Painted Mines
Colorado is mostly known for the tall, forested Rocky Mountains, but out in the plains that stretch away from the mountains, east of Colorado Springs, a spot of land opens up as if a giant came along with a shovel and a few paint buckets, did some excavating with the shovel and then let his inner artist run wild, painting the earth in ribbons of color. His work is now protected in the Paint Mines Interpretive Park at Calhoun, Colorado. It's an easy walk on a path down into the "mines" where Native Americans once collected  the colored clays to use as dyes. Paths lead through the valley floor among the magical "hoodoos"and other geologic formations created by millennia of erosion. The first evidence of human presence dates back to 9,000 years ago. With four miles of easy trail, it takes only a few hours to explore the park, which makes for a good family activity, especially with picnic tables to enjoy lunch at the trailhead. Informational signs along the trails give insight into the historical and geological significance of the formations. To preserve this invaluable state park for future generations, be sure to stay on the trails and off the hoodoos. One of the best features of the park is that it's free! Open "from dawn until dusk," the paint mines are a particularly unique feature in Colorado.
Check out Shara's post on the Calhan Painted mines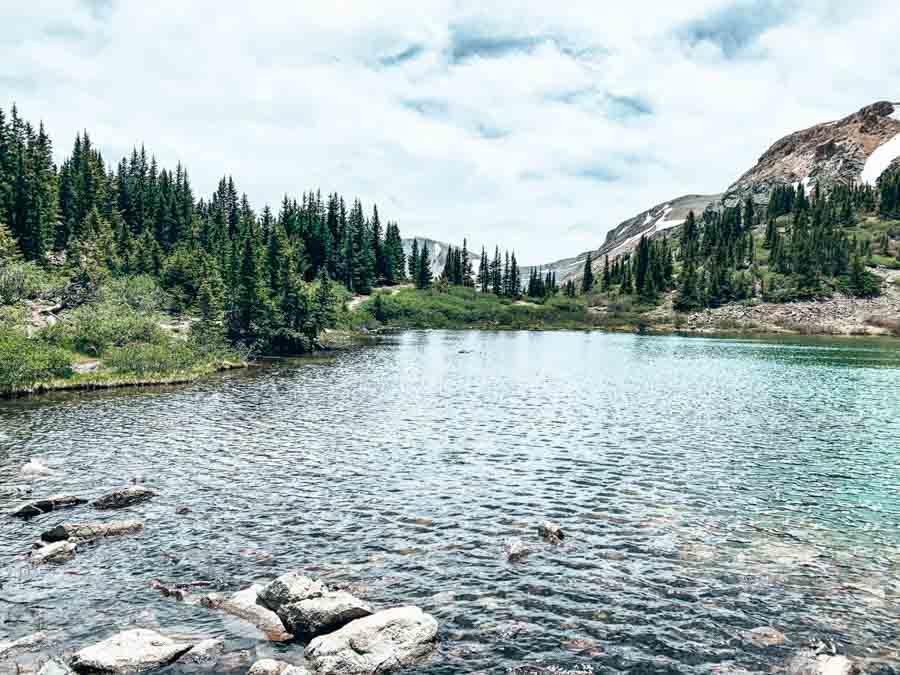 Pike and San Isabel National Forest
If you are looking for an affordable, beautiful destination in Colorado where you can camp and hike with your dogs, Pike and San Isabel National Forest is the perfect place for a weekend or midweek getaway.
Less than 2 hours south of Denver, and less than 1 hour south of Colorado Springs off of 1-25 S, Pike and San Isabel Forest is full of free to $25 camp sites.
A favorite dog-friendly camping site is Collegiate Peaks Campground. The site features plenty of shade, a river, bathrooms, potable water, picnic tables, and fire rings.
Collegiate Peaks Campground is also close to great hiking. My favorite hike in the region is Hidden Lake Trail. Less than 30 minutes from the campsite, Hidden Lake Trail boasts high prairies with mountain vistas, mountain-top lakes, and tiny streams. Dogs are allowed on the trail.
No matter what your skill level, you can find amazing hikes featuring a variety of different points of interest. Other outdoor activities in Pike and San Isabel National Forest include fly fishing, rafting, off-road trails, and horseback riding.
If you want a little city with your outdoor adventure, the nearby town of Buena Vista is located just 20 minutes away. Not only can you fill up on camping supplies, but you can also visit one of the town's great restaurants, a craft brewery, or some cute shops.
Kelly with Snap Travel Magic
Historic sites around Colorado

Unesco site at Mesa Verde
Mesa Verde is one of the lesser-known National Parks, however, it's one that should feature on any Places to visit in Colorado list. It's a fascinating NP and a UNESCO World Heritage Site, where you can see ancient Ancestral Puebloan cliff dwellings perched along steep cliffs under large rock overhangs, protecting them from the freezing wind in winter and the scorching sun in summer.
There are plenty of things to see and do in Mesa Verde, the easiest way to see many of the highlights is by driving the Mesa Top Loop Road (a 6-mile drive). Be sure to visit the Cliff Palace (pictured above), the Spruce Tree House and the Balcony House. If you have more time, there are more worthwhile stops along the way as well as great hikes!
At the Chapin Mesa Archeological Museum, you can learn more about the Ancestral Puebloans. Admire the many artifacts and paintings and watch the video explaining more about the way of life at Mesa Verde from approximately 550 A.D. to 1300 A.D.
The best way to explore the park is by car, or if you're up for it, by bicycle. If you don't own a National Parks Pass, the entrance fee for Mesa Verde is either $30 per car (May 1 – October 31) or $20 per car (for the rest of the year).
y Lotte from Gezond Weekmenu
Please share or Pin to your Colorado 
Pinterest 
board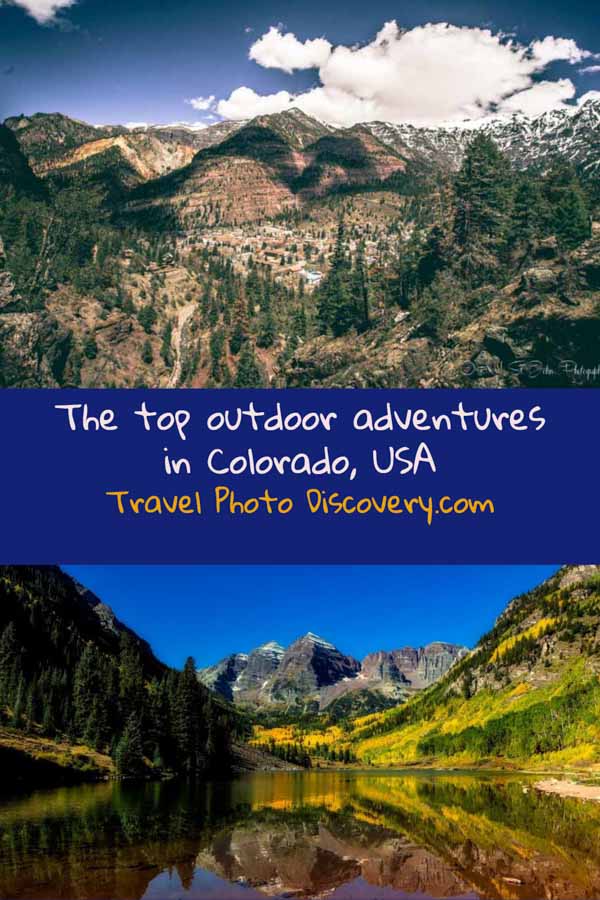 Thanks for visiting and checking out this post on Best places to visit in Colorado. Bookmark this post for future reference when you are looking for some Hawaii activities, adventure or fun experiences.
Please do share this post with any of the social media icons on the side bar and thanks for visiting today!
Some links in this article on a Best places to visit in Colorado, are affiliates which provide a small commission to support this site at no extra cost to you. Thank you for reading, and happy travels