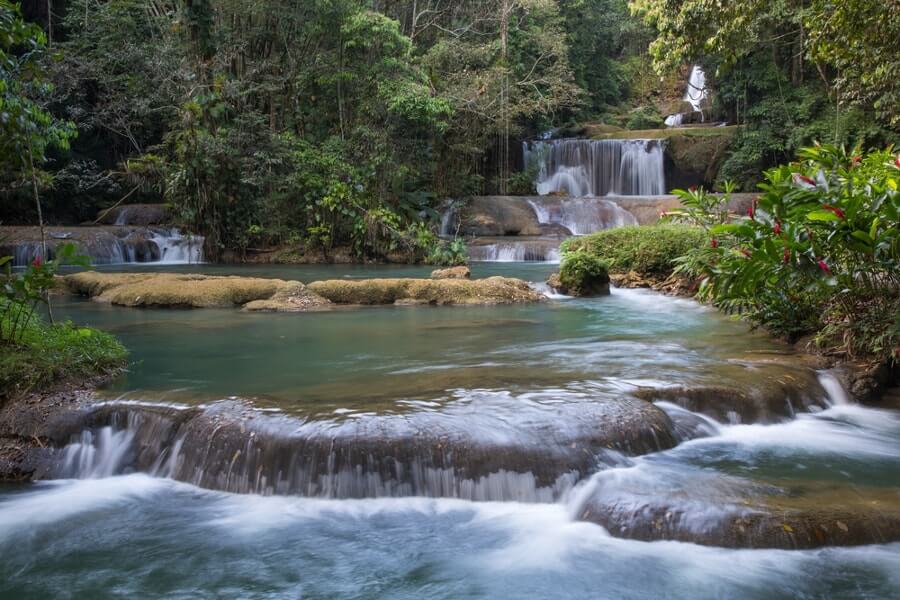 For such a small island, Jamaica packs quite a punch when it comes to the variety of tourist attractions available.    While I am a beach bum at heart, I always encourage visitors to head inland and explore the island because I feel it has so much to offer.  Hopefully, our list of attractions will encourage you to get out and really explore and see the places to visit in Jamaica.
What to do and see in Jamaica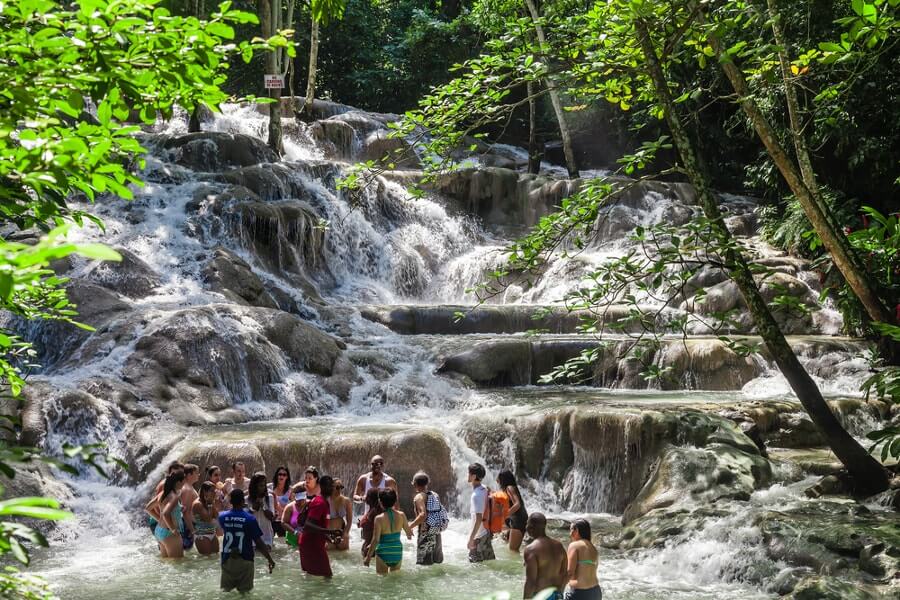 Dunns River Falls
This is the number one tourist attraction on the island and if you are a first time visitor, you simply have to go.
A unique feature of Dunns River Falls is you can actually climb up the falls.  A guide will escort you up the 600 feet long falls to the top.   If you don't want a strenuous climb, there are stairs that run alongside the falls so you can still enjoy their natural beauty.
A couple of caveats though.  While Dunns River falls is beautiful it can be a bit of a tourist trap.  So here are a few insider tips.  Visit the falls first thing in the morning.  You will have the place to yourself and you will really be able to enjoy the natural beauty.  The second caveat is avoid visiting the falls on cruise ship days.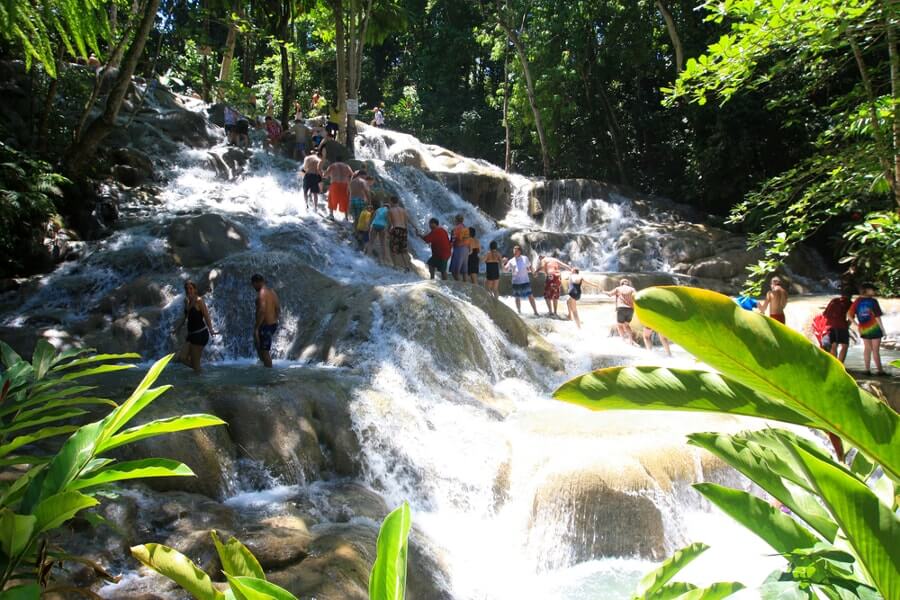 Luminous Lagoon
Luminous Lagoon in Falmouth is one of only five bioluminescent bays in the world and Luminous Lagoon is reputed to be one of the brightest. 
The Lagoon is home to billions of naturally occurring "bioluminescent" microorganisms, that is, they light up when touched. You cannot observe this effect during the day, but at night if you disturb the water it emits a blue glow.
What makes this tour fascinating is that swimmers literally glow when they splash around in the water. You will also see streaks of glowing water as fish swim by. If you plan to swim in the lagoon, remember to bring water shoes, the lagoon floor is really muddy.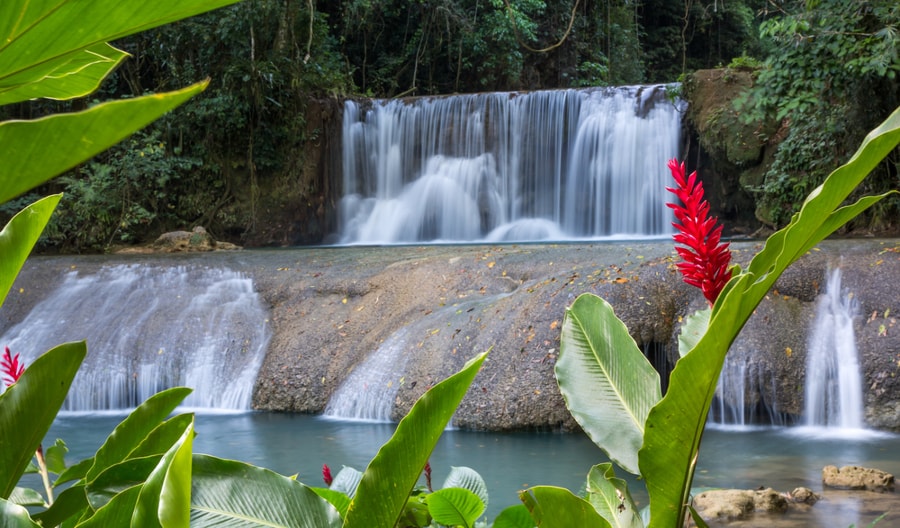 Y.S. Falls
This is the second waterfall attraction on my list and offers a more rustic atmosphere than Dunns River Falls.  One of my favourite aspects of this attraction is the drive to get there.  You will be driving through the Jamaican countryside so you will see some of the most beautiful areas in Jamaica.   
YS Falls is located on a working cattle and horse farm on the south of the island.    These falls consist of majestic seven tiered waterfalls.  The highest is around 40 feet and while they cannot be climbed, you can go zip lining over them if that appeals to you.  There is a children's play area, a pool and a souvenir store on the premises. 
Keep in mind this is a full day trip, though it can easily be combined  with the  Appleton Rum tour, Black River Safari, or Floyds Pelican bar attraction.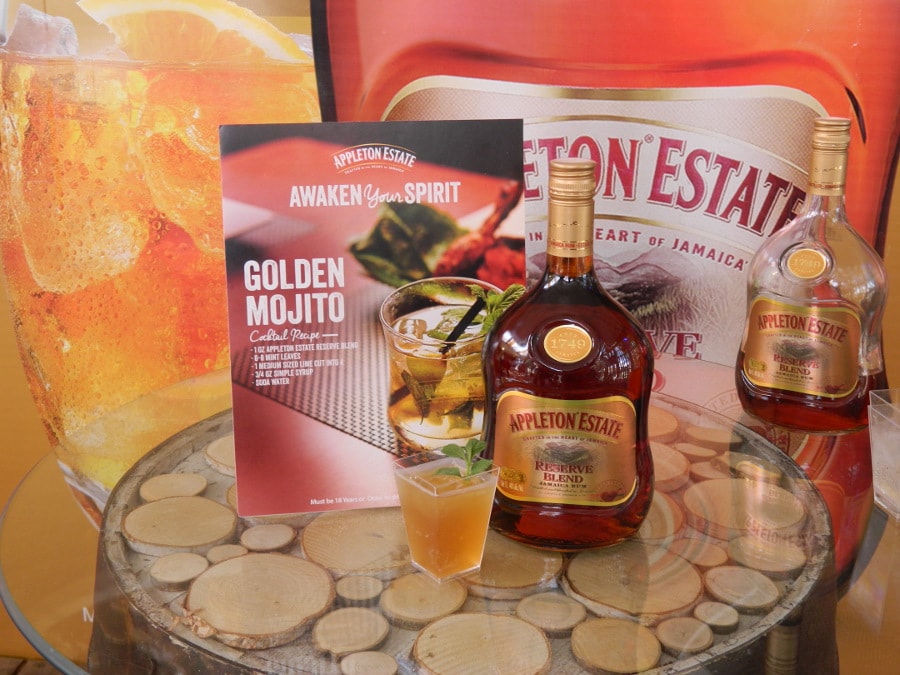 Appleton Rum Tour
This attraction is located on the southern coast of Jamaica, so you can stop off for a visit on the way to YS Falls.   Personally I think the drive to get to both of these attractions is absolutely stunning. 
If you are a lover of rum or you just want to learn about the history of Jamaican rum and the rum making process, then you should definitely visit the distillery. Jamaica has a rich history of rum making and you will experience the process of rum making from sugar cane to glass.   
When I arrived at the factory I was greeted with a glass of rum punch, which I sipped as I watched a video about the Nassau Valley, where Appleton is located.  I was then able to taste the wet sugar and molasses used to manufacture the rum.  A real bonus to the trip was the tasting panel where I was able to sample a variety of rums.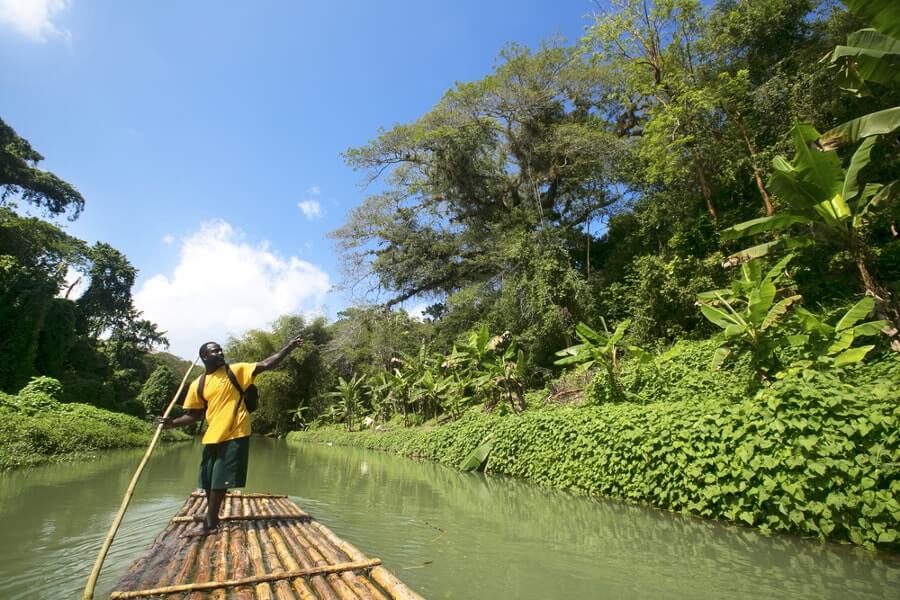 Rafting on the Martha Brae
Bamboo rafts were initially used to transport agricultural produce from the interior of the island to the coastline. Today bamboo rafting is one of the most popular tourist attractions in Jamaica.  Rafting on the Martha Brae is easily accessible from the resort towns of Montego Bay, Ocho Rios and Falmouth.  Your raft captain will take you on a peaceful tranquil journey three miles down the Martha Brae River. 
There are two main spots to go rafting in Jamaica: the Rio Cobre in Port Antonio and the Martha Brae in Falmouth.  My personal favourite is the Rio Cobre but it is located on the eastern end of the island and few travellers tend to visit the town.  But if you don't mind the long trek this experience is highly recommended.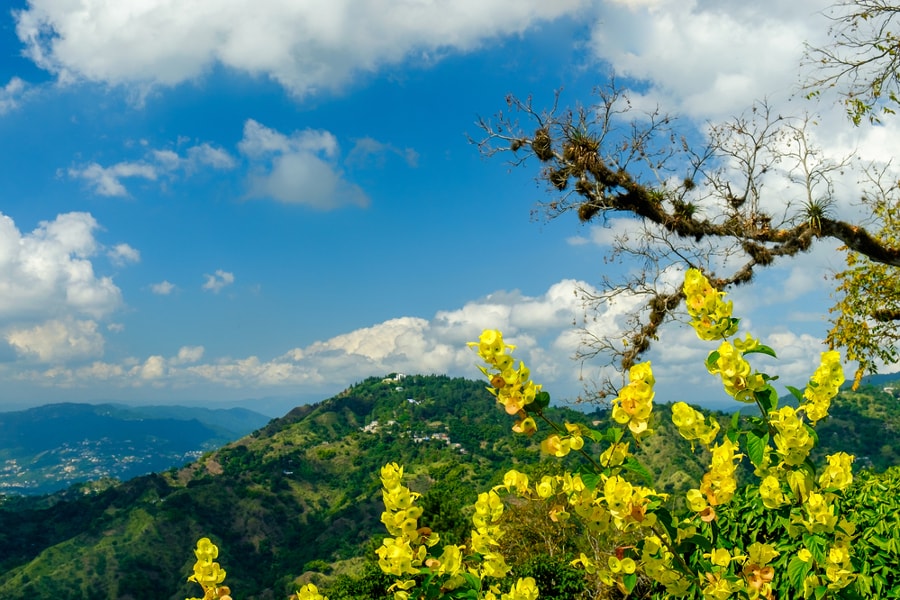 Hiking in the Blue Mountains 
If the Blue Mountains sound familiar, it might be because it is also the name of the world renowned Blue Mountain Coffee, which is known as one of the best coffees in the world. 
The Blue Mountains is also Jamaica's only national park.  The Blue and John Crow Mountains covers over one hundred thousand acres and includes Jamaica's highest point – the Blue Mountain peak.  The Blue and John Crow Mountain ranges were added to UNESCO's world heritage list in 2015.
This park is a nature lover's paradise.  You can hike to the Blue Mountain peak, where if you are lucky enough to be there on a good day, you can see Cuba.  There are also over 9 miles of hiking trails, as well as countless waterfalls, and hundreds of flowering plants and birds.  A special note is it is the home of the Jamaican Swallowtail the largest butterfly in the western hemisphere. 
This area is also the home of the Jamaican Maroons, descendants of Africans who escaped from slavery and established free communities in the mountainous interior of the island.  So, if you are in the area and want to find out about their fascinating history, you should visit the Charles Town Maroon Museum in Portland.
Go to a Reggae Music Festival
There are not many countries in the world that can say they have created a genre of music.  Jamaica not only introduced reggae music to the world but also other genres such as rock steady, mento, dub and dancehall. 
The two main music festivals in Jamaica are Rebel Salute and Reggae Sumfest.  Rebel Salute is a two day festival held on January 15th the birthday of famous reggae musician Tony Rebel.  This festival focuses on roots and conscious music and is held in Richmond, St. Ann which is around 20 minutes from the resort town of Ocho Rios. 
Reggae Sumfest is held in July in the resort town of Montego Bay.   Musicians such as Damion Junior Gong Marley, Ziggy Marley, Beres Hammond and Shaggy have all graced the stage of Reggae Sumfest over the years.
Ahhh… Ras Natango Gardens
This attraction is one of the best kept secrets in Jamaica.  If you are a lover of plants and flowers or simply want to spend an afternoon in tune with nature, this attraction should be on your itinerary.  And if you go, you'll get to see breath-taking views of the town of Montego Bay.  There is a very good reason Tripadvisor rated the gardens the best tourist attraction in Montego Bay. 
There is an art gallery on the premises if you want an injection of culture or to buy souvenirs for your loved ones.    I have seen many tourist attractions in Jamaica, but this is one of my favourite.  On leaving, I was definitely much wiser and felt like I had spent the day with some old friends.
Green Grotto and Rockspring Caves
Caving is not something you usually associate with Jamaica.  If you want a more easy-going experience you can visit the Green Grotto caves in Runaway Bay.  These caves have cultural and historical significance. 
Over the centuries, Green Grotto` caves have been used as a shelter by Taino Indians and as a hideout by runaway slaves.   More recently they have been used as a nightclub.  Green Grotto caves are about 45 minutes from the town of Ocho Rios and offer hourly tours.
But for the more adventurous among you, go to Rockspring Caves, where you really have to wiggle through tight passages and wade through an underground river.   Rockspring Caves is located in the cockpit country, which is in the centre of the island.  This is a full day trip but the bonus is you get to see a part of Jamaica that few tourists experience.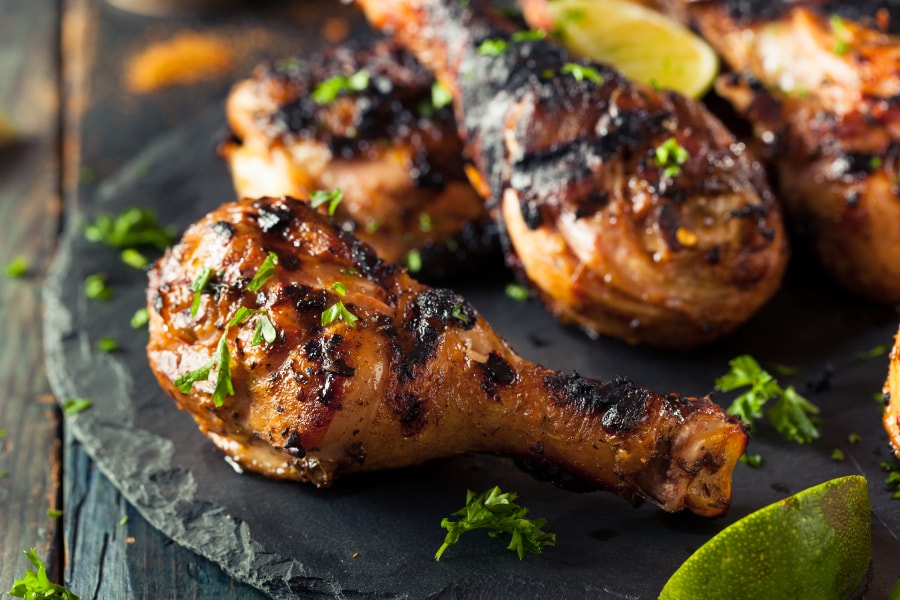 Experience Jamaican Food
If you are a foodie person Jamaica has a lot to offer.  Everybody has heard of Jerk chicken but there is so much more.  Why not try some other Jamaican delicacies such as Escoveitch fish and Bammy, our national dish Ackee and Saltfish, Oxtail or Curry Goat.   For dessert try some authentic Jamaican delicacies such as Gizzada, Sweet Potato Pudding or Cornmeal Pudding.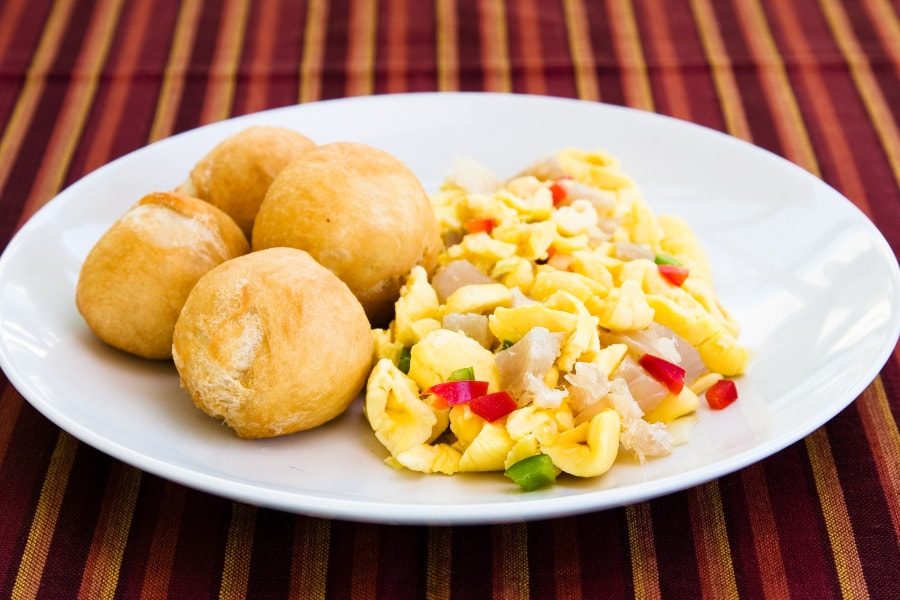 If you want to taste Jerk chicken or pork, visit Scotchies in Ocho Rios or Montego Bay.  For authentic Jamaican desserts visit the Pudding Man in St. Ann's Bay (15 minutes from Ocho Rios).  If you want to go on a farm to table food tour, two of my favourites are:  Stush in the Bush near Ocho Rios and Zimbali culinary retreat near Negril.
If you are a returning visitor see how many of these attractions you can cross off your bucket list.    If you are a first time visitor, use my list to start planning your next trip to Jamaica.
Pin this for later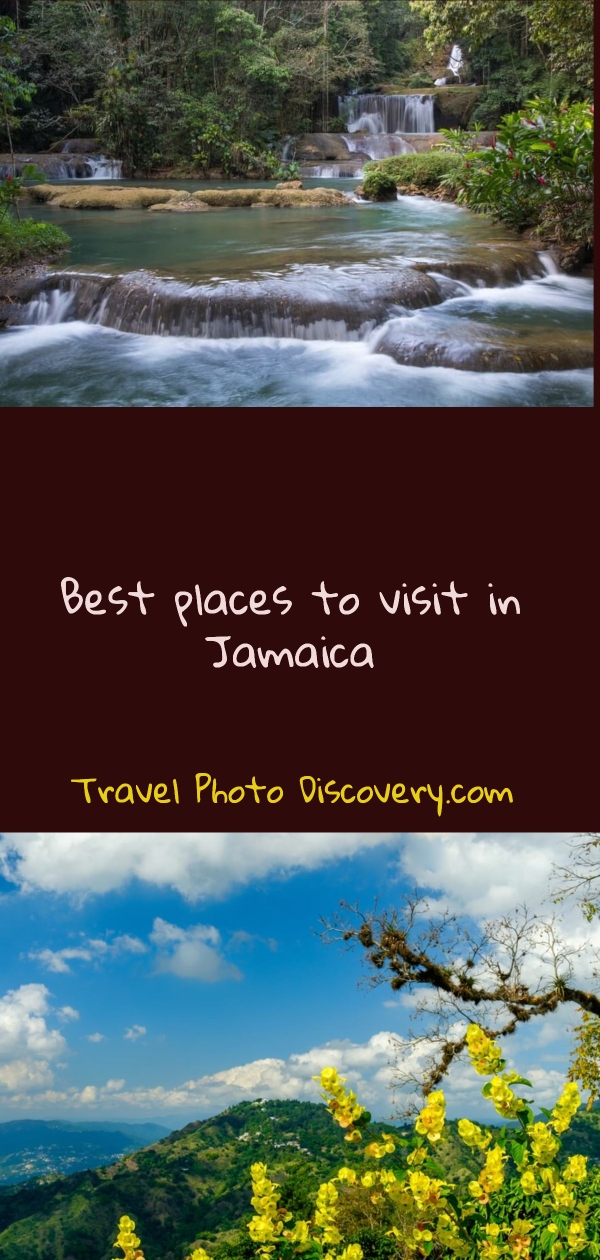 Guest Bio
Charmaine blogs on her website about Jamaica at www.jamaicatravelsaver.com.  If you want to learn more about Jamaica or you are planning a visit follow her on her adventures around the island.
Thanks for visiting today and checking out this post on Best places to visit in Jamaica. If you enjoyed the images and post, could you please share it with any of the social media buttons located around the post.
If you like what you see, come and check out my other social media channels for more updates, including Instagram, Pinterest and Twitter
Disclosure – There are affiliates links on this posts which provide a small commission to support this site at no extra cost to you. Thank you for reading, and happy travels