With so much stunning nature from gorgeous mountain ranges, desolate desertscapes, stunning national and state parks and unique cities and towns to explore, New Mexico has a variety of fantastic places and things to explore around the state. I've asked a few travel bloggers and journalist to share what their favorites places are to explore and you'll be surprised by some of the unique contributions below. Check out the best things to do in New Mexico below for more inspiration to planning your visit to the most amazing places around the state worth exploring.
Top places to see and things to do in New Mexico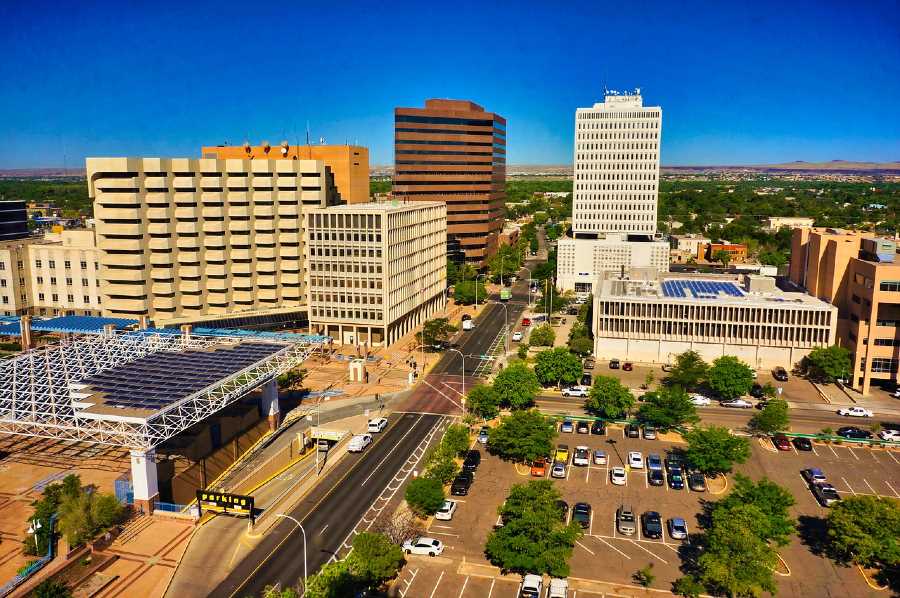 Visiting Albuquerque
One of the largest cities in New Mexico, Albuquerque is a fantastic place to visit for travelers interested in cheap food, desert hiking, and cultural immersion. The heart of the city is the Old Town section, a bustling area with live music, free open air shows, and loads of cute boutiques and tasty restaurants. There are several unique museums in the area including Albuquerque Museum of history and art and the Turquoise Museum. Don't miss walking by the San Felipe de Neri Church, one of the oldest surviving buildings in the city.
The Indian Pueblo Cultural Center is a fantastic way to spend the better part of a day, with art and history exhibits, live dance performances, and an on-site restaurant. Get outside with a short trip to Petroglyph National Monument, where you can hike and observe carvings done by Indigenous people and Spanish colonists from 400-700 years ago. Take a longer day trip out to hike and see stunning rock formations at the Kasha-Katuwe Tent Rocks National Monument.
Thrill seekers will enjoy seeing the desert from up high, riding the 3-mile long Sandia Peak Tramway up to the 10,378-foot-hightop of Sandia Peak where you can see for thousands of miles on a clear day. Many visit in the first week of October for the wildly popular Albuquerque International Balloon Fiesta, where you can see over 500 hot air balloons launching each morning. If you're staying longer, see more things to do in Albuquerque here! Just a short drive south from Albuquerque is Ruidoso which is like Taos but without the crowds, here's 10 things to do in Ruidoso now in this gorgeous area.
Stephanie with Explore More Clean Less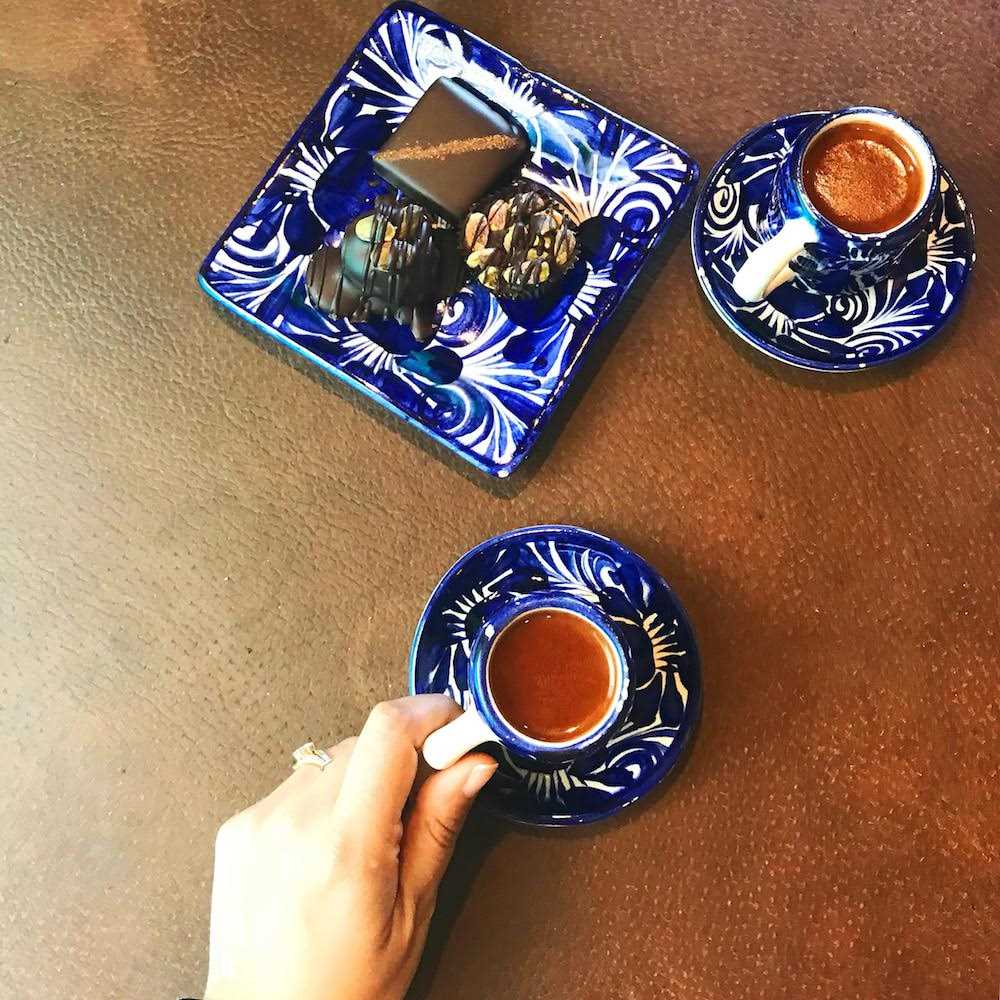 A foodie adventure in Santa Fe
We were lucky to spend a night in Santa Fe during our three nights in New Mexico. Despite the short amount of time on hand, we managed to visit three terrific eateries where the food and drinks were bursting with flavors. New Mexican cuisine could be referred to as a close cousin of Mexican food and if a dish mentions chilies one can be sure that the chefs won't skimp on that ingredient. Red and green chilies are New Mexico's largest agricultural crop and the presence of chilies can be seen in sauces, enchiladas, pizzas, burgers, and even ice cream sundaes! As spicy food lovers, we were very excited. We arrived in Santa Fe from White Sands National Monument towards the evening and first went for a fancy meal at The Shed, a James Beard Award-winning restaurant that focuses on creative southern-New Mexican inspired cuisine. It's hard to avoid enchiladas on the menu in New Mexico, and each restaurant seems to have a version of this dish. On the next day, we paid a visit to Cafe Pasquals, a restaurant with outdoor dining, that seems to have a bit of a following in the city. We opted for their red and green chili enchiladas and weren't disappointed. They were spicy, saucy, and tasty. To end our mini foodie adventure on a sweet note, we headed to Kakawa Chocolate House. The various types of sipping chocolates and chocolates listed on the menu blew our minds away. Some of the choices include Mayan chocolate, and chili hot chocolate too. If it weren't for a return flight back home, we'd have possibly tried more than two flavors. The food in Santa Fe left a strong impression on our minds, and it's one of the biggest reasons we would return to the city.
Supriya with Fun Travelog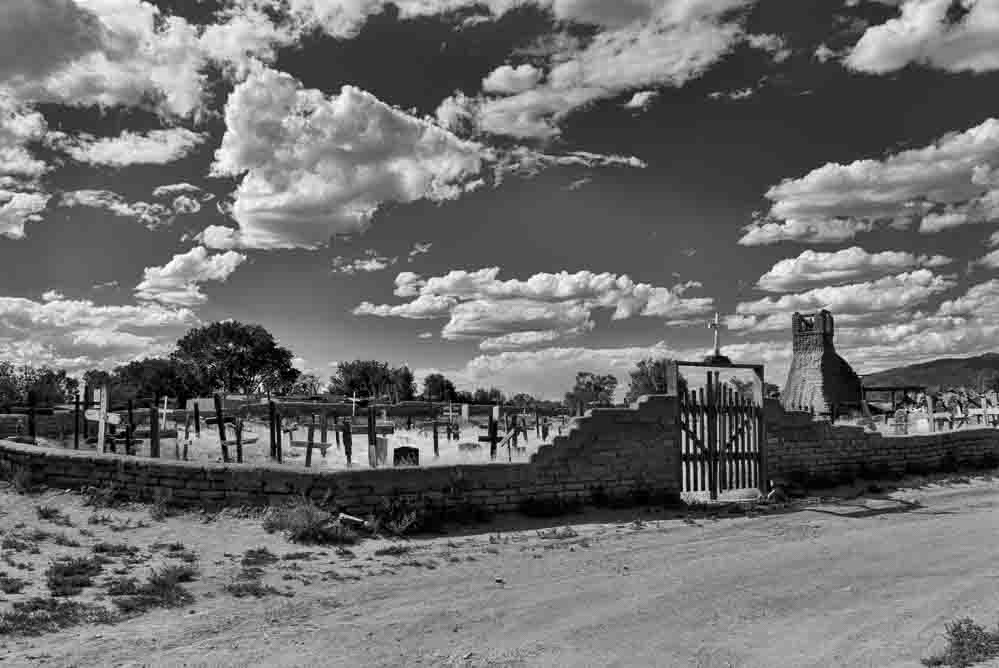 A visit to Taos Pueblo
Taos Pueblo, New Mexico is a centuries-old Indian community. The main part of the village was constructed between 1000 and 1450 A.D. The oldest buildings appear today much as they did when the first Spanish explorers arrived in Northern New Mexico in 1540. The two structures called the North house and the South house are of that age. These buildings are considered to be the oldest continuously inhabited structures in what is now the United States.
Some families owning homes in the North or South houses actually live in summer homes near their fields, and in more modern homes outside the old walls but still within Pueblo land. There are more than 1900 Taos Indians living on Taos Pueblo lands. Approximately 150 people live within the Pueblo full time. They are the descendants of the people who lived in the Taos Valley 1000 years ago.
Taos Pueblo was the subject of the famed photographer Ansel Adams' first book. You can probably get yourself a copy of the first edition for about $85,000. Visitors are free to wander the village and photograph, except inside the San Geronimo chapel. Also, please don't step into the river, as that provides the drinking water for the village. Many of the homes are open inside as well, mostly because they've been set up to sell the art of the people who live there.
Tom and Kristin with Travel Past 50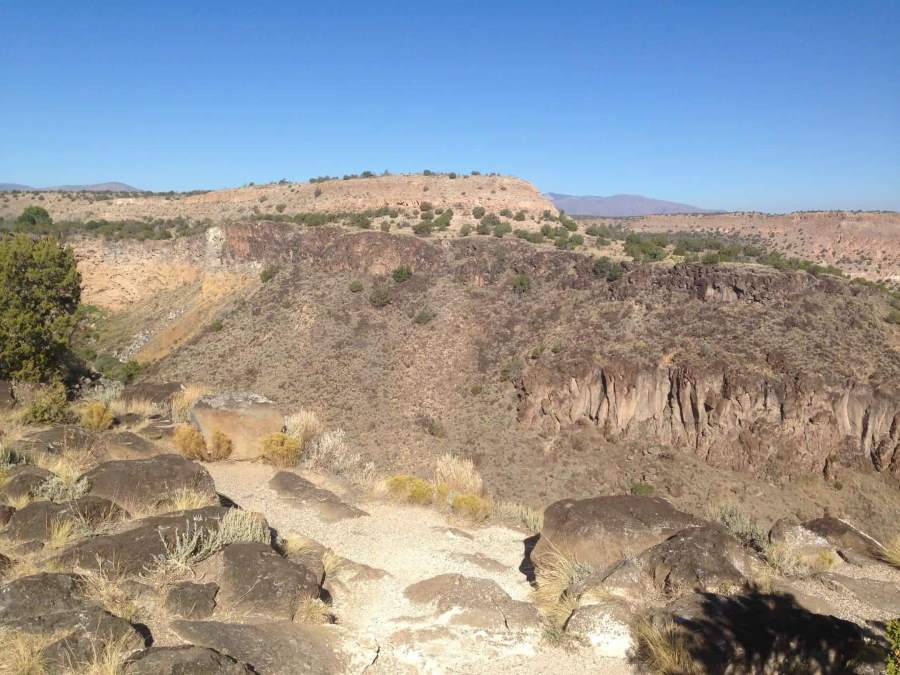 Los Alamos National Laboratory and town
Los Alamos, New Mexico is one of the most historically important places in the United States. This is because it was home to the Manhattan Project, where a group of brilliant scientists worked in secret to create the atomic bomb during World War II. You can learn all about the development of the bomb at Los Alamos's most impressive tourist attraction: the Bradbury Science Museum. But the Bradbury Science Museum isn't only dedicated to nuclear energy. They also have fascinating exhibits on other areas of science like supercomputers and nanotechnology.
Even though many people in Los Alamos work for the Los Alamos National Laboratory, there are plenty of things to do in town that don't have anything to do with science. Los Alamos has a stunning natural setting. Before the Manhattan Project, a man named Ashley Pond loved the beauty of Los Alamos so much that he decided to create a ranch school in the area. You can still visit the pond that was named after him, Ashley Pond Pond, to this day. You can also see the old school buildings, which are now known as Bathtub Row. The buildings on Bathtub Row were used to house scientists during the Manhattan Project. (They are called Bathtub Row because they were the only houses in Los Alamos that had bathtubs.)
Finally, take a scenic drive through Bandolier National Monument and admire the stunning hills of Northern New Mexico and ancient Puebloan dwellings. You'll be able to see the old stagecoach trails that used to cut through this area, but your ride will be much calmer and safer!
Stella Jane with Around the World in 24 Hours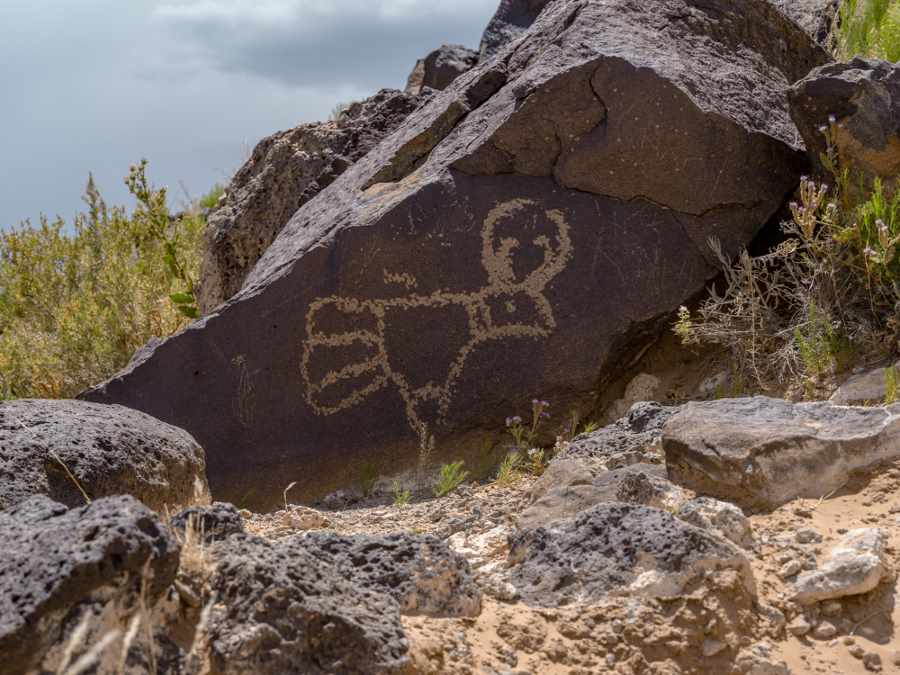 Petroglyph National Monument
New Mexico contains many really awesome places to explore. Petroglyph National Monument, located in Albuquerque, is one of the best things to do when visiting New Mexico. Run by the National Park Service, this area is dedicated to preserving hundreds of archaeological sites and over 24,000 images carved by the Pueblo people. These images, known as Petroglyphs, tell stories of past carvers.
The 17-mile long Petroglyph National Monument has 4 majors sites to access various trails. Opt to stop at the visitors center first to pick up a map. Then head out to hike one of the several trails. Three of the major sites, Boca Negra Canyon, Rinconada Canyon, and Piedras Marcadas Canyon, offer views of petroglyphs. The other area, the Volcanic Day use area contains several hiking trails, but not petroglyph viewing. Admission to the sites is free, but you may have to pay $2 for parking in some of the lots.
Petroglyph National Monument makes for a great way to spend the afternoon and view artwork from many years ago. None of the hikes are too strenuous and several trails are paved. It is the perfect stop for anyone visiting Albuquerque and New Mexico.
Francesca with Homeroom Travel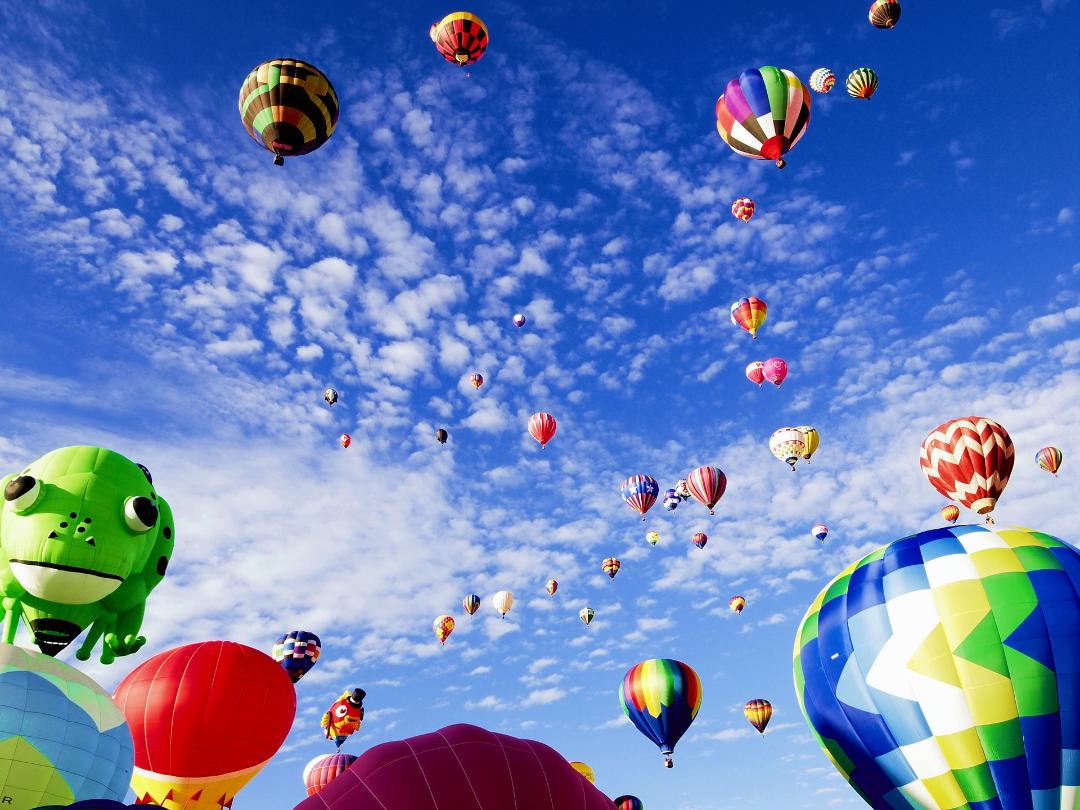 Albuquerque balloon festival
One of the coolest places to visit around New Mexico is Albuquerque international balloon. This 9 days long festival starts at Balloon Fiesta Park with Dawn Patrol and a breathtaking mass ascension, when all balloons launch from Balloon Fiesta Park in two waves, filling the sky with an assortment of colors and shapes. You can even walk up between balloons and speak with crews. It is amazing to see the balloons inflate and the fields become a massive canopy of color! There are balloons of all different shapes and sizes and they are jaw-dropping to look at, especially during the glow when it's still dark and all you can see are the huge balloons in the darkness. Plus if you ever get the chance to ride one, DO IT! The views from inside a hot air balloon are unbelievable.
Albuquerque international balloon is a unique and extraordinary experience to have in New Mexico attended by nearly 750,000 visitors annually! Hence it is recommended to book it in advance and because it is priced reasonably it attracts travelers and locals also. General admission for the Albuquerque International Balloon Fiesta costs $10 per person; children 12 and younger can enter for free. They also offer a bundle of five general admission tickets for $45.Just make sure you are there in between the period of Saturday, 3 October, and Sunday, 11 October to enjoy this colorful experience.
Anna Sherchand with Anna Scherchand.com – a solo female travel blog.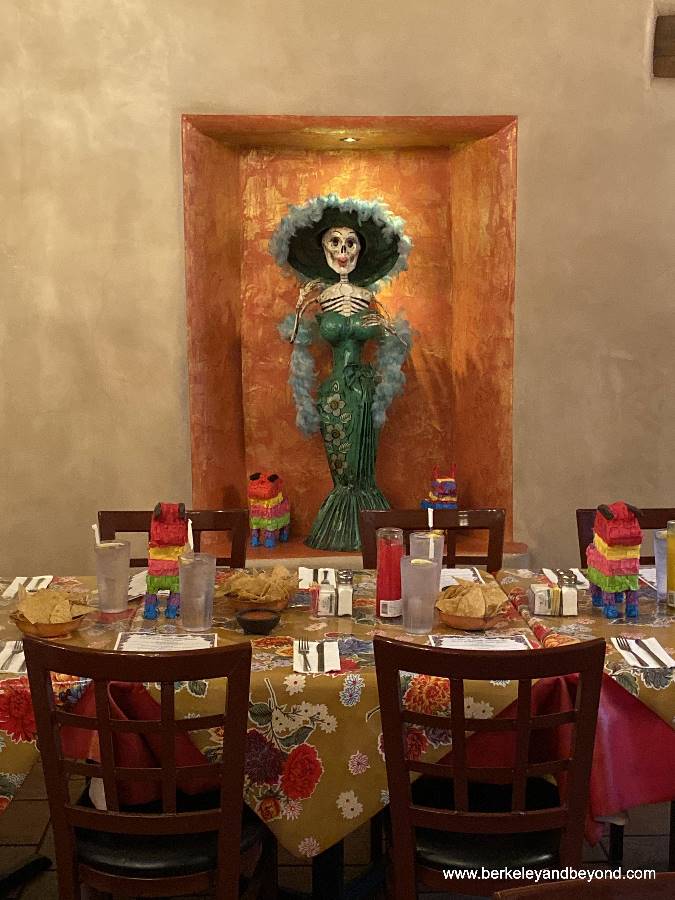 Las Cruces and Billy the Kid
Located just a few miles from downtown Las Cruces, New Mexico, Mesilla is a well-maintained and atmospheric historic town. The notorious outlaw known as Billy the Kid was famously jailed and tried for murder here. A central square is the gathering spot. Streets surrounding it are lined with adobe buildings holding shops and restaurants, and the oldest brick building in New Mexico is also found here. Myriad dining choices await. The Double Eagle Restaurant dates to the 1840s and is filled with vintage Victorian furniture. Claims to fame include that it holds a chandelier seen in "The Godfather" movie and that it is reputedly haunted and has starred on TV's "Ghost Adventures," not to mention that it also produces a delicious Green Chile Wontons appetizer and is the only New Mexico restaurant that ages steaks in house. And just a few steps away, the sprawling La Posta de Mesilla restaurant complex, which also dates to the 1840s, offers traditional Mexican cuisine and an assortment of unusual margaritas (my favorite is the blackberry-habanero). The claim to fame here is Clint Eastwood, who when he was in town filming "The Mule" ordered up the combo plate, but the birds, sharks, and piranhas housed in displays near the entrance also stir up plenty of interest.
Check out Carole's post on the Las Cruces New Mexico Stopover Hotel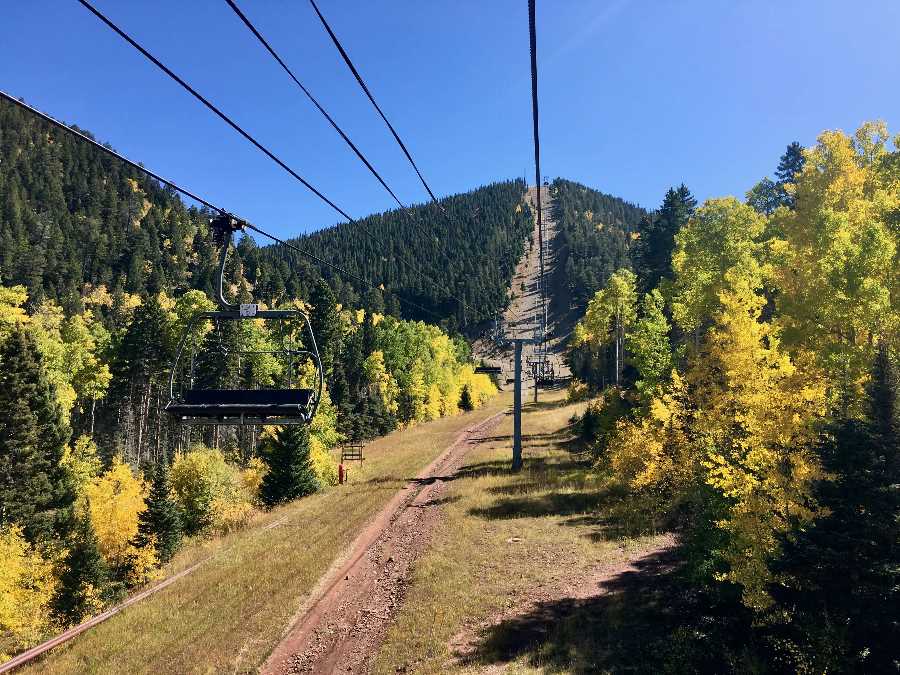 Angel Fire Bike Park
Angel Fire, New Mexico is a blip on the geographic map, but this tiny community is home to one of the best bike parks in the United States. Angel Fire Bike Park offers over 60 miles of purpose-built downhill and cross-country single track perfect for every level of rider from pro athlete to beginner shredder. The unique terrain features wooden ramps and drops, technical rock gardens, jump lines, flow tracks, and 2000+ feet of vertical drop from the top of the chairlift back down to the bottom. But don't let that scare you off, there are plenty of trails and small features for those just starting out.
If you're passing through New Mexico and want to experience the thrill of this incredible park, the onsite bike shop offers daily mountain bike rentals and equipment. You can also sign up for a private lesson if you don't have much mountain biking experience.
Angel Fire Bike Park is typically open from June to November, but the best time to visit is in the fall when the aspen leaves are changing from green to gold and the summer heat has waned.
Learn more about Angel Fire Bike Park with this Complete Guide.
Becky from Two Wheeled Wanderer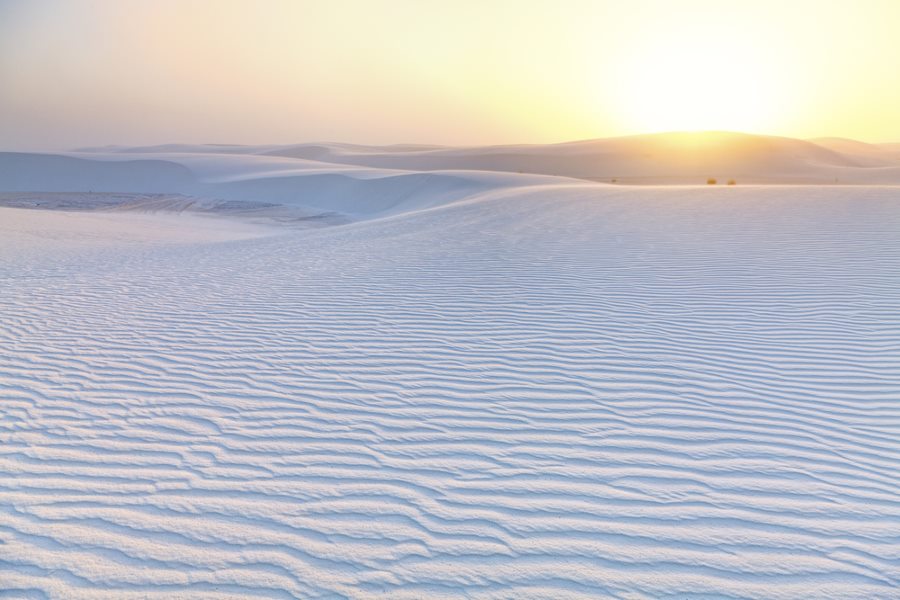 White Sands National Park
One of the coolest places to visit in New Mexico is White Sands National Park. White Sands is a place of beauty and full of amazing views. It is filled with a wide ocean of beautiful white sands stretching across over 200 miles of desert. Not only that but It is also the largest gypsum dune on the entire planet.
Because of this, you can definitely expect there to be quite a bit of things for you to see and do here.
For instance, one of the most common things to do here is to simply roam around the dessert and see the amazing views that it offers.
Another thing you could do is to have a picnic right there on the sands. Depending on when you go, the temperature can get quite hot there but is still usually bearable. So you'll be able to enjoy a nice days out having fun on the sands.
Or if you are looking for some excitement in your life, you could try sand sledding. This is because the white gypsum dunes act and behave like snow, so sledding down the slip face of the dunes is an extremely popular thing to do. There is even a gift shop here that sells these sand sleds, so you don't have to bring your own.
There are many more things you can see and do here, but these are just the most popular.
So if you want to see something unique in the United States as well as have some fun, I would definitely suggest visiting White Sands National Park.
Wayne with Daily Tourist.com
Share or Pin this for later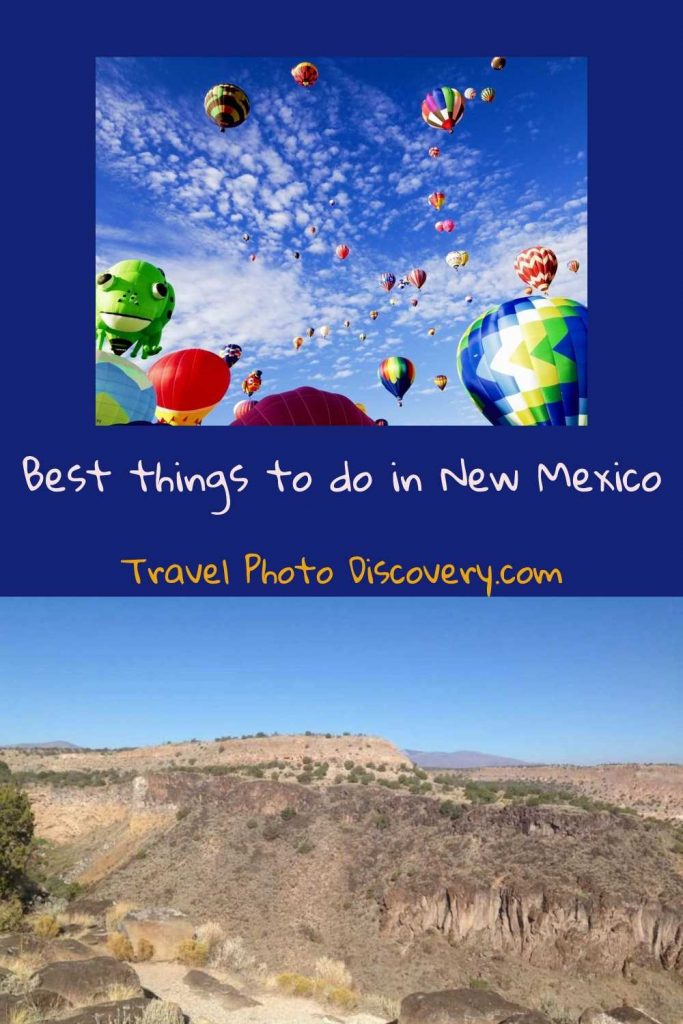 Thanks for visiting and checking out this post on Best things to do in New Mexico. Bookmark this post for future reference when you are looking for some Hawaii activities, adventure or fun experiences.
Please do share this post with any of the social media icons on the side bar and thanks for visiting today!