Discover the Majestic Chao Phraya River: A Tranquil Journey through Bangkok's Heart & scenic landscape
Bangkok has always been a water-oriented city from its ancient past until present day and the mighty Chao Phraya River has been the main route of the city.  The Chao Phraya River is known as the "Venice of the East" and is the main water thoroughfare where you can visit the fabulous monuments and temples of this magnificent city.
You'll see a real juxtaposition of old and new, high rises and uber trendy hotels along with smaller water villages and wooden sampans selling inexpensive food to working locals along the riverfront area.
This is a fantastic way to enjoy Bangkok from a water view and really soak in the vibe of this vibrant and active river area.
Why visit the Chao Phraya River?
Visiting the Chao Phraya River in Bangkok, Thailand, is an essential part of exploring the city. This picturesque waterway flows through the heart of Bangkok, offering breathtaking views of the city's skyline, historic temples, and vibrant neighborhoods. It has played a pivotal role in the city's history, with many important temples and landmarks located along its banks, such as Wat Arun and Wat Pho. Exploring these sites by boat provides a unique perspective on their architecture and cultural significance. Additionally, the river offers cultural experiences, traditional markets, and street food stalls along its banks, allowing visitors to immerse themselves in the daily life and traditions of Bangkok's residents.
The river is also an integral part of the city's transportation network, providing efficient options like the Chao Phraya Express Boat and water taxis to navigate the city and beat traffic. Whether you're taking a serene river cruise, exploring historic temples, or enjoying the vibrant riverside culture, the Chao Phraya River enriches your Bangkok experience with its captivating beauty and historical importance.
A little history about the Chao Phraya River
In ancient times, the mighty Chao Phraya River was and is still a very important waterway for Central Thailand. Made up of four major tributaries of the Wang, Yom, Ping and Nan Rivers which come from the mountain areas of Northern Thailand. The river is significant to many who commute by river, live in local water-based communities and their livelihoods and way of life is still tied to the river.
The Chao Phraya also called the Maenam is the main river of Thailand. Flowing along the central plains over 225 miles into Bangkok and then out into the Gulf of Thailand, the river is vital to agriculture, commerce and also tourism.
The river has been used as a source of drainage, irrigation, water usage, fishing, recreation and transportation.
In 1782, King Rama I found the eastern parts of the river more desirable and created the major temples and the establishment of Modern-day Bangkok. He named the Chao Phraya the "River of Kings" due to its being the daily lifeblood of Bangkok and the surrounding areas.
Weather and best time to visit Bangkok
Bangkok experiences a tropical monsoon climate, characterized by hot and humid weather throughout the year. The best time to visit Bangkok depends on personal preferences and the type of experience you're seeking. Here's a general overview of the weather and recommended times to visit:
November to February: This period is considered the cool season in Bangkok. The weather is milder, with average temperatures ranging from 20 to 30 degrees Celsius (68 to 86 degrees Fahrenheit). It's a popular time for tourists, as the weather is more comfortable for exploring the city's attractions and outdoor activities. However, this is also the peak tourist season, so expect larger crowds and higher prices.
March to May: These months mark the hot season in Bangkok. Temperatures can soar above 35 degrees Celsius (95 degrees Fahrenheit), accompanied by high humidity. Despite the heat, this period can be an ideal time to visit if you're comfortable with the weather and want to experience cultural events and festivals, such as Songkran (Thai New Year) in mid-April.
June to October: This period is known as the rainy season in Bangkok, with frequent showers and high humidity. While rainfall can be heavy at times, it typically doesn't last all day, and there are still plenty of opportunities to explore the city. The advantage of visiting during this time is that you'll encounter fewer crowds, and accommodation and flight prices may be more budget-friendly.
It's important to note that Bangkok's weather can be unpredictable, and rain showers can occur even during the dry season. It's advisable to carry an umbrella or raincoat regardless of the time of year you visit. Additionally, be aware that air quality can be affected by pollution, especially during the dry season and around major festivals.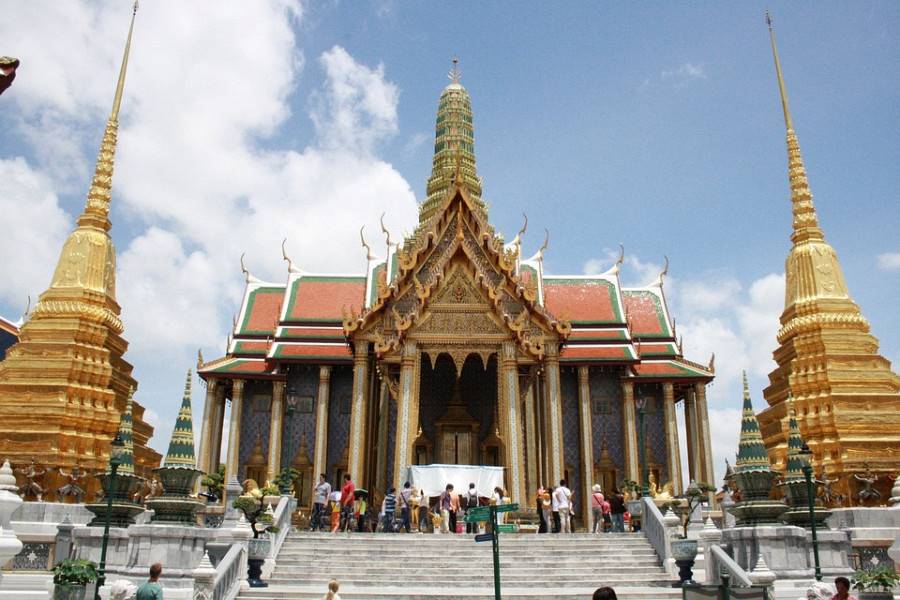 Visit these Major Monuments along the Chao Phraya River
Many of Bangkok's most important monuments and attractions lie on the banks of the Chao Phraya River, making a cruise down this river a photographers dream to see and capture the various monuments from a water vantage point.
The four most important attractions that you can see and visit along the banks of the river includes:
The Grand Palace, Wat Pho (Temple of the Reclining Buddha) Wat Phra Kaew (Temple of the Emerald Buddha) and Wat Arun. These major monuments are easy to get to with stops along the river to access the sites directly.
Check out this guided three temple tour of the main temples to visit in Bangkok here for more information and booking a tour.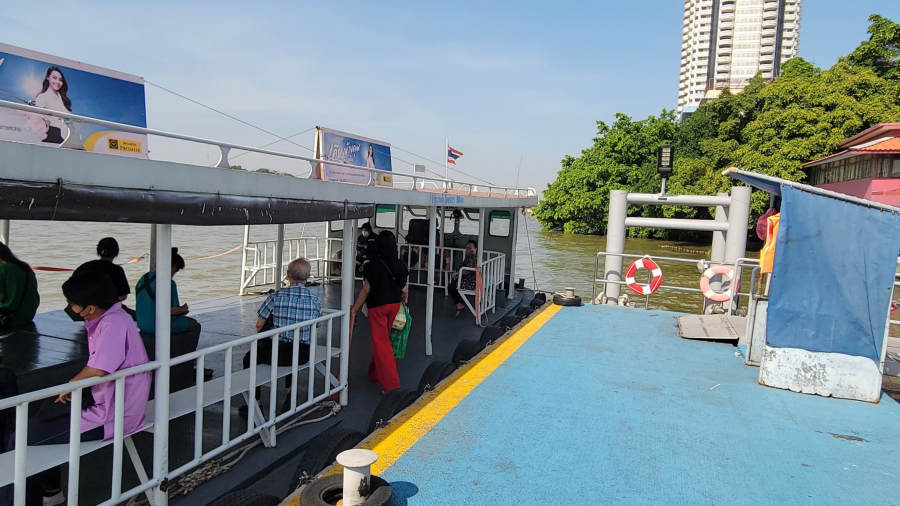 How to get around the Chao Phraya River by ferries
An extensive and inexpensive ferry system stops at the many concentrated areas of tourism and commercial centers around the river. You can easily find where the stops are with detailed signage in English to show where the stops are and prices.
There are five public boat lines operated by the Chao Phraya Express boat Company. They are the 'Local line', 'Yellow', 'Blue', 'Orange' and 'Green – Yellow'.
The local line stops at every one of the 34 piers.
The Orange line is only 15 baht runs all day and weekends.
The other lines are express lines and you can view the stops from the main website calendar. These tend to just operate until 9am and start again after 4pm.
There are cross river ferries that you can also take inexpensively to cross to the next location across the river.
You can buy tickets  directly at the pier or once you are on the boat. Here is a timetable that you can check to see what boats are arriving at your pier. There are many ferries and faster ferries that run regularly from 6am to 9pm.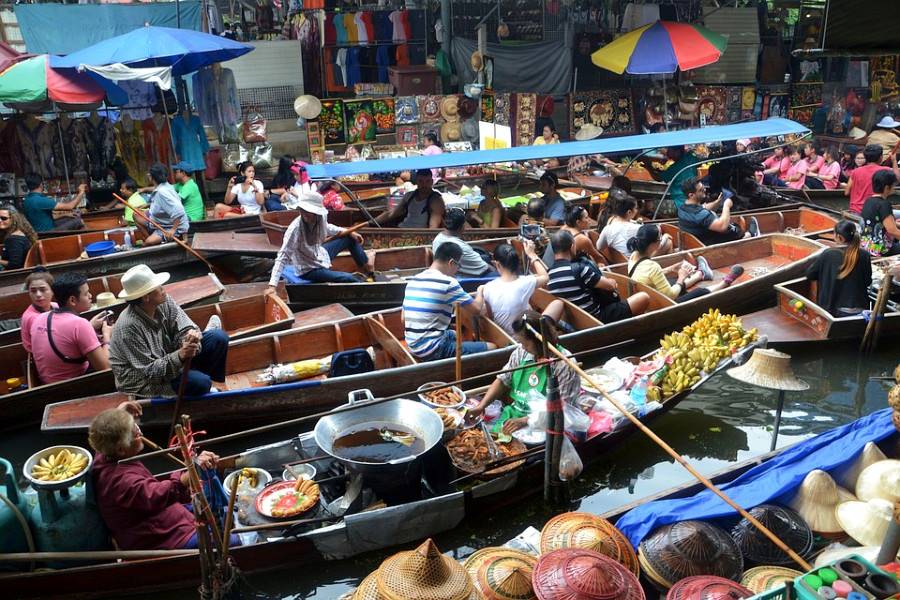 Fun things to do on the Chao Phraya River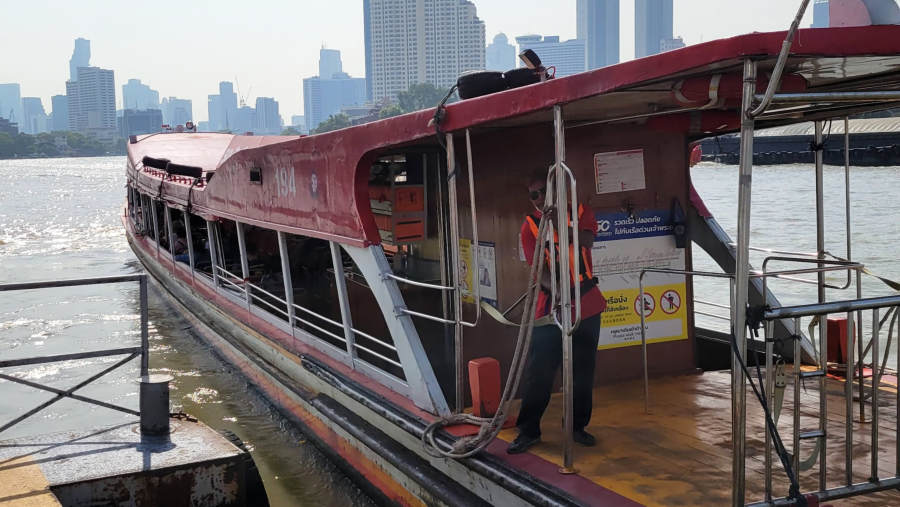 Cruise on the ferry systems
This inexpensive way of transport along the Chao Phraya is a great way to see and enjoy Bangkok from a water viewpoint.
The ferries are ongoing all day and easy to hop on and off depending on if you are looking to visit monuments, shopping or enjoy some of the unique coastal communities here.
The main ferry stops
The Chao Phraya River ferry system in Bangkok has several main stops along its route. Here are some of the key stops:
Sathorn Pier: Located near the Sathorn neighborhood, this pier is a popular starting point for exploring the Chao Phraya River. It provides easy access to nearby attractions such as the Skytrain station and the bustling Silom area.
Asiatique The Riverfront: A vibrant shopping and entertainment complex, Asiatique is a must-visit stop on the Chao Phraya River ferry system. It offers a wide range of shops, restaurants, and evening performances.
Wat Arun (Temple of Dawn): Situated on the west bank of the river, Wat Arun is one of Bangkok's most iconic landmarks. Its stunning architecture and intricate details make it a captivating sight to behold.
Tha Tien Pier: Located near the famous Wat Phra Kaew (Temple of the Emerald Buddha) and the Grand Palace, Tha Tien Pier is a bustling hub for visitors. It offers easy access to these significant cultural and historical sites.
Thonburi Railway Station: This pier provides convenient access to the Thonburi side of the river, where you can explore local markets, temples, and residential areas. It's a great place to experience the more traditional and authentic side of Bangkok.
Phra Pinklao Bridge: Crossing the Chao Phraya River, the Phra Pinklao Bridge connects the old and new parts of the city. It offers panoramic views of the river and is a popular spot for photography enthusiasts.
Wang Lang Market: Known for its vibrant atmosphere and local street food, Wang Lang Market is a favorite among locals and tourists alike. It offers a wide array of delicious Thai dishes, fresh produce, and unique souvenirs.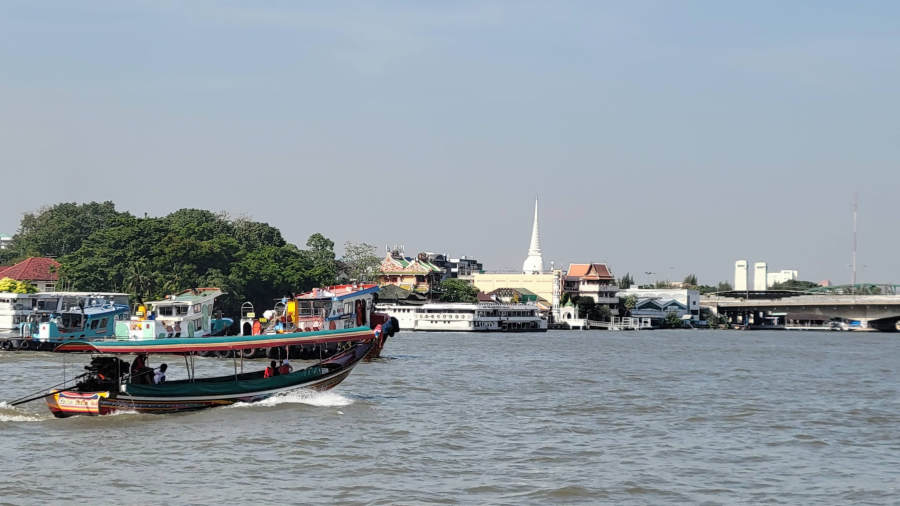 Take these Chao Phraya 'Tourist Boats'
There is a hop on hop off type of tourist boats that ply the waters and run every 30 minutes to the 9 prominent piers on a flat daily rate. This is a better deal with less hassle if you plan on visiting many sites along the river and suited to your schedule. You can also opt for custom tours that are typically available at the various docks close to the main ferry terminals that you can negotiate places and prices with the guide.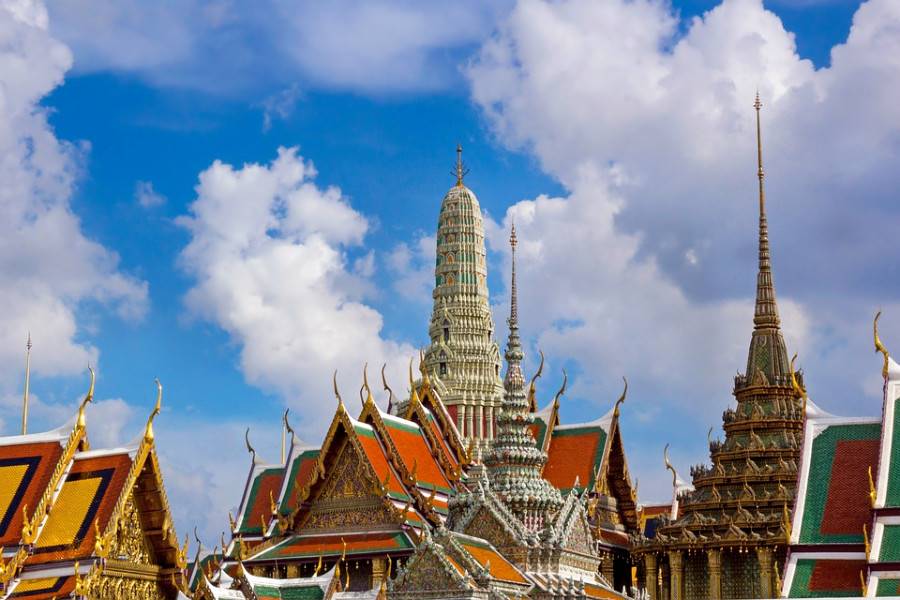 Visit the historic Monuments along the Chao Phraya
You can travel inexpensively and check out the national monuments here and enjoy the fun views and visit these historic sites. All located on the eastern side of the river, the monuments have easy water access to each of these particular sites.
Check out this guided three temple tour of the main temples to visit in Bangkok here for more information and booking a tour.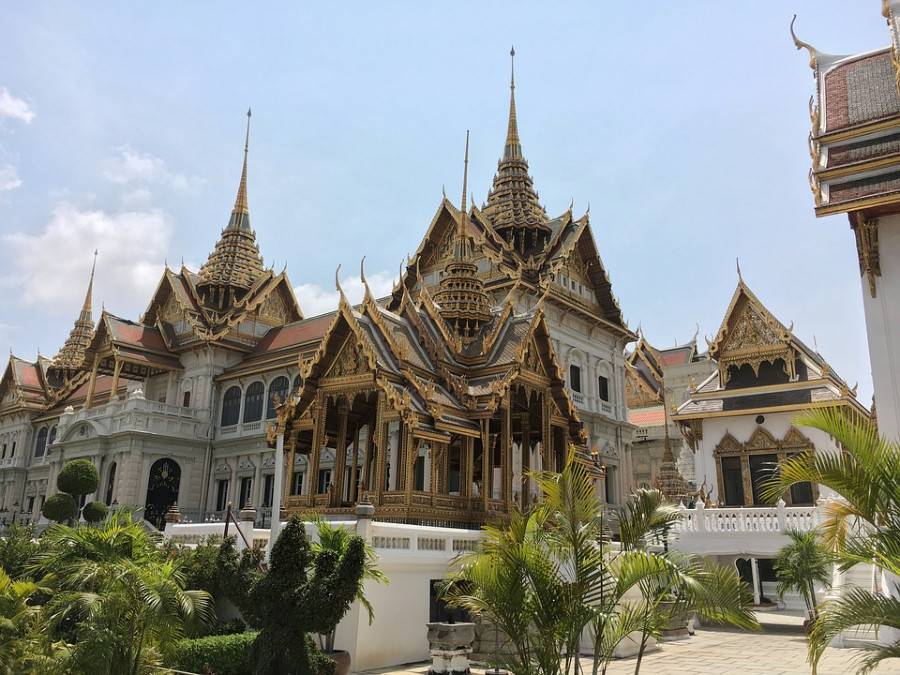 The main Palace of Bangkok called the Grand Palace is open for the public to visit and the royal structure and compound is quite dazzling to visit. Built in 1782, the grand palace was the royal residence to many of the royal families of Thailand and visitors of heads of state to the palace.
For less hassle and an actual guided tour of the palace and Wat Phra Kaew close by, check out this half day tour of both sites here and other attractions that you will see along the way. You'll learn so much more with this guided tour and the important things to see and understand about visiting both of these historic sites.
Location: Na Phra Lan Road, Phra Borom Maha Ratchawang, Phra Nakhon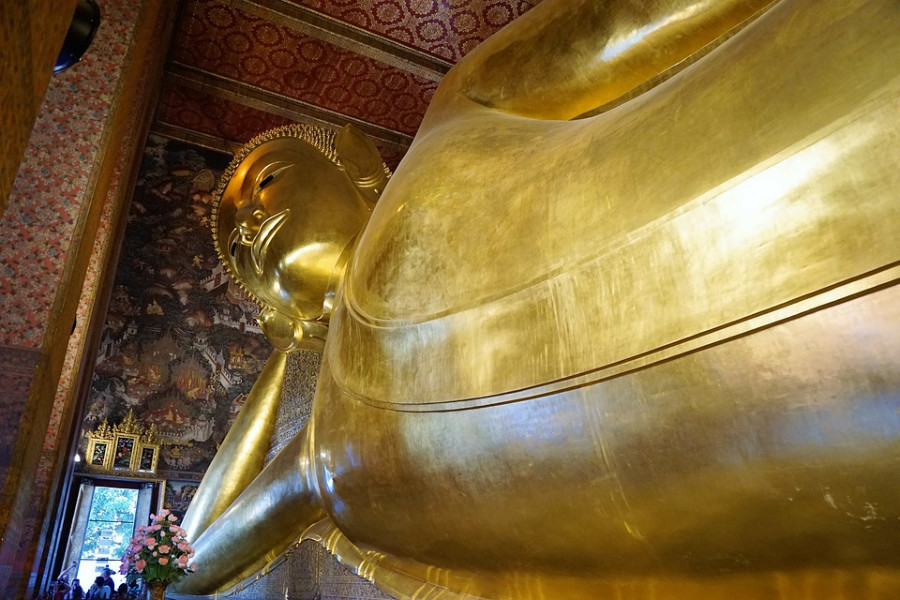 Just south of the Grand palace is Wat Pho which is the Temple of the Reclining Buddha. The oldest temple in Bangkok, Wat Pho was built by Rama l and is considered a place of healing. The site is Thailand's first university and also pharmacy and you can actually visit the site and also get a Thai or foot massage on the traditional medical school located on the premises.
The main attraction at Wat Pho is the Reclining Buddha with a golden statue that is long 45 meters long and 15 meters high. The soles of the Buddhas feet are inlaid with precious stone and the elongate ears that symbolize a noble birth.
Address: 2 Sanamchai Road, Grand Palace Subdistrict, Pranakorn District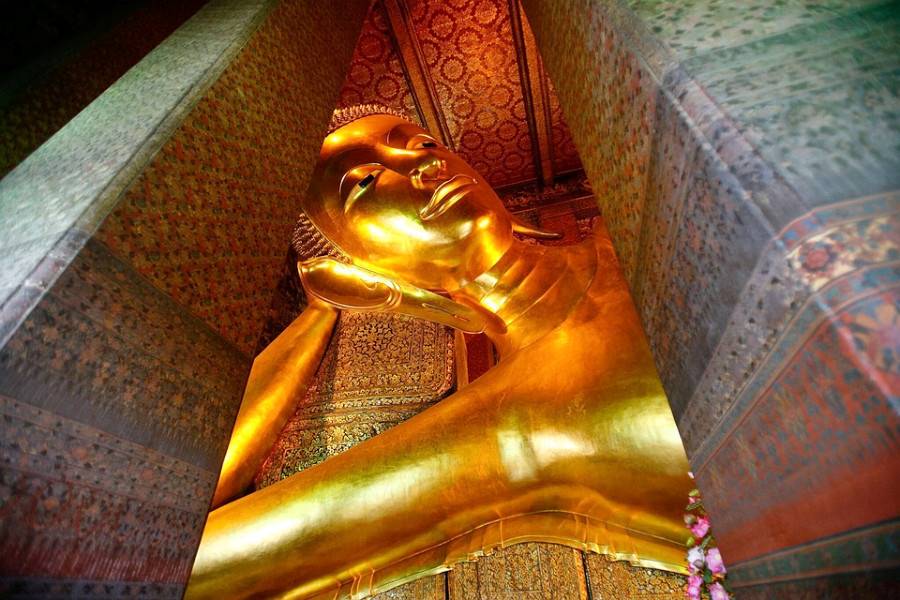 Wat Phra Kaew is known as the Temple of the Emerald Buddha which is located on the grounds of the Grand Palace. Noted for being one of the most sacred temples in Thailand, this temples contains a carved out buddha made of bright green jade.
Sitting at this historic site, the jade buddha has been placed at this altar since 1784 and is the most visited relic with pilgrims and visitors to the site. The small sized buddha traveled all around Southeast Asia from India to Sri Lanka, Cambodia and then to Laos and eventually to Thailand as one of the spiritual treasures of Rama l who move it from Ayutthaya to Bangkok to build this temple and make a permanent home for the Emerald Buddha.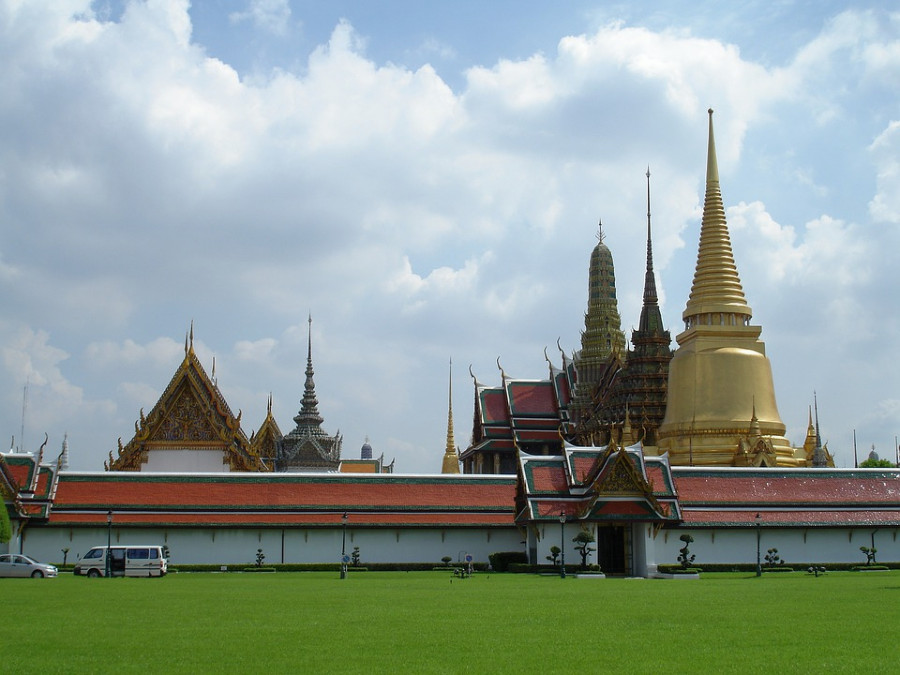 When the Kingdom of Ayutthaya fell from the Siamese invasions, General Taksim was forced to go south to the fertile lands of Bangkok known then as Thonburi. This temple was his pledge to create a Temple of Dawn and eventually where the new king built his royal palace, temple and compound.
Address: Arun Amarin Road, Bangkok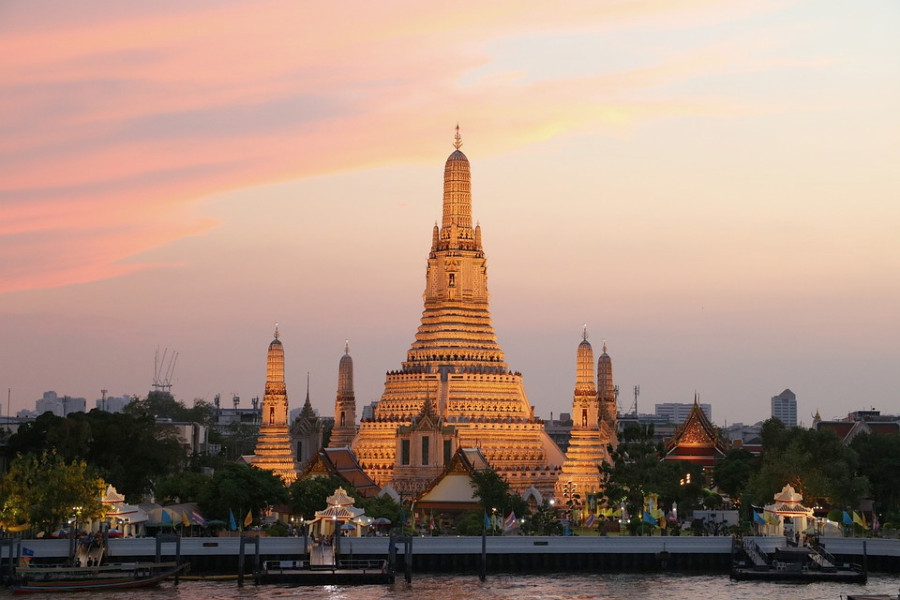 Visit to the Temple of the Golden Buddha
For a different spin on visiting the Temple of the Golden Buddha, why not add a culinary experience on this fun combo tour here for a guided food tour and visit to the famous temple.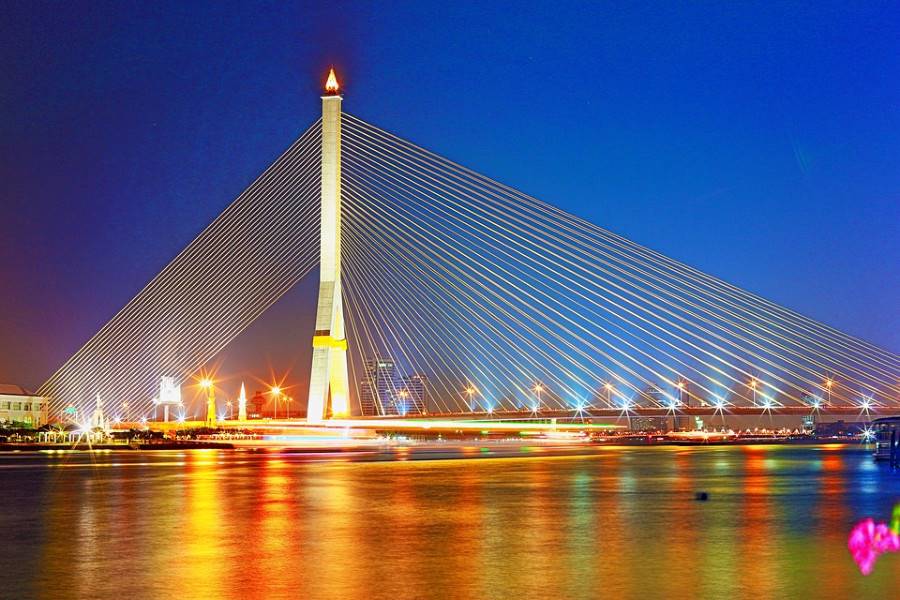 Other cool places to visit along the Chao Phraya River
Go on a smaller canal cruise
You can explore the river areas by hiring a long-tail boat usually will take you on trips down the city's canals and water communities. This is definitely the best way to travel and visit some of the unique and smaller river communities surrounding Bangkok and not as well known as a tourist destination. There are tour guides with signs showing the various places of interests and the price to visit these canals which is a nice experience and different look at the smaller tributaries.
Check out the details to doing a long tail boat experience through the canals here for more information and booking your trip.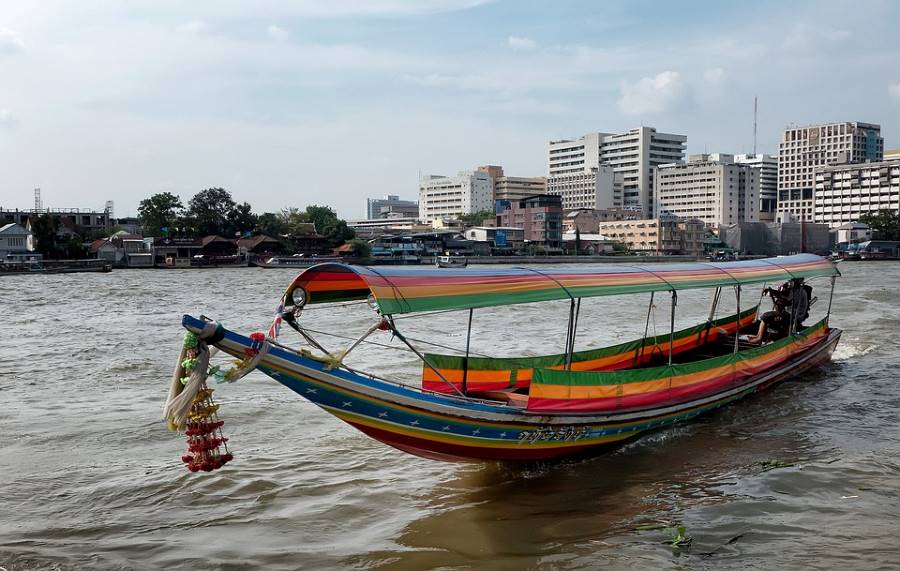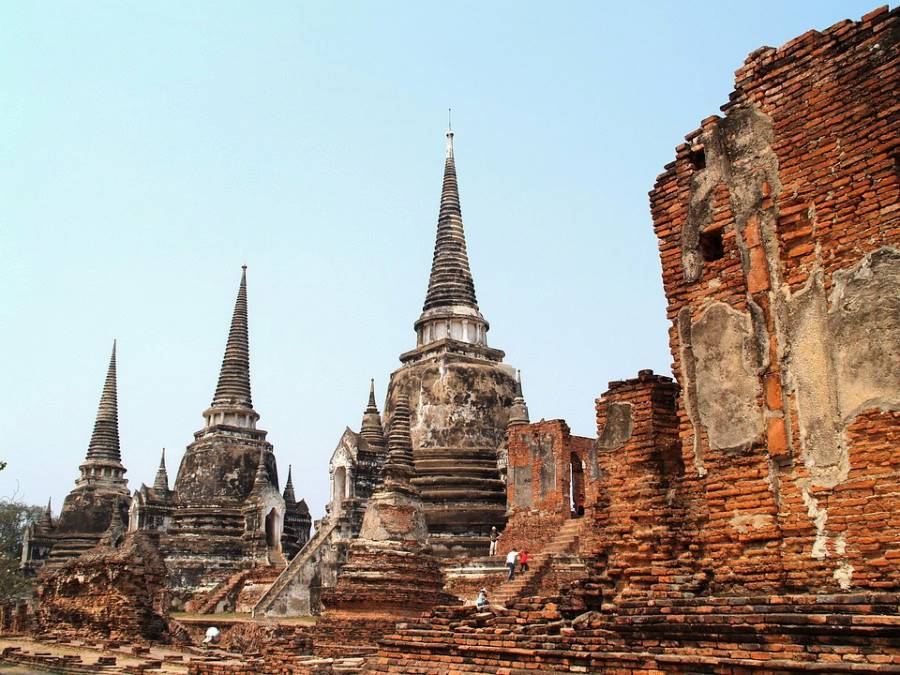 Cruise all the way to the ancient capital of Ayutthaya
The ancient capital of Ayutthaya is more scenic via the Chao Phraya without the traffic. This is one of the easy and fun ways to explore the ancient temples and enjoy a cruise there at the same time.
Once you arrive to the ancient capital you note that many of the ancient temples are mostly ruined from the various wars but they are still significant to see in their ruined state. With this river cruise and tour of the temples, you'll get a fantastic guide to show you some of the more historic and interesting temples to visit in the temple area.
Check out the details to doing a cruise to ancient Ayutthaya here for more information and booking your trip.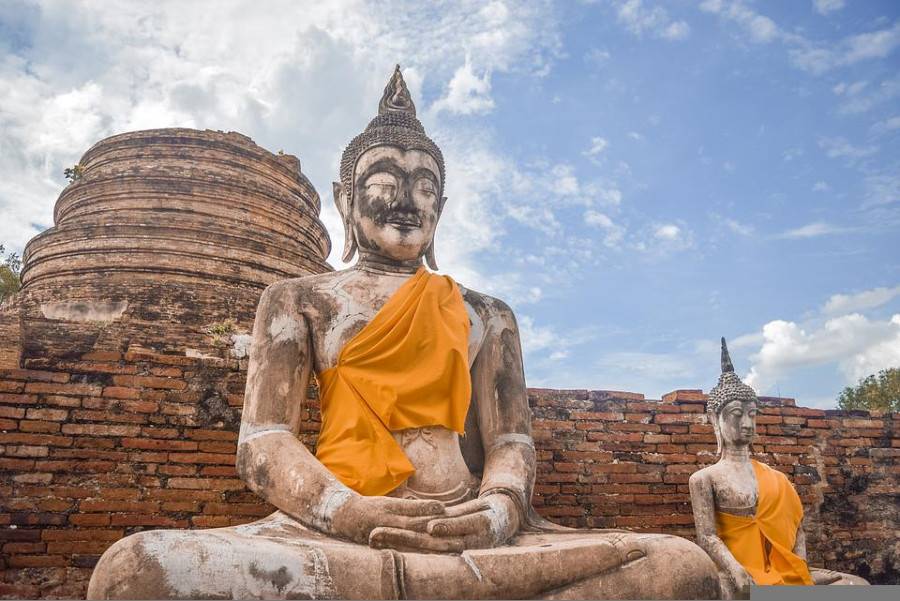 Visit the floating markets of Bangkok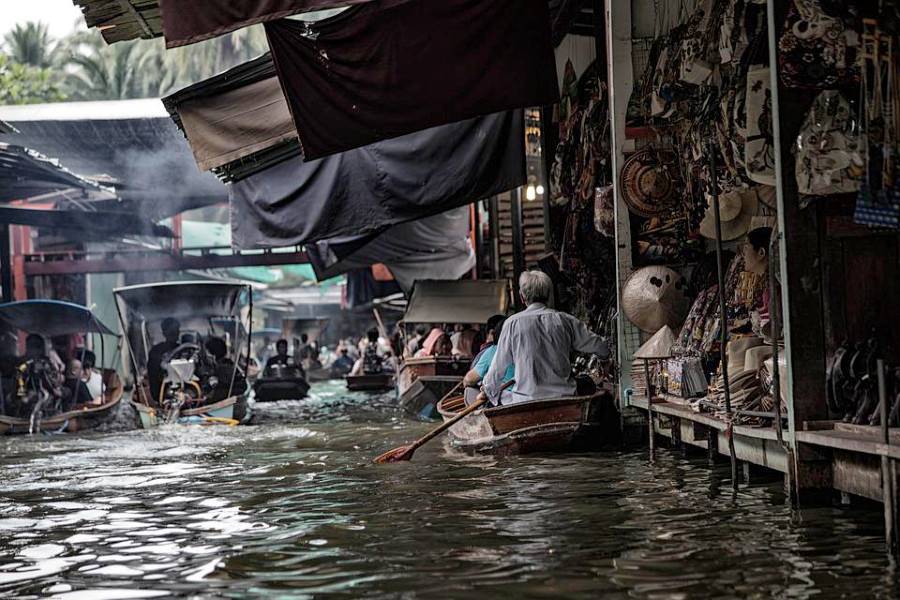 The floating markets of Bangkok are very well known from the more touristy Damnoen Saduak market to several less known and more basic types of markets that are truly authentic. There are six floating markets around the Bangkok area to visit which are open all day long
Here are the different markets you can easily explore from taking the ferries on the Chao Phraya River.
Check out the details to doing a floating market tour here for more information and booking your trip.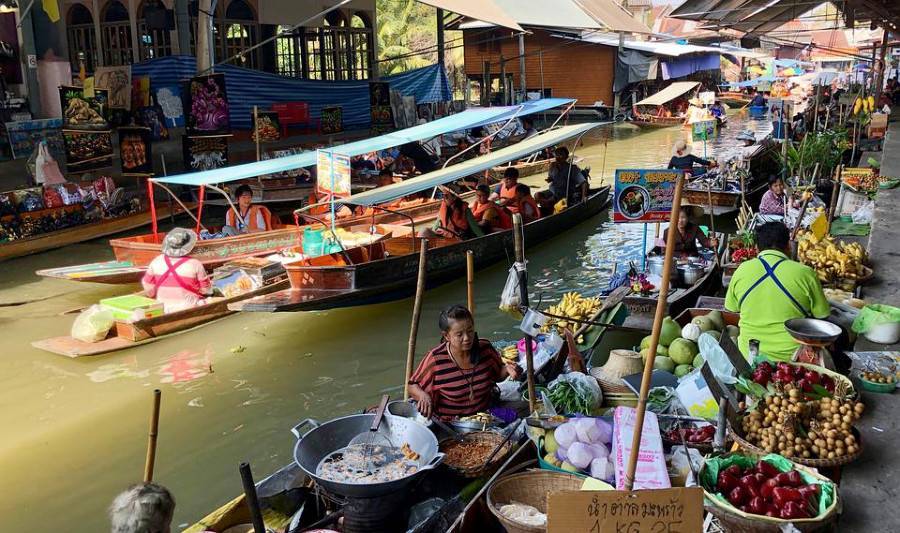 Damnoen Saduak market
This is the longest running market in Bangkok and unfortunately very touristy. It is also located about 100km from Bangkok so not as easy to get to as the more local floating markets.
Check out the details to doing a Damnoen Saduak market tour here for more information and booking your trip.
Location: Damnoen Saduak, Ratchaburi 70130, Thailand
Ammphawa floating Market
Amphawa is a very popular floating market in Thailand but also further out and located 90 km south-west of Bangkok. You'll find everything here from souvenirs, snacks and desserts, street food and local fruits and vegetables for sale. Just like Damnoen Saduak, it is also very far and busy at this market and quite touristy in general
Location: Amphawa, Samut Songkhram 75110, Thailand
Khlong Lat Mayhom
Located in the downtown general area this is really a local market that sells a variety of local food items, fruits and vegetables with a few floating vendors and most being sold on regular stalls in the market area. Because of the inland location, there's no option to visit this market through a longtail boat but because of the area, it is relatively easier to get to .
Location: 15-30/1 Bang Ramat Rd, Bang Ramat, Taling Chan, Bangkok 10170, Thailand
For a two market guided tour of Khlong Lat Mayhom and Tailin Chan,
check out this tour here
for more information and booking this tour.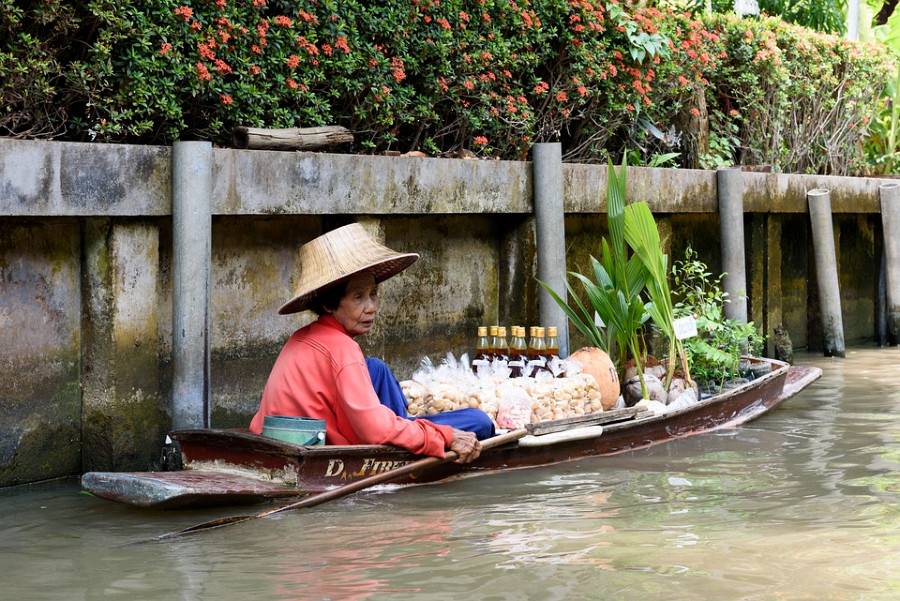 Tailiin Chan
Centrally located in Bangkok and about 12km from downtown Bangkok, this market is open all day long and a good combination of floating market and regular stall venors with a large attached market in the area. You can take a small longtail boat cruise to these Khlongs (canals) to get a glimpse of an actual working floating market in the area.
Location: Village No 15, 30/1 Bang Ramat Rd, Bang Ramat, Taling Chan, Bangkok 10170, Thailand
Tha Kha Floating Market
Located to the larger Damneon Saduak market, this market is smaller is size with not as many tourist visiting but the local vibe and authentic nature of this market definitely hit all the right marks. You'll find Thais from all age groups in their rowboats selling vegetables, fruits, local foods and sweets to go and most of the visitors shopping are also local in their rowboats, making this a really unique and authentic floating market experience.
Location: Tha Kha, Amphawa, Samut Songkhram 75110, Thailand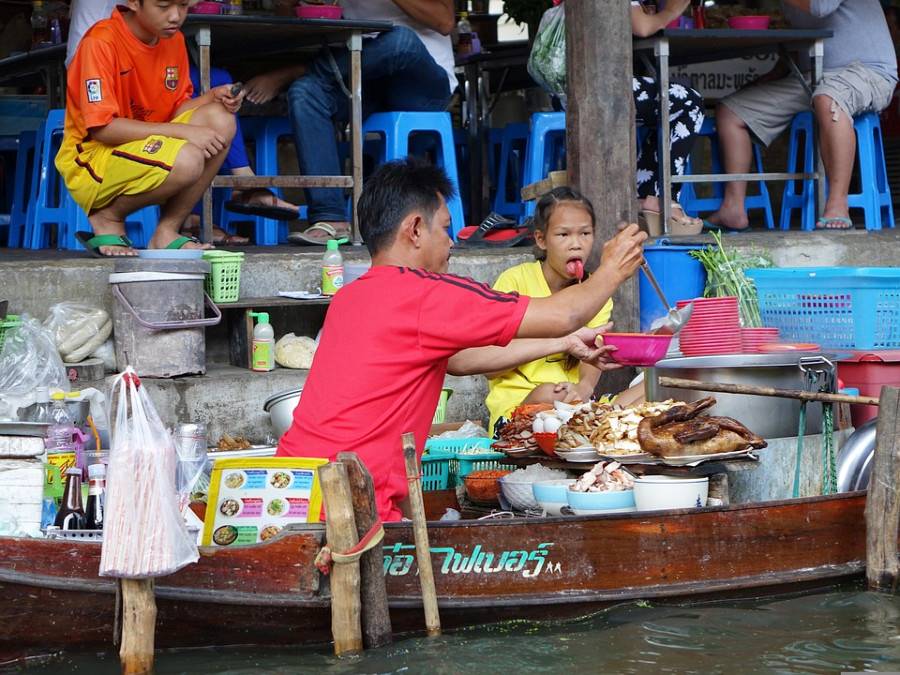 Bang Nam Pheung floating market
A relatively small market but close to central Bangkok, this market is about 20 km from the central district. There are the usual fruits, vegetables and snacks and local foods to see and experience at this market, but the typical floating part of it is more limited to permanent land fixtures of the market itself.
Location: Bang Nam Phueng, Phra Pradaeng, Samut Prakan 10130, Thailand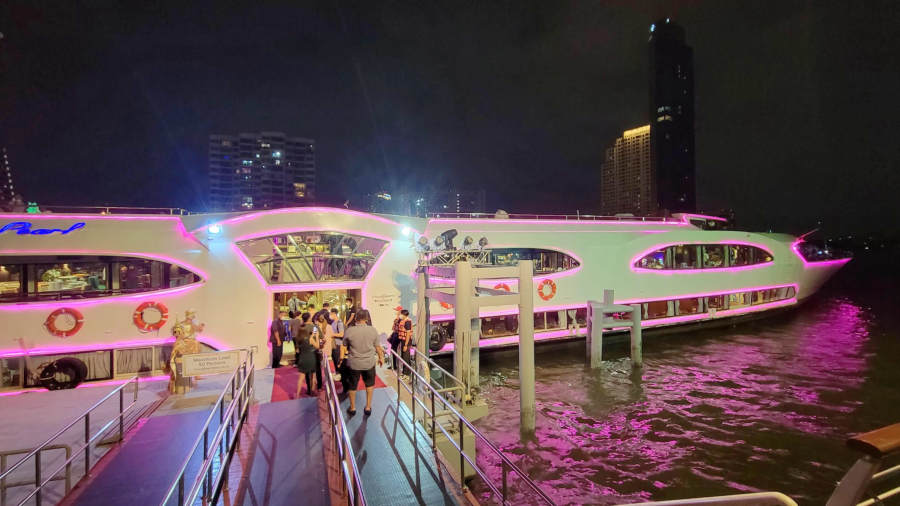 Sunset and dinner cruises
You can enjoy a more relaxed river cruise with a dining experience. This is a fantastic way to cap off an active and fun day exploring Bangkok with dinner and sunset on the river.
Check out the details to doing a river dining cruise here for more information and booking your trip.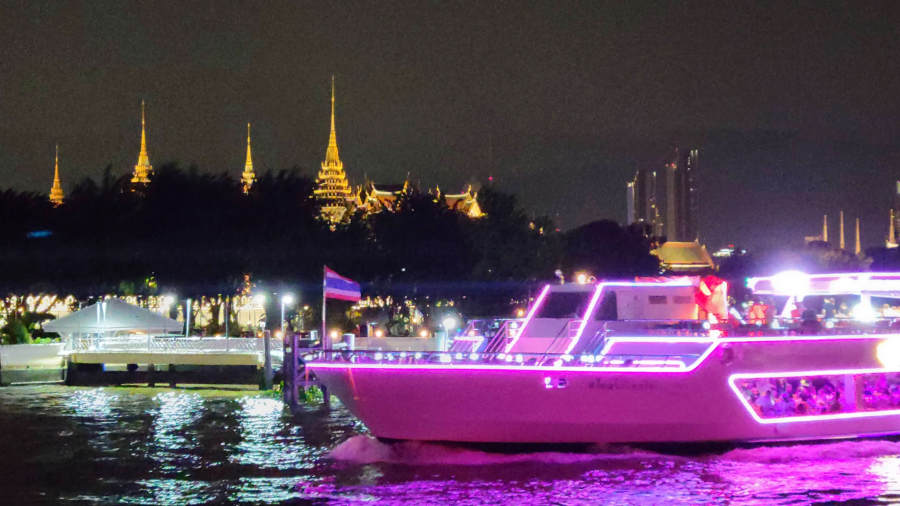 Other cool attractions accessed from Chao Phraya piers
You can visit these interesting neighborhoods or Soi from the Chao Phraya piers to these cool places to visit along the riverfront area or a close walk to these attractions.
Oriental
The old Westerner Quarter of Bangkok houses European styled architecture, the stately Oriental Hotel and antique shops. You can get off at the Oriental pier
Thewet
This fun area is where you will see people feed the catfish with scraps of bread. You can also visit Dusit and a fun wet market close by. You can get off at Thewet pier.
Pat Khlong Flower Market
This very colorful area is a fun place to explore in the morning. You'll find an amazing array of vendors selling tropical flowers and other exotic plants, fruits, vegetable and other goods for sale.
Exit river pier at Rajinee.
Phra Arthit Road
Running parallel to the Chao Phraya River, this street is lined with cool shops, bars, restaurants and cool hang out spots. You'll find a lot of entertainment venues, live music and the artsy vibe here to explore and enjoy.
The exit pier for this area is at Phra Arthit Pier.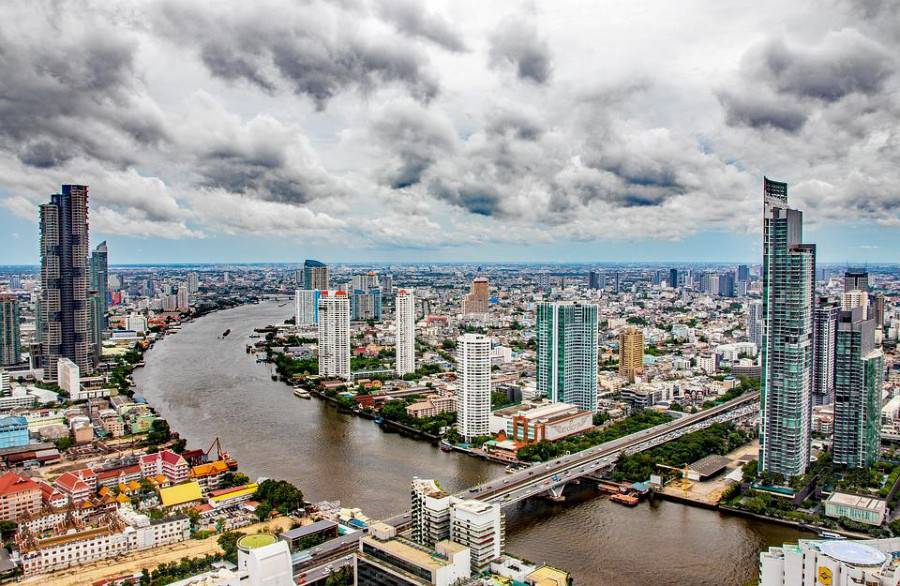 More details to visiting along the Chao Phraya River
You can see a lot of cool things and attractions along the Chao Phraya River. Here are some more tips to traveling along the river area.
Avoid traveling by ferry during the rush hours
Try to avoid traveling during the busy rush hour periods in the morning before 9am and after 4pm. It will be very busy on the ferries.
Be aware of the crowds and your belongings
Be aware of people around you and take care of your possessions like in any big city environments.
Have a phone translation app handy
Make sure you have an app translator on your phone if you have any questions about places to visit along the way.
Consider taking  a canal tour or tour of the floating markets
These give you a different and day to day experience visiting these more local venues that have a fun water experience and seeing the local scenes, neighborhoods in the area.
Check out these other cool posts on visiting Bangkok here
A visit to Bangkok's Chinatown district
More inside tips to visiting the Chao Phraya river and surrounding areas
Exploring the Chao Phraya River and its surroundings in Bangkok reveals hidden gems and unique experiences. To dive deeper into this vibrant locale:
Riverside Temples: Beyond the famous Wat Arun and Wat Pho, venture to lesser-known temples like Wat Kalayanamitr and Wat Prayurawongsawas. These serene spots offer cultural insights away from the crowds.
Thonburi Canals: Explore the historic canals of Thonburi. Take a traditional long-tail boat ride to see local life along the waterways, visiting quaint villages and floating markets.
Artist's House: Visit Baan Silapin (Artist's House), a hidden treasure featuring traditional Thai puppetry, art, and a peaceful garden by the river.
Museums Galore: Explore the Museum of Siam for a fascinating journey through Thailand's history and culture. Don't miss the Royal Barge Museum, showcasing beautifully ornate royal vessels.
Asiatique the Riverfront: Spend an evening at Asiatique, an open-air mall by the river. Enjoy dining, shopping, and entertainment with a view.
Bangkok's Rooftop Bars: Many offer stunning Chao Phraya vistas. Sip cocktails while taking in the skyline from a different perspective.
Local Street Food: Sample authentic Thai street food along the riverbanks. From savory pad Thai to mango sticky rice, savor the flavors of Thailand.
River Cruises: Consider a dinner cruise for a romantic evening or a traditional rice barge cruise to explore the river's charm.
Hidden Markets: Seek out lesser-known markets like Klong Suan 100-year-old Market, where you'll find antiques, crafts, and a glimpse of rural Thailand.
Sunset Views: Catch the sunset at one of the riverfront parks or promenades for a magical and tranquil experience.
By delving into these insider tips, your Chao Phraya River adventure will reveal the soul of Bangkok and its captivating surroundings.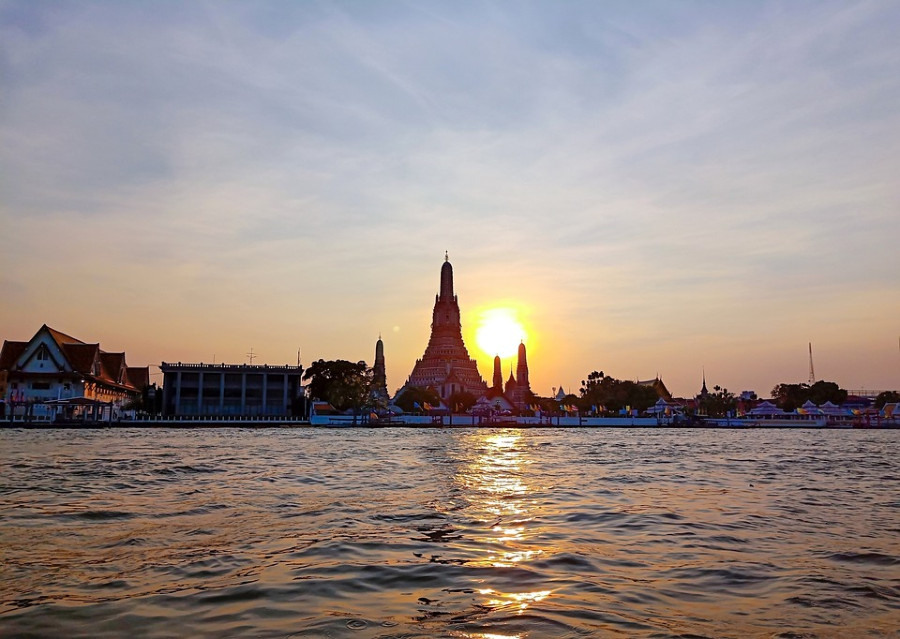 Conclusion to visiting the Chao Phraya River
In conclusion, exploring the Chao Phraya River in Bangkok is a captivating and enriching experience that allows you to witness the heart and soul of the city. From the bustling piers to the iconic temples and vibrant markets, the river offers a unique perspective on the rich cultural heritage and modern dynamism of Bangkok. Whether you're cruising along the river on a ferry, visiting ancient temples, or immersing yourself in the lively atmosphere of riverside markets, the Chao Phraya River promises a memorable journey filled with diverse sights, flavors, and encounters. By embracing the spirit of adventure and immersing yourself in the rhythm of the river, you'll create lasting memories and gain a deeper appreciation for the vibrant tapestry of Bangkok's past and present.
Thanks for checking out this post on the Chao Phraya River, it really should be on your list of worthwhile places to visit here in Bangkok.
I hope that this post has been helpful to planning your visit to the city and if so, please do share it with any of the social media channels and buttons located below.
Disclosure – some of the links above are to affiliate sites that are either reviews or recommendations if you book helps to keep our site running at no additional cost to you. We appreciate your supporting our website meanwhile.
Sharing is caring 🙂