Cherry Blossoms in Berlin: A Spectacular Display of Spring's Delicate Beauty
It seems like spring is starting to come out everywhere around the globe and beautiful cherry blossoms are starting to bloom in famous areas where they are celebrated including the Hanami festivals in Japan and the beautiful Cherry blossoms lining the monuments around Washington DC in the United States. But, little is known about the cherry blossoms in Berlin where they are planted all around the city and along the famous death strip in the city.
As a peaceful symbol to the uniting of both East and West Berlin, the cherry blossom trees were given as a dedication from the Japanese people to Berlin to celebrate peace, springtime and reuniting both the East and West sides of Berlin. Fortunately, the outskirts of the city border where open fields and beautiful park green belts are a haven from the urban sprawl, the grove below was planted into two rows to represent the real wall boundaries. Many other parts of the city have cherry blossoms blooming as part of this Sakura campaign in Berlin with Hanami celebrated in different areas of Berlin from March to April time frame. I only had a few days in Berlin and checked out most of these Berlin highlights there were recommended to me. In spite of the short time visiting the city, I actually enjoyed being more in the outskirts and also exploring Potsdam which was a short train ride from my friends house. If you happen to have more time to visit the city, check out this fantastic 3 day itinerary around Berlin for inspiration.
Photo highlights of cherry blossoms in Berlin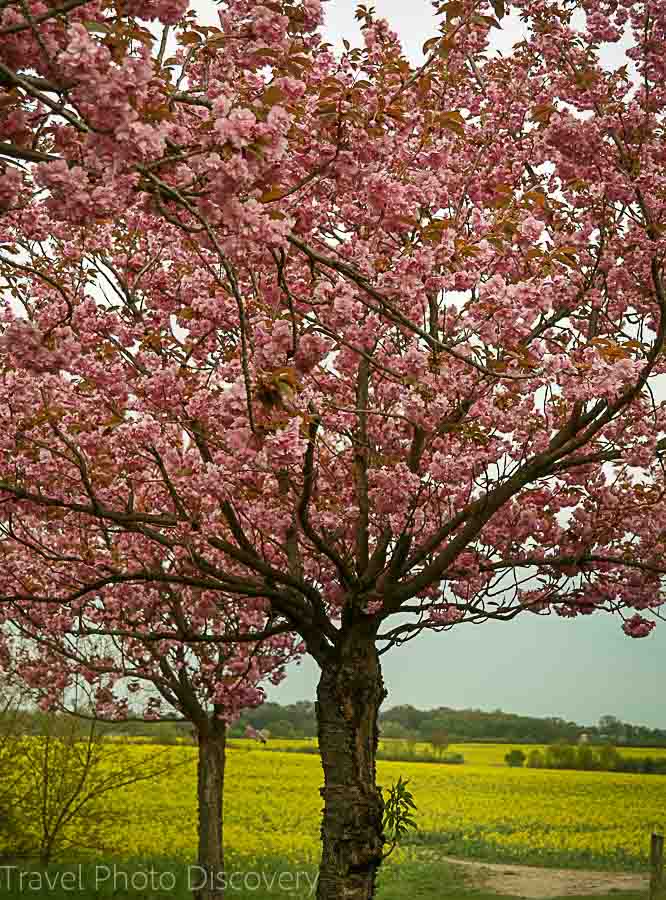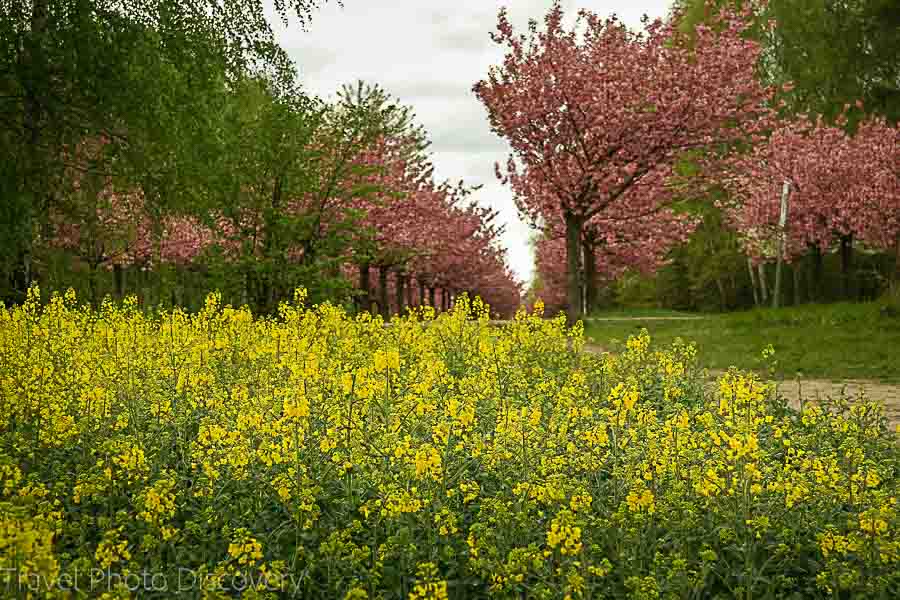 A brief history of the Berlin cherry blossoms
Originally started through a TV program on the Japanese Asahi channel on the unification of Berlin, an open call for donations were made on the program to plant cherry trees in Berlin to mark this significant event.  The Japanese people were fascinated by the unification of both sides of Berlin and contributed over a million dollars to plant over 9,000 trees over a span of twenty years from its first start in 1990 into different areas of the city. The first set of cherry blossoms were planted at Glienicker Brücke, which is a key symbol dividing and eventually reuniting the entire city of Berlin.  Another large planting of over 1,100 trees were done at the former Totestreifen (death strip), this is the border of Teltow-Sigridshorst and Teltow-Seehof.  Eventually the grove was renamed  TV-Asahi- Kirshblutenallee for the TV program that started the campaign.
Ever since that first planting, the Hanami blossoms are celebrated every year with picnics under the cherry blossoms and a special commemoration celebration done yearly. The cherry trees were eventually planted in different open areas of the city and in the city center to include: Landschaftspark Nord-Ost, at the border of Lichtenberg and Brandenburg, Lohmühlenbrücke – at the border of Alt-Treptow and Neukölln, Platz des 9 November and a variety of smaller plantings in parks, graveyards, senior centers and even child care centers.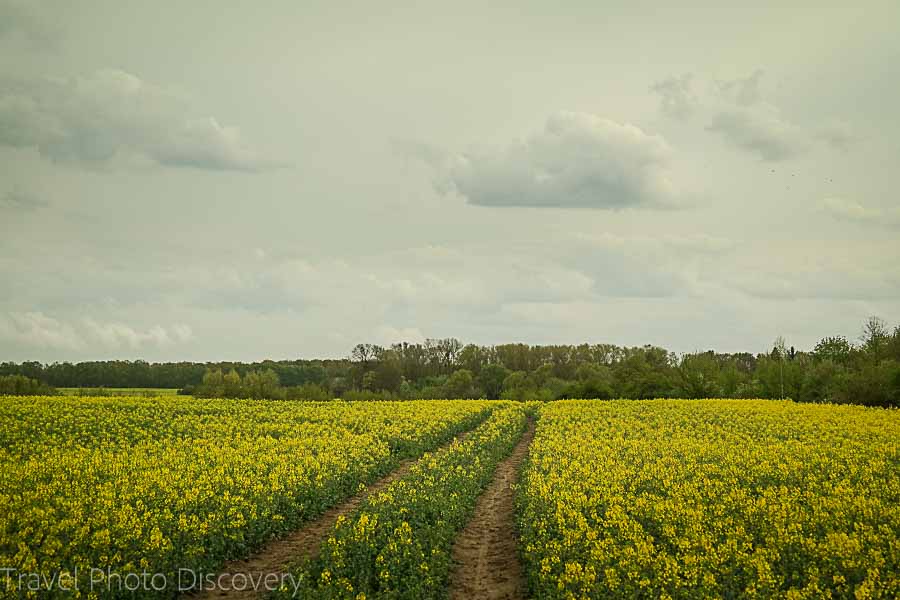 Why visit the Cherry Blossoms fields of Berlin?
This unique attraction is a must in spring time with the cherry and mustard blooms happening at the same time. It's a great spring celebration to Sakura festivities happening in Berlin. Celebrating the friendship between two countries, Sakura and Cherry Blossom festivals happen in Berlin close to when the blooms are at their peak season with a variety of different events and celebrations to mark the occasion or just come for a lovely picnic outdoors and under the cherry blossoms here.
In the fields with cherry blossoms and wild mustard blooms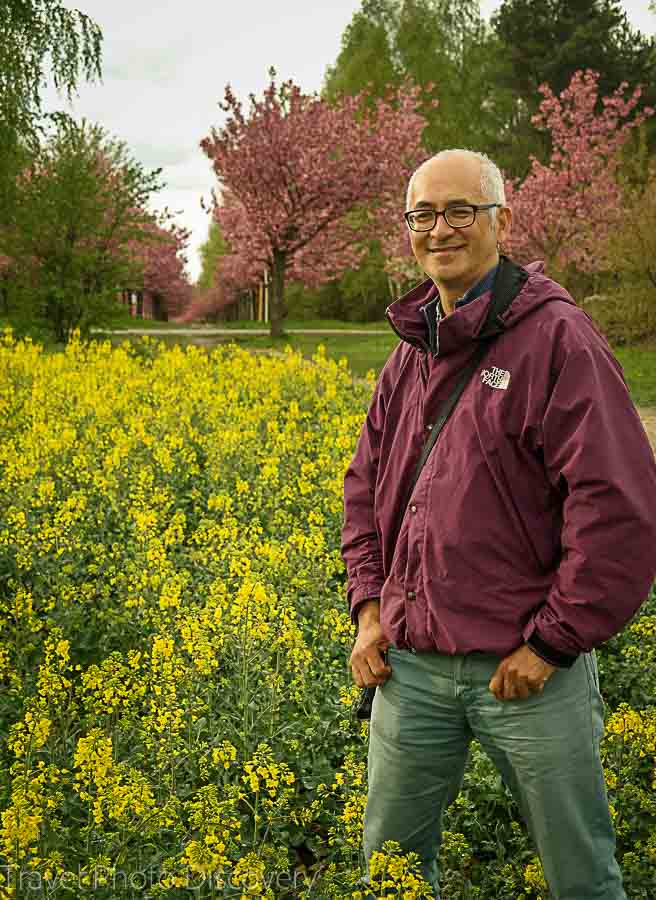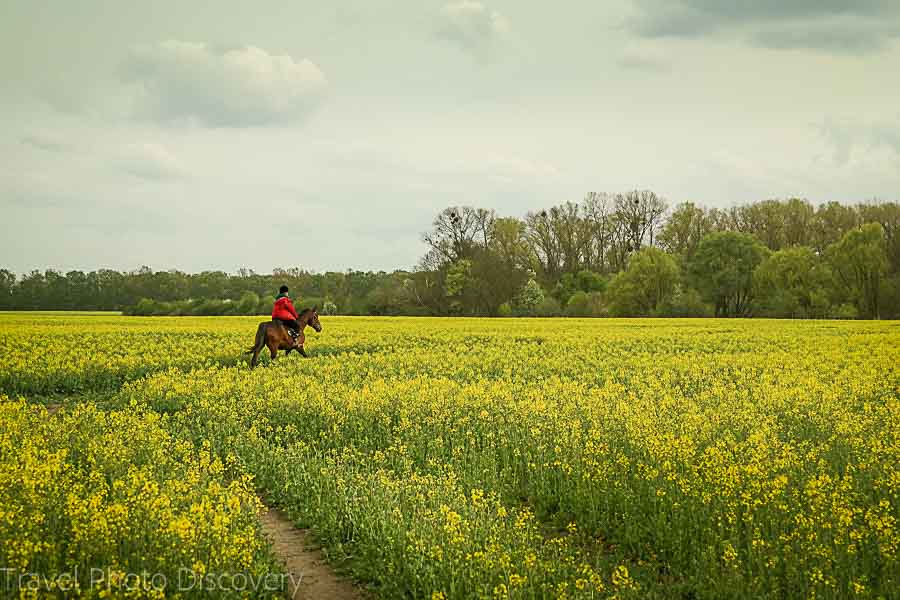 Walking with my friend
 and her dog in the mustard fields
I was a little dismayed with my visit to Berlin and the miserable weather, but fortunately my friend Christiane (an elementary teacher in Berlin) coaxed me from my funk to take a walk with her and her dog, Monsieur Leon. Despite the gloomy weather it was nice being outdoors and in open fields enjoying the countryside, just on the outskirts of Berlin city limits. Fortunately, when she mentioned that there might be cherry blossoms in bloom at this time, my curiosity was peaked about this unusual occurrence and why there were so many cherry trees planted all over Berlin. This was a nice surprise and unexpected visit – I had changed my sour impressions of the city into something more meaningful and special. I also realized how much open areas and green spaces are available for Berliners to explore and get away from the urban jungle which is fantastic to discover in my visit.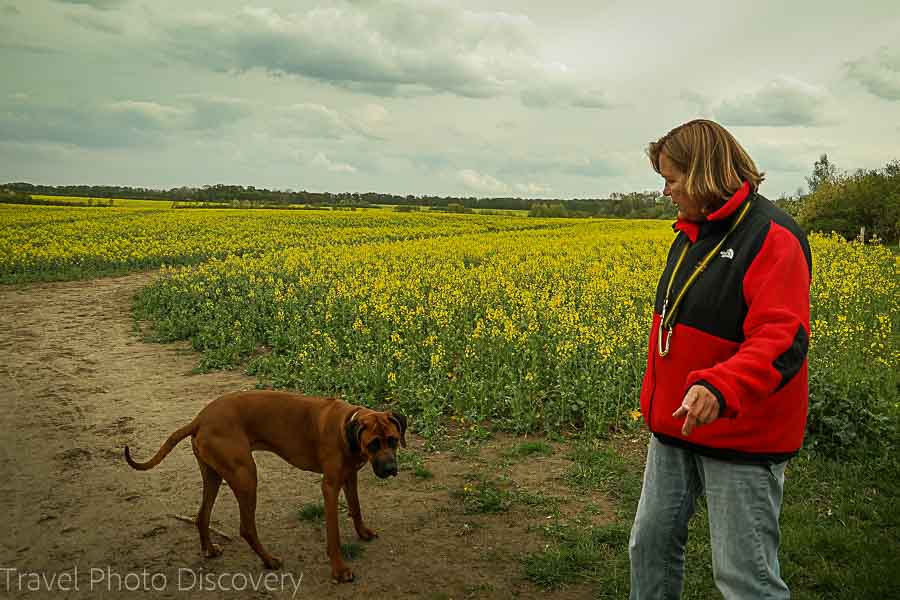 A memorial stone commemorating the planting and thanking the Sakura committee
A wonderful tribute between sister cities and celebrating Sakura and the Cherry Blossoms here in Berlin for all to enjoy. This small plaque was fun to approach and absorb the beautiful surroundings created by the lovely cherry blooms.
Entering the open mustard fields below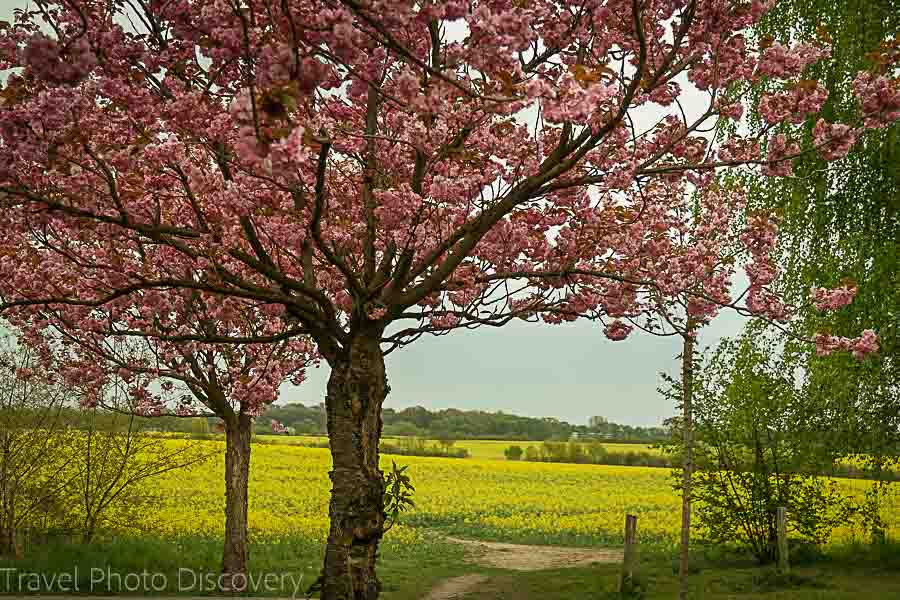 How to find the cherry blossoms of Berlin
To find the cherry blossoms in Berlin and fully immerse yourself in their beauty, follow these steps:
Timing is crucial: Cherry blossoms typically bloom in Berlin during late April to early May, but it can vary depending on weather conditions. Keep an eye on local flower reports or contact local botanical gardens for the most accurate information on the bloom's progress.
Visit public parks and gardens: Berlin is blessed with numerous parks and gardens that boast cherry blossom trees. Some popular locations include the Tiergarten, Britzer Garten, and Kirschblütenallee in Marzahn Park. These places often have designated areas with cherry blossoms, making them perfect for leisurely walks and picnics amidst the blooming trees.
Explore the Japanese Garden in Marzahn: Berlin's Japanese Garden, located within Marzahn Park, is a serene oasis known for its exquisite cherry blossoms. This authentic Japanese-style garden offers a tranquil ambiance, traditional architecture, and a stunning display of cherry blossoms during the bloom season.
Check out the botanical gardens: Berlin's botanical gardens, such as the Botanischer Garten Berlin and the Botanischer Volkspark Pankow, are excellent spots to witness a variety of flowering trees, including cherry blossoms. These gardens often cultivate diverse species, providing an opportunity to admire different types of cherry blossoms in one place.
Join cherry blossom festivals and events: Berlin hosts various festivals and events celebrating cherry blossoms. The most notable is the annual Hanami festival, inspired by the Japanese tradition of appreciating cherry blossoms. Keep an eye on local event calendars to participate in activities like picnics, music performances, and cultural exhibitions.
Other posts about Berlin Travel
A visit to the royal palaces at Potsdam
Conclusion to visiting the Cherry Blossoms of Berlin
Experiencing the cherry blossoms in Berlin is a magical and fleeting delight that marks the arrival of spring. From strolling through picturesque parks and gardens adorned with delicate pink and white blooms to attending cherry blossom festivals, Berlin offers a captivating display of nature's beauty.
The cherry blossoms not only add a touch of elegance to the city's landscapes but also create a serene atmosphere that invites contemplation and appreciation. The fleeting nature of the bloom serves as a reminder to embrace the transient moments of beauty in life.
Thanks for visiting today and checking out this post on Cherry Blossoms in Berlin Germany, hopefully some of these places will inspire you to visit when you come to the city. If you enjoyed the images and post, could you please share it with any of the social media buttons located around the post.
If you like what you see, come and check out my other social media channels for more updates, including Instagram, Pinterest and Twitter