Travel Photo Mondays
It's Monday morning, time to enjoy some gorgeous travel photography and inspiration from around the world. Let's banish those Monday blues by sharing gorgeous imagery and story telling.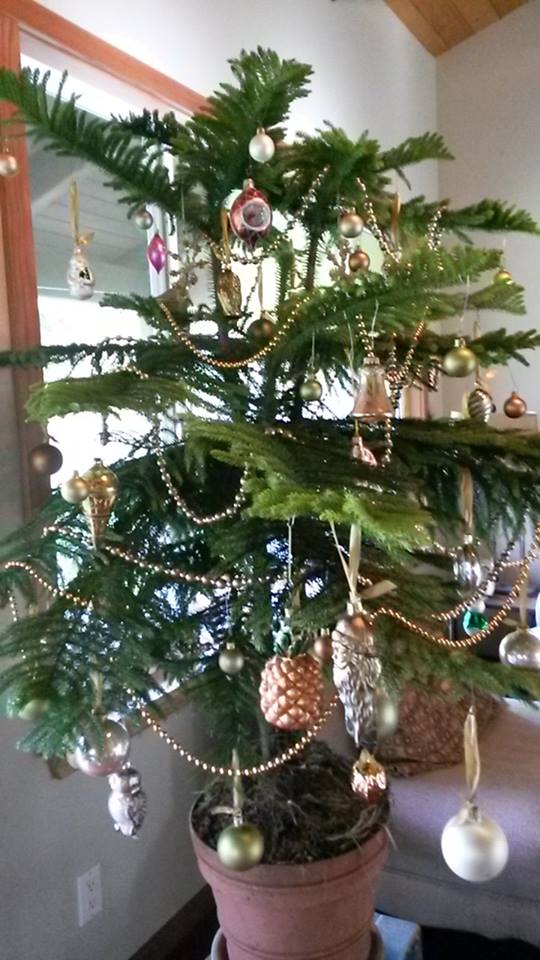 Our live potted Norfolk Pine
Christmas time in Hawaii
I'm taking you back to my home in East Hawaii on the Big Island of Hawaii, it's been a hectic holiday season and I just wanted to take it down a bit to relax and enjoy the timeframe before my Christmas party this Sunday evening. It's actually my first Christmas in Hawaii since I typically go back to the Bay Area/San Francisco to visit friends and family for the holiday – so its going to be exciting spending it in warm weather and going to parties here for the first time.
I'm also enjoying decorating my home for the holidays in Hawaii for the first time so it was a chore trying to find all the Christmas ornaments and slepping them from the Garage. I also wanted to use our native Norfolk pine trees instead of all the imported and very expensive trees from the mainland. Here it is finally decorated above, what do you think of our local Hawaiian pine trees, pretty cute right?
The chandelier is dressed up above in red ornaments and below on the dining table will be green pines with lots of red Anthuriums….( I just have to go out to the garden at the last-minute to pick them and lay them on the table, here's the table setting below finally picked).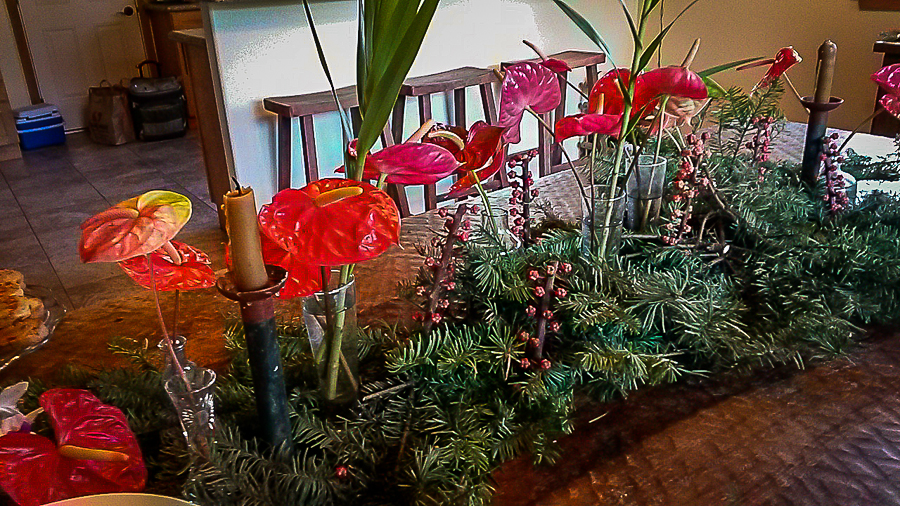 My potted tree has lots of tropical ornaments including one of my favorites, a pineapple
Christmas spirit and music
I've listened to a lot of Xmas music lately to get into the mood and singing a lot of my favorite old classics including silent night.  I also sing with a chorus and we have been actively singing for a variety of community events to bring on the Christmas spirit. Here is a short video of me singing with some friends below for a recent holiday event. Usually I sing this song with the chorus but you can hear me singing solo. It's a little raw, since I drank a bit too much before we started singing, so it's a little off key, enjoy!
Thanks so much for coming to visit Travel Photo Mondays, I hope you enjoyed a little tour of my Christmas time here in East Hawaii.  I hope you have a wonderful holiday season ahead and Happy New Year to! Please come and enjoy some of these other bloggers from around that world showing you some beautiful imagery.
If you like this post, please consider subscribing to the blog via RSS feed or by email  below – also 'like' my Facebook page on the sidebar, I show more images, tips and inspiration on my Facebook page, come and visit!
[inlinkz_linkup id=353484]