Columbus food tour with Columbus Food Adventure
One of my favorite things to experience in a new city is the regional or specialty foods made from the area. While visiting Columbus, the capital of Ohio, I wanted to check out what's fun to eat and experience in this city.  Since I was visiting the city for just one day (checking out the newly opened Columbus Museum of Art), I thought the afternoon centered on a food tour would give a nice introduction to the foods that locals in Columbus love to frequent. So I signed up for one of Columbus Food Adventure tours for an afternoon of walking around the Grandview area and noshing my way through this foodie centric neighborhood.
Here's a highlight of the Grandview food tour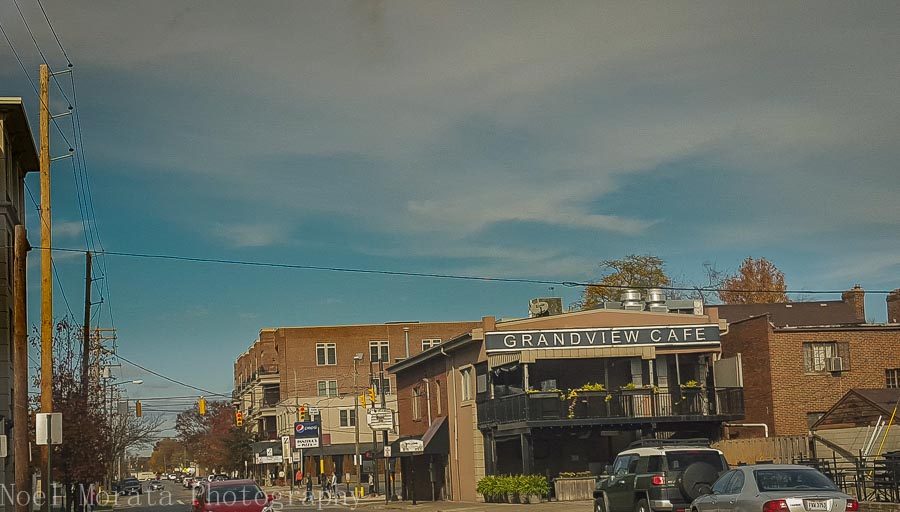 Choosing one of the 12 different tours would already be daunting, but since I already had a quick bite and tour of the popular downtown North Market area, I wanted to go to a smaller neighborhood and have a local experience. I decided to take the Grandview Avenue food tour which started at a convenient timeframe at 2:30 and runs for about 3 hours. We would be taking 7 stops in the neighborhood to try some of the  specialty foods, cafes or fine dining establishments mostly on the main drag of Grandview. After a quick meet and greet with the other participants, we were off to our first visit at Oillerie which imports pure olive oil and blends, along with balsamic vinegar and other specialty oils from Italy.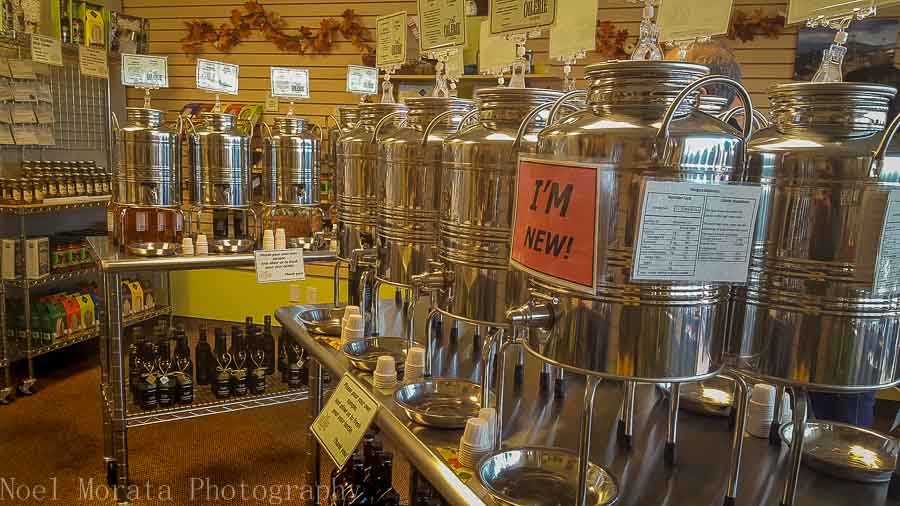 The next stop at a local Chinese eatery called Jie's Good Tasting was unexpected but a welcome visit where we tasted some delicious  dumplings. The restaurant specializes in Shanxi style dumplings which are all handmade in the back kitchen. The menu features many savory varieties and we tried three tasty bites of shrimp and vegetables, cabbage and mushroom, and a pork with fresh herbs. The dumplings were served with a spicy sauce of soy sauce, vinegar, minced garlic and mild peppers, adding contrasting pepper and vinegar flavors to the little bites and making them even more delicious . I really enjoyed the dumplings and ended up eating the extras which probably was not wise considering we just started, but they were spot on juicy and worth finishing.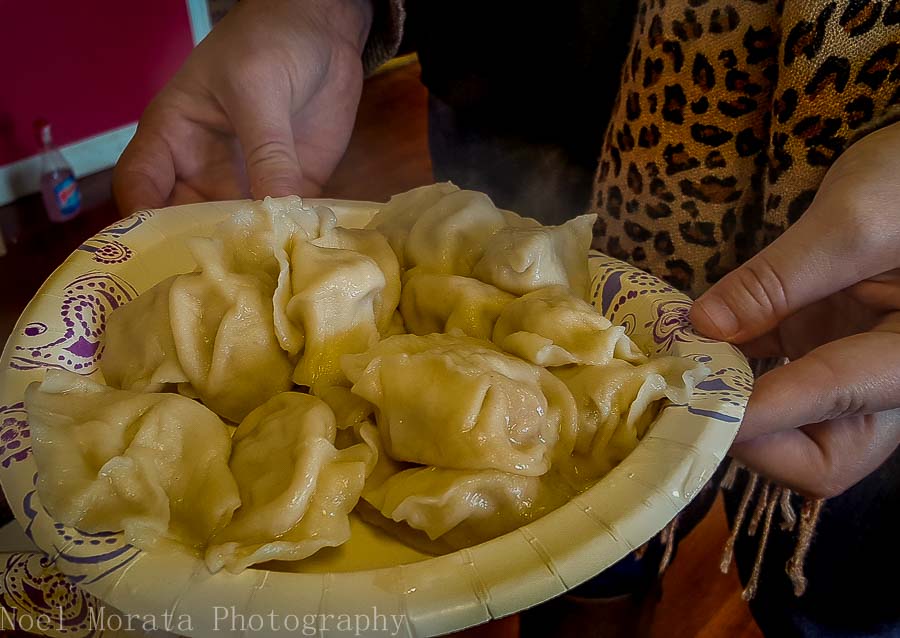 I was practically rolling out the front door and fortunately we only had to walk a few paces before heading to our next stop. A unique dining venue with actually two restaurants in one, Vino Vino and Figlio Pizzeria, the Italian combination was a wonderful stop to enjoy two different tastes with a nice glass of a light red wine. While the lawyer turned restauranteurs gave a talk about their transition into the restaurant business, we all congregated around the bar while trying their delightful seafood chowder and a slice of pizza with fresh romano and Portobello mushrooms. This visit was a perfect combination and wonderful taste of Italian food on Grandview Avenue.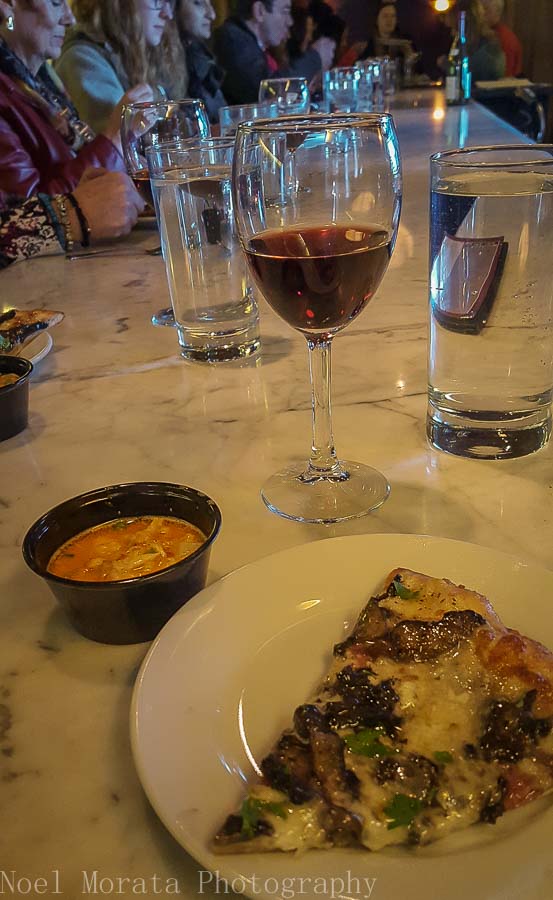 The next stop was actually not on Grandview but on one of the side streets at Third and Hollywood, a refined but relaxed bistro with plush contemporary interior. The chef accompanied us to the back room reserved for private parties, a whole wall of racked wines were displayed and lit up dramatically on the back wall, creating a stunning display of wines. The staff quickly brought out three tastes of their popular appetizers: a pan fried cheese and biscuit dish, wrapped bacon with plump dates and a pimento cheese spread with chips. All three appetizers were savory and perfectly presented and were just the right amount of food presented to give us a wonderful visit on our 4th stop.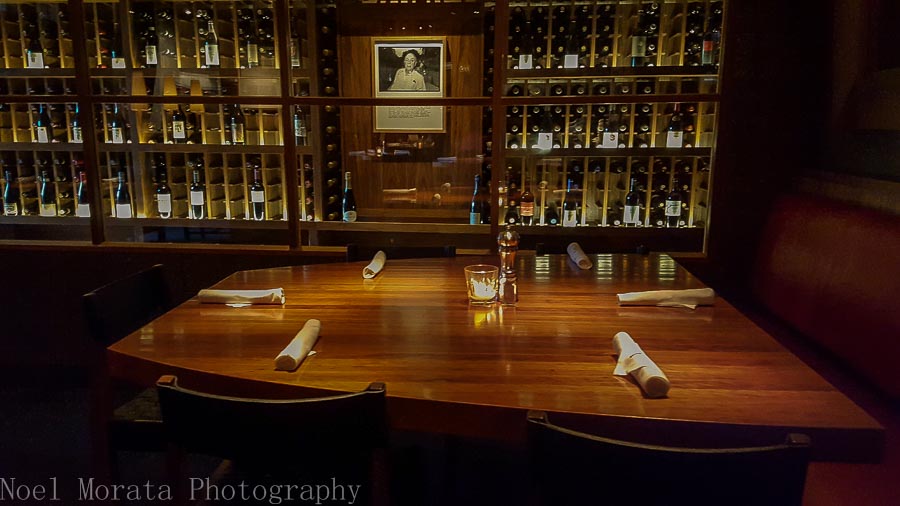 Refined and casual dining at its best at Third and Hollywood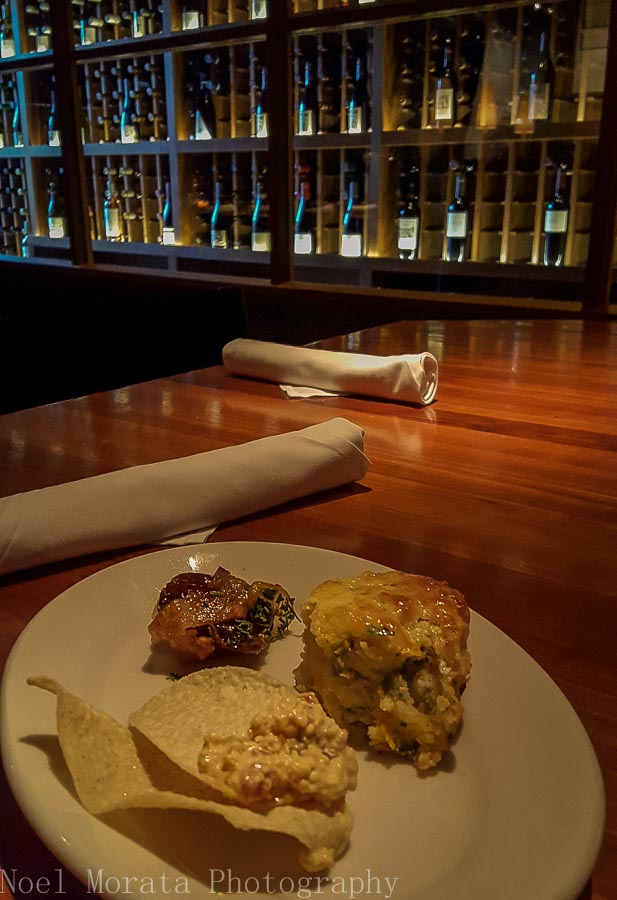 It was odd that the 5th visit would already be dessert, but who can say no when we get to visit Jeni's Splendid Ice Cream shop, a very popular brand that originated in Columbus, Ohio. The ice cream here is truly a dessert lover's dream especially when you get to sample any of the flavors they have available and it seemed like everyone on the tour got to taste many of the ice creams and eventually settled to two scoops each with a lovely cookie tossed in. Creamy and flavor filled, my lavender and very chocolate scoops were a delicious combination.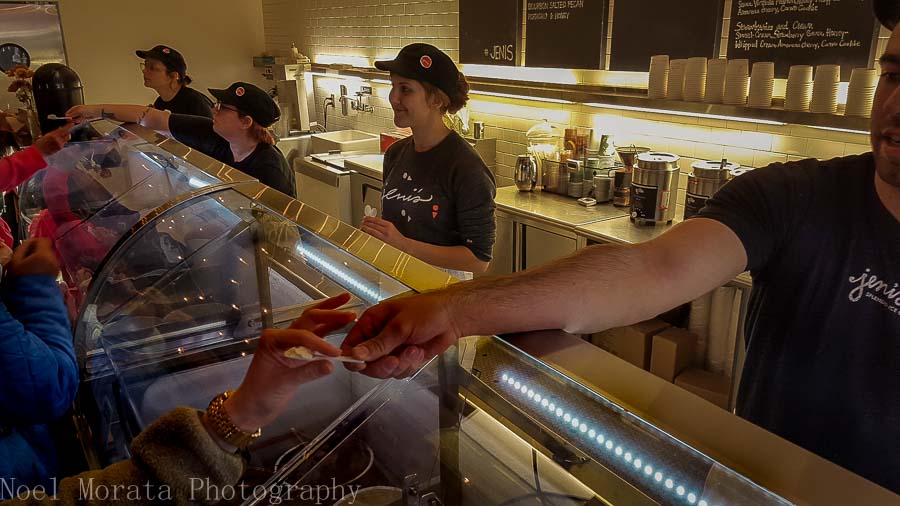 Yes, continuous ice cream sampling at Jeni's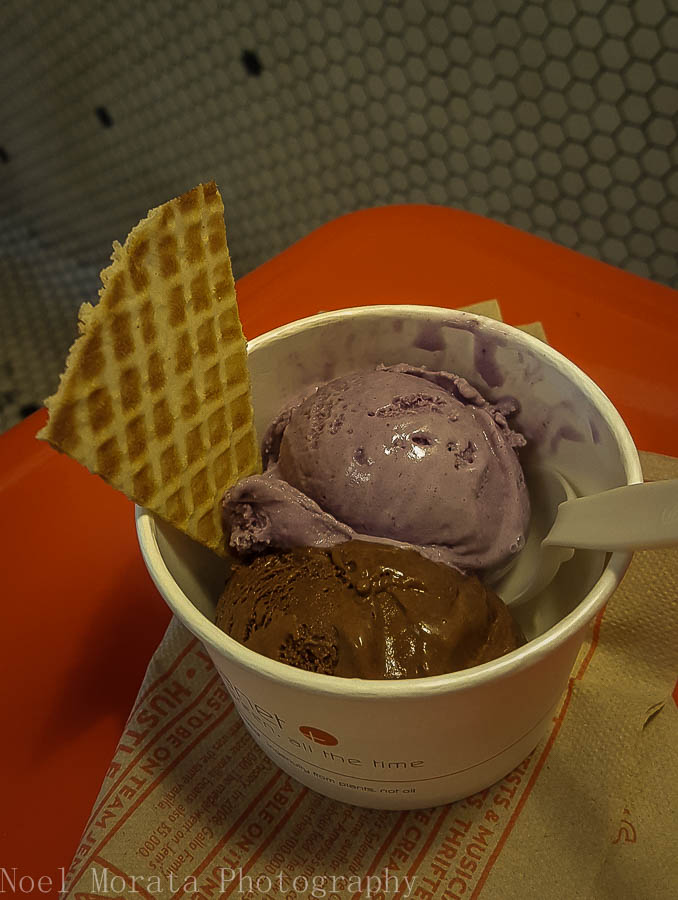 Our next stop to a local coffee roasters called Stauf's was actually a nice visit to get an idea about the roasting process and coffees the shop imports from around the world. We get to drink coffee that has been dripped through a chemex process (manual pour into a filter) along with just made pound cake with a light peach icing, a nice coffee and dessert combination.
Finally our last stop on the tour was the iconic Spagio, a 30 year institution to the neighborhood being one of the original Krogers grocery stores in Columbus and then converted into three separate restaurants. Each business caters to different base of food/service with a wine bar, casual dining and private supper club restaurants. After touring all three restaurants and kitchens, we assemble at the wine bar to try a very spicy shrimp etouffee dish with a real kick and making our last bite quite memorable.
I can say that the 7 different food experiences were all different and a wonderful experience overall, giving me an excellent overview of the many dining experiences along Grandview Avenue. I really enjoyed this food tour offered by Columbus Food Adventures and was pleasantly surprised by the different choices and foods that we experienced on the tour. There's a lot of amazing food in the Columbus metro area, if I had more time, I would have loved to Eat in these other Columbus restaurants and specialty markets.
If you want to learn more about this tour or any of the other tours offered by Columbus Food Adventures, you can check out their website here. Thanks for hosting and inviting me on the tour, all opinions and thoughts are my own.
Thanks for visiting today and checking out my post on the Columbus food tour with Columbus Food Adventure. If you enjoyed viewing the article, could you please share it with any of the social media buttons around the post, thank you. I was invited to the food tour at Grandview Avenue, all thoughts and opinions are my own.
If you like what you see, come and check out my other social media channels for more updates, including Instagram, Pinterest and Twitter.