Day Trips from Portland: Exploring the Beauty Beyond the City with these fun places to explore
Nestled in the picturesque Pacific Northwest, Portland, Oregon is not only a captivating city in its own right but also a gateway to a wealth of diverse and breathtaking destinations just waiting to be explored. From stunning natural landscapes to charming small towns and cultural gems, the region surrounding Portland offers an abundance of day trip opportunities that promise unforgettable experiences. Whether you're seeking outdoor adventures, wine tasting in the countryside, or immersing yourself in local history and art, these day trips from Portland will transport you to new realms of beauty and discovery. Join us as we embark on a journey to uncover the hidden gems and must-visit destinations that lie within easy reach of the vibrant city of Portland. Prepare to be enchanted by the wonders that await you just a short distance away.
If you are visiting the Portland area, why not explore some of the gorgeous landscapes and nature just outside of the city? You'll so much inspiring nature, magnificent waterfalls and landscapes to explore once you get out of the city metropolis area. I've asked some of my travel journalists and bloggers to share their favorite day trips from Portland, Oregon below for you to check out the best of these easy and short road trips from the city.
Many of these nature inspired places are just a short drive away from the city and a great way to explore the outdoors and some fantastic venues and local attractions to visit in the area or extend it out longer for a weekend getaway from the city.
Weather and best time to visit around Portland area
The weather in the Portland area is known for its mild and temperate climate, with distinct seasons that offer unique experiences throughout the year. Understanding the weather patterns can help you plan the best time to visit. Here's an overview of the weather and the ideal times to explore the Portland area:
Summer (June to August): Summers in the Portland area are typically warm and dry, with average temperatures ranging from the 70s to the low 80s Fahrenheit (around 20-28 degrees Celsius). It's the perfect time to enjoy outdoor activities, explore the region's natural beauty, and visit popular attractions. However, keep in mind that summer months can be crowded, so make reservations in advance if necessary.
Fall (September to November): Fall brings cooler temperatures and vibrant foliage to the Portland area. The average temperatures range from the 60s to the 70s Fahrenheit (around 15-25 degrees Celsius). It's an excellent time to explore the region's parks, forests, and wine country while enjoying the picturesque autumn colors. September and October are particularly popular months for wine tasting and harvest festivals.
Winter (December to February): Winters in the Portland area are relatively mild, with average temperatures ranging from the 40s to the 50s Fahrenheit (around 5-10 degrees Celsius). While it does rain frequently, there are also plenty of crisp and clear days. Winter is an excellent time to experience the region's cozy indoor attractions, such as museums, breweries, and coffee shops. It's also a great time for skiing and snowboarding on nearby mountain resorts.
Spring (March to May): Spring brings mild temperatures and blooming flowers to the Portland area. Average temperatures range from the 50s to the 60s Fahrenheit (around 10-15 degrees Celsius). Spring is an ideal time to explore the region's gardens, parks, and waterfalls as nature comes to life. It's also a season of festivals and events, celebrating everything from cherry blossoms to local food and music.
It's important to note that the weather in the Portland area can be unpredictable, with changes occurring throughout the day. It's advisable to dress in layers and carry a light rain jacket or umbrella, especially during the cooler months and spring season.
Whether you prefer warm and sunny days for outdoor adventures or cozy indoor experiences during the cooler months, the Portland area offers a diverse range of activities and attractions year-round. Choose the season that aligns with your interests and get ready to explore the natural beauty, cultural richness, and culinary delights that make this region a must-visit destination.
How to get around these places from Portland
Getting around from Portland to outlying areas involves several transportation options depending on your destination and preferences:
Car Rental
Renting a car is one of the most flexible ways to explore outlying areas around Portland. Major car rental companies operate at the Portland International Airport (PDX) and throughout the city. Having a car allows you to access more remote destinations and plan your own schedule.
Public Transit
Portland's public transit system, TriMet, includes buses, MAX light rail, and streetcars. While it primarily serves the Portland metro area, it can be used for day trips to some nearby destinations, such as Gresham, Hillsboro, and Beaverton. Check TriMet's website for route information and schedules.
Biking
Portland is a bike-friendly city with an extensive network of bike lanes and paths. You can rent bikes from various shops in the city and explore nearby areas on two wheels. The Springwater Corridor Trail and Banks-Vernonia State Trail are popular routes for cyclists.
Amtrak
Amtrak's Cascades route connects Portland to cities like Eugene, Salem, and Seattle. If you're interested in exploring these places, taking the train can be a comfortable and scenic options
Greyhound
Greyhound buses provide long-distance transportation from Portland to various cities in the Pacific Northwest and beyond. Check Greyhound's website for routes and schedules.
Guided Tours
Many tour companies in Portland offer guided day trips to popular nearby destinations. These tours often include transportation, making it a convenient way to explore without the hassle of driving.
Columbia Gorge Express
To visit the Columbia River Gorge, you can take the Columbia Gorge Express bus, which runs seasonally from Portland to Multnomah Falls and Rooster Rock State Park.
Airport Shuttles
If you're arriving at PDX and your destination is the Portland metro area or nearby cities, consider using airport shuttle services. These shuttles can take you to your destination without the need for a rental car.
Taxis and Ride-Sharing
Taxis and ride-sharing services like Uber and Lyft are readily available in Portland. They can be convenient for shorter trips within the city and to nearby areas.
When planning your transportation, consider the distance to your desired destination, the availability of public transit, and whether you prefer the convenience of a rental car or a guided tour. Portland's transportation options cater to a variety of travel styles, making it easy to explore the city and its beautiful surroundings.
Best day trips from Portland Oregon (easy, fun, nature day trips to end week excursions)
Most of these day trips are relatively easy and short drives from the Portland metropolis areas and some should warrant a longer stay or weekend getaway. It's fun to explore nature and beautiful landscapes just outside Portland area or even some of these unique places of interest from the city. Check out all these inspiring places for your next adventure on a road trip or day trip from Portland.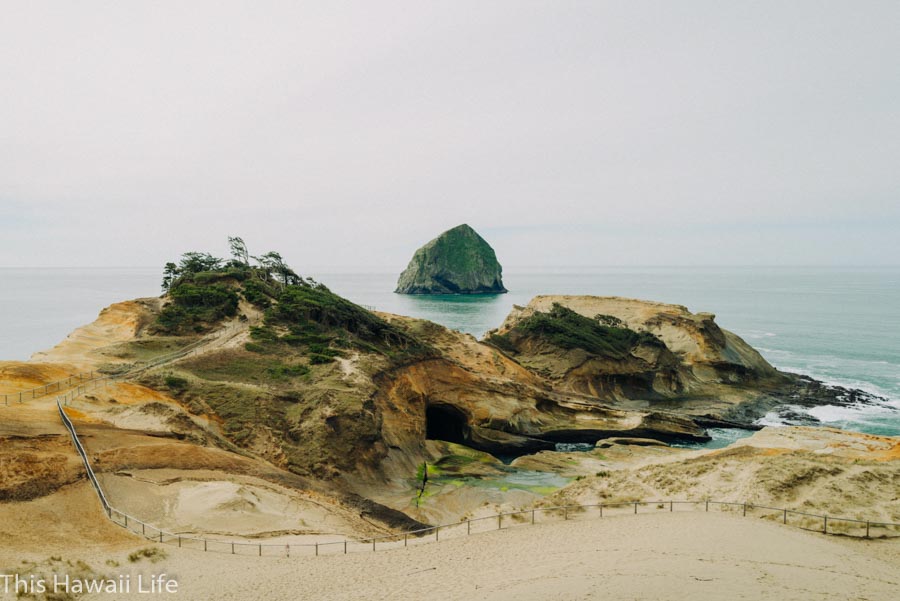 Explore Cape Kiwanda
For the ideal blend of relaxation and adventure, Cape Kiwanda in Pacific City can be the perfect day trip from Portland!
Getting to Cape Kiwanda from Portland is about a 2-hour drive, (95 miles). While the drive may be on the longer side, the journey itself is part of the adventure. Along time way, you drive through the lush coastal mountain range on Highway 6. You can also stop by the Tillamook Cheese Factory for a factory tour, cheese samples, and lunch.
Reaching your destination, Cape Kiwanda is located on the Oregon coast, just off of Highway 101. Here, you can climb and roam around the gorgeous sandstone cliffs, hang out on the beach, or watch the many activities buzzing around the shore. In fact, you can frequently spot dory boats launching and docking right on the shore, surfers near Haystack Rock, and paragliders on the north side by McPhillips Beach.
For lunch or dinner, Pelican Brewery is a must-visit. Their Pacific City location is right on the shores of Cape Kiwanda beach. If it's a nice day, ask to be seated on their outdoor patio, it has unobstructed views of Haystack Rock.
For a slightly different route home, take the Three Capes Scenic Route on your way home, to stop by Cape Lookout and Cape Meares as well!
Emily Mandagie from TheMandagies.com
Check out the top reviewed places to stay around Cape Kiwanda here for updated prices and reviews
Check out nature and these natural formations of Cape Kiwanda below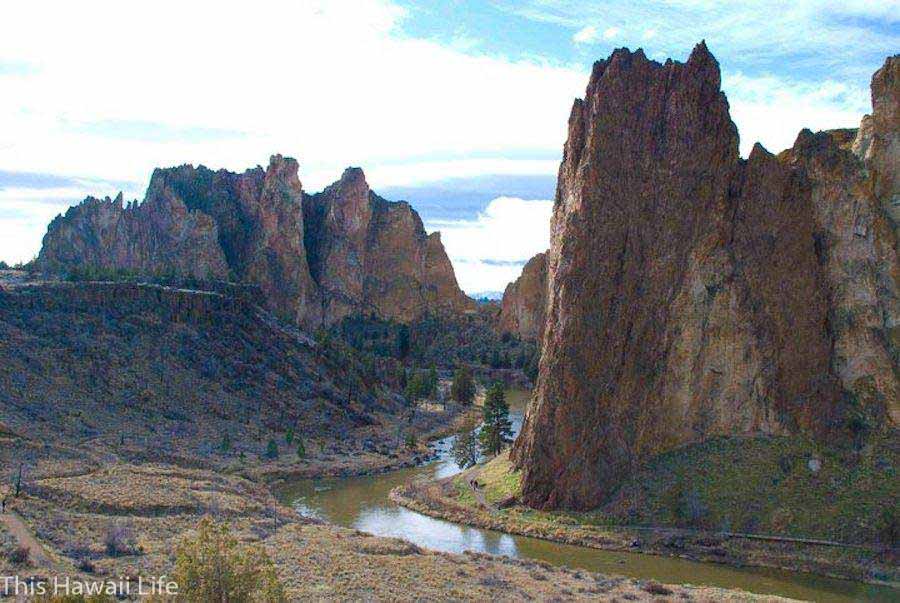 Adventure fun in Bend, Oregon
For the outdoor adventurists who have a mutual love for hitting the trails as much as the water, Bend, Oregon is a must-visit town 165 miles southeast of Portland. An easy 3-hour drive by taking Highway 26 East to Highway 97 South will put you right in the middle of the quaint downtown of Bend, OR.
For anyone who loves climbing or hitting the trails on foot or bike, definitely plan to visit Smith Rock State Park. If you love waterfalls, don't miss the hike to Tumalo Falls, where you will be mesmerized by the massive 97-foot waterfall.
During winter, there is also great skiing and snowboarding just 30 minutes west of town at Mt. Bachelor. This 9,065-foot extinct volcano turned ski haven boasts 4300 acres of pristine trails.
For those looking for river sports, look no further than the world-class rapids of the Deschutes River. One of the best spots to drop in a SUP or kayak is at Riverbend Park  There are also numerous guided tours in town if you aren't comfortable navigating these class 3-5 rapids on your own.
Once you've worn yourselves out on the trails and water, don't miss happy hour at Bangers and Brews. A must order are the Bacon Gorgonzola fries and any of their selection of Wild Game Brats.
By Taylor from Nomads in Nature
Check out the top reviewed places to stay around Bend, Oregon here for updated prices and reviews
Check out the beauty of Bend Oregon area below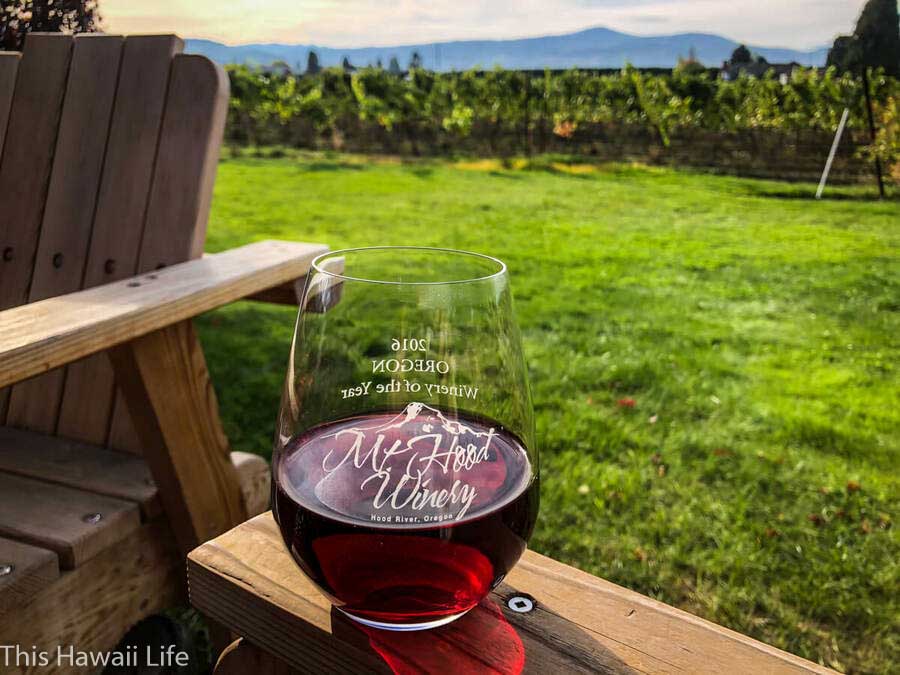 Hood River
Following highway 84, you'll hug the Columbia River Gorge, which is packed with epic waterfalls and riverside views. If you drive 60 miles, or 1 hour, to the east of Portland, you'll reach the charming town of Hood River. This riverside destination makes a perfect day trip from Portland or a weekend escape, as there are plenty of things to do.
Wander the cute streets of downtown and pop into any cafes or shops that strike your fancy. Make your way down to the river to watch the kiteboarders as they appear to float across the mighty Columbia River.
If you're a fan of wine, you're in luck because Hood River is known for some incredible wineries. While there are plenty to choose from, two of the best wineries in Hood River are Stave & Stone and The Gorge White House, both of which have excellent wine options and epic views.
If you're more of a beer fan, you'll find plenty of breweries in town to choose from. pFriem is one of the most popular in town, while Double Mountain has a more local and laid back vibe with excellent pizzas.
Katie Diederichs from Go Wander Wild
Check out the top reviewed places to stay around the Hood River here for updated prices and reviews
The Hood River area makes a nice day trip or weekend discovery area to visit the town below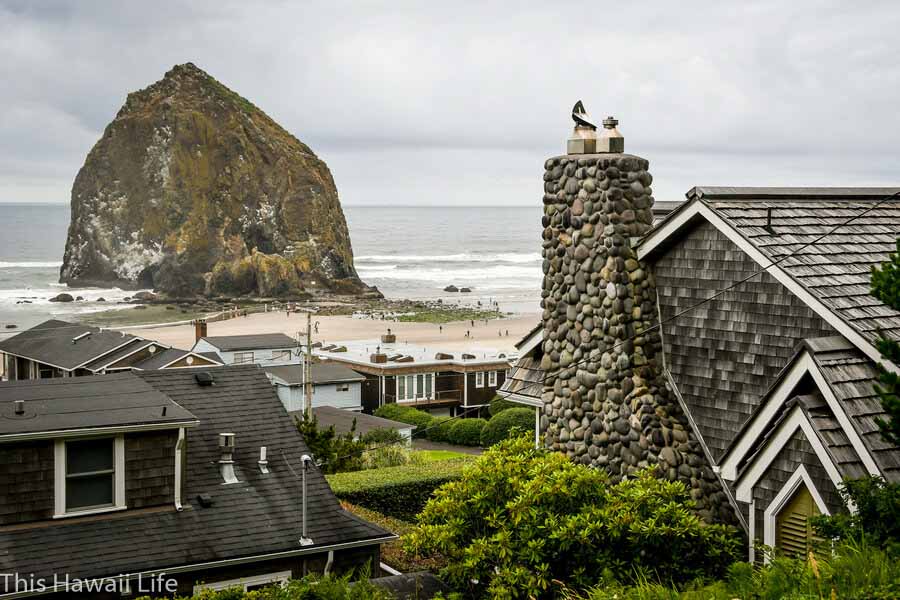 Cannon Beach
Just 80 miles from Portland lies one of the most iconic towns on the Oregon Coast – Cannon Beach. Take highway 26 west bound for roughly 1.5 hours and you will feel like you're in a completely different world than the big city.
With cedar shingled cottages lining the ocean shore and quaint cafes and shops, this is a magical seaside town.
There are plenty of things to do in Cannon Beach, but one of the best is taking a walk along the beach with views of the famed Haystack Rock. This large sea stack sits just off shore and has made appearances in movies like the eighties cult classic "The Goonies" and "Kindergarten Cop". It is truly a sight to behold.
Be sure to check the tide tables before you go. If you have time, try to get there for both high tide, when you can get beautiful reflection photos, and for low tide, when you can explore the tide pools.
When you've worked up an appetite, you'll have plenty of restaurants to choose from in town. Two great options are Ecola Market for fresh fish & chips and Pelican Brewery for craft beer and elevated pub fare.
Katie Diederichs from Two Wandering Soles
Check out the top reviewed places to stay around Cannon Beach here for updated prices and reviews
The Cannon Beach makes a nice day trip or weekend discovery area to visit the region below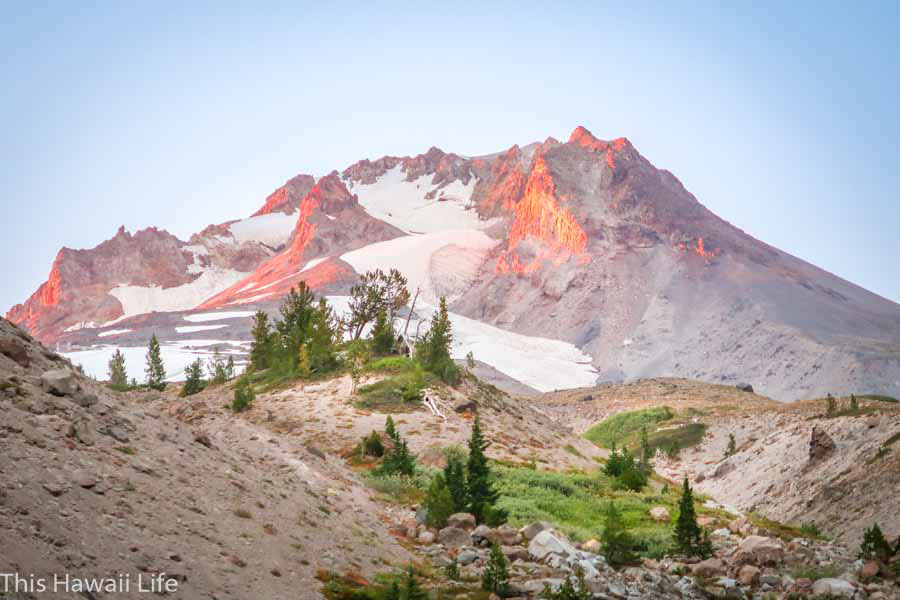 Mt. Hood – Oregon's Tallest Mountain
If you're looking for a beautiful outdoor destination near Portland, it's hard to beat Mt. Hood. Located only 90 minutes (63 miles) from the City of Roses, Mt. Hood is Oregon's tallest peak. The mountain features a wealth of recreation activities including hiking, mountain biking, climbing, skiing and snowshoeing.
One of the best ways to explore Mt. Hood is on foot. Timberline Trail is a stunning 40-mile loop that encircles the mountain and provides incredible views of alpine scenery. The 2650-mile Pacific Crest Trail (PCT) also passes by Mt. Hood and provides access to wilderness areas in the Mt. Hood National Forest.
A great place to begin exploring Mt. Hood is at Timberline Lodge. Constructed in 1937, this historic ski lodge was famously used as a filming location in the 1980 film The Shining. The hotel even provides a replica axe from the movie so that fans can pose for photos with it.
Timberline Lodge is a world-class skiing destination and has the longest season of any resort in the United States. In fact, ski runs are available all year-long.
After spending some time on the slopes or trails, be sure to stop by the Cascade Dining room. The all-you-can-eat breakfast buffet is a legendary meal that is particularly famous among PCT hikers and those with large appetites.
Contributed by Katy of A Rambling Unicorn
Check out the top reviewed places to stay around Mt. Hood here for updated prices and reviews
Check out the Mt. Hood Scenic Byway below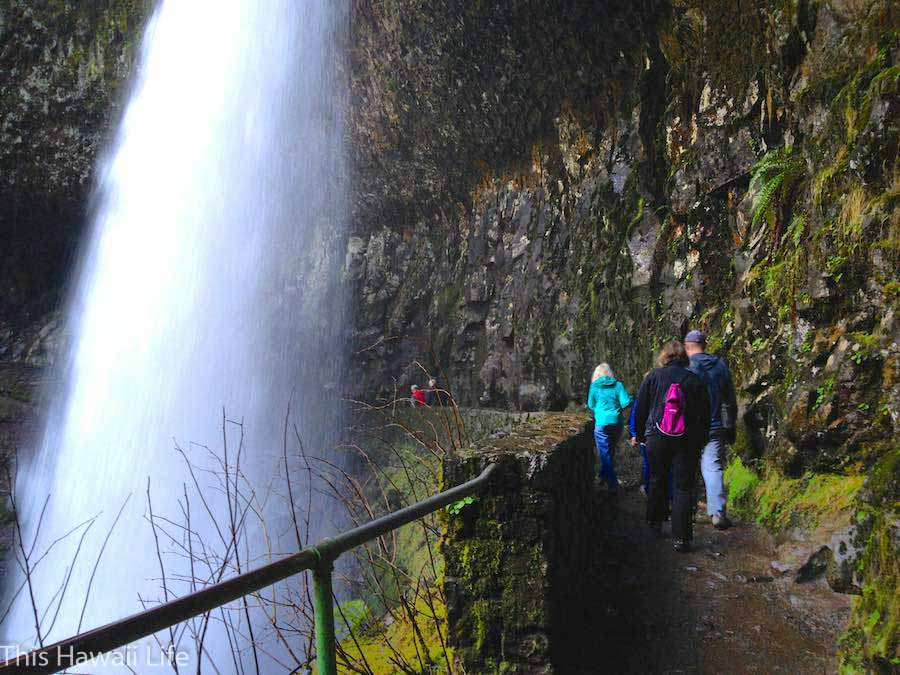 Silver Falls State Park
For waterfall lovers, Silver Falls is definitely worth the drive from Portland (about 60 miles and a little over 1 hour). The rural landscape on the way to the park is quite nice in itself.
But what's unique about Silver Falls State Park is that you can see 10 waterfalls on a single 9-mile hiking trail! Shorter hikes are also possible and still just as scenic.  Even a short and easy walk from the parking lot takes you to an overhead view of the spectacular South Falls, one of two waterfalls where hikers can actually trek behind the cascade. In addition to hiking, there is also a campground and picnic facilities along the creek.
The nearest towns are Stayton and Silverton, Oregon. Try the Creekside Grill in Silverton for lunch and consider touring the Oregon Gardens nearby as well. The Silver Falls Trail of 10 Falls is one of Oregon's best kept secrets!
Michelle C. of Intentional Travelers
Check out the top reviewed places to stay around Silver Falls here for updated prices and reviews
Check out Silver falls and the 10 Falls Trail below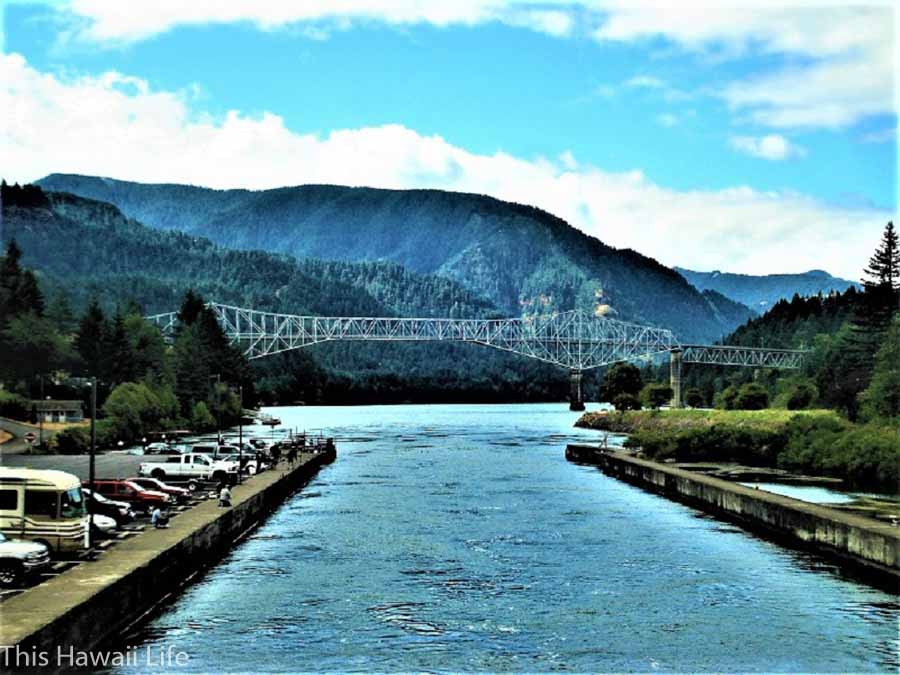 The Cascade Locks
Located at a short drive of 43 minutes covering 43.1 miles from Portland is Cascade Locks along the Columbia River. Drive eastwards and follow the Historic Columbia River Highway past the waterfalls. It is best included as part of a long road trip exploring Oregon.
The popular thing to do in Cascade Locks is to take a ride in  the big Sternwheeler Columbia Gorge boats and enjoy panoramic views of the river and surrounds. There are daily and nightly cruises. The Marine Park here is another place to take in the views of the Columbia gorge.
The Bridge of Gods is a huge cantilever bridge that connects the Cascade Locks to Stevenson in Washington on the other side of the river. This is a great place to walk across and click some photos of the scenery.
At a 15-minute drive from here is the Bonneville Lock and Dam and Fish Hatchery. The lock and dam serve to generate electrical power and aid with flood control. Once you reach the dam, it is easy to drive or walk across the bridge.
The reservoir created behind the dam is a popular place for summer activities including boating and swimming. Another tourist attraction is the hatchery where fish ladders are installed to help salmon and other fish swim past the dam to help them spawn upstream. There are huge viewing windows to watch this.
The Locks Waterfront Grill with outdoor seating and the Bridgeside are two good choices for dining.
Jan with Leisurely Drives
Check out the top reviewed places to stay around Cascade Locks here for updated prices and reviews
Explore the Cascade Locks  below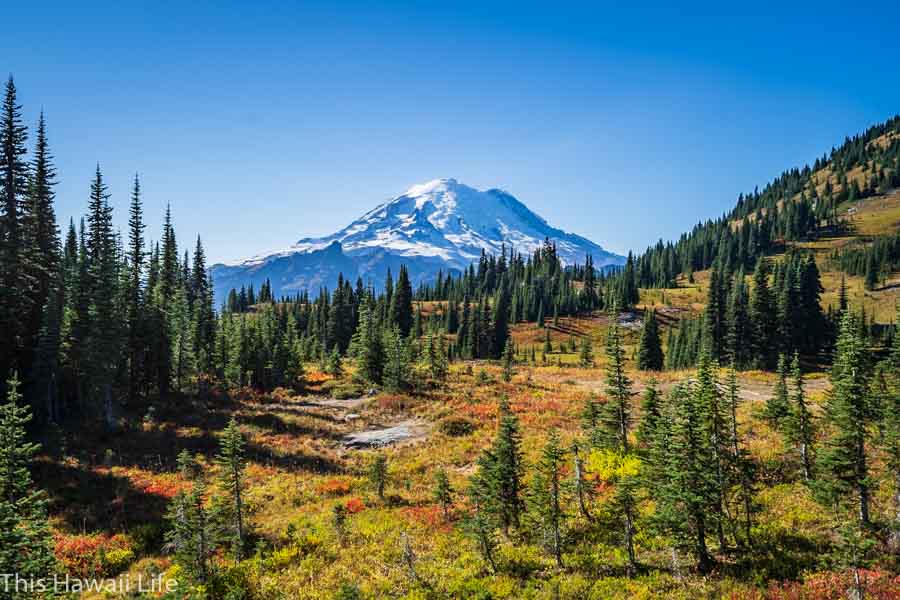 Mount Rainer National Park
Mount Rainier National Park, less than a two and a half hour drive from Portland (or 138 miles), is an excellent getaway for incredible outdoor adventures. Home to the tallest mountain in both the state of Washington and the Cascade Mountain range, the park is full of fairytale forests, fields of technicolor wildflowers, and abundant wildlife. From Portland, the most accessible area is the park's southernmost Paradise section, which you can reach by following I-5 north through Washington and then winding east through small towns of the Cascade foothills until you arrive at the park's Longmire entrance (admission is $30 per vehicle for a one-week pas). Inside the park, you'll find a stunning array of world-class hiking trails, like the Skyline Trail, with the park's most impressive displays of wildflowers, or the Pinnacle Peak Trail, which offers one of the best perspectives of the true enormity of the eponymous mountain (which towers over 14,400 feet tall!).
If you get hungry, stop by the Base Camp Bar and Grill in Ashford, Washington on your way back to Oregon, for classic food offerings (think: pizza and burgers), a rustic atmosphere, and even live music on certain evenings. The best time to visit the park is July through mid-October, when the roads are clear and most of the trails are snow-free. Past November, much of the park is closed due to heavy snowfall- but luckily for Portlanders, the Paradise section of the park is open year round and awesome to explore in the wintertime via snowshoes!
Jessica with Uprooted Traveler
Check out the top reviewed places to stay around Mount Rainer here for updated prices and reviews
There's so much to see at Mount Rainer National Park below
Visit to Eugene Oregon
Just under 2 hours heading south by car you'll get to visit the second-largest city in Oregon, Eugene. This vibrant town is the perfect day trip from Portland with a variety of fun things you must see and do while in town. Eugene is home to the University of Oregon and this vibrant city has a variety of fun activities for all age groups.
When visiting this city, we highly recommend visiting the Owen Rose Garden. The garden has over 4,500 roses in 400 varieties. Take a stroll with your loved ones through this peaceful and beautiful park while you're in town.
This city has a ton of natural beauty, if you are wanting to spend your day in nature, there are also a variety of parks you should visit, such as Hendricks Park, Mount Pisgah Arboretum, and the McKenzie River National Recreation Trail.
Another fun activity you'll want to do while you're visiting Eugene is checking out the Jordan Schnitzer Museum of Art. Located on the campus of the University of Oregon, this museum features a variety of tasteful and interesting art collections and costs $5 for adults and $3 for children.
When you're hungry, head on over to the Fifth Street Public Market for a bite to eat. Located downtown, the Fifth Street Public Market has a large variety of shops, restaurants, bars, coffee shops, breweries, and local boutiques. Although you can find a variety of different types of food in this area, one spot we love is Carlita's Rooftop for some delicious tacos.
Overall, Eugene is a fun college town that would make an excellent day trip from Portland. While visiting you'll get to check out a variety of outdoor parks and nature areas, as well as local museums and of course, delicious food!
Check out the top reviewed places to stay around
Eugene here
for updated prices and reviews
Here's a Visit to Eugene Oregon and some of the top attractions to visit below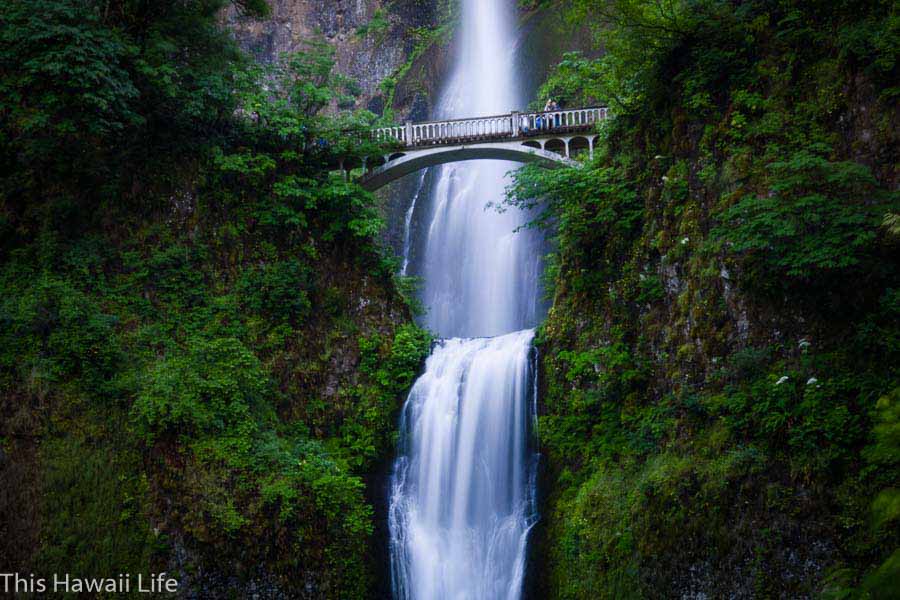 Multnomah Falls
Towering ever-green cliffs make way for epic waterfalls in Columbia River Gorge. Within America's largest National Scenic Area, a visit to Oregon's tallest waterfall, Multnomah Falls, is a must. 2.5 million annual visitors marvel at the waterfall's breathtaking view, cascading an impressive 620 feet over the ridge.
Multnomah Falls is located just off Highway 84, a 45-minute drive 30 miles east of Portland, with its own designated parking lot right across the street. As you walk past the visitor center to the first viewing platform, the two-tiered cascade flows over basalt rocks, separated by the iconic Benson Bridge.
A few hikes are available to climb up Multnomah Falls, all leading to an upper viewing deck. The most popular trail is Multnomah Falls Trail, a moderately difficult 2.4-mile loop with an elevation gain of 870 feet. On your way out, stop by Multnomah Falls Lodge for a sit-down meal or the snack shop for a quick bite and a souvenir.
Beyond Multnomah Falls, Columbia River Gorge boasts more than 90 waterfalls and an endless amount of hiking and nature trails. A few other notable falls: LaTourell Falls, Bridal Veil Falls, and Horsetail Falls.
Note: Multnomah Falls has its own designated parking area but is often full. Many opt to park at one of Columbia River Gorge's many pullouts, but most are not very close to the falls.
Catherine with Nomadicated
Check out the top reviewed places to stay around Mutlnomah Falls here for updated prices and reviews
Here's a visit to stunning Multnomah Falls below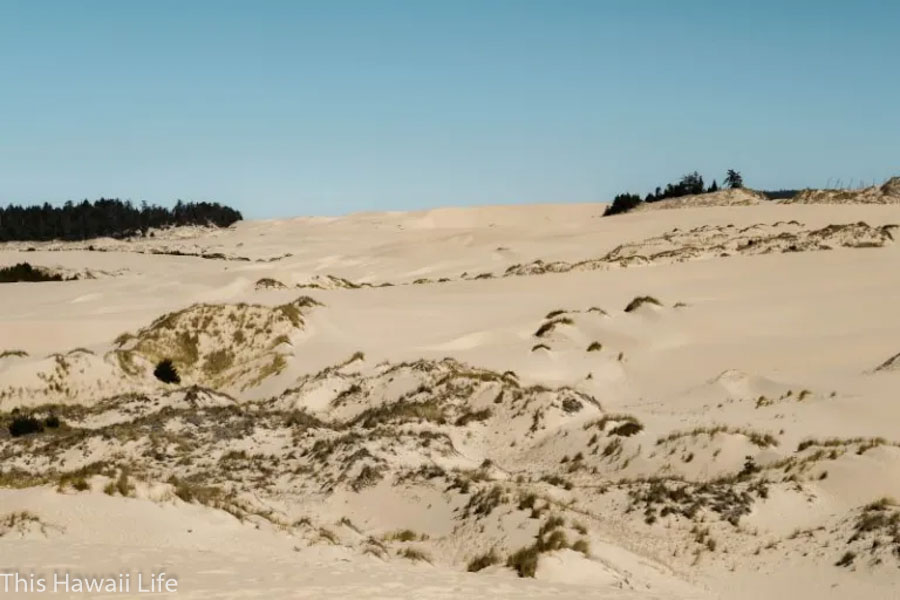 Sand Dunes Recreation Area
The Sand Dunes Recreation Area is a fantastic day trip from Portland. It is 175 miles from downtown and will take around 3 hours to drive to. You can make this longer by taking a mini road trip along the 101 and stopping at other coastal areas on the way. On the drive check out some of the best things on the Oregon Coast, including the Devil's Punchbowl, Thor's Well, and the Sea Lion Caves.
At the Sand Dunes, you can hike, rent an ATV, or camp in or near the dunes. John Dellenback Trail is one of the best trails if you are looking to hike on the dunes. This is a 5.5-mile trail that leads to the ocean, but you can also hike just part of it to experience the dunes.
If you want to do some off-roading, rent an ATV from one of several companies in the nearby towns of North Bend or Florence. Vehicles with 4WD can even drive right onto the dunes to camp in many areas.
Bring a picnic lunch to have on the sand, or head into one of the towns for some delicious Oregon seafood!
Val with Voyages with Val
The Sand Dunes Recreation Area is cool and unusual to explore below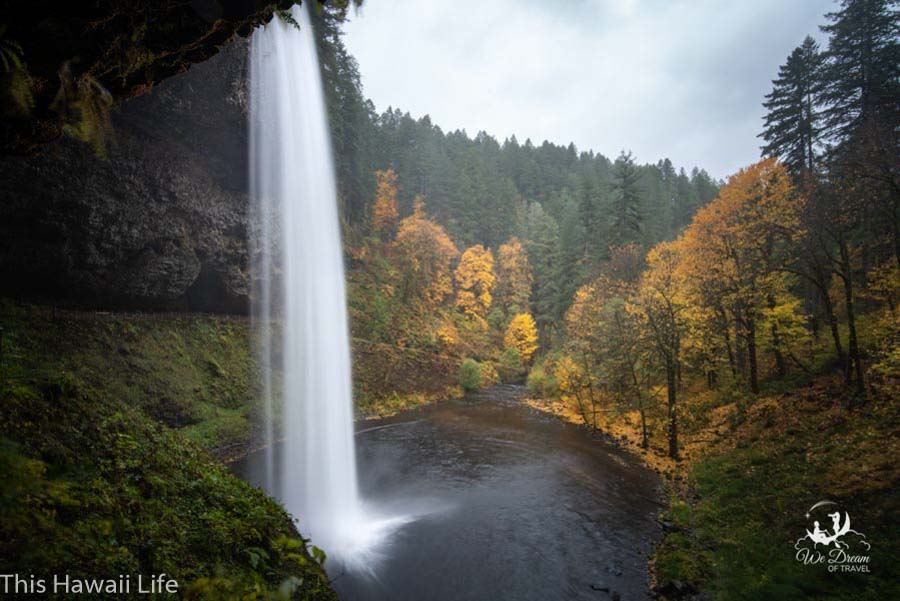 Silver Falls State Park
At around 1.5 hours (56 miles) from the city, a visit to Silver Falls State Park is one of the best day trips from Portland.  Established in 1933, Silver Falls is considered the "crown jewel" of Oregon's State Parks system.  The park encompasses over 9000 acres, including dense rainforest wilderness and a number of spectacular waterfalls.
There are a number of trails throughout the park, however, the most popular is the 
Trail of Ten Falls
.  As the name suggests, this 7.8-mile loop hike takes you past ten breathtaking waterfalls, including three that you can walk behind.
In addition to spotting majestic waterfalls, this impressive hike has visitors meandering through mist-shrouded forest, vibrant with moss, lichens, and ferns.
For those that aren't quite looking for a near 8-mile hike, don't fret!  Many of the waterfalls can be seen with just a short walk from one of the parking lots.  Additionally, there are over 35 miles of backcountry trails for mountain biking, hiking or horseback riding, as well as 4 miles of paved bike paths.
Silver Falls is easily reached by car and there is ample parking.  However, there are some tour companies that offer day trips to Silver Falls for those who do not have access to a vehicle.
Within the park the only option for food is The Big Leaf Coffeehouse & Grill at Smith Creek Village.  However, opening hours are somewhat limited.  There are more options in nearby Silverton or Sublimity.
Sophie and Adam with We Dream Travel
Check out the top reviewed places to stay around
Silver Falls here
for updated prices and reviews
How to get around Portland and outlying areas
Getting around Portland and its outlying areas is convenient and accessible, thanks to the city's well-developed transportation system. Here are the main modes of transportation you can use to navigate the Portland area:
MAX Light Rail: The MAX Light Rail is a reliable and efficient way to travel within the city and to nearby suburbs. It connects downtown Portland with various neighborhoods, popular attractions, and the airport. The MAX operates on different lines, including the Red Line, Blue Line, and Green Line, and offers frequent service throughout the day.
Bus: Portland's bus system, operated by TriMet, covers an extensive network that reaches all corners of the city and surrounding areas. Buses provide a convenient way to access neighborhoods, attractions, and business districts that may not be served by light rail. TriMet offers real-time arrival information and mobile ticketing options for easy navigation.
Streetcar: The Portland Streetcar operates in the central city area, providing a convenient way to explore downtown and nearby neighborhoods. With its modern and efficient service, the streetcar connects popular destinations such as Pearl District, Central Eastside, and South Waterfront.
Bikeshare: Portland is renowned as a bike-friendly city, and bikeshare programs like BIKETOWN offer a fun and environmentally friendly way to get around. Rent a bike from one of the many stations scattered throughout the city and enjoy cycling on dedicated bike lanes and paths.
Car: If you prefer driving, renting a car is a viable option for exploring Portland and its outlying areas. However, keep in mind that traffic and parking can be challenging, particularly in downtown Portland. Consider using designated parking garages or utilizing ride-sharing services when parking is limited.
Ride-Sharing: Services like Uber and Lyft operate throughout Portland, providing convenient and on-demand transportation. Simply use their apps to request a ride and be picked up from your location.
Regional Transit: If you're looking to venture beyond the Portland area, the regional transit system provides additional transportation options. Amtrak and Greyhound offer train and bus services, respectively, connecting Portland with other cities within Oregon and neighboring states.
When planning your trips, consider using navigation apps or websites to check schedules, routes, and real-time transit updates. Additionally, obtaining a Hop Fastpass card allows you to conveniently pay for fares across various modes of transportation in the Portland area.
More inside tips on doing a road trip from Portland
Here are some inside tips to make your road trip experience even more enjoyable:
Plan Your Route: Before hitting the road, plan your route and destinations in advance. Consider the duration of your trip, the attractions you wish to visit, and any scenic routes or detours you want to take. Researching and mapping out your route will help you make the most of your time and ensure a smooth journey.
Check Road Conditions: Keep an eye on road conditions and weather updates, especially if you're traveling during winter or in remote areas. Visit the local transportation websites or use navigation apps that provide real-time updates to avoid any unexpected road closures or hazards.
Pack Essentials: Pack road trip essentials such as a GPS or navigation system, a paper map as a backup, a first aid kit, snacks, water, and extra supplies. Having these items on hand will keep you prepared and comfortable throughout your journey.
Explore Scenic Byways: The Pacific Northwest is known for its scenic beauty. Consider driving along scenic byways like the Columbia River Gorge or the Oregon Coast Highway to enjoy breathtaking views and discover hidden gems along the way. These routes often offer opportunities for hiking, picnicking, and exploring natural wonders.
Take Breaks and Enjoy Small Towns: Road trips are not just about the destination; they're also about the journey. Take breaks along the way, explore charming small towns, and interact with locals. You'll find unique shops, local eateries, and cultural experiences that add depth to your road trip adventure.
Be Flexible: While it's good to have a planned itinerary, leave room for flexibility and spontaneous stops. Serendipitous discoveries often happen when you're open to unexpected detours and unplanned adventures. Embrace the freedom of the open road and let the journey unfold organically.
Capture Memories: Bring a camera or smartphone to capture the scenic vistas, memorable moments, and unique experiences along the road. These photographs will serve as lasting mementos of your road trip adventure.
Respect Nature and Leave No Trace: When exploring outdoor areas, practice responsible tourism. Respect nature, follow designated trails, dispose of trash properly, and leave no trace behind. Help preserve the beauty of the places you visit for future travelers to enjoy.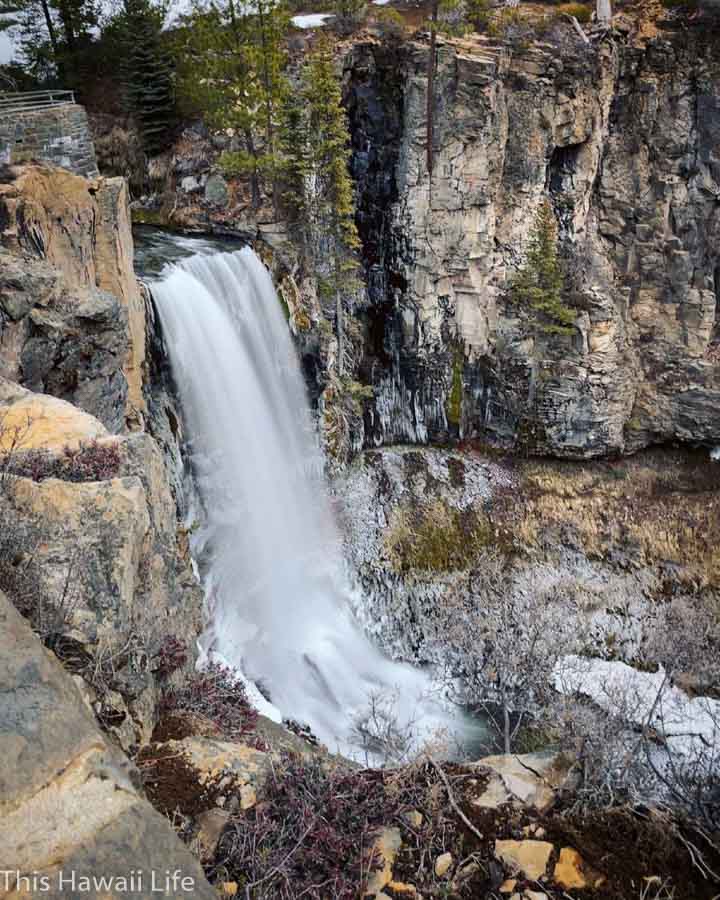 Final thoughts
Hopefully we have inspired you to visit all these fabulous places to explore outside of Portland and just a few hours drive outside of town. If we miss any other fun spots to explore, please let us know in the comments below.
Conclusion to Portland Day Trips
Doing a day trips from Portland unveils a world of captivating experiences and breathtaking landscapes that lie just beyond the city's boundaries. From the serene beauty of the Oregon coast to the lush greenery of the Columbia River Gorge, and the charming small towns brimming with local culture, each day trip promises a new adventure. Immerse yourself in the region's natural wonders, indulge in local cuisine and wines, explore historical sites, or simply revel in the tranquility of picturesque landscapes. As you venture out, you'll discover the diversity and charm that make the Portland area an enticing destination. So, pack your bags, hit the road, and let these day trips from Portland transport you to unforgettable destinations that will leave lasting memories and a deeper appreciation for the Pacific Northwest's natural and cultural treasures.
Hope that this post on day trips from Portland, Oregon was inspiring and that you will get to explore the many fantastic attractions, historic sites and landmarks to visiting the national parks around the state. If you enjoyed reading the post, please do bookmark it or share it with any of the social media buttons below.
Disclosure – some of the links above are to affiliate sites that are either reviews or recommendations if you book helps to keep our site running at no additional cost to you. We appreciate your supporting our website meanwhile.