Easter desserts and foods around the world to experience now
Easter celebrations always welcome wonderful foods that celebrate this Easter season on a spiritual, family or just a fun gathering to celebrate the holiday. I asked a few fellow travel and food bloggers to share some of their favorite foods of the Easter Season below and some fun recipes that you may want to try out on your own.
Easter dinner meals
Check out some of these amazing dishes that will make you drool and want to try for your Easter celebration or just for a nice week night meal, it definitely will make an impression for your loved ones.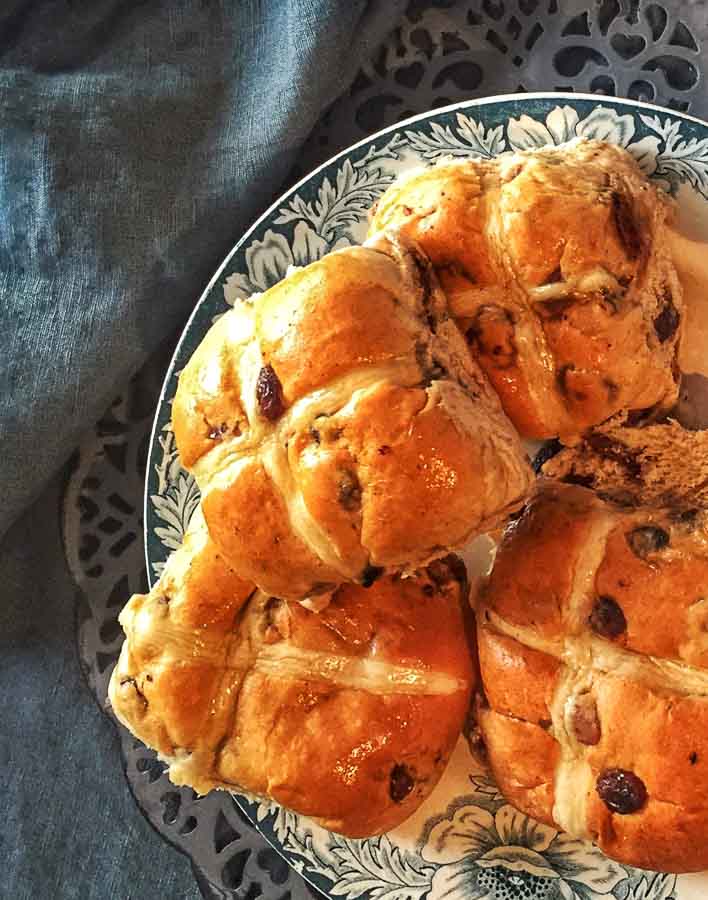 Hot Cross Buns – An English treat
You may have heard the nursery rhyme about hot cross buns but never knew what they were.  "Hot cross buns! Hot cross buns! One a penny, two a penny, hot cross buns!" This nursery rhyme comes from the call of bun vendors who would sell these traditional Easter treats for people to eat at the end of Lent.
Queen Elizabeth I thought they were somewhat decadent and ordered they could only be eaten during Easter and certain other special religious festivals. Nowadays they are popular throughout the year and sold at supermarkets. Queen Elizabeth I would not have approved.
A hot cross bun is sweet bun made with spices and raisins inside and marked with a cross on the outside. The religious symbolism of the cross is self-evident and the bun is supposed to represent Communion. In historic times, hot cross buns had a whole host of myths associated with them. For example, a hot cross bun baked on Good Friday could be used as medicine throughout the year.
Easter breakfast casserole with Kayln's Kitchen
This tasty breakfast casserole with asparagus and artichoke hearts looks perfect and a healthy alternative to a typical egg entrée which typically is filled with lots of cheese and other heavy ingredients.
Spicy deviled eggs with Savory Tooth is easy and gives you a nice kick for a deviled egg treat and is always perfect for an Easter celebration and looks fantastic.
Bourbon brown sugar pork loin with Chaos Bliss – Sweet and savory pork in a wonderful Bourbon sauce that is sure to impress all your guests. Serve with roasted potatoes and this makes a wonderful entrée for your Easter dinner.
Rillette aux Deux Saumons with A Lady in France – an elegant but not fussy pate that made with smoked salmon and it is so easy to make and a fantastic appetizer dish to prepare for a potluck or dinner gathering.
Duck a l'Orange with A Lady in France – For an extra special Easter or evening meal that really makes a statement, this recipe is easy to follow and fun to make. Your guests will definitely feel pampered for an amazing Easter dinner with this delicious duck entrée.
Ultimate whole chicken in a slow cooker with Recipe This – A sumptuous slowly roasted and crispy chicken with citrus essence that will win you some adoring fans for Easter. This classic recipe is easy and really brings out the essence of the citrus and herbs infused into the roasting.
Easter bunny bread with Thrift T's Treasures – For a fun and slightly sweet bread that is perfect for any Easter meal try this easy and cool bread bunny recipe.
Easter Desserts
After a wonderful brunch or dinner, you definitely have to present a delicious Easter dessert to put your guest in sugar bliss. These recipes range from easy to over the top decadent so definitely give some of these a try for your Easter celebration.
Italian Easter Cookies with The Monday Box – these popular Easter Cookies called Taralli  dolci pascqua are crunchy and typical of the coffee dunking type of cookies made in Italy
Cranberry orange scones with Savory Tooth – an easy and simple dessert scone to present to your guests that is drizzled with an orange zest glaze that makes the perfect touch on this lighter Easter dessert.
Cadbury crème egg cupcakes with My Gorgeous Recipes – adds a decadent finish of an entire Cadbury crème egg to the filling of these delicious cupcakes, what a bite!
Decadent profiteroles with A Lady in France – So lovely, a crème puff pastry that will be consumed so fast when they get placed on your dessert table. This will definitely be a favorite dessert served on your Easter dinner.
Chocolates at Easter time
This is popular in many countries celebrating the holiday especially in a more commercial venue many stores are capitalizing that visitors or locals want to celebrate with delicious chocolate products. You can find Chocolate bunnies, Chocolate eggs and a slew of other cutely packaged chocolate goodies to tempt any sweet tooth to come in and buy up a lot of these seasonal sweets to give or indulge in.
White chocolate Easter bark with Slap Dash Mom – a fun and peppermint infused candy that is addicted to eat and easy to make.
Easter Candy Macadamia Bark with Thrifty Jinx – Pastel inspired candy bark with Reece's Pieces eggs make this a fun Easter candy treat that everyone will love.
Thanks for visiting today and checking out this post on the Easter dessert and foods,  hopefully you'll be inspired to try out some of these recipes for Easter or just a special meal. If you enjoyed the images and post, could you please share it with any of the social media buttons located around the post.
If you like what you see, come and check out my other social media channels for more updates, including Instagram, Pinterest and Twitter