Exploring Pinnacles National Park and some cool hikes there
You wouldn't think there would be a national park in the Central part of California with mostly rolling hills, fruit orchards and miles of vineyards. That's what makes this discovery tour of Pinnacles even more impressive when you don't know what to really expect especially on the scenic pastoral drive heading into the national park. Of all the national parks in the United States, Pinnacles is so underrated and under the radar – but that is exactly what makes it appealing exploring Pinnacles National Park! Few crowds, beautiful hiking trails and spectacular landscapes and stunning vista points greet practically at every corner of the park but exploring Pinnacles National Park is really an exceptional experience worth doing if you passing through the area.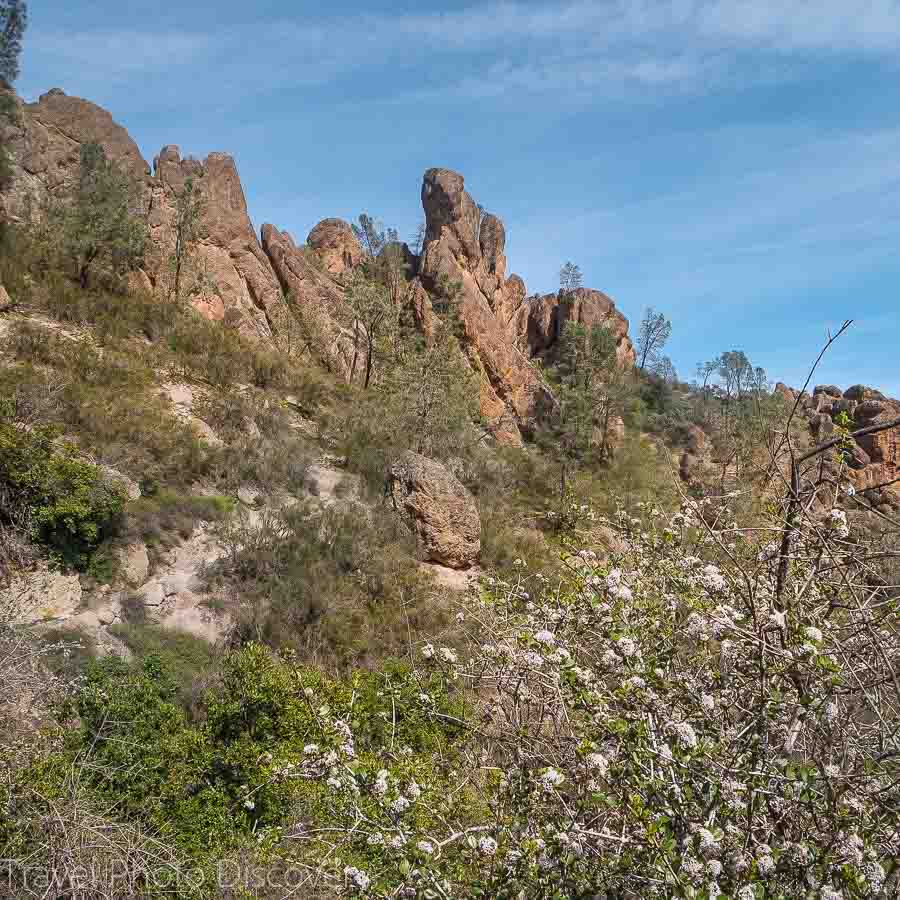 What to do and see at Pinnacles National Park
Pinnacles is about a 30 minute drive south of the largest city of Hollister in San Benito country. The road trip is pleasant –  passing through forested oak covered hills, rolling countryside with vineyards, lakes and rivers and eventually you reach the almost hidden park entrance sign on the right side that quietly announces the entrance to the park.
Tip – there is another entrance to the park on the west side through the city of Soledad.
Visit to Pinnacles National Park
Once you turn right on the to entrance, it's a short drive up to the visitors center with no grand wow moment. It's not until you actually pass the gated entry to the park where you get a small glimpse of the rugged outcrops and jagged rocks that immediately makes a first impression of Pinnacles and its unique features as a national park.
After consulting with the ranger at the visitors center, I decided to hike up the panoramic trail called the High Peaks from the Bear Gulch parking lot. This trail lets you to climb through the jagged pinnacles to the top of some of these grand rocks. The trails is about 6.7 miles roundtrip and takes between 4 to 5 hours. One of the best options is to go up through the Bear Gulch Cave area and up to the reservoir and then uphill to the High Peaks outcrops. I would consider this a moderate climb and mostly uphill, but if you take breaks to admire the views and take some photographs, it is relatively easy to do.
Tip – If you don't want to do the entire hike, just take the trip up through Bear Gulch Cave and the reservoir and it is definitely a wonderful hike to do in the lower elevation.
Hikes around Pinnacles National Park
Being outdoors and hiking around Pinnacles National Park is what it is all about in this national park with limited driving areas to get around the park. You'll find plenty of gorgeous trails from easy to more challenging hikes to do around the park and higher elevations. With the exception of the few lower trails that have cover and tree line to protect from the sun, most of the trails are exposed and extremely hot during the spring to early fall season. Be prepared to cover up, use sunscreen and bring plenty of water and snacks for energy to hike all those fun trails in the park.
Details to hiking around Pinnacles National Park
There are all different skill levels to hiking around the park, check out the main trails here for more details.
Rock Climbing is allowed in the park and you can check out the details to doing some adventure rock climbing experiences at Pinnacles here for more details.
There are no food/water concessions in the park area so make sure to pack and bring all necessary supplies for your hiking on the trail.
Climb up to Bear Gulch Cave
While the High Peaks are exposed and in full sun, climbing up to Bear Gulch Cave takes you through some of the pristine forest trails and areas that also feature sheer cliff sides which are perfect for mountain climbing. The trail starts to skirt some of these cliff facades with a large ravine on the left side. The canyon views into the ravine are pleasant but it gets even more exciting when you start heading into the cave areas. These are narrow canyons etched by streams flowing through the middle while large boulders have crashed into the canyons and creating interesting caverns and cave areas to explore and continue and upward hike through these fascinating formations. Some parts of the trail are quite low, so you definitely have to duck and almost crawl through a few tricky areas, but it's all fairly easy and fun to explore this space. It's really amazing to witness how such a small stream can create these steep canyons with boulders creating these cave formations, there are actual caves in the area, but are off limits to casual hikers in the park.
Tip – outside of the spectacular views – notice all the details on the rocks, lichen and minerals like below – it is fascinating to photograph and see up close.
Heading out through narrow trails and shallow rock facades to Bear Gulch Cave
Entering Bear Gulch cave area
Towards the end of Bear Gulch cave, you have to climb up some very wet and narrow stairs leading up through the canyons and facing a sweet waterfall. At the top you are rewarded with views of the reservoir sitting above the caves and you can go around the lake or continue your hike upwards towards the High Peaks. Along the way you'll find some early spring flowers like Indian Paintbrush, snow drops and manzanita bush flowers greet you with colorful displays on the trails.
Tip – take your time climbing up the very narrow staircase, it is wet and slippery from the water seeping down the stairs.
Passing the Reservoir above Bear Gulch cave
Climb up to the Hike Peaks
Your about half way to the High Peaks on the park and its a continual winding pathway through forested areas, open chaparral fields and then more rocky outcrops that you will slowly be passing through along with other rock outcrops until you start to come across a wholes series of rocky outcrops that you still have to walk around and not start to climb many of these impressive rock facades. The curving and uphill trails passes through even more collections of different wildflowers ranging from Indian Paintbrush, lobelia, California poppies to these lovely purple snowdrops below.
Striking Manzanita tree bark
The wildflowers are blooming towards the High Peaks
The climb up to the High peaks continues  through many curved portions of the trail and passing through forest areas into chaparral landscape, then to open meadow areas tapering off into narrower trails skirting the rock outcrops. Eventually you will follow the pathways to the many outcrops and rock formations at the peak that you can explore and even climb some of the more challenging peaks at Pinnacles.
Exploring the High Peaks area
High Peaks
The trail keeps on going through the many pinnacles to explore and you can take the roundtrip hike back to the Bear Gulch or take another hike back through the same area but with a different route not going through Bear Gulch Cave.  There's so much to explore up at the crest, but make sure you have plenty of time to make it back to the parking lot before nightfall when it gets really dark in the park.  Fortunately the hike back downhill is not as strenuously but do keep an eye out for shady areas where it can be hard to see anything tricky along the route.

Heading back downhill to Bear Gulch parking lot

Stopping by Bear Gulch visitors center
At the bottom of Bear Gulch and the parking lot is the visitors center which has a fantastic little museum and a wonderful video worth watching to get a more comprehensive feel to the wildlife and fauna along with interesting historic background and details of the early settlers in the area.  This a great spot for picnicking or just using the restroom before you head out of the park.
Additional Pinnacles hiking trails
If you are planning on spending more time to explore and do more hiking, there's plenty of trails to choose from that will fit your time and needs. Check out the best trails to explore here for more information to planning a fantastic hiking experience at Pinnacles National Park.
Hotel accommodations close to Pinnacles National Park
There are no accommodations at Pinnacles National park outside of camping, so the closest options are from the city of Hollister 30 miles north or about 10 miles to Soledad on the west side entrance. Here are some good and comfortable options below from different entrances to Pinnacles.
Hollister area hotels
Joshua Inn Bed & Breakfast – a gorgeous Victorian Inn with great breakfast service and hospitality
Casa de Fruta – original an old working fruit farm converted into a rest area and RV park with a nice hotel with comfortable and modern amenities
Hacienda de Leal – a rustic mission style hotel with modern amenities in nearby San Juan Bautista. Has a great breakfast buffet, spacious rooms and nice outdoor landscaping
Here are a few more TripAdvisor choices in the vicinity of Hollister
Soledad area hotels
Inn at the Pinnacles Bed and Breakfast – just outside the west entrance of the park, this inn located in a beautiful vineyard is quiet, wonderful owner/hosts and great breakfast service
Here are some other Trip Advisor locations located on the west entrance to check.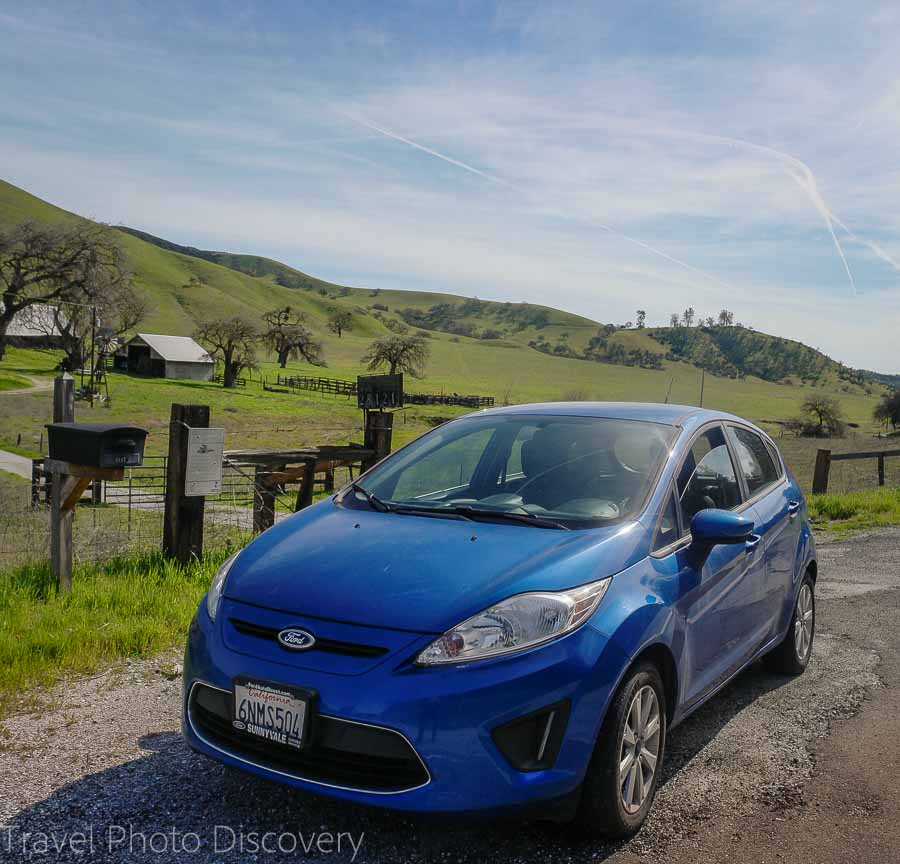 Your car for exploring Pinnacles National Park
You definitely need a rental car to get to and visit different parts of the Napa Valley. Depending on where you start (Napa city, San Francisco or other location) your vacation, you can find car rental agencies available throughout the Napa Valley. You can check out the following car rental agencies below for current prices and car availability based on when you go.
Priceline car rentals – name your price for 40% off car rentals
Travelocity – search for car rental deals
More Details for exploring Pinnacles National Park
East entrance of the park is open 24 hours daily, 7 days a week
Pinnacles visitors center hours – 9:30 – 5pm daily
Phone – (831) 389-4485
Pinnacles National parks website here information for more details and visiting the park
West entrance of the park 9am – 4:30 pm daily and weekend
Phone – (831) 389-4427 x4487
Food / Dining – there are no food or dining concessions in the park so pack your own snacks and picnic food.
Camping is permitted in the park on the east side of the park and you are allowed to make reservations, check out the camping information here for more details.
If you enjoy this post, please pin it!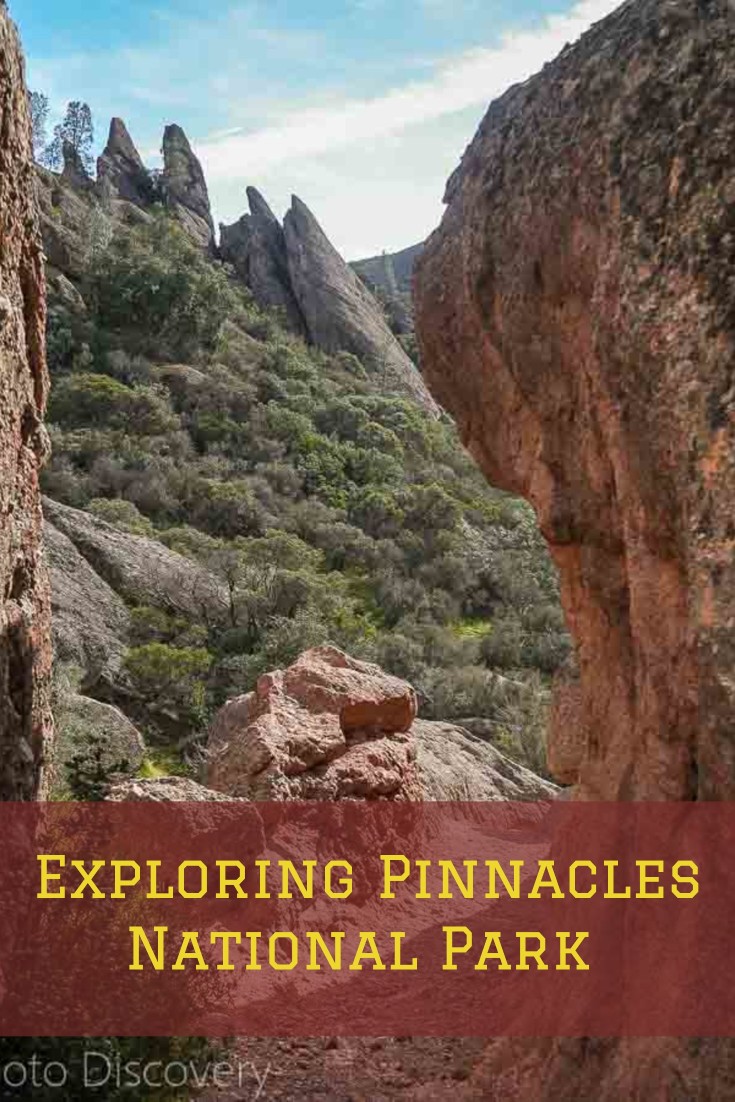 Thanks for visiting today and checking out this post on a Exploring Pinnacles National Park, if you enjoyed the images and post, could you please share it with any of the social media buttons located around the post.
If you like what you see, come and check out my other social media channels for more updates, including Instagram, Pinterest and Twitter
Some links in this article are affiliates which provide a small commission to support this site at no extra cost to you. Thank you for reading, and happy travels