Exploring Plovdiv: Unveiling the Enchanting Charms of Bulgaria's Oldest City

(updated 2023)

There some places on the Earth, which have something really unique, but since they are "behind the shadow" of the famous destinations, they often remained unnoticed by many travelers. One of these places is Plovdiv- a city, proven to be the oldest constantly living one in Europe and one of the oldest in the world.

Plovdiv is the second largest city in Bulgaria. It has been established at least 4000 years ago or more (nobody knows exactly). And since it has never been destroyed and abandoned, it has a long history, which traces remained in the city as historic layers. Yes, there were destruction and wars, but after such events, the city was immediately rebuilt over the destroyed remnants. As a result of this process of layering, now the remains of the Roman period, for example, lay around 8 m below the modern level of the streets.
How to reach Plovdiv?
The best way to reach Plovdiv is by airplane to Sofia, the capital. Then take the subway to the Central Bus Station and take a bus to Plovdiv, for 14 BGN (which is equal to 7 EUR). You will arrive in Plovdiv for about 2 hours.
Or if you find a low-cost air company like Ryan Air, you can arrive in the smaller Plovdiv Airport, then by taxi for about 10 BGN move to the center of the city.
Where is Plovdiv?
The second largest city of Bulgaria, Plovdiv is located in South Central Bulgaria and banks of the Maritsa River. Also considered the province of Southern Bulgardia with 18 municipalities with a population of 700,000 citizens . Less than a two hour bus ride from the capital city of Sofia, Plovdiv has maintained most of it's striking architecture and old town ambiance.The region is lush with three main rivers in the province called the Maritsa, Stryama, Pyasachnik rivers. The unique mixture of etnicities of the province include Turks, Bulgarians, Russians, Armenians, Romani and Greeks makes this a fascinating and delicious foodie city to explore.
Weather and best time to visit Plovdiv
Plovdiv, Bulgaria, experiences a temperate climate with distinct seasons. Here's some information about the weather and the best time to visit Plovdiv:
Plovdiv enjoys warm summers and cold winters. During the summer months of June to August, temperatures in Plovdiv range from 77°F to 89°F (25°C to 32°C), making it an ideal time to explore the city's outdoor attractions and attend cultural events like the Plovdiv Summer Festival. However, it's worth noting that summers can be hot, so be prepared for higher temperatures and occasional heatwaves.
Spring (April to May) and autumn (September to October) offer milder temperatures and are considered the best times to visit Plovdiv. The weather is pleasant, with temperatures ranging from 55°F to 75°F (13°C to 24°C). These seasons bring beautiful blossoms in spring and vibrant colors in autumn, making it a delightful time to explore Plovdiv's historical sites and enjoy outdoor activities.
Winter in Plovdiv, from December to February, is cold with temperatures averaging between 30°F and 45°F (-1°C to 7°C). Snowfall is common during this time, creating a charming winter atmosphere. If you don't mind the cold weather, visiting Plovdiv in winter offers a unique opportunity to experience the city's festive decorations, winter markets, and cultural celebrations.
Considering the weather and the overall experience, the best time to visit Plovdiv is during the spring and autumn seasons. The mild temperatures, coupled with fewer crowds, allow for comfortable exploration of the city's architectural wonders, such as the Ancient Theatre of Plovdiv and the Old Town.
Remember to check the specific dates of festivals and events in Plovdiv that might interest you, as they can enhance your visit. Additionally, be sure to pack appropriate clothing for the season and check the weather forecast before your trip to make the most of your time in this enchanting Bulgarian city.
Top things to see and do in Plovdiv, Bulgardia
So, no wonder that such a long history created a lot of points of interest in Plovdiv. Not only that, but the city is located on and around six hills in the middle of a large plain. Thus the natural conditions add even more to its image. And Plovdiv has not only tourist places, but it has its own rich cultural life, which can be richly experienced by visitors.
 Once you reach Plovdiv, you have a lot of things that you can do and experience around the city.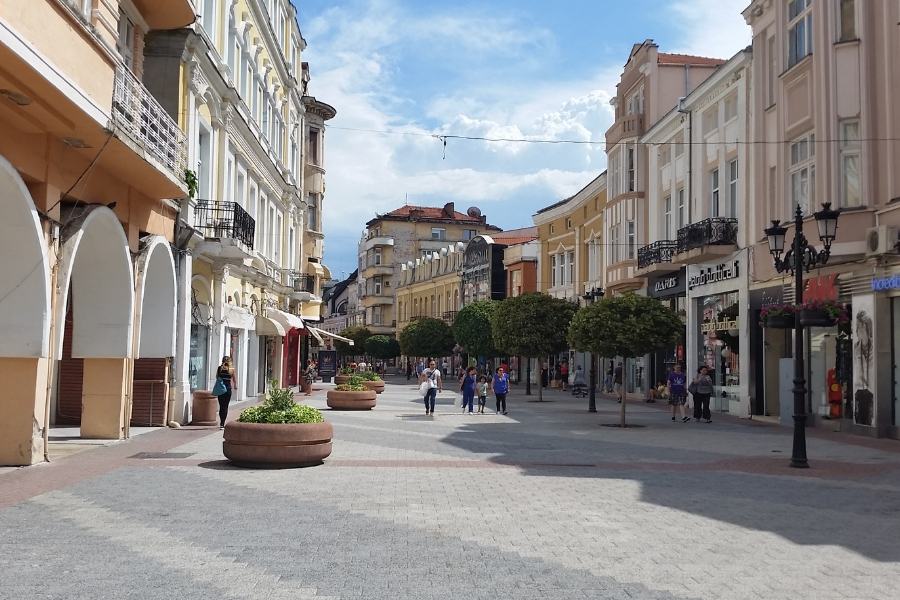 1. Plovdiv's Central Square and Main Street
This is the favorite area for a walk of the Plovdiv citizens and tourists. The best and traditional start of your walk begins from Trimontium hotel bus stop. Then you pass Central Square and make a walk on the longest pedestrian street in Europe (with total length 1,8 km)- the Main Street (Glavnata). It features a lot of shops, cafes, restaurants, and cultural centers. You can also see many attractions, presenting the spirit of the living city like open-air performances, shows and many others.
The Main Street passes through two important squares. The first one- Stefan Stambolov Square (called by locals "Kopchetata", and if you are asking them where is it, just say this name, not the official name!) with its fountains, is a favorite place for many events, especially folklore performances from all over the world. The second one, called "Dzhumayata" is prominent with its Roman Stadium and Dzhumaya Mosque- two remains from two different eras from the city's history.
 But the most interesting fact about Main Street is that it is built over the long Roman Stadium (a perfect example of Plovdiv's multilayer history). Now, this stadium is hidden about 8-9 m underground and you can see only its northern end in Dzhumaya Square, as well as some other parts from glass floors in some shops.
 Here's a look at the beautiful promenades, squares and important attractions around Plovdiv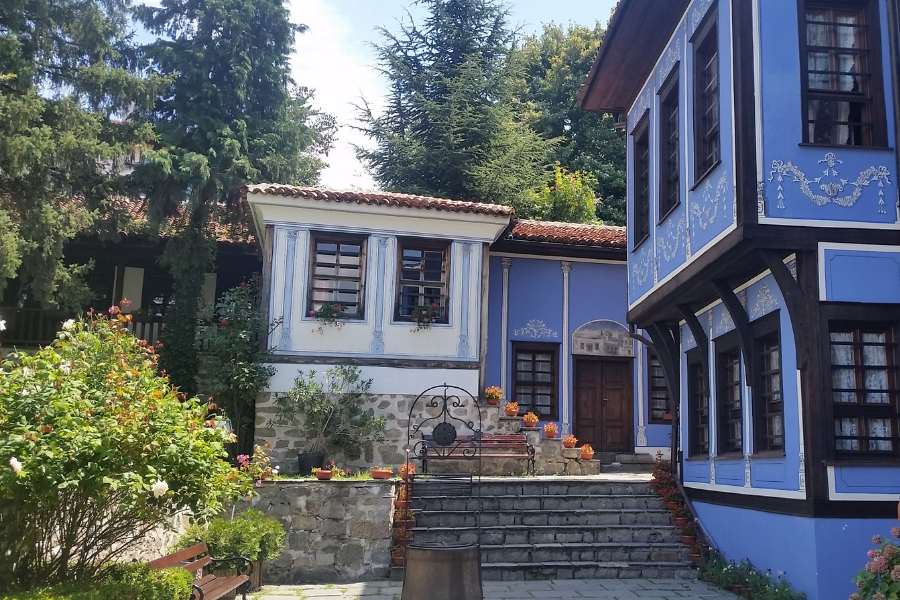 2. Plovdiv's Old Town
East of the Main Street is Plovdiv's Old Town. It is built on a hill with three peaks. Unlike many Old Towns in the world, this one is very calm and clean, even mysterious in some places. It represents traditional Bulgarian houses from the 19th century, as well as older remains from Byzantine, Old Bulgarian, Roman, and Thracian eras. Here you can walk on its silent narrow streets, you can visit some of the houses, now turned into museums like Balabanova house, Hindliyan, and especially the Ethnographic Museum.
Here you can visit also one of the oldest Eastern Orthodox churches in the world- St. Constantin and Elena. Some other landmarks of the Old Town and whole Plovdiv are:
– Hisar Kapiya- a Medieval arc, part of one of the ancient walls of the city.
– Nebet tepe peak, where you can find the oldest remains of Plovdiv, dating back to 4000 years ago, as well as the best panoramic view of the city.
– Roman Theater- one of the largest semicircle Roman Theaters in the world, now a favorite place for open-air performances- from symphonic and opera, ethno folk, to gothic metal live shows.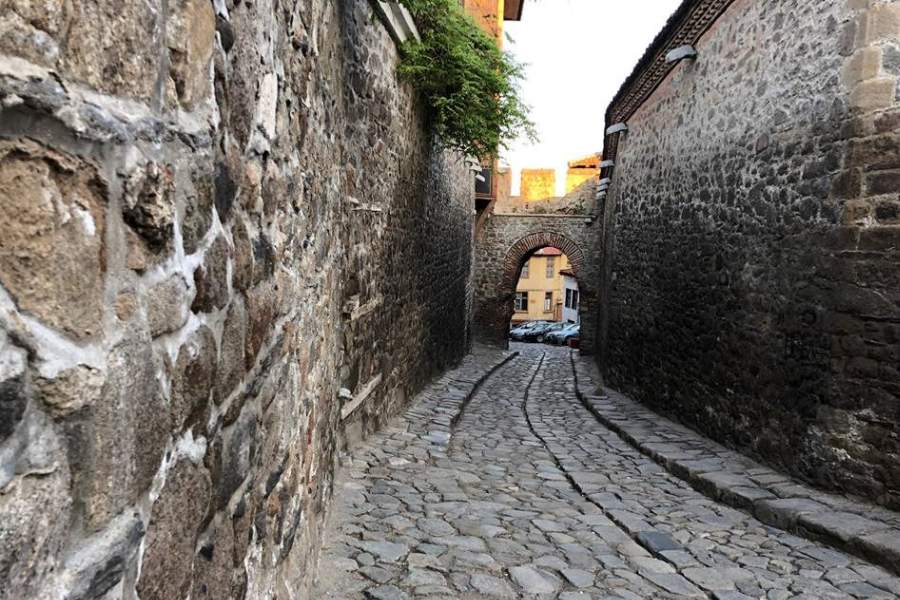 3. Maria Louiza boulevard
This boulevard is located east of Main Street and features a few historical sites. The first one is the ancient Roman house Eirene, now turned into Trakart Museum, where you can see remains of 3-4th century AD. The second one is the Great Basilica and the ancient Synagogue- remains of some of the oldest Christian and Jewish religious buildings in the world. Now it is a candidate for UNESCO Heritage. And the third one is the Small Basilica, now turned into a modern architectural style museum.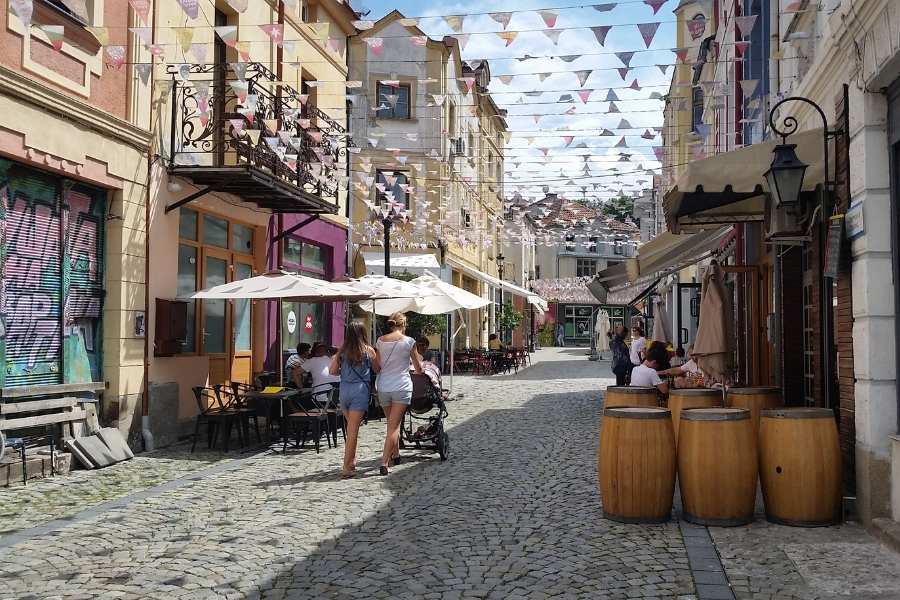 4. Kapana (The Trap)
Kapana is a small quarter near Old Town, with a network of many short streets, where you can easily get lost (that's why it is called "The Trap"). This place represents the best cafes, restaurants and souvenir shops in Plovdiv. It is full of art and culture, and here is the place of Plovdiv's nightlife, in bars like The Nylon, Cat and Mouse, Terzo Mondo, Central Perk and many others.
 Here's  quick walk around Kapana with all the small streets in the area.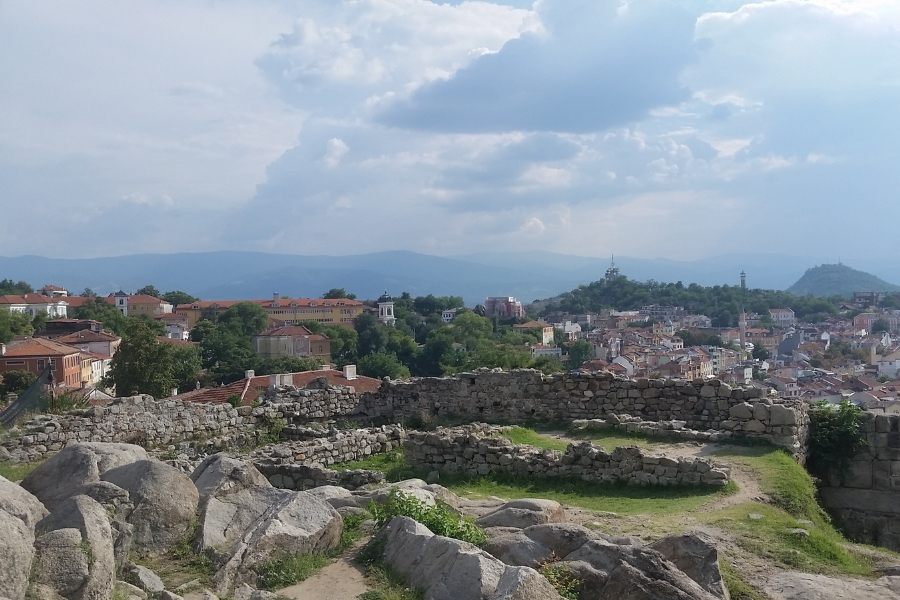 5. Other (further) places
Plovdiv is also famous with its hills. You can climb Sahat Tepe, Bunardzhika and Dzhendem Tepe and enjoy some great panoramic view of the city, the Thrakia plain and the distant mountains around. There are also many parks, like Central Park, with its Singing Fountains evening show, and Rowing Canal park (a place of many rowing contests for the Cup of Europe and even World Cup).
Other things to do around Plovdiv
Plovdiv has plenty of things to offer for various people, with various tastes and styles to do. So, a longer visit to this city is really worth. When you prepare for your trip to Plovdiv, see the following ideas:
Exploring the history of Plovdiv
Plovdiv, located in the heart of Bulgaria, is a city steeped in rich history that dates back thousands of years. Its origins can be traced back to the Neolithic period, making it one of the oldest continuously inhabited cities in Europe.
The city has witnessed the rise and fall of various civilizations throughout its history. It was initially settled by the Thracians, a prominent ancient civilization in the region. The Thracians were later conquered by the Persians, followed by the Macedonians under the rule of Alexander the Great.
During the Roman era, Plovdiv, known as Philippopolis at the time, flourished as a major urban center. The Romans left a lasting imprint on the city, constructing impressive structures such as the Ancient Theatre, which still stands today as one of Plovdiv's most iconic landmarks. Other Roman remnants include the Roman Stadium, the Roman Forum, and various exquisite mosaics.
In the Byzantine period, Plovdiv became an important fortress city and a center of trade and culture. It experienced both prosperity and devastation during the Middle Ages, enduring invasions by the Bulgarians, Crusaders, and Ottoman Turks.
Under Ottoman rule, Plovdiv retained its significance as an economic and cultural hub. The city's architecture was influenced by Ottoman and Bulgarian Renaissance styles, resulting in a unique blend of Eastern and Western aesthetics. Magnificent examples of this architectural fusion can be seen in the charming Old Town, with its well-preserved 19th-century houses and narrow cobblestone streets.
Following Bulgaria's liberation from Ottoman rule in 1878, Plovdiv underwent a period of modernization and urban development. It became a center for arts, education, and industry, further enhancing its cultural importance within the country.
Plovdiv- European Capital of Culture 
Maybe the best reason to visit Plovdiv iis the nomination of the city as European Capital of Culture. Next year will be very special. There is a rich program of events, planned for this year which you really should not miss- open-air shows, live concerts, exhibitions and many more. For more information see (here: http://plovdiv2019.eu/en).
 So, if you have ever thought to make a trip to the Balkans, look to Bulgaria! If you look to Bulgaria, aim at Plovdiv!
6. Getting into the art and cultural and history of Plovdiv
Plovdiv is full of culture too. There are a lot of symphonic, folklore, jazz and pop-rock concerts arranged not only in the main city halls, but also in open air places like Roman Stadion, Roman Theater, and the squares of the Main Street. There are also many exhibitions, some of them again made in open air locations. Sometimes you can see various kinds of events, organized on the streets of the central area, as well as Old Town and Kapana.
7. Enjoy the nightlife in Plovdiv
Plovdiv's nightlife is a vibrant and energetic scene that caters to a diverse range of tastes and preferences. The city comes alive after sunset, offering locals and visitors a plethora of entertainment options. From cozy pubs and trendy bars to lively clubs and music venues, there is something for everyone to enjoy. T
he Kapana district, known as the "Trap," is particularly popular for its bustling nightlife, with its narrow streets lined with bars and restaurants. Whether you're in the mood for live music, DJ sets, cultural performances, or simply sipping cocktails while socializing with friends, Plovdiv's nightlife scene promises an exciting and memorable experience that lasts well into the early hours of the morning.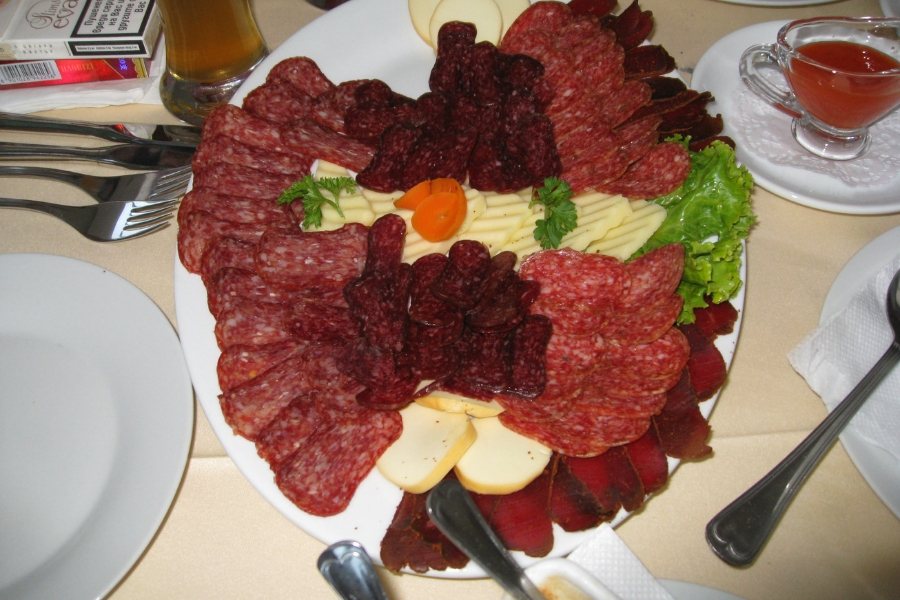 8. Tasting the local food around Plovdiv
Plovdiv's local food is typically traditional for Bulgaria. There are a lot of meals by meat- mainly chicken and pork. From the vegetables- potatoes are favorite. There are a lot of milk products- yogurt, white and yellow cheese, used in main meals, breakfast, or salads. Some typical Bulgarian food, traditional for Plovdiv is:
– Banitsa- a pastry filled with cheese or other food ingredients
– Lukanka- a favorite sausage, made mainly by beef
– Katma- a type of pancake, usually large and thick, which can be filled with many things
– Duner- a rolling bread, filled with chicken, lamb or beef, fries and sauce, from the Turkish-Arabic origin
– Musaka- a delicious meal with potatoes, milled meat, and eggs
– Gyuveche- another delicious meal with potatoes, cheese, meat and mushrooms, cooked in a pottery
– Shkembe chorba- a Bulgarian traditional soup, made by pig's belly, with garlic and hot spices
 Here's a food highlight of what to try in Plovdiv
9. Trying the Plovdiv wine
Plovdiv is located in the fertile Thracian plain, with some of the best vineyards not only in Bulgaria but in the whole world. A famous traditional wine is Mavrud- specific only in this region.
Trying the Plovdiv wine is a delightful experience that unveils the region's rich winemaking heritage and the exceptional quality of its wines. Plovdiv, situated in the fertile Thracian Valley of Bulgaria, boasts a long tradition of viticulture dating back centuries.
When indulging in Plovdiv wine, one can expect to encounter a diverse selection of varietals that showcase the unique terroir of the region. The local winemakers skillfully cultivate both indigenous and international grape varieties, resulting in an impressive array of red, white, and rosé wines.
For red wine enthusiasts, Plovdiv offers robust and full-bodied options such as Mavrud, a native grape known for its deep color, intense flavor, and hints of dark fruits and spices. Another noteworthy red grape variety is the Rubin, a crossbreed between Nebbiolo and Syrah, known for its velvety texture and rich, complex character.
White wine lovers will be delighted by the aromatic and crisp selections available in Plovdiv. The Chardonnay and Sauvignon Blanc wines from the region exhibit a refreshing acidity, along with vibrant citrus and tropical fruit notes. Additionally, the local Dimyat grape, an ancient Bulgarian variety, produces elegant and aromatic white wines with delicate floral and fruity nuances.
One of the best ways to explore Plovdiv's wine culture is by visiting the numerous wineries and vineyards in the surrounding countryside. Wine tours offer an immersive experience, allowing visitors to learn about the winemaking process, stroll through picturesque vineyards, and, of course, savor a range of exquisite wines in tastings led by knowledgeable sommeliers.
 Why you should try the wines from around Plovdiv, here's a wine tasting experience below
10. Hiking the Plovdiv hills
There are few hills- landmarks of Plovdiv- Trimontium of the Old Town, Sahat Tepe (with its old Clock Tower and modern TV tower), Bunardzhik (with Alyosha monument) and Dzhendem tepe. The panoramic views from their peaks are really breathtaking!
The hills surrounding Plovdiv offer a myriad of hiking trails that provide nature lovers and outdoor enthusiasts with breathtaking views, tranquil surroundings, and opportunities for exploration. Here are a few notable hiking trails in the area:
Bunovo Trail: Located in the Rhodope Mountains near Plovdiv, the Bunovo Trail takes you through lush forests, meadows, and picturesque landscapes. The trail offers a moderate level of difficulty and rewards hikers with stunning vistas of the surrounding mountains, as well as the chance to discover hidden waterfalls and diverse flora and fauna along the way.
Sahat Tepe Trail: Sahat Tepe, or Clock Tower Hill, is one of the iconic hills in the heart of Plovdiv. This trail provides a relatively easy hike, making it suitable for all skill levels. As you ascend, you'll be treated to panoramic views of the city, including its charming Old Town and the Maritsa River. The trail also passes by historical landmarks, such as the ancient Roman theater and the Nebet Tepe fortress ruins.
Hisarya Hiking Trail: Located a short distance from Plovdiv, the town of Hisarya is known for its mineral springs and ancient Roman ruins. The hiking trail in Hisarya takes you through the scenic Sredna Gora Mountains, offering a combination of natural beauty and historical sites. Along the trail, you'll encounter archaeological remains, including Roman baths and fortifications, as well as picturesque landscapes dotted with wildflowers and rock formations.
Belintash Trail: Situated in the Rhodope Mountains, the Belintash Trail is a captivating journey that leads you to the mystical Belintash rock formation. The trail can be challenging, but the awe-inspiring views and the sense of being in a sacred place make it worth the effort. Belintash is believed to be a spiritual site with mystical energies, and reaching its summit rewards hikers with panoramic vistas of the surrounding mountains and valleys.
Perushtitsa Eco-Path: Perushtitsa, a charming town near Plovdiv, offers an eco-path that combines hiking with cultural exploration. The trail guides you through the town's beautiful surroundings, passing vineyards, orchards, and meadows. Along the way, you can visit local wineries and immerse yourself in the rich winemaking traditions of the region. The eco-path also takes you to historical landmarks, such as the Church of St. Archangel Michael and the Perushtitsa Museum.
These hiking trails around the hills of Plovdiv provide an opportunity to connect with nature, discover hidden gems, and embrace the region's natural and cultural heritage. Whether you're seeking adventure, tranquility, or a blend of both, these trails offer an unforgettable hiking experience for outdoor enthusiasts of all levels.
11. Taking one day trips from Plovdiv
You can take a bus or rent a car, then you can go to many great places within 20 to 80 km around Plovdiv. Most of them are south of the city, in the beautiful Rhodopi mountain range- both historical and natural. Among them- Asenova krepost (a medieval fortress with a church), Bachkovo monastery- a large Orthodox monastery in a beautiful gorge, Wonderful Bridges- natural rocky bridges and tunnels in high mountain fir-spruce forest, and many more.
 If you are into nature then take this day trip from Bachkovo Monastery and the Red Wall Reserve below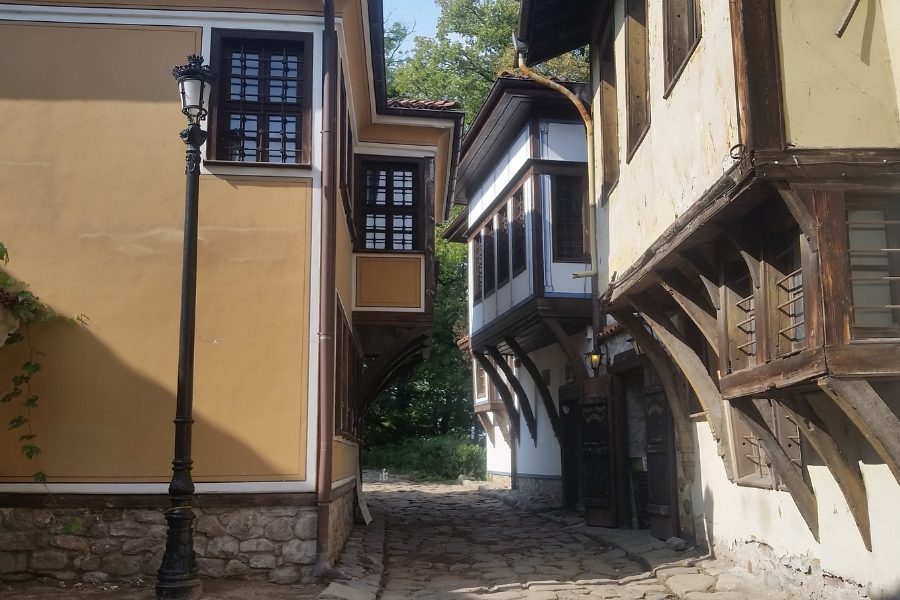 More inside tips to visiting Plovdiv
Explore the Old Town (Plovdiv's Kapana): Take your time to wander through the narrow cobblestone streets of Plovdiv's Old Town, also known as Kapana. This vibrant neighborhood is filled with charming cafes, art galleries, and boutiques. Discover hidden gems, admire the colorful architecture, and soak in the bohemian atmosphere.
V
isit the Ancient Theatre of Plovdiv: Don't miss the chance to see a performance or simply explore the well-preserved Ancient Theatre of Plovdiv. With its rich history and stunning views, it's an iconic landmark that offers a glimpse into the city's past. Check the schedule for concerts, plays, and cultural events held at the theater.
Climb the Plovdiv's Hills: Plovdiv is known as the city of seven hills, and climbing them offers breathtaking panoramic views of the city. Head to Nebet Tepe or Bunardzhik Hill to capture stunning vistas and witness the fusion of ancient and modern Plovdiv.
Taste Bulgarian Cuisine: Indulge in the flavors of Bulgarian cuisine during your visit. Don't miss the chance to try traditional dishes like banitsa (a pastry filled with cheese), kebapche (grilled minced meat), and shopska salad (a refreshing mix of tomatoes, cucumbers, peppers, and cheese). Explore local restaurants and eateries to savor authentic Bulgarian delicacies.
 Engage with the Local Culture: Plovdiv is a city with a rich cultural scene. Take the time to visit art galleries, attend live music performances, and explore the vibrant street art scene. Check out the cultural calendar for festivals, exhibitions, and events happening during your visit, as they provide unique insights into the local arts and traditions.
  Visit the Regional Ethnographic Museum: Immerse yourself in Bulgarian folklore and heritage at the Regional Ethnographic Museum. It showcases traditional costumes, crafts, and artifacts that provide a deeper understanding of Bulgarian culture and history.
 Take a Walk along the Maritsa River: Enjoy a leisurely stroll along the banks of the Maritsa River, which runs through Plovdiv. The riverfront offers a peaceful ambiance, picturesque views, and a chance to relax in nature. Consider having a picnic or stopping by a riverside café for a delightful break.
Engage with the Locals: Bulgarians are known for their warm hospitality. Strike up conversations with locals, seek their recommendations, and immerse yourself in their daily lives. It's an excellent way to gain insights into the city's culture and traditions.
By embracing these insider tips, you'll have a more immersive and enriching experience while exploring the charming city of Plovdiv.
 Where to stay around Plovdiv?
A very beautiful and affordable place to stay for different kinds of accommodations, there are small inns, hotels and Air Bnb units to choose from. Check out the top reviewed places to stay here for information.
Hotel Jagerhof – a modern and comfortable stay with modern amenities, good service and located in the central business district
Hillhouse Plovdiv – a boutique inn close to the old town, nice amenities, service and hospitality to the modern interior
Ramada Plovdiv Trimontium – a classic style hotel in the heart of the city and priced affordably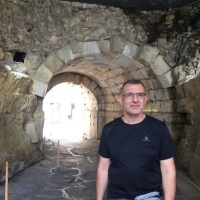 Guest post bio
KRASEN JELYAZKOV is a traveler from Bulgaria. He has visitedcountries in the Balkans, Middle East, Middle Asia, East and Southeast Asia.Currently he is living in China with his wife and travel mate Ying Ying and hischildren, and currently working as an English teacher. This year they started anew travel blog, called Journey beyond the Horizon. The main idea of the blogis to share and give valuable information about the geographical and historicalside of destinations, lands, and also to provide travel tips, related withexploratory type of travel. Along with the blog, they are planning longdistance on land route trips, such as crossing continents from west to east,from north to south, as well as many other, mainly off the beaten trackdestinations.
Here is Krasen's information:
Travel blog: www.journeybeyondhorizon.com
Facebook: www.facebook.com/journeybeyondhorizon
Twitter: www.twitter.com/JourneyBHorizon
Instagram: www.instagram.com/journeybeyondhorizon
Pinterest: www.pinterest.com/journeybeyondhorizon
Conclusion to visiting Plovdiv, Bulgaria
Plovdiv, Bulgaria, beckons with its rich history, charming Old Town, vibrant culture, and warm hospitality. Explore ancient sites, immerse in the bohemian atmosphere, indulge in local cuisine, and take in the city's natural beauty. With its diverse experiences, Plovdiv promises an unforgettable journey through time and culture.
So now that your sold on visiting, here are some of the fantastic attractions, historic sites and landmarks to explore, go ahead and bookmark this post for what to do and see when you visit Plovdiv. If you enjoyed this post, please share this post on the social media channels below.
Disclosure – some of the links above are to affiliate sites that are either reviews or recommendations if you book helps to keep our site running at no additional cost to you. We appreciate your supporting our website meanwhile.