Experience the best farmers markets on Hawaii Island now (updated)
I love going to our local farmers markets in Hawaii, it's so much nicer to enjoy the day outside and shop for your produce from local purveyors that grow direction from the land or distribute from local sources. Plus your guaranteed to eat cheap in Hawaii when you visit the local farmers markets in the area. There are many daily markets that happen around the island but my favorite is the Sunday market is just down the block from where I live in Orchidland, it's the Maku'u farmers market along highway 130. Outside of Maku'u the farmers market in Hilo is open 7 days again and usually a big draw on the popular days each Wednesday and Saturday in Hilo.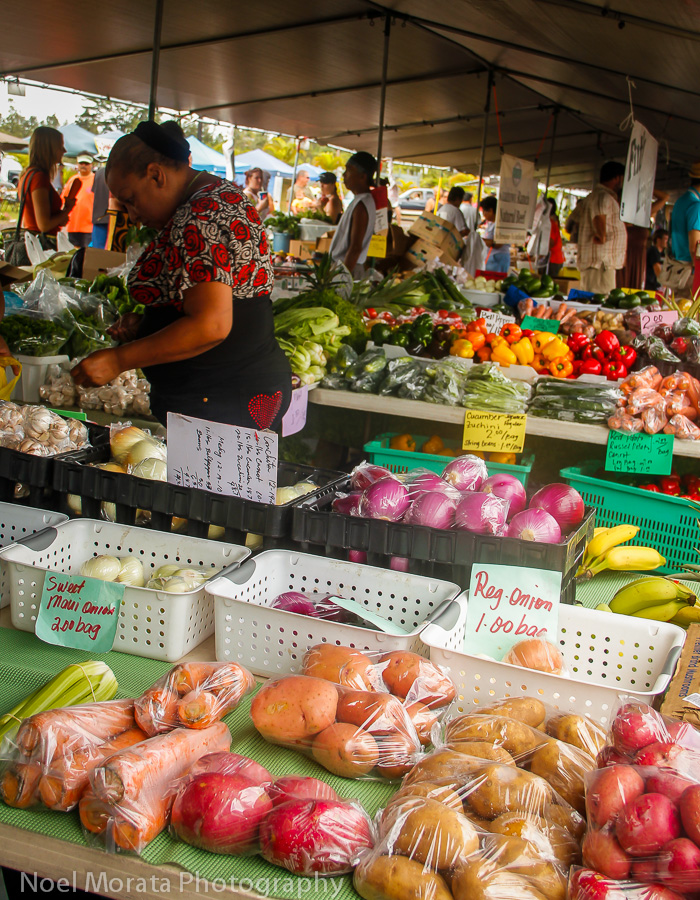 Exploring the farmers market at Makuu market
 

Maku'u farmers market in Big Island
Part of the fun in exploring the farmers markets here are trying all the samples of products made with local Hawaiian tropical fruits like pineapples, avocados, mangoes, lychees, Lilikoi fruit or other fresh fruit or  or produce sourced locally. Here's one of my favorites – the Puna goat cheese samples that are made by this vendor up in Kurtistown….ah yes their cheese are creamy smooth and they offer interesting flavor mixes, would you like to try a mixed peppers with goat cheese … I know you would!
Locally made products
One of the best things to do on the Big Island is shop the farmers markets for locally made food, crafts and other products for you to try and bring home as souvenirs. I  love getting local produced goods like local honey direct from the source – here the vendor just uses recycled glass ware to bottle up his home-made honey. Isn't it nice to support a local business like this and enjoy the delicious home-made goodness of locally made honey.
Going to the local farmers market at Maku'u is one of the best ways to support local growers and get some exotic fruits that are just starting to come into season, now we are getting so many different types of mangoes in all shapes and taste. If your into Hawaiian snacks or delicious desserts made in Hawaii you'll find this in the various foodie booths at the market. The next photo shows three large jackfruit that easily weigh over ten pounds each, have you ever tried a sweet and juicy jack fruit when its fresh?
Giant Jackfruit for sale at Maku'u market
You can almost smell these huli-huli local style chicken grilling from all over the market. I never go home without bringing one of these chickens home for a meal and they are huge – one can easily last me 3.4 meals alone.
It's always fun stopping by the vendors selling tropical flowers and plants, I love chit-chatting with all the vendors I know and peppering them with how-to and maintenance questions along with finding out what their newest offerings are on display.  One of my favorites is the vendor who sells exotic tropical rhododendrons or vireyas, don't they all look amazing you just want to bring home one of each variety of flower.
Ah yes, one of the best parts of going is to pick up lunch from the many international food booths….there's too many to choose from here from traditional Hawaiian food to more popular Hawaii dishes that everyone loves . It's also nice to just pick up a seat in a shared table and enjoy some live music and performance happening all day in the picnic areas.
Who doesn't like to try some crepes, maybe with some tropical fruits and sauce?
Did you want the fresh chicken with your tamales sir?
Even though I don't really need any souvenirs and crafts, I still love to walk down the aisles of the vendors that make quality products to sell. It's fun to see how creative people are with making finished products and crafts that you know are made locally and with locally sourced materials.  If I have some free time I just might drop in for a quick massage, lomi-lomi anyone?
Or maybe I'll just settle for something sweet like some cotton candy…..
I couldn't stop smiling at this vendor, who wouldn't want to try some of her hot dog?
Well that was a nice morning visiting the local farmers market here in Hawaii, I think I got all the produce and goodies for the week. Thanks for joining me on this excursion, hope you had a good time exploring our local farmers market with me today.
Other farmers markets on the Big Island
There are many other popular weekly markets that you can also visit around the island including the well known Hilo farmers market, Waimea farmers market, Volcano farmers market and the  Keaauhou farmers market in Kona. For an update list of markets and where to go, check out this site here for more details on visiting the Big Island Farmers markets.
Fruits in season and what to try – check out my tropical fruit guide here for more details on what to look out for in season around the markets on the Big Island.
Do you love visiting farmers markets in Hawaii?
Any favorite farmers markets you love and the types of foods to try there? Please share your thoughts in the comments below.
Thanks for visiting today and checking out the post on Farmers markets on Hawaii Island, please consider subscribing to the blog below – also please do share the post with any of the social media buttons all around the post. Thank you for visiting.
If you like what you see, come and check out my other social media channels for more updates, including Instagram, Pinterest and Twitter