Are you  a treasure hunter and the type to scour beaches for shells, small or small treasures?  We all love to experience something unexpected or discover a small treasure that comes to us by surprise and cherish the find. Whether you are taking a hike, walking at the beach or just enjoying a day outside, you'll find lots of natural wonders or maybe be lucky to take back something that you'll always remember from that time. Check out these other travel bloggers experiences on finding little treasures from traveling and what they have come across. These discoveries were mostly found by accident and how it bringing it home immediately rekindles that travel experience to always be treasured.
Finding those little treasures in your travels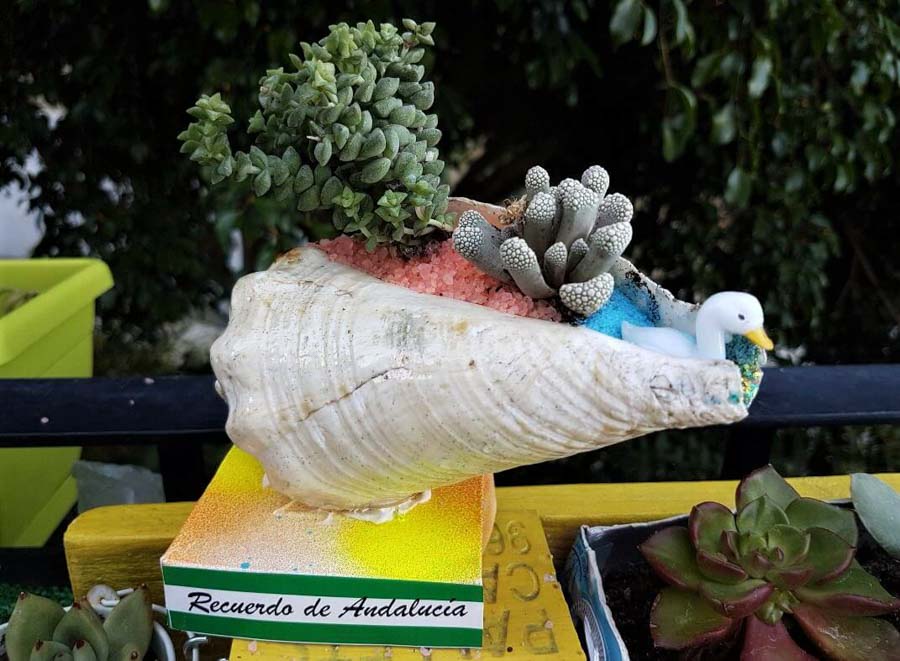 Beach combing in Andalusia
I didn't grow up by the sea. In fact, I had never lived by the sea before I moved to the Costa Tropical, in the South of Spain. It's here in Andalusia that I discovered the shout of the seagulls from my bedroom window, the view on the blue horizon over breakfast, and the walks with my dog in the sand (as we've all seen in cheesy movies).
When I stroll on the beach, I instinctively look for nice polished rocks and seashells. That's a habit I picked up during my backpacking travels in Brazil. Do you do that too? The ones I pick up, I used to just keep somewhere where they gathered dust. But I wanted to actually make something nice out of them.
The magical internet gave me the idea of combining the seashells with plants, particularly with cacti and succulents. They need little soil and almost no water, so they're just perfect. I buy those plants from the shop, but I also plant my own; they grow amazingly well here! From the beach, I get the seashells and little rocks for adornment.
I'm happy with those creations: they keep me creative and make for great, cheap presents. My friends love them!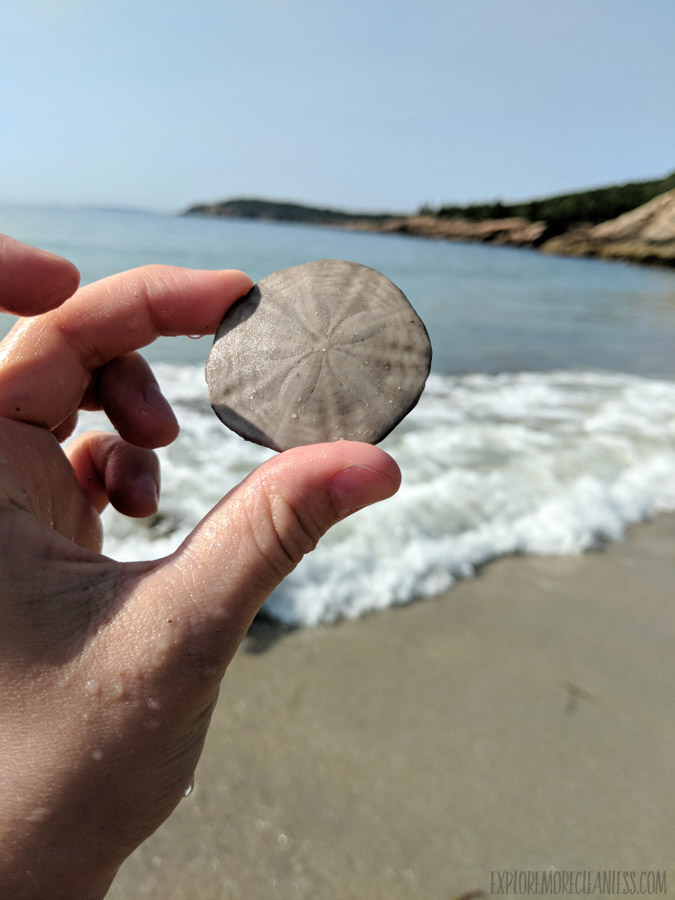 Found treasures in Maine
Our first trip to the Northeast, we were blown away by the beauty in Acadia National Park! After hiking the better part of the Ocean Path trail with our young kids, we looped back to the popular Sand Beach. This beach is beautiful, flanked by lush pine trees that create a striking contrast against the sand and sky. Even though we were visiting in August, the ocean water temperature stayed in the 50s, leaving our nature walk full of yelps and shivers. Visiting at the most popular time of the year translated into lots of tourist trash on the beach, which I happily picked up as the kids played in the sand. Right as I tossed the last of my efforts in the bin, a tide washed in this beautiful sand dollar! It was a delight to see something natural after picking up so much garbage, almost as exciting as the tidepooling. It felt like nature's reward for helping clean the beach! We took this picture and left it there since we were in a national park but if you ever take home one (make sure it is a skeleton and not still alive!), they make lovely ornaments when preserved! See where else we went and tips for 
visiting Acadia with kids
 over on my site.
Stephanie with Explore More Clean Less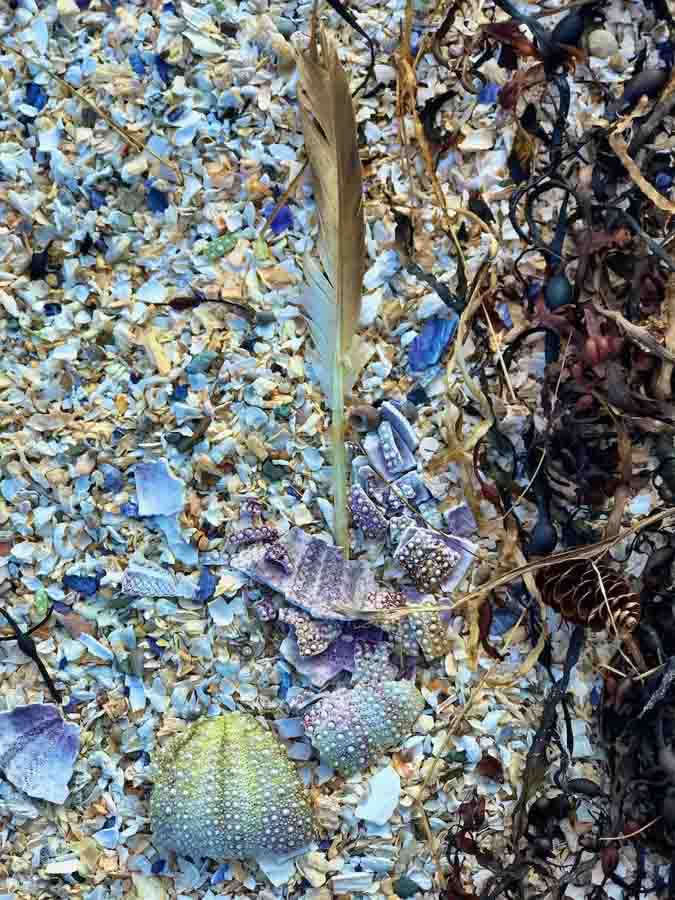 Exploring Penobscot Bay
One of the most scenic coastal areas in the United States, Penobscot Bay is dramatic granite boulders and islands covered in pine and spruce. A photographer's dream. The Bay is located where the Penobscot River flows into the Atlantic Ocean.
This area was once known for the many wooden oyster schooners sailing on the bay. Today, some of those historic ships can still be seen. In fact, Penobscot Bay is home to the largest fleet of wooden ships in the country.
I was with a group sailing on a hundred years old schooner one summer. The day I found this little treasure we had anchored somewhere near Deer Island and were ferried to a small island with a wide cove.
We all quickly wandered off in our separate directions to explore the rugged beauty of the island. Though it felt incredibly remote, as you can see from the artful arrangement of broken sea urchin,  the and kelp, it was a popular stop on the bay.
Still, I felt as if it had been left just for me. It wasn't something to collect and take home but I took this photo with my phone and made a small print of it.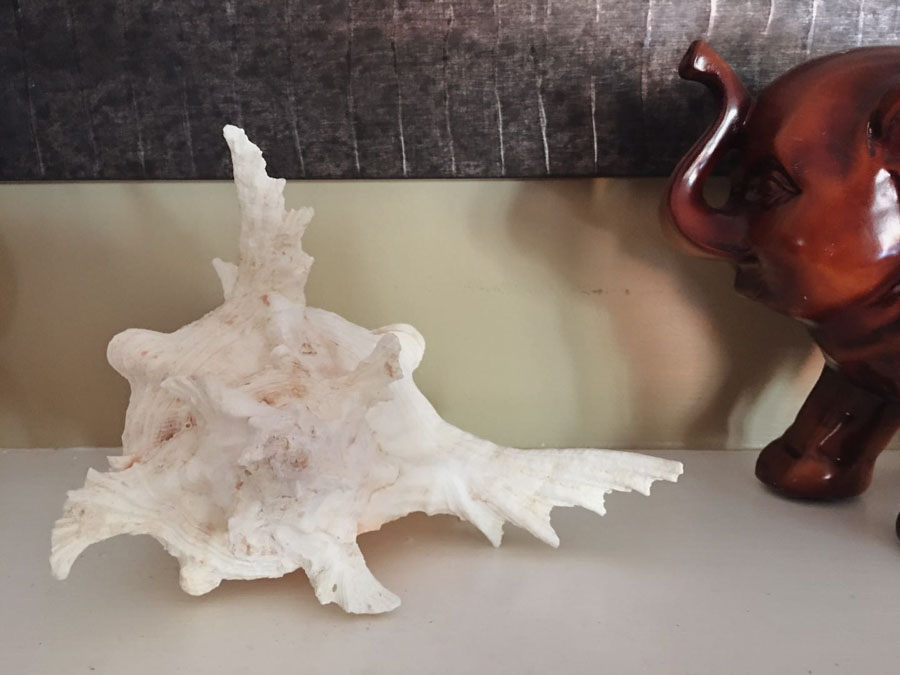 Found treasure in Oman
I am a budget backpacker, which means, I rarely buy souvenirs or bring things back from abroad. This is usually due to my packing constraints, as my definition of backpacking generally consists of a standard 25L school backpack stuffed with clothes and little room for anything else.
However, I broke my habit during my Oman trip. After camping in Jebel Shams and the Wahiba Sands, I headed to Masirah Island for a quick stay. The island is known for its beautiful beaches, unforgettable diving spots, serene fishing hideouts. During one of my outings, I saw this giant white shell that laid motionlessly on the sand. It was fully intact. Unlike its smaller companions, this shell was the size of two of my fists. Its edges were erected and long, It was beautiful.
After some consideration, I decided that I couldn't let this piece go. So I wrapped it up in some clothes and attempted to stuff it into my bag. It barely fit and had some edges that poked out of my bag,  but I was able to fly it back home. (Some shells won't be allowed to go with carryon so do check beforehand if you decide to do the same!)
Daisy with Oman Travel Guides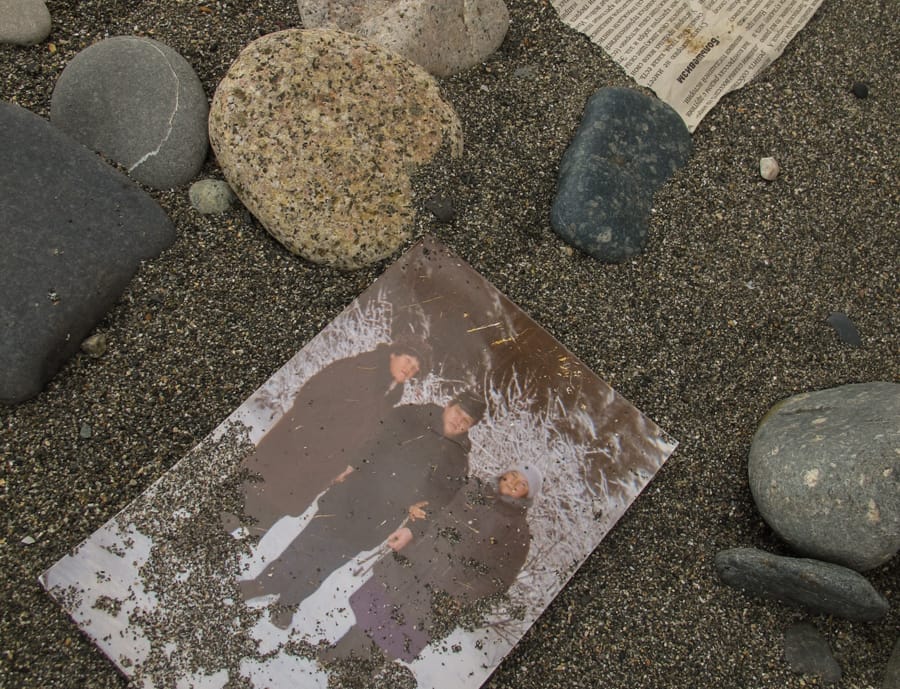 Finding treasure in Abkhazia
One of the best souvenirs I have collected over the years was completely by accident and it was on the rocky beach in Sukhumi, Abkhazia… a breakaway republic in the Caucasus that is considered to be part of Georgia (by most of the world).  This region has a turbulent history and everyone that lives in Abkhazia has a story to tell… whether they were an Armenian who sought refuge there during the Armenian Genocide or whether they were a soldier fighting for independence from Georgia throughout the last couple of decades.
My trip to Abkhazia was an add-on to my Georgia and Armenia trip back in 2013 and after making it into Sukhumi, Abkhazia's capital city, I decided to wander along the Black Sea and photograph.  While I was strolling along, I came across a photo on the dark sands on the beach alongside some ripped newspaper.  The photo seemed to be old based on what everyone was wearing and the color of it but it had to have been dropped in recent days or it wouldn't have been in such decent condition.
There weren't people around and I was unable to communicate with anyone there.  I decided to keep the photograph as a souvenir and memory from my 
trip to Abkhazia
.  I keep it in a notebook with my visa from the trip and other memorabilia I saved from my first trip to the Caucasus.  I have long wondered what the story behind the photo is.  Were the people in it from Abkhazia or were they Russian, since Sukhumi and its beaches are a popular spot for Russian vacationers?  I may never know the answer, but the mystery behind the Caucasus and its regional history is one of the main reasons I decided to relocate to Armenia a year ago.  Perhaps one day I will get back to Abkhazia and find out the story of this photo.
Megan with MeganStarr.com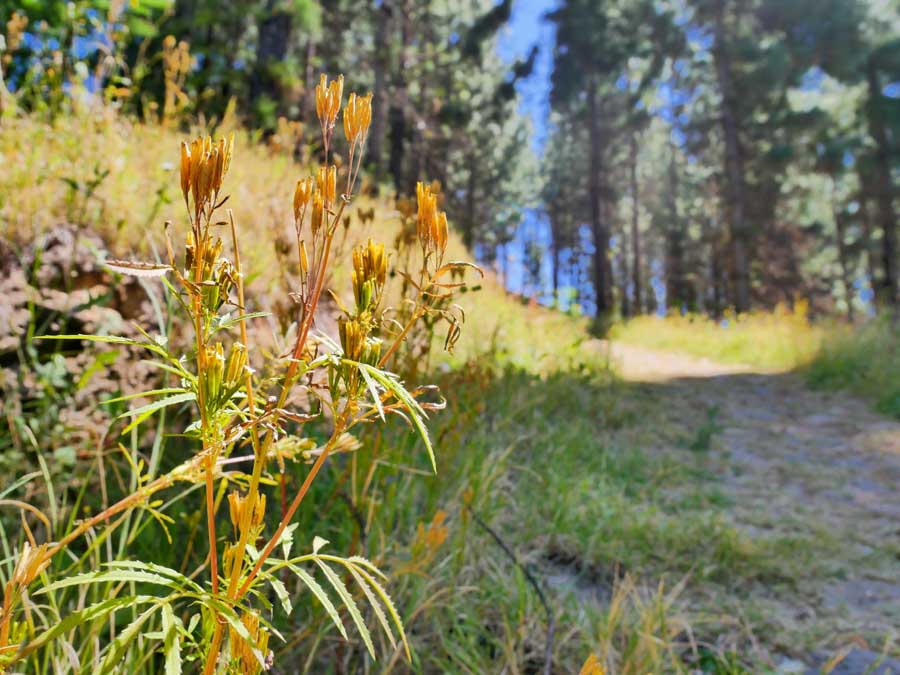 Herbs and Scents in your travels
It happens all the time: I go on a hike, I smell something (good) in the air, and then I have to follow my scent analyzer until I find the source. Depending on the power of the wind and the terrain, it can be an easy hunt or a very tricky one. Sometimes it's a fragrant and aesthetic find, such as the frangipani flowers on the trees in Thailand or sparse lavender bushes on the slopes of Monte Verde (Cabo Verde). At other times, it's a real edible treasure, such as roadside mint in Montenegro and basil in Italy. It's nice to make some mint tea with a few twigs when coming home. The presence of the find is always temporary but makes the hike more memorable.
On nearly every island in the Cabo Verdean archipelago, I caught a whiff of something very lemony and minty. Sniffing out the inland plant (pictured) wasn't hard, but determining the species and whether I could munch it or make a tea of it proved elusive. As always with foraging, it's imperative to remain cautious. So besides stopping and smelling this plant every time I got the chance, I left it in peace. My memories of that trip are full of olfactory joy.
Iris with Mind of a Hitchhiker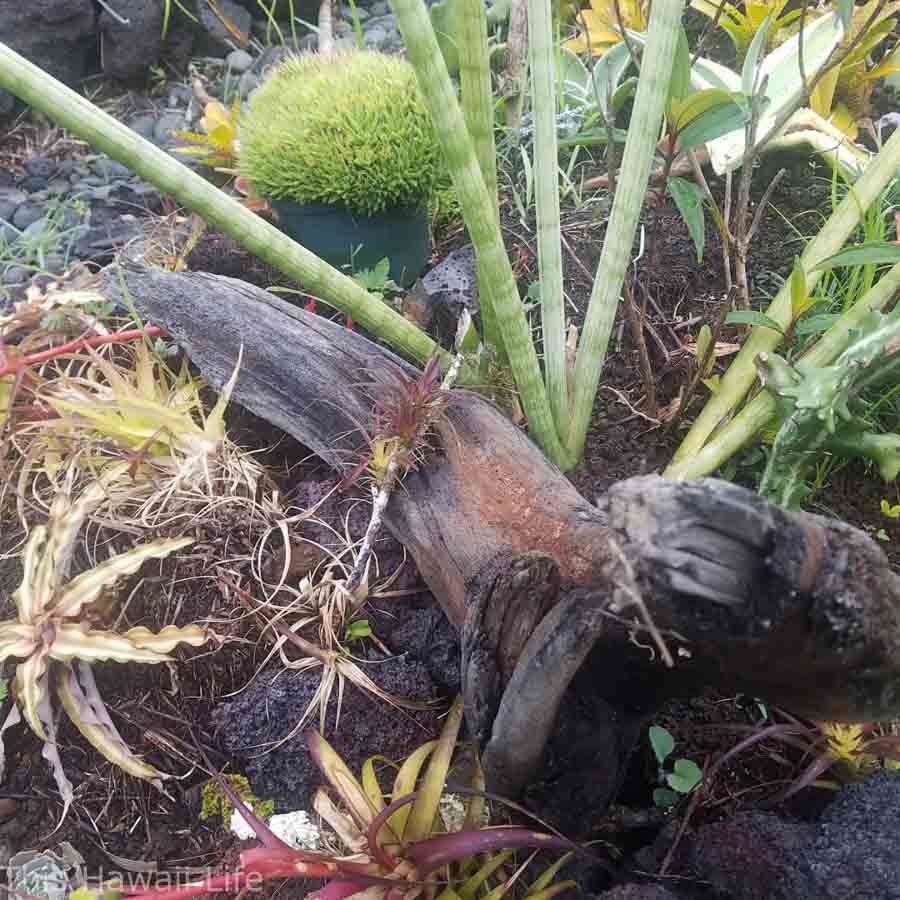 Driftwood treasure in Hawaii
In Hawaii, I love to explore the outdoors and also do scavenger hunts for hidden treasure at the same time. It's fun to explore and walk around the many beaches and trails here. Exploring the coastline, the warm waves brushing against my feet and every now and then I might be lucking to find some small treasure along the way. It didn't take too long with a casual walk on the beach here in Hilo – I found some cool rounded lava rock and then a huge pile of driftwood that was bulldozed into one section for future disposal. I love driftwood with all the unusual contortions, shapes and bleached wood and had a perfect idea for using this in my garden. I love the fact that I can also re-purpose things that would normally get dumped and driftwood is that perfect thing that you can easily reuse for a craft project or anything with your sense of creativity.
My found objects were placed in ideal locations in my garden, actually an underwater garden that I created mostly with cactus and succulents and a sprinkling of my hand made ceramic sea snails, turtles, star fish and other ceramic tropical fish. The driftwood added a perfect touch to the garden with that immediate sense of place you get when you see the complete garden below. It's pretty magical and finding things for the garden is part of the fun of beach combing in Hawaii.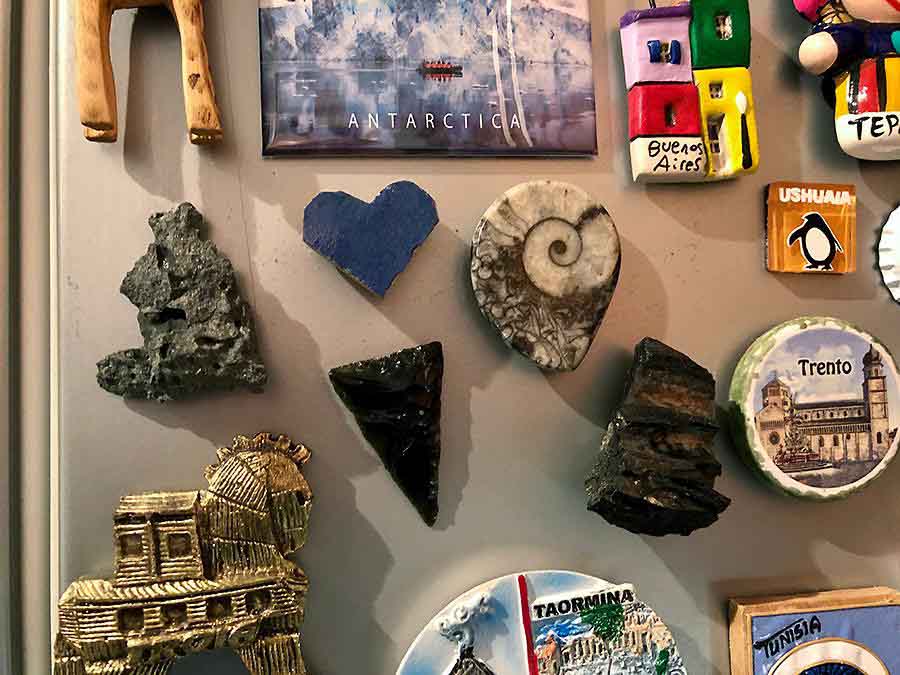 Fossil finds
As a photographer I'm terrible at packing light. My suitcase and backpack are overloaded with cameras, lenses and other paraphernalia, which means that never have any room to bring back souvenirs from my travels. Which is why I collect fridge magnets – they take up almost no space in my luggage, and they don't clutter up my little London flat with random stuff either. But after about 15 years of collecting I've become very picky about my magnets and I won't buy any old tat – they have to mean something and capture a moment or a memory from my trip. Which is why sometimes I make my own.
If I've been somewhere and picked up a trinket, a badge, some small carving or even a bit of rock, I'll take it home and superglue a small magnet to the back of it. So alongside my regular shop-bought magnets I've also got a little lacquered heart given to me by a pottery worker in Morocco, a small piece of obsidian glass and a bit of tezontle volcanic stone from a work project in Mexico, and a tiny ammonite fossil that I bought in a workshop in Morocco. But my favourite is a small bit of lava from when I climbed the volcano Nyiragongo in the Democratic Republic of Congo – not being a tourist hotspot they don't sell fridge magnets there so I had no choice but to make my own and I love it!
Bella with Passport and PIxels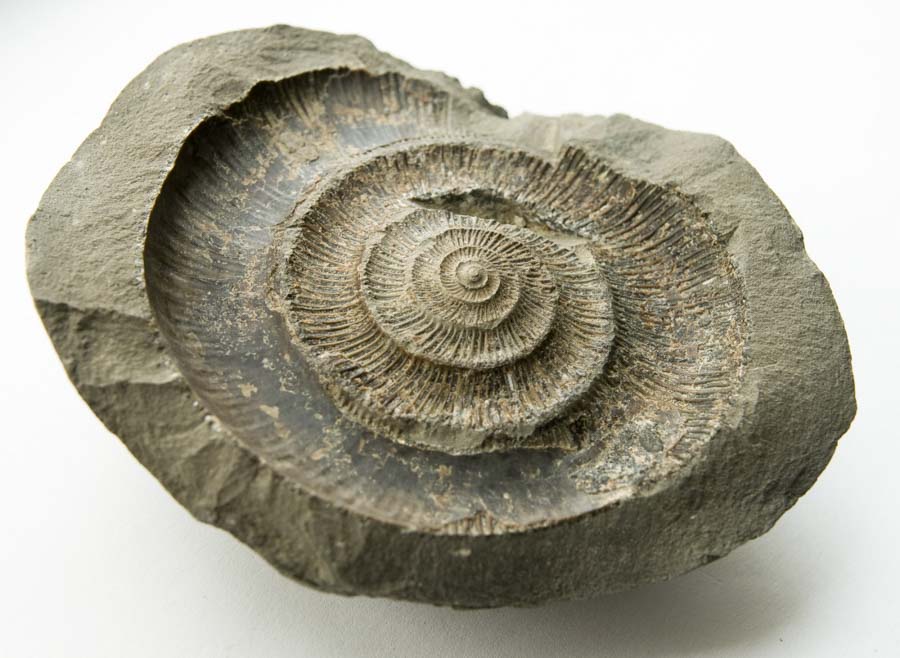 Fossils at the Staithes beach, England
During our road trip along the east coast from Edinburgh to Scarborough, we have stopped at many fantastic locations such as Bumburgh, Holy Island and Whitby – just to mention few.
The coast offers many opportunities for long walks and wanders. One small village, however, surprised us with amazing souvenirs – hand picked fossils!
We visited  Staithes due to its scenic location and the fact that at low tide one is able to walk along a stony beach and search for fossils.  We spent a nice day there walking, and walking even more in pursuit of fossils.
We were very lucky and determined, and found a few fossils with one being simply amazing! We photographed it and displayed proudly in our living room.
So here are our tips: visit the beautiful and quiet village of Staithes when the tide is low and best after a storm. When the water is wild it hits the cliffs and the rocks fall; new supply of fossils is ready to be picked up! It's still not that easy to find fossils but that's how you can increase your chances. Don't be discourage after first half an hour, you may need a bit more than that.
Happy fossil hunting in Staithes!
Beata from Stunning Outdoors
Please pin this for later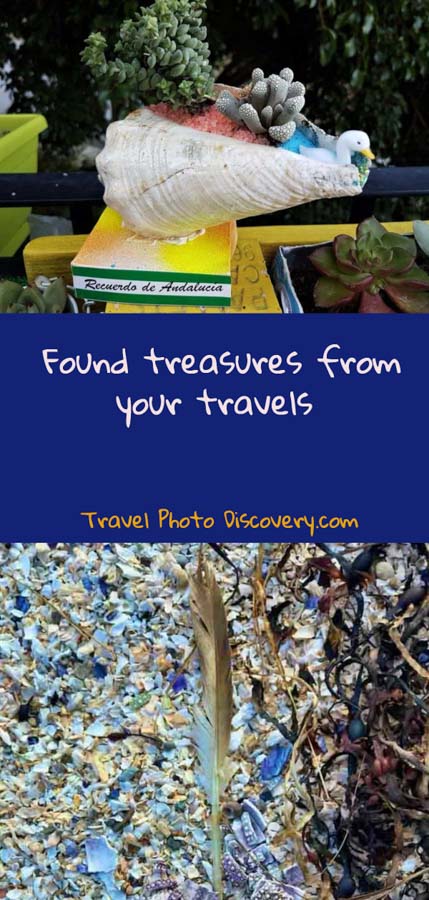 Thanks for visiting today and checking out this post on these Finding little treasures from traveling , if you enjoyed the images and post, could you please share it with any of the social media buttons located around the post.
If you like what you see, come and check out my other social media channels for more updates, including Instagram, Pinterest and Twitter
Disclosure – There are affiliates links on this posts which provide a small commission to support this site at no extra cost to you. Thank you for reading, and happy travels