15 Free Things to do on the Gold Coast, Queensland: enjoy your vacation and save on your wallet
Take a break from your reality and explore all that this beautiful coastal destination has to offer! While South East Queensland is a major tourist hub, it's known that most activities can come with a higher price tag. But surprisingly, there is no shortage of free things to do on the Gold Coast.
This includes picturesque hikes, stunning bike paths, unique attractions, and incredible wildlife experiences. So, for those with an adventurous soul curious to explore the city vibes of Gold Coast, we'll be taking a look at some of the amazing things that the budget-friendly folks can enjoy.
So, let's get ready for your next Queensland adventure!
Free Things to do on the Gold Coast
The Gold Coast is a stretch of utopia that will leave you in awe. It's not only blessed with some of the best beaches in Australia, but it also boasts a must-see destination like Surfers Paradise. With its stunning beaches, clear blue waters, and thriving surf culture, it's no wonder why so many visitors choose to base themselves here.
But, while it's a trendy place to visit, there are always reasons to fill in your time with activities that don't break the bank. Therefore, we'll start by listing them below!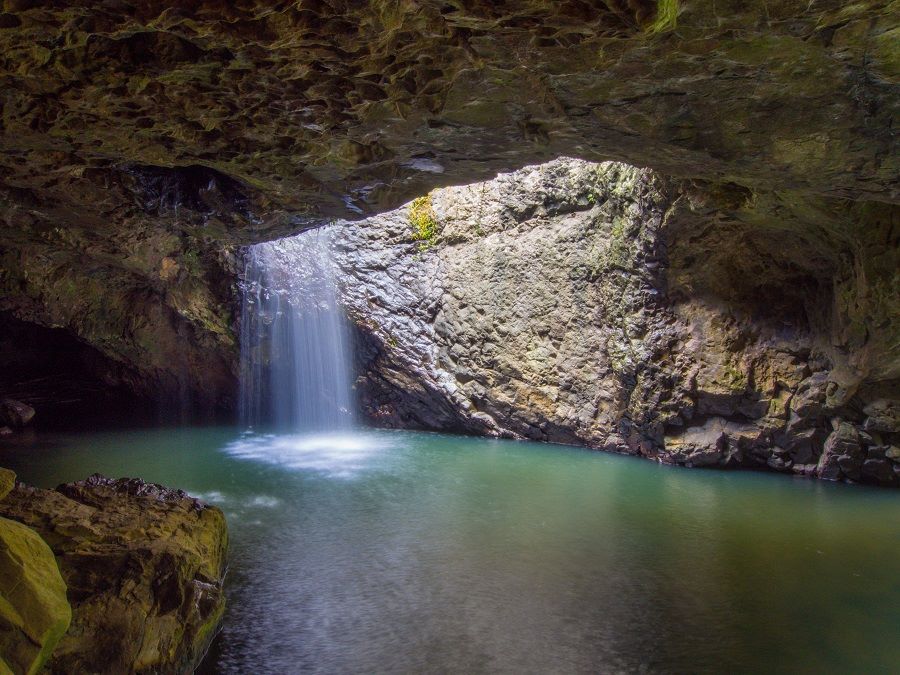 Natural Bridge
Nestled in the western part of Springbrook National Park, the Natural Bridge is incredibly easy to get to and a must-see waterfall. If you didn't know, this area is located within the Gondwana Rainforests of Australia, a UNESCO World Heritage Area.
The park offers visitors a picturesque rock formation that has been sculpted and formed by the force of the waterfall over the underlying basalt cave. Simply park your car just off the Nerang-Murwillumbah Road and follow the easy one-kilometre circuit.
Descend slowly through the ancient, lush rainforest, and you'll soon be rewarded with the magnificent Natural Bridge rock arch. During the day, you can spot paradise riflebirds, green catbirds, and endangered species like the cascade tree frog and Koalas. However, if you take a guided nocturnal tour, you might get a glimpse of protected glow-worms and micro bats.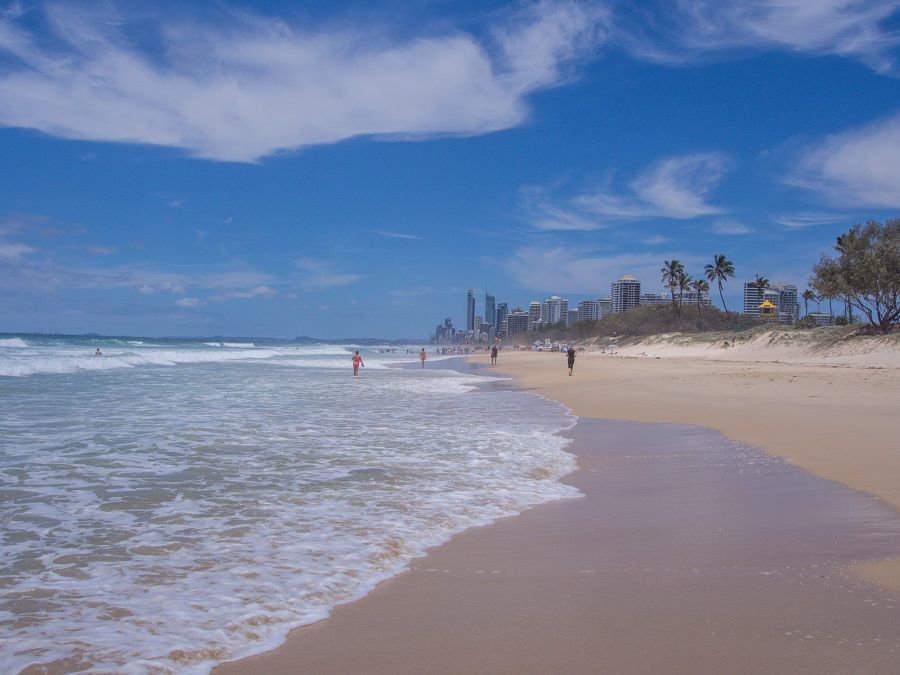 Swimming at the many beaches

The Gold Coast is known for its stunning beaches and crystal clear waters, and it's no wonder it's a tourist holiday favourite. Whether you're looking to catch some waves, go kayaking, or simply soak up the sun with your family, this is one of the best free things to do on the Gold Coast.
This gorgeous coastline runs for about 50 kilometres, and you can choose between suburbs like Surfers Paradise, Burleigh Heads, Tallebudgera, Currumbin, and Miami Beach. Almost all open beaches are patrolled by lifeguards seven days a week (Between the Red and Yellow Flags) and are generally within walking distance from most accommodations.
There are countless spots to stake your claim in the sand and watch the waves roll in. So, it's no surprise that these beaches hold a special place in the hearts of both locals and visitors alike.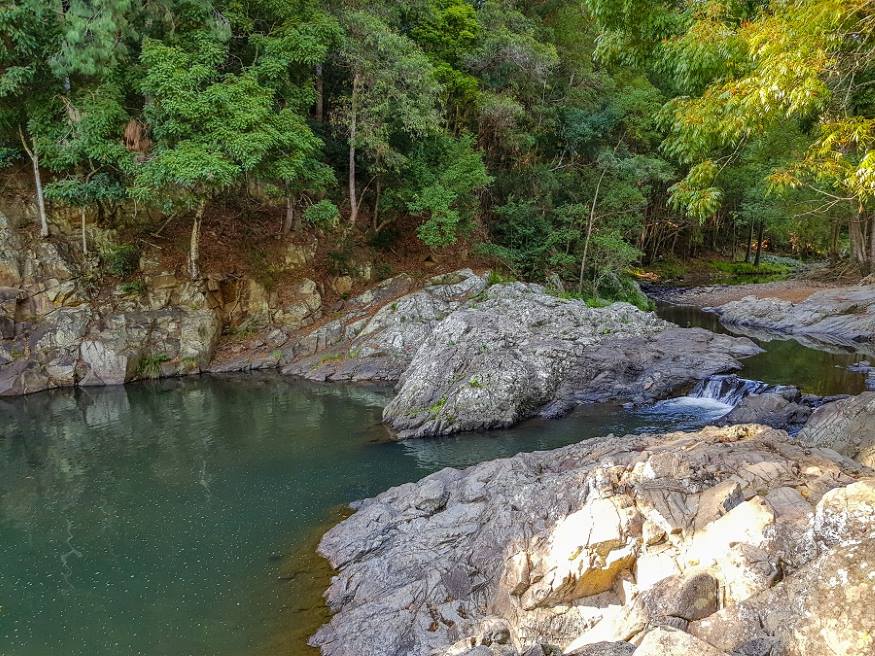 Currumbin Rock Pools
There's no shortage of local swimming holes in this area, and the Currumbin Rock Pools are pretty popular. It's tucked away in the serene Currumbin Valley, and you can swim in the refreshing freshwater rock pools and listen to the calming stream.
Families will also appreciate the picnic tables, grassy river banks, close parking, and BBQs available. Plus, be sure to take advantage of the 1.6km walking trail through the Mount Cougal National Park, which offers stunning views of the Currumbin Valley.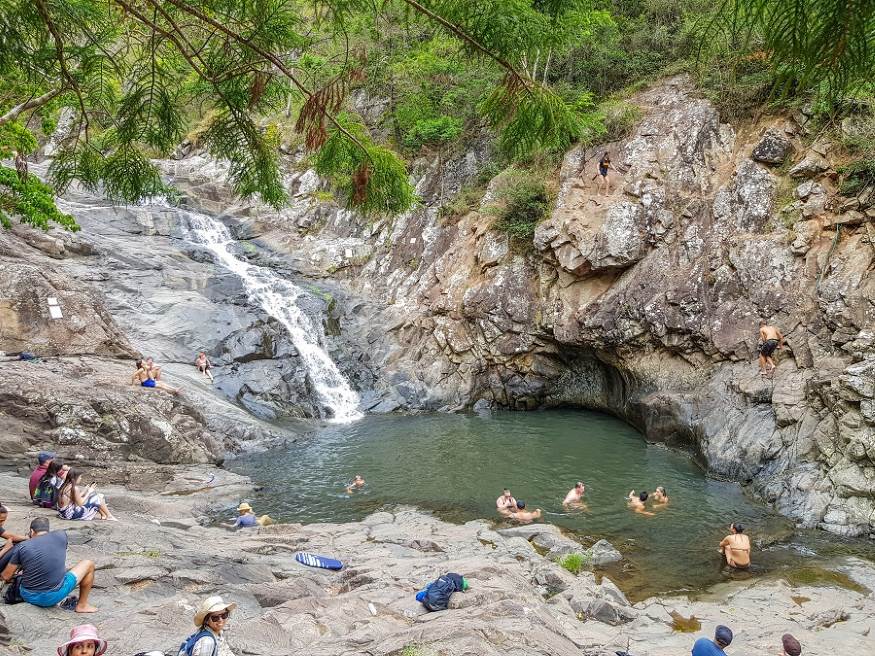 Cedar Creek Falls
Are you tired of the same old routine of sweltering summers spent at crowded beaches and water parks? Then, look no further than Cedar Creek Falls at Tamborine Mountain.
Surrounded by a towering amphitheatre of rocks and set against a backdrop of lush tropical rainforests, the pools are nature's ultimate playground. Here, you'll be treated to a symphony of sounds, from the soothing rush of waterfalls to the melodious chirping of birds above.
You'll have a blast exploring the different pools and gushing waterfalls but do be mindful that it can get chilly even in the height of summer. However, remember that jumping from higher areas is a no-go due to hidden rocks, and it's best to go early before the car park fills up.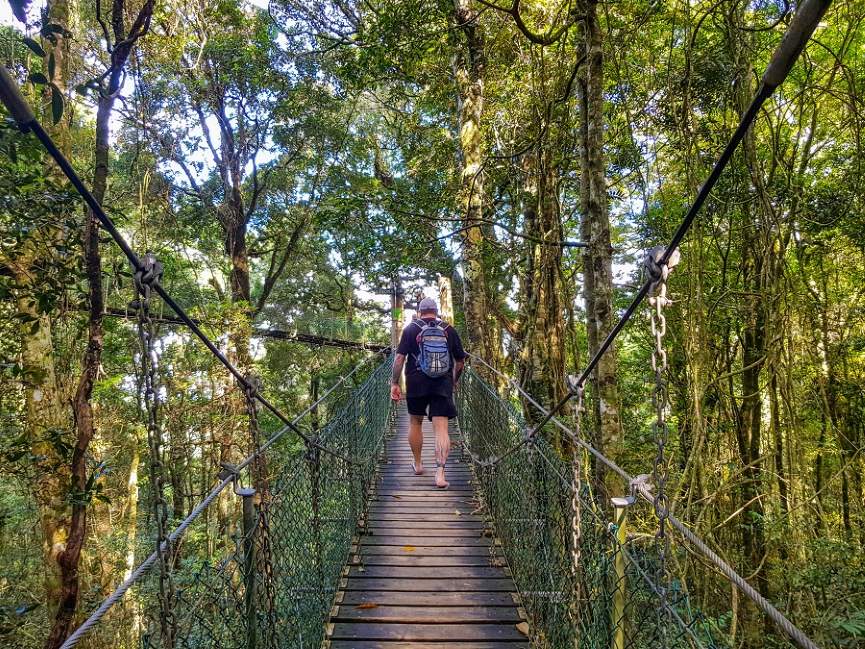 O'Reilly's Tree Top Walk
The incredible O'Reilly's Tree Top Walk attraction gives visitors a unique perspective of the rainforest by allowing them to walk through the canopy itself! It was the first of its kind in Australia, and you'll be in awe of the blooming trees and vines, the orchids and ferns, and the diverse array of birds and animals that call the treetops their home.
What's more, the Tree Top Walk is 180 metres in length, with nine suspension bridges and observation decks standing at a dizzying height of 30 metres. Along with being located after a quick and easy 300-metre boardwalk from the visitor centre via the Booyong Walk.
Art & Craft Markets
If you're on the hunt for unique gift ideas or just want to peruse some locally made fashion, then check out some of the Arts and Crafts markets. With locations popping up all over the place, you're bound to stumble across one on a weekend. This includes Surfers Paradise, Helensvale, Carrara, Broadbeach, and Burleigh Heads.
Not only do they offer a wide variety of local arts and crafts, but you can also find farmers' markets and car boot sales. Browse for inspiration, shop for discount souvenirs, or try a delicious snack made fresh from local produce. And the best part? Live entertainers set the perfect, laid-back atmosphere as you wander along the beautiful coastal stretch.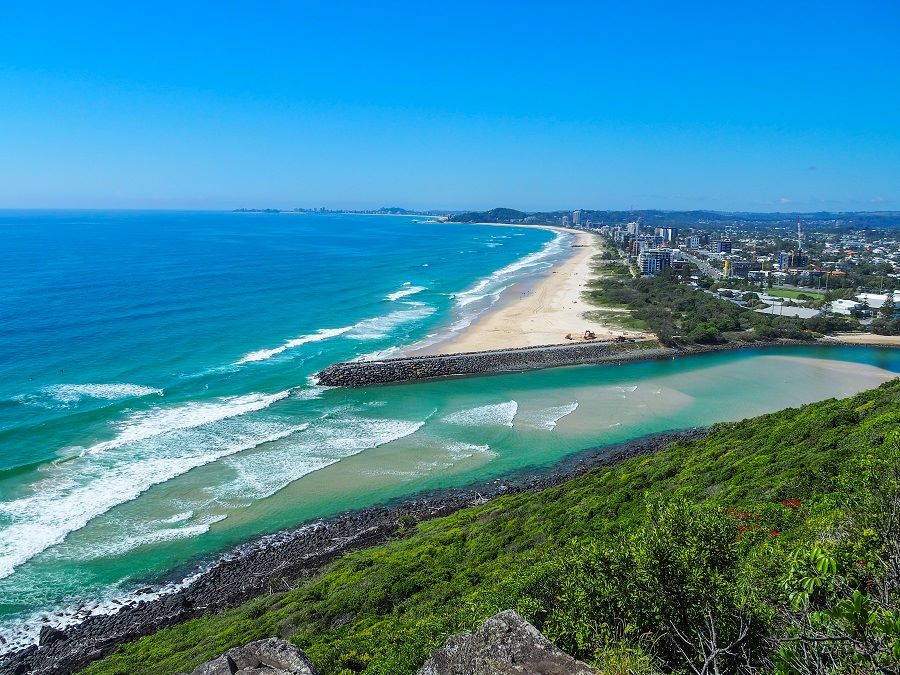 Tumgun Lookout
Tumgun Lookout is one of the best views on the Gold Coast and is so easy to get to in the Burleigh Heads National Park. The lookout pears out across the inlet to Tallebudgera Creek and south to Coolangatta or out in the ocean to spot whales.
There's also a nice sized platform with a sitting bench at the back, just perfect for you to take it all in. Although, keep an eye out for wildlife, as you can spot Koala's, local birds, and plenty of beaded dragons (lizards).
With a free car park lying at the end of Goodwin Terrace, the climb up to the lookout will take you around fifteen minutes. But for the young and fit, it could take even less! However, there are several tracks you can follow around for exercise, or in the winter, fireflies can be seen at dusk.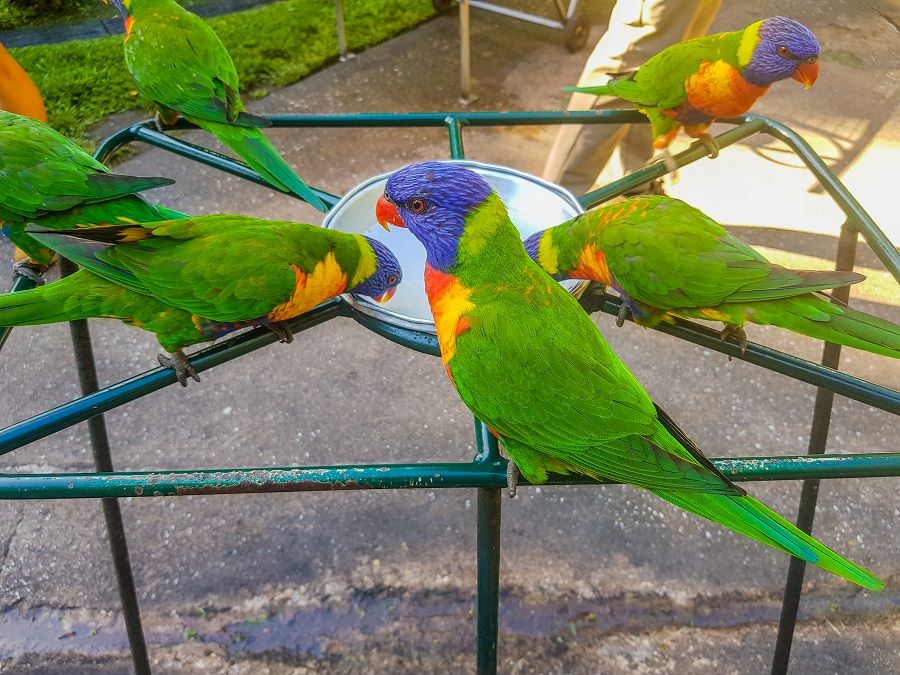 Watch the Lorikeet's feed.
Lorikeets are one of Australia's most colourful birds, and you can appreciate their beauty at a feeding near the Currumbin Wildlife Sanctuary. Twice a day, at 8 am and 4 pm, visitors are treated to the sight of wild lorikeets flocking to the designated feeding area. Not only is this a free activity, but it also provides an up-close and personal experience with some of the most friendly birds in the world.
The lorikeets have returned to this daily feeding spot for over 75 years, and it's a treasured favourite activity on the Gold Coast. However, for a small gold coin donation, you can hold a plate of specially formulated bird food. And, after a small wait of standing still, they will fly on your head, arms, and shoulders, trying to get closer to the food.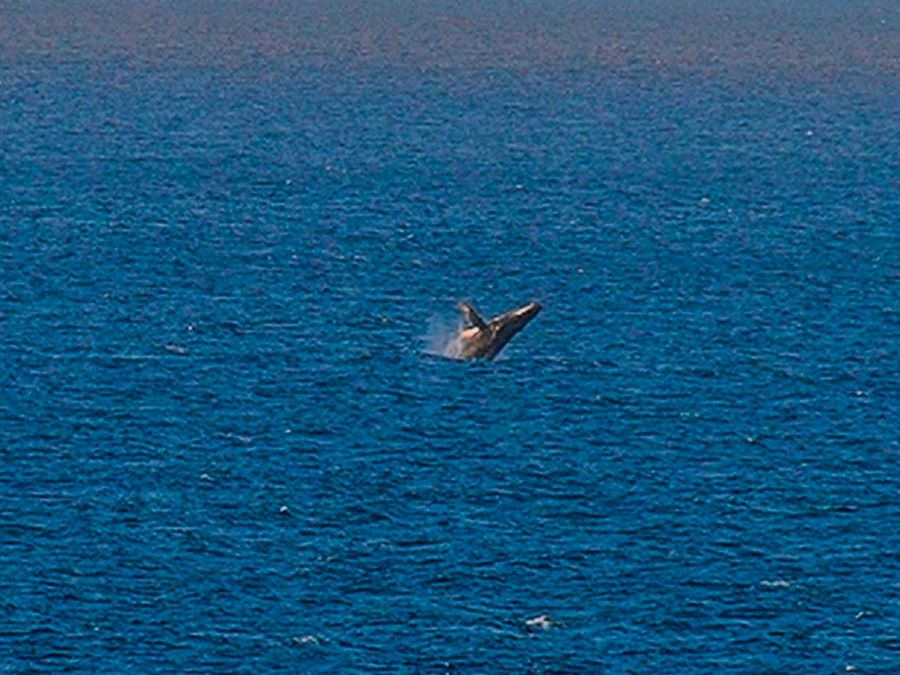 Whale Spotting
Did you know that every year, from June to November, you can witness one of the most awe-inspiring natural phenomena right here on the Gold Coast? That's right, the majestic humpback whales make their way from Antarctica, past the warm Queensland waters, and put on a show like no other.
Sure, you can take a whale-watching tour and see them up close. But since you're after the free things to do on the Gold Coast, know that it won't cost you a single penny to glimpse these magnificent creatures from one of the many elevated lookouts along the coastline. This includes the Tumgun lookout mentioned above or viewing from your hotel balcony.
Walk the Esplanade
The Gold Coast Oceanway and Esplanade walking trail stretches along all the beaches. With its expansive walkways, picnic facilities, and beach showers, this recreation park is the perfect place to enjoy a sunny day out of your hotel.
Take an evening stroll to watch the sunset or wake up to the sun rising over the ocean waters. Many of the locals will use it for daily exercise. Plus, with accessibility features, all members of the community can enjoy the beauty of this area.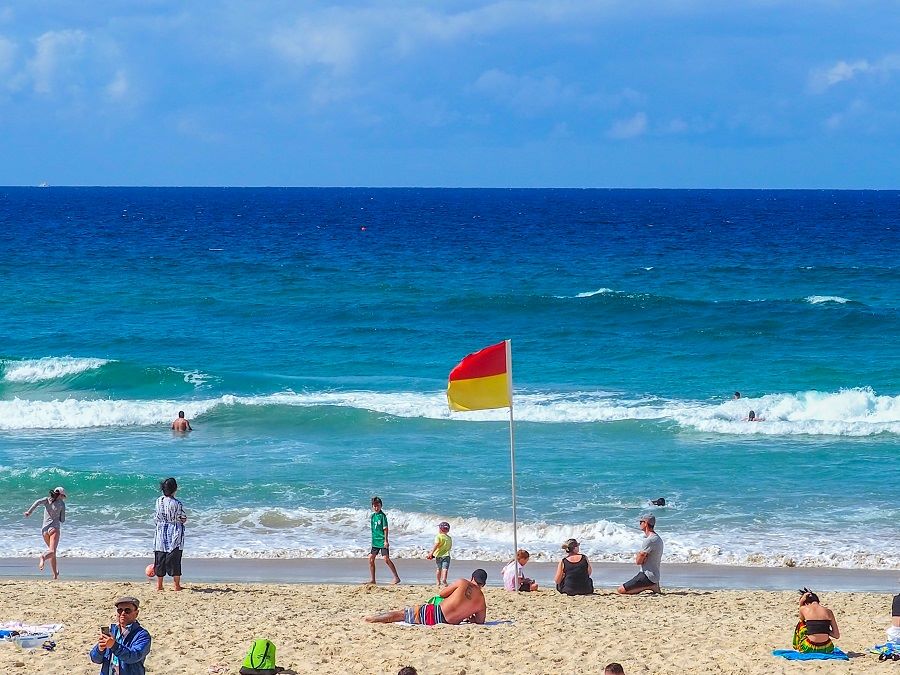 Get a selfie with the Surfers Paradise Sign.
Nothing says "I've been to the Gold Coast" than getting your picture taken with the Surfers Paradise sign. This well-known landmark has become synonymous with the Gold Coast, and capturing it in your photo will impress your friends and Instagram followers.
It's located at the beachside end of Cavill Avenue and right in front of the Esplanade driveway. Take it from one side with the beach in the background or from the other side with the city skyscrapers towering over you. Either way, it is a short and quick thing to do on the Gold Coast.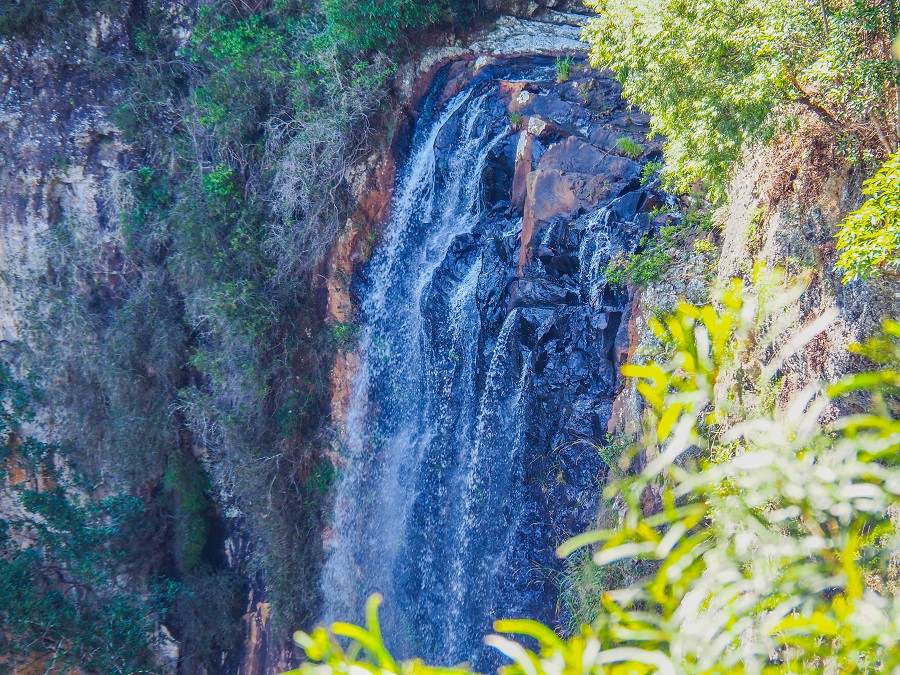 Purling Brook Falls
If you haven't got enough of the waterfalls, then Purling Brook Falls can be added to your list while visiting Springbrook National Park. If you're lucky enough to go in the summer or after some significant rain, the amount of water coming down will be much more impressive.
The whole walk is about four kilometres, and it will take a leisurely 2.5 hours to walk to the bottom of the falls and back out again. Additionally, this is a formed track but can get muddy and slippery after some rain. However, you can view the falls from two easy and short lookout points from either side at the top.
Surfing at Currumbin Beach
While you can surf in many different places along the Gold Coast, Currumbin Beach is one of the more popular places. Either grab your own surfboard and head out into the waters or watch the strength and skills of all the surfers out there. Sure, it can get a little busy, and finding a park might be challenging, but don't let that deter you.
What's excellent about Currumbin is the rolling waves into the creek and accessing the depths from the surrounding rocks. Not only that, but the Surfers Paradise skyline adds for some brilliant views in the background. However, if you don't know how to surf, then a Surf School van is parked down here daily for those eager tourists wanting to try it out for a charge.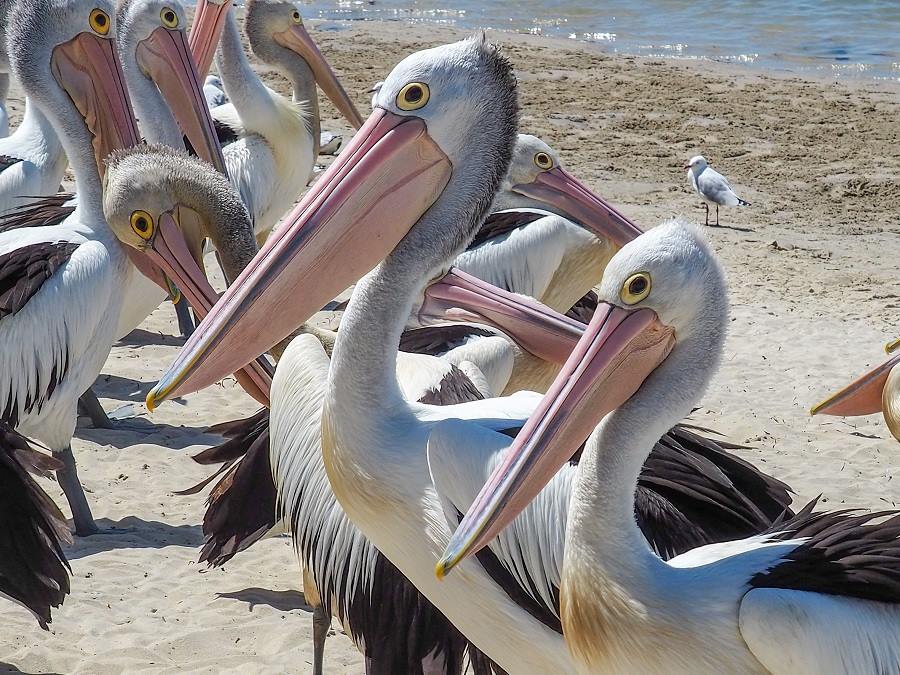 Find the Pelicans
Pelicans are constantly flying around all over the Gold Coast. But you can be guaranteed to see these big beautiful creatures at 1:30 pm daily outside Charis Seafood in Labrador.
Each day, the local seafood shop provides a delicious meal (Seafood scraps) for the pelicans who call the area home. It's an impressive sight to see so many birds gather for their daily feast, and you can learn a bit along the way from the staff.
These birds are huge but surprisingly gentle, making for an unforgettable, family-friendly experience as you get up close and personal with them. Unfortunately, the whole process is over in about ten minutes, but you can also have some lunch at the takeaway shop or go swimming in the lagoon.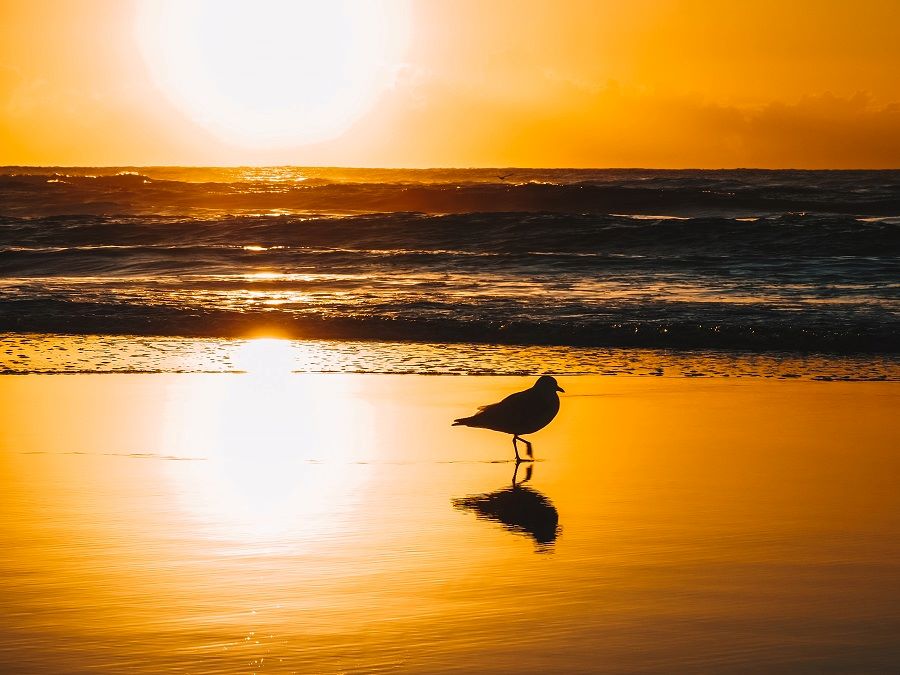 Watch the Sunrise over the beach.
The East Coast of Australia is no better place to watch the sun cross the horizon over the water. You can do this by walking down the beach with your freshly brewed cup of coffee or even from your hotel room balcony.
The air is crisp, the waves are rolling, and you suddenly feel at peace watching the seagulls flying around. As the sun slowly rises, the sky transitions from pale blue to fiery oranges and pinks, creating a phenomenal view.
Trust that this is the best way to start your day, and after an hour, you can wander the streets looking for a breakfast location.
Conclusion – Free things to do at the Gold Coast
It's encouraging to know that with some research and creativity, many cost-friendly activities can make for an enjoyable stay. Whether heading out for a day of beach combing or a night of stargazing, this list of free things to do on the Gold Coast will keep you on a budget.
Even better, these beautiful areas are readily enjoyed by anyone at any time! So why not be adventurous, try something new, and experience the best of what the Gold Coast offers without spending more than necessary?
Guest bio
Chris Fry is the writer and photographer behind Aquarius Traveller, where she shares her journeys and provides valuable information and inspiration for your destination travels. She lives in Australia and has travelled to 36 countries and in-depth across Australia.