A fantastic visit and tour of the Frida Kahlo Museum in Mexico City (updated 2023)
I always knew that one of the special must visit places in Mexico City is Casa Azul, now known as the Frida Kahlo Museum. Casa Azul is the iconic home where Frida Kahlo and her painter husband, Diego Rivera lived and created amazing art that featured the events, Mexican lifestyle and culture that was at a resurgence during that timeframe and into modern time. After seeing many of Frida and Diego's works in museums around the world, I was really excited about getting an inside look at their personal home and Diego's dedication of Casa Azul into a museum to honor Frida.  Casa Azul or the Blue House is located outside of the central district in an a borough of Mexico city called Coyoacan, once a city on its own and eventually engulfed into the Mexico city metropolitan region.
Where is the Frida Kahlo museum located in Mexico City
The Frida Kahlo Museum, also known as the "Casa Azul" or Blue House, is located in Mexico City's Coyoacán neighborhood. This iconic museum is actually the former home of Frida Kahlo and Diego Rivera and offers a fascinating glimpse into the life and art of the renowned Mexican artist Frida Kahlo.
Touring the grounds and beautiful home of the
Frida Kahlo Museum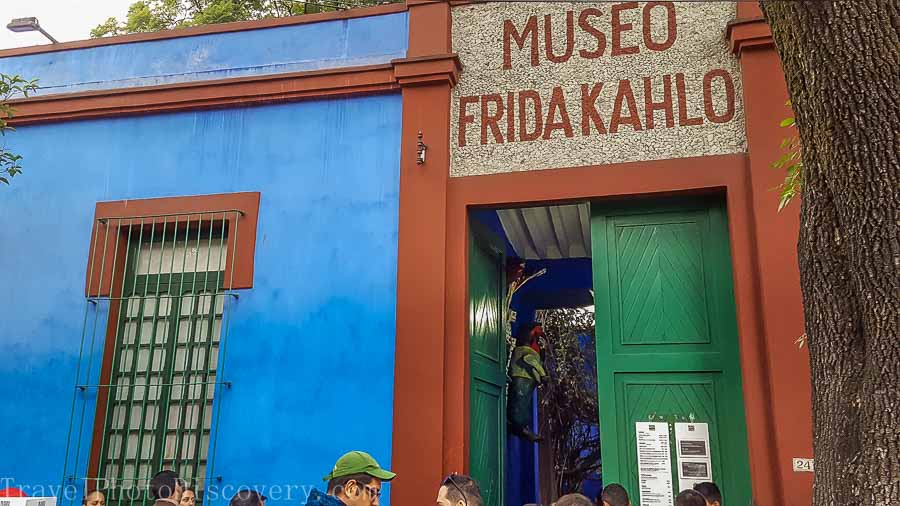 Gorgeous blue walls of Casa Azul
Imposing blue walls surround Casa Azul on the outside, offering little insight to the magical compound inside the home. But once you enter through the main gate, it all turns into a colorful and lush environment separated from the chaos and noise of the outside street. The large central courtyard is a large and lush tropical garden with fountains and artwork placed both inside and outside the buildings. The main building surrounds the garden areas including some additional galleries that are all part of the Frida Kahlo Museum named in her honor.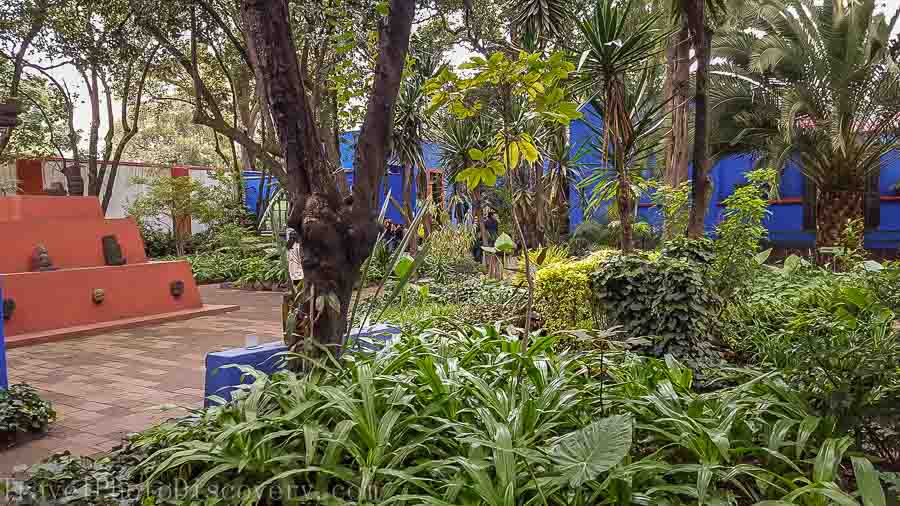 A lush garden greets you after you enter the main entrance
Casa Azul is one of Mexico City's most popular museums containing Frida Kahlo and Diego Rivera's personal collections, artwork, photographs and other personal items. It's a fascinating look into two of Mexico's most famous personalities of that era and Diego Rivera donated the home and personal effects to the government into a museum in Frida's memory. During their timeframe living in Casa Azul, Frida and Diego hosted many of the most influential artists, musicians, intellectuals and wealthy bohemians from around the world.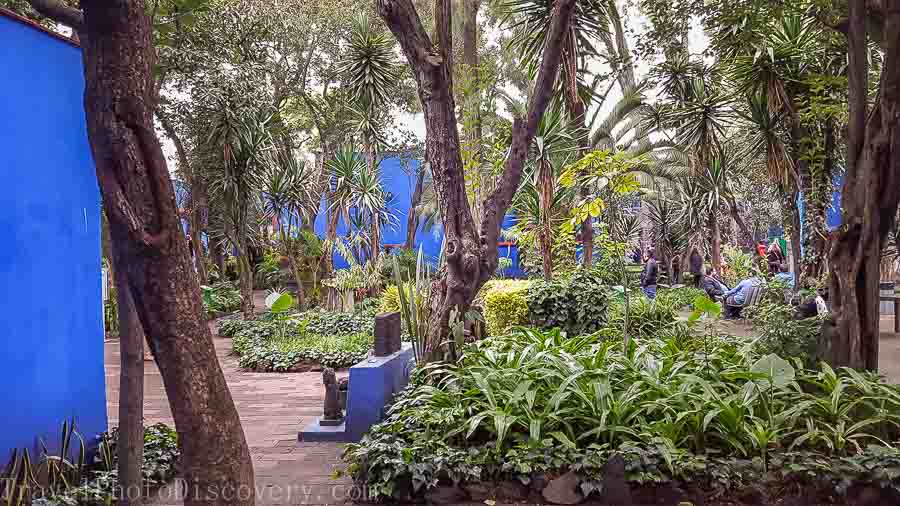 Let's tour Frida Kahlo's Casa Azul
A long line snakes around the interior garden and walls of the home before you enter the actual home at Casa Azul which fortunately moves at a good pace. While I was waiting, I struck up a conversation with someone who visits Mexico City regularly and she mentions that I should also visit the nearby museum dedicated to Diego Rivera and Frida Kahlo called Museo Anahuacalli which I will detail further down in the post. In spite of the rather long line, I take the time to enjoy the lush gardens and sculpture and notice the lovely architectural details of the exterior façade of the home.
Tip – once you enter the gates, head directly to the main line to get into the house.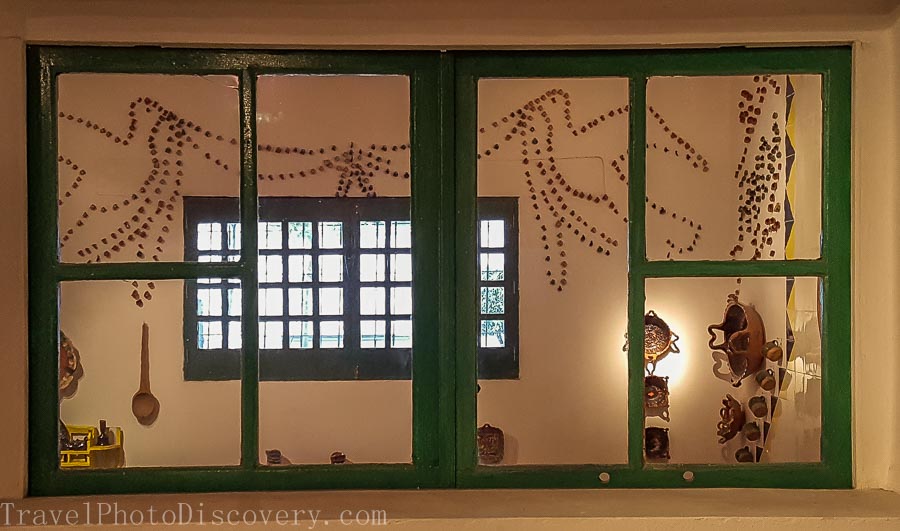 Entering Casa Azul
You enter directly into the main door into a small parlor that is currently being used as a painting gallery of photographs and some artwork done by Frida. This leads into another room, which was used primarily as the living room where Frida and Diego hosted important dignitaries and international visitors like Nelson Rockefeller, George Gershwin and Leon Trotsky. These painting galleries contain many of Frida's minor art pieces but the highlight of this room is her famous watermelon painting below along with a variety of photographs taken of her and visitors to Casa Azul. In the following galleries are also works from Diego Rivera including paintings and his drawings.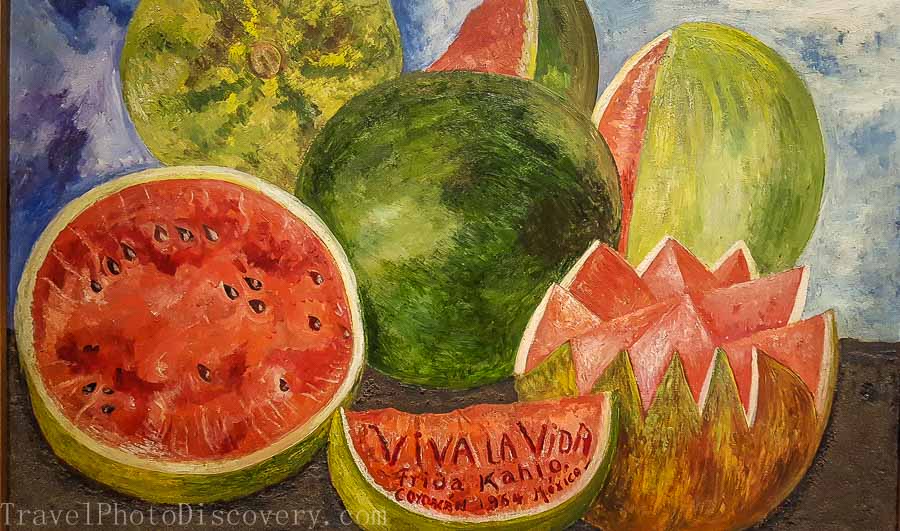 Frida's famous watermelon painting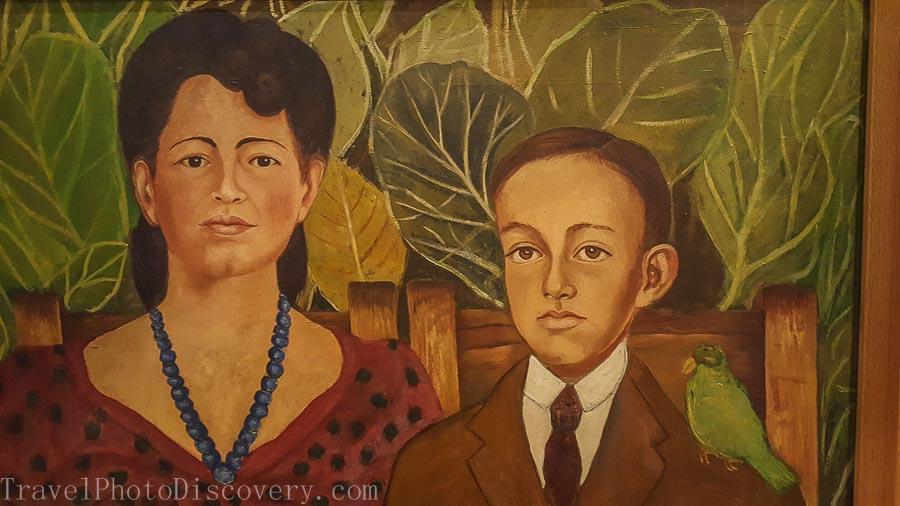 Photos and paintings at the entrance galleries of Casa Azul
A self portrait of Frida Kahlo
The dining room at Casa Azul
After the painting galleries you take a right into the colorful dining room with its pretty ceramic collection of green ceramics contrasting to some bright yellow wood displays – it's a joyful room and filled with bright artwork and whimsical sculpture. I can already imagine the wonderful dinners and conversations that must have been taking place in this beautiful room. Beautiful earthenware pottery and other personal hand made collections line the walls and were purchased from Oaxaca,  Metepec, Tlaquepaque and Guanajuato.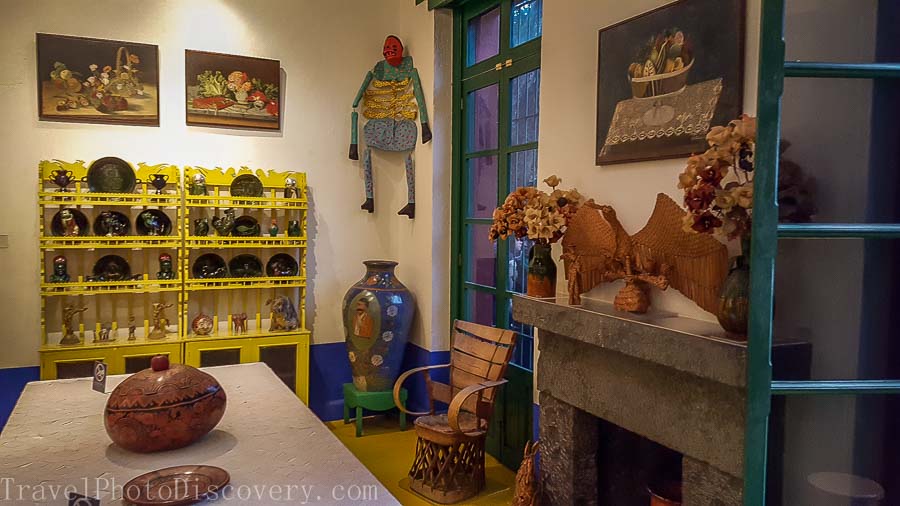 Beautiful green ceramic dishes offset by bright yellow display cases
Diego Rivera's bedroom
Off the main dining room is Diego's private bedroom, small but the interesting vignette displays are also colorful and pleasing to the eye. It must have been nice to have a great meal and practically roll into bed right next door after a lively dinner gathering. Hanging on the wall are Diego's work clothes and hats, including a collection of some of his favorite artwork on the walls.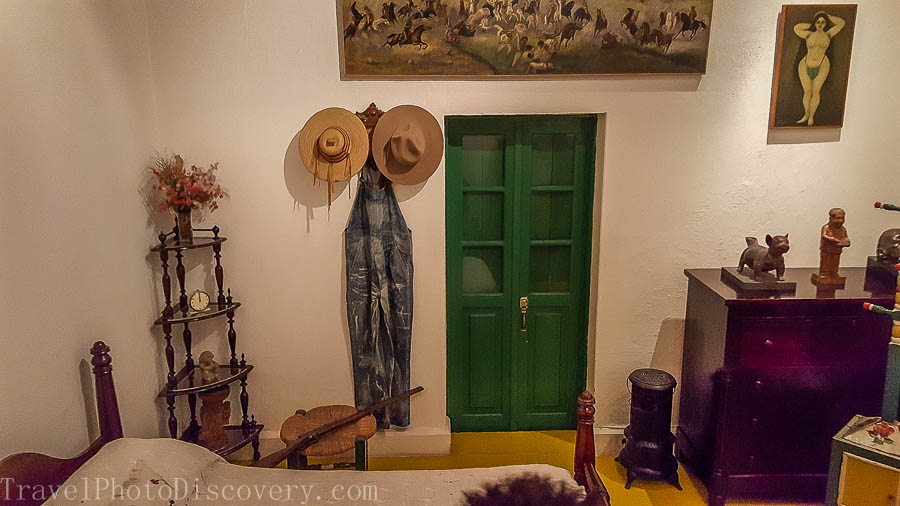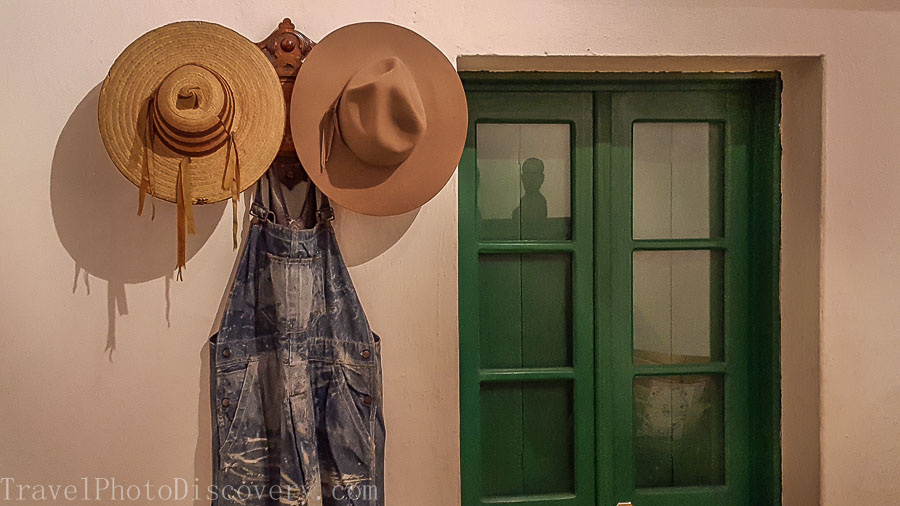 A collection of hats and painting overalls
The kitchen at Casa Azul
The kitchen just off the dining room is also colorful and full of whimsy and charming vignettes. The decorated walls are studded with little pots spelling out the name of Frida and Diego next to a pair of doves tied together into a lovers knot. The blue and yellow tile along with the ceramic pottery and handicraft items is where Frida spent a lot of her time and I can see why she loved this room so much – it is filled with personality and love.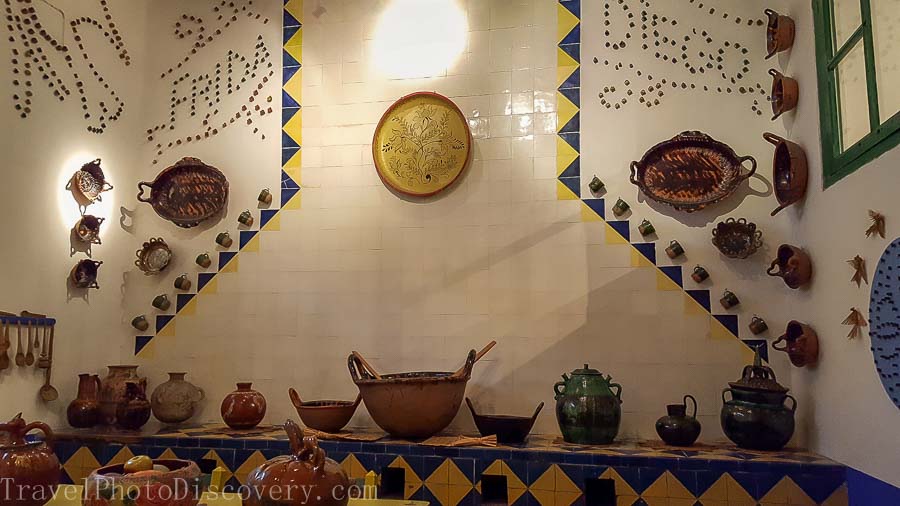 The main cooking areas and displays in the kitchen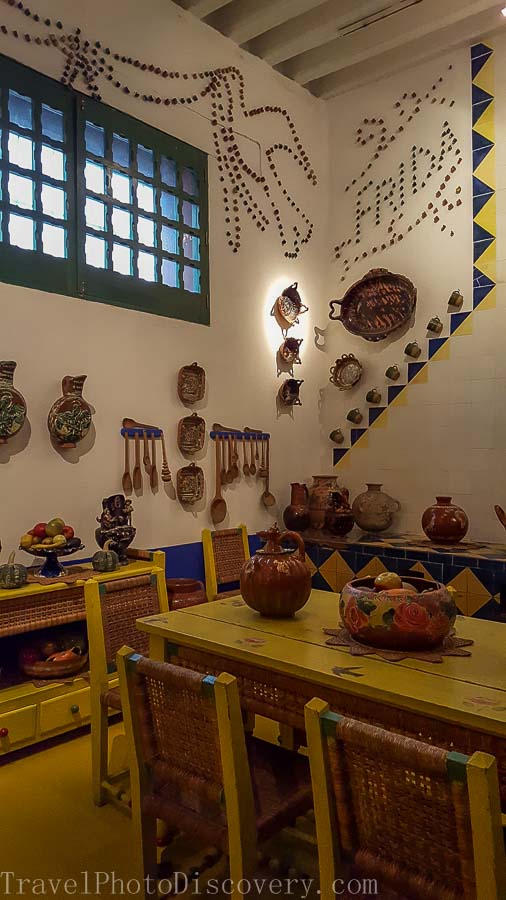 What a joyful kitchen to cook and dine in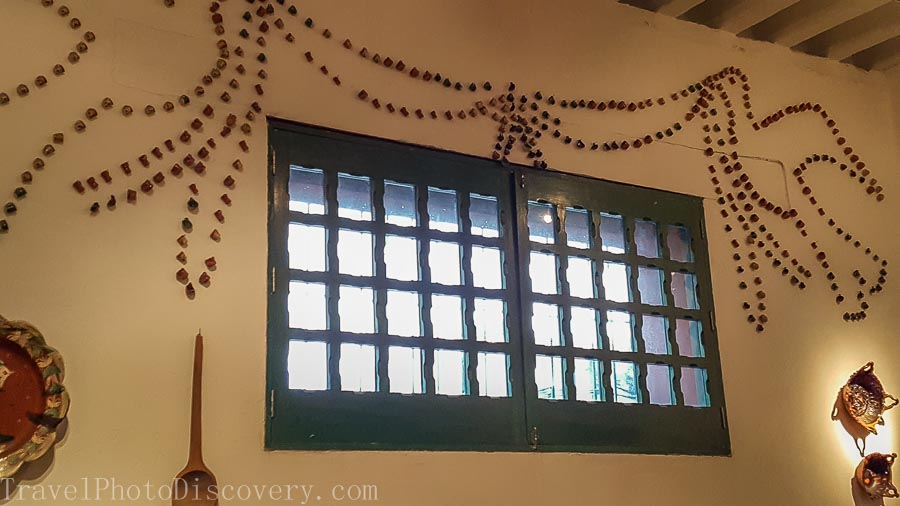 Little ceramic pots create a pair of doves entwined
Frida Kahlo's Bedroom and private chambers
The two rooms on the other side of the dining room are Frida's bedroom and studio area. The bed displays a sculptured head surrounding by one of her scarves in a beautiful display. Under the canopy is a large mirror that she used to she herself while painting self portraits. I noticed at the foot of the bed, a photo montage that included the likes of many famous political figures like Joseph Stalin, Mao Zedong, Lenin and Karl Marx.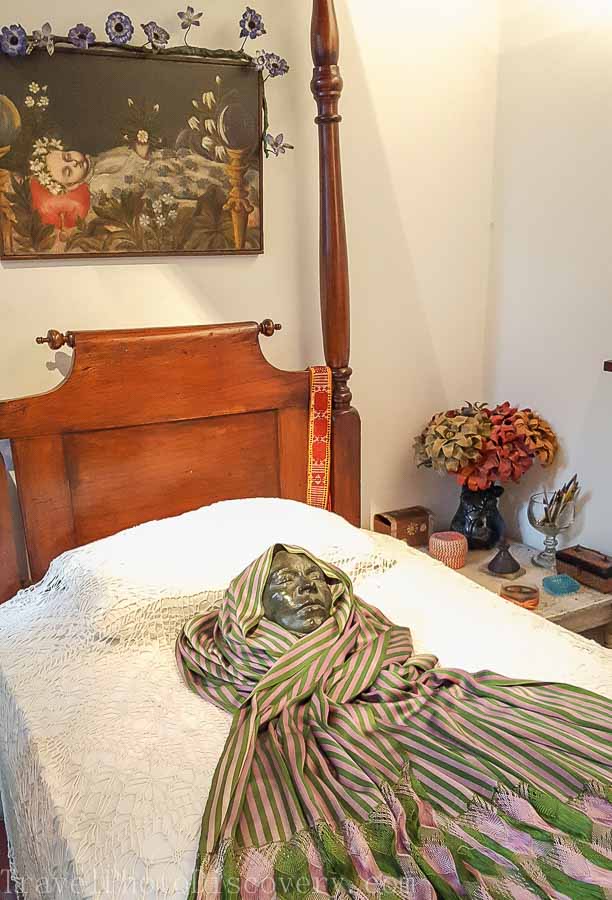 A sculptured face wrapped in Frida's scarf lies on her bed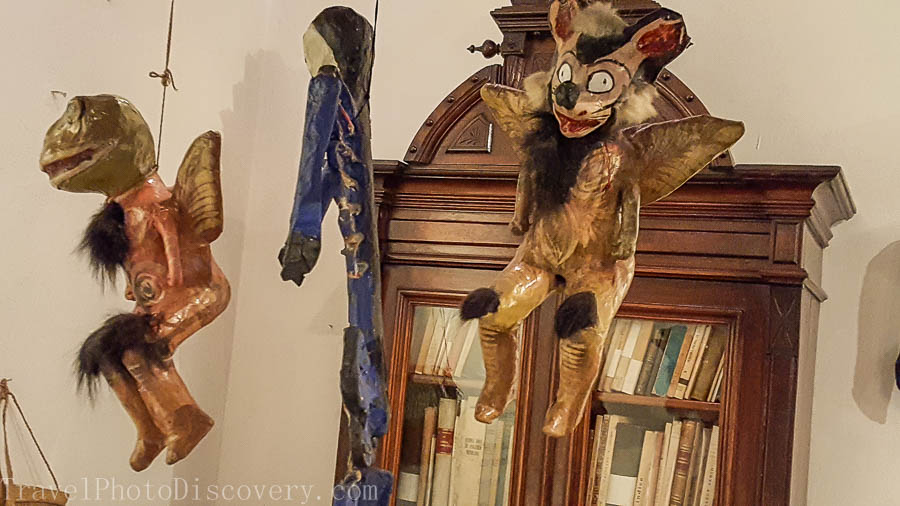 Animated dolls decorate Frida's bedroom walls
Frida Kahlo's painting studio
Frida's studio is definitely my favorite room with displays of her painting materials, easel and other personal mementos. There's a beautiful vignette of her wheel chair facing an unfinished painting of different fruits, probably one of many still life's I can imagine being propped up on a table for her to visualize and then paint. Her work table nearby, looks like it is ready for her to start mixing some paints or open up any of the colored inks for her to draw with.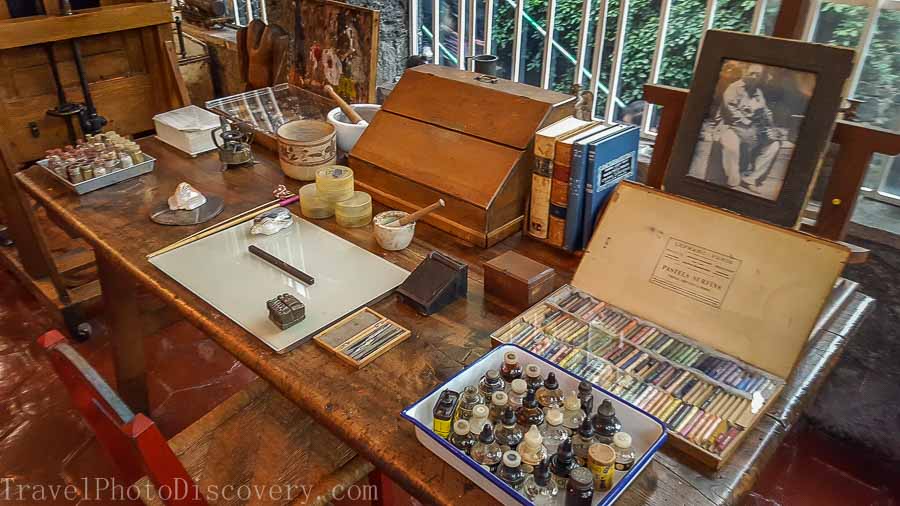 A photograph of Diego and some pastels and mixed media at Frida's studio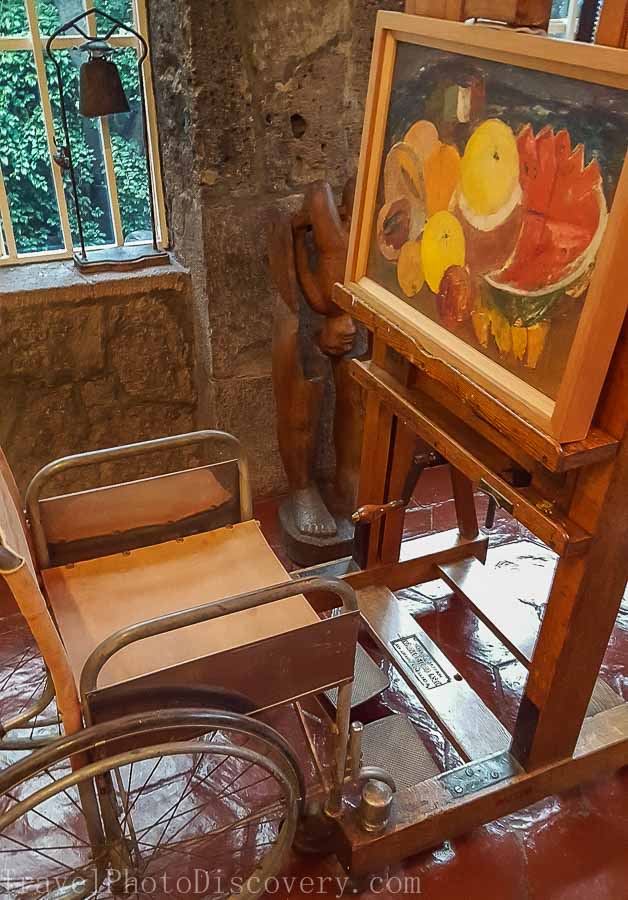 Painting display and wheelchair in the studio
After visiting her studio which is the last room upstairs, you climb down a stone staircase that faces a beautiful mosaic stone fountain with large mosaic frogs at the bottom. A display on the side under the home shows some temporary exhibits (on this visit I saw some gorgeous Day of the Dead displays which were stunning to see)
Display gallery of Frida Kahlo's wardrobe
A collection of traditional Mexican folk dresses
In a separate wing of the museum is a new gallery displaying many of the traditional dresses that Frida loved to wear for her daily wear. These Tehuana-style style Mexican folk dresses became her signature style along with over the top head pieces and ornamentation she used from handicraft items made throughout Mexico.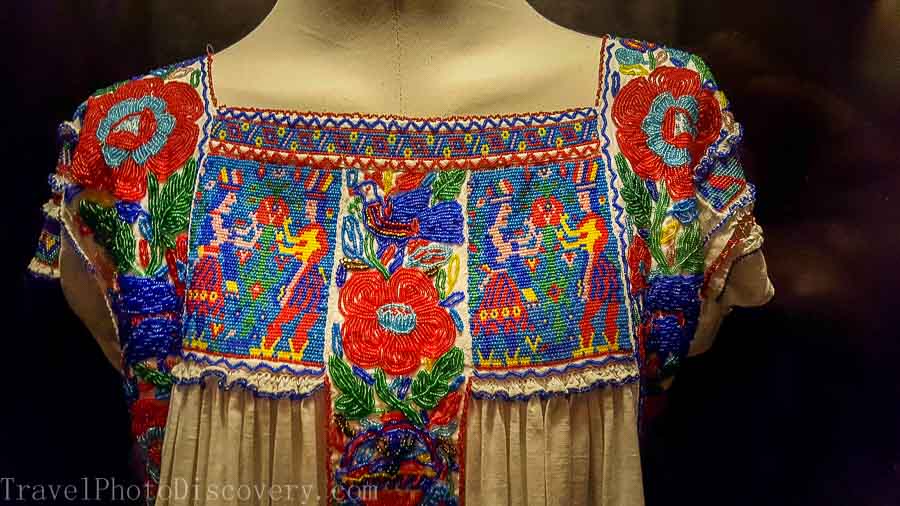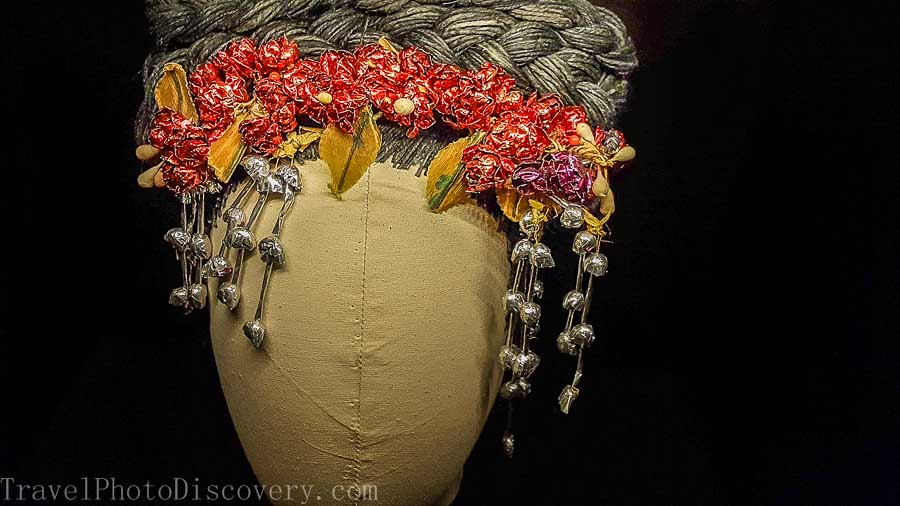 Frida's headdresses are also elaborate and colorful
Outdoor art displays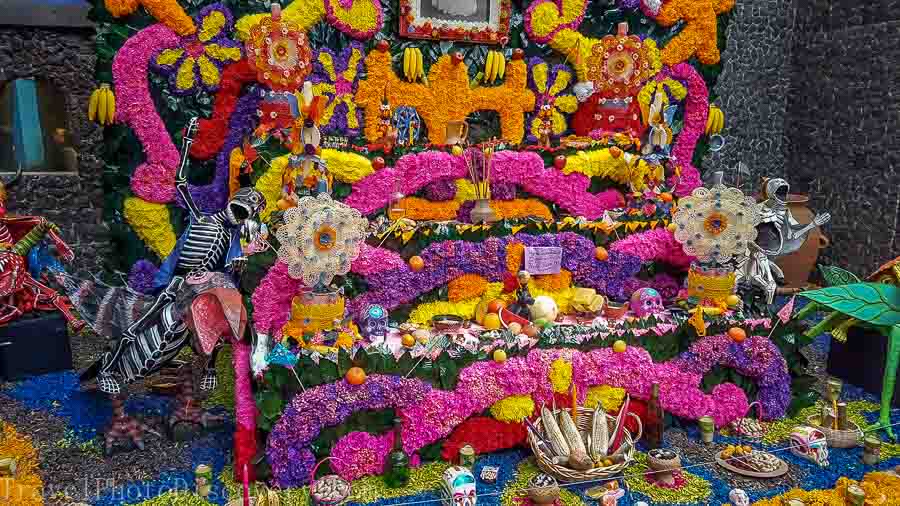 Elaborate Day of the dead display at Frida Kahlo Museum
The visit to the Frida Kahlo Museum was just incredible and exceeded everything I imagined their collections and personal lives must have been like to live and celebrate their lives together in Mexico City and creating amazing art for the world to appreciate.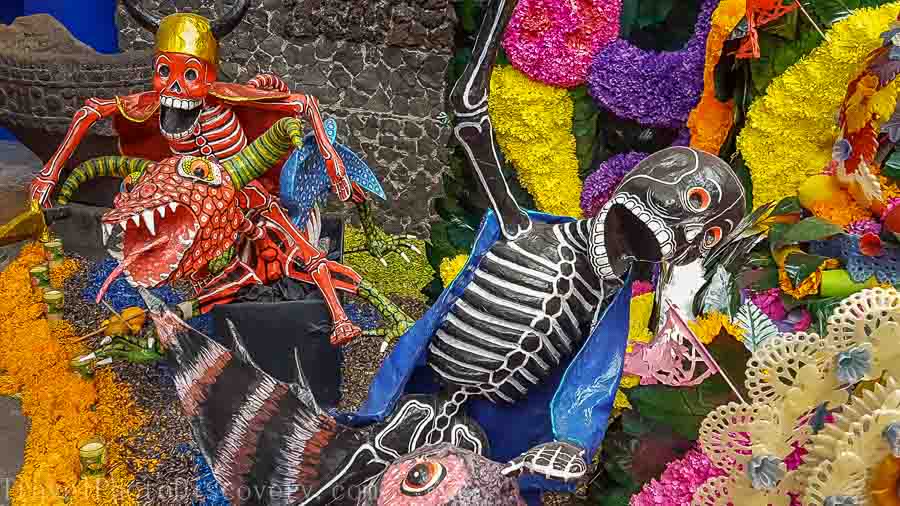 Day of the Dead displays are whimsical and full of color
A short taxi cab drive from Casa Azul and in the same borough is Museo Anahuacalli, another art museum dedicated to Diego Rivera and Frida Kahlo.Diego worked on most of the details for the museum containing many of Diego's drawings, collections and other paintings. Housed in a building that looks more like a fortress mixed in with a Mexican type of pyramid, the tall structure lets you walk all the way to the rooftop with expansive views all over Mexico City. There is a rotating show on some of the lower levels, ancient artifacts that were owned by the benefactor of Diego Rivera and Frida, along with works from both artists. Below are some photographs of the interiors and views from the rooftop deck.
Tip – for the price of admission to the Frida Kahlo museum, you also get free admission to Museo Anahuacalli. It's a short cab ride away in the same borough, so you can see both museums in one visit.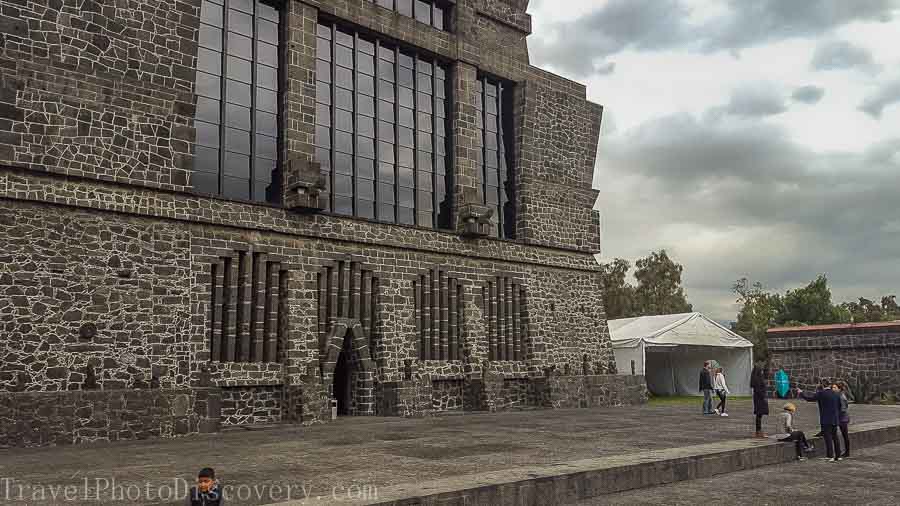 The façade of Museo Anahuacalli dedicated to Diego Rivera and Frida Kahlo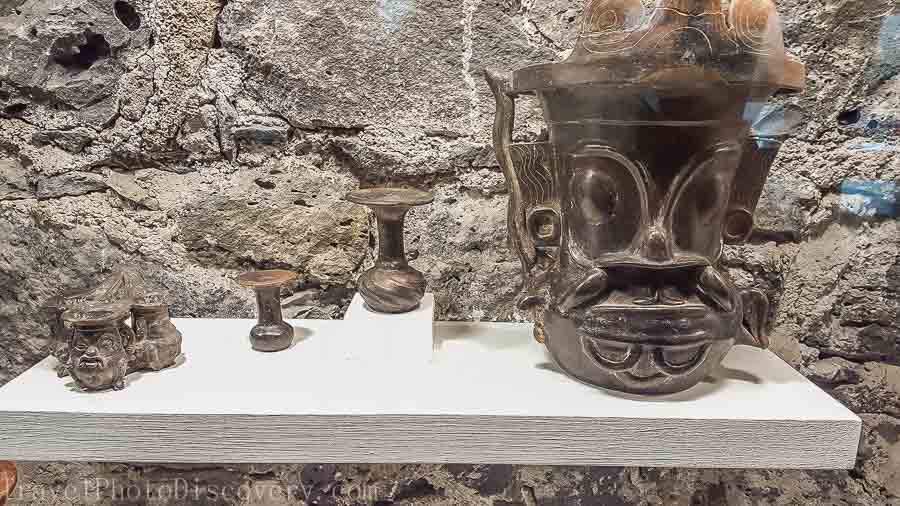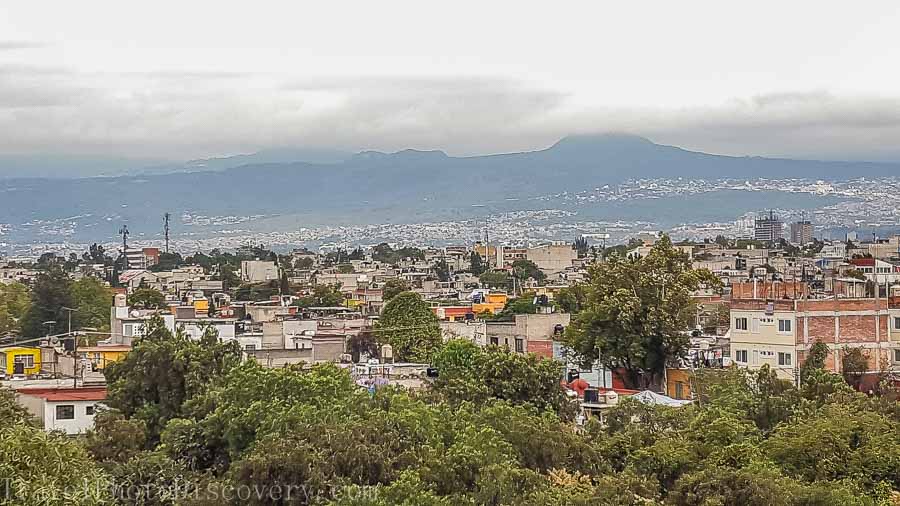 Details for a visit to both Museums of Frida Kahlo and Diego Rivera
Museo Anahuacalli .
Museo 150, Coyoacán, San Pablo Tepetlapa, 04620 Ciudad de México, CDMX, Mexico
For hours and admission, check their website here
Frida Kahlo Museum
Londres 247, Del Carmen, Coyoacán, 04100 Ciudad de México, CDMX, Mexico
For hours and admission, check their website here
Places to see close by to the Frida Kahlo Museum
While visiting the Frida Kahlo Museum in Mexico City's Coyoacán neighborhood, you'll have the opportunity to explore several nearby attractions and points of interest:
Coyoacán Center
Stroll through the charming streets of Coyoacán, which offer a mix of colonial architecture, quaint cafes, and local markets. The main square, Plaza Hidalgo, is a focal point for cultural activities.
Leon Trotsky Museum
Located a short walk from the Frida Kahlo Museum, this museum was the former residence of Russian revolutionary Leon Trotsky. It provides insights into his life and exile in Mexico.
San Juan Bautista Church
Visit the historic San Juan Bautista Church, which dates back to the 16th century and features a stunning baroque facade.
Coyoacán Market
Explore the vibrant Coyoacán Market, where you can sample local street food, purchase artisan crafts, and experience the lively atmosphere.
Viveros de Coyoacán
These urban gardens and tree nurseries offer a peaceful escape from the city's hustle and bustle. It's a great place for a leisurely walk or a picnic.
National Museum of Popular Culture
Located a short distance away, this museum showcases the rich and diverse culture of Mexico through exhibits on folk art, traditions, and craftsmanship.
Diego Rivera's Anahuacalli Museum
Diego Rivera's own creation, this unique museum showcases his personal collection of pre-Hispanic art and artifacts in a striking volcanic stone building.
Xicoténcatl Theater
Enjoy cultural performances and events at this historic theater in Coyoacán.
Bazar Sabado (Saturday Market
If you're visiting on a Saturday, don't miss this artisan market in San Ángel, where you can find Mexican handicrafts, jewelry, and art.
Magdalena Carmen Frieda Kahlo y Calderón's Birthplace
While not a museum, you can visit the birthplace of Frida Kahlo, which is a few blocks from the Casa Azul. It's a small museum dedicated to her early life.
These nearby attractions offer a well-rounded cultural and historical experience in the vicinity of the Frida Kahlo Museum, allowing you to delve deeper into the rich heritage of Coyoacán and Mexico as a whole.
15 places to eat around Coyoacan in Mexico City
Coyoacán, in Mexico City, offers a delightful culinary scene with a mix of traditional Mexican flavors, international cuisine, and charming cafes. If you are hungry after your visit to the Frida Kahlo museum, here are some places to eat around Coyoacán:
1. **Mercado de Coyoacán**: Explore the local food stalls within Coyoacán Market. Try dishes like tacos, tamales, quesadillas, and freshly squeezed juices.
2. **El Jarocho**: A beloved local cafe known for its excellent coffee and churros. It's a perfect spot for breakfast or an afternoon pick-me-up.
3. **Los Danzantes**: A restaurant and mezcaleria offering a contemporary take on Mexican cuisine. Their mole dishes and mezcal selection are highly recommended.
4. **La Coyoacana**: Famous for its flautas, this casual eatery serves up delicious and affordable Mexican street food.
5. **Las Lupitas**: A charming spot known for its traditional Mexican antojitos (snacks). Try the huaraches, tlacoyos, and enchiladas.
6. **Panadería Rosetta**: A bakery with an array of delectable pastries, bread, and sandwiches. Ideal for a quick and tasty breakfast.
7. **La Chilanguita**: A lively restaurant offering a wide variety of Mexican dishes in a vibrant atmosphere. Try their guacamole and margaritas.
8. **Mercado de Antojitos Coyoacán**: This market specializes in antojitos (street snacks). Savor tacos, tlayudas, and other savory delights.
9. **El Tajín**: Known for its regional cuisine from Veracruz, El Tajín offers dishes like seafood, tamales, and mole. Don't miss the café de olla (traditional Mexican coffee).
10. **La Casa de Tono**: A popular spot for traditional Mexican comfort food. Their mole dishes and enchiladas are a must-try.
11. **Tostadas Coyoacán**: Enjoy a variety of tostadas (crispy tortillas topped with various ingredients) in this casual eatery.
12. **Fonda El Refugio**: An upscale restaurant offering a modern twist on Mexican classics. It's a great place for a special dinner.
13. **El Hidalguense**: Famous for its barbacoa (slow-cooked lamb), this restaurant provides a taste of regional Hidalgo cuisine.
14. **Lalo!:** A trendy cafe known for its brunch offerings, including delicious egg dishes and freshly baked goods.
15. **Azul Histórico**: Located in a colonial-era building, this restaurant serves upscale Mexican cuisine in an elegant setting.
Whether you're in the mood for traditional Mexican street food, regional specialties, or international flavors, Coyoacán has a wide range of dining options to satisfy your culinary cravings. Enjoy your culinary journey through this vibrant neighborhood.
Conclusion to visiting the Frida Kahlo Museum in Mexico City
I hope that you enjoyed this post on the Frida Kahlo Museum in Mexico City and may visit it some day. If you enjoyed reading this, could you please share it with any of the social media buttons located around the post.
If you like what you see, come and check out my other social media channels for more updates, including Instagram, Pinterest and Twitter