Fun activities to do in Miami: Unleash the Excitement in the Magic City
Fun Miami activities and attractions offer a vibrant blend of sun-soaked adventures and cultural experiences. From the glistening beaches to the pulsating nightlife, Miami beckons visitors with its electrifying energy. Dive into the turquoise waters, bask in the year-round sunshine, and explore the colorful art deco architecture of South Beach. Immerse yourself in the thriving culinary scene, savoring flavors from diverse cultures. Indulge in high-end shopping along Lincoln Road or uncover hidden gems at the eclectic boutiques of Wynwood. With its blend of beach vibes, cosmopolitan allure, and a fusion of cultures, Miami promises an unforgettable escape filled with endless fun and excitement.
Indulge in these fun and unusual adventure activities and excursions you can do around Miami area and you'll be living life to the fullest on these experiences.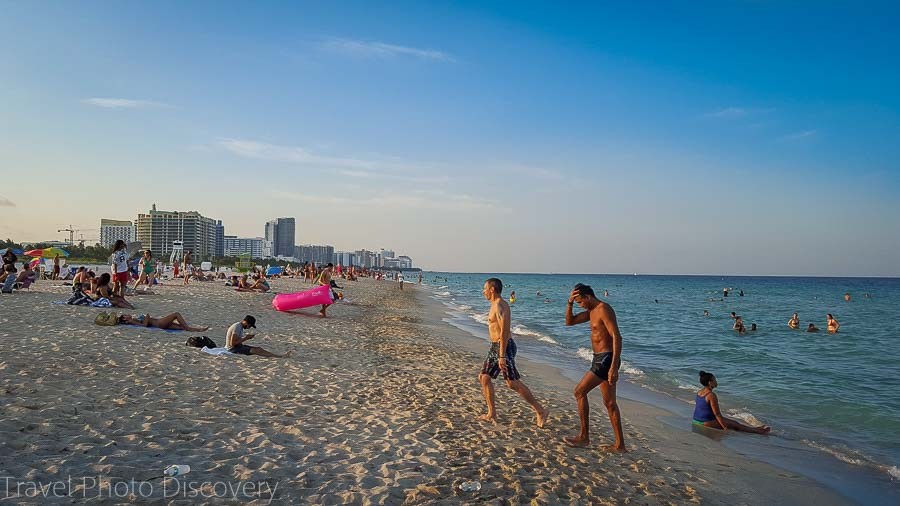 Check out these fun activities you can in Miami and surrounding areas
You'll enjoy doing any of these fun Miami adventure or recreation activities to do around the city or a short day trip experiences. These tours may indeed be the highlight to your visiting the Miami metropolis below.
Take an exhilarating Star Island Segway Tour for a unique and thrilling adventure in Miami. After a brief training session on operating a Segway, you'll glide along effortlessly, exploring the glamorous Star Island. Marvel at the opulent mansions of celebrities and soak in the stunning waterfront views as you cruise around this exclusive island paradise. An expert guide will provide fascinating commentary, sharing stories about the rich and famous who call this area home. Zip along the palm-lined streets, feeling the warm breeze against your skin, and capture memorable photos of the luxurious surroundings. A Star Island Segway Tour is an exciting way to discover Miami's glamour and live a slice of the high life while enjoying the freedom and thrill of riding a Segway.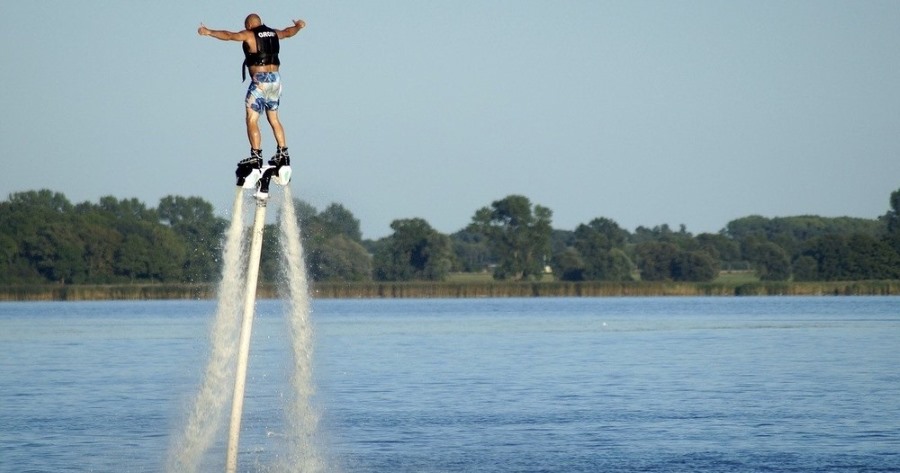 Looking for an exhilarating water adventure beyond riding a jet ski? Look no further than our Flyboard rentals! These incredible devices attach to personal watercraft, allowing riders to stand and soar above the water while the jet ski's driver controls the craft. Experience the sensation of "flying" as the Flyboard propels you high above the water's surface, creating an unforgettable and adrenaline-pumping experience.
What makes the Flyboard even more thrilling is its dynamic nature. The height of the Flyboard can be adjusted while riding, thanks to powerful water jets located near your feet. This adds an extra level of excitement as you maneuver through the air and water, creating a truly remarkable ride.
Capture the excitement of your Flyboard adventure by adding our photo/video package for just $19.99 per jet ski and Flyboard rented. This ensures you'll have incredible footage to share with friends and family, preserving the memories of your Miami vacation and the thrilling moments spent on the Flyboard.
Prepare for an adventure like no other, as you defy gravity and experience the thrill of "flying" with our Flyboard rentals. Get ready for an extraordinary water experience that will leave you with unforgettable memories to cherish for years to come.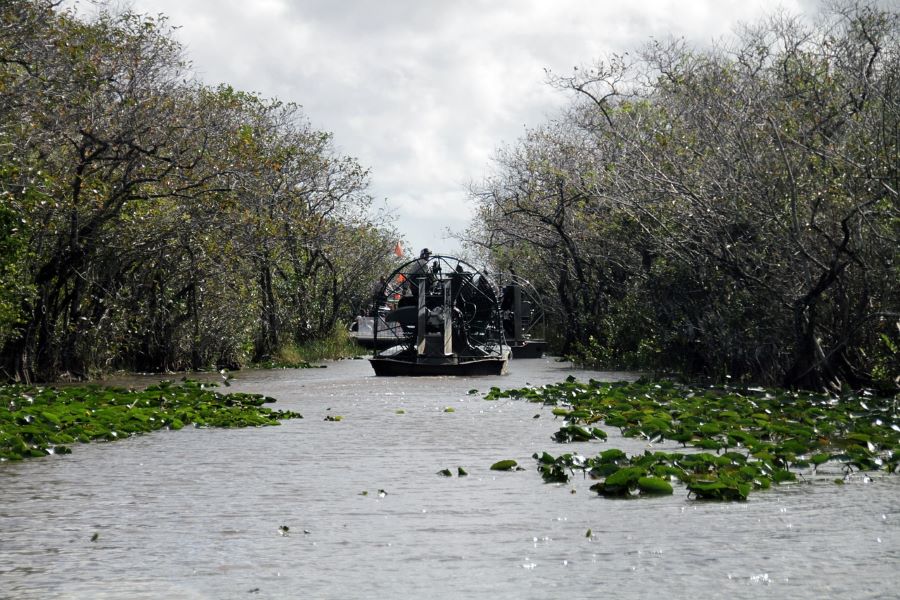 Experience an entertaining and educational 4.5-hour guided tour that takes you from the vibrant Art Deco District of South Beach to the captivating Everglades National Park. Depart from the lively atmosphere of South Beach and venture into the untamed wilderness of the Florida Everglades, a haven teeming with diverse flora and fauna. Observe alligators, turtles, and an array of captivating bird species in their natural habitat.
The tour begins in the heart of South Beach's Art Deco district, where you'll gather before being transported to the enchanting Everglades. Throughout the journey, your knowledgeable guide will provide fascinating insights into the flora and fauna that inhabit this expansive subtropical ecosystem. Upon arrival, climb aboard an airboat and skim the water's surface, immersing yourself in the beauty of the 1.5-million-acre Everglades.
Witness the indigenous wildlife, including alligators, birds, snakes, and various reptiles, as they thrive in their natural surroundings. Later, visit an alligator farm, a captivating destination bustling with the continent's largest reptiles. Here, you'll encounter caimans, crocodiles, and other intriguing species, while gaining an understanding of their distinctions. Additionally, you'll learn about the ancient techniques used by Native Americans to capture alligators.
Conclude the tour with a comfortable drive back to Miami, returning to the initial starting point where your memorable journey began.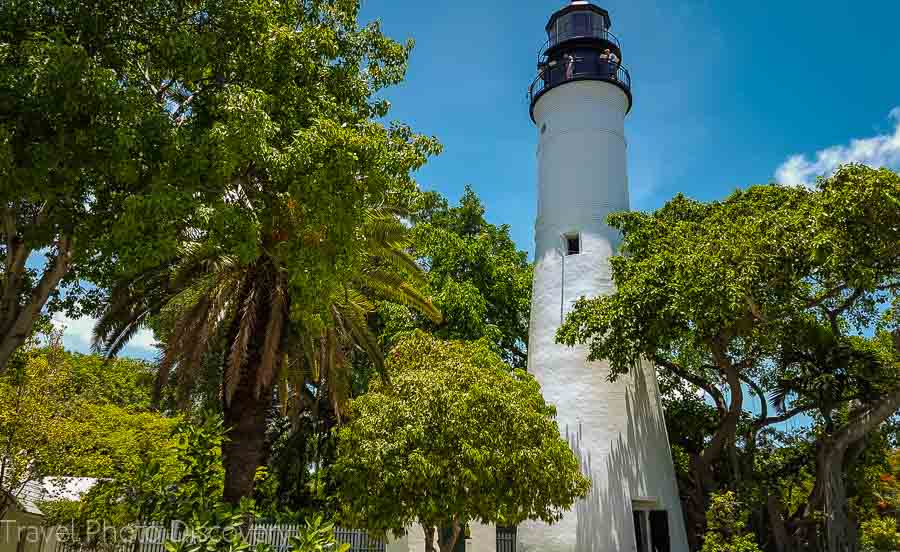 Experience the ultimate full-day excursion from Miami to Key West, immersing yourself in the breathtaking 110-mile Overseas Highway. This remarkable motor journey treats you to a mesmerizing blend of ocean vistas, 42 picturesque bridges, natural wonders, and rich historical significance. Each Key possesses its own distinctive charm, far removed from bustling cities and theme parks. After a full day exploring the Keys, visit our shop to collect your complimentary bike and explore South Beach at your leisure from 9 am to 6 pm.
Depart in the early morning aboard a comfortable, air-conditioned motor coach, relishing the Atlantic Ocean and Gulf of Mexico views. Traverse the legendary Seven-Mile Bridge, arriving in Key West to embrace its vibrant Caribbean ambiance, with street artists, inviting outdoor cafes, and charming restaurants.
Indulge in a leisurely day, delving into Key West's allure and savoring its laid-back atmosphere. Options abound, from visiting Ernest Hemingway's House to reaching the southernmost point of the continental U.S. at the renowned "90 miles to Cuba" Monument. Mallory Square beckons with its captivating energy. Consider embarking on a snorkeling adventure, embarking on a glass-bottom boat excursion, or exploring the area with the convenient Hop-On Hop-Off trolley. As the day concludes, filled with delightful experiences in Key West, relax on the return journey to Miami Beach, arriving at around 10 pm.
This full-day Key West excursion from Miami guarantees an unforgettable journey, immersing you in stunning landscapes, cultural gems, and the laid-back charm of the Keys, while also providing the opportunity to explore the vibrant South Beach by bike.
Book your Key West Day Trip from Miami
Experience a refreshing and captivating perspective of Miami from the water, discovering its rich history and marveling at the city's enchanting sights. Begin your adventure with a convenient pick-up from your South Beach hotel or our shop, where you'll board a comfortable, air-conditioned bus. Embark on a scenic ride through Miami, taking in iconic locations like the Art Deco District, Ocean Drive, Downtown Miami, Brickell Avenue, Coconut Grove, Coral Gables, Little Havana, and the vibrant Calle Ocho.
After exploring the city by land, it's time to set sail on a fully narrated sightseeing boat cruise. Glide along Biscayne Bay and admire the stunning skyline of Downtown Miami, the bustling Port of Miami, picturesque Fisher Island, and the prestigious Millionaire's Row. During the 90-minute cruise, you'll have the opportunity to purchase beverages and light snacks on board.
Conclude your Miami adventure by exploring South Beach on a bicycle, providing an excellent way to discover the beauty of Miami Beach in greater detail. Pedal through the glamorous streets of SoBe and immerse yourself in this tropical paradise. Pass by notable landmarks such as the Versace Mansion, Star Island, the vibrant Lincoln Road outdoor mall, the iconic Ocean Drive and Art Deco District, South Pointe Park, and much more.
Embrace the unique blend of land, sea, and cycling as you uncover the treasures of Miami from different angles, creating memories of this vibrant city that will stay with you forever.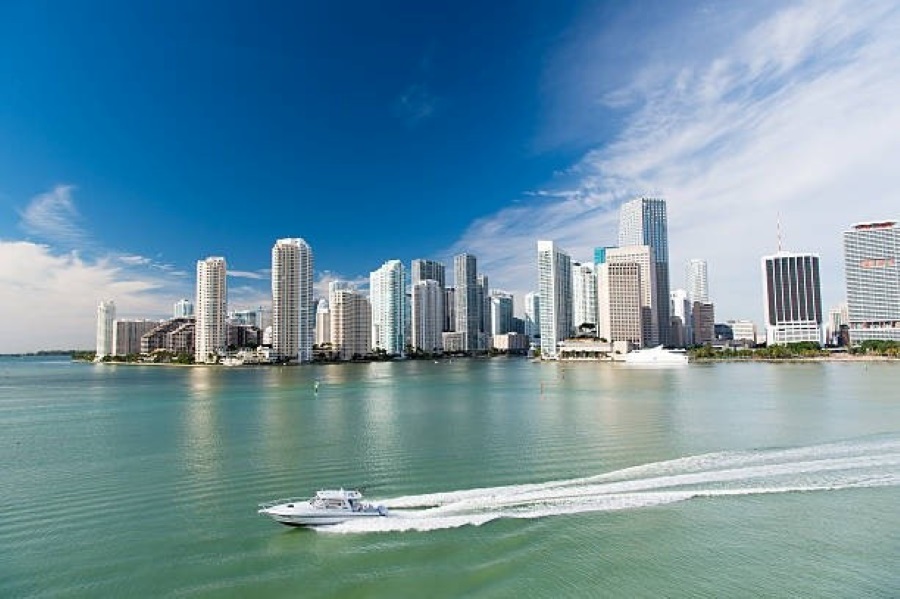 Take an unforgettable adventure and discover Miami Bay like never before aboard a sleek and comfortable sport boat. Feel the thrill as you glide across the sparkling waters, immersing yourself in the beauty of the bay. Whether you're seeking a leisurely cruise or a heart-pumping ride, this sport boat experience promises excitement and breathtaking views that will leave you in awe.
Alternatively, if you're looking to enhance your boating skills, why not book a boating lesson? Learn the ropes from experienced instructors and gain the knowledge and confidence to navigate the waters on your own. Whether you're a beginner or an experienced boater, these lessons offer a valuable opportunity to enhance your boating abilities while enjoying the scenic surroundings of Miami Bay.
Choose your preferred adventure, whether it's a thrilling sport boat ride or a skill-building boating lesson, and immerse yourself in the wonders of Miami Bay, creating unforgettable memories along the way.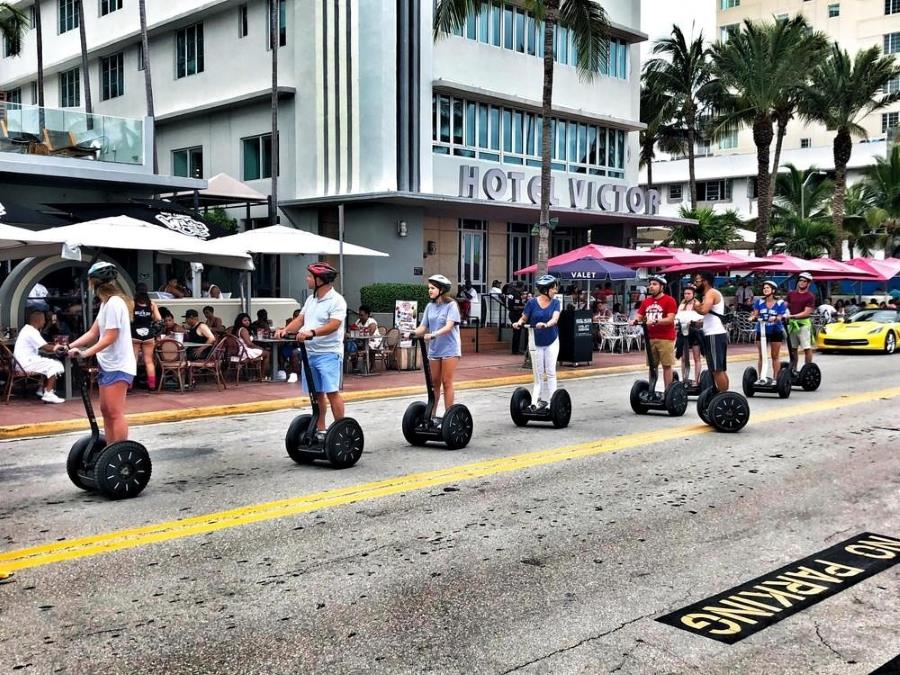 Duration
1 Hour 15 Minutes
About
Why walk or take a bus when you can glide through our incredible city of Miami Beach on a Segway PT? Our professional, entertaining tour guides will train you first, and then you'll be taken on an unforgettable journey to the past.
Our Art Deco District is wonderfully built and preserved for to you explore. Experience the heart, soul, and culture of Miami gliding down the main arteries of the city: Ocean Drive, Collins Ave and, get a glance of the stylish promenade for shopping and dining.
Book your South Beach Art Deco Segway Tour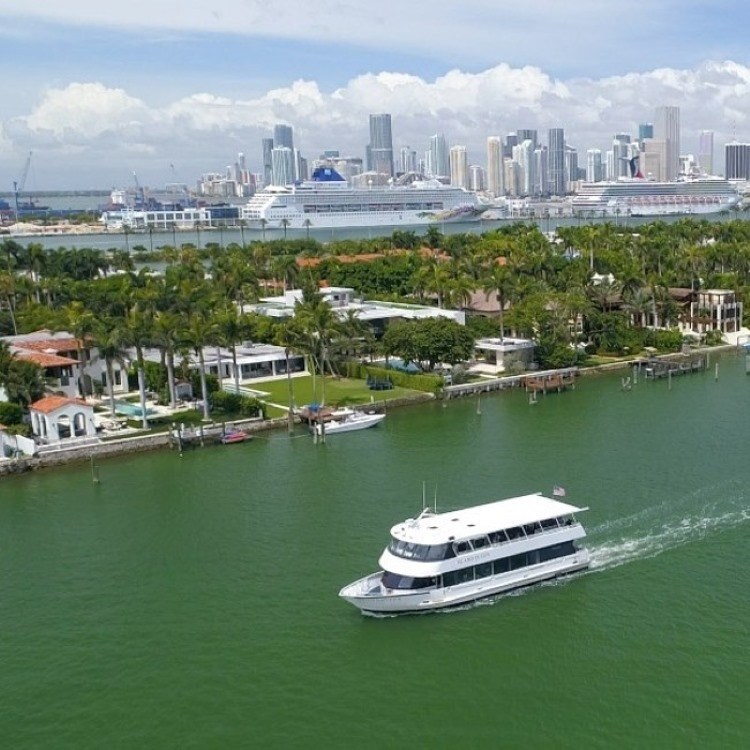 Explore the best of Miami from a unique perspective with a scenic cruise around the stunning Biscayne Bay. This immersive experience showcases the city's highlights, accompanied by an informative guide who highlights star attractions like Millionaire's Row, the renowned Port of Miami, and the exclusive Fisher Island. With cruises departing throughout the day, you have the flexibility to select a departure time that perfectly fits your schedule. Sit back, relax, and soak in the captivating sights as you glide along the picturesque waters of Biscayne Bay, discovering the beauty and allure of Miami from a whole new angle.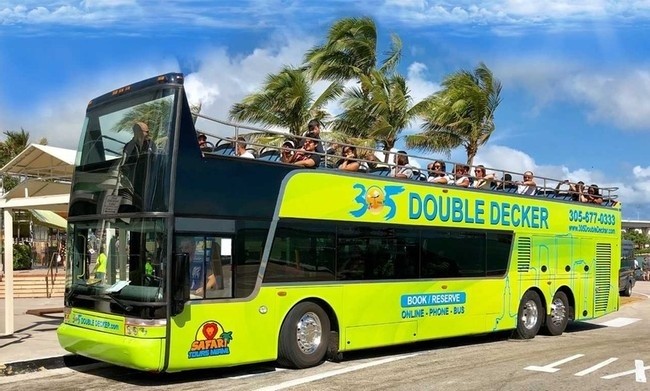 This fun four-hour city tour takes you through the streets of the dynamic city, Learn about the History of Miami, and get a great glance of this magical city, enjoy the complimentary 3 hours bike rental to explore South Beach on any date of your choosing.
Start by getting picked up at your hotel in South Beach or at our shop, and ride around town in a comfortable air-conditioned bus. See some of the most scenic spots, including the Art Deco District, Ocean Drive, Downtown Miami, Brickell Avenue, Little Havana, and Calle Ocho.
Exploring the city by Bus on this fully narrated sightseeing tour. see the Downtown Miami skyline, the Port of Miami, Fisher Island, and Millionaire's Row.
Finally, explore South Beach by bicycle, an excellent way to see Miami Beach even further. Ride through glamorous SoBe, and experience our tropical weather that make miami a paradise. Ride past the Versace Mansion, Star Island, the vibrant Lincoln Road outdoor mall, Ocean Drive and the Art Deco District, South Pointe Park and more.
Duration – 4 hours
The Miami Citytour & Speedboat is an exciting and immersive experience that allows you to explore the vibrant city of Miami both on land and water. This tour provides a unique perspective of Miami's iconic landmarks and beautiful coastal scenery.
The tour typically begins with a guided sightseeing tour of the city. You'll board a comfortable and air-conditioned coach or minibus, accompanied by a knowledgeable guide who will share interesting facts and stories about Miami's history, culture, and famous attractions. As you drive through the streets of Miami, you'll pass by renowned neighborhoods like South Beach, Downtown Miami, Coconut Grove, and Little Havana.
During the city tour, you'll have the opportunity to see some of Miami's most iconic landmarks, such as the Art Deco Historic District in South Beach, where you can admire the colorful and unique architectural designs. You might also pass by the famous Ocean Drive, known for its trendy restaurants, bars, and vibrant nightlife.
After exploring the city by land, the tour takes an exciting twist as you head to the waterfront for the speedboat portion. You'll board a fast and sleek speedboat specially designed for thrilling rides along Miami's picturesque coastline. The speedboat adventure allows you to feel the wind in your hair as you zip across the sparkling waters of Biscayne Bay.
As the speedboat glides through the waves, you'll be treated to breathtaking views of Miami's skyline, including its iconic skyscrapers, luxury waterfront mansions, and the impressive Port of Miami. Your expert boat captain will navigate the waters, providing commentary on the notable sights and offering insights into Miami's maritime heritage.
The combination of the city tour and speedboat ride offers a comprehensive and thrilling experience that showcases the best of Miami. It allows you to discover the city's cultural diversity, architectural gems, and stunning coastal landscapes in a unique and memorable way.
Duration
5 hours
Includes
See homes of the stars by speedboat
See skyline by speedboat (ca. 45min)
Little Havana
Cuban Cigar maker
Downtown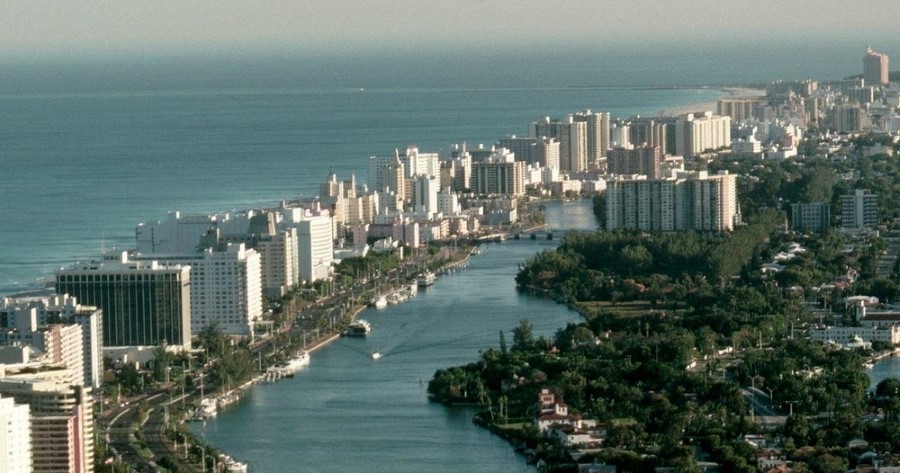 Experience the breathtaking beauty of Miami's surrounding areas from a unique vantage point high above. It's undoubtedly one of the most thrilling and awe-inspiring ways to enhance your Miami vacation. Soar through the skies and capture stunning videos and photos of the most unforgettable moments of your trip. These cherished memories will endure forever, allowing you to share the excitement and joy with your family and friends back home. Take in the magnificent views of Miami and its mesmerizing beaches as you glide above. From this elevated perspective, you'll witness a myriad of captivating sights that can't be seen any other way. Marvel at the city's impressive skyline, glistening waters, vibrant urban landscape, and much more, all with crystal-clear clarity. This is an adventure you absolutely don't want to miss out on.
What to Bring
Comfortable clothing & shoes
License or valid ID
Tips to doing any of these Miami Adventure experiences
Here are some tips for enjoying Miami's adventure experiences:
Plan Ahead: Research the adventure experience you're interested in and make any necessary reservations in advance. This will help ensure availability and save you time on the day of the activity.
Dress Appropriately: Check the recommended dress code for your adventure. Miami's climate is generally warm and humid, so wear lightweight, breathable clothing and comfortable shoes suitable for the activity.
Stay Hydrated: With the tropical climate, it's important to stay hydrated throughout your adventure. Carry a reusable water bottle and drink plenty of fluids to avoid dehydration.
Protect Yourself from the Sun: Miami's sun can be intense, so apply sunscreen generously and regularly. Wear a hat, sunglasses, and protective clothing to shield yourself from the sun's rays.
Follow Safety Guidelines: Listen carefully to the instructions provided by guides or instructors and adhere to all safety guidelines. This will ensure a safe and enjoyable experience.
Bring Essential Items: Depending on the adventure, bring necessary items such as insect repellent, a waterproof bag, a camera, or any specific gear required for the activity. Check with the provider or tour operator for recommended items.
Be Open to New Experiences: Miami offers a range of adventure experiences, from water sports to wildlife encounters. Embrace the opportunity to try something new and step out of your comfort zone.
Respect the Environment: Treat the natural surroundings with care and respect. Follow "Leave No Trace" principles by avoiding littering and minimizing your impact on the environment.
Listen to Local Recommendations: Talk to locals or seek advice from experienced adventure providers for additional tips and recommendations specific to your chosen activity. They can offer valuable insights and suggestions.
Have Fun and Enjoy the Moment: Miami's adventure experiences are meant to be exciting and memorable. Embrace the thrill, soak in the beautiful surroundings, and make the most of your time in this vibrant city.
Conclusion to Fun activities to do in Miami
With its thrilling adventure activities and captivating attractions, Miami is the ultimate playground for those seeking fun and excitement. From exploring the vibrant Art Deco District to immersing yourself in the untamed beauty of the Everglades, Miami offers a myriad of experiences that will leave you with unforgettable memories. Soar through the sky on a parasailing adventure, dive beneath the waves for an unforgettable scuba diving expedition, or embark on a thrilling airboat ride through the mangroves. Whether you're seeking adrenaline-pumping adventures or awe-inspiring natural wonders, Miami has it all. Unleash your adventurous spirit, create lasting memories, and let Miami be the backdrop for your next thrilling escapade. Get ready for the adventure of a lifetime!
Hope that this post has been helpful to planning your visit to the city and if so, please do share it with any of the social media channels and buttons located below.
Disclosure – some of the links above are to affiliate sites that are either reviews or recommendations if you book helps to keep our site running at no additional cost to you. We appreciate your supporting our website meanwhile.