Riviera Maya is located on the Caribbean Coastline in Mexico and is known for its beautiful resorts, white sand beaches, and spectacular sceneries. It's a great vacation spot for the entire family and makes for a wonderful place to explore. 
Tulum, also located in Riviera Maya, is known for its meditation retreats on the beaches, where you can relax and blow off some steam.
Riviera Maya has something for everyone – whether you like to party, go on adventures, or just chill back and relax, this is the place for you! If you're looking for the best things to do on Riviera Maya, then you've come to the right spot. 
Ruins of Tulum, Mexico overlooking the Caribbean Sea in the Riviera Maya
Weather and best time to visit Riviera Maya
The Riviera Maya, located along Mexico's Caribbean coast, boasts a tropical climate, making it a year-round destination. However, the best time to visit depends on your preferences:
Winter (December to April)
– **Weather**: Pleasant and dry with temperatures around 75°F to 85°F (24°C to 29°C).
– **Best for**: Ideal for beach lovers and water activities. This is the peak tourist season, so expect larger crowds.
Spring (May to June)
– **Weather**: Warm and increasingly humid, with temperatures between 80°F and 90°F (27°C to 32°C).
– **Best for**: Lower crowds, comfortable weather, and good for exploring ruins and outdoor adventures.
Summer (July to August)
– **Weather**: Hot and humid, with temperatures ranging from 85°F to 95°F (29°C to 35°C).
– **Best for**: Snorkeling, diving, and enjoying cenotes. Be prepared for occasional rain showers and high humidity.
Hurricane Season (June to November)
– **Weather**: This period overlaps with hurricane season. While hurricanes are relatively rare, there can be heavy rains and storms, particularly in September and October. Travel insurance is advisable if visiting during this time.
Fall (September to November)
– **Weather**: Warm and humid, with temperatures between 80°F and 90°F (27°C to 32°C).
– **Best for**: Lower prices and fewer tourists. Be mindful of the potential for rain.
In summary, the best time to visit the Riviera Maya depends on your priorities. If you seek ideal weather and vibrant activities, the dry season from December to April is ideal. For budget-conscious travelers and those who prefer quieter experiences, the shoulder seasons of spring and fall can be wonderful. However, keep an eye on weather forecasts if visiting during hurricane season, and consider travel insurance for added peace of mind.
How to get around the Riviera Maya
Getting around the Riviera Maya in Mexico is relatively easy, thanks to a variety of transportation options. Here's how to navigate this stunning coastal region:
1. **Rental Cars**: Renting a car is a convenient way to explore the Riviera Maya, especially if you plan to visit multiple destinations. Major car rental agencies operate at airports and in major towns. Be aware of local driving rules and road conditions.
2. **Taxis**: Taxis are widely available in towns and tourist areas. Ensure that the taxi has a working meter, or agree on a fare before starting your ride. In some cases, hotels can arrange taxis for you.
3. **Colectivos**: These shared vans or minibusses are a budget-friendly option for traveling between towns and attractions along the coast. They operate on set routes and can be hailed along the road or found at designated stops.
4. **Buses**: Public buses run between towns in the Riviera Maya, offering an affordable means of transportation. ADO is one of the major bus companies in the region, providing comfortable, air-conditioned buses.
5. **Biking**: Many towns and tourist areas have bike rental shops. Exploring the Riviera Maya on two wheels is not only eco-friendly but also a fun way to see the sights.
6. **Walking**: In town centers and tourist areas, walking is a delightful way to explore. You can leisurely stroll along the beach, explore markets, and visit nearby restaurants and attractions.
7. **Private Transfers**: If you prefer a hassle-free experience, consider booking private transfers through your hotel or a transportation company. This is convenient, especially for airport transfers and day trips.
8. **Ferries**: To reach Cozumel or Isla Mujeres, you can take passenger ferries from Playa del Carmen. These islands offer beautiful beaches and snorkeling opportunities.
9. **Tuk-Tuks**: In some smaller towns, tuk-tuks or moto-taxis are available for short trips within the town or to nearby attractions.
10. **Boats**: For coastal exploration and accessing some attractions like cenotes, boat tours and water taxis are available.
11. **Rideshares**: Uber and Didi are available in some parts of the Riviera Maya, providing a convenient and often cost-effective means of transportation.
12. **Tour Buses**: If you plan to join guided tours to attractions like Tulum, Coba, or the cenotes, tour buses often provide transportation as part of the package.
When exploring the Riviera Maya, it's important to consider your itinerary and preferences. For local trips within towns, walking or using taxis is convenient. If you plan to explore the region extensively, a rental car or colectivos may be your best options. Each mode of transportation offers its own unique experience, allowing you to tailor your journey to your specific interests.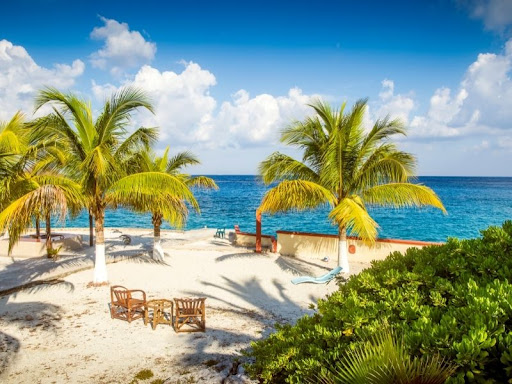 Why visit Riviera Maya?
Riviera Maya is an excellent spot for couples and honeymooners who want to spend some quality romantic time with their significant other.
Moreover, the Barceló Maya Riviera – Adults only ***** let you party and have the time of your life! 
Keep reading to find out more about what activities you can enjoy at this paradise of a coastline. 
10 Fun Things to do on Riviera Maya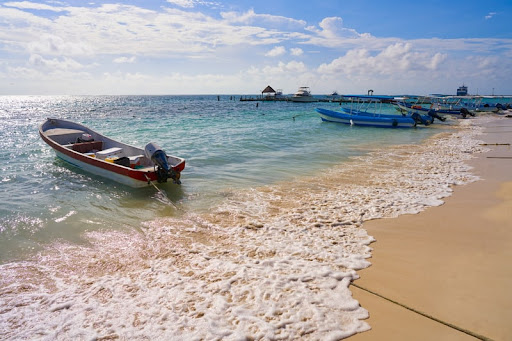 1. Visit the best beaches in Riviera Maya
Puerto Morelos beach in Riviera Maya at Mayan Mexico
If you're looking for a place to relax and have fun with your family, visit the beautiful beaches in Riviera Maya. 
Here are some of the best beaches in Riviera Maya you should visit:
Puerto Morelos – Only 20 minutes away from the Cancun International Airport, this beach is a great spot to relax or enjoy water sport activities. You can go snorkeling and explore marine life with over 65 species spotted in the area.

Playa Del Carmen – This beautiful beach is tucked away from the crowds, making it the perfect spot for a romantic getaway with your significant other.

Xpu-Ha beach – If you're looking to party, then this is the best beach in Riviera Maya for you. Enjoy drinks on the beach while listening to live music and dance the night away!

Playa Maroma – This is a private beach where you can get all the privacy you want! Just purchase a pass for a day and enjoy your time on this secluded and beautiful beach.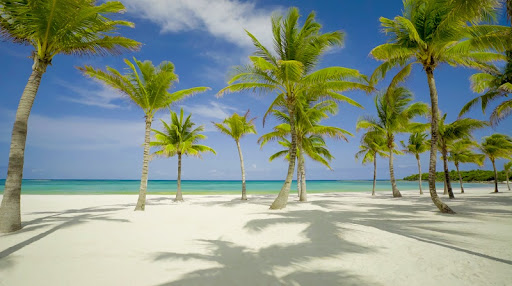 2. Xcaret Park
With over 50 attractions, Xcaret Park is the best place to have some fun while discovering Mexico's culture. 
Explore the underground rivers, swim with the dolphins, go snorkeling, get a massage, visit the coral reef aquarium, have fun watching traditional Mexican dances and enjoy delicious Mexican food!
It provides a complete leisure package for you and your family. Visiting this Park is one of the best things to do on Riviera Maya!
Head over to their official website for more details on pricing and timing.
3. Visit Dos Ojos Cenote
Dos Ojos Cenote is a beautiful cave system that extends for over 80 km. It's a great place to go with your family and have some family bonding time!
It's best to go with a guide because some places are closed off to the general public and only the guide can get you in. Explore the 1st cave, 2nd cave, and then the bat cave. 
You can go snorkeling, scuba diving, or swimming in the water. There are lots of fish, birds, and bats that you can discover in the caves. 
If you're an experienced diver, you should also dive the Barbie line here!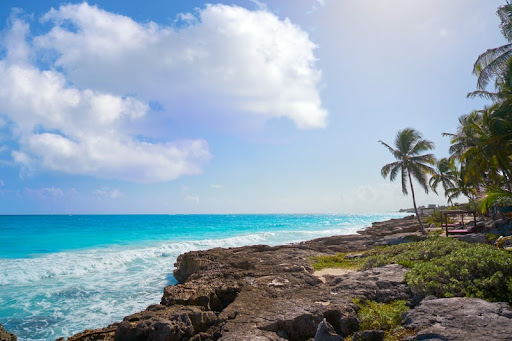 4. Visit Tulum Archaeological site
Tulum Caribbean turquoise beach in Riviera Maya of Mayan Mexico
Set on the seaside, this beautiful archaeological site contains a beautiful collection of Maya ruins on top of stunning cliffs
You get to explore the magnificent ruins while enjoying panoramic views of the Caribbean Sea. The most beautiful temples there include the Temple of the Frescoes, El Castillo, and the Temple of the Descending God. 
Taking Instagramable pictures here is one of the best things to do on Riviera Maya.  Make sure you go early in the morning to avoid the crowds.
5. Explore Rio Secreto
Head over to Rio Secreto and explore the stunning underground river over there. It's one of the best excursions in the Riviera Maya.
The caves are beautiful and provide a nice, cool atmosphere where you can swim, protected from the high temperatures outside.
You start your trip mountain biking until you reach the point where your hike starts. Next, you hike through the jungle and caves till you reach the point where you start swimming. 
You should change into your swimming gear here! It's also a great idea to pause for a while and enjoy lunch after the hike before you go swimming. 
Make sure you're physically fit to endure this adventurous journey. Forget comfort and get ready for some adventure!
Also, bring your water bottles for hiking because you need to stay hydrated throughout the trip.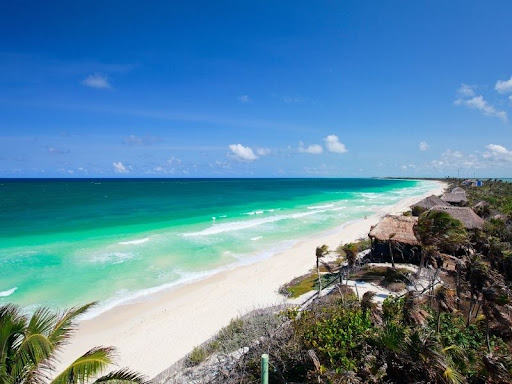 6. Visit Sian Ka'an Biosphere Reserve
This is one of the best excursions in the Riviera Maya for nature lovers! Sian Ka'an Biosphere Reserve is a UNESCO World Heritage Site and it's home to thousands of different plant and animal species. 
Embark on a snorkeling tour and observe many marine species including stunning coral reefs, dolphins, turtles, and over 500 fish species. The Mesoamerican Reef located here is one of the 5 largest reefs in the world!
Explore the beautiful mangrove canals and observe large crocodiles and manatees on your way. You should also walk the boardwalk trail and observe the Muyil ruins from a viewpoint. 
Don't forget to go bird watching at sunset. Watching the sun paint the sky with beautiful hues of orange and red with birds dotting the canvas is an experience of its own!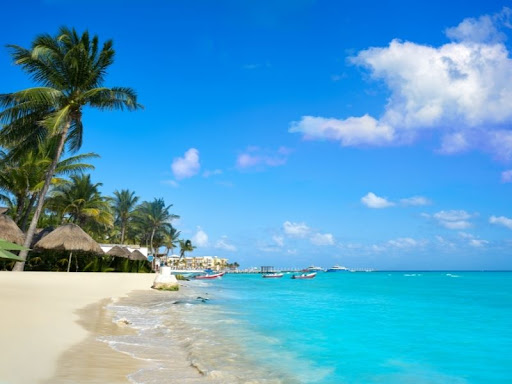 7. Party in Playa del Carmen
Playa del Carmen is home to beautiful and lively beaches where you can party and dance the night away! 
Attend the Coco Bongo show here, which is one of the best nightclubs in Riviera Maya. Go wild with the best ambiance and music here at Coco Bongo!
The show is definitely not your average nightclub show and it's definitely worth attending. It can get very crowded here so make sure you take care of all your belongings properly. 
Kids aren't allowed to enter Coco Bongo!
You can also go on the Xoximilco Dinner Cruise, a lively cruise where you get to explore beautiful canals while blasting on music and enjoying delicious food. 
Partying in Playa del Carmen is one of the best things to do on Riviera Maya. Dance and drink your worries away and have the time of your life!
8. Eat out in Cozumel
Cozumel is a beautiful island in the Caribbean Sea where you can go scuba diving and explore one of the largest coral reefs in the world, the Mesoamerican Reef.
It also has plenty of beautiful and serene places where you can dine out with your family while enjoying the beautiful views that the island has to offer. Here are some of the best places to eat out in Cozumel:
La Cucina Italiana – Enjoy delicious and authentic Italian food here.

Le Chef Cozumel – Offers scrumptious Mediterranean food.

El Abuelo Gerardo – Known for their delicious breakfast and seafood, this place is a must-visit!

Chocolateria Isla Bella – Satisfy your sweet tooth here with rich and satisfying chocolate!
If you're a foodie, eating out in Cozumel is one of the best things to do on Riviera Maya.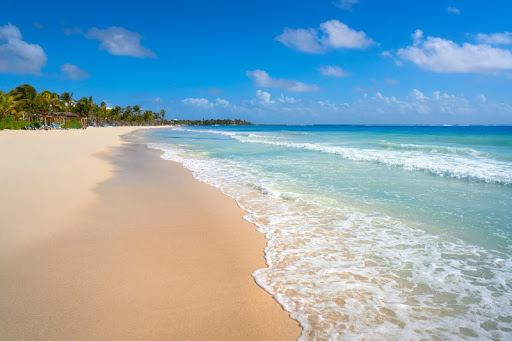 9. Relax in Akumal
Akumal bay Caribbean beach in Riviera Maya of Mayan Mexico
Akumal is the best resort in Riviera Maya where you can sit back and relax after a hectic day. It's a beautiful paradise that will take all your stress away.
Akumal is known for the endangered green sea turtles that you can spot here (and swim alongside as well), which is why it's also called the "Place of the Turtles."
The Central Akumal beach is one of the best beaches here. You can find many shops, restaurants, hotels, and bars alongside the beach. 
Have a picnic by the beachside, or just lay down and enjoy the views from your resort. It's also a great place to have a romantic weekend with your significant other.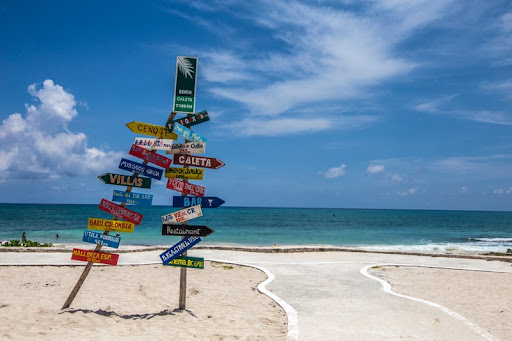 10. Do an excursion to Isla Mujeres
Isla Mujeres is a small but beautiful island situated in the Caribbean Sea. It's home to white sand beaches, clear water, and delicious cuisine prepared with fresh seafood. 
The Playa Norte Beach located on the island is considered one of the best beaches in Riviera Maya. Dotted with palm trees, it's an ideal spot for relaxing and cooling off. 
Here are some of the best things to do on Riviera Maya, Isla Mujeres:
Explore the island on a golf cart 

Attend the Isla Mujeres Artist Fair that takes place on Thursdays

Visit the Mayan temple and the sculpture garden

Explore the Shell House, one of the most interesting and unusual houses in the world. The bathrooms and kitchens are made out of corals and shells. 

Head over to Garrafon Reef Park and enjoy snorkeling, kayaking and swimming. 

Head over to La Tortuga Granja, the Turtle Farm. You can watch thousands of baby turtles here if you come at the right time of the year! 

Explore Museum Capitan Dulche.
These are a few of the many activities to enjoy at Isla Mujeres. Don't forget to enjoy Mexican food at the numerous restaurants here after you're done exploring the beautiful island!
Local specialty foods and dishes to eat around the Riviera Maya
The Riviera Maya in Mexico offers a delightful array of local specialty foods and dishes that showcase the region's rich culinary heritage and farming community with abundant produce and ingredients. Here are some must-try foods when visiting this tropical paradise:
1. **Ceviche**: A coastal classic, ceviche features fresh seafood, often shrimp or fish, marinated in lime or lemon juice with onions, tomatoes, cilantro, and chili peppers. It's zesty and refreshing.
2. **Tacos**: Mexico is renowned for its tacos, and the Riviera Maya serves up a variety of options. Try tacos al pastor (marinated pork), tacos de pescado (fish tacos), and tacos de cochinita pibil (slow-cooked pork).
3. **Cochinita Pibil**: A Yucatecan specialty, cochinita pibil is tender, marinated, slow-roasted pork, typically served in tacos or tortas (sandwiches). It's often accompanied by pickled red onions.
4. **Tamales**: These steamed parcels of masa (corn dough) are filled with an assortment of ingredients, such as chicken, pork, or cheese. They're a tasty and portable treat.
5. **Sopes**: Thick corn tortillas are topped with refried beans, shredded meat (usually chicken or beef), lettuce, cheese, and salsa. They're hearty and flavorful.
6. **Pozole**: A traditional Mexican soup featuring hominy (dried corn kernels treated with an alkali), pork or chicken, and seasoned with chili peppers, garlic, and spices. It's often garnished with radishes, cabbage, and lime.
7. **Rellenos Negros**: A hearty black bean stew, seasoned with local spices, and typically served with a hard-boiled egg, ground beef, or turkey.
8. **Chiles en Nogada**: A festive dish, usually enjoyed around Mexican Independence Day (September 16). It consists of poblano peppers stuffed with picadillo (a mixture of meat, fruits, and spices), topped with walnut cream sauce, and garnished with pomegranate seeds.
9. **Marquesitas**: A delightful street food, marquesitas are crispy rolled wafers filled with ingredients like Nutella, cheese, or cajeta (caramelized milk).
10. **Aguas Frescas**: These refreshing beverages come in various flavors such as horchata (rice milk with cinnamon), jamaica (hibiscus flower), and tamarind. They're perfect for staying cool in the tropical climate.
11. **Xocolatl**: Experience traditional Mayan hot chocolate, often made with local spices and served with honey. It's a unique and indulgent treat.
12. **Papadzules**: A Yucatecan specialty featuring tortillas filled with hard-boiled eggs and topped with a pumpkin seed sauce and tomato sauce.
13. **Sikil Pak**: A dip made from roasted pumpkin seeds, tomatoes, and habanero peppers, typically served with tortilla chips or fresh vegetables.
14. **Empanadas**: These savory or sweet turnovers can be filled with various ingredients, including chocolate, cheese, or meat.
15. **Fresh Tropical Fruits**: Don't miss out on the abundance of tropical fruits like mangoes, pineapples, and papayas. They're incredibly sweet and refreshing.
When dining in the Riviera Maya, embrace the opportunity to savor these local flavors, whether you're enjoying seafood by the beach or sampling traditional Yucatecan dishes. The region's culinary offerings are a delicious reflection of its vibrant culture and natural bounty.
Bio Guest Post
Check out Paulina's website blog for more inspiration at Paulina on the Road
Conclusion on Fun Things to do on Riviera Maya
In conclusion, the Riviera Maya is a captivating destination that offers a treasure trove of fun and enriching experiences. Whether you're a beach lover, a history enthusiast, an adventure seeker, or a foodie, this tropical paradise has something to offer everyone. From exploring ancient Mayan ruins and snorkeling in crystal-clear cenotes to savoring delicious local cuisine and lounging on pristine beaches, the Riviera Maya is a place where natural beauty, rich culture, and thrilling activities converge.
As you explore through this breathtaking region, don't forget to immerse yourself in the local culture, interact with the warm and welcoming people, and take time to appreciate the stunning landscapes. Whether you're visiting the iconic ruins of Tulum, diving into the vibrant marine life of the Great Maya Reef, or strolling through charming coastal towns, the Riviera Maya promises unforgettable memories and a deep connection to Mexico's cultural and natural heritage.
So, whether you're seeking adventure, relaxation, exploration, or a bit of everything, the Riviera Maya invites you to embark on a journey filled with excitement, beauty, and the promise of new discoveries. It's a place where the spirit of adventure meets the warmth of hospitality, creating memories that will linger long after your visit has come to an end.