Jaipur is located within the state of Rajasthan and is one of the most popular cities in India. You'll find this Jaipur two-day Itinerary a perfect highlight tour to visiting the city. It's the state's capital and is also known as 'the pink city' due to the color of the buildings.
Jaipur was originally painted pink to welcome Queen Victoria and Prince Albert during a royal visit in 1876. However, it's remained that color to this day and attracts hundreds of thousands of tourists every year!
Not only is the city beautiful, but there are tons of things to do so let's dive into the ultimate 2-day Jaipur itinerary.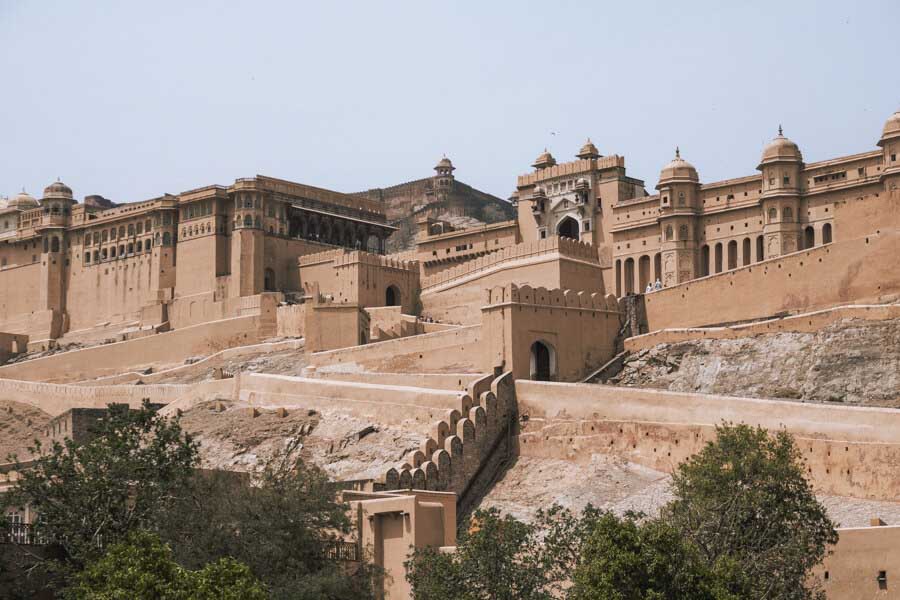 The first day of your Jaipur two-day Itinerary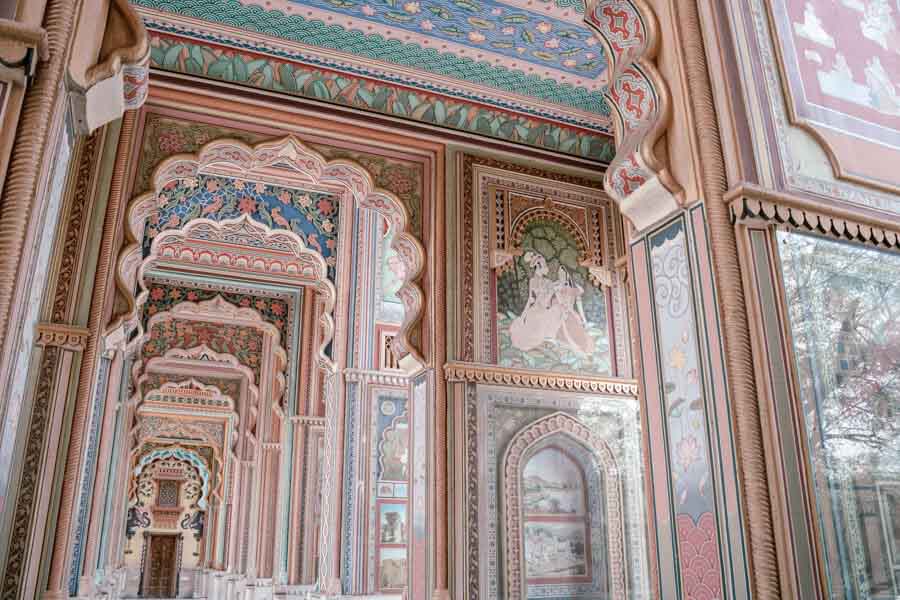 Patrika Gate
Patrika Gate is located at the entrance to Jawahar Circle Garden and is one of the most beautiful places in Jaipur.
The gate is made up of eight colorful walkways, each one with its own designs and unique patterns.
The images depict the Rajasthani culture and showcase some of the major attractions within the city as well as local wildlife.
Patrika Gate is a must for any 2-day Jaipur itinerary, so don't miss out on this place!
However, you'll want to get there early – preferably before 10 am as this spot can get super busy.
If you visit at this time the light catches the gate giving you plenty of sunlight, which is perfect for photographs.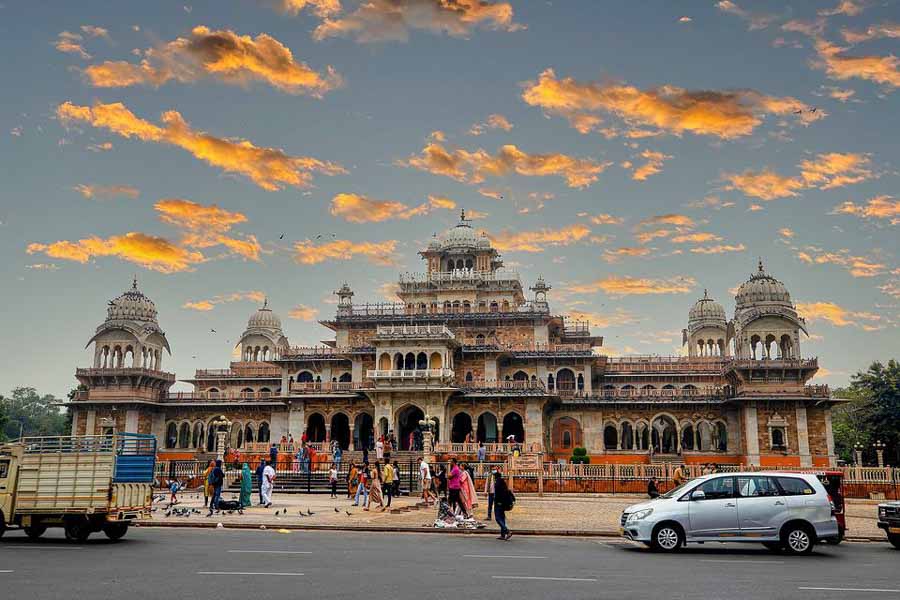 Albert Hall Museum
The Albert Hall Museum is the state museum of Rajasthan and was completed in 1877.
The museum gets its name from Prince Albert, as he laid the foundation stone during his royal visit.
There are 18 galleries found within the museum full of artifacts, antiques, and murals.
The most popular attraction is the sarcophagus of an Egyptian mummy. It's been enclosed in glass and has been preserved for centuries, so make sure you visit this awesome exhibit.
You'll want to allow plenty of time to explore the museum, avoid heading there during the afternoon. The temperature can get pretty stuffy so isn't the best condition for wandering around.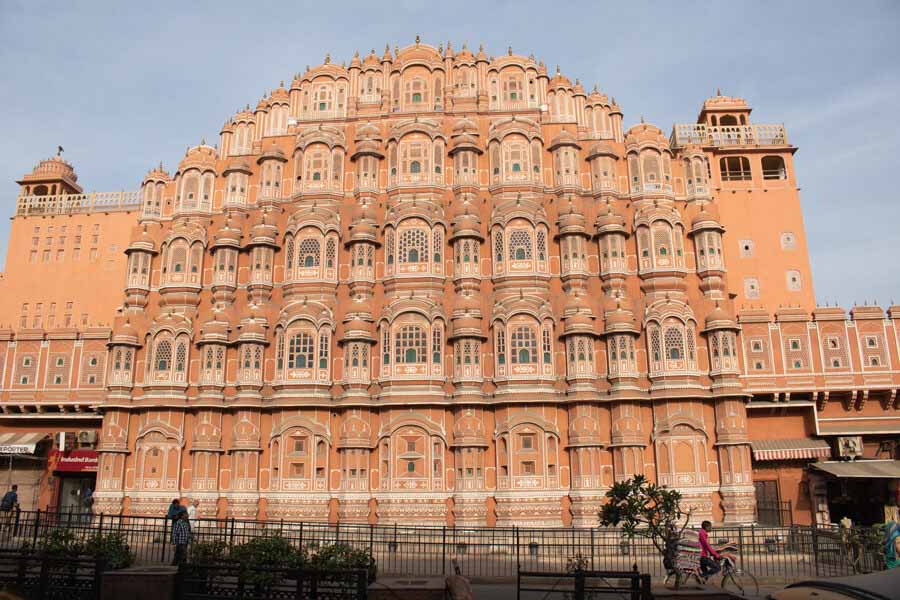 Hawa Mahal
Hawa Mahal is one of the most beautiful palaces in the city and is a must for any 2-day Jaipur itinerary.
Also known as 'Palace of the Winds', Hawa Mahal was built in 1799 using red and pink sandstone.
With five floors and over 950 small windows, the architecture is impressive and you can even head inside. Once you're inside Hawa Mahal you'll get to see intricate sculptures and decorative gates, and you'll be rewarded with stunning views from the third floor.
If you're looking for a spectacular view of Hawa Mahal then head to one of the cafes opposite the road.
Most of them don't open until around 8 am, but then you can grab a delicious breakfast and enjoy the views.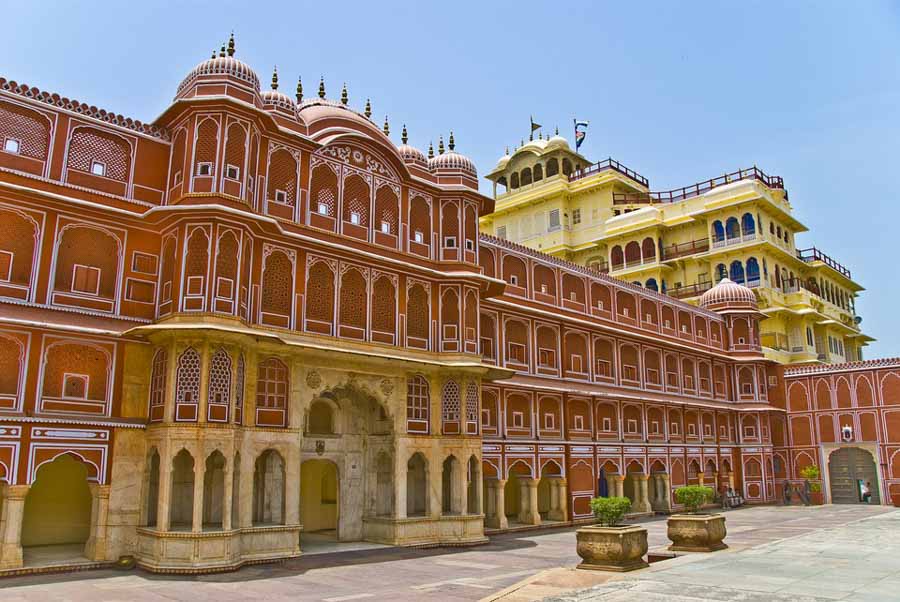 City Palace
The City Palace is a must for any 2-day Jaipur itinerary!
It's the residence of the royal family and was built by the city's founder. Not only that but the City Palace is one of India's most beautiful UNESCO World Heritage Sites.
Dating back to the 17th century, the City Palace was constructed with the purpose of moving the capital of state to Jaipur.
Once you head inside, you'll be in awe of the incredible architecture and beautiful colors – so make sure you allow enough time to explore.
There are also plenty of gates within the City Palace including Tripolia Gate, Udai Pol, and Virendra Pol.
You'll need comfortable footwear to explore the palace, and there's a water facility inside as well to help you deal with the heat.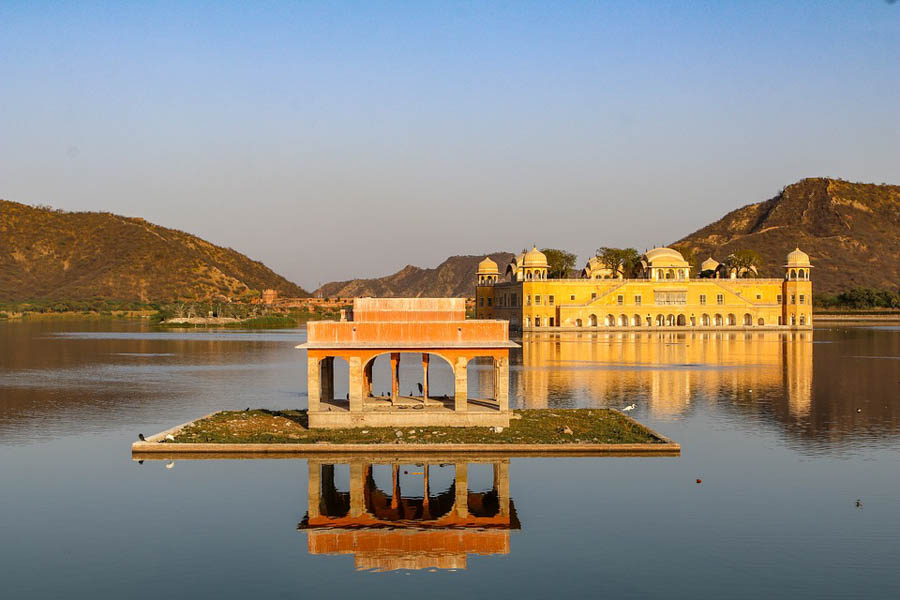 Jal Mahal
Jal Mahal is also known as the 'Water Palace' and is found in the center of Sagar Lake.
With sand-colored stone and lush trees sitting on the rooftop, Jah Mahal contrasts the blue waters of the lake beautifully.
The Water Palace was initially built for hunters to use, but today it's one of the city's most popular attractions.
You can actually only see half of Jal Mahal as there are four more floors hidden underneath the water that you can't see.
You used to be able to take a gondola out onto the lake to see Jal Mahal up close, but unfortunately, you can only see it from the shore now.
However, it's still a must-visit so don't miss out on this place!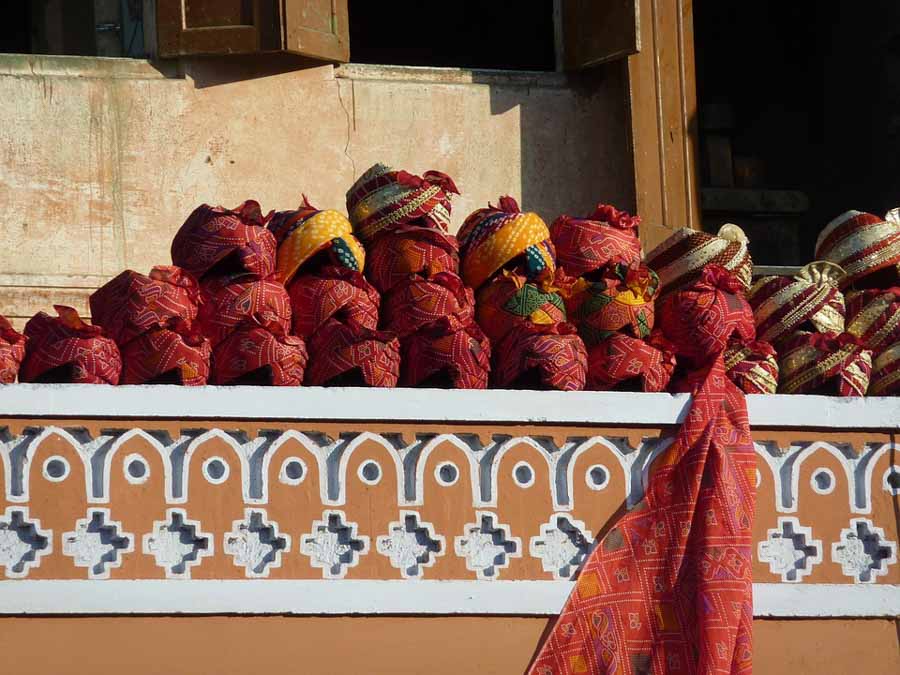 The second day of your 2-day Jaipur itinerary

Amber Palace/Amer Fort
Visiting Amber Palace (or Amer Fort as it's sometimes known) is one of the top things to do in Jaipur.
It's the city's main attraction and is located on top of a hill so offers stunning views of Jaipur and the surrounding area.
Located just 11km (6.8 miles) from the city center, this incredible fort is split up into four main sections.
There's plenty to see too including gardens, temples, underground tunnels, and courtyards.
The only thing to note about Amber Palace is that unfortunately, elephant rides do occur here.
They aren't treated very well and the weather is extremely hot, so make sure you avoid taking an elephant ride up to the top.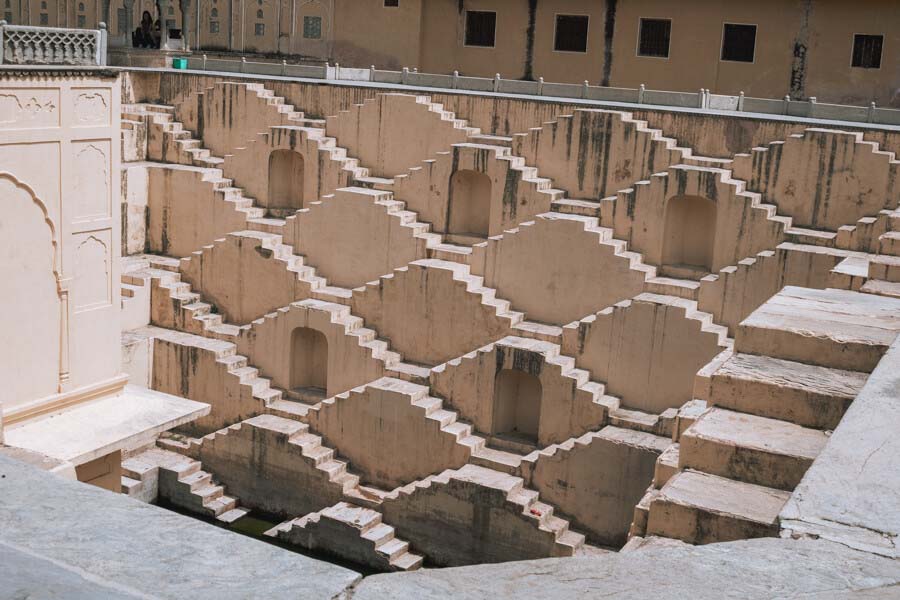 Panna Meena ka Kund
If you're looking for places to visit in Jaipur then make sure you head to Panna Meena ka Kund.
It's one of India's iconic step wells and dates back to the 16th century, so has plenty of history.
You used to be able to head right down into the step well, but today, it's surrounded by security guards so you're unable to go down.
However, you can still take some awesome photographs from the top so make sure you bring your camera!
Panna Meena ka Kund is just a 10-minute walk from Amer Fort, so it's best to combine a visit to the two sites.
Nahargarh Fort
If you're a fan of forts, then Amer Fort isn't the only place you should visit in Jaipur!
Nahargarh Fort is one of the biggest forts in India and is one of the most popular places in Rajasthan.
You'll find the fort running along the Aravalli mountain range; one of the world's oldest mountain ranges.
From the top, you'll get incredible views of Jaipur and the surrounding area so make sure you allow enough time to take some photographs up here.
The fort was originally built to protect the city along with Amer and Jaigarh Fort. All of them are located relatively close to each other too, so can be visited within the same day.
Jantar Mantar
Jantar Mantar is probably one of the more unique attractions within Jaipur.
It's an astronomical observation site that was built in the 18th century by Maharaja Sawai Jai Singh II.
Maharaja was obsessed with the stars and the sky and built Jantar Mantar so he could observe celestial objects.
You'll also find the world's largest stone sundial here!
Not only that, but the structure of the observatory is used to indicate time by using the sun and shadows, and predict eclipses and star systems.
It's one of the most popular places to visit in Jaipur, so make sure you add it to your list.
Galtaji Temple
Galtaji is located about 10km from Jaipur, and you can reach it by taking a tuk-tuk.
The temple is an important and sacred pilgrimage site and is also known as the 'monkey temple'.
This is because there's a large number of macaques and langur monkeys that reside here so keep your belongings close!
Galtaji is actually a temple complex, but the main temple is Galta Ji itself.
There are also several sacred tanks found within the complex where pilgrims come to wash away their sins.
These tanks are known as 'kunds' and are filled by the natural spring, that's located within the area.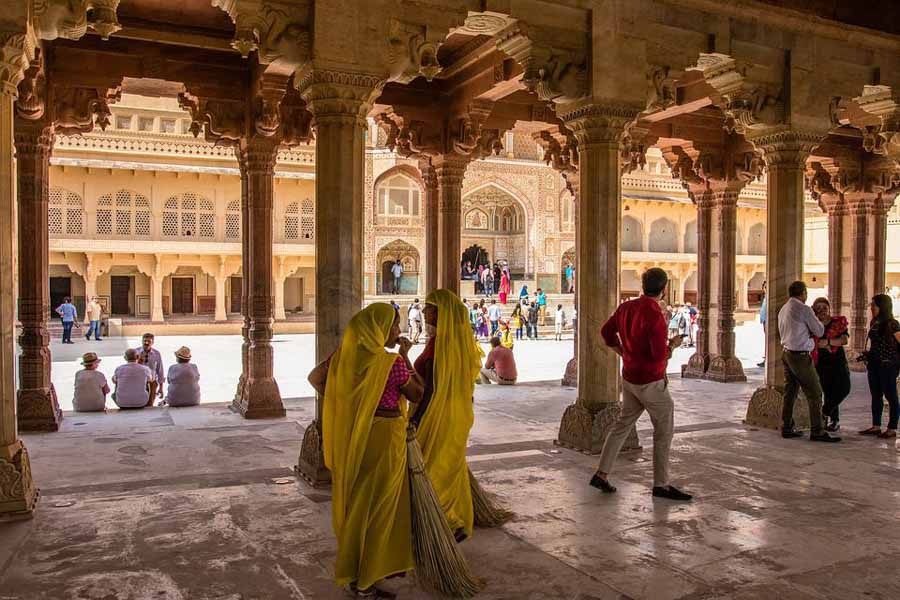 Conclusion to Jaipur two-day Itinerary
As you can see there are plenty of things to do in Jaipur, so allow yourself at least two days to explore the city!
You won't have any problem getting around Jaipur either as the city is full of tuk-tuks, taxis, and scooter rental companies.
Not only that but there are plenty of incredible accommodation options in the city for every budget.
Hopefully, this 2-day Jaipur itinerary has given you a good idea of the best places to visit so get planning that trip!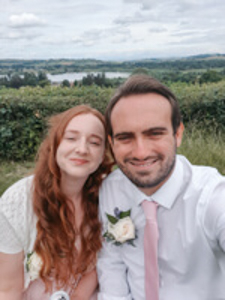 Author Bio
We're Jack & Abbie – a young couple currently living in the United Kingdom. We've traveled to around 14 countries together and that's just the start of our adventure! Check out their blog at A couples Calling