Kayak adventure trip to Antarctica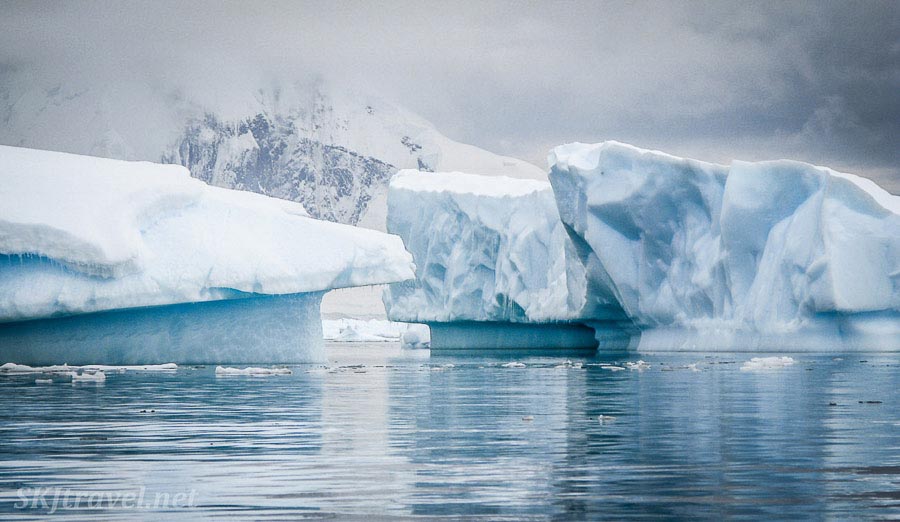 I was pretty nervous about signing up to be in the Kayak Club on our Antarctic cruise. There were sixteen spots available on the 110-person cruise for kayakers. I presumed all would be full for such an adventuresome-sounding activity. There were, however, only thirteen of us, plus three guides. I wasn't in particularly good physical shape and had little experience with paddling kayaks. I knew the water was awfully cold should I tip over and fall in, and when the guides told us how often this happens to the guests in their charge, my anxiety level shot up.
Expedition Kayak highlights in Antarctica
Our first trip out, we learned how to suit up in dry-suits, neoprene booties, life vest and spray skirt. By the time we got all the gear on inside our cabin, we were sweltering hot and dashed for the deck. This day, a zodiac towed all the tandem kayaks to the shore of an island in the South Shetlands and we learned to get in and launch from shore.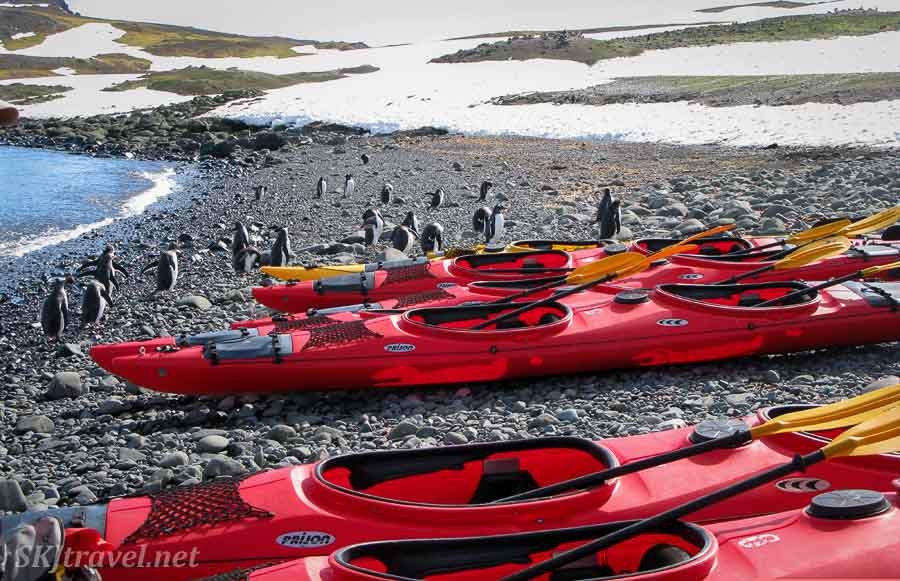 Paddling wasn't as difficult as I feared — in the tandem sea kayak, my husband sat in back in control of the steering, and I sat in front in command of the small camera that fit inside the pocket of my life vest. You would not want to take a big fancy camera, as it would undoubtedly get wet with sea water.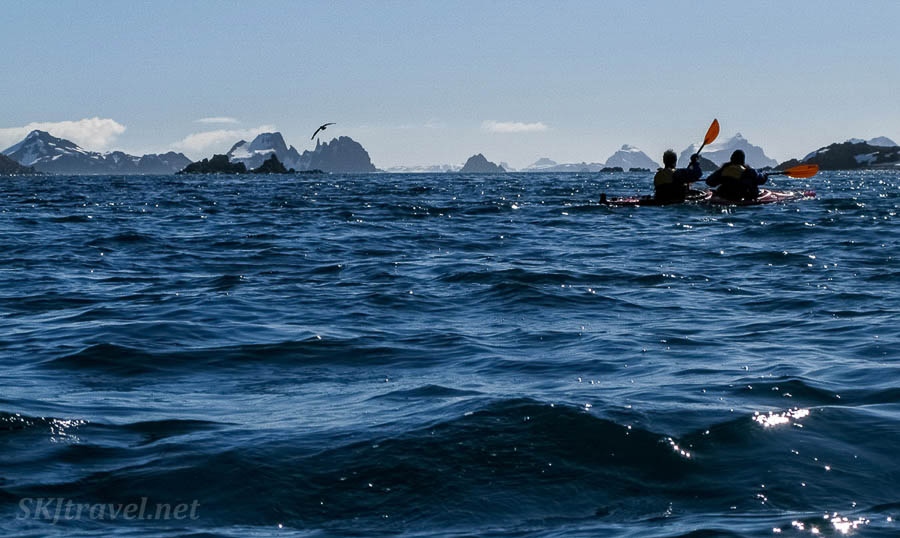 One hope I had for the kayaking experience was encountering a whale, but I did not place too high an expectation on this. We'd been in the water only a short time before a humpback whale surfaced to our right. When the guide pointed it out, the water shooting from its blowhole, I could hardly believe it — a whale on our first outing. (I didn't get a good photo, though, it was too far away for my little point-and-shoot.)
We circled around the island of Barrientos and then beached and spent another splendid hour on land watching the gentoo and chinstrap penguins busily building their nests and protecting their eggs.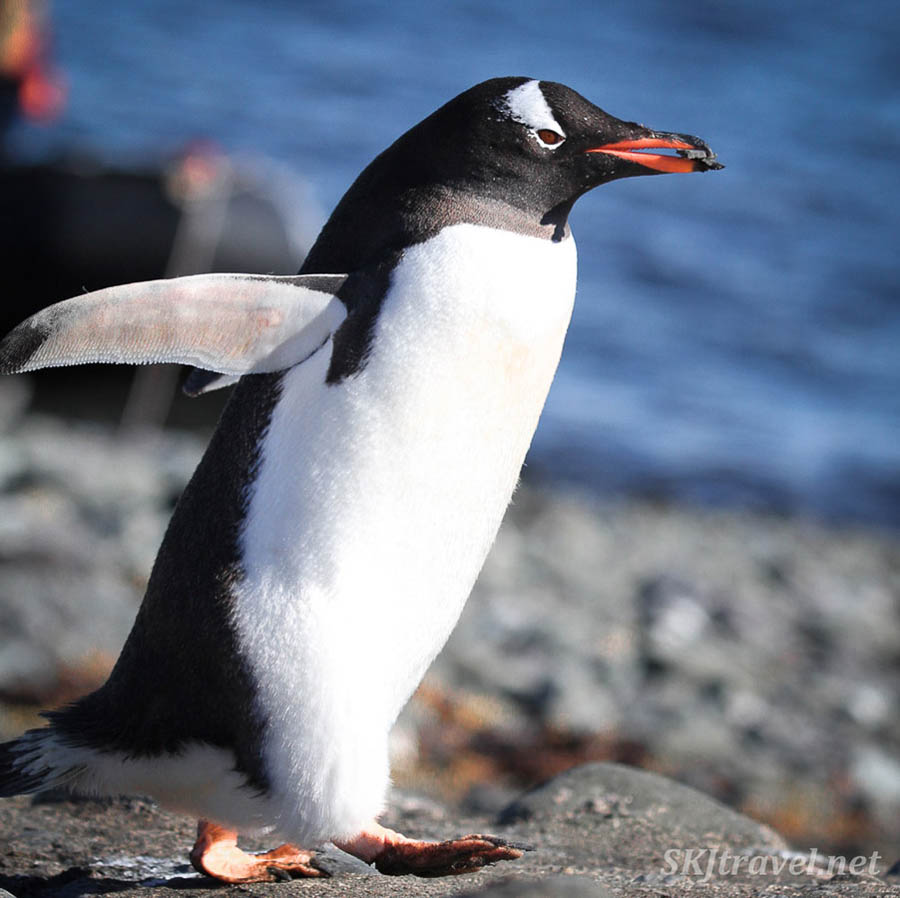 Barrientos Island and penguins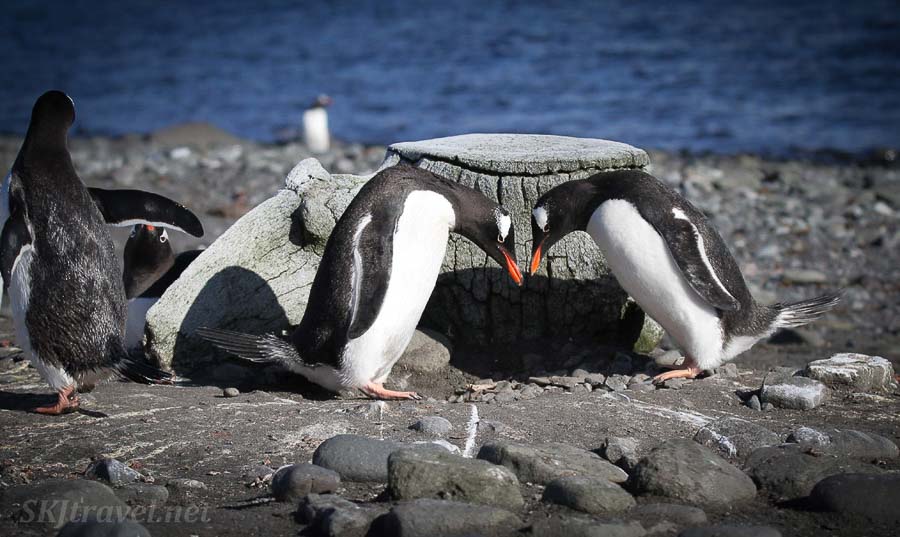 Exploring Brown Bluff – Antarctica
Our next outing at Brown Bluff, we learned to enter the kayaks in the water from the zodiac so we didn't need land nearby in order to launch. Here, the water was populated with small icebergs (technically called growlers) in all kinds of fantastical shapes, reflecting on the water which was still as a mirror. I had no idea that ocean water outside of a bay could be so incredibly calm and flat. It was one of the most magical days of my life, paddling among these icy formations.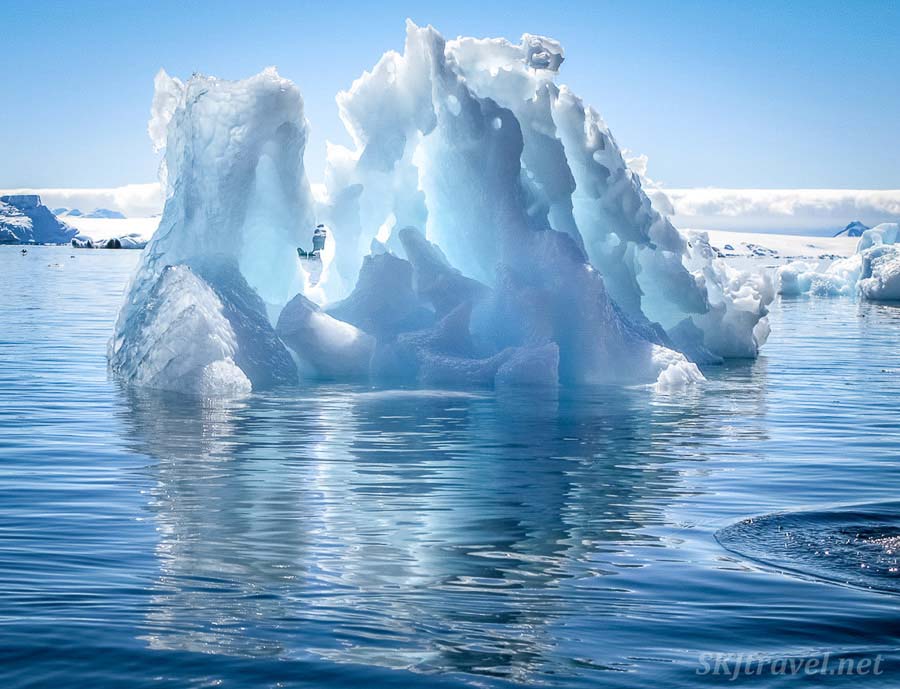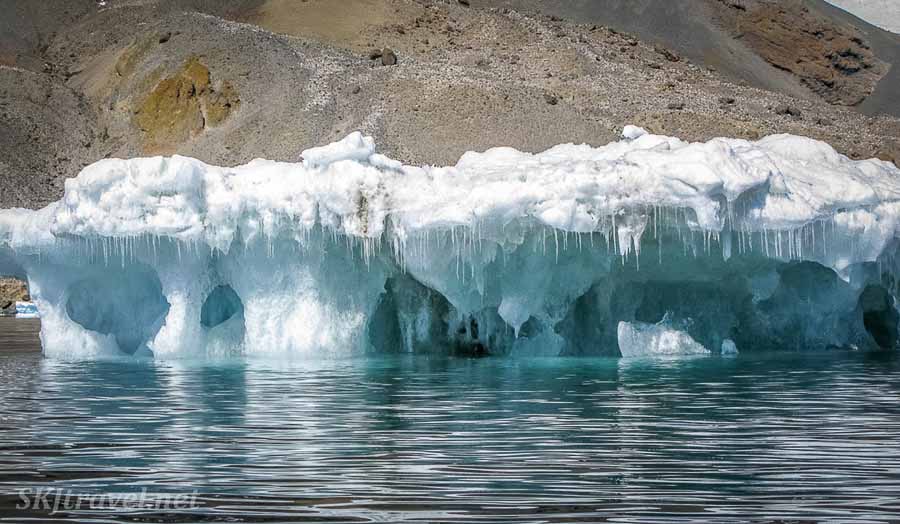 Sometimes we encountered stretches of little bits of ice we had to paddle through, like being inside a frozen margarita.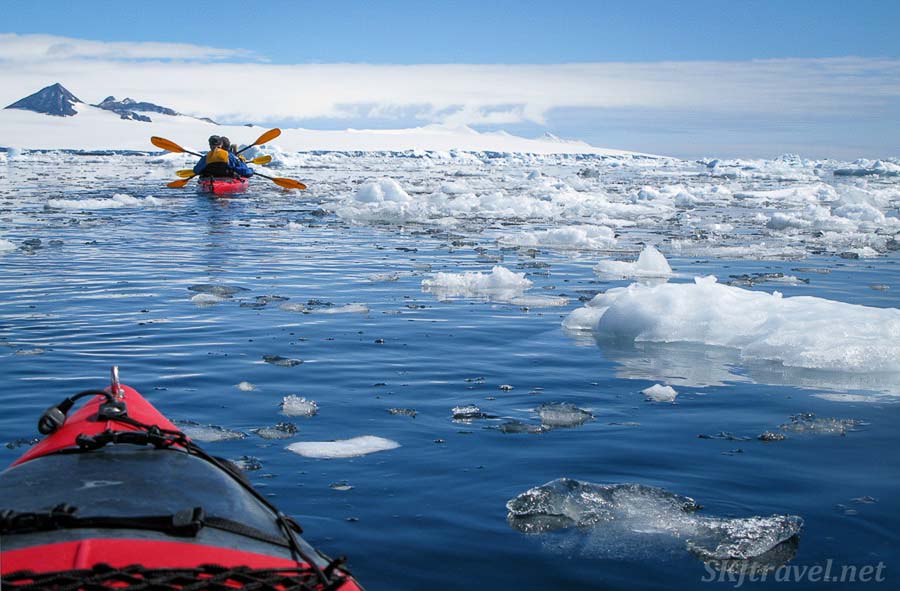 We paddled close to seals and penguins on floating slabs of ice. Little pods of penguins swam in the water around us, surfacing and diving like dolphins do.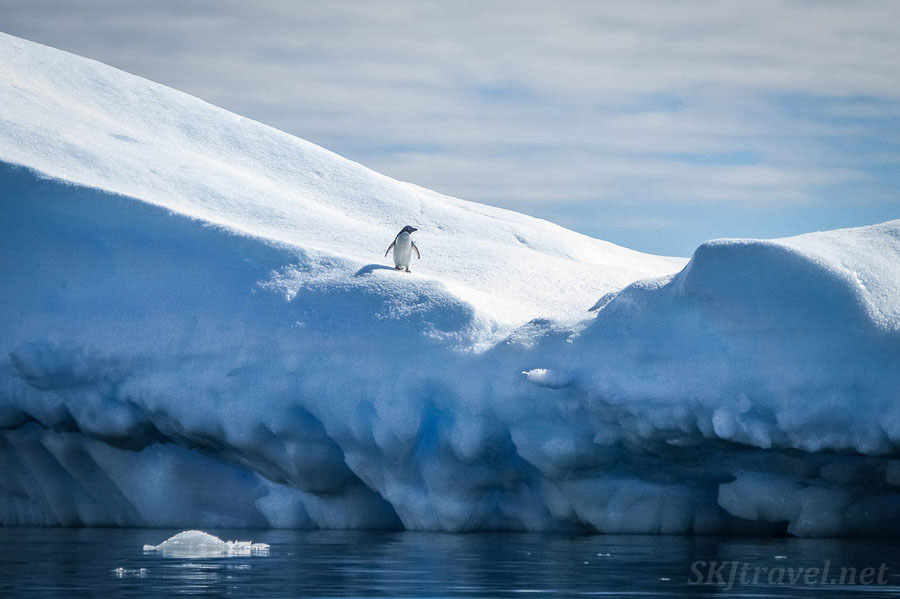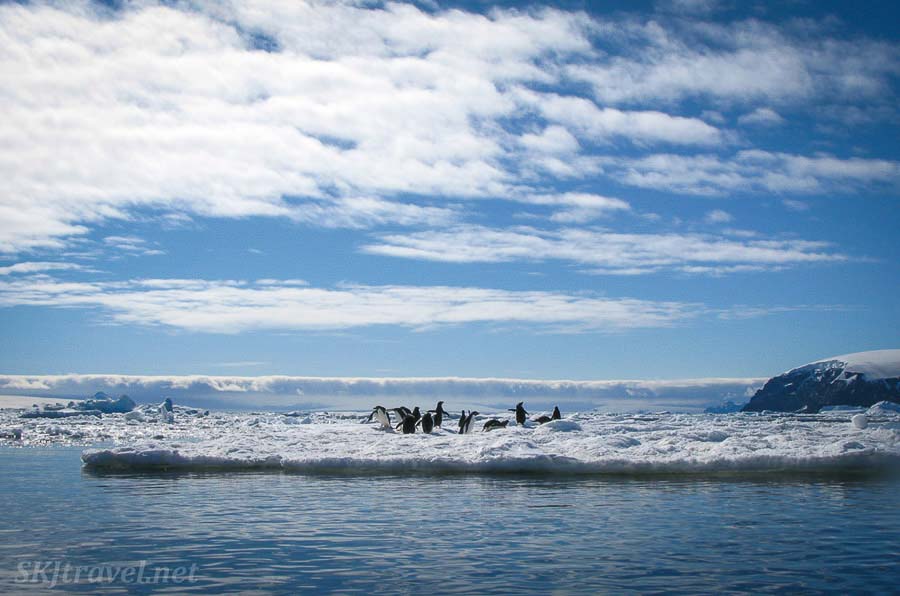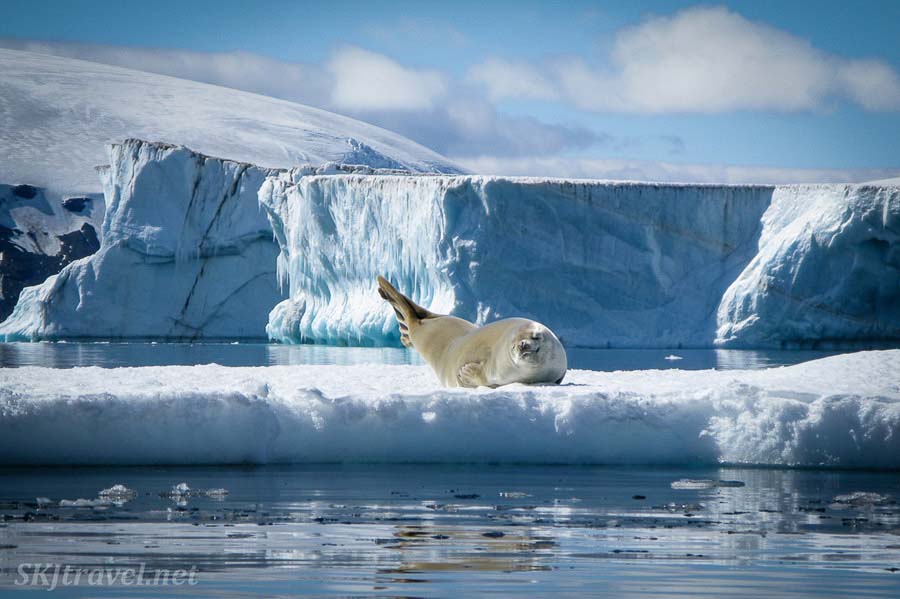 That night at happy hour, we told the bartender with whom we made quick friends, what an amazing day we'd had and how it was surely one of the best days of our lives. He said, "Just wait. It gets better." My husband and I could hardly believe this, it seemed rather improbable that a day like that could be topped.
But the bartender was a wise man, having of course traveled through this territory many times in the six years he had been bartending on the ship. Our next outing was at Cuverville Island and surpassed anything I could have dreamed or imagined (and I have a pretty active imagination).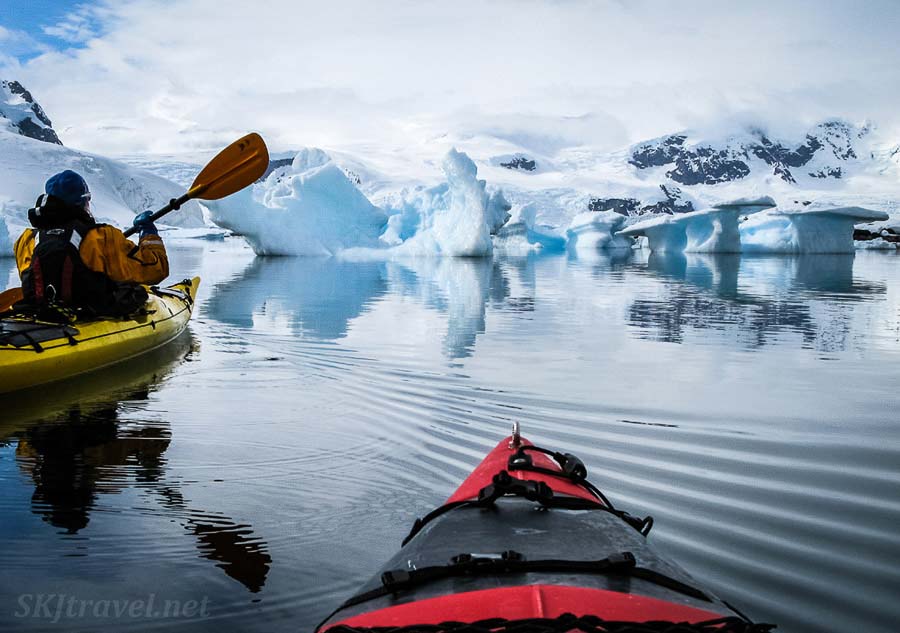 Once again we had water that was as still and reflective as a mirror, doubling the enchantment of the fantastical ice formations.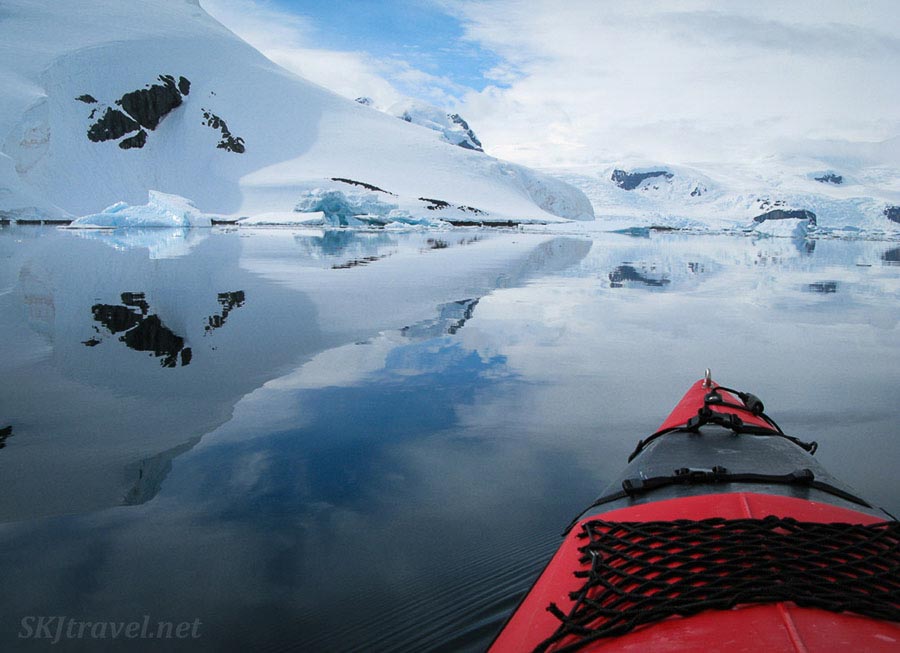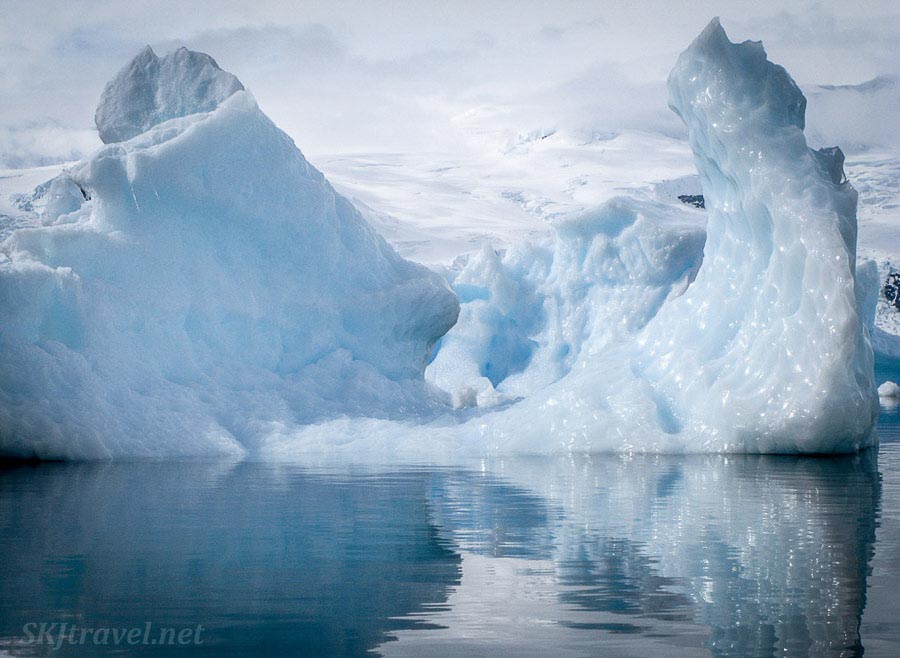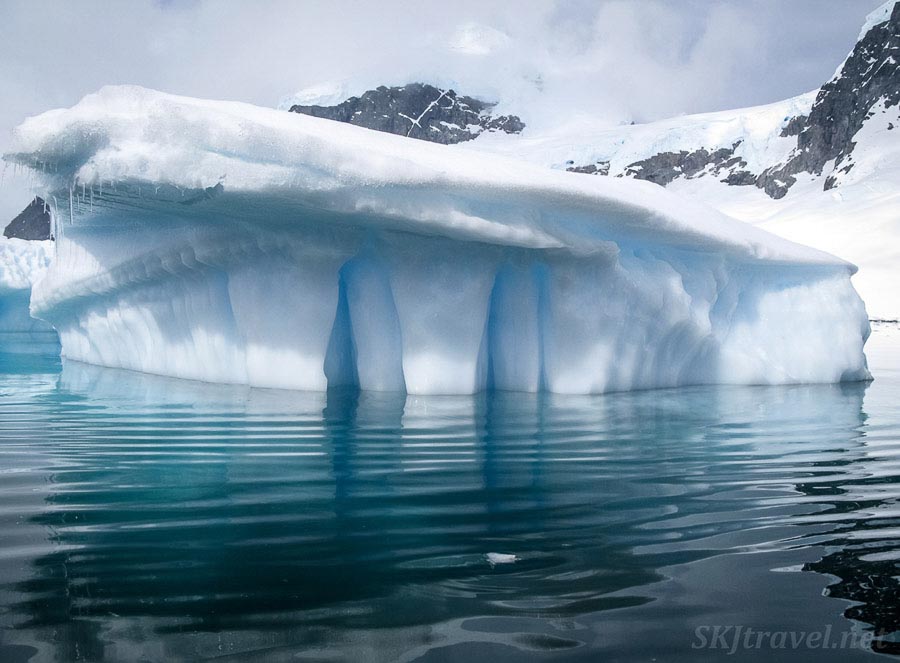 What was so compelling to me about this particular outing, though, was the combination of the small formations we could paddle right by with feeling dwarfed by the giant icebergs which we were not allowed to paddle near because they often rock back and forth, and so much is hidden under the water and pieces could break off. I felt small and wondrous.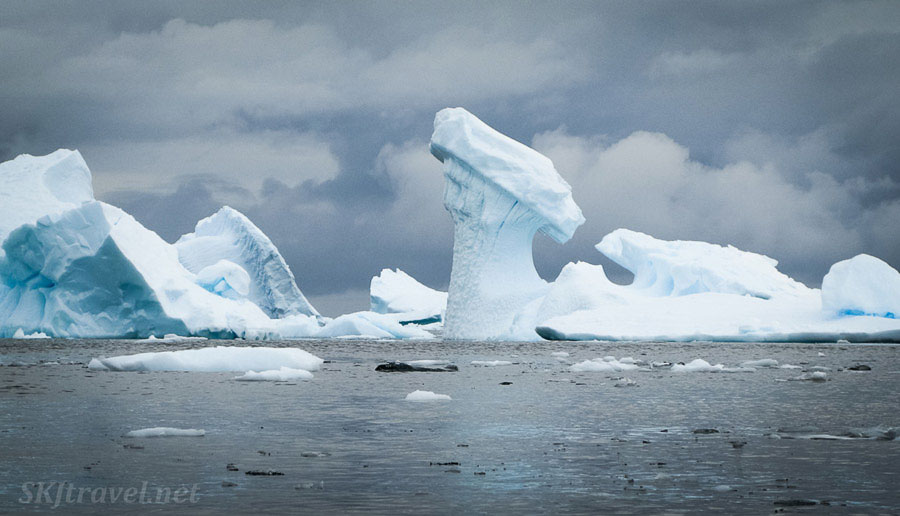 It was no idle warning to us that large icebergs and the glaciers on land could calve, as a chunk of ice fell off the glacier just as one of our crew was paddling near. My husband and I were sheltered behind an iceberg, but we heard our teammate yelling to her tandem partner, "Paddle! Paddle! Paddle!" as they turned and paddled as fast as they could to stay ahead of the wave the calving caused.
We were gifted with another whale encounter, a minke whale circled around our group of kayaks inside a small harbor. We watched in silence as it leisurely swam, surfacing regularly, as if it was taking a stroll in the park and we were the wildlife of interest, like squirrels in a tree.
Our last paddling adventure was at Half Moon Island, by this time we had moved back up north to the South Shetlands. There were no icebergs and we made our way around in slightly choppy waters. This made me all the more appreciative of the favor the weather gods had shown us with such still waters among the icebergs.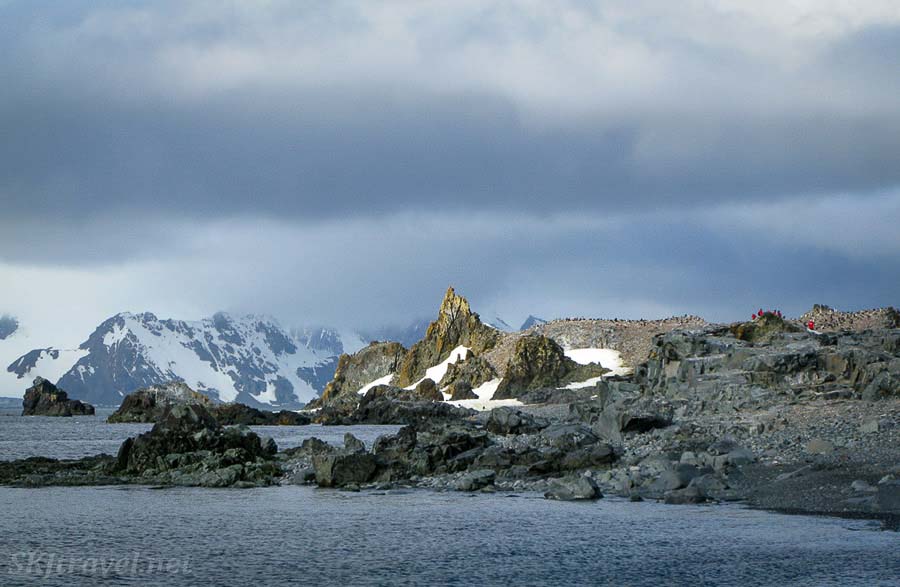 Making it to Antarctica completed my one lifelong goal of visiting all seven continents. So having been technically all around the world, the unique and glorious days kayaking in Antarctica have pretty well topped the list as the most magical of all my worldwide adventures.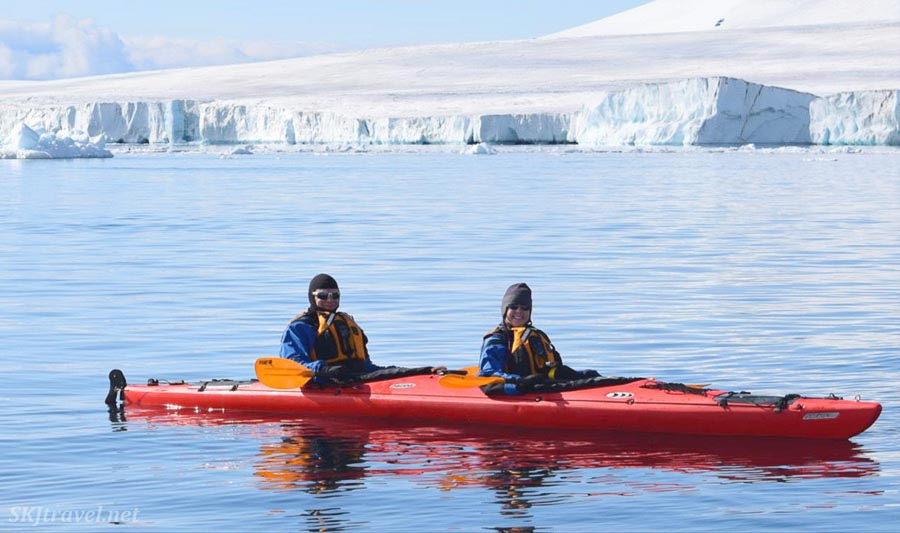 Tips:  We traveled with Poseidon Adventures on the ship Sea Spirit, but the kayaking option is available from other companies, as well, for an additional cost to the cost of the cabin. I recommend putting chemical foot warmers inside your dry suit to keep your feet toasty warm while out on the water. Remember that you will heat up with the physical exercise of paddling and a dry suit does not breathe, so it's best to dress relatively light underneath your dry suit. If you want to take photos, bring a small pocket-camera that can fit into your life-vest pocket so you can keep it dry while you're paddling.
Enjoyed the post – please pin it!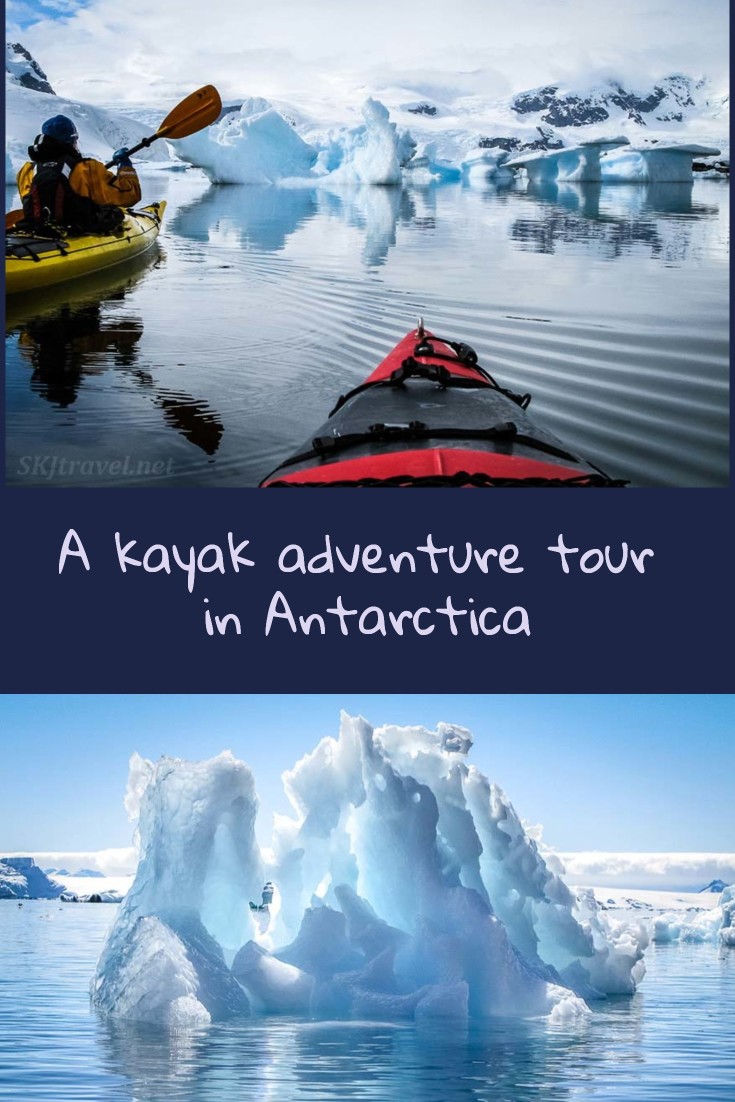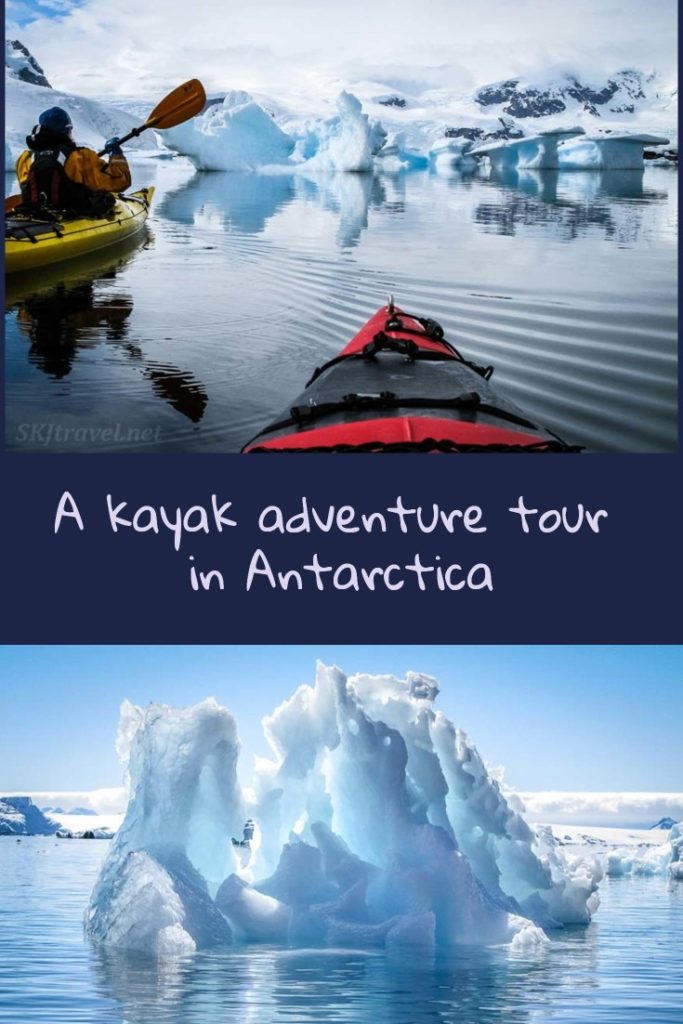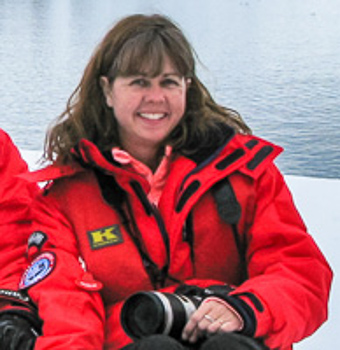 Guest blogger Bio:
Shara Johnson plots her worldwide adventures from her home in the Colorado Rocky Mountains. You can follow her adventures on her narrative travel blog, SKJ Travel. See her Antarctica Archive to experience more of stunning Antarctica.
Thanks for visiting today and checking out this post on a Kayak trip to Antarctica, if you enjoyed the images and post, could you please share it with any of the social media buttons located around the post.
If you like what you see, come and check out my other social media channels for more updates, including Instagram, Pinterestand Twitter