Though there's undeniably no end to the amazing things to see and do in Merida, there's also an abundance of incredible Merida day trips you can take!
Centrally located in Mexico's Yucatan Peninsula, Merida is an ideal place for your travel homebase. From Merida, you have many options within just two hours of driving!
From picturesque colonial cities, to cenotes to swim in, to historical Mayan ruins, UNESCO World Heritage Sites — and even one of the Seven Wonders of the World — here are the top 5 can't miss Merida day trips!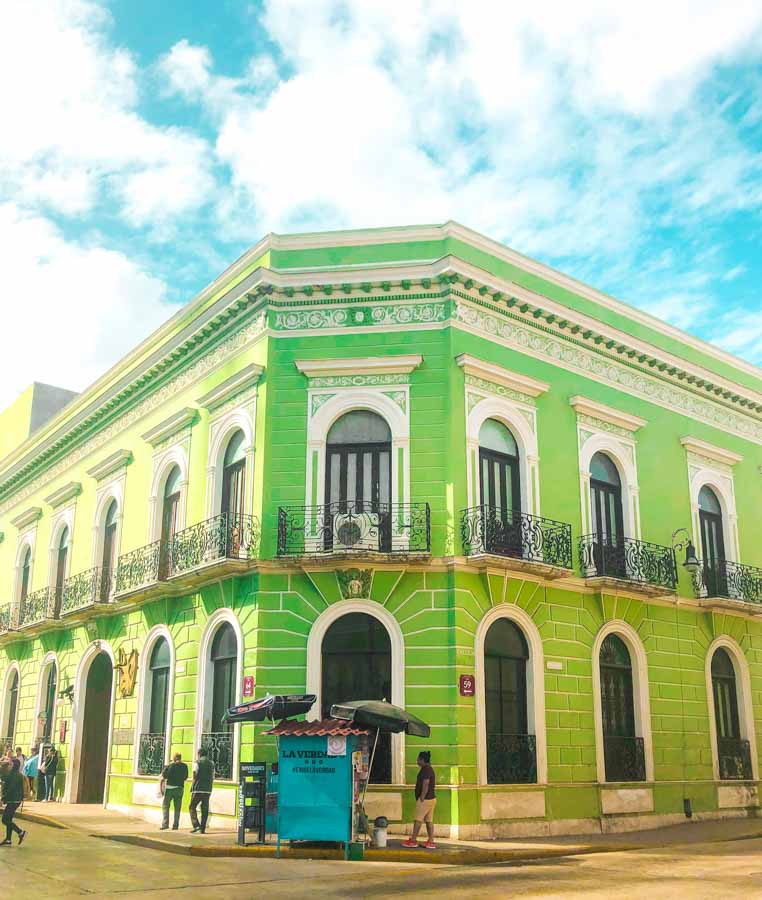 Considering your options for Merida day trips?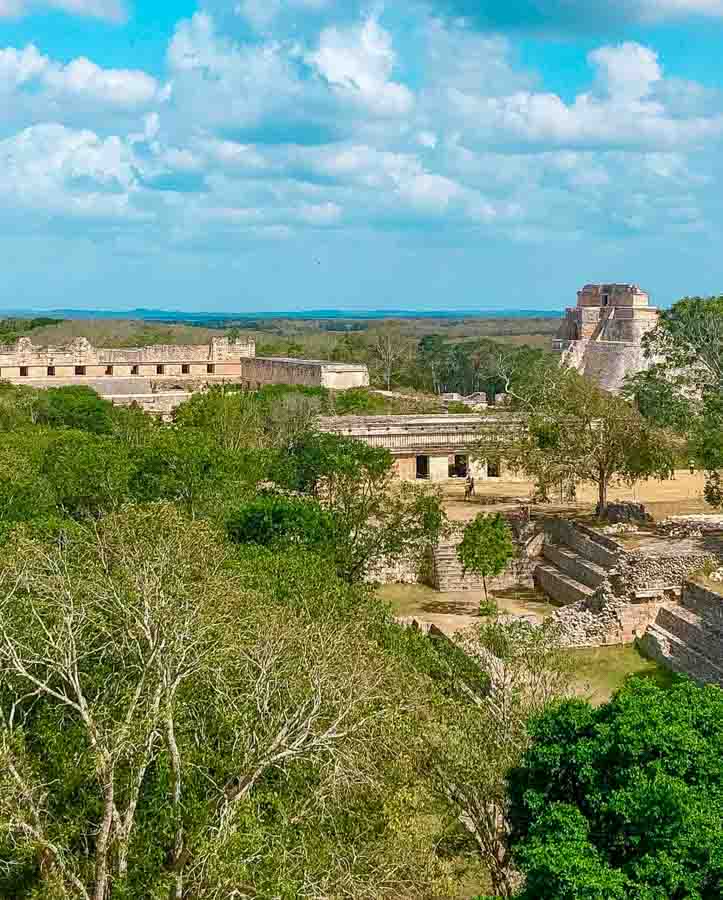 How to travel within the Yucatan Peninsula
As far as transportation to your destination goes, you have several options for day trips from Merida. These include taking your own rental car, going by bus, or using a colectivo (shared van).
Renting a Car in Merida
The easiest, most convenient (and of course, most expensive) way to do your Merida day trips? Renting your own car.
Yucatan state, where Merida is located, is considered one of Mexico's safest states. A popular Mexican road trip destination, the same applies to driving in the Yucatan!
The easiest place to get your rental car is at Merida International Airport (MID), right after you land. If that's not possible, some rental companies have offices in downtown Merida and along the popular Paseo de Montejo.
Most Merida hotels, hostels and Airbnbs have guest parking. However, always double check the policies before booking to assure you have convenient options at your accommodation.
Taking a Bus in Merida
Not too keen on driving in Mexico? That's no problem at all!
Mexico has amazing, relatively inexpensive, public transport options. From big, comfortable, air-conditioned buses to colectivos (smaller shared vans), you can access all of the Merida day trips on this list — without driving.
ADO  is Mexico's largest bus company; though Autobuses de Oriente and Autobuses del Noreste both also have limited Yucatan Peninsula routes. ADO offers multiple trips daily, to and from all 5 of the Merida day trips listed here. 
Taking a Colectivo in Merida
Looking to save some money while traveling in Merida? Opt for a colectivo. These  shared vans accommodate 10- or 12-passengers per trip, and are the most cost effective way to day trip.
In general, colectivos cost about half that of buses, however, take about 25% longer since they make additional stops along the route.
Note: Colectivos don't have routes to all Merida day trips listed here! When there's a colectivo opinion, that information has been included.
5 can't miss Merida day trips
Now that you have a better understanding of your transportation options, let's examine the 5 can't miss Merida day trips.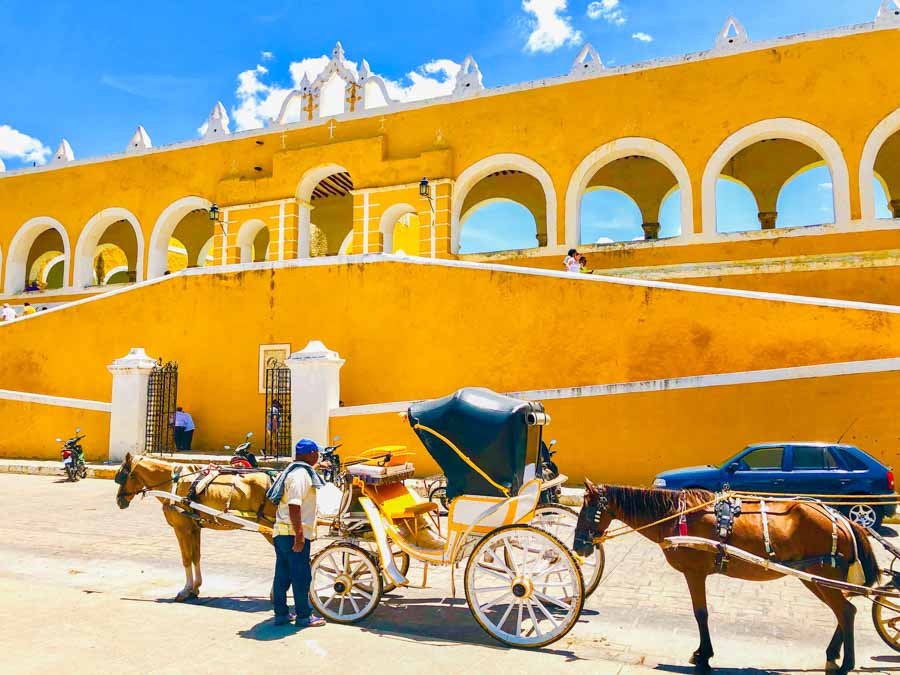 IZAMAL
One of Mexico's famed Pueblos Mágicos (Magic Towns), and a UNESCO World Heritage site, Izamal is one of the more popular Meridaday trips. At just 1 hour away, it's also quite convenient. 
So, what exactly makes Izamal so "magical?"
Mexico's Tourism Secretary designates Pueblos Mágicos, or Magic Towns, to pueblos (small towns) with rich cultural history, abundant natural beauty, deep folkloric traditions, etc.
In the case of the Izamal pueblo, the town's magico (magic) is derived from just one single color!
Commonly known as just the "Yellow Town," Izamal lives up to its nickname! Though maybe hard to conceptualize until you see it in person, all structures in Izamal's downtown are yellow.
Yes — all of them! 
Downtown Izamal's smaller size of only 25 or so square blocks, means you can explore the area at a leisurely pace in about 2 hours. A great place to start is in the zocalo (central town square) at the Convent of San Antonio de Padua. 
If it's too hot for a stroll, take a horse-drawn carriage tour. You can easily find a carraigs just outside of the convent.
When you get hungry, sample some traditional Yucatecan food from Kinich Restaurant, or at the town's mercado (market), the Mercado Municipal De Izamal.
Don't miss the Mayan archeological sites, Kinich Kakmó Pyramid and Zona Arqueológica de Izamal, located just outside of downtown Izamal.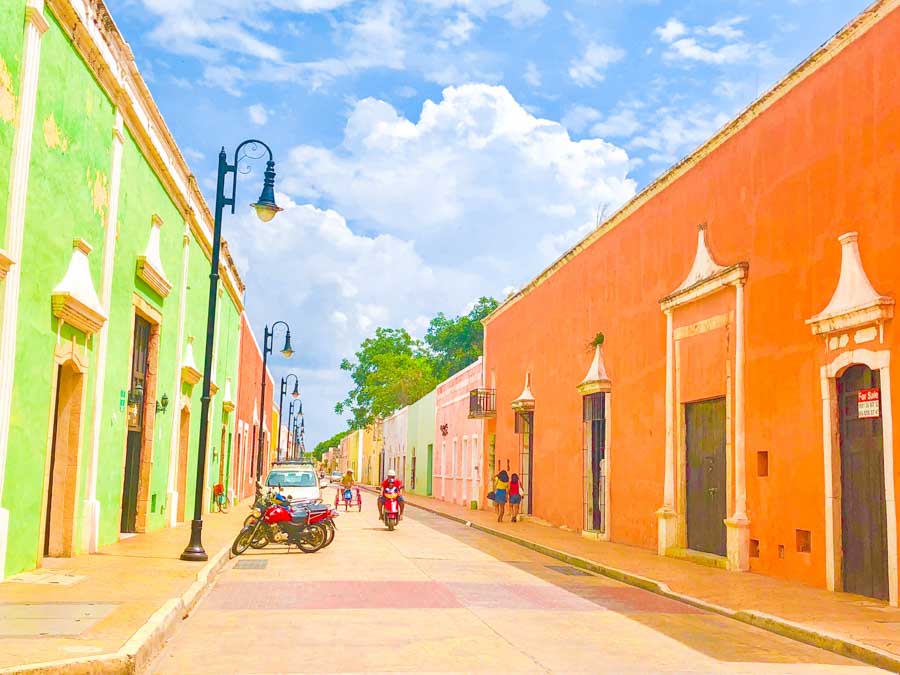 VALLADOLID
Another Yucatan Pueblo Mágico (Magic Town), Valladolid is one of the most beautiful colonial towns outside of Merida. Though a popular Merida day trip destination, Valladolid also makes a lovely overnight trip.
Strolling downtown Valladolid, you'll see why it's known for its beauty! Get your camera ready for all the great photographs and photo backdrops; and don't skip Valladolid's best street, the Calle de los Frailes.
Some of the town's additional photo spots include the big, colorful letters that spell out Valladolid. These large signs are a common feature in many Mexican cities — including Merida.
In the zocalo (central town square), you'll see the Iglesia de San Servacio, one of Valladolid's two colonial churches. The other you'll want to see is the Convent de San Bernardino de Siena, located adjacent to the Valladolid letter sign.
Arriving to Valladolid early? Take the 10am tour at Casa de los Venados (casadelosvenados.com), the private home of Dorianne and John Venator. Though a home, it also functions as a museum to show off the couple's impressive 3,000 pieces of traditional Mexican folk art.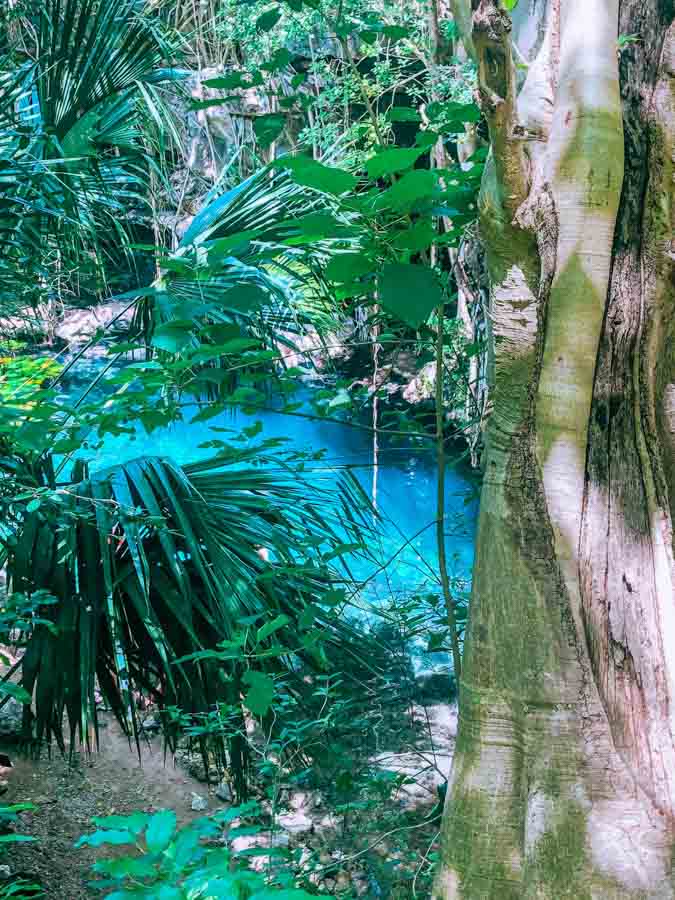 BEST CENOTES NEAR VALLADOLID
What is a cenote? 
The Yucatan Peninsula's cenotes are essentially freshwater sinkholes. We can see and swim in them because their original limestone rock covering has collapsed and eroded over time.
Want to swim in a cenote on your trip? 
You're in luck because many of the Yucatan's most beautiful and photographed cenotes are just outside of downtown Valladolid. These include Cenote Suytun, Cenote Ik-Kil, Cenote Oxman and Cenote Zaci, though hundreds of others can be found in the area.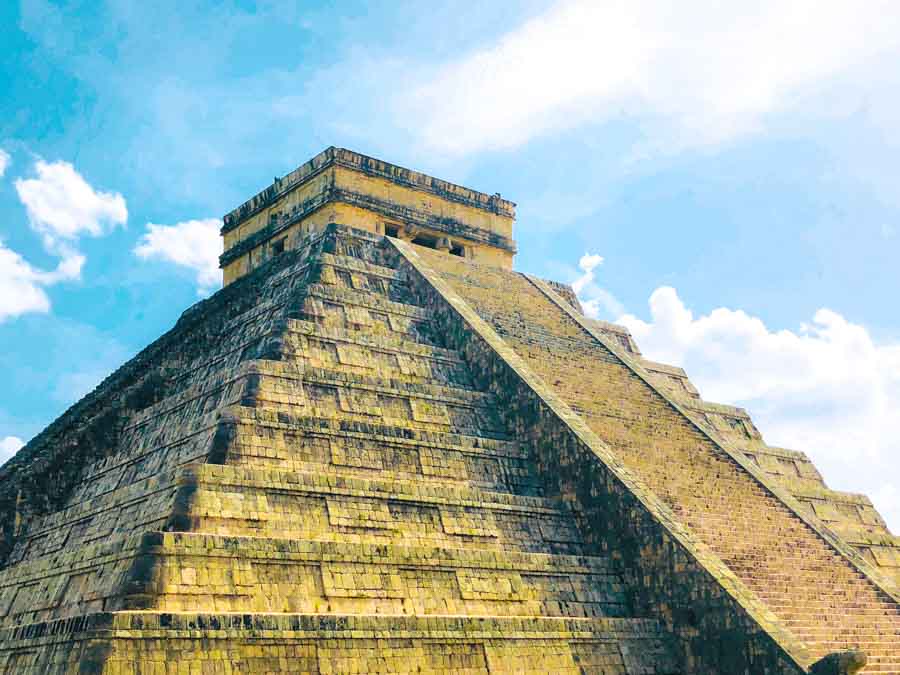 CHICHEN ITZA
Chichen Itza needs no introduction! It is, after all, one of the Wonders of the World.
A UNESCO World Heritage Site since 1988, Chichen Itza is one of the planet's most important pre-hispanic archeological sites — and the only such site on the Wonders of the World list. 
At an impressive 740 acres/300 hectares, and given its overwhelming history, the best way to experience Chichen Itza is on a guided tour. When you arrive at the entrance gate, accredited tour guides will offer you their services for a fee.
Once inside, don't miss all the iconic sites: El Castillo (The Castle), Temple of the Warriors, Group of a Thousand Columns, Grand Ball Court, Wall of the Skulls, and Sacred Cenote.
CHICHEN ITZA TIPS:
Arrive early — as in right when they open at 8am, or as close to that time as you can. By doing this, you'll not only beat the crowds, but you'll also beat the heat.
As with many similar sites, most trees at Chichen Itza were cleared out so archeologists can conduct their studies. While perfect for this reason, the lack of trees also means less shaded areas for the comfort of its visitors.
For this reason, you'll want to wear breathable and light clothing, in addition to your most comfortable sneakers. Oh, and don't forget sunglasses, a hat, your sunscreen, and a refillable water bottle.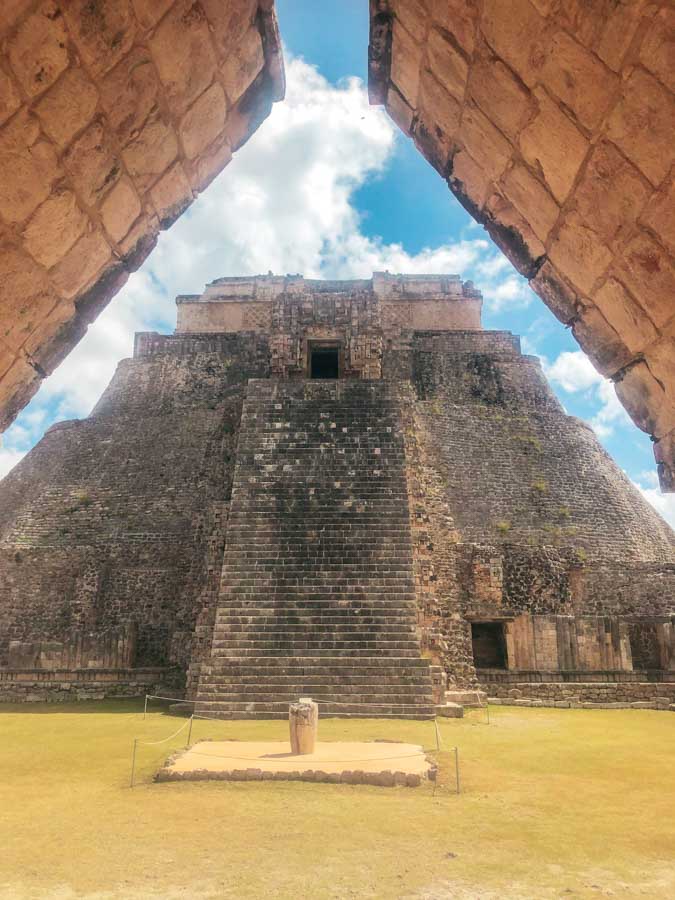 MERIDA TO UXMAL
Admittedly not as universally known as Chichen Itza, Uxmal has a few things going for it that Chichen Itza does not!
With about 275,000 annual visitors compared to Chichen Itza's 2.75 million, Uxmal sees only about 1/10th the crowds! 
Want one other reason to choose Uxmal over Chichen Itza?
You're allowed to actually climb the structures, as well as one of Uxmal's pyramids. Several years ago, Chichen Itza stopped letting visitors climb the pyramids as a preservation measure.
While visitors can't climb El Adivino (Pyramid of the Magician), Uxmal's tallest pyramid, you may climb the second tallest. From the top, you'll see the entirety of Uxmal.
Besides this pyramid, you can ascend other site structures to get a close-up view of this UNESCO World Heritage Site's intricate stone carvings. 
Uxmal's structures and buildings have beautiful Mayan design elements representative of what is called the Puuc style. However, Uxmal is not the only Puuc site in this area!
DRIVING THE PUUC ROUTE (RUTA PUUC)
Certainly the route's best known site, Uxmal, joins four other Mayan archeological sites that comprise the Ruta Puuc (Puuc Route).
Along this 19 mile/30 km route, don't miss the others: Labna, Kabah, Sayil, and Xlapak. All of these sites also showcase similar Puuc stone carvings, much like the ones are Uxmal.
Note: You'll need your own car to drive the Ruta Puuc.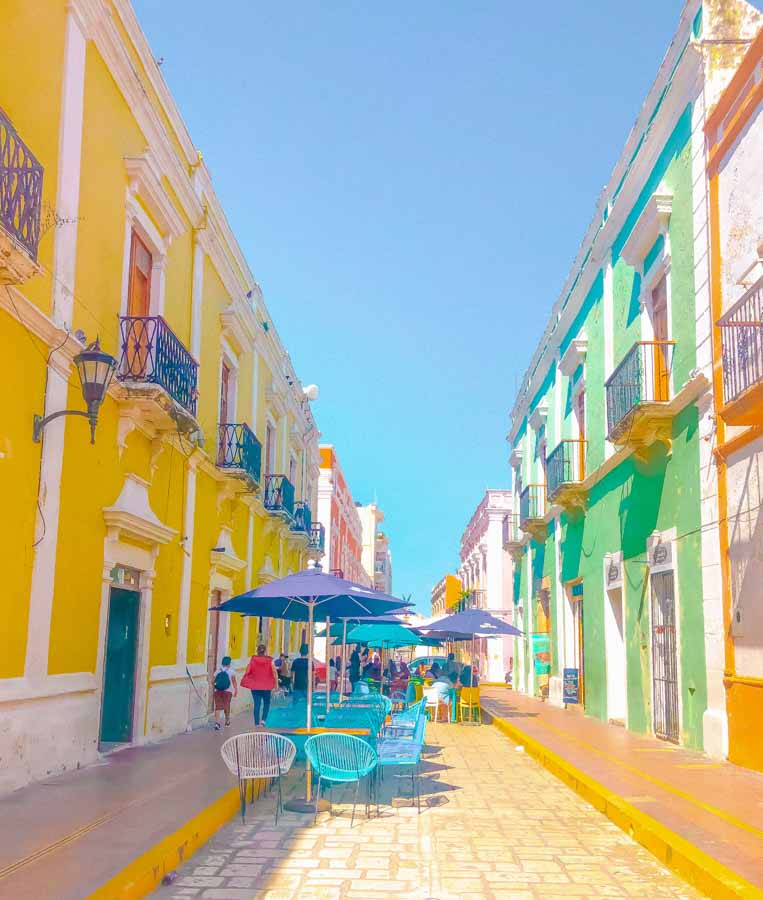 MERIDA TO CAMPECHE CITY
The walls circling this UNESCO World Heritage Site hide a charming and colorful colonial city inside! 
Campeche City, located on the Gulf of Mexico, was vulnerable to pirate attacks. The inhabitants from centuries past formed a line of defense by building walls around the city.
Since pirates don't come around much anymore, visitors can now enjoy a stroll around the fort walls and see the historic cannons pointing right towards the Gulf of Mexico. 
Besides these fort walls, Campeche is regarded as one of the country's most colorful towns. The homes, churches, cafes and shops in downtown Campeche make up every color of the rainbow!
At around just 25 square blocks, spend time leisurely strolling in downtown and photographing the colorful buildings. If you get hungry, grab a snack at Altagracia Café, or a meal at Marganzo Restaurante or La Parrilla Colonial Campeche.
After eating, hop on the tranvia (tram) tour to see even more of Campeche City. The trams are parked at the zocalo (main town square), and have bilingual commentary.
Finish your day trip taking in the sunset from Campeche City's Malecon (walkway), located right on the Gulf of Mexico.
Pin and save this to your Mexico board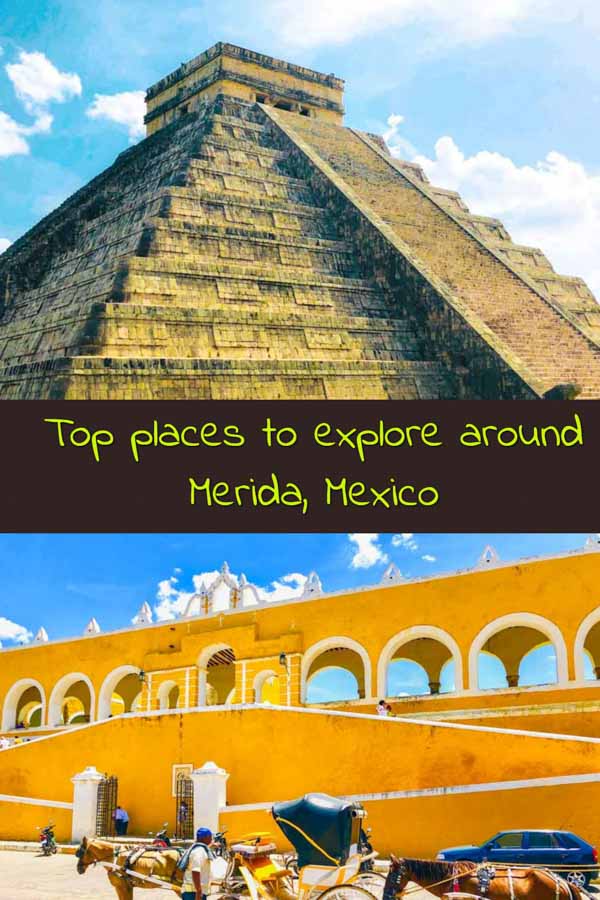 __________________
Guest writer Bio
Shelley is a former Miami travel magazine editor who ditched the office for the world! After traveling solo to 14 states in Mexico, she now calls Mérida home. She created the Travel Mexico Solo blog and Dream To Destination podcast to help women cross Solo Travel & Mexico Travel off their bucket list.
Check out Shelley's blog post on more amazing day trips from Merida
Social links:
Thanks for visiting and checking out this post on Merida day trips. Bookmark this post for future reference when you are looking for some Hawaii activities, adventure or fun experiences.
Please do share this post with any of the social media icons on the side bar and thanks for visiting today!
Some links in this article on Merida day trips are affiliates which provide a small commission to support this site at no extra cost to you. Thank you for reading, and happy travels