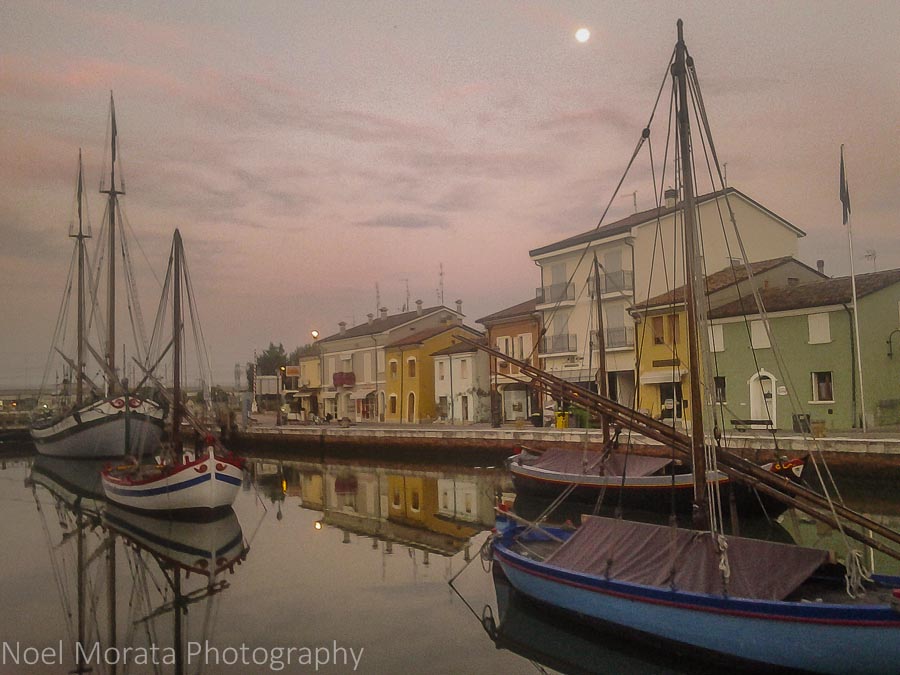 A morning walk in Cesenatico, Italy – Travel Photo Mondays
It's Monday morning, time to enjoy some gorgeous travel photography and inspiration from around the world. Let's banish those Monday blues by sharing beautiful imagery and personal story telling. You can also check us out on Twitter for Travel Photo Mondays at #tpMondays for more updates and submissions for the day.
The coastline at Cesenatico, Italy on the Adriatic coast is a beautiful area and a popular seaside destination for Italians and visitors to the stunning beach communities. Coming here on the shoulder season is devoid of the summer and beach focused activities around all the hotels lined along the long stretch of beach in the area.
.
I woke up early after a sleepless night and decided to see the sunrise and great a new day early so I can have a full day exploring.  Fortunately the hotel I was staying at offered free bicycles to use on the paths and beach routes. Considering that the old district and harbor was over two miles made it easier to visit the older section of town.
Passing through a myriad of closed off hotels for the winter season,  I pass one boarded hotel after another, like things have definitely closed for a long time frame. It is such an eerie experience to bike through a very quiet zone and at the same time quite interesting. I finally make it to the end of the bay front promenade and veer off to the left side which is where the harbor is located at, I pass through the long channel area housing the fishing fleet and finally I get to the central district with a canal that contains these old and colorful fishing vessels of the day. Old monuments of fishing landmarks, churches and other sea buildings line both sides of the canal and offer hints of their rich seafaring history.
I really enjoy coming during the off season to an area because it feels more local and a time frame when the community takes back the town for its own daily activities. The experience for me tends to be more authentic than the tourist season when the hordes come in and inundate the areas attractions
Thanks for visiting and viewing this morning walk in Cesenatico, Italy for Travel Photo Mondays. Please do check on the other bloggers that are participating for todays link up below and if you enjoyed the poste, please do share it with any of the social media buttons on the site.