I love the Napa wine country since it's a quick get away from the hectic world and urban environment of the Bay Area and enjoying that Napa Valley vacation.
There are so many things to do in Napa, but for me it's basically about personal preferences, checking out some Napa Valley wineries, enjoying some delicious dining places and exploring at my own pace. There are so many some cool spots in the Napa Valley to hang out and do something unique based on your interest or hobby, it doesn't always have to focus on visiting wineries and dining in the best places around the valley. Let me show you what I ended up doing on a quick weekend getaway in Napa.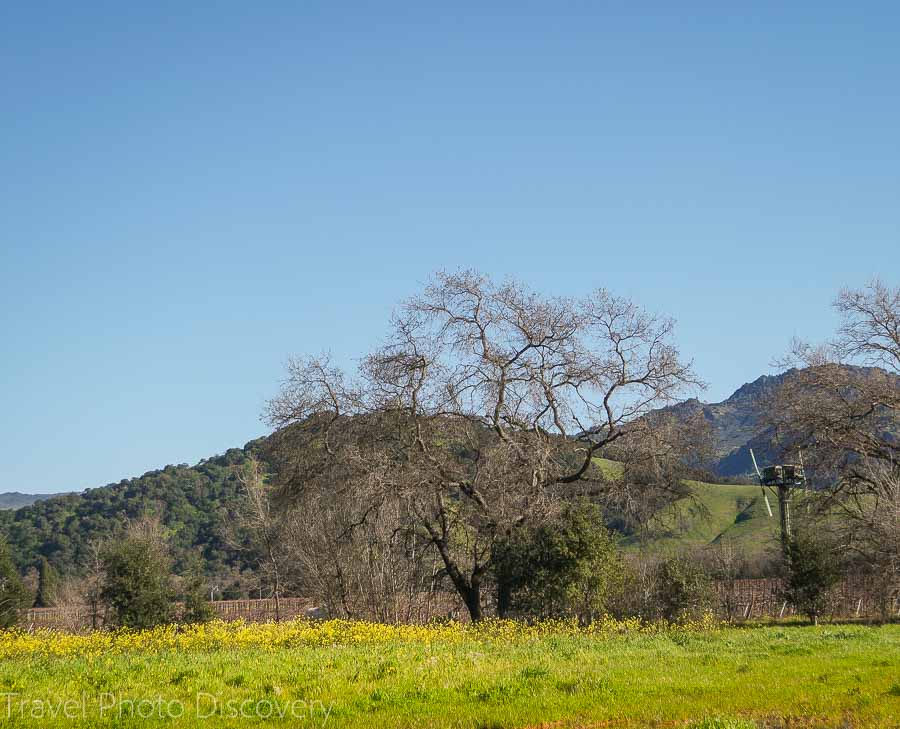 Things to do in Napa Valley
Since the valley is such a large area of distinct towns, cities and landscape, I wanted to base myself in a Napa city which a central location to explore the rest of Napa Valley. A quick check into my hotel base for the weekend at the Andaz Hotel in the downtown district makes it easy to walk around. Since I arrived mid-day, I was starving and wanted to check out the cool eateries at the Oxbow market which offers a variety of local favorite dining and casual eateries all in one location.
Checking out the Oxbow Public Market
You can't go wrong picking from a variety of food venues from casual to fine dining in this market and covering a variety of specialty food shops and eating and or drinking experiences. I had to drop by for my favorite Hog island Oysters and have some organic ice cream for dessert at Three Twins Ice Cream using natural ingredients like cane juice and other delicious ingredients. After a wonderful meal, I cruised through the various aisles to check out the other specialty food shops in the market and everything looked delicious or perfect for the cook in the house. There's plenty of dining choices at the Oxbow Public Market and you can check out their website here for more details here on what to eat and do at the market.
Trying some oysters and other seafood delicacies at Hog Island Oysters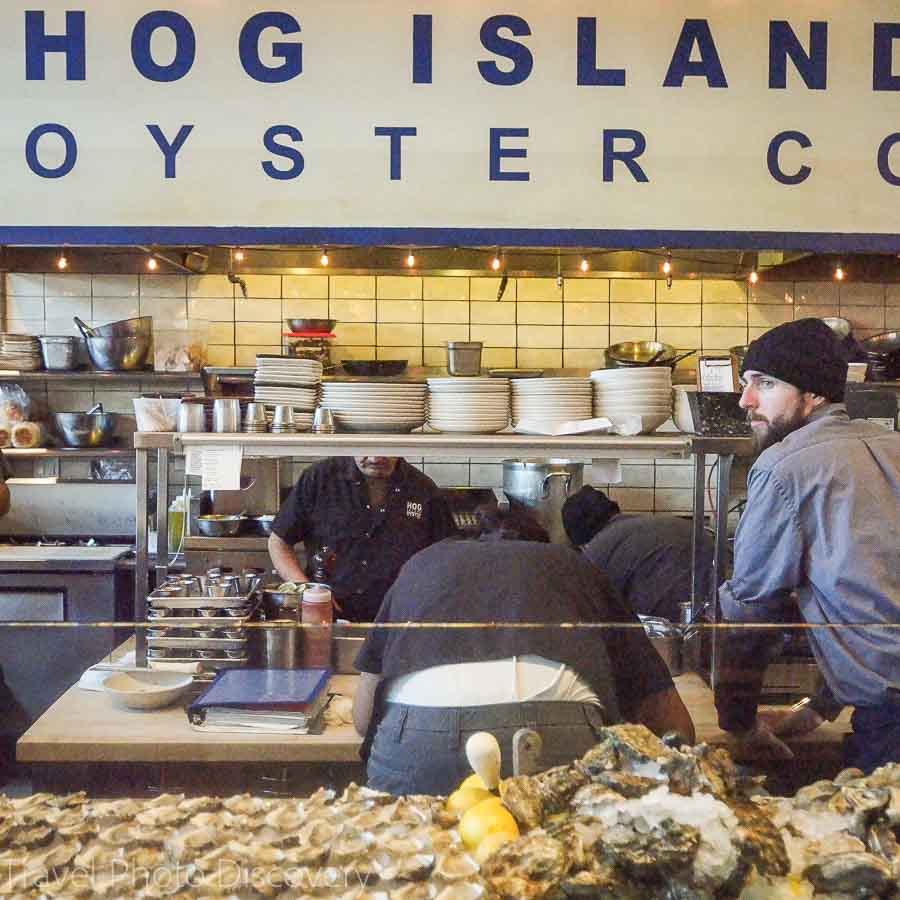 T
he Napa wine train
Next door to the Oxbow Public market is the Napa wine train which offers fine dining experiences while traveling at a slow pace along the Napa Valley and the many wineries the train passes through along with doing some Napa Valley wine tasting on the train. The 20th century Pullman Dining cars are elegantly designed and they offer a variety of wine and dining options on their Napa tour, you can check out the details on this special gourmet lunch tour on the wine train.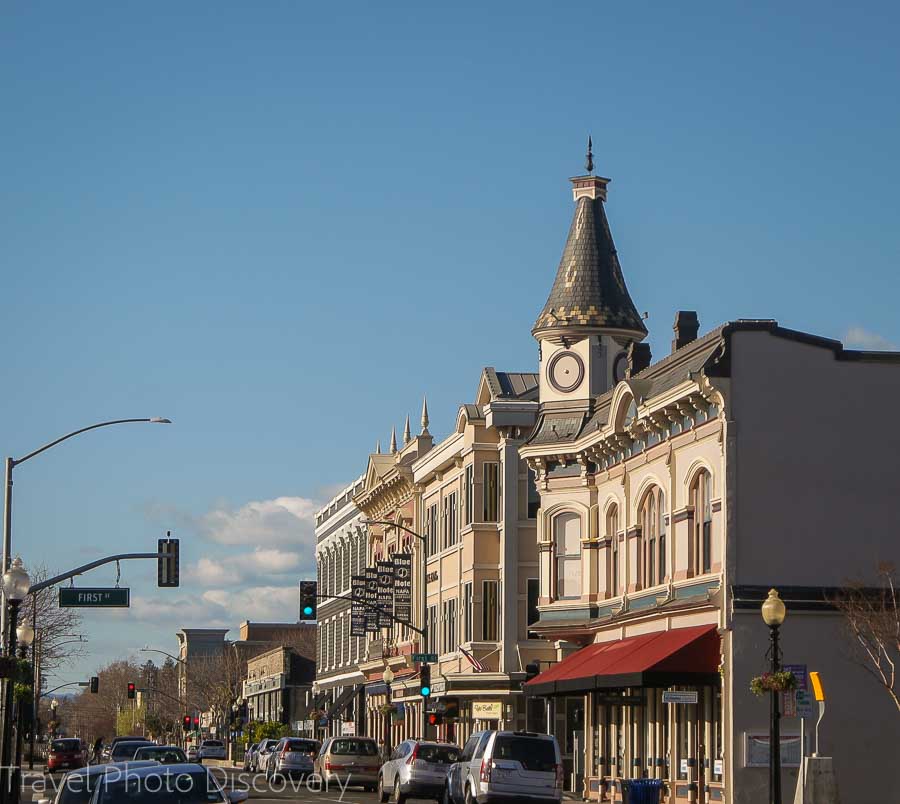 Exploring the historic downtown district
Downtown Napa is nice and compact so it is easy to walk everywhere and the historic district faces the Napa River and is easy to explore in a few hours or more depending on your interests in checking out the various galleries or shops or just window shopping to see what's going on downtown.  For those not into shopping, there are wine tasting rooms and craft breweries, delicious food venues and a variety of hip hangout bars and coffee shops along the waterfront and downtown district.
Seeing art and strolling the riverfront area
One of the fun things to do in Napa Valley is a walk along the Napa riverfront and around the downtown district is an art walk with wonderful sculpture and other art installations to enjoy along with the water views and wonderful architect in the historic district. There are lots of cool galleries, eating venues and other tourist focused shopping worth checking into when you are downtown.
Tip – Stop by the visitors center along the riverfront area and you can ask for the art walk tour of downtown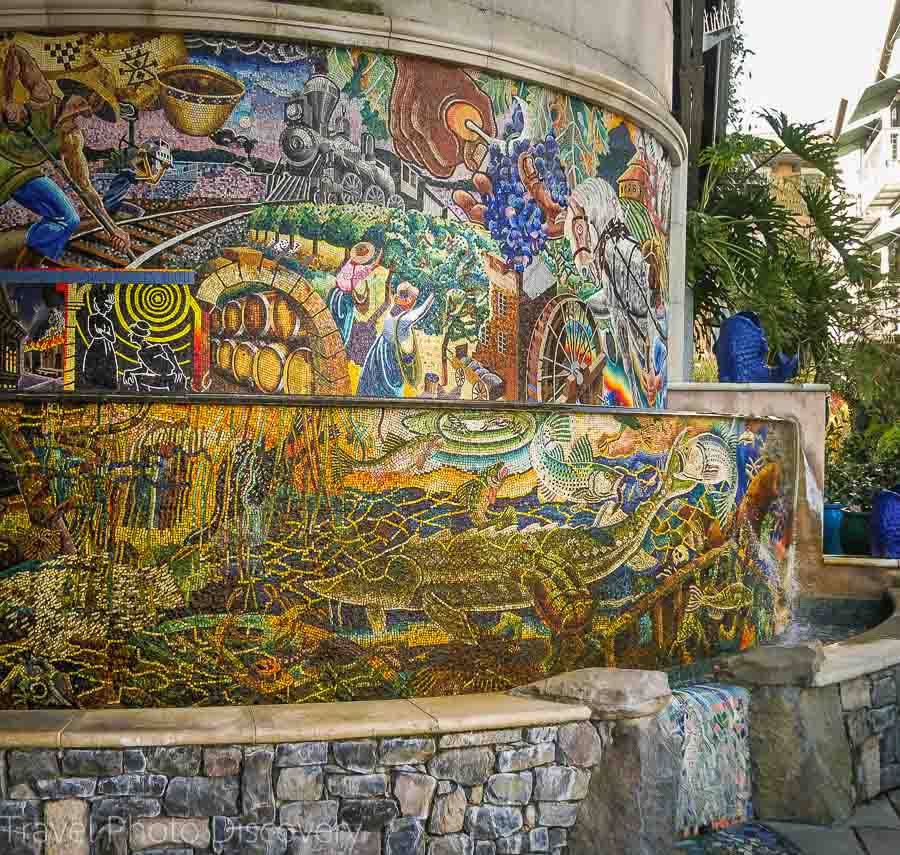 Tile displays and other art installations on the riverfront and downtown areas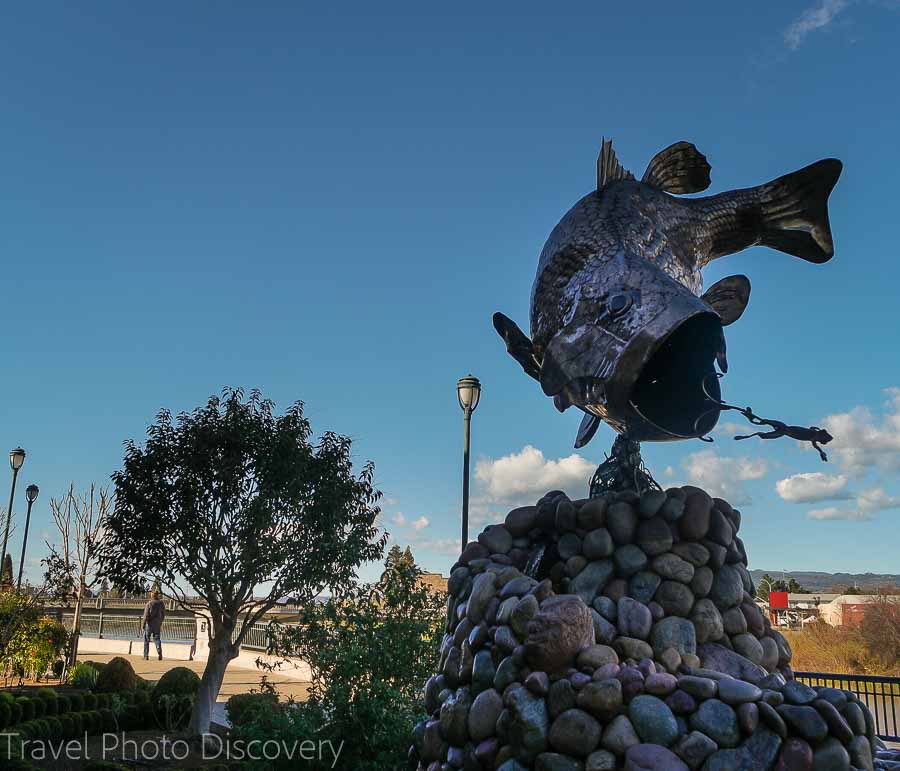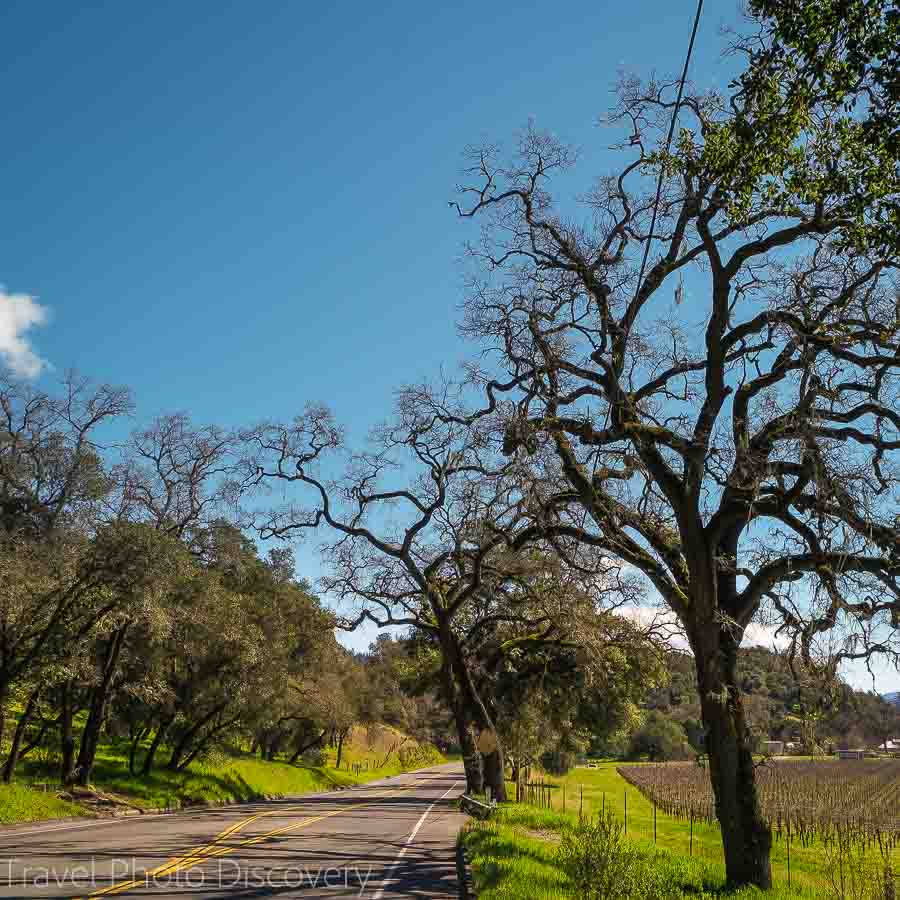 Driving the Silverado Trail
A drive along the Silverado trail is more pleasant than Highway 29, it's a slower pace with fewer wineries and harkens back to an earlier Napa Valley without all the glitzy towns and wineries that dot the main road. It's a wonderful scenic drive along rolling hills with vineyards and almost hidden wineries you pass along the way. I love taking this road from Downtown Napa and drive all the way to Calistoga and back, stopping at some of the smaller family run wineries that typically just sell their wines on the premises.
Spring flowers and vineyards in bloom at the Silverado Trail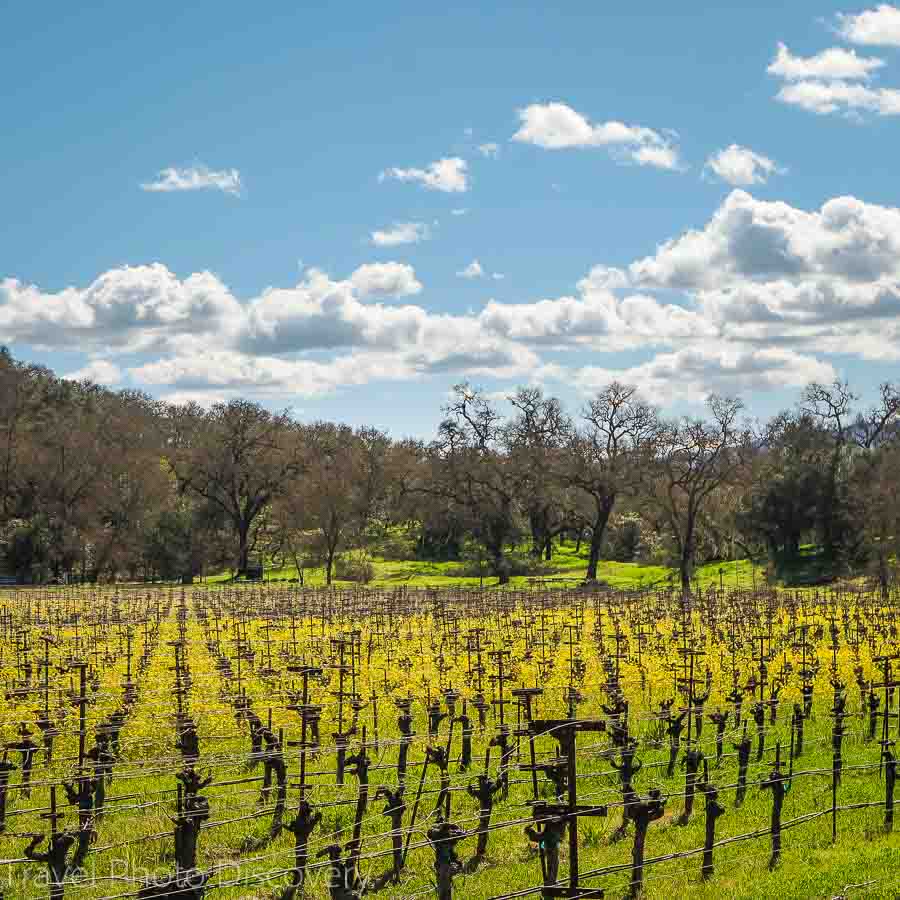 Visiting Whetstone winery
For a taste of historic Napa, I dropped by the Whetstone winery, a classic winery run by a small family operation in a beautiful old French style chateau converted into a tasting salon. We sample a variety of wines from their tasting menu featuring Sonoma and Napa wines and we also sampled some of the wonderful charcuterie picnic plate of locally made specialty foods.
Everything presented for tasting was just incredible but my favorite wines offered on our wine flight included a crisp and fruity 2015 Russian River Viognier, a smooth but full tasting 2015 Russian River 'Pleasant Hill' Pinot Noir and their signature 2013 Syrah ' Phoenix Ranch' Napa Valley wine in a limited production.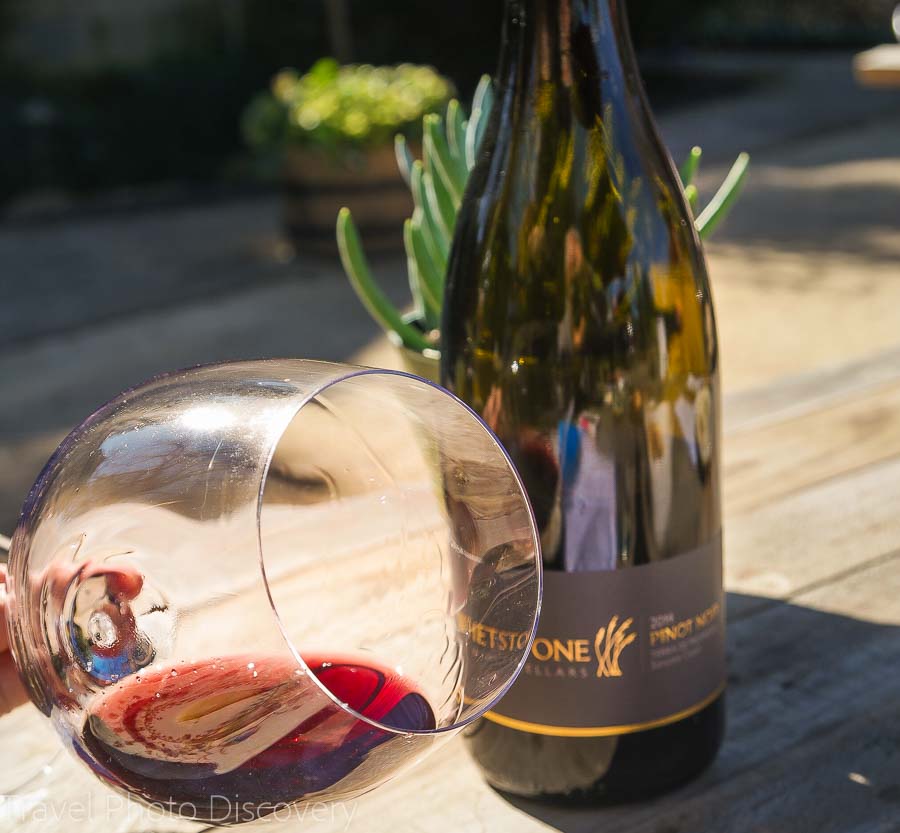 Sampling fine wines at Whetstone winery in Napa Valley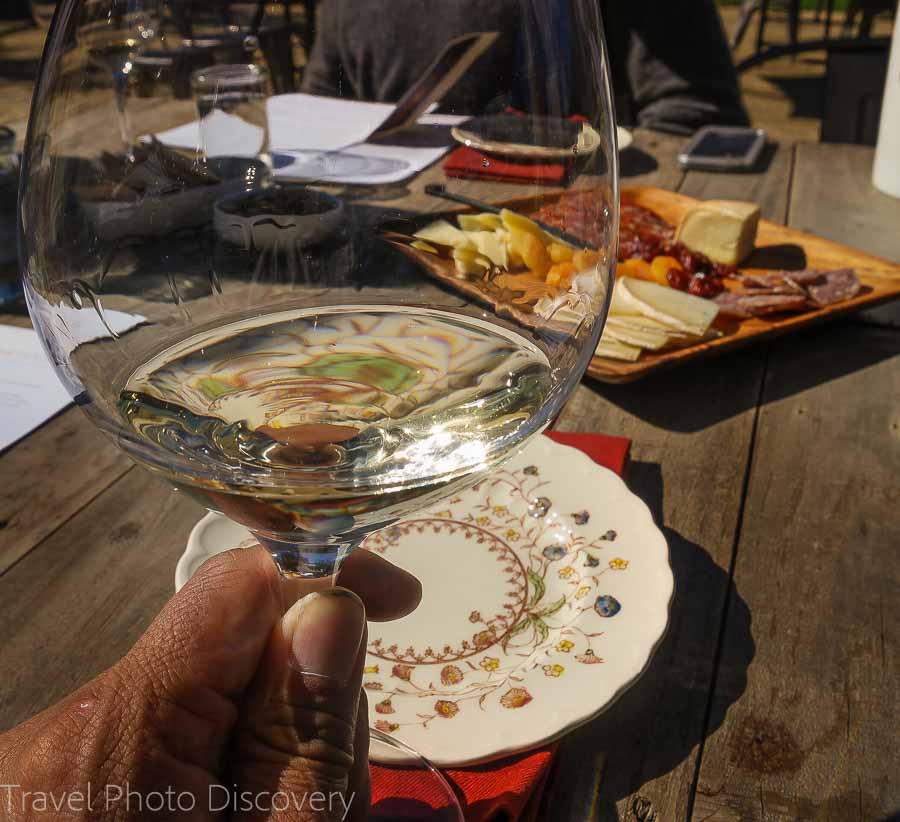 Where to stay in downtown Napa
Here are some of the recommended places to stay in downtown Napa hotels or hotels near Napa Valley, each have their own fantastic service, amenities and location.
Silverado resort and Spa – the classic Napa Valley accommodation located on the Silverado trail, this cool resort is located just outside of Downtown Napa which gives it a wonderful getaway type of vibe. Check here for current prices and availability.
Napa River Inn – at historic Napa Mill
Located next to the Napa riverfront, the Napa River Inn is roomy with fantastic river views and easy walking to downtown, dining venues or just a stroll along the waterfront areas. Check here for current prices and availability.
Andaz Napa – located in downtown Napa, this modern Napa Valley lodge is a modern hotel and easy walking around downtown, the riverfront and other areas in the city. Eclectic and tasteful decoration in the lobby areas and bedroom suites, there is also an upstairs patio area for afternoon wine tastings. Check here for current prices and availability.
Napa Valley Marriott Hotel and Spa – An excellent location to all of Napa Valley, the Marriott excels in both quality service and wonderful and spacious room accommodations and a beautiful bar and restaurant just off the lobby area. Check here for current prices and availability.
For more hotel locations in downtown Napa and the surrounding areas, check out these fantastic hotels here for prices and availability.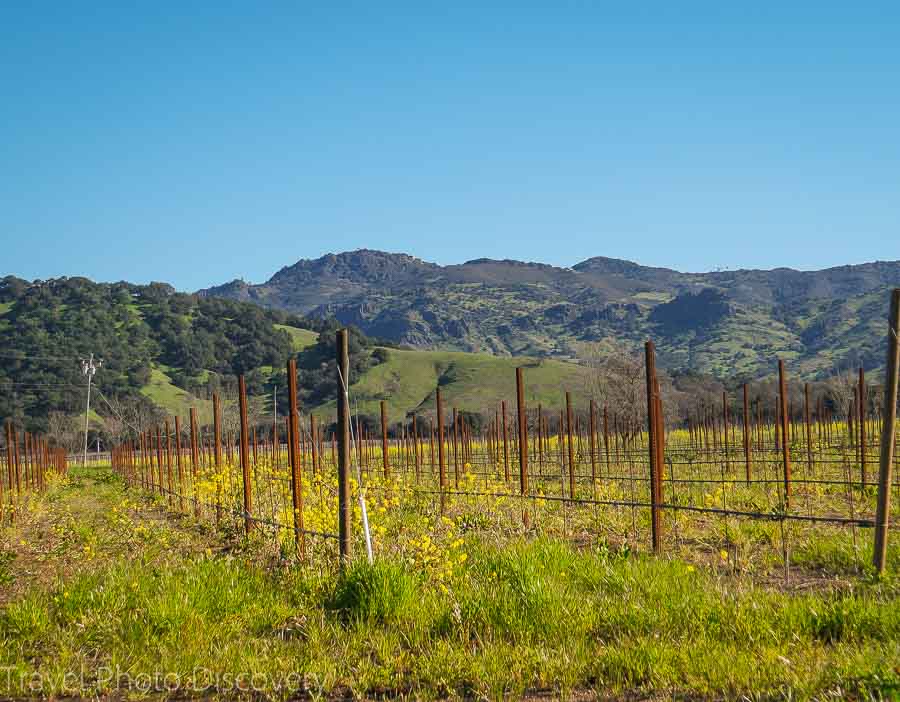 Wine and other specialty tours around Napa Valley
If you're interested in special tours of the Napa Valley wine country that will really make this a unique and once in a lifetime experience check out some of these wonderful Napa Valley tours below and you definitely will have a great time visiting wine country.
A Napa Valley Wineries tour – this six hour tour Napa Valley wine tour package include pickup in a limo or limo van from downtown Napa  hotel or American Canyon. This Napa wine tour includes a nice picnic lunch and stops at four to five premiere wineries
A Napa bike and wine tour – covering stretches of Highway 29 and the Silverado trail, this full day Napa Valley trip includes lunch and Napa wine tasting with visits to three wineries along the way
Wine train gourmet lunch special – a wonderful experience on the world famous Napa wine train with two seating options and offering a seasonal menu
A private 8 hour Napa Valley tour – offering comfortable drive/pick up from San Francisco to Napa Valley vineyards and do some wine tasting in the area and customized to your needs.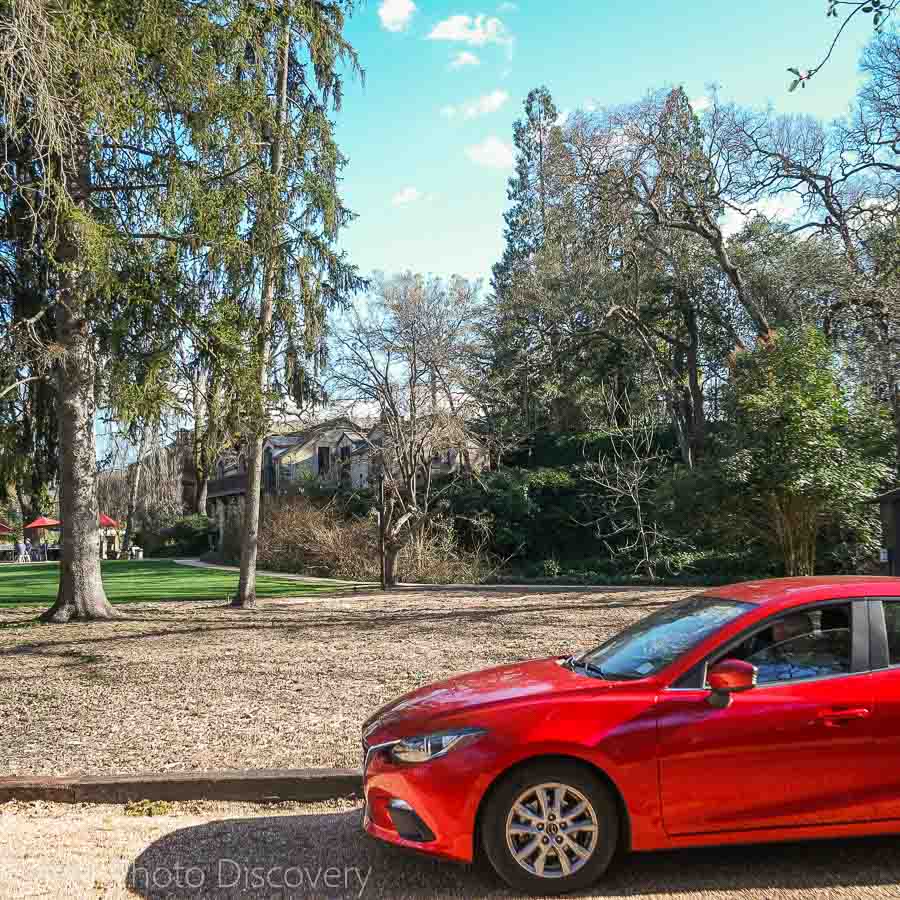 Your car for exploring Napa Valley
You definitely need a rental car to get to and visit different parts of the Napa Valley. Depending on where you start (Napa city, San Francisco or other location) your vacation, you can find car rental agencies available throughout the Napa Valley. You can check out the following car rental agencies below for current prices and car availability based on when you go for your Napa Valley day trip.
Priceline car rentals – name your price for 40% off car rentals
Travelocity – search for car rental deals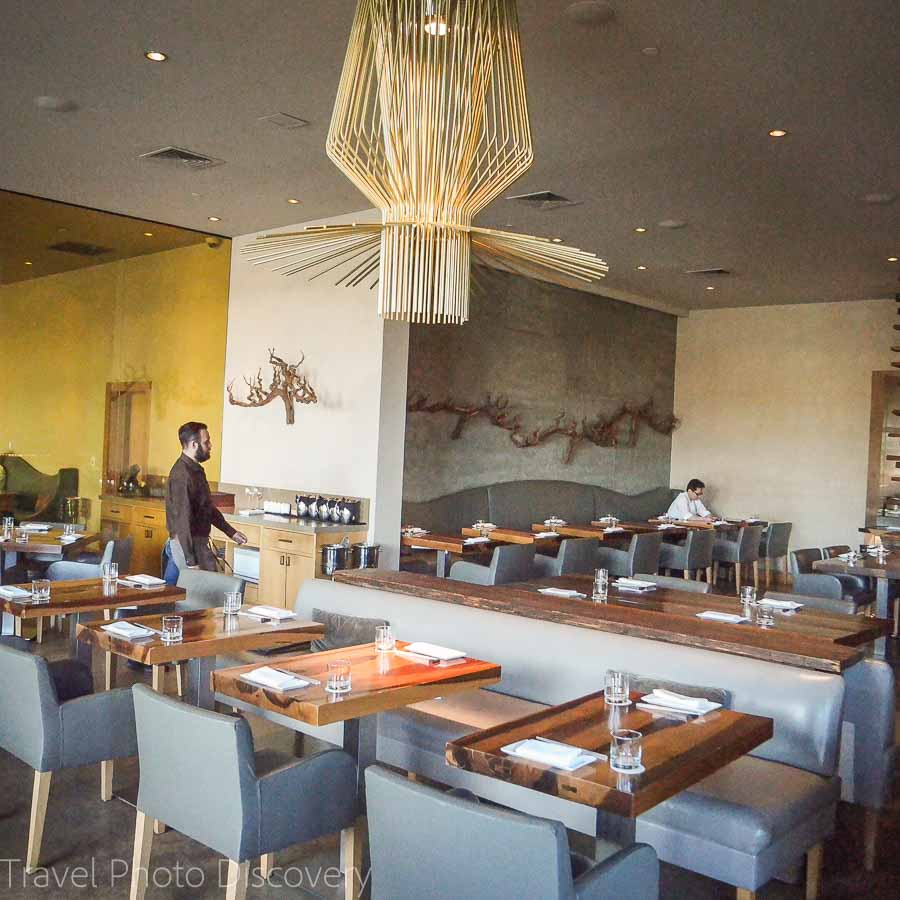 Dining Venues in Napa city
Here are some wonderful dining venues in downtown Napa worth checking out for fine or casual dining recommendations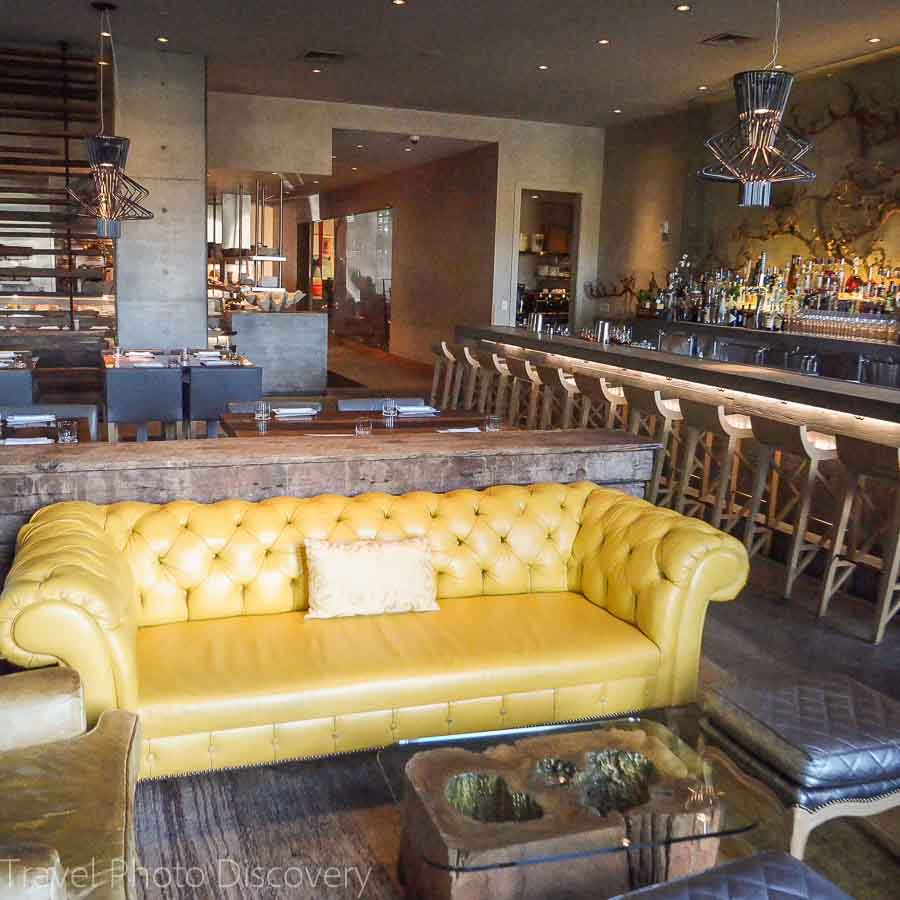 Morimoto restaurant – along the riverfront offers world class dining in Chef Morimotos "Iron Chef" signature contemporary Japanese style food in downtown Napa.
Oxbow Public Market – a variety of casual to fine dining options in this contemporary food emporium on the other side of the Napa River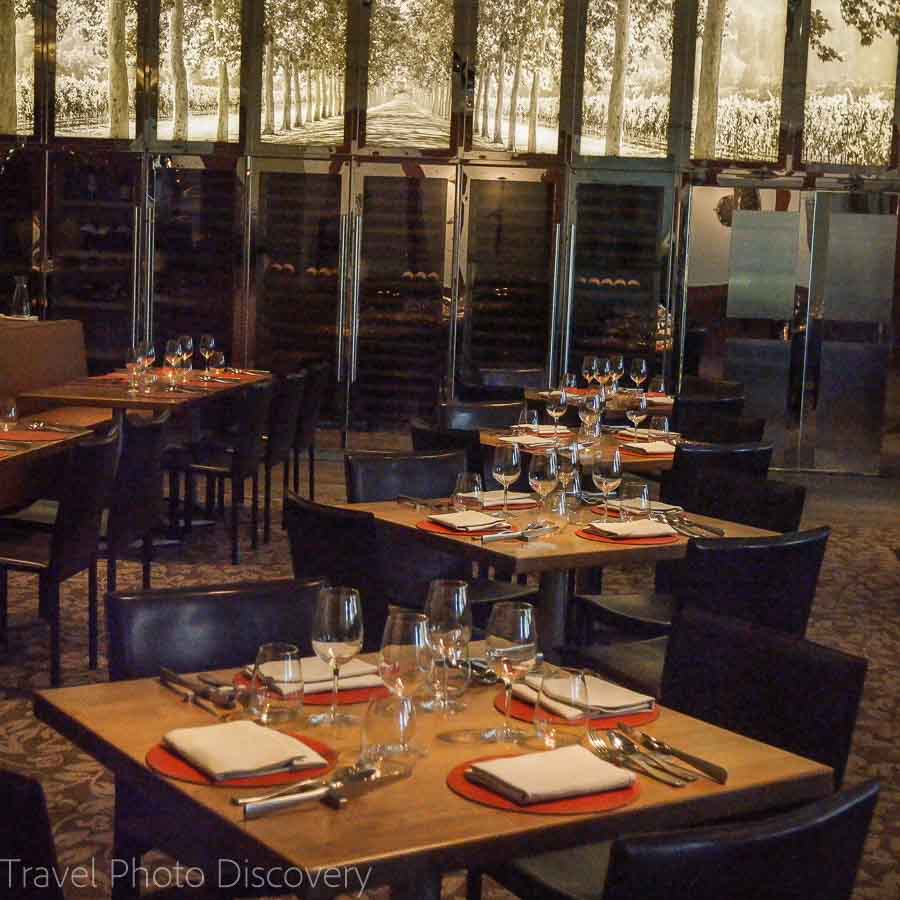 The restaurant at CIA Copia – A newer restaurant opened in the Copia building offering contemporary and comfort Napa styled foods with the Culinary Institute of America – it is refined dining at its best at the Copia location across the Napa river from downtown Napa.
Thanks for visiting today and checking out this post on a Napa Valley vacation getaway, if you enjoyed the images and post, could you please share it with any of the social media buttons located around the post.
If you like what you see, come and check out my other social media channels for more updates, including Instagram, Pinterest and Twitter
Some links in this article on Napa Valley vacations are affiliates which provide a small commission to support this site at no extra cost to you. Thank you for reading, and happy travels!