New Brunswick is an underrated and overlooked destination in Canada. My friends could not understand why I would use precious vacation days to take a solo road trip around "No Fun-swick". But upon returning and showing them the photos, they were shocked to see just how stunning New Brunswick is and how many outdoorsy things there are to do in this little province. In this post you'll find information about New Brunswick and planning a trip here, as well as a 4 Day New Brunswick Road Trip Itinerary for Nature Lovers.
4 Day New Brunswick Road Trip for Nature Lovers
About New Brunswick
New Brunswick is a small, maritime province in Eastern Canada. It is the only bilingual province in Canada, has two national parks and the first UNESCO GeoPark in North America, and is home to the Bay of Fundy, which boasts the highest tides in the world.
Getting to New Brunswick
For this specific New Brunswick Road Trip itinerary, I recommend flying into the Saint John Airport, which has direct flights to and from Toronto. The itinerary could be modified in order to land in Moncton (the business hub) or Fredericton (the capital city) which have much larger airports and offer more options for direct flights.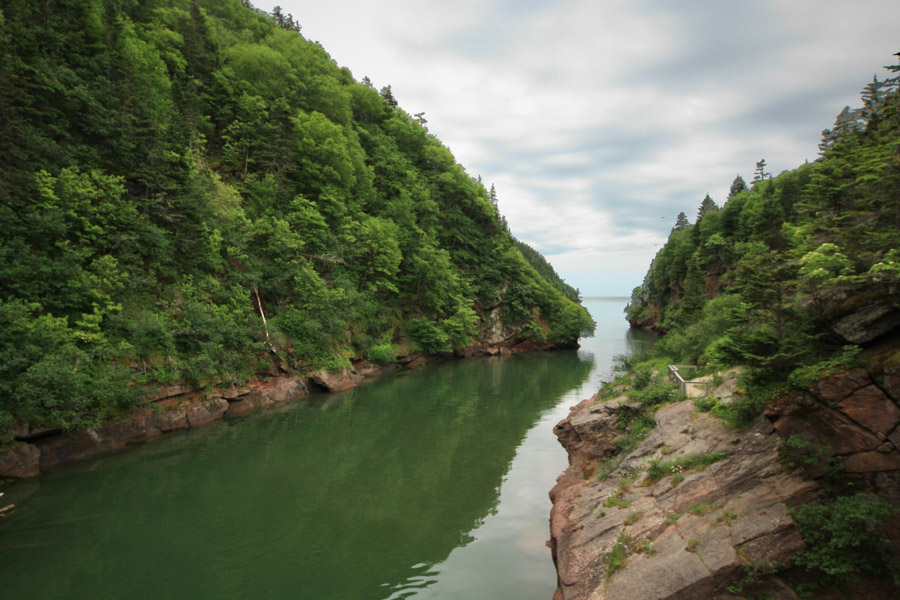 Getting around New Brunswick
This is a self-drive itinerary, and it would be very difficult to see most of the sights without a car. At the Saint John airport there are several rental car companies located across from the baggage claim. I recommend making a rental car reservation ahead of time.
4 Day New Brunswick Itinerary for Nature Lovers
Day 1: Drive the Fundy Parkway Trail to Fundy National Park
For the first day, we're going to drive from Saint John to Fundy National Park, but make some scenic stops along the way.
St. Martins Sea Caves
First make a stop at St. Martins to check out the sea caves. St Martins is a quaint town on the coast of the Bay of Fundy. The powerful tides have eroded parts of the coastline, leaving cliffs and sea caves. Consult a tide chart – the caves are free to explore, but are only accessible at low tide.
Tip: Grab a snack and iced coffee from The Shipyard Cafe, right across from the sea caves.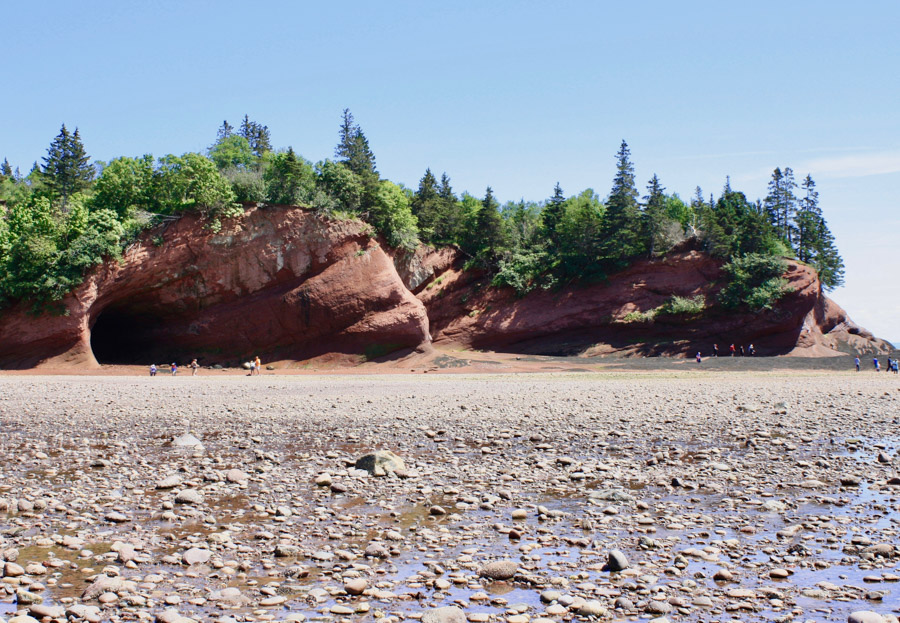 Fundy Trail Parkway
After St. Martins, drive to the start of the Fundy Trail Parkway, which offers dozens of excellent view points, beaches, lookouts and hikes.
Directions from St. Martins to Fundy Trail Parkway: From St. Martins, drive northeast on Big Salmon River Rd. Keep right at the fork to turn onto Little Beach Rd. Keep right at the next fork to turn onto Melvin Beach Rd. This road turns into Fundy Trail Parkway. There is a visitor centre at the start of the parkway. You can pay your fee here and get a map.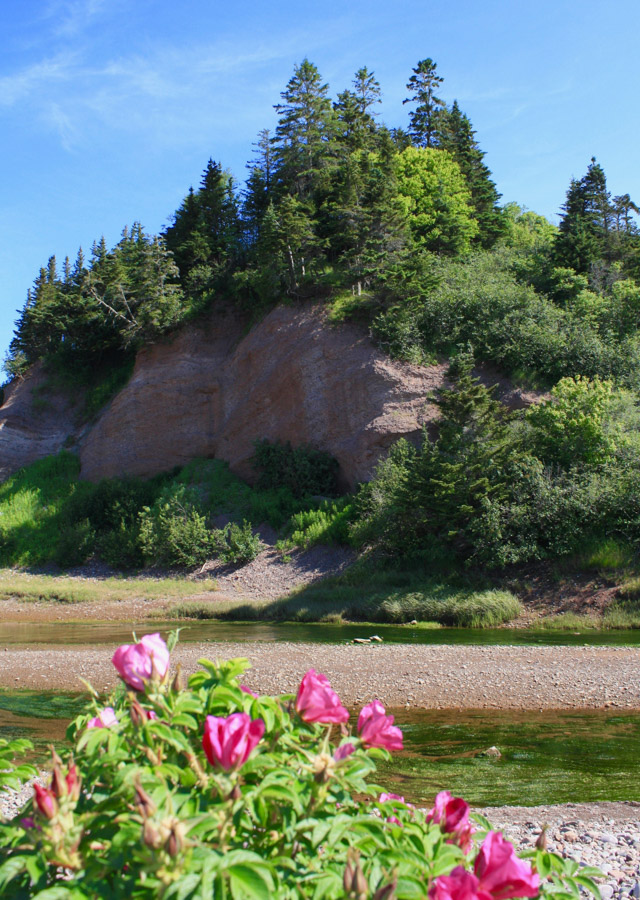 There are so many great places to stop along the Fundy Trail Parkway. Here are a few of my favourites:
⦁ Fox Rock Lookout
⦁ Melvin Beach Lookout
⦁ Fuller Falls
⦁ Black Point Falls
⦁ Big Salmon River Suspension Bridge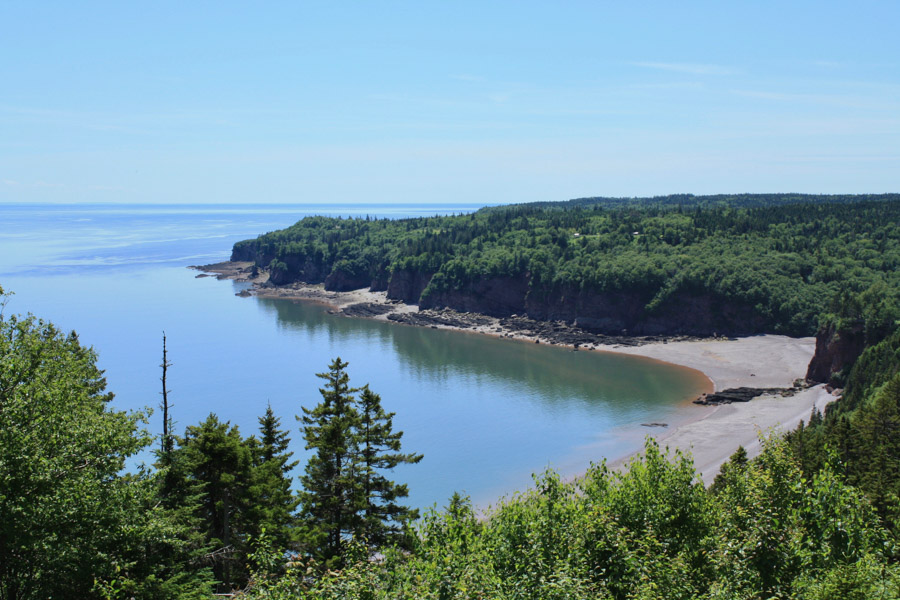 At the time of writing, the final section of the Fundy Trail Parkway is not yet complete, so it doesn't connect with the main highway. This means you will have to double back to St. Martins and then join Highway 111.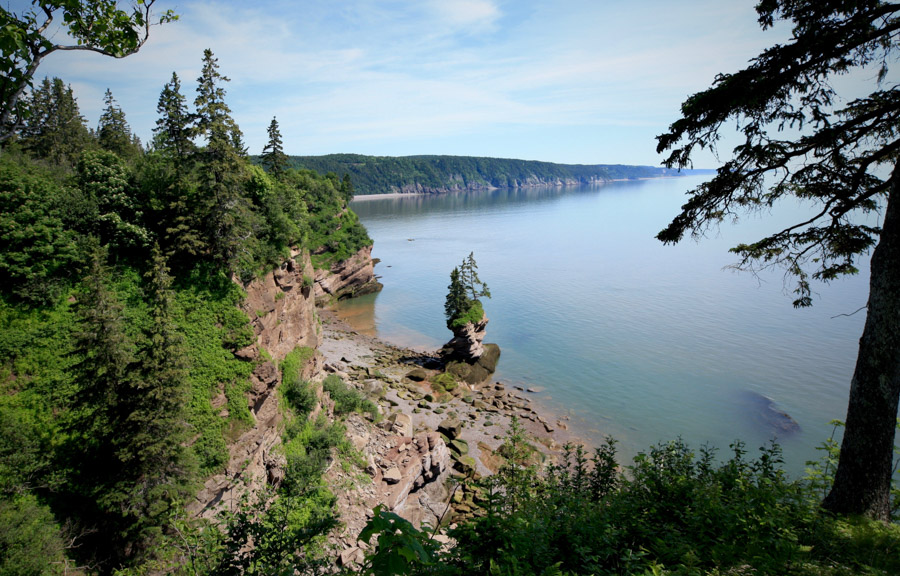 Directions from St. Martins to Fundy National Park: Once you're on Highway 111, follow it north to where it meets Highway 1. Take the exit onto Highway 114. This road will take you directly into Fundy National Park.
Where to Stay: Fundy National Park
There are a few options for accommodations in and around Fundy National Park. The park has several campgrounds for car camping and backcountry sites if you'd like to hike to your campsite.
If camping isn't your style, no worries. Just outside the park is the town of Alma and surrounding areas. Check out the reviews and updated prices here  for  hotels, motels and B&Bs in the area..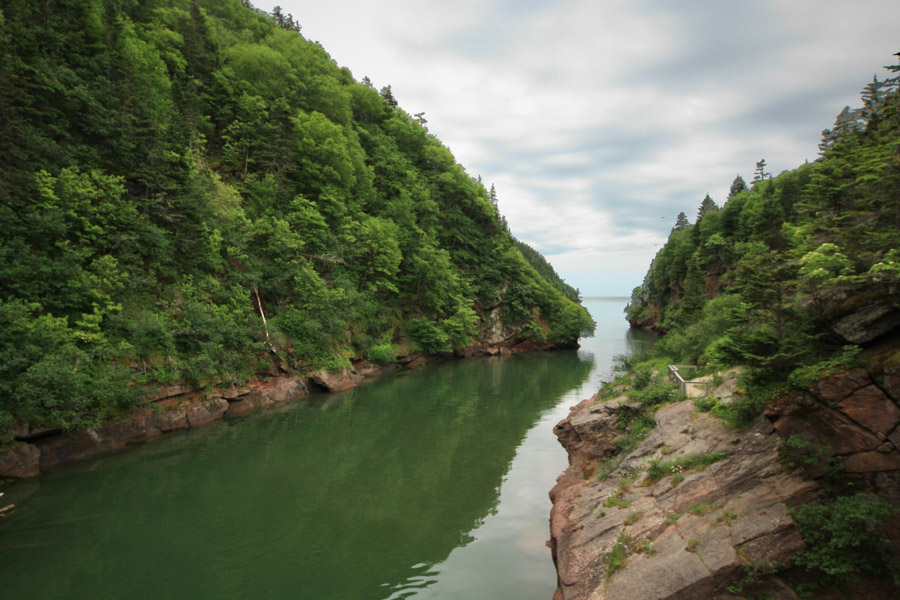 Day 2: Hiking in Fundy National Park
Spend day two exploring Fundy National Park. There are several hikes to choose from and also the option to rent a canoe or kayak and paddle on one of the lakes. However, I recommend choosing a couple hikes and saving the paddling for Day 3 at the Hopewell Rocks.
Watch the Sunrise at Butland Lookout
Start your day in Fundy National Park bright and early with an east coast sunrise. When I was last in Fundy NP, I went to Butland Lookout to watch the sunrise. This gives you a great vantage point to see the ocean, coastline and pine trees. All while sitting in a comfortable and iconic red Adirondack chair. While I didn't see the sun rise (thanks clouds) I did get some great views.
Hike to Matthew's Head
Matthew's Head is a wonderful, moderately challenging hike. The trail culminates at Matthew's Head where you'll find another pair of distinctive Adirondack chairs. It's mostly flat with no extremely steep sections, but lots of towering pine trees overhead. Throughout the hike there are places to look out and see the rugged, rust-coloured coastline.
Hike to Third Vault Falls
I didn't do the hike to Third Vault Falls myself. But according to the park staff, it's the most popular hike in the park so I had to include it in the itinerary. The hike is moderately challenging and leads you to the beautiful Third Vault Falls.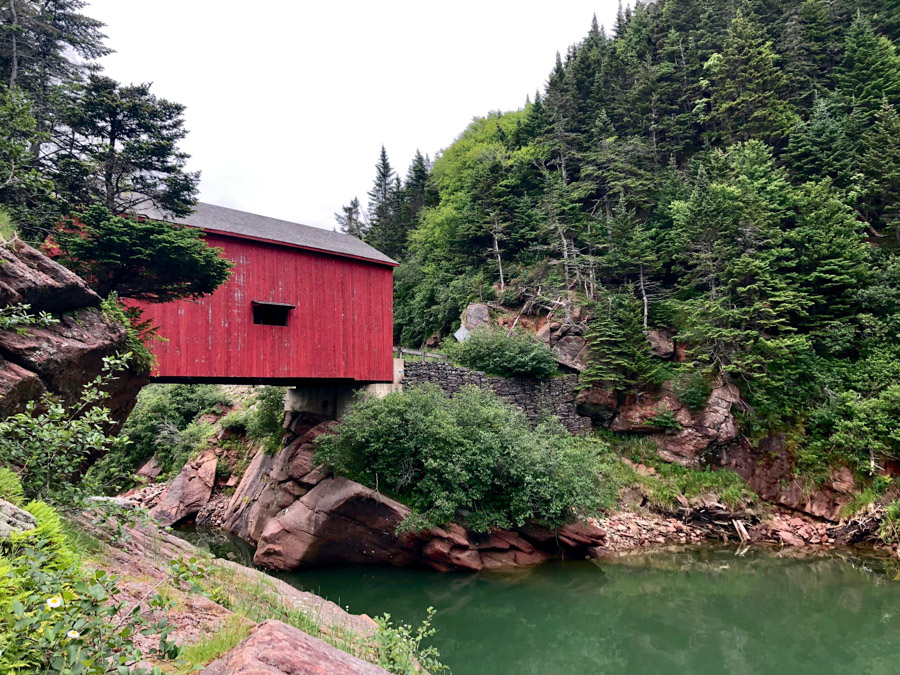 Visit Point Wolfe
Point Wolfe has a beautiful beach and rustic covered bridge. There are several places here for views of the rugged Fundy coastline and the dark green water.
Tip: The Bay of Fundy coastline is very rocky and I was thankful to have a pair of hiking boots with decent ankle support.
Where to Stay: Fundy National Park or Hopewell Cape
Where you spend your second night will depend on what time you have your kayaking tour the next day. When I went, my kayaking tour started at 8 am so I found a place to stay near Hopewell Cape (a town very close to the meeting place for kayaking). There are a few motels / hotels and a campground for car camping in the area – check out the reviews and updated prices here for you to view.
If your kayaking tour starts later in the day, you can stay in Fundy National Park for a second night and start the drive to Hopewell in the morning.
Directions to Hopewell Rocks: Highway 114 runs right through Fundy National Park and goes north directly to the Hopewell Rocks.
Day 3: Walking and Kayaking at the Hopewell Rocks
Spend the third day exploring The Hopewell Rocks. Visiting the Hopewell Rocks is the whole reason I went out to New Brunswick in the first place.
At the mouth of the Bay of Fundy, where the Hopewell Rocks are, the tides can be as high as 35 ft (the highest tide ever recorded here was 50 ft). This makes them the highest tides in the world.
The Hopewell Rocks is a full day activity, because when the tide is in you can kayak and when the tide is out you can walk.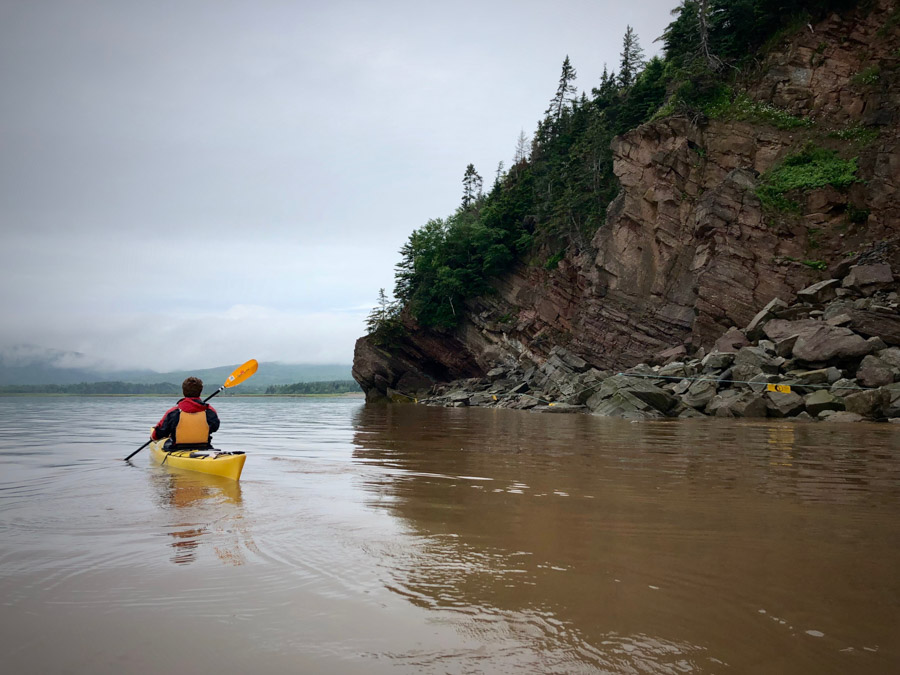 Kayak at the Hopewell Rocks
When the tide is in, you can sea kayak around the Hopewell Rocks. There is one guiding company that operates in the park (Baymount Adventures) and they are excellent. After meeting your group, they will get you fitted with a paddle, lifejacket and kayaking skirt (to prevent water from splashing into the kayak). Next, they will take you down to the shore to meet the kayaks. All of the kayaks are tandem kayaks, meaning you paddle with a partner.
During the tour, your guide will lead the group along the coastline and around the flowerpot rocks. There are even a few places where the tides have carved out tunnels and you can kayak through (if you're comfortable – it's very safe).
By kayak, you can go a lot further down the shoreline than you could if you were walking. The guides also have tons of information about the history and geography of the area. I was paired with a guide and asked dozens and dozens of questions – all of which he answered swiftly.
Note: Baymount Adventures only runs kayaking trips when the tide is in. This will determine what time your trip leaves. When you call Baymount Adventures to book your kayaking tour, they will explain when the tide will be in and what time your tour will be.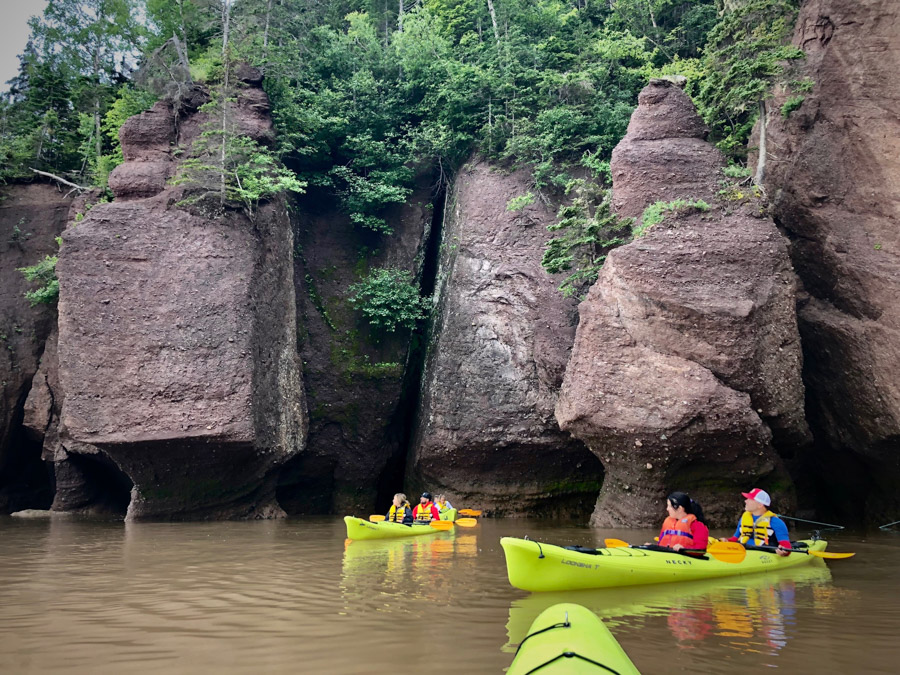 Tip: A small amount of water finds its way into the kayaking, meaning your legs are likely to get a little wet. I recommend wearing a merino wool base layer on the bottom, as this will keep you warm even if you get a bit wet. If you need a refreshing on base layers / layering clothing.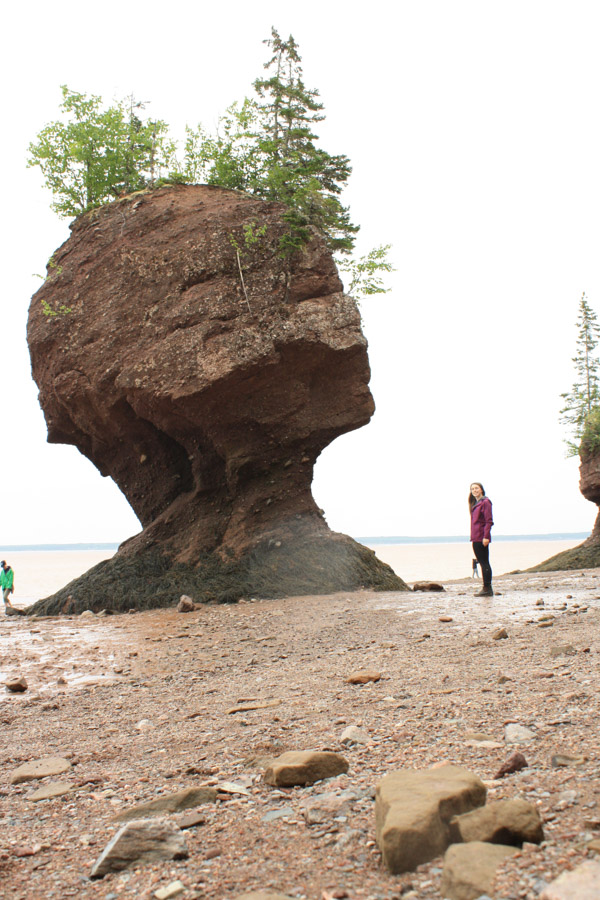 Walk at the Hopewell Rocks
When the tide goes out, head to Hopewell Rocks Park. There is a short trail to follow and a set of stairs to climb down. Once on the ocean floor, you'll be able to walk about the giant flower pot rocks.
You don't need to be concerned with being out too long and the tide coming in. There are park staff throughout the rocks to usher people back to the stairs when the tide is coming in.
Tip: In between kayaking and walking the Hopewell Rocks, make a trip to Cinnamon Soul Cafe. They have a dozen delicious latte flavours and a ton of options for lunch.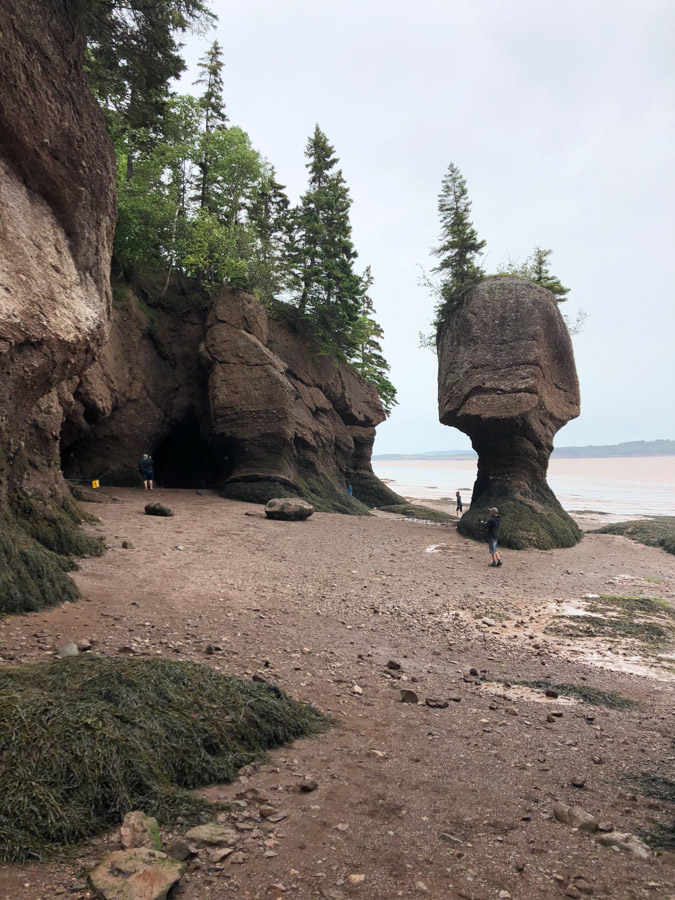 Where to Stay: Hopewell Cape
As you will be exploring Hopewell Rocks for the better part of the day, find a place to stay in the area. Check out the latest reviews, prices and details here for your stay in the area.
Day 4: Drive Back to Saint John and bid Farewell to New Brunswick
On the fourth and final day, drive back to Saint John. Depending on when your flight departs, there are a couple stops you could make along the way. I've kept these at the end of the itinerary because, while definitely enjoyable, I wouldn't recommend them over any of the activities I've listed above.
Mary's Point
Driving south on Highway 114, take the exit onto Highway 915. Soon after you'll arrive at a road called Mary's Point Rd. This road goes in a big loop and connects back to Highway 915.
At Mary's Point you will find Studio On The Marsh, which is a local art studio featuring beautiful pieces from artists throughout Eastern Canada. You can also make a stop at Shepody National Wildlife Area, where you can take one of two trails to explore Mary's Point. Along the drive you'll have beautiful ocean views and even pass the Anderson Hollow Lighthouse.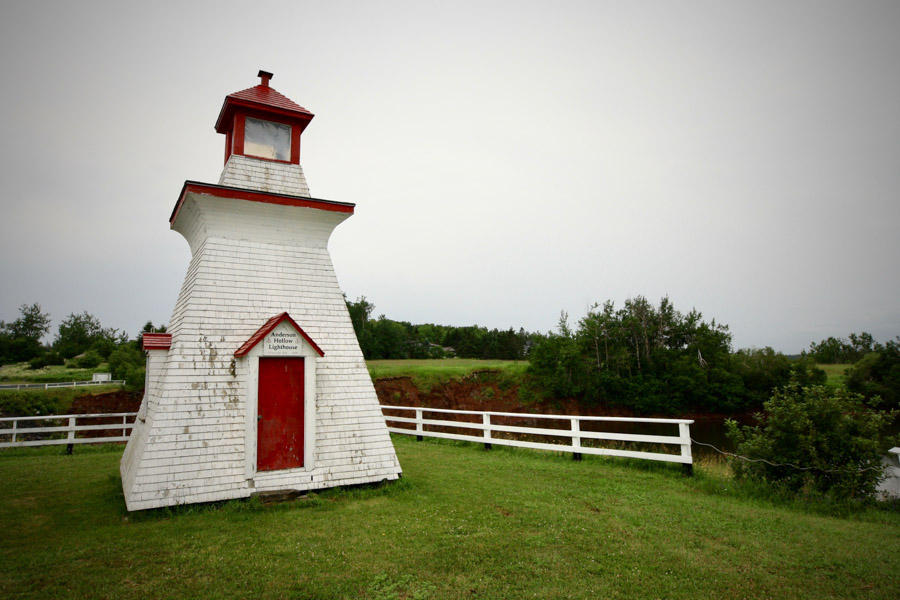 Cape Enrage
After returning to Highway 915, drive south until you come to Cape Enrage Nature Preserve. You can take stairs down to a rocky beach adjacent to a huge cliff. There are also a ton of birds.
Once you're satisfied, continue down Highway 915 until you reach Alma. Now you are back at Fundy National Park and it's a quick drive back to the main highway.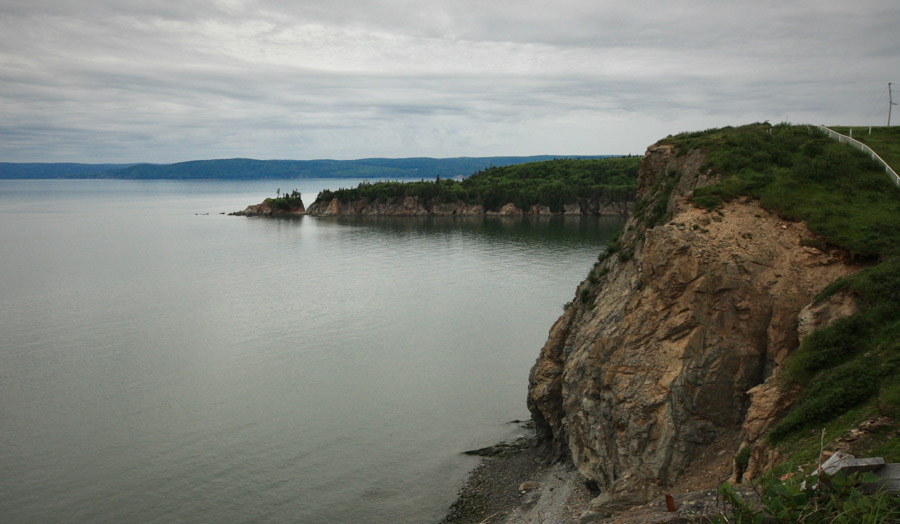 Activities Around Saint John
I didn't spend a ton of time in Saint John itself, but there are a few activities for nature-lovers in and around the city.
⦁ Go hiking in Loch Alva Wilderness Area or hike the Black Beach Trail
⦁ Walk along the beach at Irving Nature Park
⦁ Get seafood at a downtown restaurant
⦁ Check out Reversing Falls
New Brunswick Road Trip – Additional Resources
I hope this post has been helpful in planning your New Brunswick Road Trip! I've included links to a few additional resources you will find helpful:
Tourism New Brunswick (Official website)
Fundy Trail Parkway
Fundy National Park (Parks Canada)
The Hopewell Rocks
Share or Pint this for Later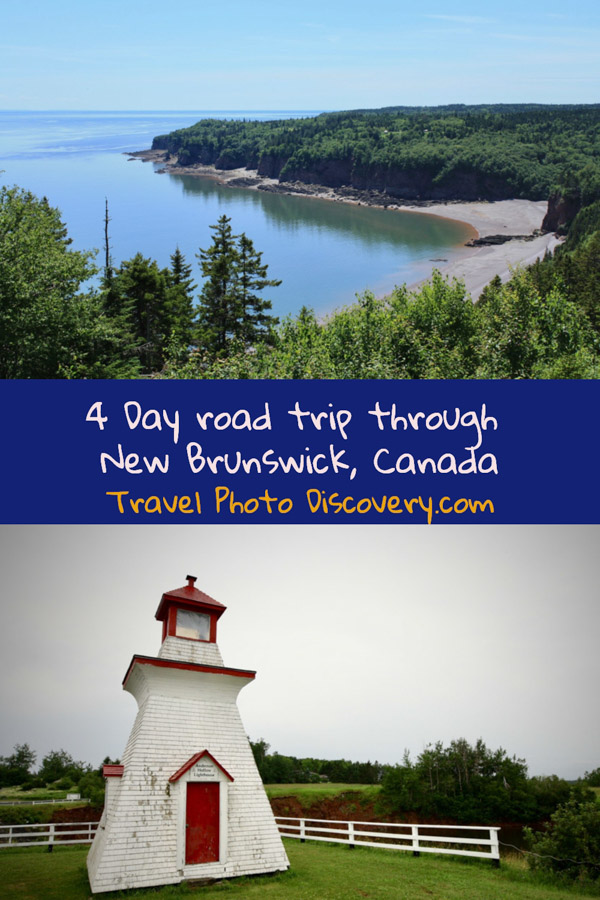 About the Author:
Mikaela is the voice behind Voyageur Tripper, a blog dedicated to outdoor adventure travel. Mikaela spent several seasons working as a hiking and canoeing guide throughout Canada. She now balances weekend adventuring with a full time job, and writes stories, resources and travel guides for her blog.
Thanks for visiting and checking out this post on a New Brunswick Road Trip. Bookmark this post for future reference when you are looking for some Hawaii activities, adventure or fun experiences.
Please do share this post with any of the social media icons on the side bar and thanks for visiting today!
Some links in this article on a New Brunswick Road Trip are affiliates which provide a small commission to support this site at no extra cost to you. Thank you for reading, and happy travels