Crossing the Nullarbor Plain in a Campervan: Complete Guide
Crossing Australia's Nullarbor Plain in a campervan is a legitimate adventure. A vast, remote landscape that stretches countless kilometres across the south of the country, this desolate place is no joke.
Whether you're looking for a scenic drive or hoping to discover hidden gems along the way, crossing the Nullarbor can be both exciting and rewarding – especially when you're in a camper, which lets you stop wherever and whenever you want!
But to help make your journey as safe and enjoyable as possible, I've put together this guide with tips on how to prepare, where to stay/park along the way, and what to see while passing through it – plus some interesting facts about this iconic Australian destination. Ready for your big Nullarbor road trip? Buckle up and let's get started.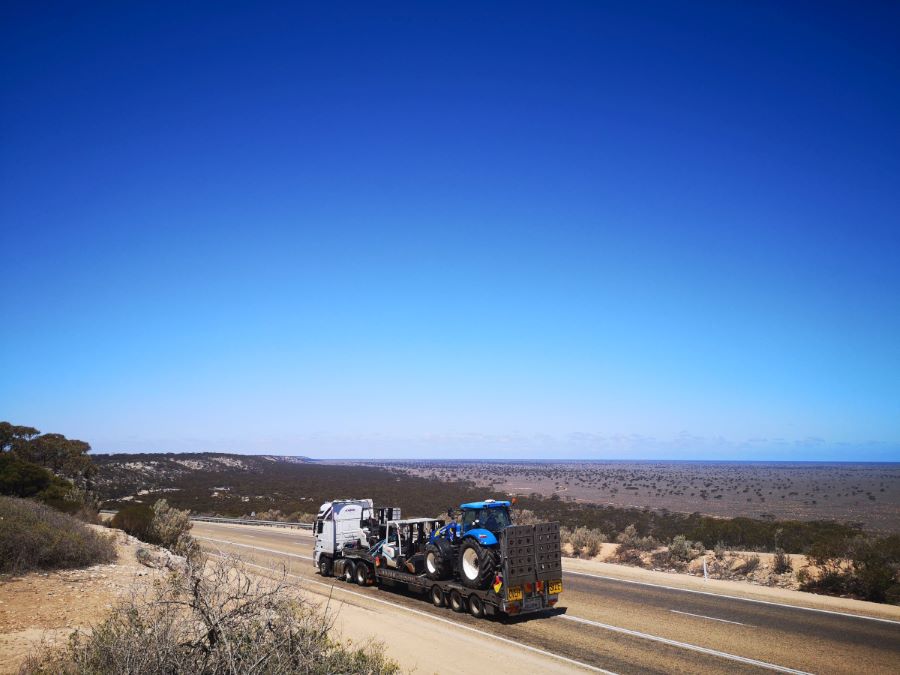 What is the Nullarbor Plain?
The Nullarbor Plain is an arid, flat expanse of land located in the south of Australia. Spanning over 200,000 square kilometres, it is one of the largest and most remote places in the world.
As for the name, 'Nullarbor' comes from Latin words meaning 'no trees', which accurately describes its landscape – a vast area with little vegetation or wildlife to be seen. And the climate?
It's scorching hot and dry during the summer months (December to February) and cooler but still dry during winter (June to August). Temperatures can hit 50°C inland in summer while dropping below freezing at night in winter. No matter when you go, rainfall's almost non-existent!
Today, many tourists make their way through this unique landscape each year either by car or campervan – although caution should be taken due to its remoteness and lack of resources such. There are fuel stations and places to buy provisions, but they're few and far between (and horribly expensive)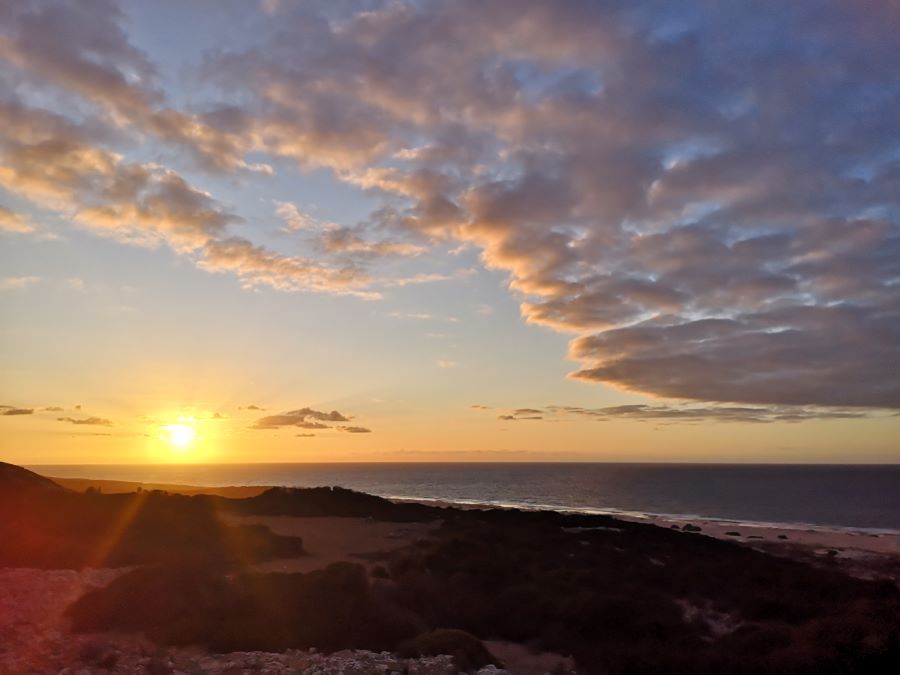 Why Should You Explore It?
Okay, so if the environment's so harsh and the landscape's so barren, why cross it in the first place?
Firstly, because much of the Nullarbor Plain remains untouched by humans, which provides a rare glimpse into what life may have been like in Australia before European settlement began centuries ago. This otherworldly place is also home to some spectacular natural attractions, such as caves with ancient Aboriginal rock art, limestone cliffs, and salt lakes.
And secondly, because you have no choice! If you're travelling in Australia in a Campervan and want to get from Adelaide to the west coast, the only way to do it is via the Nullarbor. In the coming sections, I'll run through everything you need to know to cross it safely and with a smile on your face.
How to Prepare for Crossing the Nullarbor
Before you set off on your journey across the Nullarbor, it's important to prepare yourself and your camper for the trip. Here are some tips to help make sure trip goes as smoothly as possible:
1. Stock Up On Supplies Beforehand
One of the benefits of crossing the Nullarbor in a camper is that you have plenty of space for provisions. Take advantage of that fact and ensure you have enough supplies to last the duration of your trip!
This includes food, water, fuel, spare tyres (and the kit/know-how to change one), a first aid kit and other essential items such as a GPS system or maps in case of an emergency. Additionally, if you plan on camping out along the way, be sure to bring all necessary equipment such as tents and sleeping bags.
2. Check the Route
In some ways, the idea you'd have to route plan for crossing the Nullarbor is laughable. For the most part, it's literally just one long straight road! However, it's still important to look at the map before setting off.
That way, you'll know where exactly you'll be going each day and what landmarks/attractions may be worth stopping at.
Furthermore, unless you're with Telstra (consider getting a temporary plan with them!) there's no signal along the Nullarbor, so checking the map on your phone beforehand lets you mark important places for offline viewing. You could pinpoint where the fuel/rest stops are, for example, as well as places to spend the night.
3. Take Safety Seriously
Countless people cross the Nullarbor every year without incident. Yet that doesn't mean you shouldn't take this trip seriously! People die here on a semi-regular basis – with road accidents, remoteness, dehydration, and wildlife (my girlfriend and I had a close call with a deadly brown snake, for instance) all posing dangers.
Before you go, check for road conditions and weather forecasts, just to be sure you won't encounter any nasty surprises. Likewise, let someone know where you're going and how long you expect to take. Always be on the lookout for wildlife on the road too – a common cause of accidents, and take regular breaks from driving.
Finally, be wary of road trains. These enormous trucks hurtle across the Nullarbor at all hours or day and night, taking no prisoners as they go. Slow down for them when you see them in your rear-view mirror, pull over to the side of the road if it's safe to do so, and let them pass.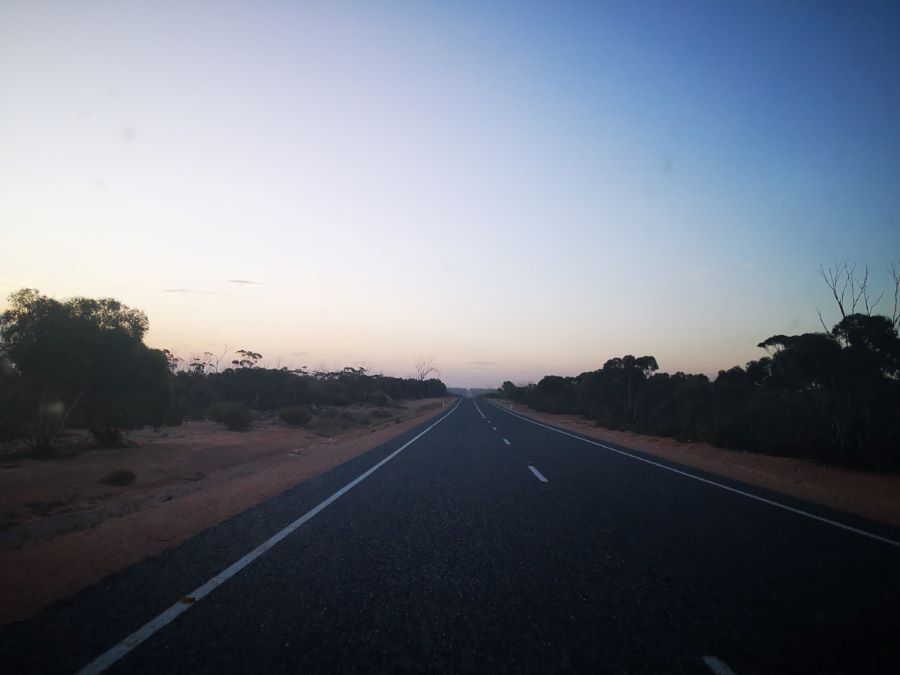 Where to Stay Along the Way – Nullarbor Accommodation
Depending on how far you want to drive each day, crossing the Nullarbor can take a fair few days. The result? You need somewhere to rest your head! Thankfully, there are several campsites and rest stops that offer overnight parking and/or a place to take a break from driving.
Campsites
The Nullarbor has masses of campsites where you can pitch a tent or park up for the night. Some require a small fee, but many are totally free – back to basics sites that might have a drop toilet, a few picnic benches, and somewhere to put a BBQ. Great if you want to take in the Nullarbor's natural beauty, a few to look out for are Baxter and Ambrosia Rest Areas, and Newman's Rock Campsite close to Fraser Range.
I highly recommend you install the WikiCamps apps to your phone before you go though. It'll show you all the available sites on a map (along with pictures) and you can even download the maps for offline viewing.
Rest Stops and Pull-Overs
The Nullarbor has masses of rest stops that provide ideal spots for weary drivers looking to take a break. They sometimes have toilets and other basic amenities, but their biggest appeal is that they're usually located near scenic lookouts! One of my favourites is down as the Great Australian Bight (i.e. Scenic Lookout No. 3) on Google Maps. There are no amenities, but the view over the cliffs is mind-blowing.
You'll also find roadside pull-overs that provide more opportunities for a rest – and could be a viable place to park for the night if you're too tired to drive any further!
Fuel Stations/Roadhouses
Needless to say, when you're driving hundreds of kilometres a day, you're going to have to fuel up every now and again – especially if you're in an old-school, gas guzzling campervan like I was.
The fuel stations along the Nullarbor are literal lifesavers, offering that all-important petrol/diesel as well as exceptionally expensive snacks and other supplies. Some fuel stations (called roadhouses) also offer overnight facilities, so be sure to check before setting off on your trip. A few just provide a place to park for the night; others have actual beds/rooms to rent.
Notable examples include the Nullarbor Roadhouse, Border Village Roadhouse, and the Wedgetail Inn Hotel in Cocklebiddy.
Top tip:
The fuel prices at these rest areas is far more expensive than other parts of Australia. This is partly because the locations are so remote and partly because they can! You've got no-where else to go, so they can charge whenever they like. If possible, fill up an extra tank or 2 to keep on the roof of (or elsewhere inside) your camper. It's a good safety precaution in case you misjudge distances and a useful way to save money as you go.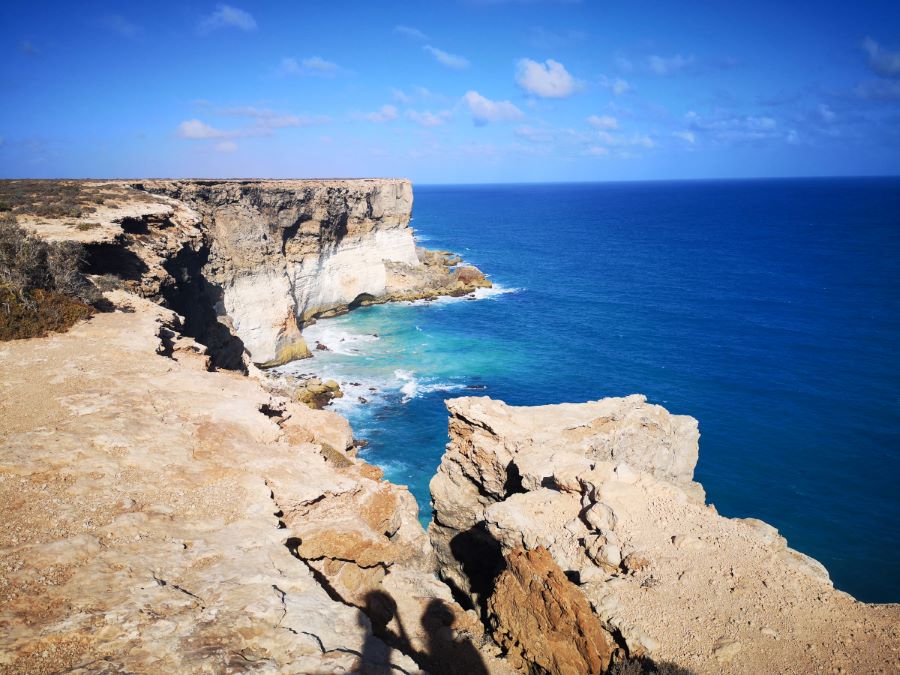 Nullarbor Plain FAQs
Where does the Nullarbor plain start and finish?
The Nullarbor Plain begins in South Australia (SA) in a place called Ceduna and extends westward to Norseman in Western Australia (WA).
How long does it take to cross the Nullarbor Plain?
It can take anywhere from 2 to 4 days to drive across the Nullarbor Plain, depending on how often you stop. The most direct route from Ceduna in South Australia to Norseman in Western Australia takes approximately 12 hours if you dive non-stop.
However, I strongly suggest you take your time! Not only is it safer, but it'll also allow you to take in this alien landscape and make some detours along the way.
Do people live on the Nullarbor Plain?
Yes, people do live on the Nullarbor Plain. It's as sparsely populated as you can get, but it does have a variety of remote settlements (mostly around the roadhouses we mentioned above) where people live.
Time to Cross the Nullarbor in a Campervan
Fact: crossing the Nullarbor Plain in a campervan is an unforgettable experience.
A unique opportunity to explore one of Australia's most iconic landscapes, this journey will give you a proper taste of the Land Down Under. From red dirt lined with snake trails to wild cliffs and coastal views, you'll feel completely isolated and struck dumb by the unique beauty on display.
With any luck, the insights in this article will help you have a safe and prosperous trip from west to east (or vice versa!). Don't wait any longer – start planning your trip across the Nullarbor Plain today.
Guest post bio
Danny Newman is a digital nomad and freelance writer with a deep passion for travel. He's also mad about #vanlife and offers fellow enthusiasts wide-ranging advice and inspiration on the topic over at campervantips.com.
Danny with Camper Van Tips
Conclusion on things to do in Nullarbor Plain
Thanks for checking out this post on things to do in Nullarbor Plain, Australia, it really should be on your list of worthwhile places to around the state and adventure filled with inspiring places to tour.
Hope that this post has been helpful to planning your visit to the city and if so, please do share it with any of the social media channels and buttons located below.
Disclosure – some of the links above are to affiliate sites that are either reviews or recommendations if you book helps to keep our site running at no additional cost to you. We appreciate your supporting our website meanwhile.
Sharing is caring 🙂