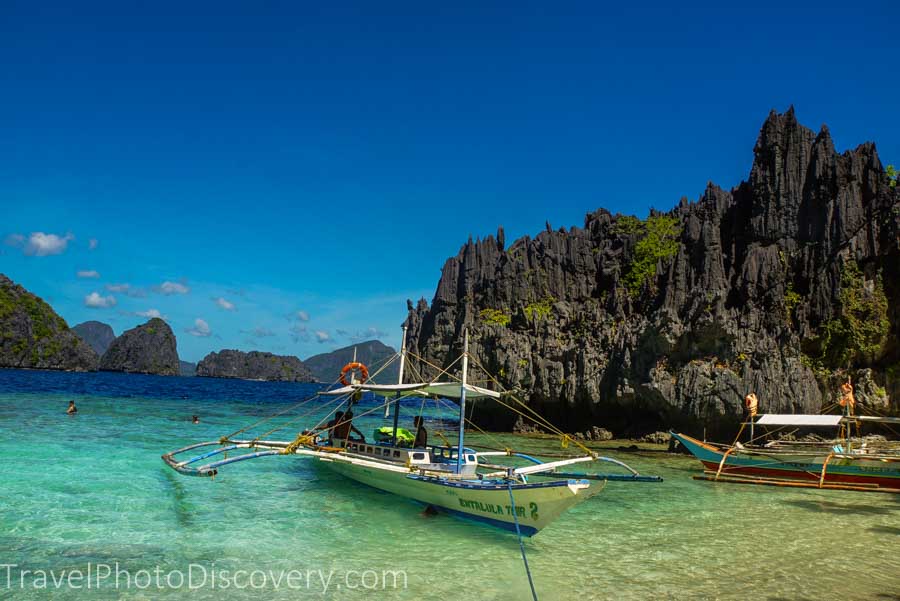 Palawan El Nido vacation (Gorgeous islands, cruising experiences, what to do in town)
I wasn't expecting this for my first foray to cruising this spectacular area. The guide tells us that all the boats lining the coastal harbor in El Nido is only accessible by wading a few hundred feet until you are almost check deep in ocean water before you can climb on the bankas or Filipino styled cruising boats. The harbor is lined with colorful boats with catchy titles like Aquaholic and Lovely Gal and the stunning landscape surrounding the harbor already is drop dead gorgeous and I can't wait to actually start the cruise to see more amazing vistas and islands on this tour.  Following are highlights to a Palawan, El Nido vacation and inspiration so you can visit this beautiful region of Palawan very soon.
Once you are in the planning stage to visit El Nido, make sure to check out where you will stay in a variety of El Nido resorts and hotels which book up quickly and busy during peak seasons.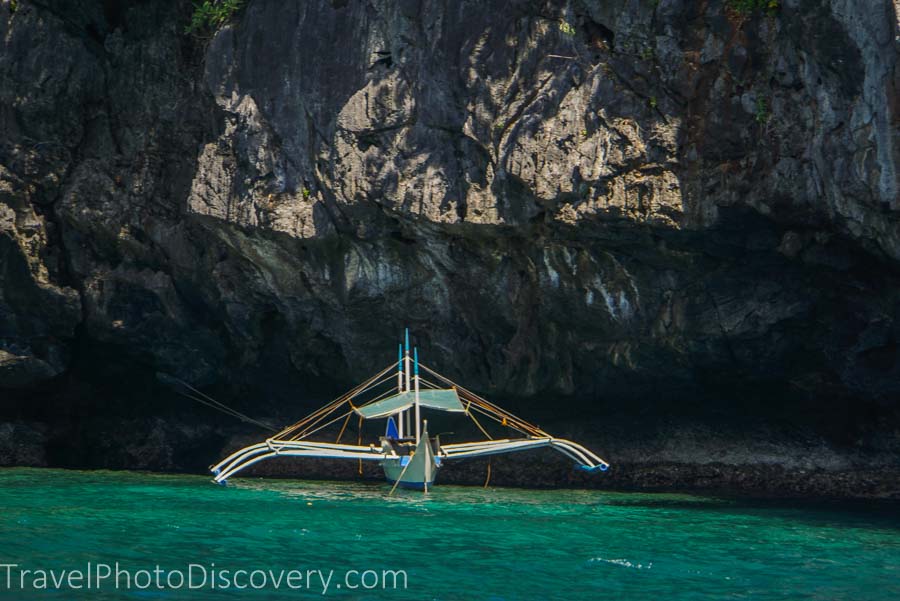 Palawan, El Nido tour highlights and places to visit
El Nido is located in the northern most tip of Palawan island – the western most island chain located in Central Philippines. Accessible mostly by planes in Manila and Cebu, El Nido is easy to get to in a short flight. You can also fly inexpensively to the regional capital at Puerto Princessa and take a bus or small shuttle type vans direct to the central El Nido bus station.
The main attraction here is to take boat tours through the many tropical islands that dot the ocean with amazing scenic visuals, colorful tropical fish and corals and really magnificent islands that you'll be passing through or visiting on your tour.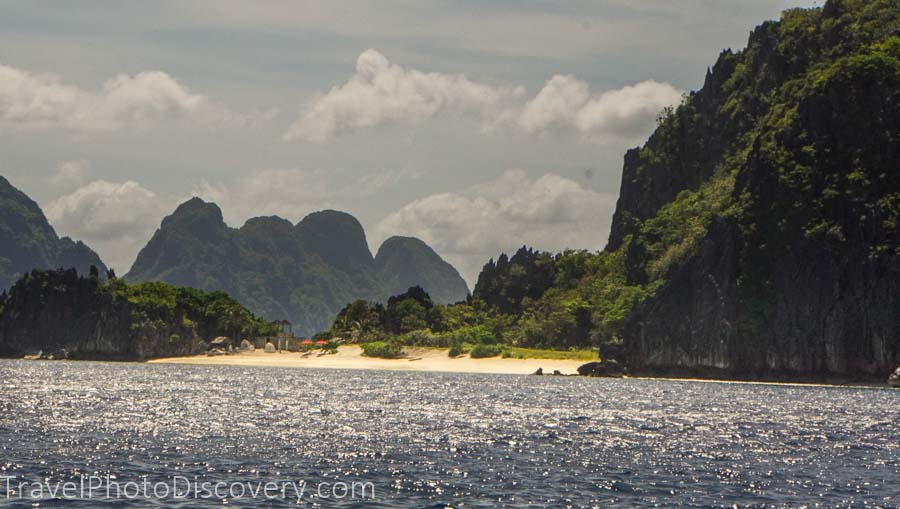 Taking the cruise experiences around El Nido's islands
The boat tours visiting the beautiful islands surrounding El Nido is a one of a kind experience. There are four main tours you can choose from or a private personal tour and any of these options are fantastic. If you walk around the main El Nido town, you'll find a variety of tour operators selling any of the four packages depending on your interest and what you want to do and spend.
Each visit a unique landscape, island or quirky discovery that highlights each individual tour and you can book any of these tours immediately when you arrive and all the prices are fixed for each tour. You can easily book a tour with your hotel or check online for the various outfits that market these boat cruises.
You can search Google ahead of time to see what the four tours offered around the islands or you can upgrade to do a custom tour for your own group and what your interests are.
How to choose the best tour, check out this video
But here's tour B highlights and why it is also good below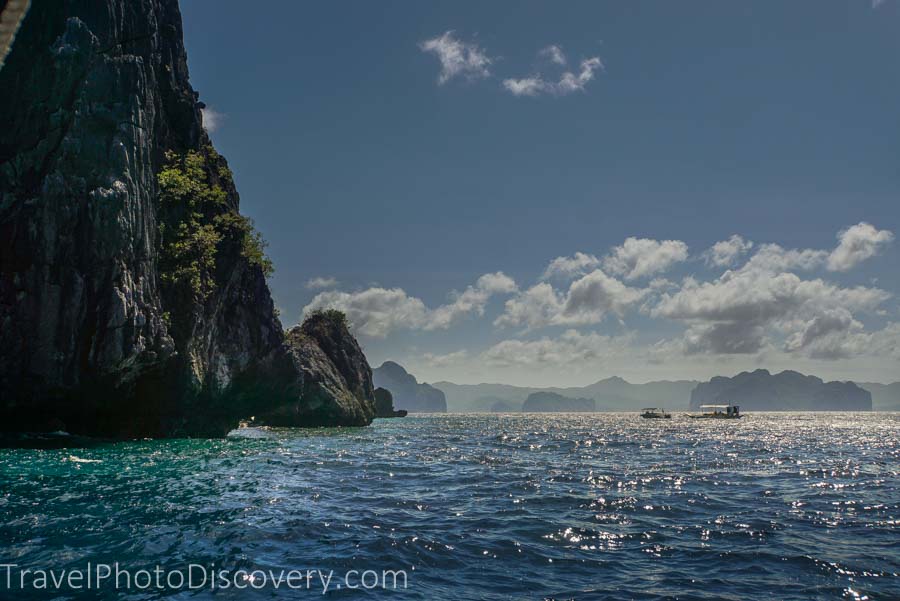 Lunch is being prepared while the captain takes us to the first stop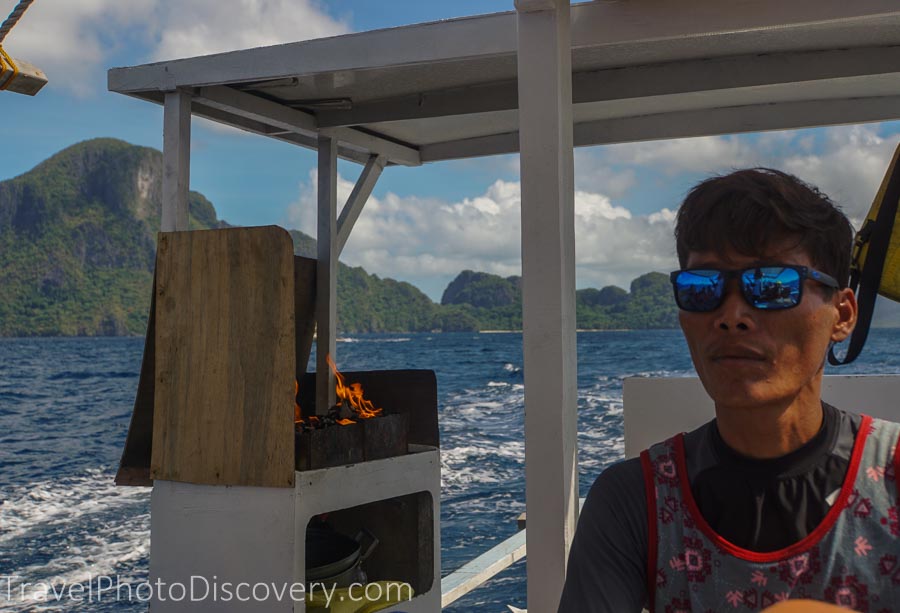 Gorgeous islands and landscapes of El Nido
These colorful bankas take us immediately from aqua bays into deep blues of the ocean while we skirt distant islands that we will eventually get closer to and eventually dock off the island. Each island spot is unique offering a myriad of jeweled and clear waters, stunning tropical fish and so surreal corals that are healthy and vibrant.
There are hidden beaches, secret caves and craggy caverns to explore in each stop along the way. It is an amazing experience and so unworldly that nature is still intact and pristine here to the fact that bottled water is not allowed on the tours and each boat crew is responsible for sustainable eco tourism in the area which fantastic to witness.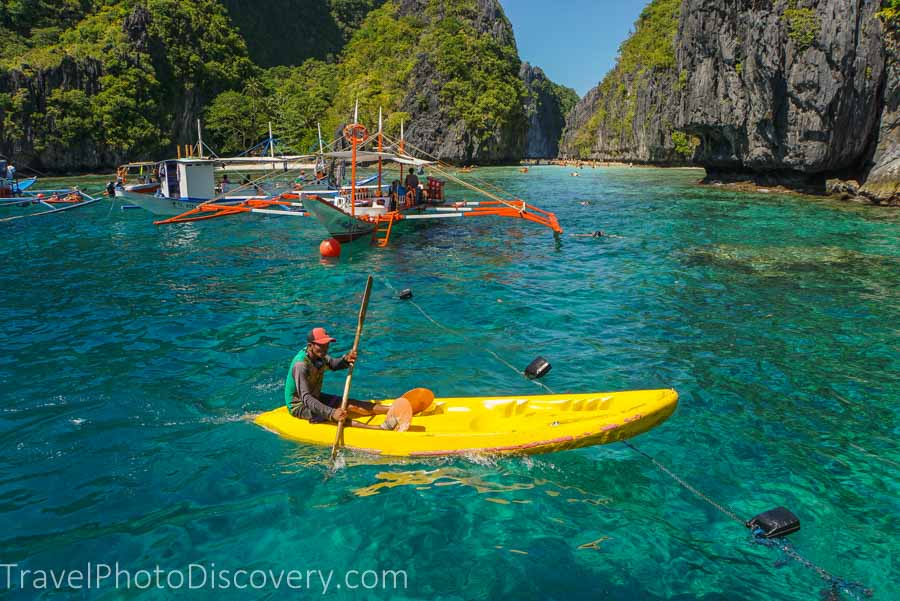 o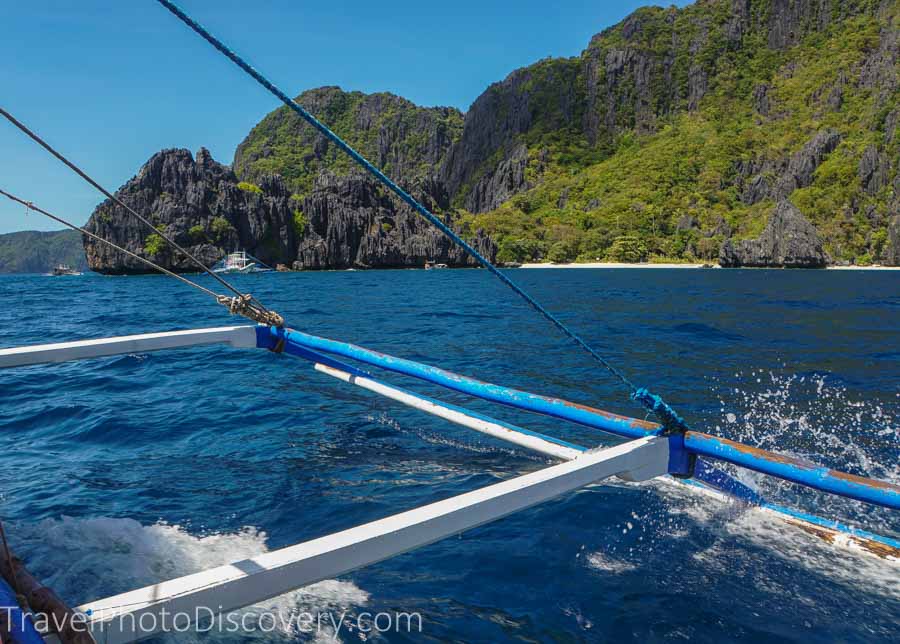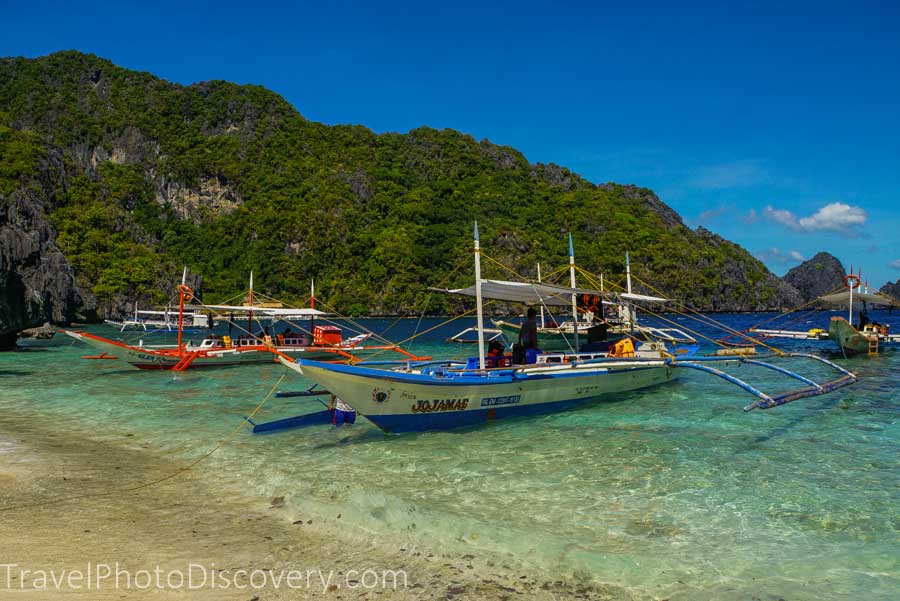 Craggy formations and landscapes of El Nido
The landscape is truly surreal and so much fun to explore, crystal clear water – its all so inviting and mysterious walking through this unique place with bizarre rock formations amid tropical green landscapes. Hidden coves, freshly opened coconuts to thirst your quench and even a local boatman offering you icy cold local San Miguel beers for a small indulgence. It's really special and sensory overload exploring the El Nido beach scene here and wait until you see lunch being prepared!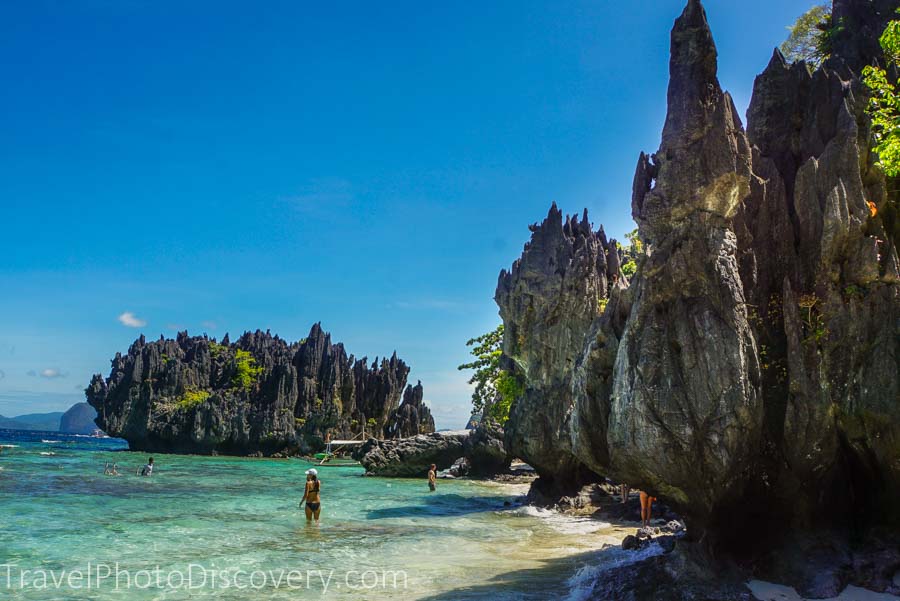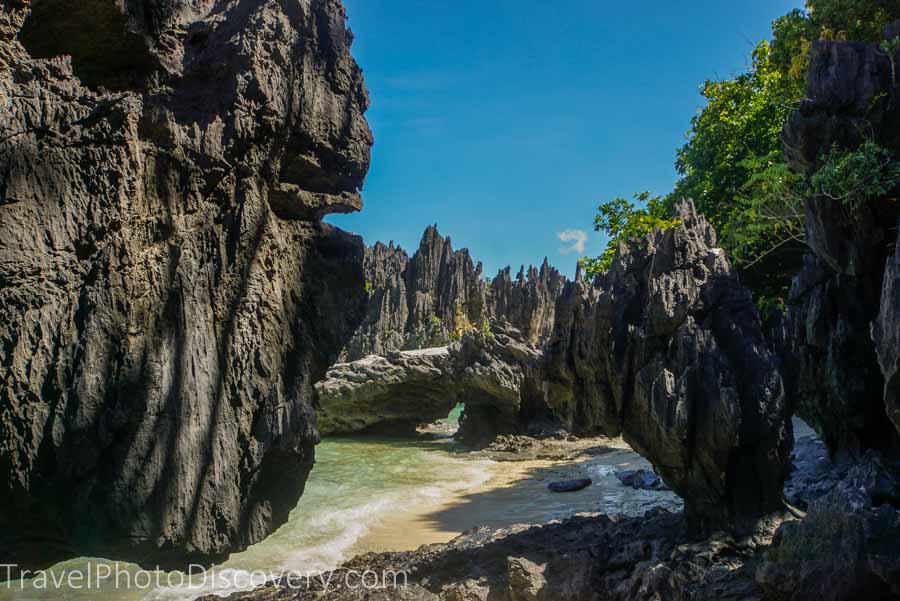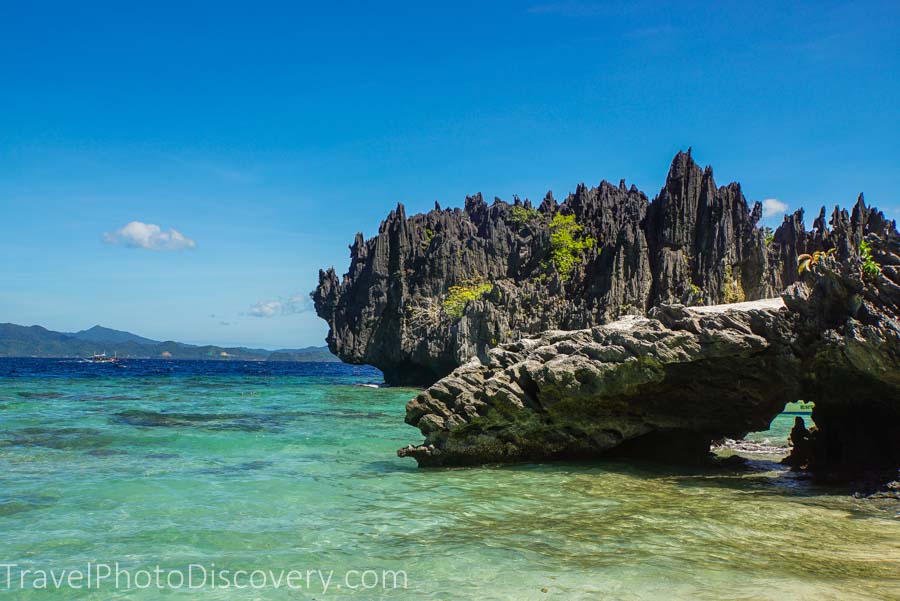 An amazing feast when you take lunch
While the visitors are enjoying snorkeling and padding around the first stops on our discovery tour, the crew is already busy making lunch on board and preparing a feast.
You'll find that whatever cruise you take, the food part is pretty good with actual fish and seafood prepared by your crew when you do this cruising experience.
Each boat is decked with simple grilling kitchens and prepare the food while everyone else is enjoying the water and beautiful beaches of El Nido. The captain finds a perfect white sandy beach to land on and they bring everything including the wooden table to set and incredible outdoor buffet for their guests to enjoy fresh fish, grilled shrimp and local meats, delicious tropical fruits and yes even local vegetables prepared in simple and tasty dishes for those who only eat vegetarian or vegan food.
The food is simply prepared and presented and all are famished and ready to dig into this feast!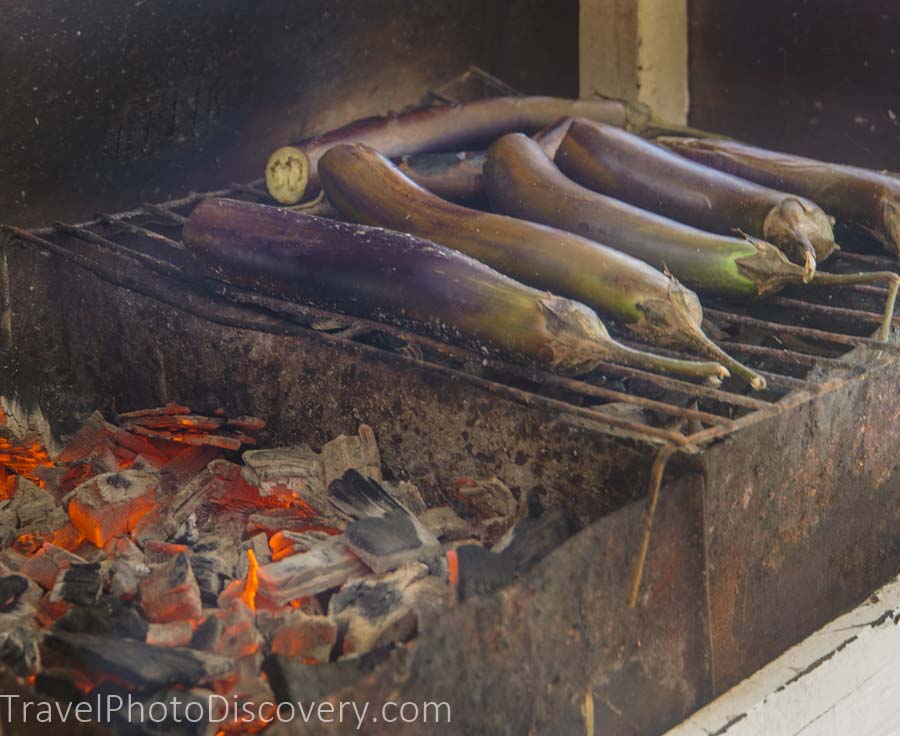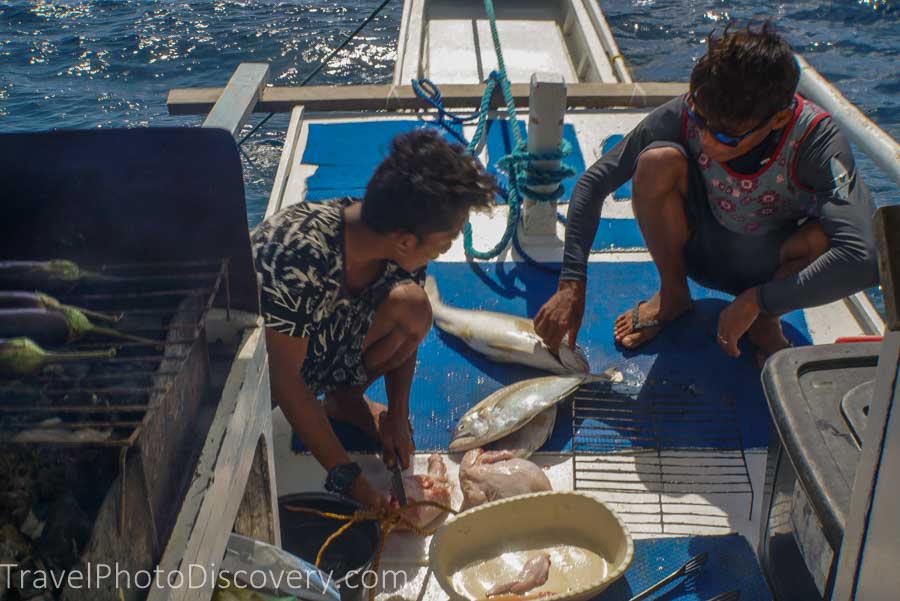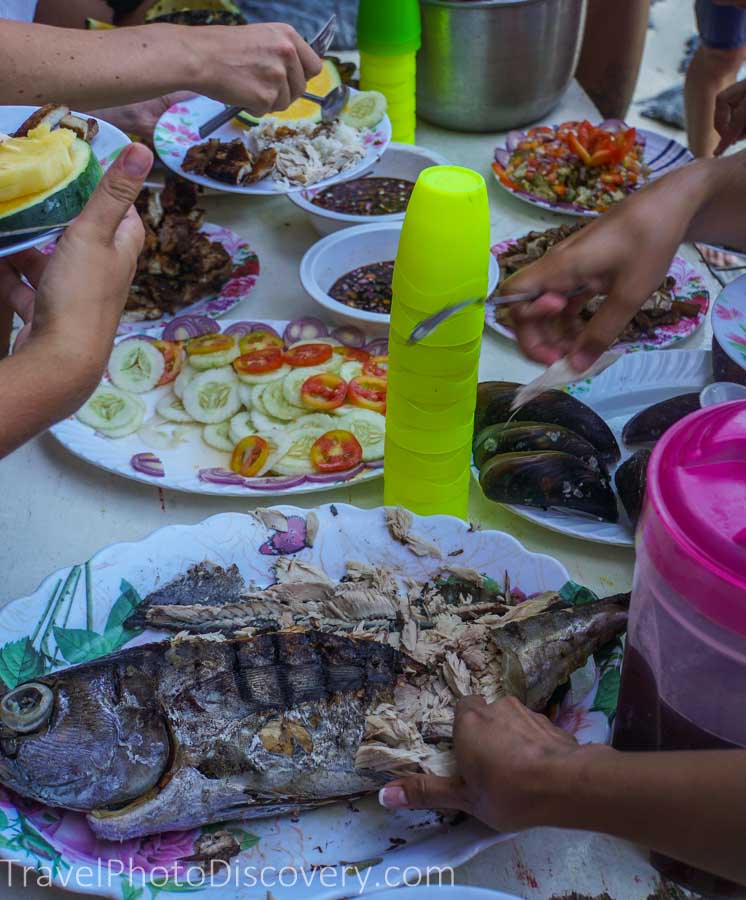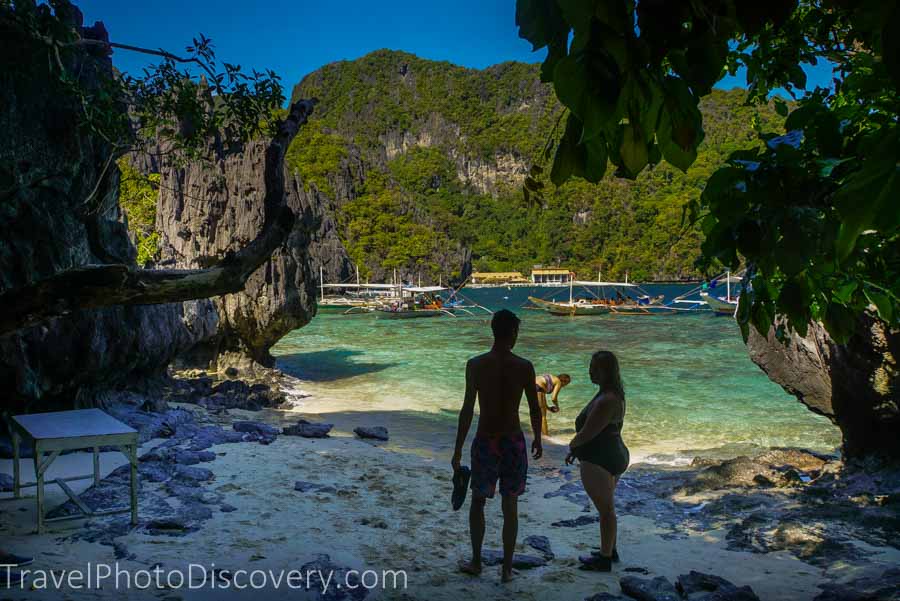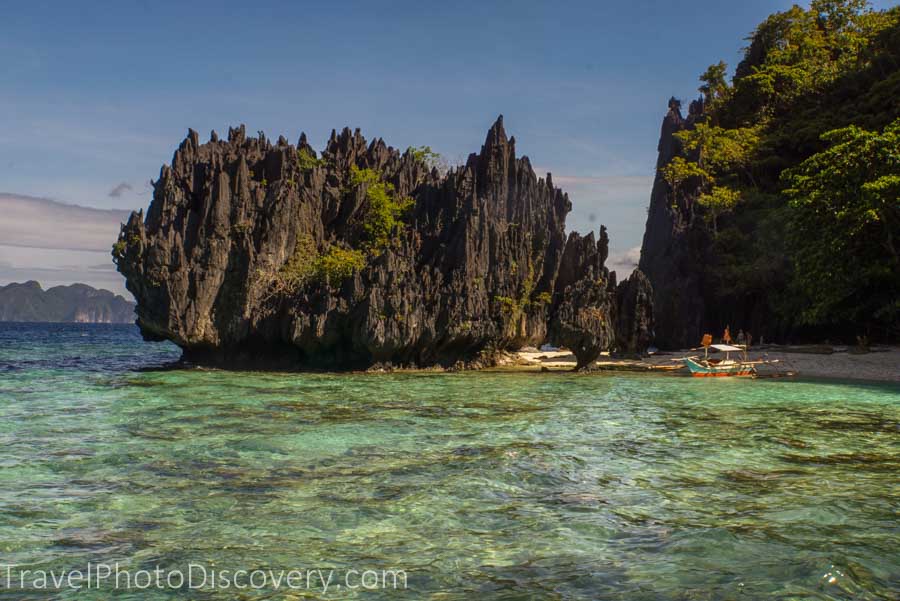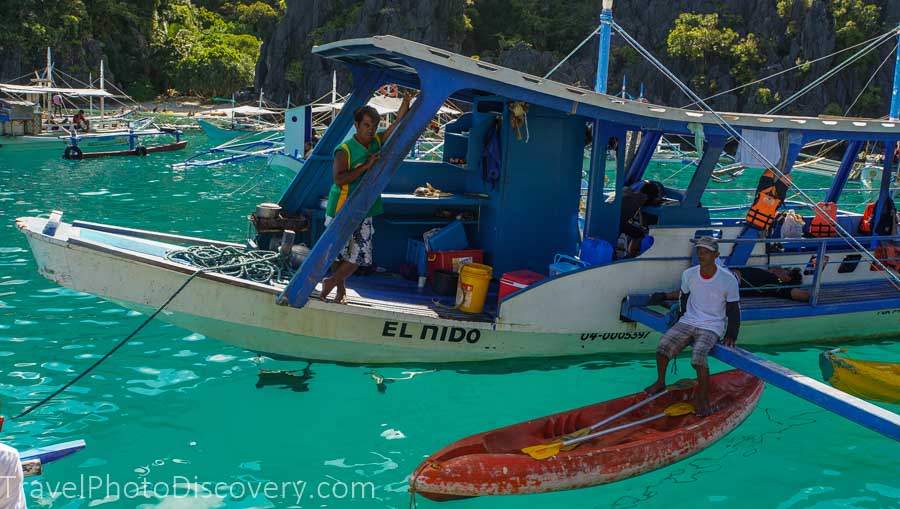 More outdoor adventure in El Nido
After lunch we can opt to take it easy and do some beach combing or just relaxing at the beach and then later more adventurous tours, snorkeling fun, sailing, kayaking and even diving if you opt for specialized adventure touring. The afternoon is filled with more discovery and exploring other fun island spots and sailing through clusters of green, green landscapes.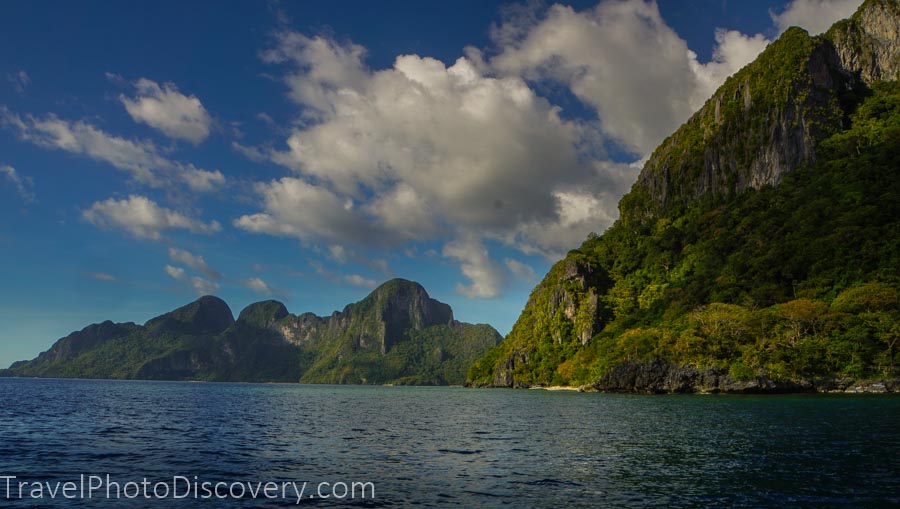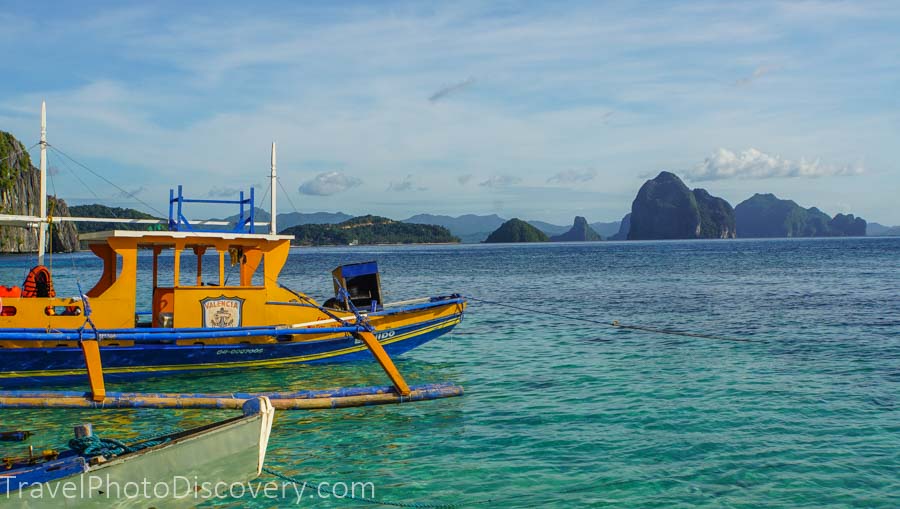 A chill beach in El Nido
Of course, its fun to just chill in El Nido and there's also a fun chill beach here with bars blasting hot sexy tunes, swinging high on a rope swing or just wading in the warm aqua colored waters. It's a perfect way to end the day with just some easy and relaxing time to explore on your own or enjoy some of the tasty tropical concoctions that many bars offering a plethora of exotic drinks.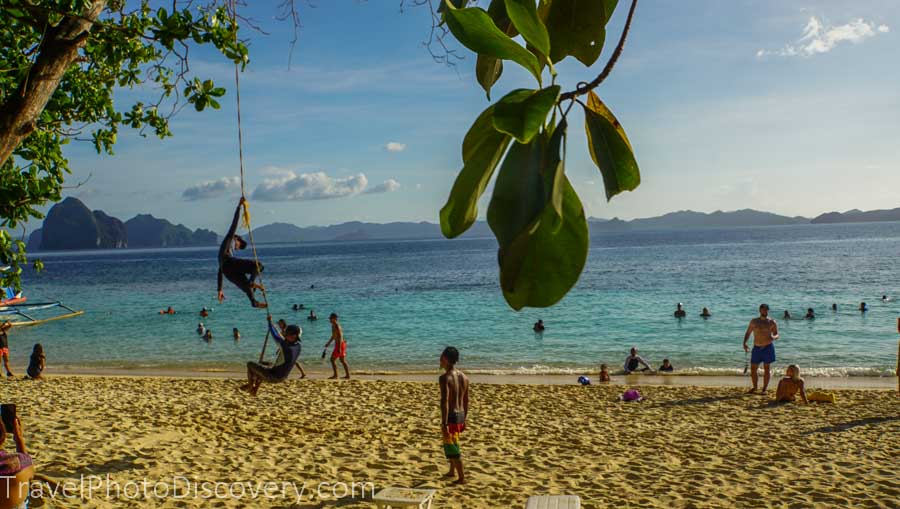 Chill time on a beach in El Nido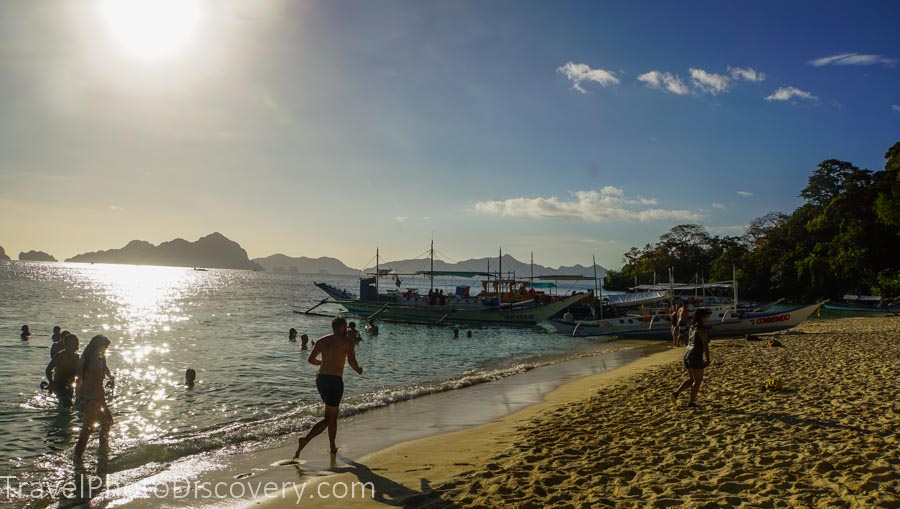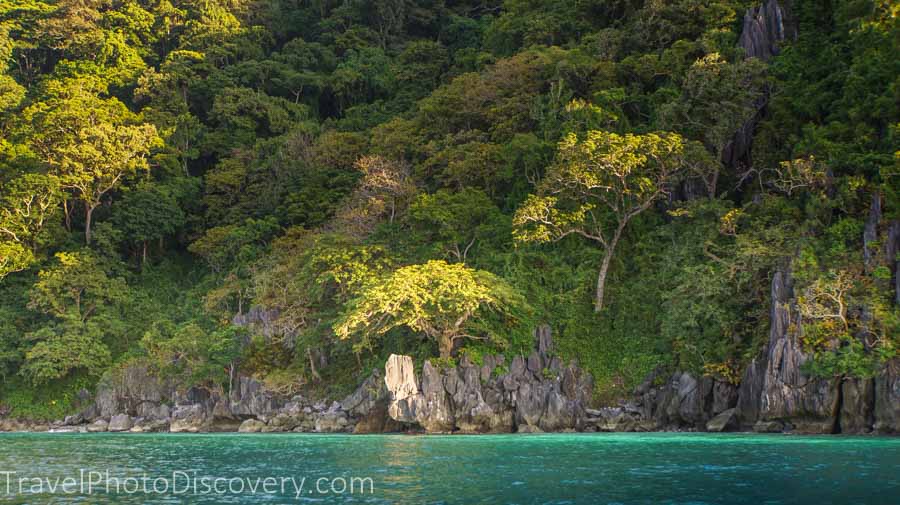 Afternoon light and splendor cruising El Nido
On the way back to El Nido harbor, the late afternoon light creates these amazing light on the islands and landscape – everything seems to just glow and look magical. The dazzling ships combined with green and shiny landscapes is something special to witness on the way back, an easy thing to miss when everyone is bone tired from all the days fun activities.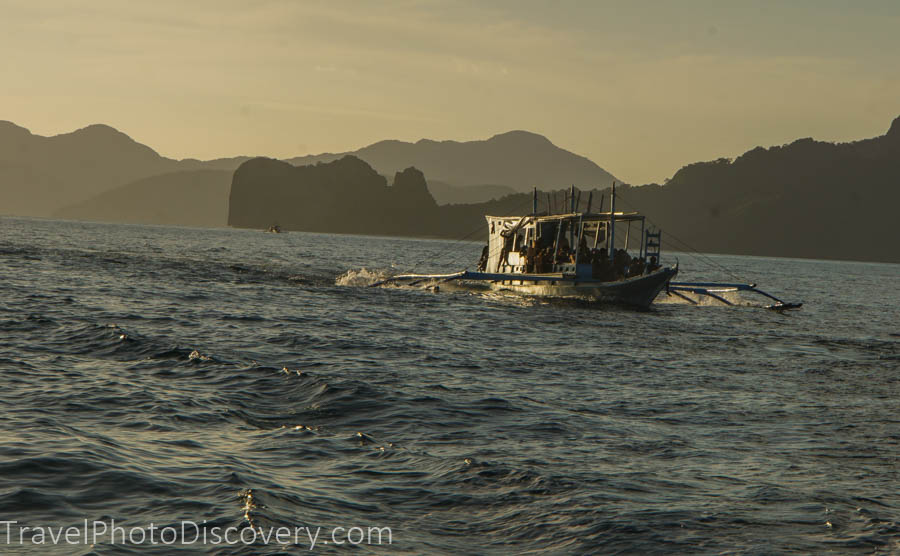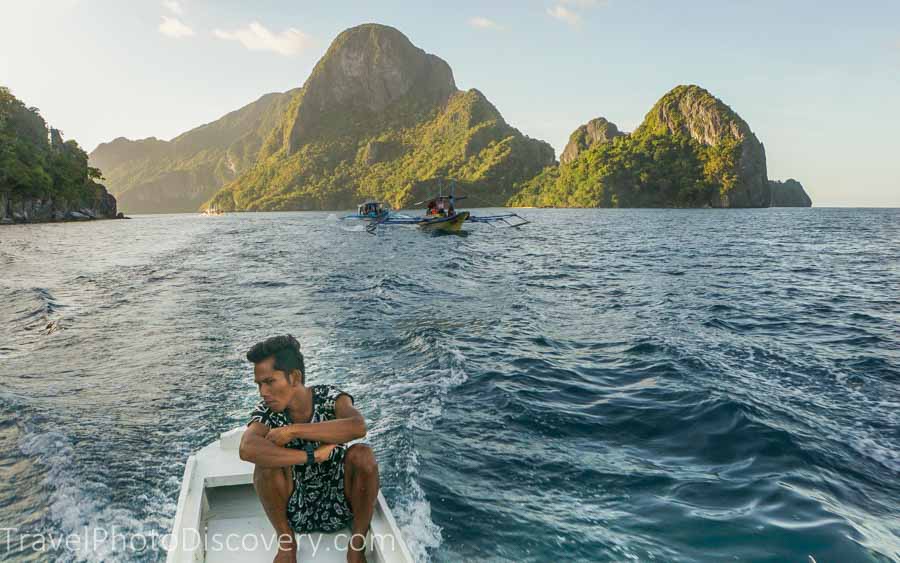 Jeweled toned magnificent landscapes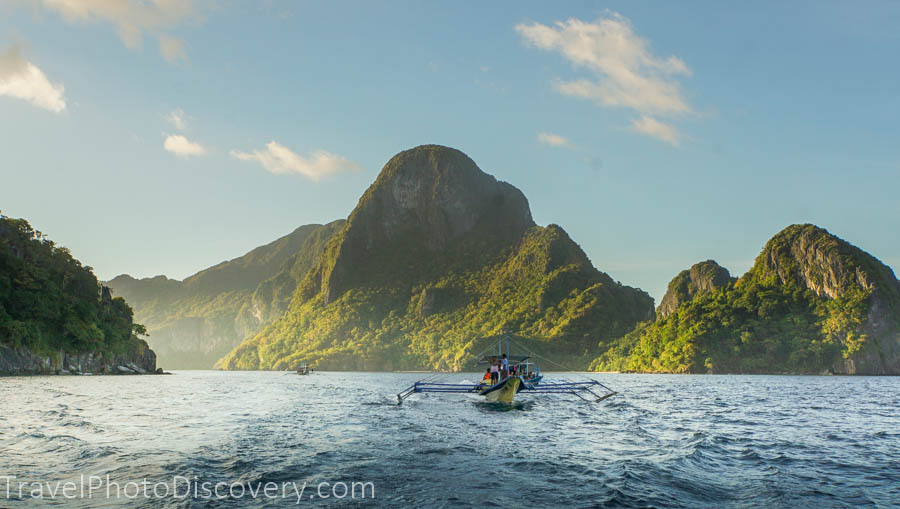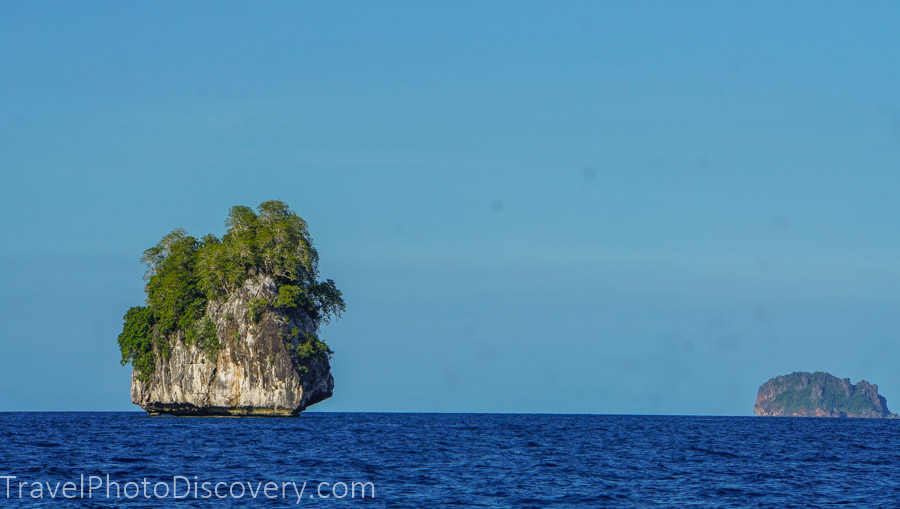 Arriving back in El Nido Harbor
Sailing back into El Nido is almost anti climactic but the town is also lit up brilliantly and the boat slowly enters to find a safe spot to land and we have to wade back slowly from the shallow waters to the beach. The crew is glad that the tour is successful and they work hard, so do tip them very well because it really is hard work to please everyone on the days journey. Now the next challenge is to find a perfect spot for that sunset view and a delicious local drink to imbibe.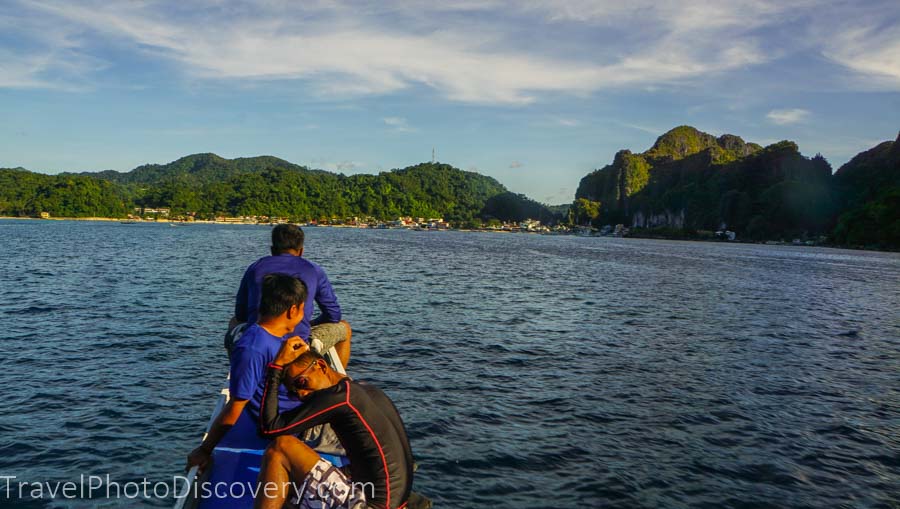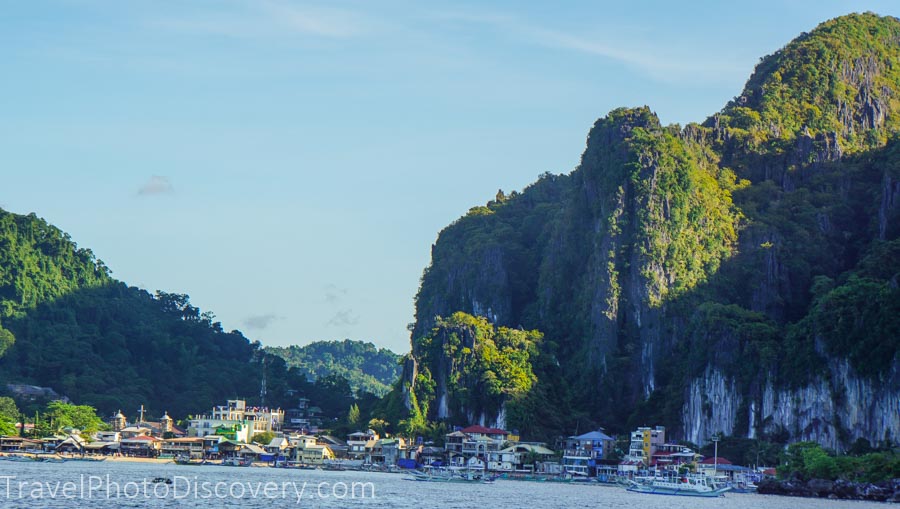 Where to eat in El Nido?
There's plenty of choices to eat around town depending on what you are interested in eating here for breakfast to dinner. You'll find a lot of street food and international flavors of foods to try.
Here's a fun food tour experience at El Nido below

El Nido Accommodations
There are a variety of fantastic hotel accommodations to choose from in El Nido from budget to ultra lux resorts in town and just outside the busy center. This all depends on your personal needs and budgets and one of the nice hotels on a hill overlooking the town with easy access to the center is the Lagun Hotel in El Nido. If you're looking for other El Nido or Palawan hotels click here for more information and guides to staying in Palawan.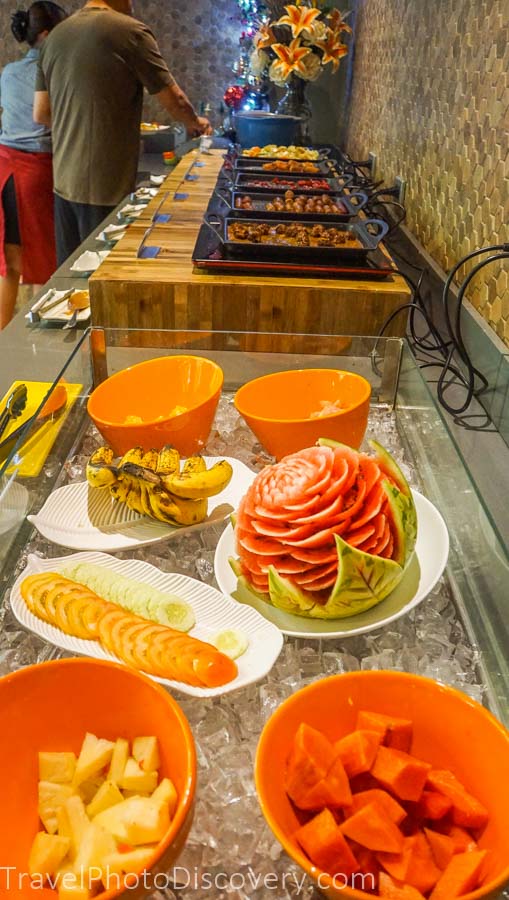 The Lagun Hotel is close to the center of town but at a nice distance away from the noise and busy from the busy city center. Check out more details and current prices to this hotel here for more updated prices.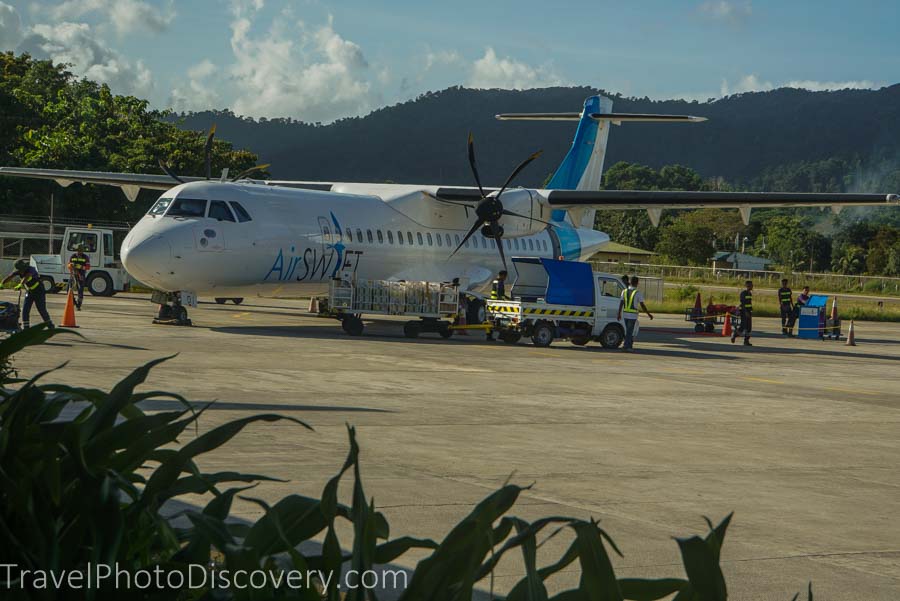 How to get to El Nido
You can fly direct to El Nido to the main airport just outside of town with only one air carrier called Air Swift. Or you can fly into the main central city at Puerto Princessa and take a bus or local van into El Nido which takes about 5 to 6 hours depending on the stops for breaks along the way. It's a longer trip but more budget friendly to fly into Puerto Princessa and see the green landscapes and vistas of the interior areas of Palawan.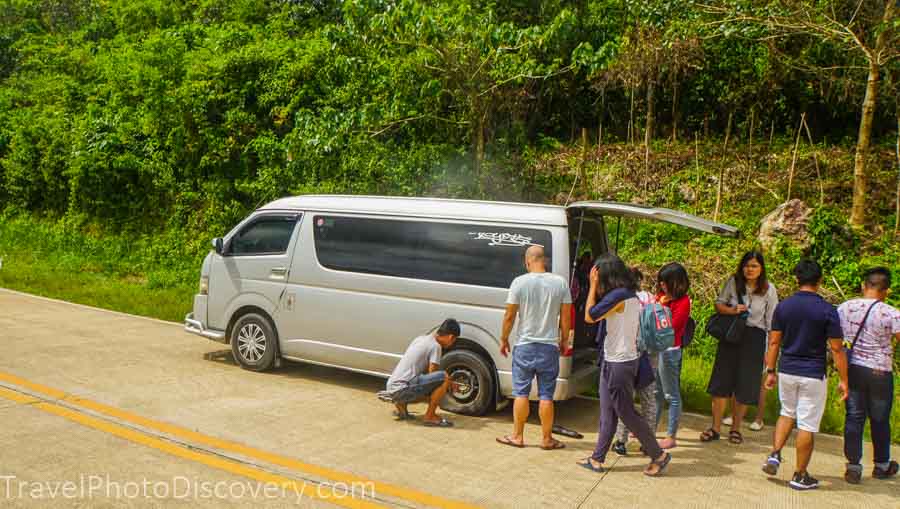 A fantastic eating spot for lunch on a bus ride to El Nido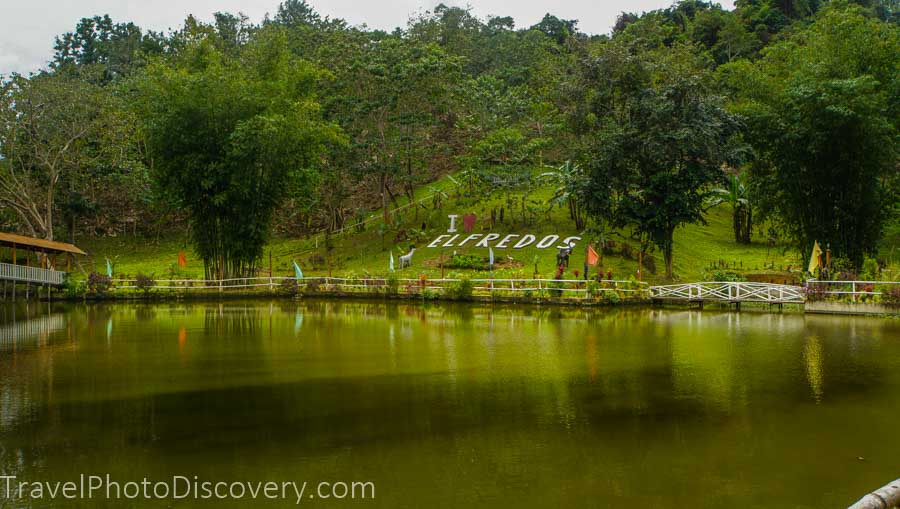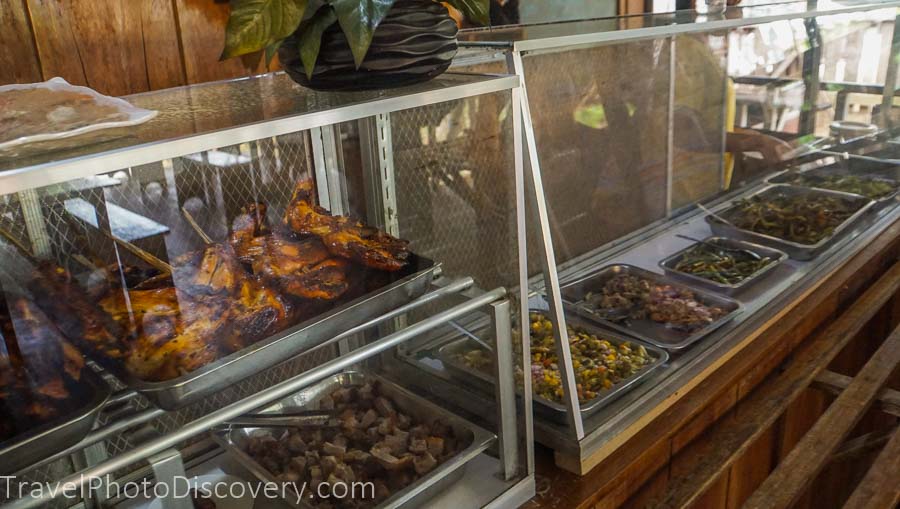 Inside tips to visiting El Nido
There's a lot to do and see but here's some good tips to know about visiting the El Nido area
Bring lots of local change since street food, souvenirs and shops mostly take just cash
Plan your hotel bookings in advance especially for the peak season in winter time with no rooms
Rainy season is May to September and you can't really plan for rain and doing things outdoors
Wifi is limited but hotels and cafes have decent connections
The best time to visit El Nido is typically the winter season when weather is dryer and mild, but this tends to also be the peak season so it is busy and more expensive in general
Here's some good tips to learn from this video below
Please pin this for later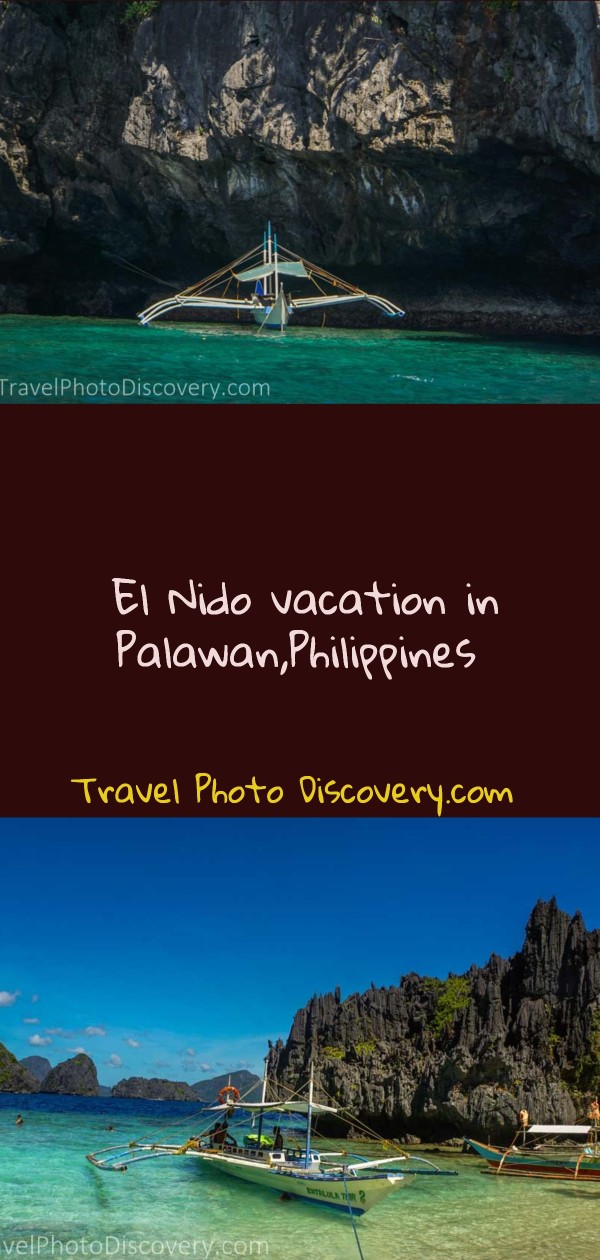 Thanks for visiting today and checking out this post on a Palawan El Nido vacation and cruise. If you enjoyed the images and post, could you please share it with any of the social media buttons located around the post.
If you like what you see, come and check out my other social media channels for more updates, including Instagram, Pinterest and Twitter
Disclosure – There are affiliates links on this posts which provide a small commission to support this site at no extra cost to you. Thank you for reading, and happy travels