Discover the Beauty of Art at the Palm Springs Art Museum: A Must-Visit Destination for Art Enthusiasts
The Palm Springs Art Museum, situated in the heart of downtown Palm Springs, California, is an invaluable cultural gem that houses an expansive collection of contemporary and modern art, photography, and design. It also boasts an array of educational programs and events that cater to individuals of all levels of artistic familiarity, making it a delightful and enriching cultural experience for everyone. Its breathtaking desert backdrop and exceptional exhibitions have made it a sought-after destination for art enthusiasts worldwide.
Visiting the museum in my experience gives you a better understanding and appreciation for the high caliber of creativity and art focus, cultural heritage and international arts scene that the museum represents to the Palm Springs community.
Where is the Palm Springs Museum located?
The Palm Springs Art Museum is located in the heart of downtown Palm Springs, California. Its address is 101 Museum Drive, Palm Springs, CA 92262
The Palm Springs Art Museum is open from 10:00 am to 5:00 pm, Wednesday through Sunday. It is closed on Mondays and Tuesdays. The museum also has extended hours on Thursdays, staying open until 8:00 pm.
To find out more information, including special exhibitions and events, you can visit the museum's official website at www.psmuseum.org.
What's so special about visiting the Palm Springs Art Museum?
Immerse yourself in the world of art and indulge your creative spirit by visiting the Palm Springs Art Museum. From contemporary and modern art to photography and design, the museum's impressive collection offers something for everyone to marvel at and enjoy. What's more, the museum's educational programs and events cater to people of all ages and skill levels, making it a perfect destination for families, groups of friends, and solo adventurers alike. The museum's beautiful desert setting and world-class exhibitions create an ambiance that's both inspiring and unforgettable. Whether you're an art enthusiast or simply looking for a fun and cultural experience, the Palm Springs Art Museum is sure to captivate and leave you wanting more.
Explore the Palm Springs Art Museum permanent collections
The Palm Springs Art Museum stands out as one of the most important art institutions in Southern California, owing to its extensive collection of modern and contemporary art, photography, and design. The museum's permanent collections comprise more than 28,000 works of art, spanning from the 19th century to the present day. These collections are curated into different departments, which include Architecture and Design, Contemporary Art, Fine Art, and Photography. Notable works from the Fine Art collection include European, American, and Native American art from the 19th and 20th centuries, featuring works by world-renowned artists such as Pablo Picasso, Marc Chagall, and Andy Warhol.
The Contemporary Art collection, on the other hand, boasts works by Keith Haring, Cindy Sherman, Jeff Koons, and others, while the Photography collection features over 14,000 photographs by distinguished photographers like Ansel Adams, Edward Weston, and Richard Avedon. In the Architecture and Design department, visitors can explore furniture, lighting, and decorative arts from the mid-20th century to the present day. Overall, the Palm Springs Art Museum's permanent collections offer an engaging and varied cultural experience, showcasing some of the most influential works of art from around the globe.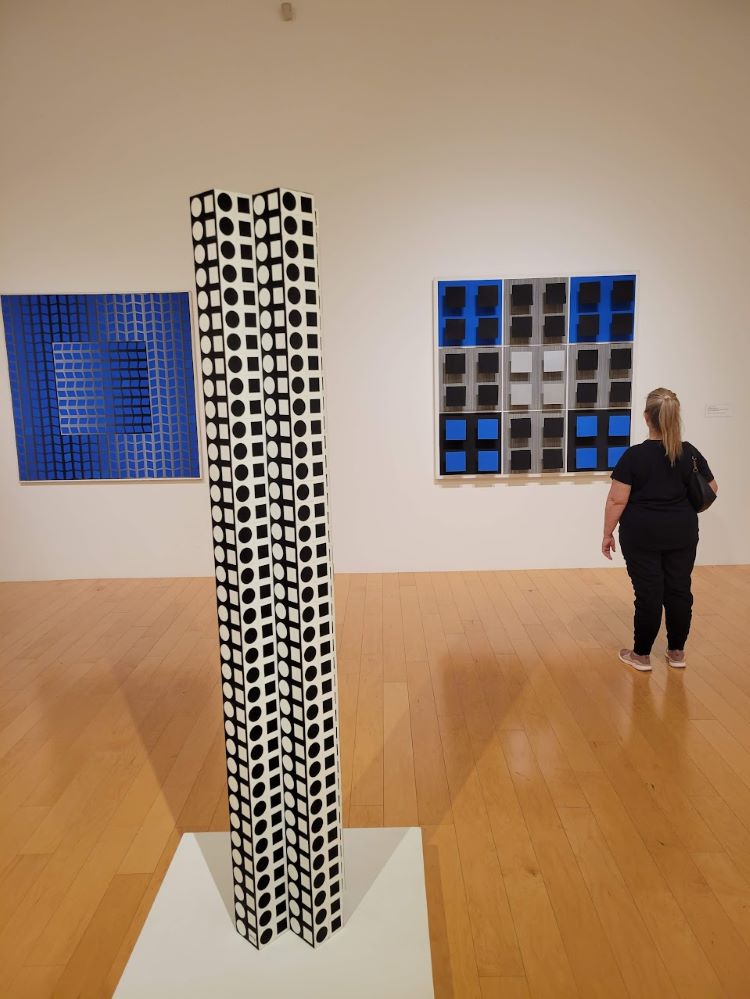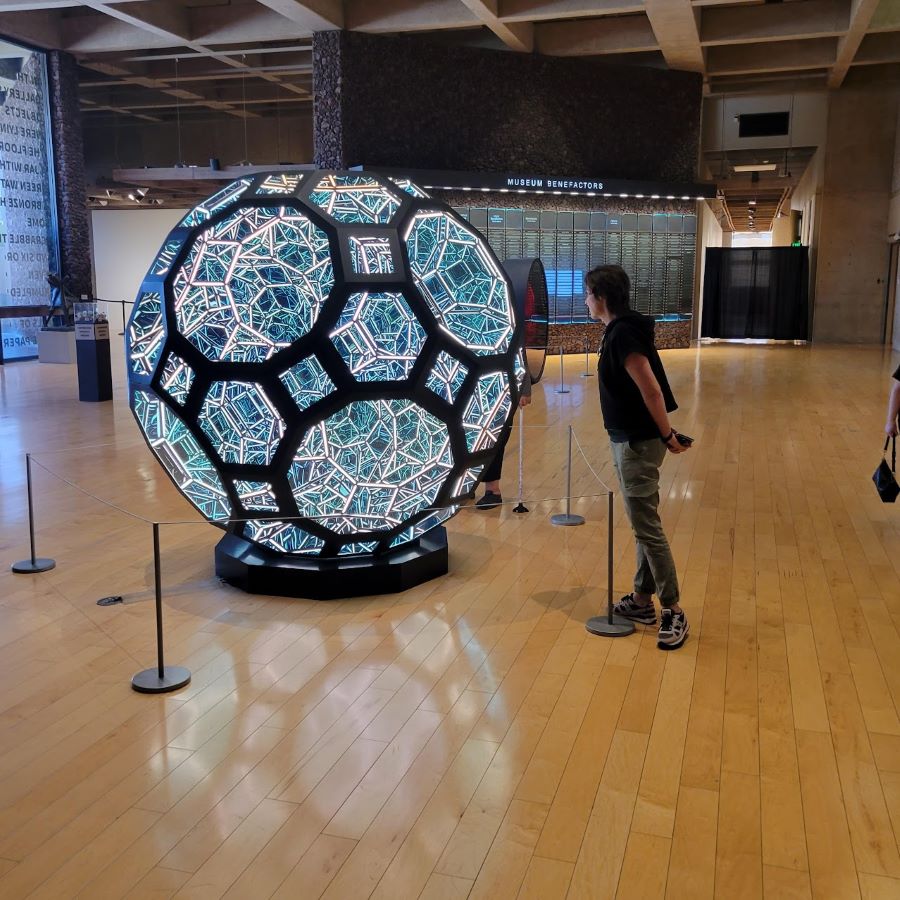 Special Exhibits and Rotating shows
The Palm Springs Art Museum features a dynamic schedule of special exhibitions and rotating shows that highlight the works of contemporary and modern artists from all over the world.
These exhibitions often center around a specific theme or artist, offering visitors an engaging and thought-provoking experience with new and exciting art. The museum also hosts traveling exhibitions on loan from other institutions, as well as curated exhibitions that draw from the museum's extensive collections.
Previous exhibitions have included "Michael Childers: Having a Ball," which examined the glamour and excitement of Hollywood in the 1970s through the lens of photographer Michael Childers, and "The Avant-Garde Networks of Amauta: Argentina, Mexico, and Peru in the 1920s," which explored the intersection of art, politics, and culture in Latin America during the early 20th century.
The museum's rotating shows provide an opportunity for visitors to see fresh and compelling works of art during each visit and also give established and emerging artists a platform to showcase their art. To stay up to date with current and upcoming exhibitions, visitors can check the museum's website or ask for more information at the front desk.
To find out more about current and upcoming exhibits to the museum, visit their website here for more details and information.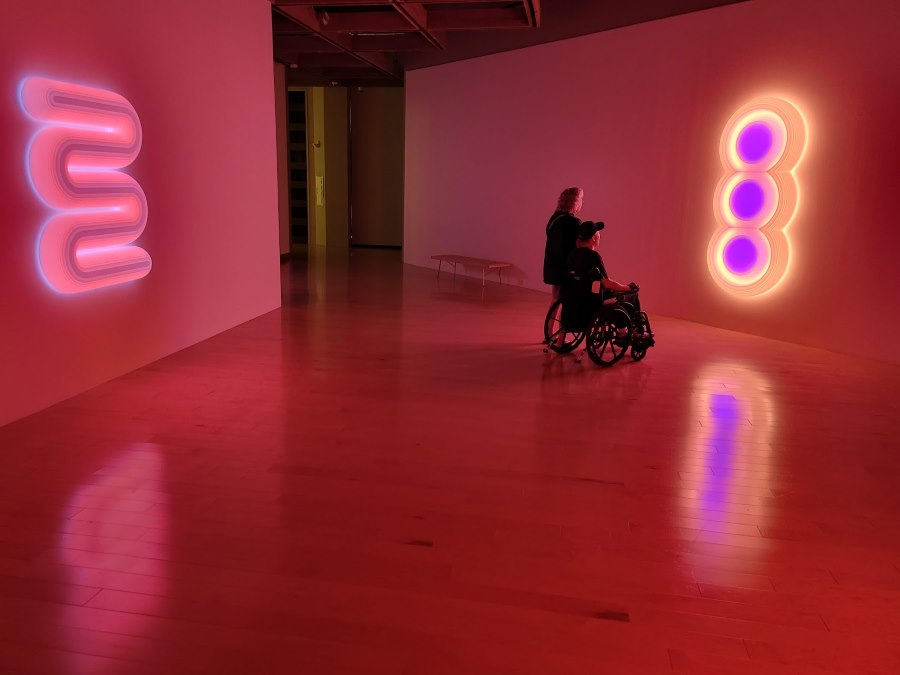 Special Neon exhibit with Artist Phllip K Smith
Outdoor sculpture and gardens to explore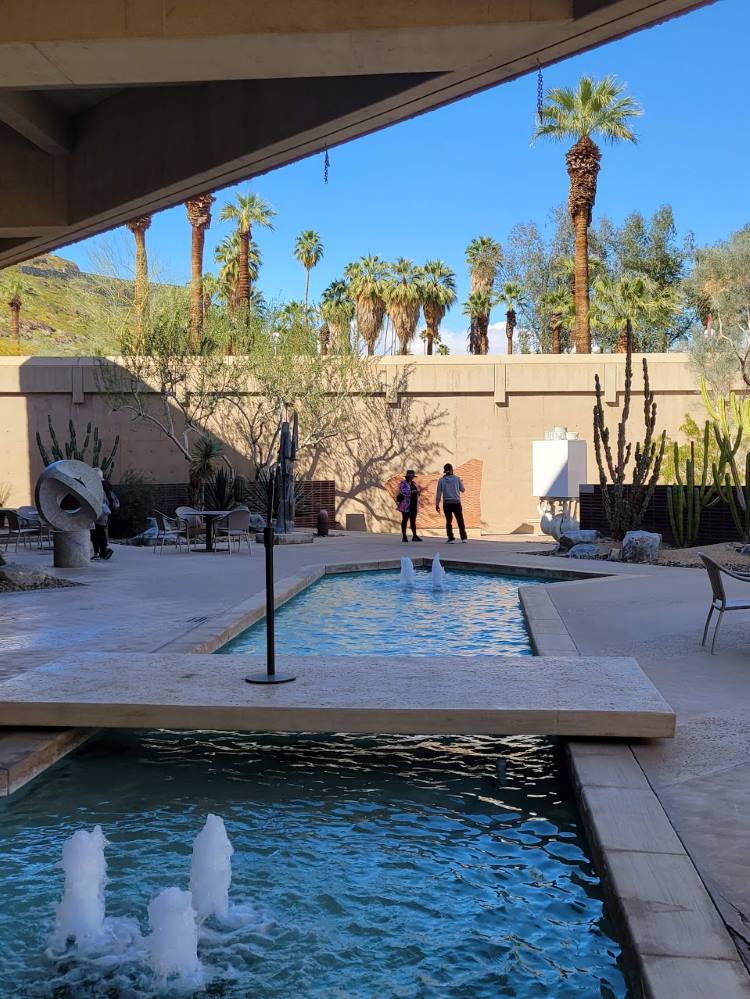 Visitors to the Palm Springs Art Museum can enjoy not only its indoor galleries but also several outdoor gardens and sculpture installations. The Faye Sarkowsky Sculpture Garden, situated at the rear of the museum, is a peaceful haven with winding paths, well-kept lawns, and a diverse collection of sculptures by notable artists. The garden boasts a magnificent waterfall and a tranquil pond, making it an ideal spot for relaxation and communion with nature.
The museum's sculpture plaza, located at the front of the building, is another outdoor area to explore. Here, visitors can admire larger-than-life sculptures and installations that enhance the museum's exterior with artistic and dynamic elements. The plaza also provides an excellent backdrop for photography and an opportunity to appreciate the breathtaking desert landscape that surrounds the museum.
Overall, the outdoor gardens and sculpture installations at the Palm Springs Art Museum augment its cultural offerings, presenting visitors with an immersive experience that blends art, nature, and architecture harmoniously.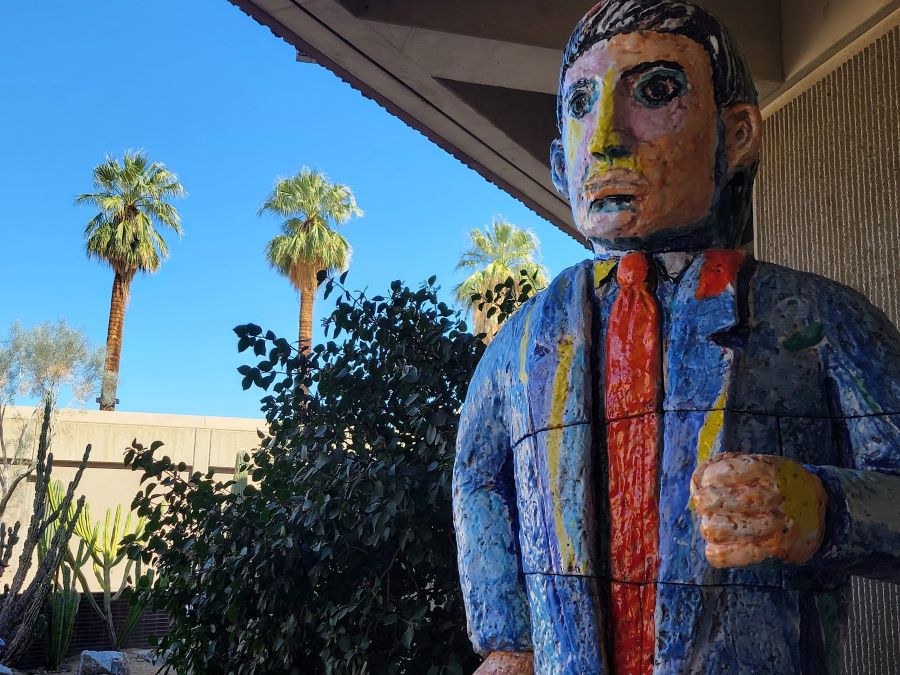 Free museum nights on Thursdays
The Palm Springs Art Museum is committed to making its world-class art and cultural offerings more accessible to everyone. To achieve this goal, the museum offers free admission on Thursday nights from 4:00 pm to 8:00 pm and every second Sunday of the month.
During these free admission nights, visitors can freely explore the museum's galleries, exhibitions, and outdoor gardens. In addition, the museum frequently hosts special events and activities such as live music performances, artist talks, and hands-on art workshops, making these nights even more exciting and enriching.
Free admission nights at the Palm Springs Art Museum are an excellent opportunity for both locals and tourists to immerse themselves in art and culture, broaden their horizons, and connect with the vibrant community of Palm Springs.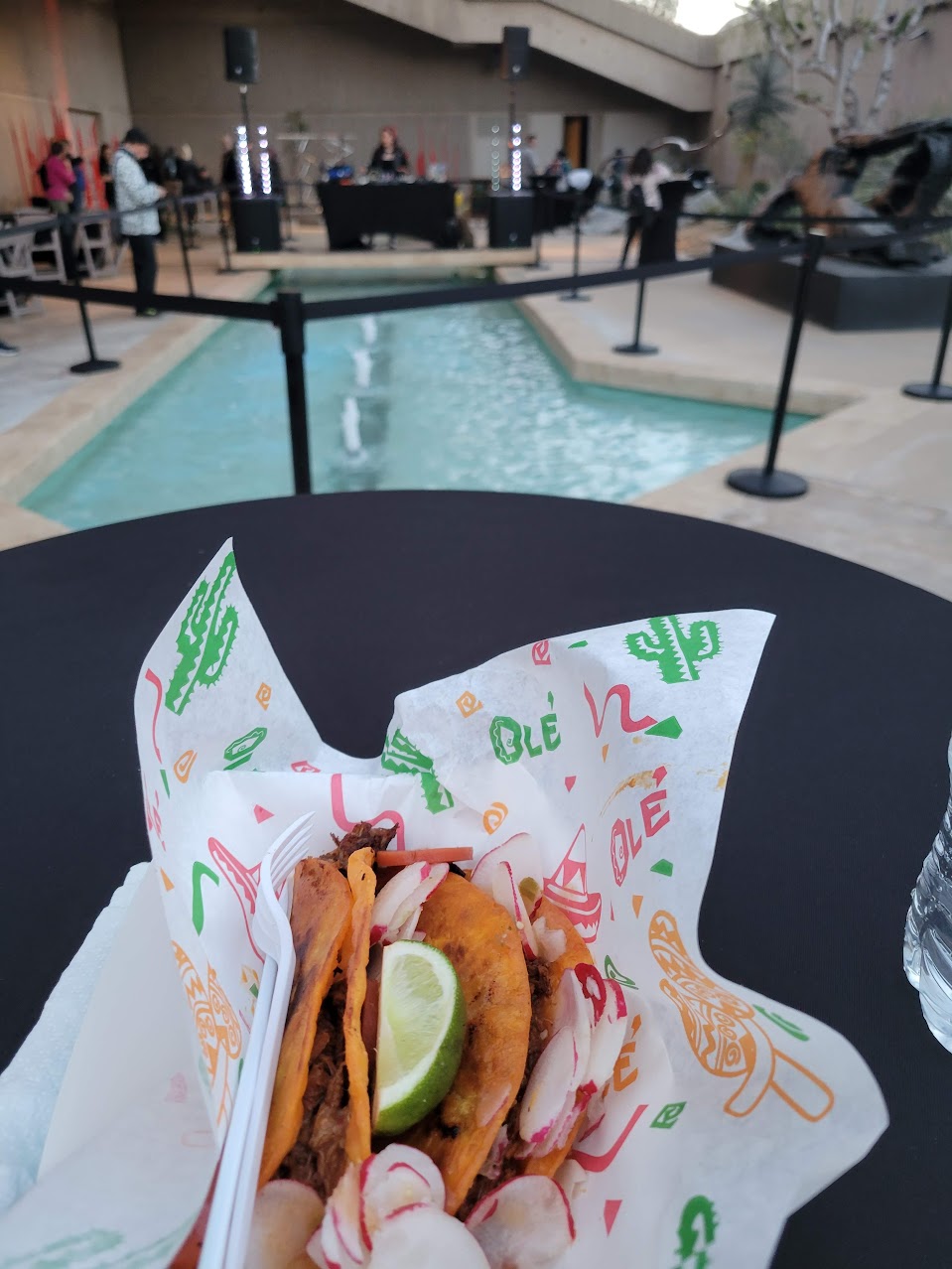 More details to visiting the Palm Springs Art Museum
participate in Docent tours
At the Palm Springs Art Museum, visitors can participate in free docent-led tours to enrich their understanding of the museum's vast collections and exhibitions. These tours offer a unique opportunity to explore the galleries and outdoor spaces with experienced guides who provide insights and context to the art on display.
The museum provides a range of tour options, including general tours that give an overview of the collections and themed tours that focus on specific topics or exhibitions. The tours are available to individuals and groups of all sizes and can be tailored to meet specific interests or needs.
To find out the tour schedule and availability, visitors can check the museum's website or ask at the front desk. With enthusiastic and knowledgeable docents to lead the way, these tours provide an excellent way to enhance the museum experience and gain a deeper appreciation of the art and culture showcased in the museum.
Gift Shop and Restaurant
The Palm Springs Art Museum provides additional amenities to enhance visitors' experience, including a gift shop and a restaurant.
The gift shop offers a diverse selection of art-inspired merchandise, such as books, jewelry, and home decor, reflecting the museum's collections and exhibitions. Visitors can find souvenirs to commemorate their visit or purchase a unique gift for a loved one.
Located in the outdoor sculpture garden, Persimmon Bistro serves seasonally-inspired dishes and a range of beverages, including craft cocktails, beer, and wine. The restaurant provides a beautiful setting for visitors to enjoy a meal or snack while surrounded by works of art and the stunning desert landscapes.
Both the gift shop and restaurant are open during regular museum hours and do not require museum admission. Whether you're seeking a memorable souvenir or a delicious meal, the Palm Springs Art Museum has something to offer.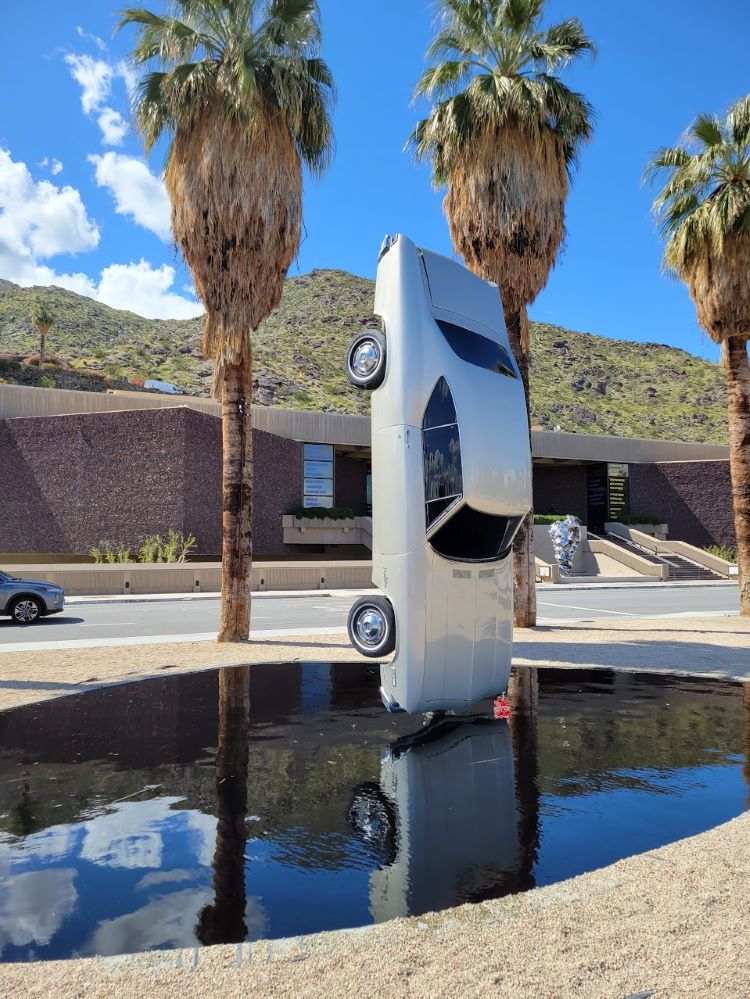 Public Art around the Palm Springs Art Museum
Visitors to the Palm Springs Art Museum can enjoy exploring several public art displays located nearby. The Faye Sarkowsky Sculpture Garden, situated just outside the museum, is a must-see, featuring an exceptional collection of contemporary sculptures set amidst a beautiful desert landscape. Another nearby option is the Palm Springs Art Museum Architecture and Design Center, Edwards Harris Pavilion, which hosts exhibitions and programs focused on art, architecture, and design.
Aside from the museum's displays, the city of Palm Springs boasts a variety of public art installations worth exploring. Visitors can take a short walk to see the iconic "Forever Marilyn" statue, the "Eternal Flame" sculpture, or the "Palm Springs" sign, among others. To learn more about these and other public art displays in the city, visitors can obtain a map or guide at the Palm Springs Visitors Center or the museum.
Inside tips to visiting the Palm Springs Museum of Art
Here are some inside tips to make the most of your visit to the Palm Springs Art Museum:
Plan Your Visit: Check the museum's website or call ahead to find out about current exhibitions, special events, and any temporary closures. This will help you tailor your visit and make the most of your time at the museum.
Timing is Key: Visit the museum during weekdays or during non-peak hours to avoid crowds and have a more intimate experience with the artwork. Mornings and weekdays tend to be quieter compared to weekends.Take a Guided Tour: Consider joining a guided tour offered by the museum. These tours provide valuable insights into the artwork, artists, and the museum's history, enriching your understanding and appreciation of the collections.
Start with Highlights: Begin your visit by exploring the museum's highlights or featured exhibitions. This will give you a sense of the museum's focal points and allow you to prioritize areas of interest.
Explore Diverse Exhibitions: The Palm Springs Art Museum houses a diverse range of art collections, including contemporary, modern, Native American, and Western art. Don't limit yourself to a single section but instead explore the different exhibitions to appreciate the variety of artistic expressions.
Engage with Interactive Installations: Look out for interactive installations or exhibits that encourage visitor participation. These provide a unique and immersive experience, allowing you to actively engage with the artwork.
Relax in the Outdoor Sculpture Garden: Take a break from the indoor galleries and spend some time in the museum's outdoor sculpture garden. It offers a tranquil space to appreciate sculptures, enjoy the desert landscape, and rejuvenate before continuing your museum exploration.
Check for Special Programs and Events: Stay updated on the museum's special programs, workshops, lectures, or performances. These events offer opportunities to delve deeper into specific art forms, meet artists, or engage in hands-on activities.
Support the Museum: Consider becoming a member or making a donation to support the museum's mission and future endeavors. Membership often comes with benefits such as free admission, exclusive events, and discounts at the museum store or café.
Enjoy Nearby Amenities: Take advantage of the museum's location in downtown Palm Springs. Explore the nearby restaurants, cafes, and shops, making it a complete cultural outing.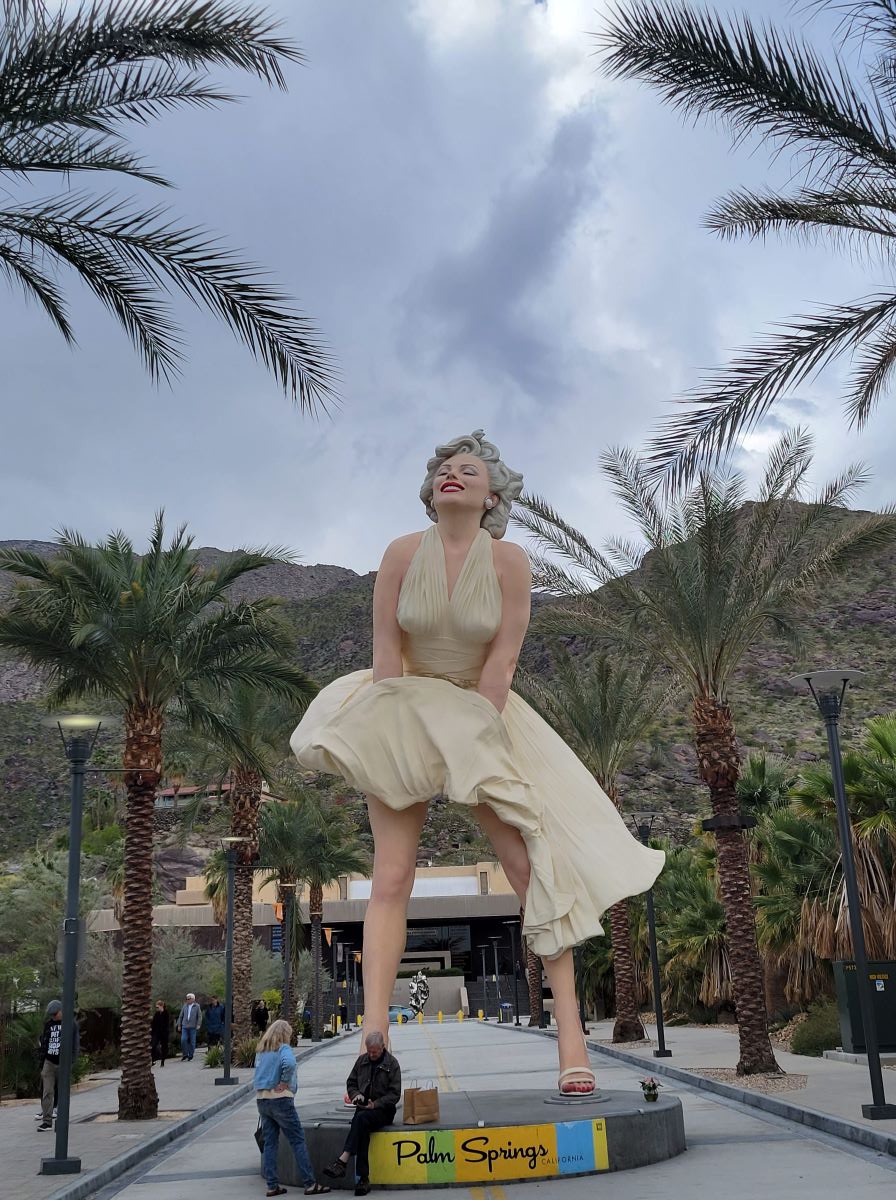 Check out these other posts on visiting Palm Springs area
If you are visiting the Palm Springs area, check out these other fun attractions and places to visit in the area.
Visit to Indian Canyons at Palm Springs
Explore these top attractions in Palm Springs
The Living Desert Zoo and Gardens
Cabot Museum at Desert Hot Springs
Palm Springs to Joshua Tree National Park
Further References
Art Lovers Guide to Palm Springs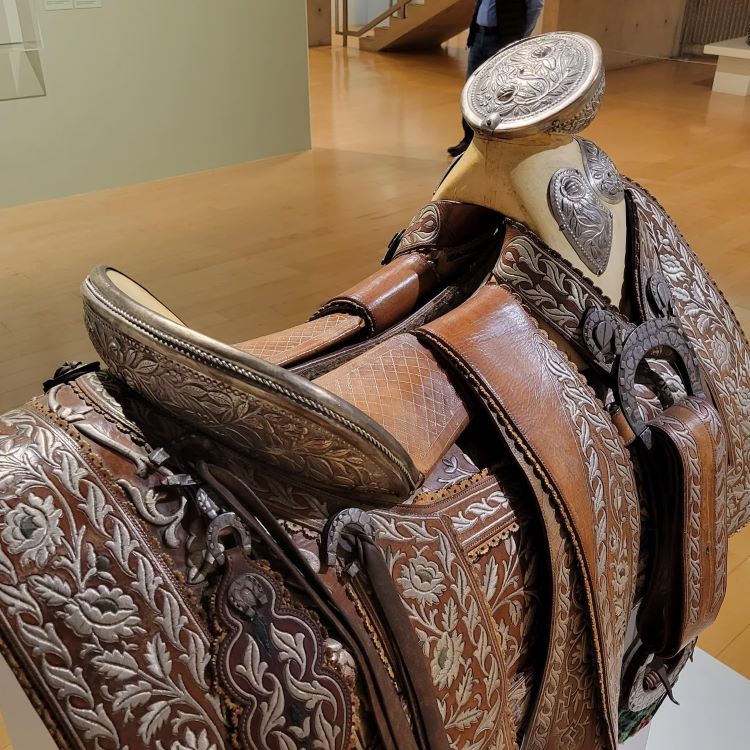 Conclusion to visiting Palm Springs Art Museum
To sum up, a visit to the Palm Springs Art Museum is a delightful and informative experience that caters to art enthusiasts and casual visitors alike. With its impressive permanent collections, captivating rotating exhibitions, informative docent-led tours, and other amenities like a gift shop and restaurant, the museum has a lot to offer. Whether your interest lies in contemporary art, photography, design, or historical artifacts, the museum provides a diverse range of opportunities to engage with art and culture. Don't forget to include the Palm Springs Art Museum on your itinerary during your next visit to Palm Springs, for a truly memorable and inspiring experience.