Paris in Winter – explore the city in the winter season, without crowds with many cool things to do

Paris is a magical city year-round, there's something extra special about visiting during the winter months. From cozy cafes, incredible museums to seasonal markets that will light up your nights – here is our guide on 12 things to do in Paris in winter, you'll love exploring the city in an exciting season of discovery!

While many people might associate Paris with strolling through beautiful gardens or having a drink at cafe terraces, there are many incredible winter activities in this capital and outside of it! There are many wonderful day trips from Paris in winter.

Don't let the lower temperatures deter you – bundle up and get ready to experience the enchanting side of Paris that only appears in wintertime.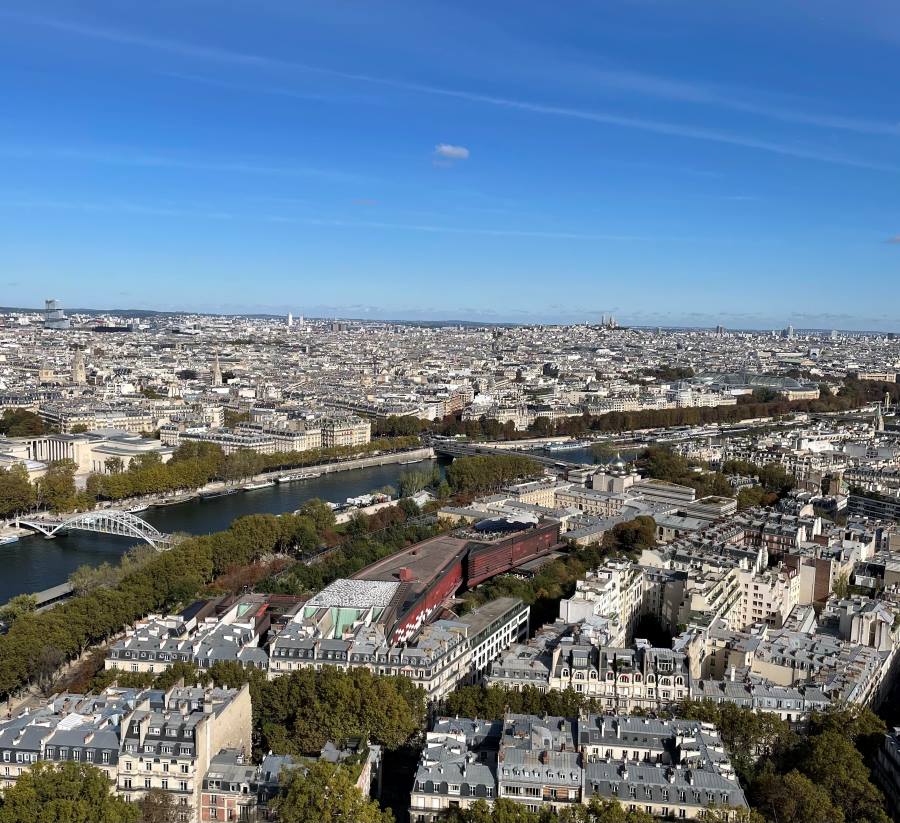 Average winter temperatures in Paris
Yes, Paris is very cold but then you get to experience it in a different way without the crowds, eating Raclette, hot chocolate and visiting the museums without massive tourists and crowds. Average temperature in visiting Paris during the winter varies as follows:
December 4°- 8°C (39°- 46°F)
January 3°- 8°C (37°- 46°F)
February 3°- 9°C (37°- 48°F)
Why visit Paris in Winter?
Paris in winter offers a unique and less crowded experience. The city comes alive with holiday decorations, making it a photographer's dream. You can skate at iconic landmarks, explore museums without long lines, and savor hearty French cuisine. Christmas markets add to the festive spirit, while the city's beauty is enhanced by a dusting of snow. Plus, winter sales make shopping in Paris a delight. If you're seeking a quieter, more intimate side of the City of Light, winter is the ideal time to visit.
Visiting Paris in winter combines all the holiday magic, experience cultural richness, and of course enjoy the culinary delights around the city in a variety of amazing cafes and restaurants. It's a chance to see this iconic city from a different, more serene perspective while enjoying unique photo opportunities and indulging in French traditions.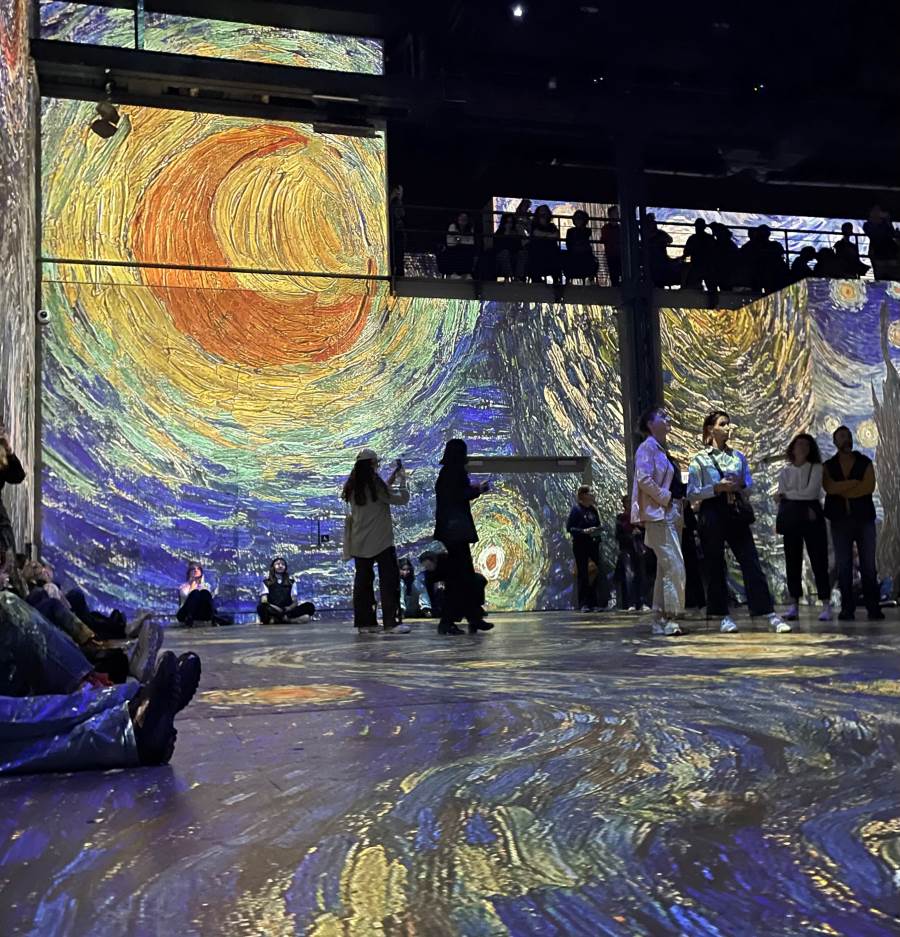 Things to do in Paris in winter: top 12 must do activities and attractions

In the midst of winter, Paris transforms into a magical winter wonderland filled with cool seasonal activities and festive decorations. And while there are countless things to do in this beautiful city during the colder months, here is a top 10!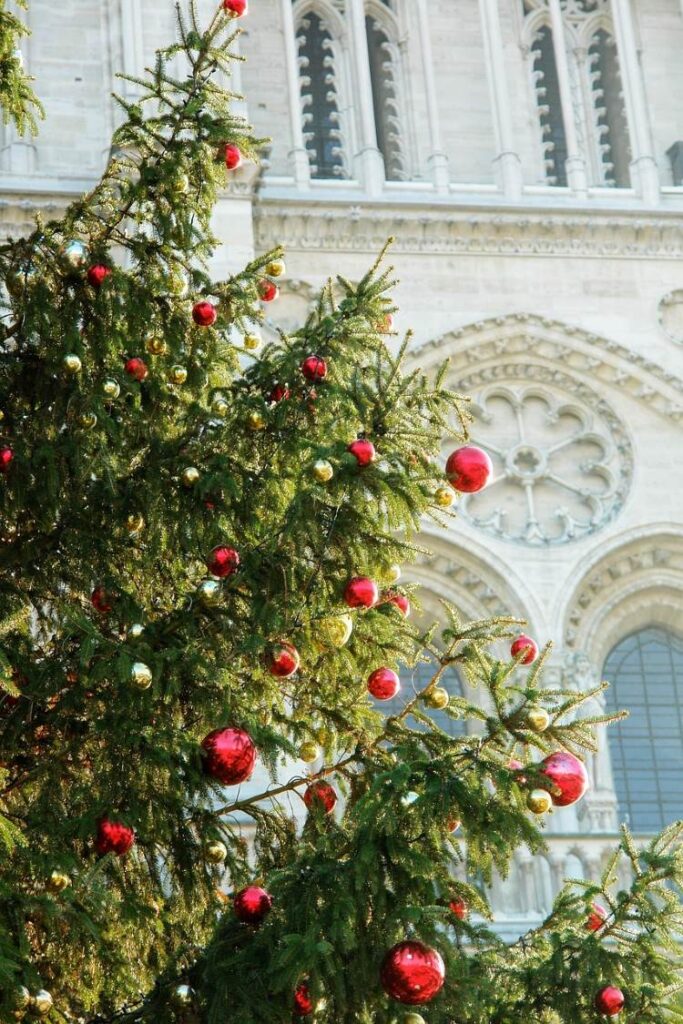 1. Celebrate the holidays in Paris
Winter is amazing in Paris and if you add Christmas and New Years celebrations, then you will make this a very memorable visit.
Celebrating Christmas and the holiday season in Paris is truly magical. The City of Light transforms into a winter wonderland, and you'll find enchanting festivities around every corner.
Christmas Markets: Paris boasts a multitude of Christmas markets. Stroll through the wooden chalets, sip on mulled wine, and sample delectable French pastries. The Champs-Élysées market is one of the largest, adorned with sparkling lights, while the Notre-Dame market offers a picturesque backdrop.
Champs-Élysées Illuminations: The iconic Champs-Élysées avenue is beautifully illuminated during the holidays. Take a leisurely evening walk to admire the stunning lights, which create a magical ambiance.
Ice Skating: Strap on your skates and glide under the Eiffel Tower. The ice skating rink at Trocadéro offers unbeatable views of the iconic landmark, making it a unique and charming experience.
Department Store Window Displays: The grand Parisian department stores, like Galeries Lafayette and Printemps, compete to create the most extravagant holiday window displays. These are an absolute must-see, even if you're just window shopping.
New Year's Eve: Paris on New Year's Eve is pure magic. Join the crowds at the Champs de Mars for a view of the Eiffel Tower's dazzling light show and fireworks. Alternatively, book a dinner cruise on the Seine for a more intimate celebration.
Pros:
The city's festive spirit is contagious, and you'll be immersed in a joyful atmosphere.
Parisians take their holiday decorations seriously, and the city's charm is taken up a notch with lights and ornaments.
Cons:
It can get quite crowded during the holiday season, so be prepared for larger crowds at popular attractions.
Some restaurants and shops might close on Christmas Day, so plan your meals and shopping accordingly.
In conclusion, celebrating Christmas and the holiday season in Paris is a dream come true for any traveler. The city's romantic ambiance, combined with its rich history and world-class cuisine, creates an unforgettable experience. So, pack your warmest coat, and get ready to embrace the holiday magic in the heart of France.

2. Go Ice-Skating at Hotel de Ville

Located in the heart of Paris, Hotel de Ville is an iconic building that serves as the city hall. During the winter months, it welcomes an outdoor rink that stretches over more than 1,300 m².
The size of the rink offers plenty of space for everyone to twist, turn and skate to their heart's content.
There's something truly enchanting about gliding across the ice amidst historic architecture and bustling city life.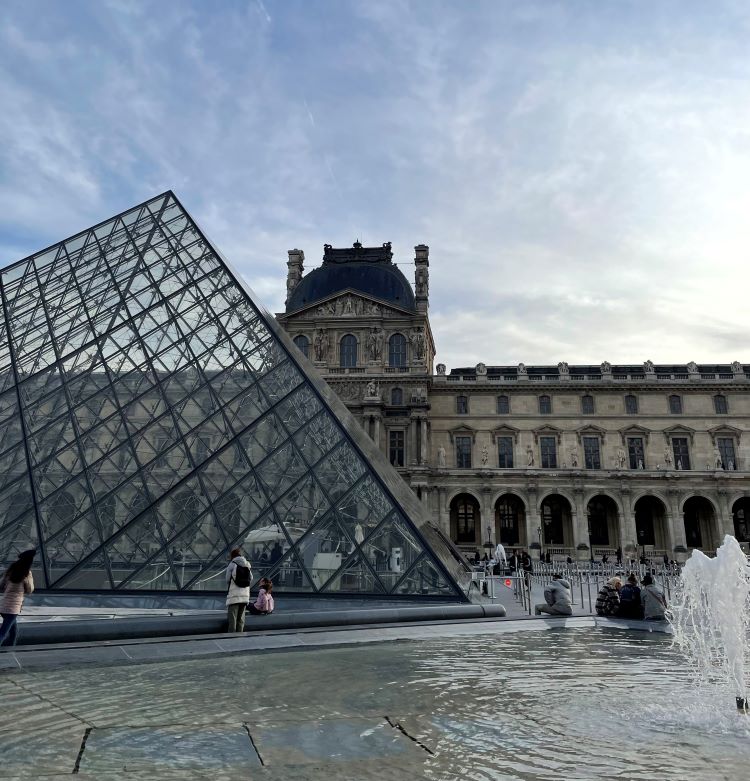 3. Explore the Louvre Museum

The Louvre Museum is one of the most iconic and famous cultural institutions in the world. However, it is big and exploring it takes time. Visiting it during winter, when it's cold outdoors, is perfect.

Before even entering the museum, you will be mesmerized at the iconic glass Pyramid right in front of the historical building.

Then, one of the highlights of any visit to the Louvre is seeing the Mona Lisa. It is a small but incredibly famous painting. But the Louvre has much more to offer than just this one masterpiece.
Indeed, it is home to some of the world's most prized art collections, also including Venus de Milo, and Winged Victory of Samothrace.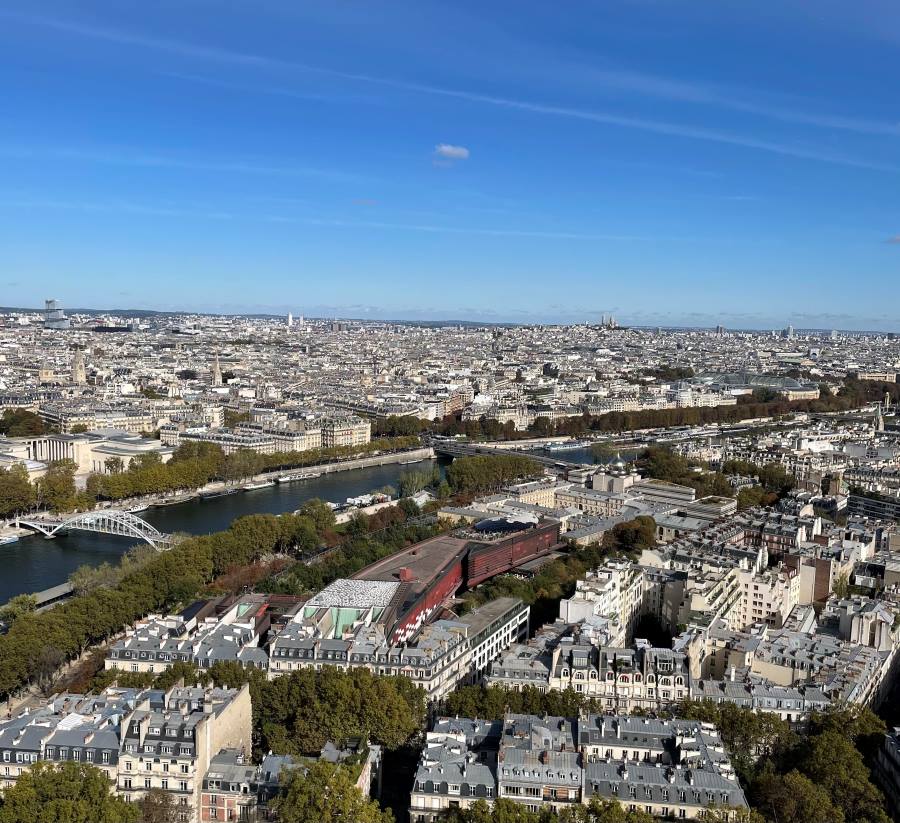 4. Go to the top of the Eiffel Tower

It goes without saying that the Eiffel Tower is the most famous landmark of Paris, and overall, France. Around 7 million people visit it each year, and a lot of them are visiting during summer.

Next summer will be especially busy with sport fans visiting the city and booking all the best places to stay in Paris for the Olympic Games.

Visiting Paris and the Eiffel Tower in winter means avoiding long lines and summer crowds.

We are obviously not saying the Eiffel Tower becomes a hidden gem during winter, it is still the most visited attraction of the city. However, in winter, you will definitely experience shorter wait times and a more relaxed visit.
Secondly, the views from the top of the Eiffel Tower are simply breathtaking in winter. With less pollution in the colder months, you can see even further into the distance.

Imagine drinking a warm drink at the top of the Eiffel Tower in the middle of winter… Pretty tempting, right?

5. Admire the marvelous light show of Atelier des Lumieres.

Another cool indoor experience when visiting Paris in winter is the Atelier des Lumières. This is an immersive digital art center located in the 11th district of Paris.
It showcases stunning light shows projected onto the walls and floors of a former foundry. The themes change every few months, from Van Gogh to Klein, Tintin or Gaudi…
The dreamy atmosphere of this converted industrial space provides a perfect escape from the cold outside or early sunsets. It is one of the best things to do on a Paris family vacation, on a friends trip or a solo adventure!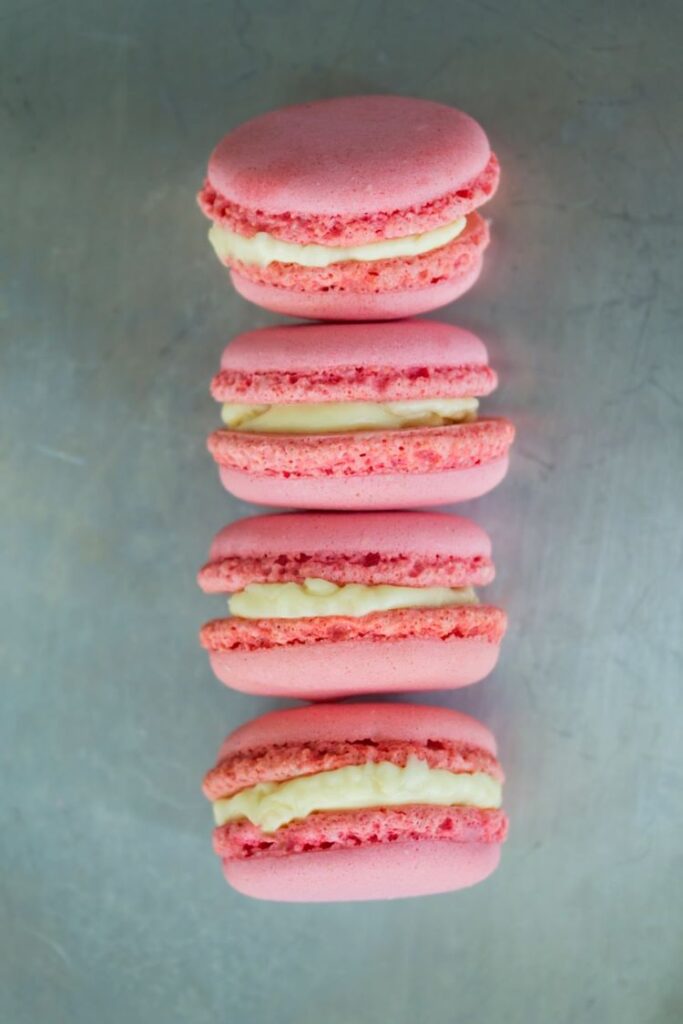 6. Try some traditional French cuisine and specialty dishes

Paris is also renowned for its incredible restaurants. Visiting during winter is the perfect excuse to spend hours in restaurants trying new exquisite dishes.
One must-try dish during your winter visit is the classic beef bourguignon. This slow-cooked beef stew is made with red wine, bacon, and various herbs and spices, resulting in a rich and comforting dish. It's a staple on menus across Paris during the cold months.

If you're feeling adventurous, why not try some escargots? These cooked snails may seem intimidating, but they are actually delicious when cooked with garlic herb butter sauce.

You can try the beef bourguignon and snails at one of the many Bouillon restaurants, a french institution that serves classic French dishes at cheap rates.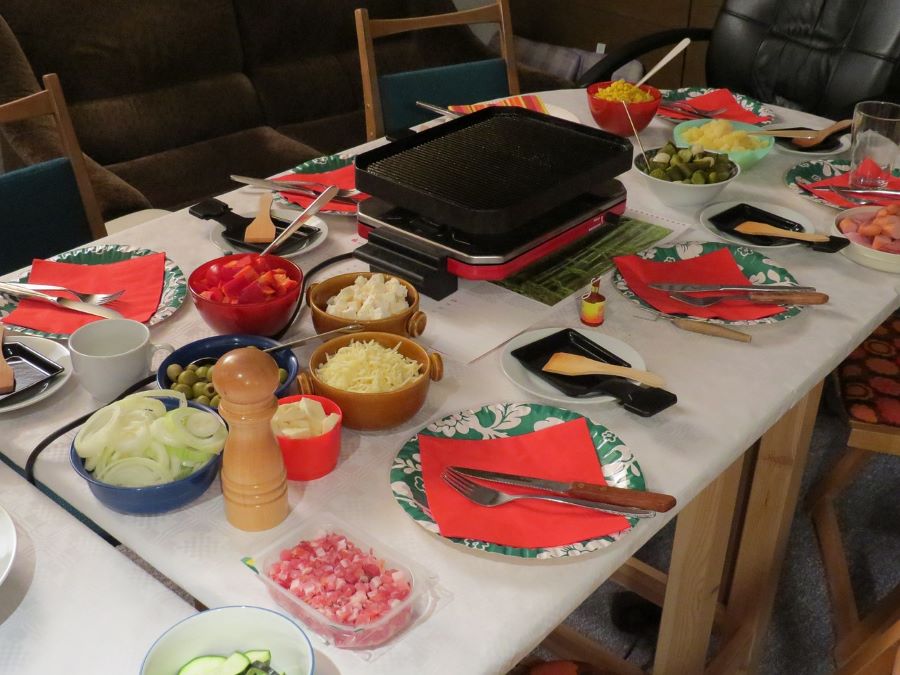 7. Enjoy a French raclette

The raclette is also a dish but it truly deserves its own paragraph when we know how important cheese is to French people.

Raclette is a Swiss dish, extremely popular in France, based on heating cheese and scraping off the melted part, then typically served with boiled potatoes and delicatessen.

This is the most comforting winter dish you can eat and there is no better place than Paris to do so. You will find many raclette restaurants all around the city. One of them is Le Chalet Savoyard, located on Rue de Charonne. However, you should make a reservation a few days in advance!

8. Catch a jazz jam session at one of Paris' many jazz clubs

Paris is known for its thriving music scene. There are concerts all the time everywhere, but if you want to have a special experience, we recommend visiting one of the jazz clubs of the French capital.
As the city quiets down and the trees have lost their leaves, Paris' jazz clubs come alive with jam sessions and performances by renowned and upcoming talented musicians.
There are numerous jazz clubs scattered throughout Paris. Some of the most popular ones include New Morning, Le Caveau de la Huchette, and Sunset-Sunside Jazz Club. These venues offer a diverse range of acts, from traditional jazz to acid or gipsy jazz…

One thing is for sure, the warm and intimate atmosphere of the city's jazz clubs, combined with the energy and passion of the musicians, will leave you with lifelong memories.
Check out this fun walking tour of the Jazz clubs of Paris below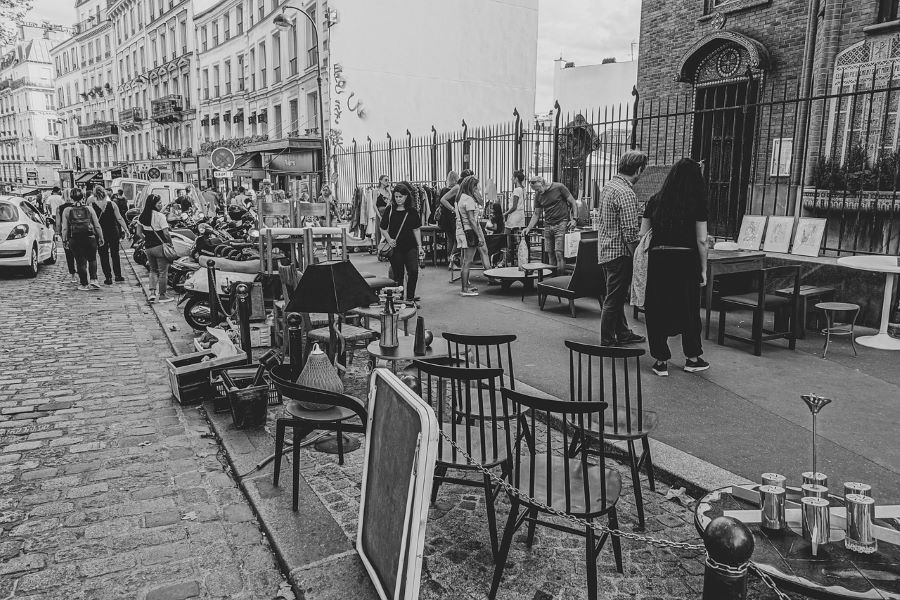 9. Shop for vintage finds at one of many flea markets

Yes, shopping is an activity you can do all year-round! However, there is no place like Paris, the city of fashion, to do it!
One of the best ways to experience the city's shopping scene and different neighborhoods is by visiting its many flea markets.

These markets are not only great for finding unique vintage treasures, but they also offer a glimpse into the local culture and clothes.

One of the most popular flea markets in Paris is Les Puces de Saint-Ouen. It is a sprawling market with over 3,000 vendors selling everything from antiques and vintage clothing to furniture and home decor.

Another must-visit flea market in Paris is Marché aux Puces de la Porte de Vanves. This market is smaller than Les Puces, but it still has a wide variety of goods, from vintage clothing and jewelry to art and collectibles…
Check out these five flea markets in Paris to visit in this video below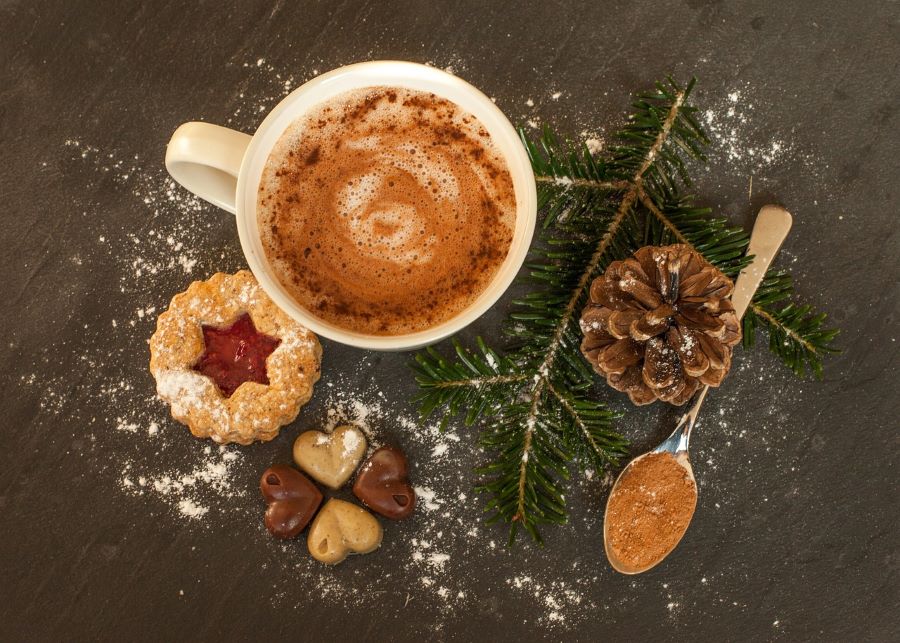 10. Warm up with a French hot chocolate.

One of the best things to do in Paris in winter is to sit at a typical French outdoor terrace with a homemade hot chocolate. Yes, it sounds weird to sit at an outdoor terrace in winter, but that is something French people do all year-round!
Most terraces are also heated so it won't feel this cold, and you will get to experience the unique "parisian terraces facing the street" movie-like experience.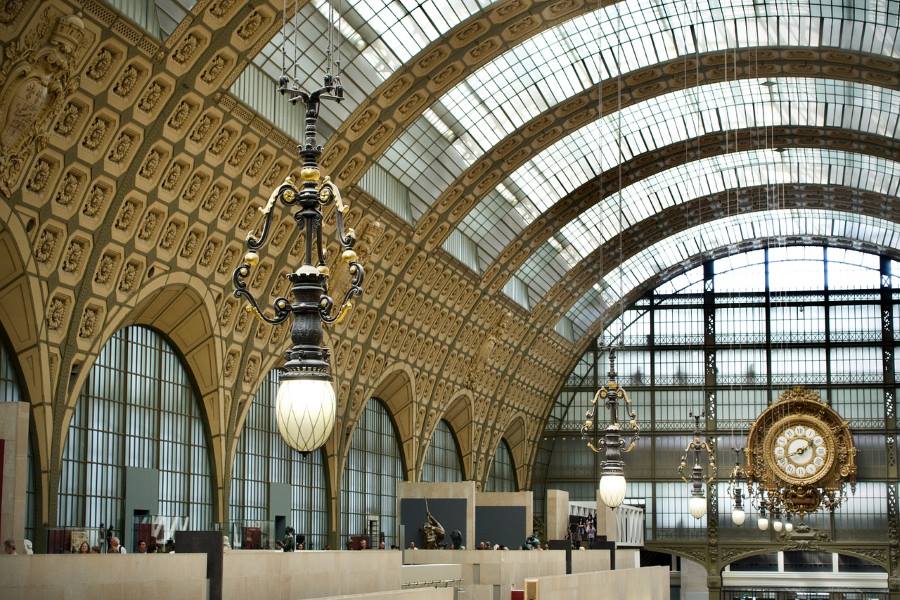 11. Visit the Orsay Museum

When planning a trip to Paris in the winter, make sure to add the Orsay Museum to your itinerary.
This iconic museum is known for its impressive collection of impressionist and post-impressionist art. Visitors can expect to see works by famous artists such as Monet, Van Gogh, and Renoir.

More than the art displayed there, the building itself is pretty stunning. The museum is housed in a former railway station, giving it a distinctive architectural appeal.

It also boasts an astonishing giant clock that can be seen from afar. It's undoubtedly one of the elements that makes this building so special for locals and tourists alike.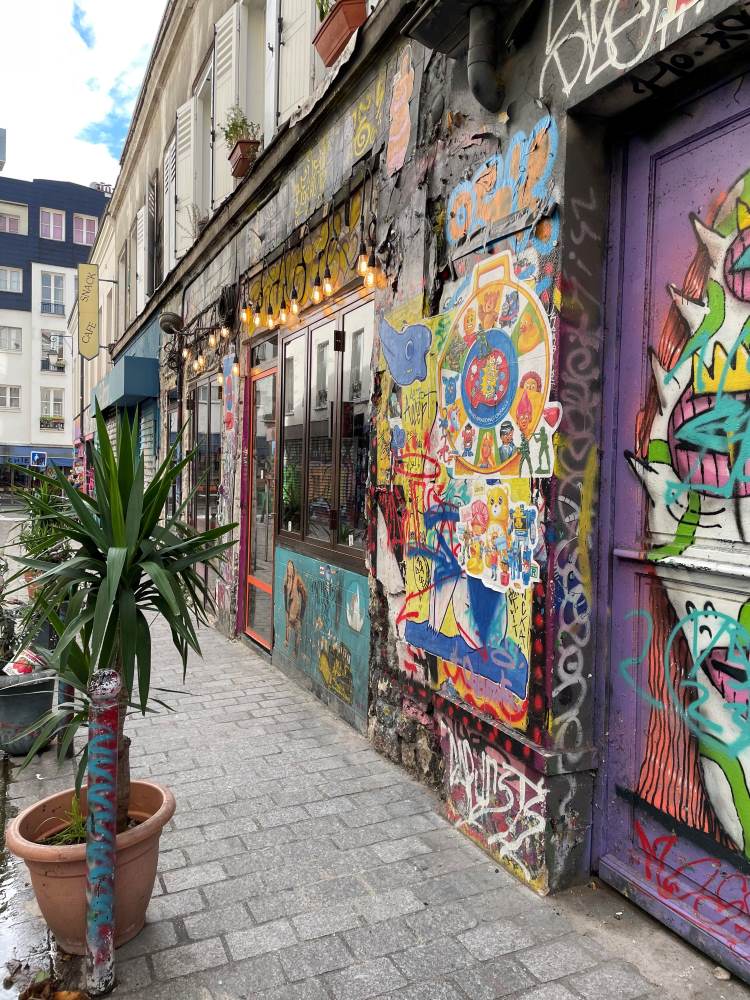 12. Explore the many neighborhoods of Paris
Paris is a walkable city and many of the neighborhoods are fun to explore and a very unique experience to each district or Arrondisemont. You can check out historic to trendy districts around Paris to include:
Certainly, Noel! Paris is a treasure trove of fascinating neighborhoods to explore. Here's a list of some of the coolest ones:
Le Marais: This historic district is a hub for art, fashion, and food. Its narrow streets are lined with trendy boutiques, art galleries, and charming cafes.
Montmartre: Known for its artistic heritage, Montmartre offers stunning views of the city from the steps of the Sacré-Cœur Basilica. You can wander through its charming streets, discover hidden vineyards, and immerse yourself in its bohemian atmosphere.
Saint-Germain-des-Prés: This is the epitome of Parisian chic. The neighborhood is famous for its literary history, high-end boutiques, and the iconic Les Deux Magots café.
Canal Saint-Martin: A trendy and hip neighborhood with tree-lined canals, this area is great for leisurely strolls and features cool bars and boutiques.
Belleville: A diverse and vibrant area known for its street art, Belleville offers a unique blend of cultures and some excellent Chinese and North African food.Latin Quarter: Home to the historic Sorbonne University, the Latin Quarter boasts a lively atmosphere. It's filled with bookshops, quirky cafes, and is a great place to explore academic Paris.
Oberkampf: A neighborhood for the young and trendy, Oberkampf is full of bars, live music venues, and a thriving nightlife scene.
Batignolles: A lesser-known gem, Batignolles has a village-like charm. You can visit Parc Martin Luther King and enjoy some of the city's best brunch spots.
La Villette: A modern and artistic neighborhood, La Villette features the impressive Parc de la Villette, where you can explore museums, theaters, and music events.
Bastille: Known for its history and the famous Place de la Bastille, this neighborhood has a mix of history, shopping, and bustling nightlife.
Each of these neighborhoods has its own unique character and is perfect for photography, trying local cuisine, and experiencing the real Paris beyond the touristy areas. Enjoy your exploration!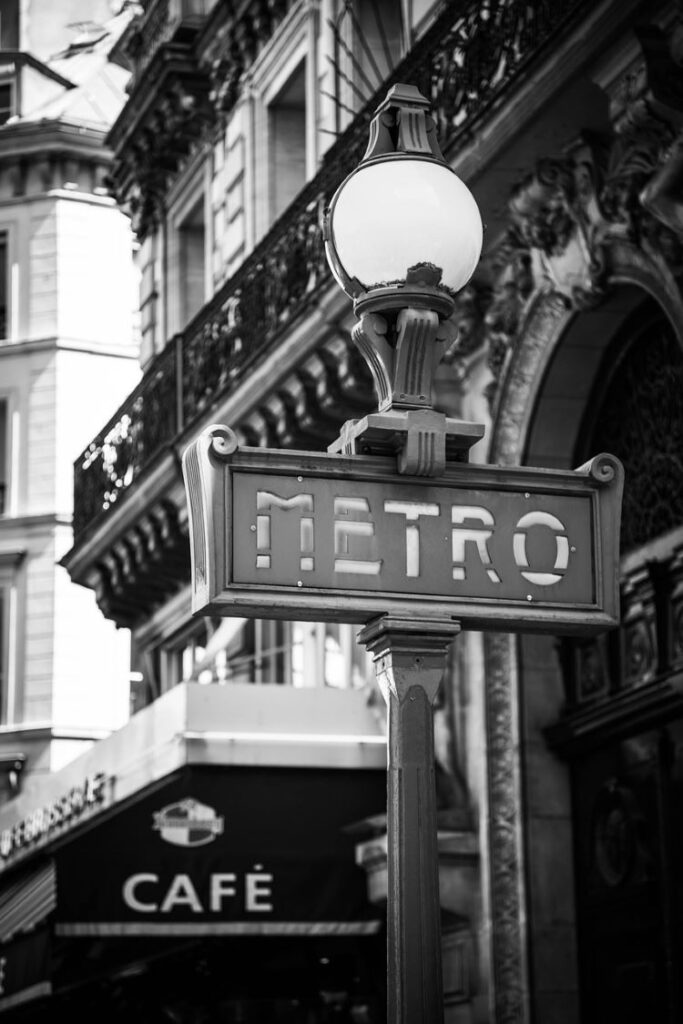 How to get around Paris
Getting around Paris is a breeze, thanks to its well-connected and efficient transportation system. Here's a rundown of the various ways to navigate the City of Light:
Metro: The Paris Métro is one of the fastest and most convenient ways to move around the city. It consists of 16 lines that crisscross Paris, making it easy to reach most attractions. It's known for its iconic art nouveau entrances. Buy individual tickets or a multi-day pass for savings.
RER (Réseau Express Régional): This is the regional train system that connects the city center with suburbs and nearby cities. Some RER lines are handy for reaching popular destinations like Versailles or Disneyland Paris.
Buses: Paris has an extensive bus network that complements the Métro. Buses are especially useful for reaching places not directly accessible by subway. They offer a great opportunity to see the city as you travel.
Trams: The tram system is expanding in Paris and is a convenient option for certain neighborhoods. It's a good choice for a slower, more scenic journey.
Taxis and Rideshares: Taxis are readily available, but they can be pricey. Rideshare services like Uber are also common and provide a more cost-effective alternative.
Vélib' (Bike Sharing): If you enjoy cycling, Paris offers a bike-sharing system with stations all over the city. It's a great way to explore and enjoy the picturesque streets.
Walking: Paris is a very walkable city, and some of the best discoveries happen on foot. Stroll along the Seine River, through charming neighborhoods, and around famous landmarks like the Eiffel Tower.Boats: The Seine River is not just for sightseeing but also for transportation. You can take Batobus, a water bus, to reach iconic places such as the Louvre and Notre-Dame.
Electric Scooters: Electric scooters are a popular and fun mode of transportation in Paris. Companies like Lime and Bird offer scooters that you can easily rent with a smartphone app.
Pros:
The public transportation system is extensive, making it easy to reach most attractions.
Multi-day travel passes are available, providing good value for tourists.
Walking and cycling are eco-friendly and offer a unique perspective of the city.
Cons:
During peak hours, the Métro can get crowded.
Taxis can be expensive, especially during traffic.
In conclusion, Paris offers a wide range of transportation options to suit your preferences and needs. Whether you prefer to navigate the city by Métro, bus, walking, or cycling, you'll find that getting around Paris is relatively straightforward, allowing you to make the most of your adventures in this enchanting city.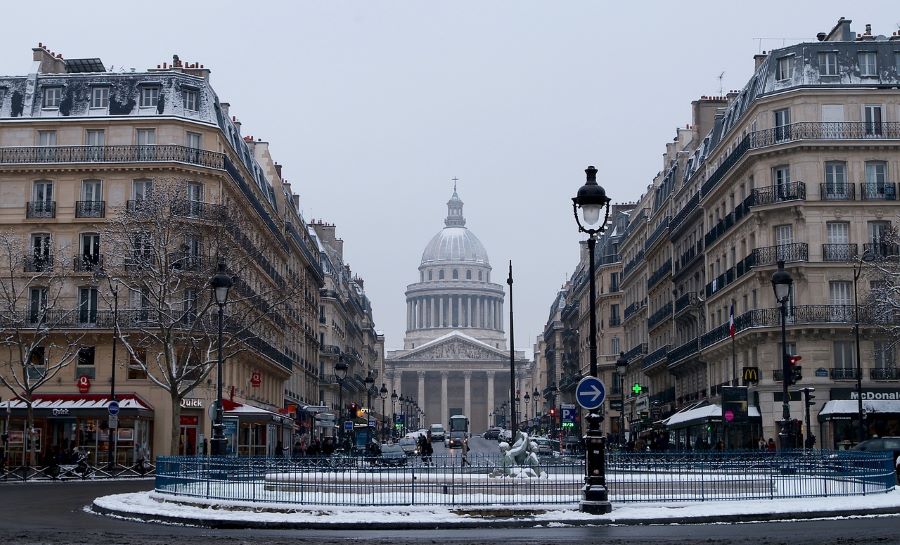 Check out these other posts to visiting Paris
Spending a perfect day in Paris
10 tips and suggestions to visiting Paris

Final thoughts on the best things to do in Paris in winter

Visiting Paris in winter is possibly the best European city trip you could think of if you are always on the move. With endless things to do, Paris is definitely not one of those cities that hibernate in winter.
From visiting one of its renowned museums, eating delicious French food and admiring its incredible landmarks, you won't get bored!