Best places to go for Christmas around the world (fairs, events & unique places to enjoy)
The holidays are always fun to enjoy at the end of the year, exploring the best places to visit for Christmas is a wonderful way to see how the Christmas season is celebrated at many locations around the world that celebrate the end of year holiday.
Christmas destinations celebrations are special for each place that celebrates the holiday spirit with fabulous local events, celebrations and traditions that  offer a unique perspective and way to celebrate Christmas in that region. We share the best of these places with travel journalists and bloggers that share their favorite places to visit during the Christmas season.
These are the best of where you should go for holiday cheer and a different take from around the world.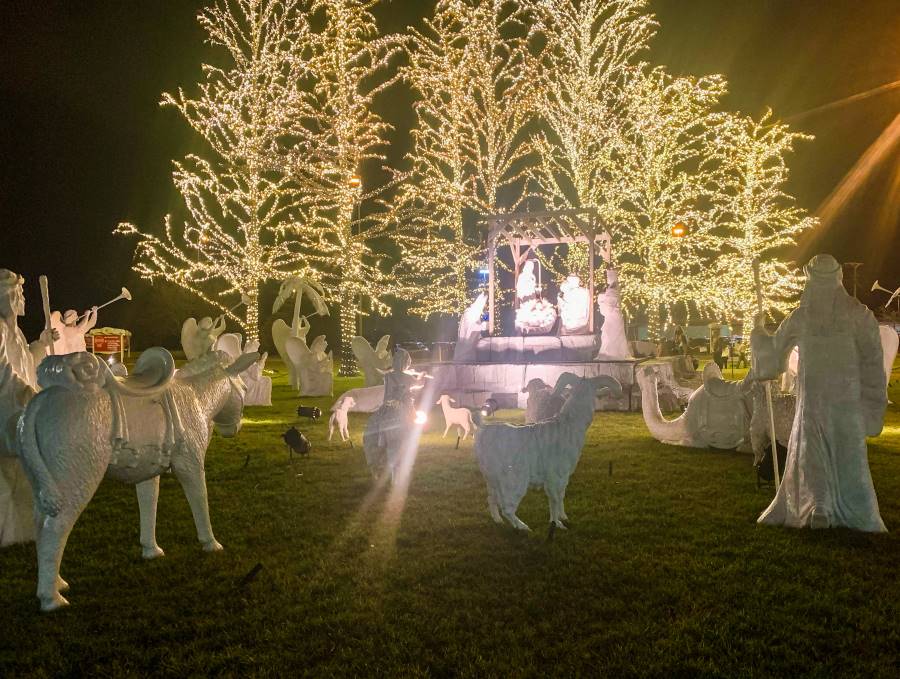 Christmas destinations in the Americas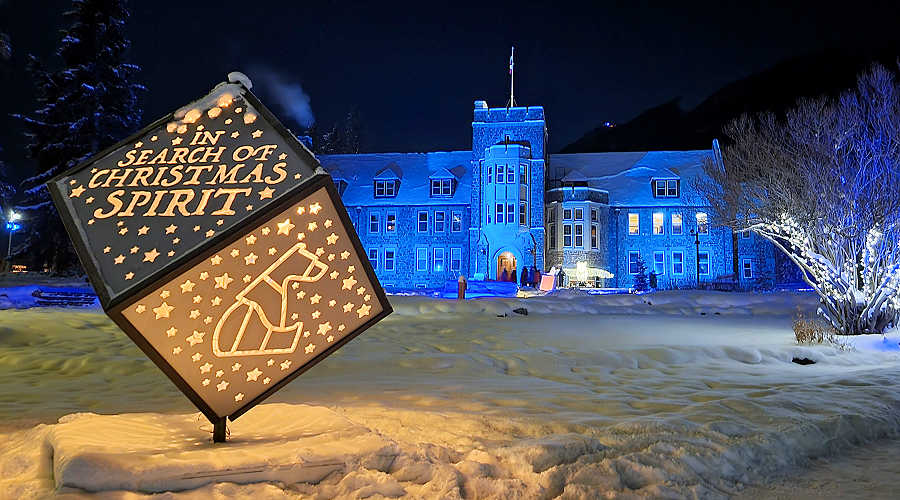 Christmas in Banff, Canada
Christmas in Banff becomes a winter wonderland with thick snow and below-zero temperatures. The park sees fewer crowds due to frigid weather and challenging road conditions.
However, if you're willing to brave the cold, the Banff Springs and Chateau Lake Louise provide luxury accommodations at better pricing than summertime. Although expensive, both decorate their hotels with Christmas trees and twinkling lights.
Staying at the Fairmont Banff Springs Hotel puts you closer to the Banff Christmas Market in downtown Banff. With over 100 vendors, you can browse for gifts while sipping hot drinks.
Fairly new to Banff, their "In Search of Christmas Spirit" provides an outdoor event that allows visitors to follow a storybook path through the Cascade of Time Garden. The enchanted trail features illuminated sculptures, which highlight the creatures of the Canadian Rocky Mountains.
Winter allows for unique activities like ice climbing, ice skating, and dog sledding. You'll be steps away from the frozen lake if you stay at the Chateau Lake Louise.
Lake Louise usually opens to ice skating in mid-December, and travelers can rent skates, snow shoes, snowboards, and skiing equipment inside the hotel. Consider a romantic sleigh ride around the lake to make your Christmas extra special.
The hotel builds an ice bar on the lake which has become a big hit with visitors. So, after a cold day of activities, warm up with mulled wine or a "Flake it 'till you make it" cocktail (apple cider with rye).
Contributed by Karen from Forever Karen
Check out this Christmas in Banff celebration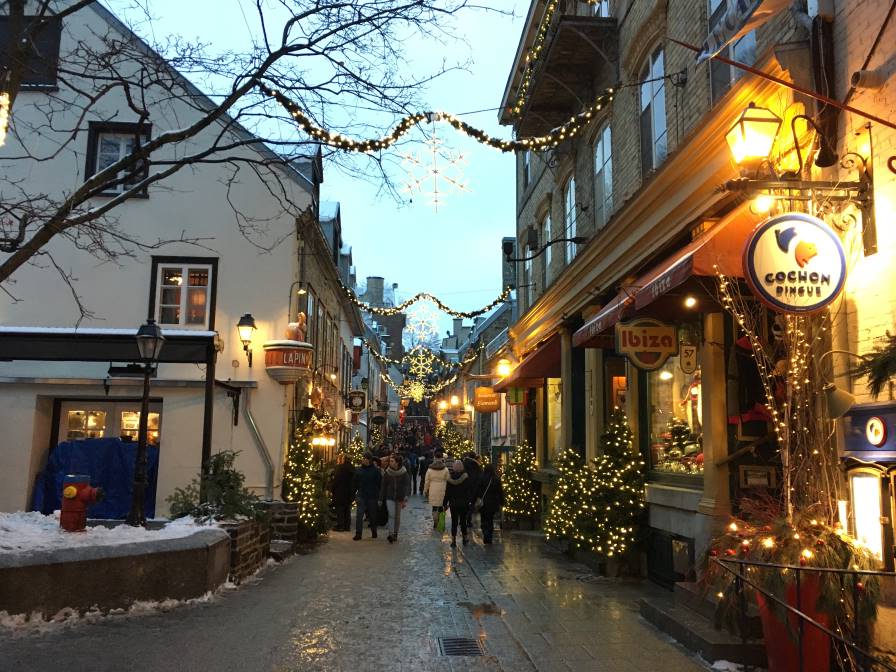 Christmas in Quebec City
Think snowy cobblestone streets, a fully decorated castle, a traditional German Christmas market and a unique ice hotel. This is what Quebec City has to offer at Christmas time.
With its European vibe and architecture, Old Quebec City is the perfect place to experience the winter wonderland. The Petit Champlain quarter is the heart of Old Quebec City and it's where the magic of Christmas happens. The rue Petit Champlain is known as one of the top 10 most beautiful streets in the world, especially during the winter time. Children will love seeing Santa Claus at Parc Félix-Leclerc.
The Place Royal also shows off with a big Christmas tree facing the famous Notre-Dame-des-Victoires church. Then, in the Jardins de l'Hôtel de Ville, you can shop for last minute Christmas gifts at the German Christmas Market. Don't forget to taste a specialty hot wine (muller wine) or a caribou drink (which is a mix of maple syrup, red wine and Canadian whiskey).
From the Christmas Market, only a few steps separate you from the iconic Fairmont Château Frontenac where they display wonderful Christmas decorations. It's a great hotel to splurge on Christmas night. Plus, on the Dufferin Terrace, at the foot of the Château, you can do the Au 1608 toboggan run. It's fun for the entire family.
If you are staying in Quebec City over the New Year's celebration week, try to visit the Ice Castle. It's a one in a kind experience and the only ice hotel in North America. But the opening is planned after the New Year.
For skiers, there are a few ski resorts within an hours away from Old Quebec City where you can enjoy beautiful evening skiing.
Emilie with Love Life Abroad

Christmas in Toronto
In mid November, Toronto, Canada transforms into a festive city full of holiday spirit. To dive into the festivities, start by visiting Toronto's Christmas Market. This holiday market is held in Toronto's famous Distillery District, a pedestrian-only area of the city known for its industrial 19th-century architecture and cobblestone streets.
During the Christmas Market, the district is lit up with thousands of lights, and a tall, decorated Christmas tree. Throughout the market there are dozens of outdoor wooden huts selling a variety of handmade gifts and goodies. You'll also find Christmas treats, winter wear, and outdoor bars where you can enjoy hot chocolate, mulled wine, or another festive drink around a warm fire.
After enjoying the Toronto Christmas Market, head to Nathan Phillips Square for an annual event known as the Cavalcade of Lights. In late November, the square comes alive with a glittering tree, ice skating and of course, bright holiday lights.
Finally, you'll want to include one of the city's holiday-themed cocktail bars on your Christmas in Toronto itinerary. Toronto has three bars that come alive during the holidays with Instagram-worthy decor and drinks. Head to Miracle, The Thirsty Elf, or Project Gigglewater to enjoy a festive cocktail (or mocktail!).
To enjoy Toronto's holiday festivities, stay in the Entertainment District, which is the core of the city. From there, you'll be within walking distance to many of Toronto's holiday highlights. The King Blue Hotel is well-located, well-priced, and has all the amenities you'll need.
Submitted by Erin From Pina Travels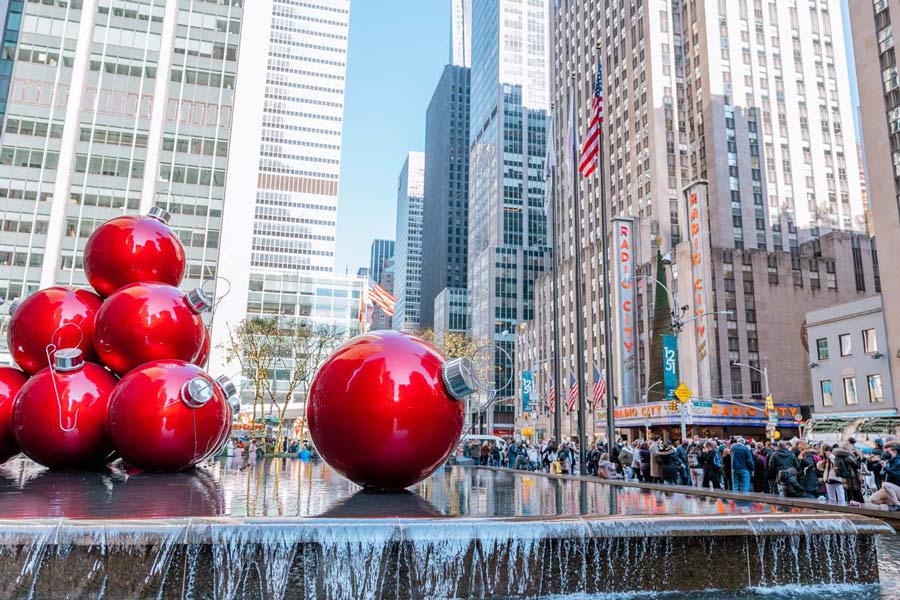 Christmas in New York City
New York is easily one of the best Christmas destinations to visit. With bustling Christmas Markets, Ice Skating Rinks, and endless decorations, your options are endless for getting into the Christmas Spirit.
Most people are familiar with Rockefeller Center where you can see the famous tree and Ice skating rink. This is one of the many great things to do on Christmas Day in NYC. Rockefeller Center is certainly a quintessential thing to do, but New York offers so much more Christmas activities to do!
New York has an insane amount of Christmas decorations throughout the City. Some of the best decorations to check out include the Hudson Yards (Vessel and The Edge), The Saks 5th Ave Lightshow, Radio City decorations, and the Dyker Heights, Brooklyn decorations.
The Dyker Heights Christmas Decorations are one of the more unique things you can do when visiting New York. These Million dollar (plus) homes go all out with their Christmas lights, one trying to outdo the next!
A Christmas visit wouldn't be complete without visiting the Christmas Markets at the Winter Village in Bryant Square. They have one of the only free ice skating rinks (if you have your own skates) dozens of food vendors, a Christmas tree lighting, and shops to enjoy.
If you have seen the Christmas movie Home Alone 2, the Plaza Hotel is no stranger to you. Located near Rockefeller Center and Central Park, this is a great place to stay.
Suggested by Sam Opp from Find Love and Travel
Christmas in NYC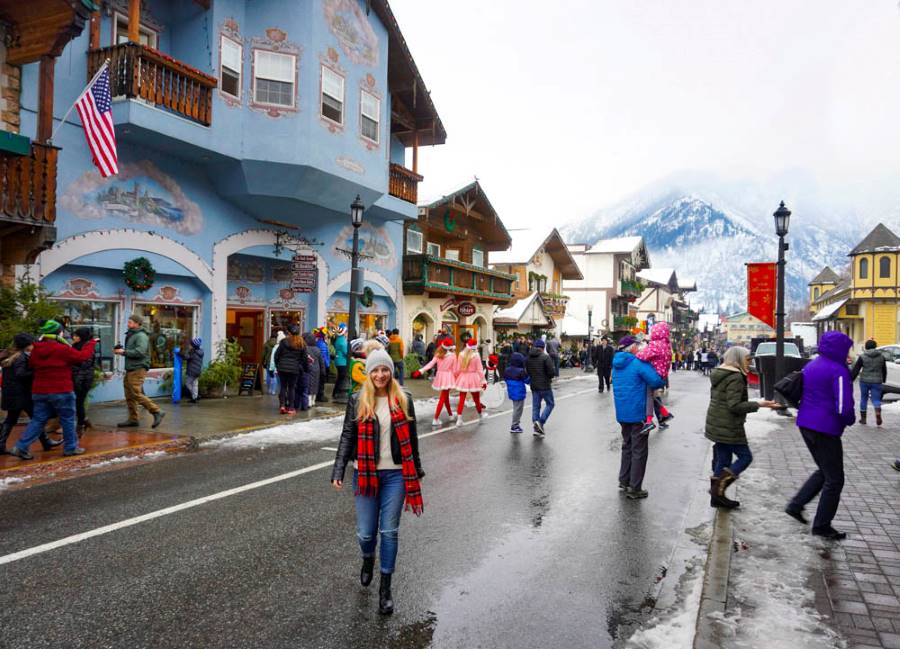 Christmas in Leavenworth
If you're looking to explore a town straight out of a Hallmark movie, look no further than Christmas in Leavenworth. This tiny village, nestled in the towering Cascade Mountains of Washington state, has a downtown full of Bavarian-style buildings, including everything from the gas station to the Starbucks. Given its omnipresent alpine style, it feels like something that you'd expect to see in the Alps, as opposed to the Pacific Northwest.
While Leavenworth always feels like a fairytale town, Christmas is an especially magical time of year. Starting the day after Thanksgiving through Christmas, Leavenworth explodes with holiday cheer, with its downtown area covered with over half a million Christmas lights. Even more, you can expect to see carolers strolling the streets, chestnuts roasting over open fires, and even an appearance or two from Santa Claus.
It's more likely than not you'll experience a white and chilly Christmas while you're here, so grab a mug of gluhwein to warm up or, alternatively, duck into the Nutcracker Museum, with a dizzying 7,000 nutcrackers from across the ages on display.
Once you've explored the downtown, consider making the Bavarian Lodge your homebase, with an outdoor hot tub where you can take in your charming surroundings and the snow-capped Cascades towering above.
Jessica with Uprooted Traveler
Gorgeous Christmas experience in Leavenworth below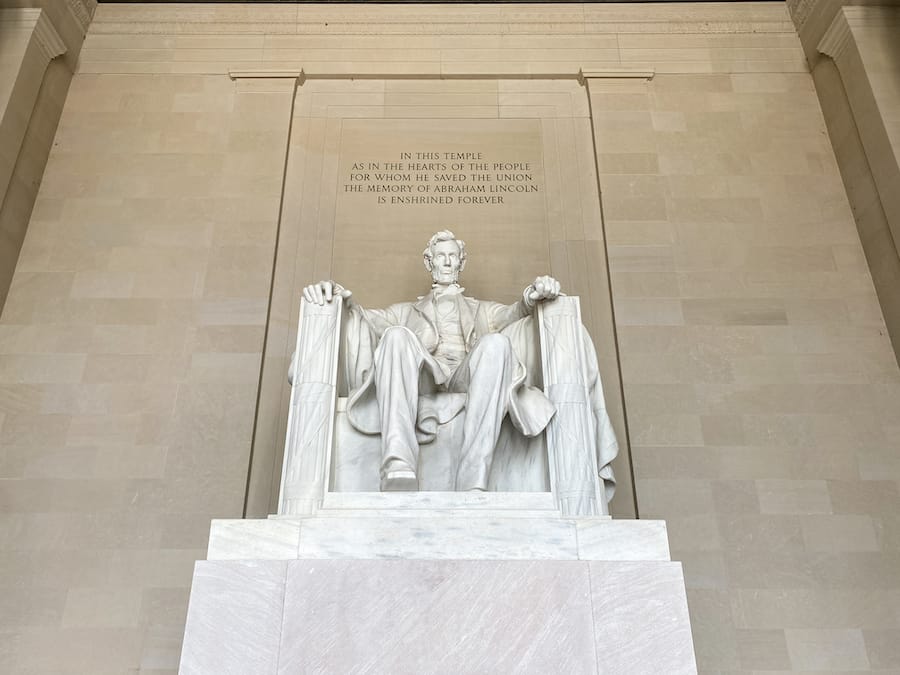 Washington DC
Washington, D.C. is an underrated but magical Christmas destination, with many exciting activities to do both indoors and out. The city really gets into the Christmas spirit with lights and decorations all over town, including a huge holiday tree on the Capitol lawn. It's a wonderful time of year to walk around and enjoy all the iconic buildings, especially if you are lucky enough to see it under a dusting of snow. Enjoy the Holiday Boat Parade when beautifully decorated boats sail down the Washington Channel, plus live music and fireworks.
December is a perfect time to go ice skating at one of D.C.'s beautiful outdoor ice rinks, like the National Gallery of Art Sculpture Garden rink, the Washington Harbour rink, or The Wharf rink. D.C. also boasts great Christmas markets where you can find wonderful gifts and delicious treats. Check out the D.C. Downtown Holiday Market or the German-style Christkindlmarkt at the Heurich House Museum. All are welcome to get into the Christmas spirit by attending a Christmas music concert at the National Cathedral, including several performances of Handel's Messiah. If you get cold from your various outdoor activities, warm up at one of the many fantastic museums D.C. offers, like the Smithsonian, the National Portrait Gallery, or the Botanic Garden. If you want to stay in the heart of D.C., Hotel Lombardy is a classy hotel on Pennsylvania Avenue with comfortable amenities and easy access to all your activities.
Megan with Virginia Travel Tips
Check out these gorgeous Christmas tips of places in DC to visit below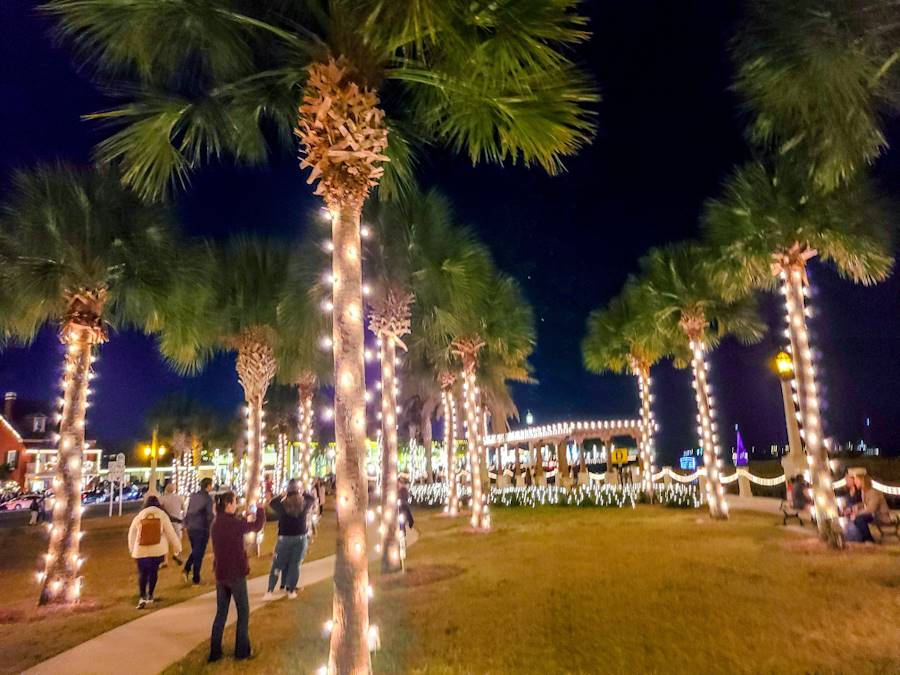 St. Augustine for Christmas
Located on Florida's "Historic Coast" is the 
small town of Saint Augustine
, known as the nation's oldest city dating back to 1565. With cobblestone streets and horse-drawn carriages, the town turns into an old-fashioned Christmas movie during the holidays. The main highlight of the Christmas season is the St. Augustine "Nights of Lights", the city's biggest festival of the year. The celebration runs from the middle of November through January and is free to attend. Over 3 million white lights cover more than 20 blocks of the historic district downtown, blanketing buildings, restaurants, shops, and bridges with over-the-top Christmas decor.
Head to the coast during the festival to see the St. Augustine lighthouse illumination, where the lighthouse, keeper's house, and the surrounding grounds are decked out with lights, garlands, ornaments, and themed Christmas trees. On the water, visitors can witness the "Regatta of Lights". This holiday tradition takes place on the second Saturday of December each year, where decorated boats in all sizes line up in the bay to compete for holiday décor awards such as most colorful and best theme.
St. Augustine is a town steeped in history with major Spanish influences. Recreating a Spanish tradition, historic Florida militia and the National Shrine at the Mission Nombre de Dios join together for "Una Noche de Navidad", A Night of Christmas. This 16th century Spanish procession commemorates the search Mary and Joseph undertook for a safe place to stay before the birth of Jesus and is held in December at the National Shrine of Our Lady of La Leche.
And what holiday celebration would be complete without a Christmas parade? Rolling through the streets of downtown, St. Augustine's annual Christmas Parade offers floats, marching bands, antique cars, horses and carriages, and -of course- ends with the arrival of Santa. The parade itself is free to attend and afterwards visitors are encouraged to stop by the Plaza de la Constitución to 
have pictures taken with Santa. The Hilton St. Augustine Historic Bayfront sits right on the water and is a great central location for guests to enjoy all that St. Augustine has to offer during the Christmas season. 
Erwin with Super Simple Salty Life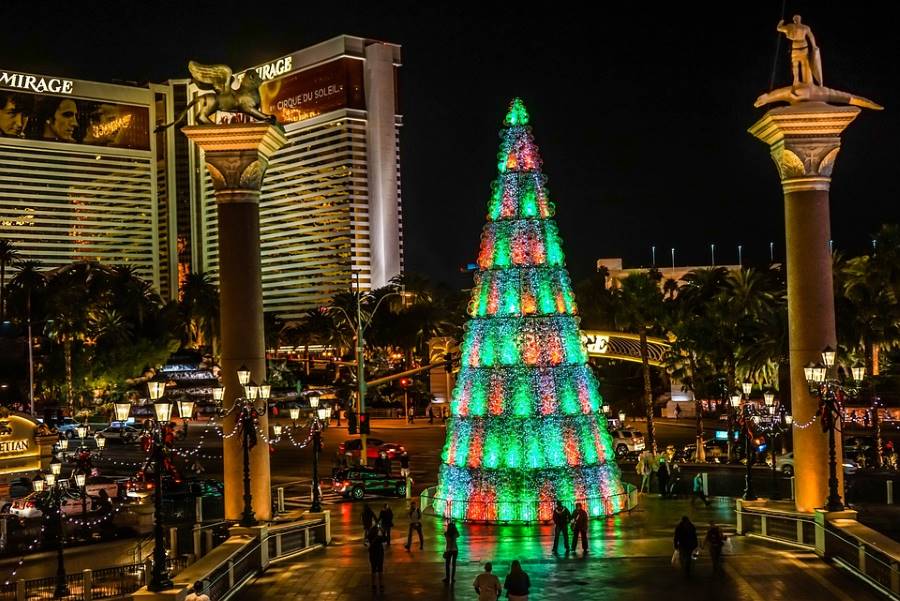 A Las Vegas Christmas
While Las Vegas may not be the first destination that comes to mind when thinking about Christmas, it actually offers a unique and exciting holiday experience. Known for its glitzy casinos and vibrant nightlife, this desert oasis also boasts festive light displays, seasonal shows, and holiday-themed attractions.
One can start off their Christmas adventure in Las Vegas by visiting the spectacular Ethel M Chocolates factory and cactus garden. This family-owned chocolate company puts on a stunning holiday lights display, with over half a million twinkling lights adorning the cacti and desert plants.
Another must-see is the Mirage Hotel's seasonal "Santa's Wonderland" exhibit, featuring photos with Santa, a toy workshop, and even real reindeer. For some outdoor fun, head to Downtown Las Vegas for the Fremont Street Experience, where you'll find live music, light shows on the massive overhead screen, and a festive holiday market.
The Bellagio also features a great Christmas exhibit in their botanical garden. You an easily pair a visit to the gardens with the famous Bellagio fountain display. You can also go ice skating right on the strip in Las Vegas in the winter.
When it comes to accommodations, there are plenty of options for all budgets. The luxurious Bellagio and Venetian hotels offer holiday-themed decor and attractions, while more budget-friendly options include the Plaza Hotel & Casino and the Golden Nugget.
So, whether you're looking for a unique twist on traditional Christmas festivities or just want to add some extra sparkle to your holiday vacation, consider spending it in Las Vegas.
Candice, CS Ginger
Check out more of these Christmas gems in Las Vegas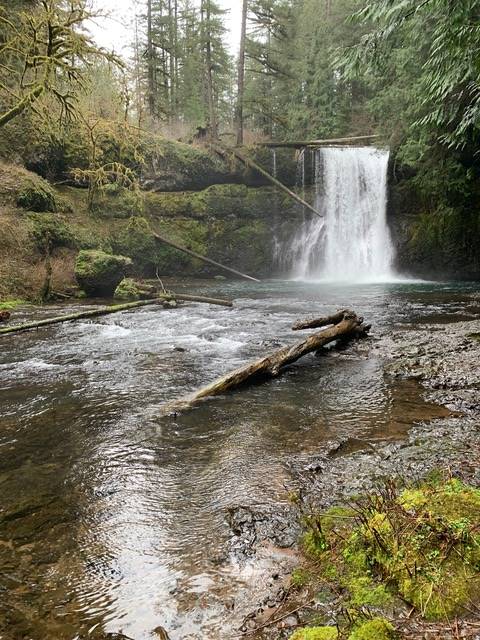 Silverton, Oregon
Silverton is the premier Christmas destination of Oregon's Willamette Valley. This charming town is the place where Oregonians go for fun. Silverton is the gateway to Silver Falls State Park, the home of the Oregon Gardens, and a culture hub of the Willamette Valley. 
Silver Falls State Park
Silver Falls State Park has gained international fame for its incredible beauty. Experience this wonder first-hand on the Trail of Ten Falls. The trail guides you through a series of incredible cascades rushing through beautiful forested hills. 
Oregon enjoys mild, wet winters. That means that the "Crown Jewel of Oregon's State Parks" is still worth visiting even at Christmas time. The Park's comfortable facilities and accommodations can make for even greater convenience and comfort. 
The Oregon Gardens
The Oregon Gardens may be the state's most loved arboretum. The botanical wonderland features beautiful spaces, ancient oaks, a fantastic children's garden, and the Gordon House by Frank Lloyd Wright. The luxurious Oregon Gardens Resort hosts the annual Silverton Christmas Market. 
Cuisine & Culture in Christmas Town
Silverton is a "best of both" kind of place. The town has a small town feel with big city culture. Silverton's location gives you the best of the Willamette Valley and the Cascade Range. You can start your day hiking and end your day wine tasting or enjoying dinner at one of the city's three breweries. Be sure to mail your list to Santa at the mailbox located in Silverton's Town Square Park. 
Brian and Jenn Warren with Dinkum Tribe Blog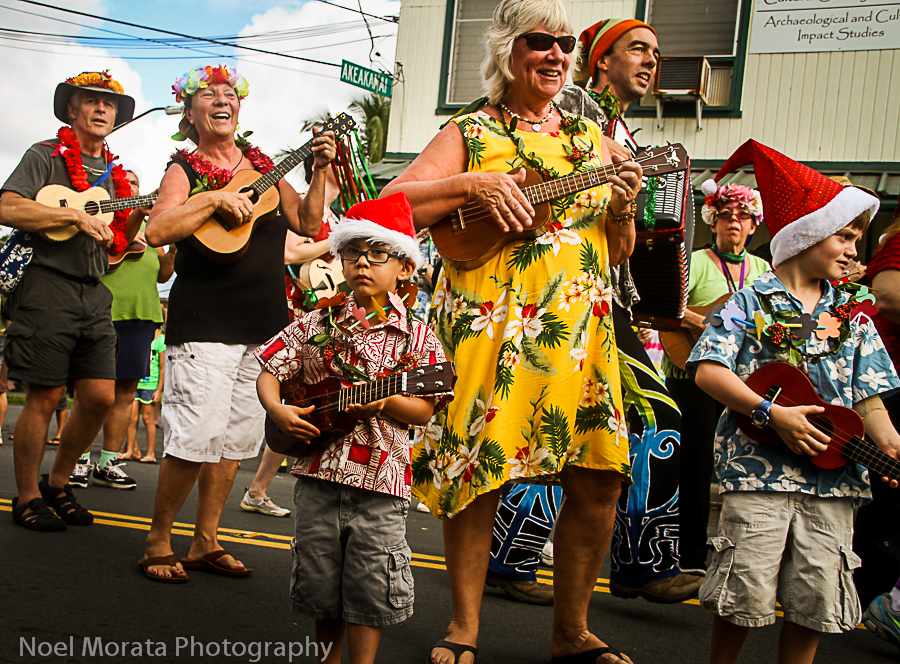 Christmas time in Hawaii
If you are looking for a warm weather destination to visit in the USA then Hawaii and visiting Honolulu is a fantastic option. Warm weather, friendly crowds and fun Christmas events and cheer here on the islands is always a popular option. Oahu and visiting Honolulu is a great destination with many Christmas offerings from Xmas parades, Xmas lights all around the city and the many resorts sharing Xmas events, fun gatherings and Xmas themed schedules like the lighting of Aloha House downtown, Christmas fairs and markets that are held in many public venues and fun events that help to usher in the holiday cheer. One of the most popular is the Mele Kalikimaka GIft Fair in Kapolei.
You can enjoy many of these events that are typically free and open for the public to enjoy or have a nominal fee depending on the organizer or tourism group or resort that is offering this as a Christmas celebration.
The large Christmas parade happens at Honolulu typically on the second weekend of the December is the Oahu Christmas Parade at Kalakaua Street in Waikiki. There is a smaller parade that also happens in Waikiki at Fort De Russy beach park closer to Christmas day.
For a fantastic stay in Waikiki for the holidays, consider staying at the Royal Hawaiian at Waikiki Beach for some winter fun and enjoying a stay right on the beach at Waikiki.
Noel with This Hawaii LIfe
Christmas in Hawaii Celebrations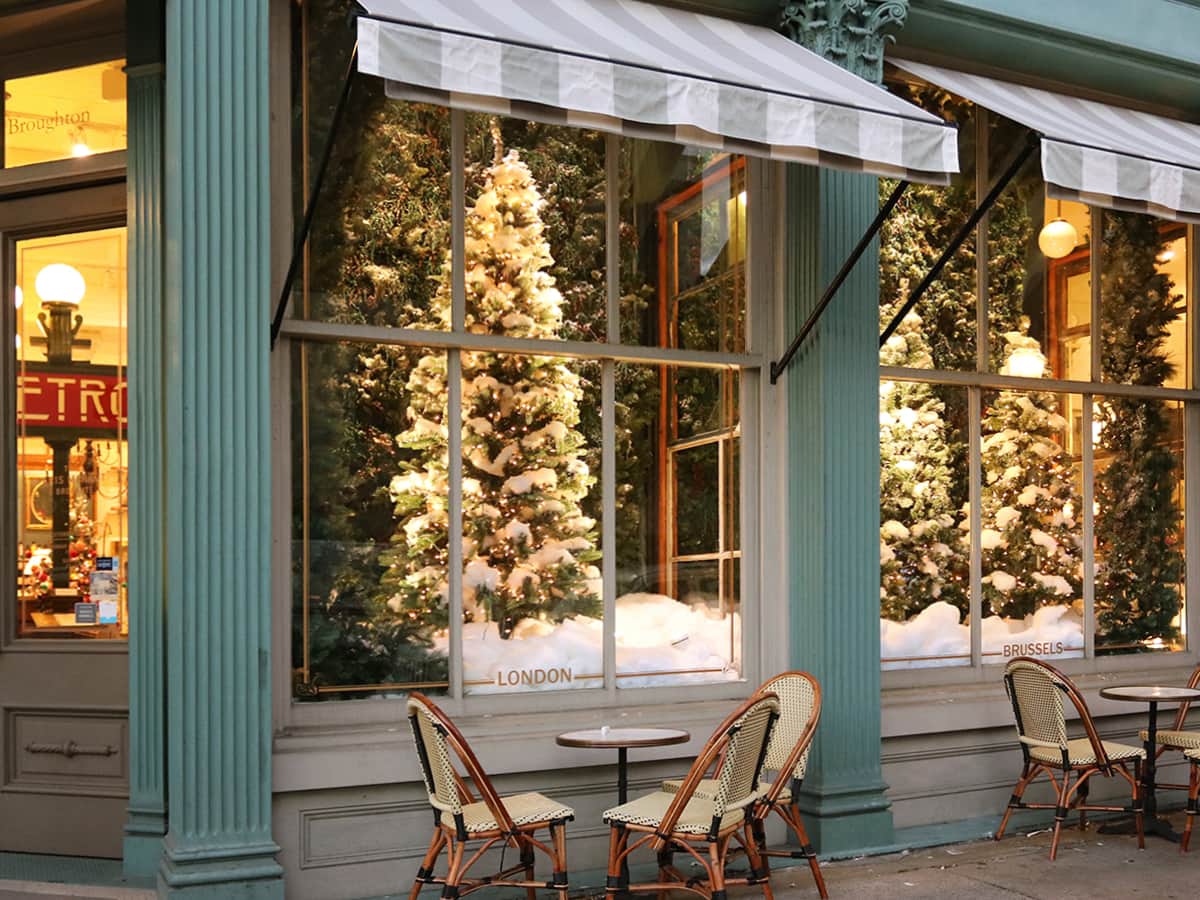 Spend Christmas in Savannah
Savannah, Georgia is known for being one of the best places to visit for Christmas in the South. The Historic District looks particularly beautiful when the squares are decorated with greenery and all the gas lanterns are wrapped in festive red ribbons.
The Cathedral Basilica of St. John the Baptist offers one of the most spectacular Christmas displays in the city. Volunteers set up an elaborate nativity scene in the sanctuary and fill the church with thousands of red poinsettias. There's not an empty pew in the building when the Savannah Philharmonic performs Handel's Messiah!
The Holiday Boat Parade is another popular event. Locals love to gather along the riverfront to see boats aglow with cheerful holiday lights. The Holiday Tour of Homes is an annual event that allows visitors to peek inside some of Savannah's most beautiful mansions while they're all decked out for the season.
Savannah's German-style Christmas Market is a unique place to shop for local souvenirs or purchase Christmas gifts, and Broughton Street is known as the city's main shopping area. The entire length of the street is draped with twinkle lights and wreaths during the holidays, and many of the stores create elaborate seasonal window displays. The official city tree is also located on Broughton Street.
I've attached a photo (sized to your specifications) that has already been compressed. If you need a caption for it, it's a seasonal window display at The Paris Market on Broughton Street. Please let me know if you have any questions.
Erin with Savannah FIrst Timer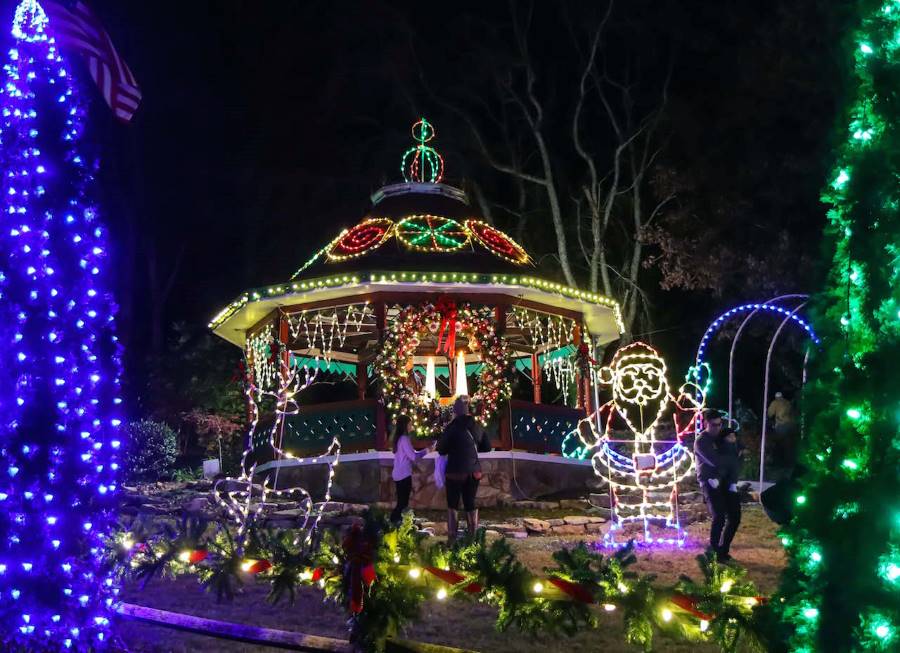 Spend a Christmas holiday in Helen, GA
Christmas

in Helen GA
officially starts with the annual Lighting of the Village ceremony on the day after Thanksgiving. Locals and visitors alike show up to hear local choirs perform before the downtown 
Helen
Christmas
lights are unveiled, and Santa and Mrs. Claus arrive to pose for free photos
in
Riverside Park.
Thanksgiving weekend is also when the Christkindl Traditional German Market opens on the Helen Square and Festhalle parking lot, offering excellent holiday shopping opportunities. The annual 
Christmas 
Parade marches through the heart of downtown
 Helen a week later
, with locals and visitors alike lining the city sidewalks to see an array of costumed characters, marching bands, and festive floats.
You can also do some holiday shopping at 
Christmas
& More and The
Christmas
Shoppe, experience a Victorian-style holiday celebration at the Hardman Farm State Historic Site, and see more Christmas lights (and take spectacular selfies) at the photogenic gazebo
in
Unicoi Hill Park.
Many people drive up from Atlanta for day trips to explore
Helen
in
December. But if you want to make a full holiday weekend of it and experience even more of the area's hiking trails, waterfalls, and unique tourist attractions, check out the unusual barrel-shaped cabins available for rent at nearby Unicoi State Park.
Built back
in
the 1970s, these retro-funky cabins were recently renovated with modern appliances, but still retain an old school charm and offer easy access to hiking trails around Unicoi Lake, along Smith Creek, and to the nearby Anna Ruby Falls.
Bret Love & Mary Gabbett of Blue Ridge Mountains Travel Guide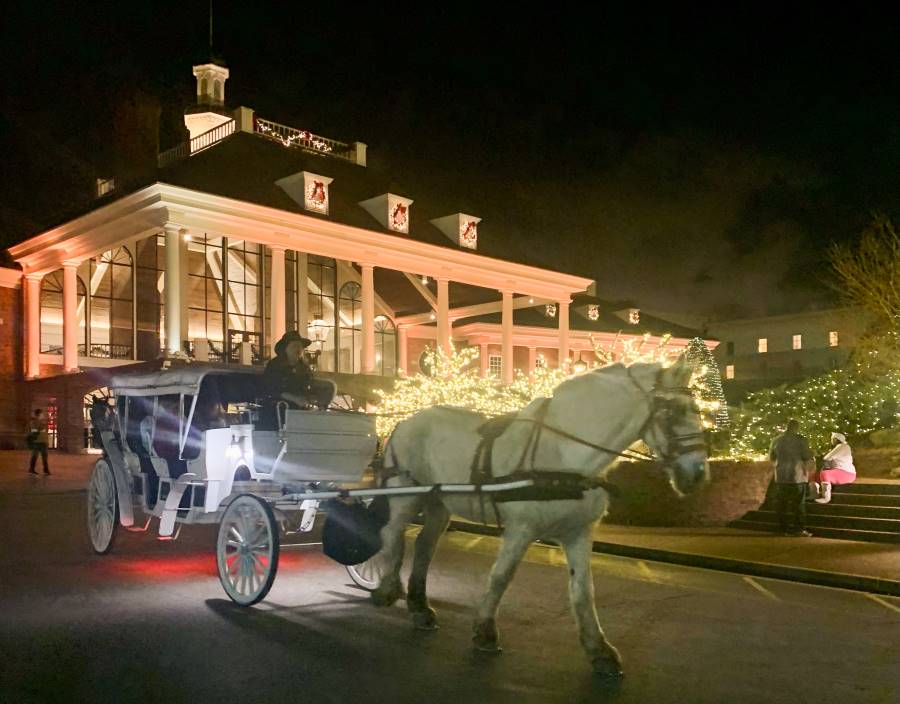 Nashville, TN
One of the best Christmas destinations in the United States is Nashville, Tennessee. Nashville is centrally located, with a great international airport that services almost 600 flights each day. This means there will be plenty of flights to choose from, and most destinations in the country are within a 3 hour flight.
For the music lovers, spend your Christmas holiday at the Grand Ole Opry or the famous Ryman Auditorium for some Christmas music shows. Both venues offer a variety of shows during the holiday season. For a super authentic experience, get tickets to a show at the Bluebird Cafe instead. It's a tiny venue that is wildly famous for hosting stars before they get famous.
The best thing to do in Nashville during Christmas is taking a visit to the Gaylord Opryland Hotel. The property is massive with two indoor atriums decorated from floor to ceiling, and the outdoor spaces have numerous holiday activities for kids and adults. Spend a few hours enjoying the activities and lights, listening to Christmas music and drinking hot cocoa.
Nashville is known for its holiday themed pop-up bars, so visit as many as you can to enjoy their intricately designed decor, and delicious themed drinks to go along with them. The themes change each year, but the popularity remains the same so make sure you make reservations in advance or get there very early! Book a room at the Bobby Hotel, which features one of the best holiday pop-up bars on the roof, complete with igloos, bonfires, spiked cocoa and an ice rink!
Recommended by Tori of Tori Pines Travels
Here's what to see in Nashville for the holidays below
Christmas destinations in Europe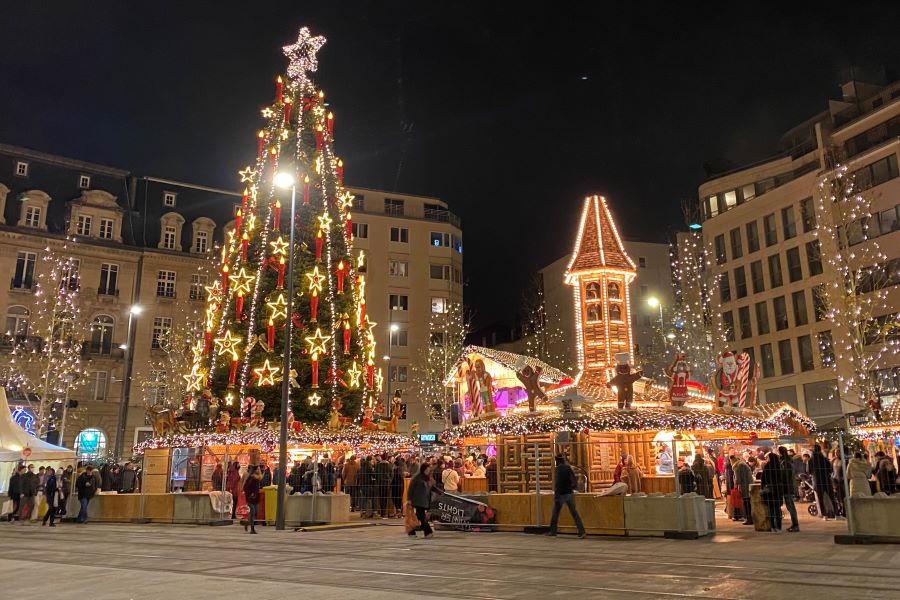 Visit Luxembourg at Christmas
Don't be fooled by the small size of Luxembourg: this little country goes big at Christmas!
The Luxembourg Christmas Markets, are excellent, dotted around Luxembourg City like sparkly pockets of light. The flagship market is Wantermaart at Place De La Constitution, which has a fairground ride and lots of great gifting and eating options. There's also an ice rink at Kinnekswiss Park, a kid's event at Cour De L'Ancien Athenee and adult-friendly locations (read plenty of vin chaud on tap) at Lëtzebuerger Chrëschtmaart at Place d'Armes and Niklosmaart at Place De Paris. In addition to markets, there are lots of Christmas illuminations all over the city. And if you want to experience a few of the festive sites on the same evening, that's made easier by all public transport in Luxembourg being free!
For comforting winter food, there's plenty available in the markets, including sausages, cheeseburgers, crepes, chips, and Gromperekichelcher – delicious potato pancakes. If you prefer to eat out, try some Luxembourgish cuisine, such as kniddelen, dumplings served with a buttery sauce and bacon, or salmon. To accompany dinner, how about a glass of Crémant de Luxembourg, the only Crémant available outside of France.
While the markets will keep you feeling cheery at night, in the daytime, explore the historic city, with its fairytale-like Grund district that lies along the Alzette river, overlooked by Bock fortress, which dates back a thousand years.
And after all the festive fun, stay somewhere comfortable but conveniently located, such as the Park Inn at Radisson, between the city centre and the station, and near the Place De Paris Christmas Market.
By Martha from MayCauseWanderlust.com
Here's how they celebrate Christmas in Luxembourg City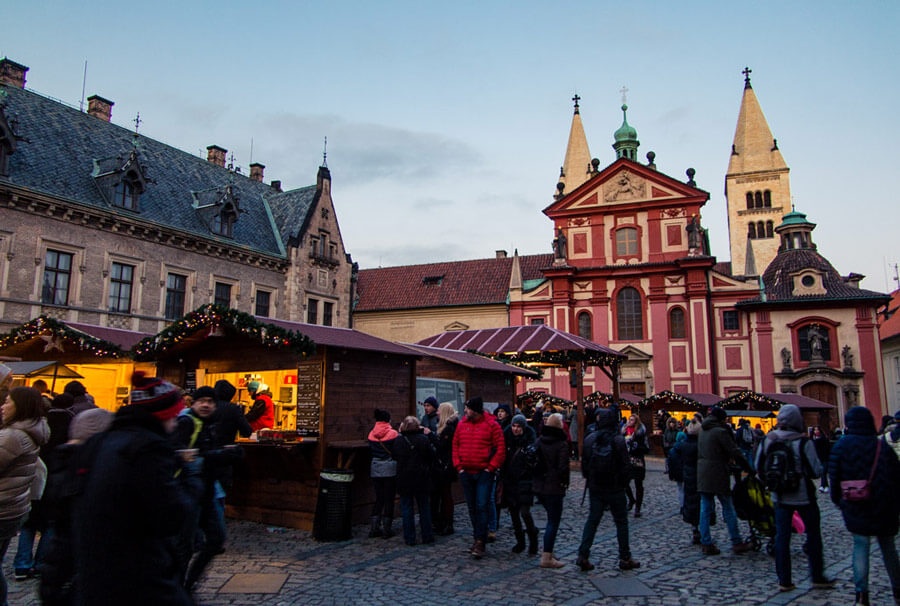 Prague at Christmas time
Prague's Christmas markets have become known far and wide because there's hardly anything that could make Prague more magical than all the warm Christmas lights and festive atmosphere.
To experience the vibe fully, check out the most special Christmas markets – the oldest and the biggest one at the Old Town Square, the most intimate one at Prague Castle, and a cheery neighborhood market at the Náměstí míru Square.
If you're in Prague on the night of Dec 5th, you're likely to come across strange characters roaming the streets. They're angels, devils, and St. Nicholas. On that day, the country celebrates St. Nicholas Day, which is a special day for children. You may witness a few performances around town where kids sing songs or recite poems and then receive a package with snacks and sweets from St. Nicholas.
Those who enjoy ice-skating can do so right in Prague's Old Town – locate the Ovocný trh Square, put on some rented skates, and on to the ice you go!
Prague's parks are beyond beautiful when everything's covered with snow. If you stroll through the Riegrovy sady park, you'll see kids sledding down the main hill, with the view of Prague Castle in the distance. More adventurous souls can simply grab a plastic bag, sit on it, and join the children going downhill. 🙂
When visiting Prague in winter, consider staying at the Design Hotel Neruda just a stone's throw from Prague Castle and within a short walking distance to the Old Town.
Veronica with Travel Geekery
Magical Prague in the Christmas holiday season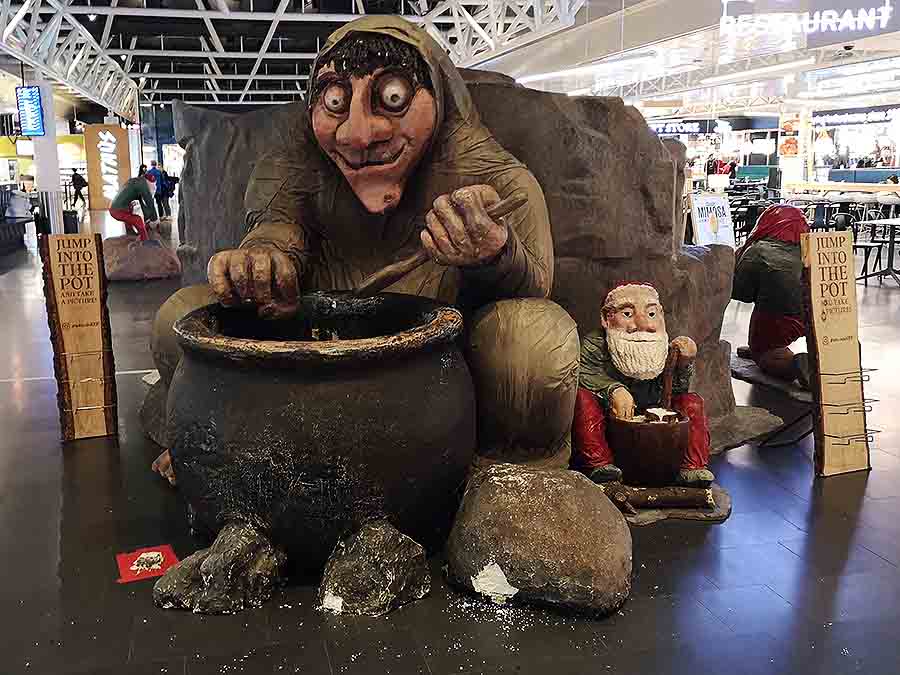 Reykjavik for Christmas
If you are looking for a quirky and unusual winter destination where instead of Christmas lights you can marvel at the Northern Lights while ice skating in Ingólfstorg, then visit Reykjavik. Unique Icelandic traditions where Christmas lasts 26 days and the city is visited by figures of mountain creatures, the Yule Cat, and 13 Santa Clauses will make you fall in love with this location.
Jump into the Grýla's pot for a fun picture or join one of the Christmas concerts in Harpa Concert Hall. With a long tradition of over 40 years of performances, The Reykjavík Chamber Orchestra will help you to celebrate this festive season inside the award-winning architectural masterpiece in Iceland.
If you want to witness amazing holiday decorations wander on the streets of Reyjkavik and admire Hallgrmskirkja Church covered in white snow. Get into the holiday spirit at Hlemmur Mathöll Food Hall or explore Christmas Viking Village in Hafnarfjörður which is only 20-minute drive from Reykjavik.
Stay in The Reykjavik EDITION – a luxurious hotel near Harpa Concert Hall and the famous Sun Voyager sculpture. If you are looking for a bit cheaper option in an incredible location Loft – HI Hostel & Bar with a roof terrace where you can admire panoramic views of the city will offer you an unforgettable Christmas break in Europe.
By Paulina from the UK Every Day
So what's Christmas like in Reykjavik?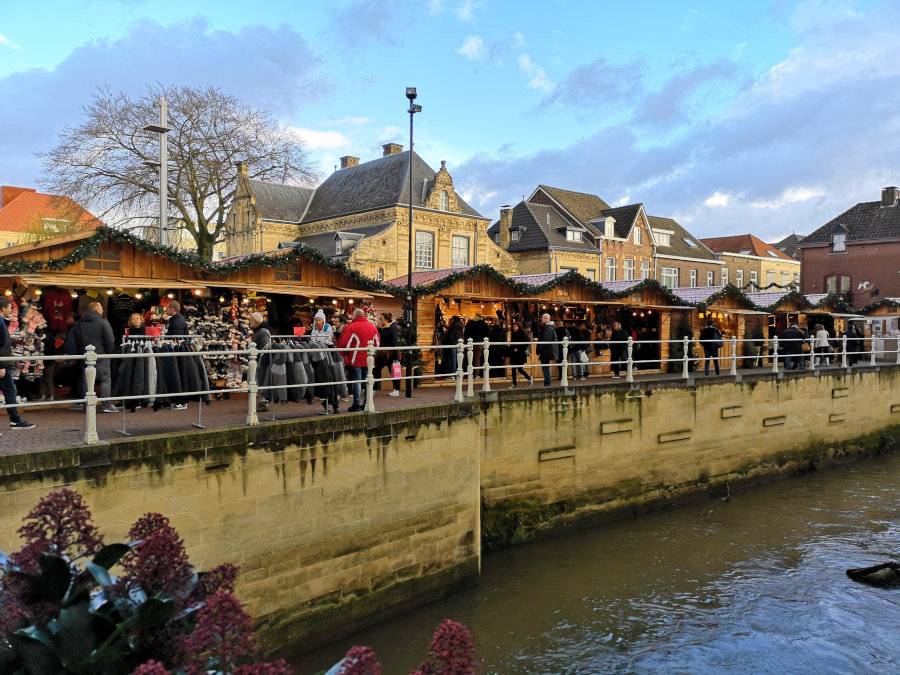 Valkenburg, The Netherlands
The city of Valkenburg is a very unique and underrated Christmas destination, probably due to its location at the bottom of the Netherlands. However, if you find yourself in or near the Netherlands between the middle of November and the beginning of January then you should definitely make it a point to visit the Dutch city of Christmas!
During this festive season, Valkenburg plays host to a wide variety of Christmas events and attractions, the most famous of which are the Christmas markets held inside old marl quarries. These man-made caves are popular with visitors throughout the year as they contain old carvings and charcoal drawings, plus some of them have been recreated to show the Catacombs of Rome or a coal mine museum. Two of the Valkenburg Christmas markets are held within these caves, and shopping for Christmas gifts inside Roman-era caves is one of the most unique Christmas experiences you can have. There are even food stalls and mini bar areas within the caves for a refreshment break.
In another one of the caves are miniatures of places around the Netherlands, which get a festive update during Christmas. Then there's another cave which hosts a sand sculpture display with a different theme each year and a more traditional outdoor Christmas market in the town square. On top of all that, there's even a Christmas parade held twice a week from the end of November until the 29th of December and a variety of Christmas attractions for children.
The city of Valkenburg is located in the south of the Netherlands, it can be reached by train from Amsterdam in just under three hours. It's very close to Maastricht, so a weekend trip to explore both is ideal. Make sure you order tickets for any of the Christmas attractions online so you can avoid the queues and wear comfortable shoes, as the floor in the caves is quite uneven. They are, however, accessible for wheelchairs.
If you are able to splurge the ideal place to stay while in Valkenburg is Thermae 2000, an incredibly luxurious spa, wellness centre and hotel with amazing swimming pools. It's also only a short walk into the city centre. For more budget-friendly accommodation, Boutique Hoel Scheepers is beautiful and some rooms contain a spa bath.
Read more about Christmas in Valkenburg on Tassie Devil Abroad!
Celebrate Christmas town in Valkenburg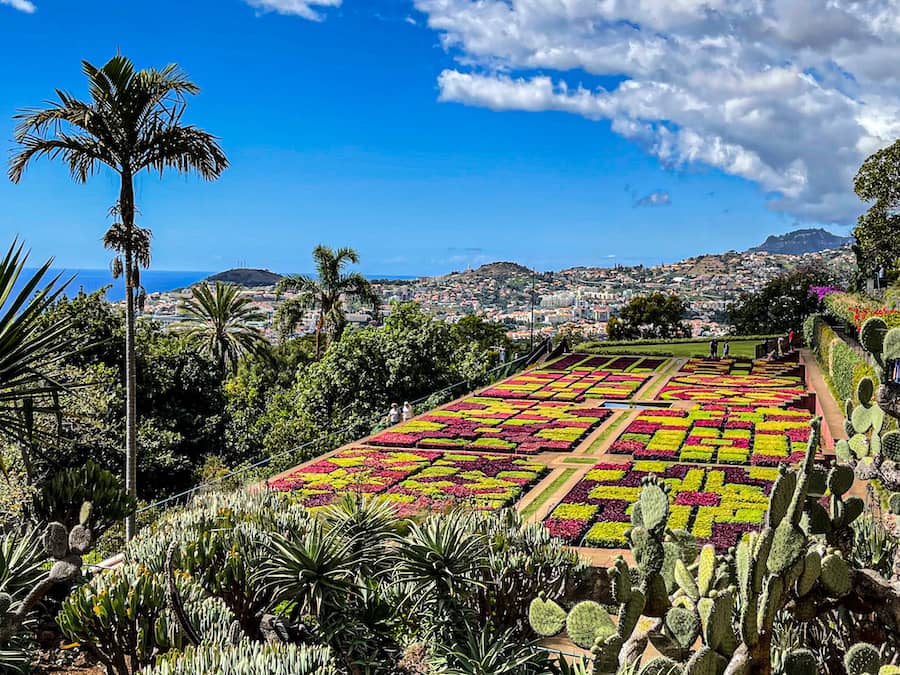 Christmas at Madeira, Portugal
Madeira, Portugal is a bucket list tropical Christmas getaway. This stunning island is located in the Atlantic Ocean, just off the coast of Africa, and it's known for its mild climate and beautiful scenery.
During the Christmas season, Funchal, the island's capital, comes alive with festive lights and live performances. Avenida Arriaga is decked out with nativity scenes, holiday lights, a Christmas Market showcasing the island's handmade crafts, wine, and foods like the famous Madeira cake, bolo de mel along with many daily performances.
As Christmas draws near, don't miss the night market on December 23 or Midnight Mass at Sé Cathedral on Christmas Eve. And on New Year's Eve, the party is top notch with celebrations en masse and a spectacular firework display over Funchal Harbor.
In addition to all the festivities, there are plenty of activities to enjoy during your stay from levada hikes to sunrise at Pico do Arieiro. Be sure to take the cable car to the Madeira Botanical Garden for amazing views of Funchal. Or, just hang out in some of Madeira's famous Portugal beach towns like Seixal where you can swim in a natural volcanic rock pool.
For the best accommodation, stay at the Three House Hotel. It's centrally located in Funchal with 360 degree views from the rooftop pool and one of the best cocktail bars on the island.
So if you're looking for an unforgettable Christmas destination, be sure to add Madeira to your list.
Recommended by Jenifer Byington from The Evolista
Here's how they celebrate Christmas in Madeira, Portugal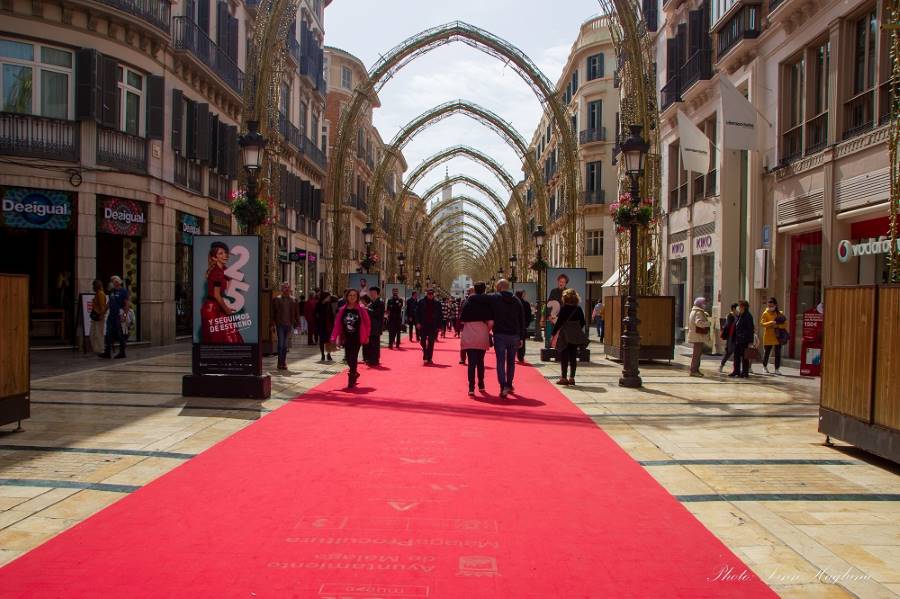 Malaga in Winter
One of the most unique Christmas destinations you can find is Malaga in southern Spain.
Malaga in winter
 is one of the warmest places to celebrate Christmas in Europe mainland so with the sun shining, you can easily spend Christmas on the beach. But there are a lot of other reasons to celebrate Christmas in Malaga. The Christmas light show in Calle Larios is famous all across Spain and the Christmas shopping in the same street is epic. Munch on grilled chestnuts as you walk through cobblestoned streets lit up by colorful Christmas lights on the search for a tapas bar to have a drink in the sun.
While most of Europe celebrates Christmas on the 24th and the 25th of December, Spain does things a little differently. The present exchange and big celebration happen on the 6th of January on the Three King's Day (Reyes), when you can witness large processions through the streets with floats featuring the Three Kings and other characters, including fairy tale characters that will throw candy to eager kids in the crowds. Throughout the whole month of December and through to Reyes you can get the famous Roscon de Reyes cake in most cafés. The round cake is jam-packed with cream and colorful dried fruit and goes perfectly with a coffee, especially if you come by on a rainy day. Stay centrally at the excellent Soho Boutique Equitativa hotel to have all the top attractions within walking distance.
Contributed by Linn Haglund of Amused by Andalucia
It's all about the Christmas lights in Malaga, Spain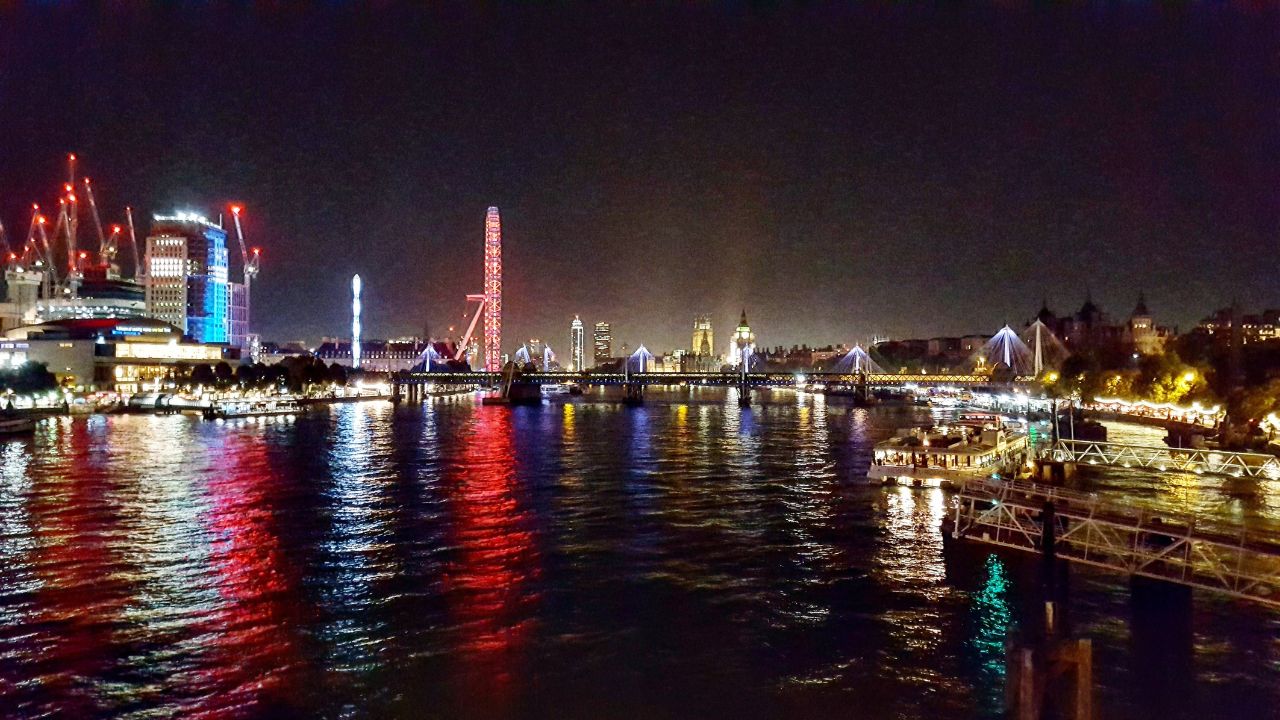 London for the Christmas Holidays
London is magical at any time of year, but at Christmas, it takes on a whole new level of wonder. There are so many festive things to do and see, and the city really comes alive.
There are the traditional London Christmas activities, like visiting Hyde Park Winter Wonderland with its bright lights, Christmas market, and fun fairground rides (perfect for families), or heading to Oxford Street to admire over 1700 Christmas light decorations adorning the bustling shopping parade.
But there are also some fantastic less well-known Christmas attractions that help put London on the map for a must-visit winter destination. The Kew Gardens Christmas Lights show is truly astounding, with a trail of over one million lights that lead you through these spectacular botanical gardens.
You can also visit the famous Royal Opera House to see the world-famous Nutcracker. It's the perfect way to experience some of London's finest culture and get into the festive mood. Or if theatre isn't your thing, then head to the Luna Drive In winter cinema to watch a Christmas movie from the comfort of your car. Bring a blanket or two and cosy up for the perfect Christmas date night.
For a true Christmas treat, stay central in the famous Claridge's 5-star luxury hotel in the heart of Mayfair. Even if you aren't staying here, make sure you visit. The foyer is a Christmas spectacle in itself! For something more budget-friendly try one of the many apartments in the Covent Garden area, close to all the action and Christmas festivities.
As you can see, winter in England can be really special, and London in particular is the perfect place
for a Christmas-time getaway. With so much to do here, you'll wish it wasn't Christmas just once a year!
Emily with Two Get Lost
Christmas in London is really spectacular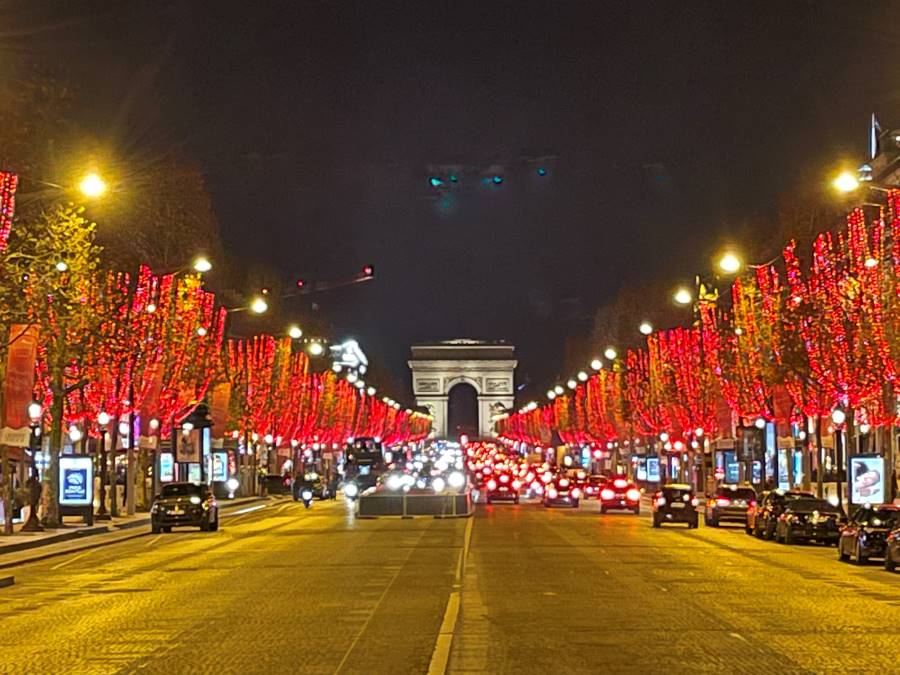 Christmas in Paris
If you're looking for the perfect European Christmas getaway, look no further than Paris. Commonly known as the city of love, Paris outdoes itself during Christmas.
Granted it is beautiful all year round, but there is something about Paris in winter, especially from the end of November to the end of
December that makes it extraordinary.
The streets are dazzling with Christmas lights, parks are covered in Christmas markets, and everything is engulfed in the Christmas vibe. Paris might not have the white Christmas feel since it rarely snows in December, but the wide range of activities it provides is enough to make it worth visiting.
You can spend your time strolling its streets to take in the beauty of the Christmas lights, particularly along the Champs-Élysées, visit the various
Christmas markets that pop up in several parks and squares (the most famous being Jardin des Tuileries), or watch animated characters and decorations at the window display of the city's biggest department stores. Regardless of what you choose to do, Paris will prove to you that it is a true fairytale during the Christmas season.
However, if you want to seek refuge and take a break from the cold, head to some of the city's churches to watch nativity scenes or simply warm up with Vin Chaud (mulled wine) in a cafe.
As for where to stay in Paris during Christmas time, the 8th arrondissement is the best area as you'll be right next to the department stores, the famous streets that light up, and the subway is nearby should you want to connect to other parts of the city. There are many hotels in the area, but you can't go wrong with Best Western Premier Kapital Opéra.
By Esther from Dreams in Paris
Christmas in Paris is definitely festive!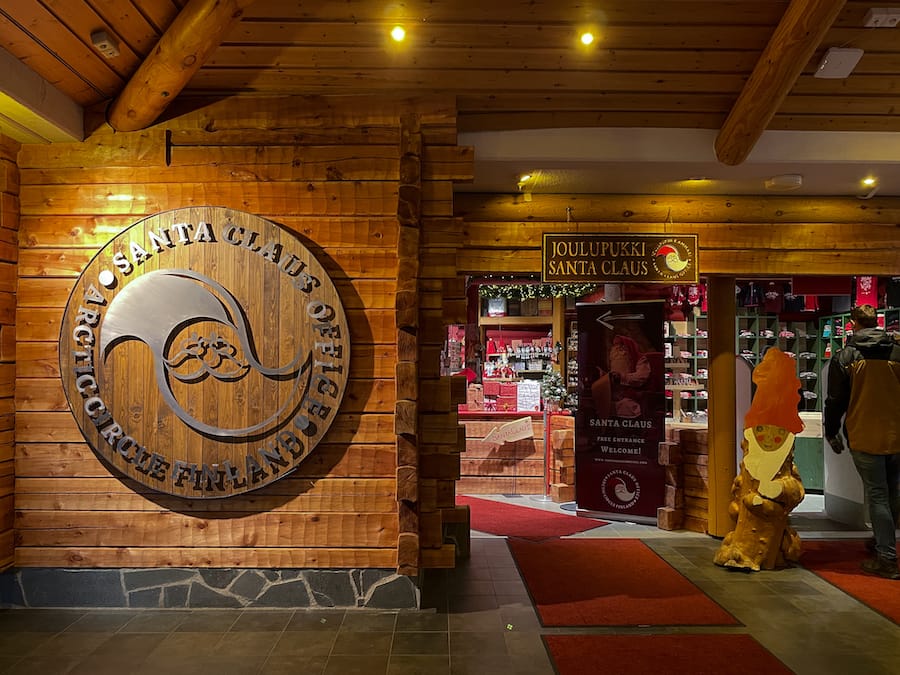 Rovaniemi, Finland
What better place to spend Christmas than in the town of jolly old St. Nicolas himself? Rovaniemi is a fantastic place for a snowy Christmas, with ice skating, dog sledding, and a visit to Santa Claus Village just outside of town. At the village, there are restaurants, shops, and activities for the whole family. You can send a letter at the Santa Claus Village official post office, as well as take a photo with Santa himself. Back in Rovaniemi, bundle up and head out for some exciting outdoor activities, such as snowshoeing, cross-country skiing, ice fishing, or ice skating at Lordi's Square. Another unique
thing to do in winter in Rovaniemi
 that you don't get to do many other places is taking a traditional dog-sled ride! You can drive your own team or sit as a passenger, with hot drinks and photos with the huskies afterwards.
If you get tired of being outside, take a wander around the superb Arktikum museum, which showcases the history and science of Finnish Lapland. Another great way to warm up is to try a Finnish sauna! Lastly, don't miss out on a tour to chase the Northern Lights. A guided tour is a great way to go to the best spots and get tips on how to photograph this amazing phenomenon. To make the most of your chances of seeing the lights, consider booking a glass-domed igloo at
Apukka Resort
, where you can enjoy the mesmerizing night sky from the comfort of your own bed.
Megan with Megan Starr.com
Santa Clause Village is a must visit here in Rovaniemi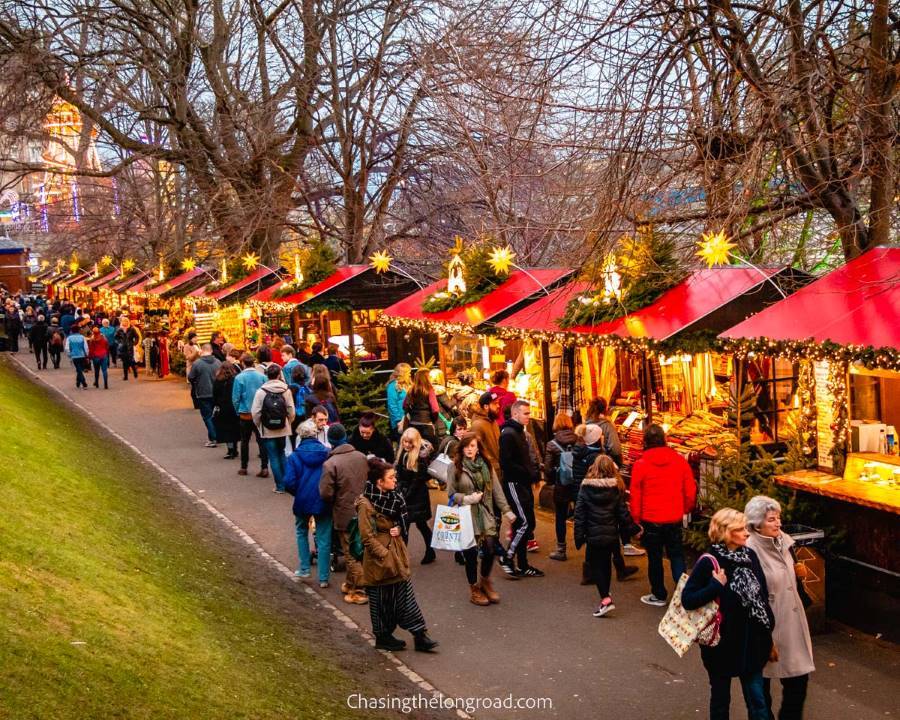 Christmas in Edingburgh
Magical at any time of the year, the Scottish capital city of Edinburgh looks particularly special during the festive winter month. With its stunning medieval architecture, narrow cobbled streets, and a castle perched over an extinct volcano – it is hard to beat the charm of this city.
In December, the Christmas spirit takes over, and there are plenty of festive and cultural things to do in Edinburgh to make you fall in love with this medieval city. You can find Edinburgh's Christmas market in the Princes Street Gardens at the heart of the city centre.
There is an array of beautifully decorated chalets surrounded by market stalls and fairy lights, selling everything, from traditional Christmas foods like German Sausages, potato skewers, hot mulled wine, and chimney cake to classic Christmas items like wooden nutcrackers, ornaments, and candles.
Put on skates and enjoy the Alpine ice rink. Younger visitors would love the Christmas Tree Maze, Santa's Grotto and Nativity Carol Concert. You can take part in many fun activities, like taking a ride on the gigantic Big Wheel and the Star Flyer to admire a stunning view over the city skyline. Kids will enjoy riding Victorian carousels. You can also attend Christmas-special events at Edinburgh Castle and the Royal Botanic Garden.
 If you are looking for a central location to stay in Edinburgh, The Rutland Hotel and Apartments would be an excellent choice. You would get a superb view of the castle, and it's very close to the Christmas markets.
Moumita with Chasing the Long Road
Edinburgh celebrates Christmas below

Vienna, Austria
Mix the long-standing history and baroque architecture in Vienna with the magic of Christmas, and the city really comes alive for the holidays. With over 20 Christmas markets around the city, it's hard not to be immersed in the Christmas spirit when visiting Vienna in December (https://thosejohnsonboys.com/3-days-in-vienna-in-december-with-kids/).
While you'll come across several Christmas celebrations when you're making your way through Vienna, make sure to visit the Christkindlmarkt at Rathausplatz. Here you'll find plenty of vendor booths, as well as children's rides and an ice-skating rink that looks like a lazy river making its way through the market. This market is so big that it's worth visiting at least twice during your trip. Once during the day with fewer crowds and once at night when the market is lit up with Christmas lights.
You'll also want to make your way over to Stephansplatz.  Entry to the main area of St. Stephan's Cathedral is free. Outside the cathedral, you'll find another Christmas market, complete with a huge Christmas tree.  Make sure to enjoy the popular pastry, trdelník, while you're there.
Staying at the Vienna Marriott Hotel will put you just a short walk away from all the main attractions. There is also a tram stop located right outside of the hotel, making it easy to jump on public transportation.
Christmas in Vienna is truly magical. You don't want to miss it!
Recommended by Jenn from ThoseJohnsonBoys.com
Here's how they celebrate Christmas in Vienna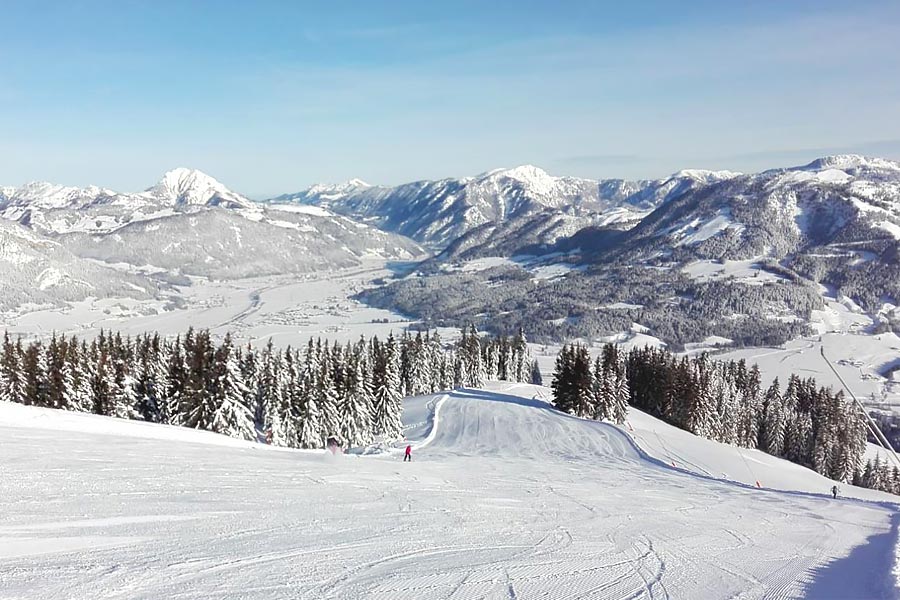 Tyrol holidays
Tyrol is a famous winter sports alpine region in Austria. It is also known for its traditions and rich culture. The advent period before Christmas is filled with special Christmas related events which alpine culture loving folks can take part in. Christmas markets are common in most villages and towns across the regions and are usually held on Fridays.
The most spectacular celebrations connected to Christmas are the Krampus and Saint Nikolaus parades held in every village on the 5th or 6th December. Krampus are scary and savage-looking creatures wearing carved wooden masks, fur and large bells. They come to take naughty children, while Saint Nikolaus, dressed in red, accompanies them to bring oranges, peanuts, and chocolates to well-behaved kids. Soon after begins the time of the Anklöpfler. Three boys or men, walk from house to house dressed as shepherds every Thursday to knock on the doors, hence the name Anklöpfler. They tell a rhyme and sing some songs to herald the Christmas message, and they come to hotels, so travelers can see them too.
Locals celebrate Christmas on the 24th in the later afternoon, early evening hours. A bell is rung in a room of the house, and the kids run to this room and find a few humble gifts under the Christmas tree. The Christkindl, called the Christ child, brings more chocolate and goodies for all those good kids and grown-ups. Innsbruck, Zillertal, Kitzbühel area, Windschönau, Alpbachtal and Arlberg are some of the best areas to stay to experience all these regional customs and to discover more things to do in Tyrol.
Submitted by Paul D'Souza from Paulmarina or Paulmarina.com.
Christmas in Unique places around the world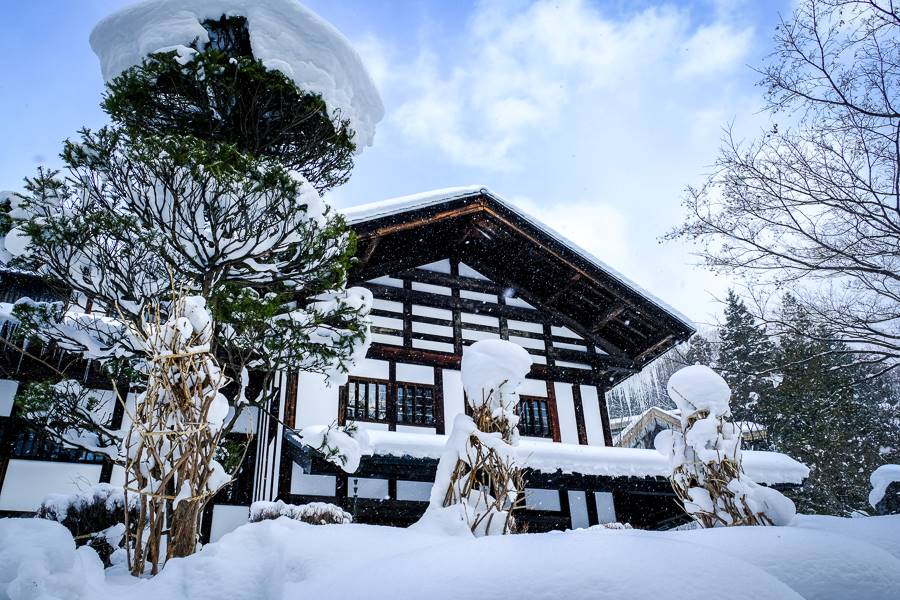 Kyoto, Japan
The city of Kyoto is Japan's ancient capital, and it has many of the country's most famous shrines, temples, and other historic sights (more than 2,000 historic buildings in total). A visit to this city is definitely one of the best things to do in Japan!
During the Christmas season, Kyoto is a great place to visit. There are illumination shows and decorations at the historic sights for Christmas, and the biggest event of all is probably the ROHM Illumination event, where the trees and streets of Kyoto are lit up with almost 900,000 LED light bulbs.
At this time, even Kyoto's main train station is decorated with a light show, Christmas carols, and a giant Christmas tree. Snow is somewhat common for this part of Japan in the winter months (including December), but the snowfall usually isn't very heavy and doesn't stick around too long, so it shouldn't mess with travel plans too much.
A great place to stay in Kyoto is the Royal Park Hotel, which is located near two different stations (Kyoto Shiyakusho-mae Subway Station and Sanjo Keihan). This hotel is only a 15 minute walk from the Gion area and many of Kyoto's best sights and activities!
Contributed by David & Intan of The World Travel Guy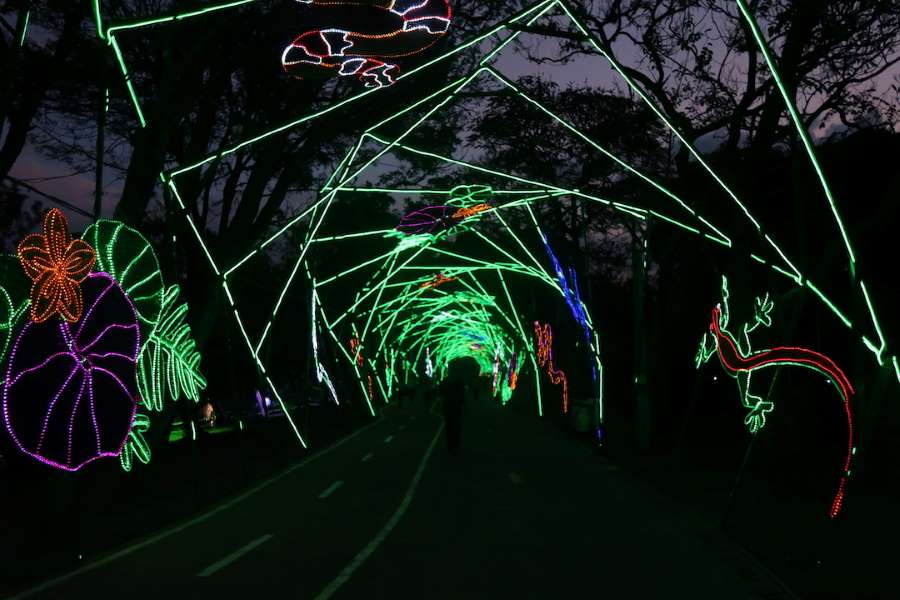 Medellin, Columbia
Medellin in Colombia is known as one of the best Christmas destinations and more specifically for its extravagant light show which attracts thousands of people from all over the globe. It is said that the Paisas, who are people from the Antioquia region of Colombia, love to celebrate with decorative objects. This light show named 'Los alumbrados'  meaning 'the lights' in English, is the perfect expression of that. This is a free show that represents the start of the festive season in Medellin and can be viewed from more than 200 parks scattered around the city. This event is not only popular with locals but with international travelers who also visit to see things such as the Botero museum, El Castillo museum and take trips to the nearby town of Guatape. The best place to stay in Medellin is the El Poblado neighborhood and places such as the
Click Clack Hotel
are the perfect base since you can easily get to Parque Norte which is where the main light display is usually held. Along with the city's almost perfect climate, you have the Novenas, a religious calendar event that spans from the 16th to the 24th of December.
So when spending
Christmas in Colombia
 whether it be in Medellin or one of the surrounding towns, you can expect a moderate 75 degrees. Also, with the light show's ever-growing illuminations, the show gets bigger and better each year. In fact, back in 2012, National Geographic noted Medellin as one of the best places to view holiday lights in the world, so it is easy to see why this is one of the best Christmas destinations to visit, just be sure to book your stay early in advance to avoid disappointment."
By Daniel James from Layer Culture
Pin and Save this for later

Conclusion to Christmas travel around the world
Thanks for visiting today and checking out this post on best places to spend Christmas in the Americas. I hope you are inspired to plan a visit and enjoy these wonderful attractions. If you enjoyed the images and post, could you please share it with any of the social media buttons located around the post.
If you like what you see, come and check out my other social media channels for more updates, including Instagram, Pinterest and Twitter
Some links in this article on best places to spend Christmas in the USA are affiliates which provide a small commission to support this site at no extra cost to you.
Thank you for reading, and happy travels
Disclosure – some of the links above are to affiliate sites that are either reviews or recommendations if you book helps to keep our site running at no additional cost to you. We appreciate your supporting our website meanwhile.