Popular Places and attractions to visit in Delhi, India
Delhi or "Dehli" or "Dilli" in many Indian languages, is a city of contrasts. One of the greenest capitals anywhere, it is home to many heritage monuments and museums and oozes history every few kilometres. Simultaneously, it is the location for newly built world-class stadiums, shopping areas and commercial buildings. Delhi has a variety of opportunities in store for travelers with all kinds of budgets and interests. It is also a shopper's paradise what with the best of India's rich handicrafts repertoire being available here. Further, be it street food or bespoke fine dining restaurants, Delhi also bears the sobriquet – "Food Capital of India".
Given the variety, Delhi tends to be a little overwhelming at first not only to foreign tourists but Indians from other parts of the country. Hence, here is a heads-up on things to do in Delhi. Hope you enjoy reading the piece and are motivated to make a trip.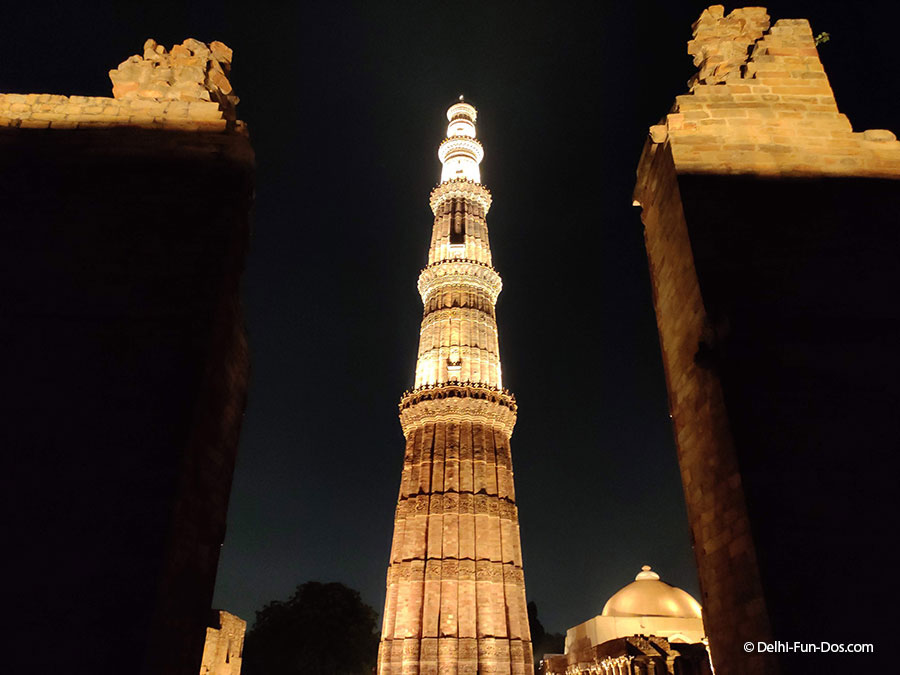 Travelling to Delhi – Fast Facts to Know Before You Go
Currency: Indian Rupees
Languages: Hindi, Urdu. English is moderately understood.
Population: 19 million approximately
Drinking water: Bottled water
Famous Delhi cuisine: Parathas, Chaat, Biryani, Butter Chicken, Naan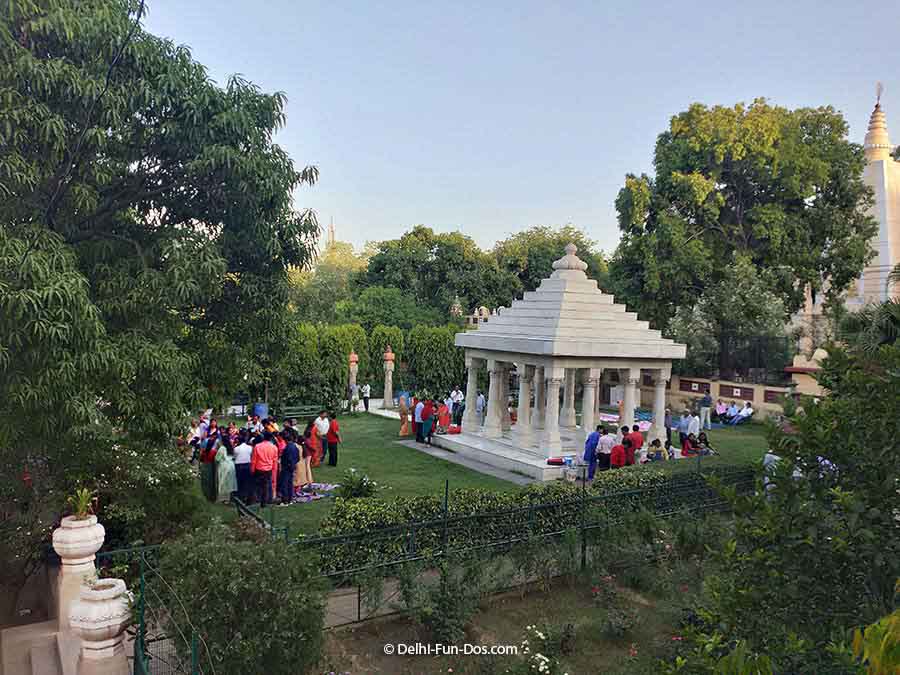 Best time to visit Delhi
As mentioned above, Delhi is a city of contrasts and that includes the weather. Summers are hot here and winters can at times be harshly cold. The best season to visit Delhi would be spring, autumn and early winter. The months February to March and then October to the middle of December are most suitable.
Where to stay in Delhi
There are countless accommodation options in Delhi suiting every traveller's budget as well as comfort requirements. From luxury hotels to simple homestays and even couch-surfing, you can take your pick. If you are staying at someone's home, do have a reliable reference beforehand.
If you are a sucker for old world charm, you can stay at a hotel in Chandni Chowk or the Jama Masjid area. If you prefer a more modern look of the city, South Delhi areas such as Lodhi Road or INA Market would be ideal. Try to get a place near a metro rail station so that you are connected with the spots.
The one place we are not very fond of is Paharganj. This area is very popular with tourists for cheap accommodation. Not to sound overly pessimistic, this place looks crowded and dinghy and not very welcoming.
Things to do in Delhi
Morning Walk at Lodi Gardens
Begin your day bright and early at Lodi Gardens on Lodhi Road. These are sprawling lawns in acres punctuated with remains of Mughal architecture from the 15th century. It is therefore an unusual combination of verdant landscape and intriguing history.
Lotus Temple in Delhi
Lotus Temple is a sprawling worship center for the Bahai faith. The shrine is shaped like a lotus flower with the petals opening upwards. Water bodies around the structure reinstate the idea. The Lotus Temple is a fantastic example of modern architecture and one of the very few lotus-shaped temples of the world. Incidentally, the lotus is the national flower of India.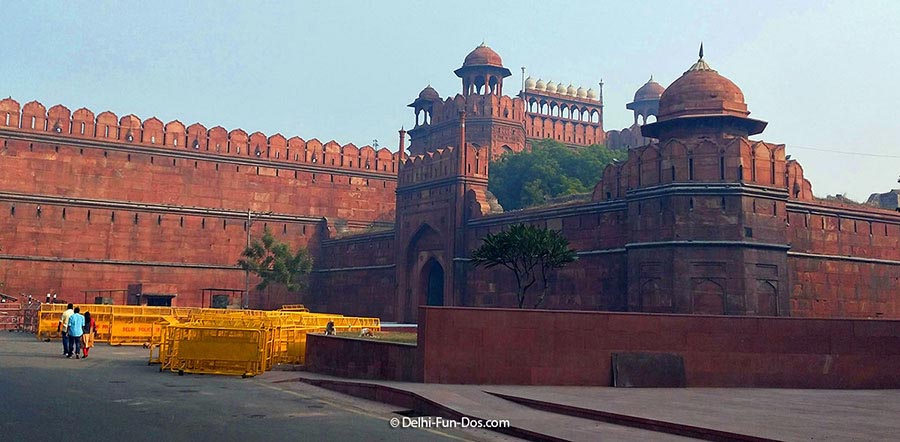 Red Fort in Delhi
A visit to Delhi is incomplete without visiting Old Delhi which is more on the northern side and the metro is the most efficient way to cover this journey. The most famous sight here is the Lal Qila or Red Fort. The Red Fort by Mughals stands testimony to life in Delhi in the period 1600 – 1800 replete with celebrations, festivals, music, dance, art, and food. The Red Fort is a UNESCO World Heritage Site and is among the most iconic monuments of the city.
Chandni Chowk
If you are at Red Fort, you are near one of Delhi's oldest markets and business hub – Chandni Chowk. This area has a distinct flavour. One may still see some old Indian mansions or "haveli" in this area with stucco work exterior and broad porticos that are now part of the pedestrian way. The market selling all things Indian oozes old-world charm like no other.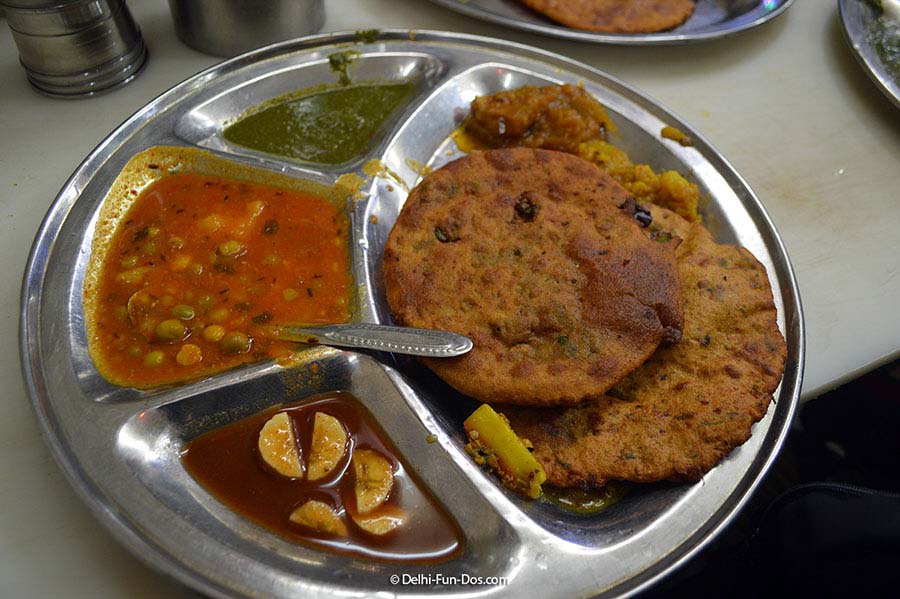 Street food for lunch at Chandni Chowk
Chandni Chowk is also one of the most famous food places in Delhi. You can head to Shyam Sweets for Bedmi Poori and Aloo Sabzi, Kareem's for Biryani, Khameeri Roti, and Rogan Josh or Paranthey Wali Gali for assorted parantha or fried bread platters. This is the real taste of Delhi: spicy, mouth-watering and sometimes tongue burning… make sure you keep a water bottle handy 🙂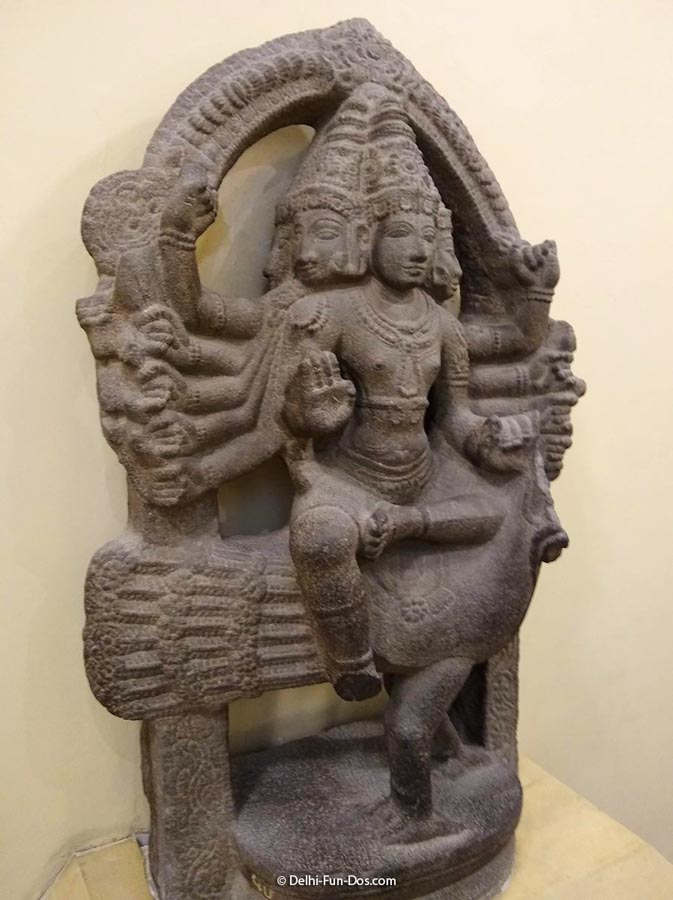 National Museum
You can take a cab maybe from Chandni Chowk and reach National Museum, Janpath in approximately 15 minutes. National Museum is a treasure trove of exhibits and artefacts that tell tales of Indian art and culture.
Connaught Place
Not far from the National Museum is Connaught Place or CP. This is the most loved market cum hang out zone in Delhi. The structure is a circular colonial-era building with showrooms, cafes, and bars in the inner and outer circles. The beautiful architecture reminds us of the Colosseum in Rome.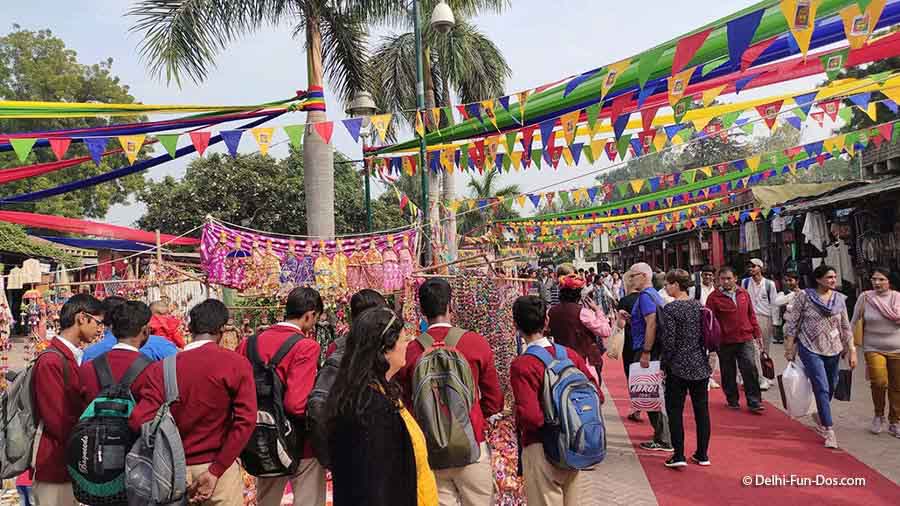 Dilli Haat, INA Market
Dilli Haat, next to INA Metro Station, was built like a village market. The philosophy behind this place was to create a space where artisans could connect and sell products to customers directly without the intervention of middlemen. The picturesque architecture is an open compound with simple brick rooms surrounding it. Depending on the season or the kind of crafts festival, the place is decorated with colourful festoons giving it a happy vibe. The stalls keep changing here to allow more artisans the opportunity to sell their goods.
Central Cottage Industries Emporium, Janpath
In the alternative, if you want to buy quality Indian arts, furniture, ornaments, fragrances, home decor, or textiles, Cottage Industries is the best place. It is a huge multi-storied government-run shop that has a rich display of all things Indian.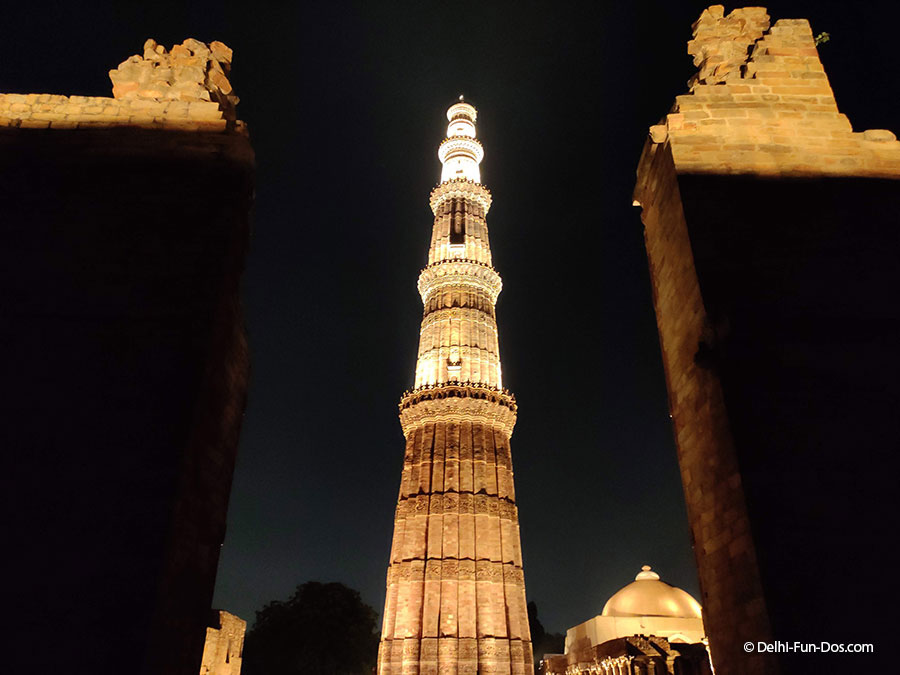 Qutub Minar – Night Tourism
Delhi Government, in collaboration with Delhi Tourism Department, has recently started the concept of night tourism. A few landmark monuments of Delhi are being illuminated with hundreds of bulbs and are open till late for tourists. Qutub Minar, an agglomeration of victory towers or minarets, dating back to the period 1100 to 1400, is a beautiful sight, any time of the day. But we would highly recommend visiting Qutub Minar at night. The golden glow of LED bulbs, on the sandstone edifices, makes the sprawling area look like a dream.
The list is endless
Delhi is an immersive experience like no other and the list is endless. Even after exploring the city for so many years, every now and then, we end up discovering something entirely new! If you have visited Delhi and have been excited about any experience that is not covered here, do leave a comment and enlighten us.
Visit to Delhi tips
– Please carry Indian Rupees or get currency converted at the airport or a bank. Contrary to popular misconception, United States Dollar does not work here.
– For a first-time visitor, metro railway and radio taxis are the best modes of transport within the city.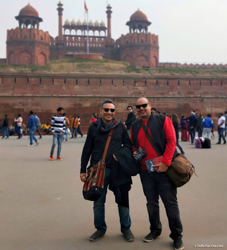 Author's Bio
Sundeep and Bedabrata popularly known as DelhiFunDos are an award-winning Travel and Food blogger duo from India, always up for good times. Through their website Delhi-Fun-Dos.com and other media channels, they aim to provide a travel guide to a fun way of life. Be it offbeat travel, luxury travel, resort reviews, cuisines of the world or international travel, they cover it all. Follow them on their Instagram, Facebook, Pinterest and Youtube accounts.
Have you visited Delhi before?
Please share your thoughts and other recommendations in the comments below with your tips and suggestions for additional activities and places to visit in Delhi.
Thanks for visiting today and checking out this post on Places to visit Delhi I hope you are inspired to plan a visit and enjoy these wonderful attractions and activities. If you enjoyed the images and post, could you please share it with any of the social media buttons located around the post.
Disclosure – some of the links above are to affiliate sites that are either reviews or recommendations if you book helps to keep our site running. We appreciate your supporting our website meanwhile