Places to visit Hong Kong with cool and fun attractions around the city
Made out of 3 parts, Hong Kong Island, Kowloon Peninsula and New Territories, HKSAR is set in Southern China and is one of the most densely populated places in the world.
Home to many cultures, a melting pot of Asian cuisines, a blend of futuristic skyscrapers and raw tropical nature, you surely won't be disappointed when you visit Hong Kong.
Everything from its diverse and delicious food and coffee, the lively nightlife, or the intense hiking trails or pristine beaches, will make you want to experience more of this small and colorful destination.
A Beginner's guide to travel in Hong Kong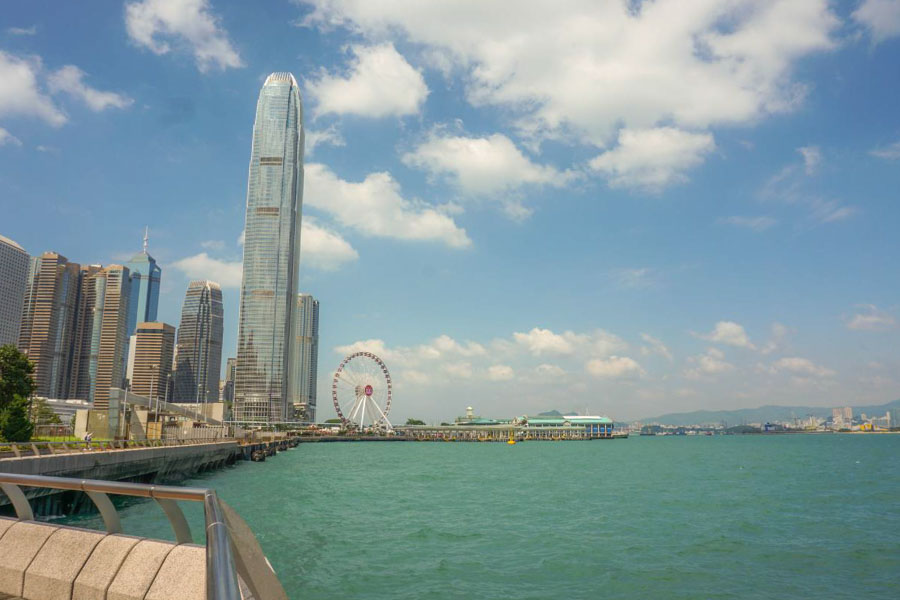 Traveling in Hong Kong – fast facts to know before you go
Here are a few facts to have in mind before you go visit Hong Kong
Currency: Hong Kong Dollar
Languages: Cantonese and English
Population: circa 7.5 million
Tap water: you can drink the tap water in Hong Kong since its treatment matches that in the US and EU, however, bottled water tastes much better.
Famous Hong Kongese food: fish balls, dim sum and pineapple bun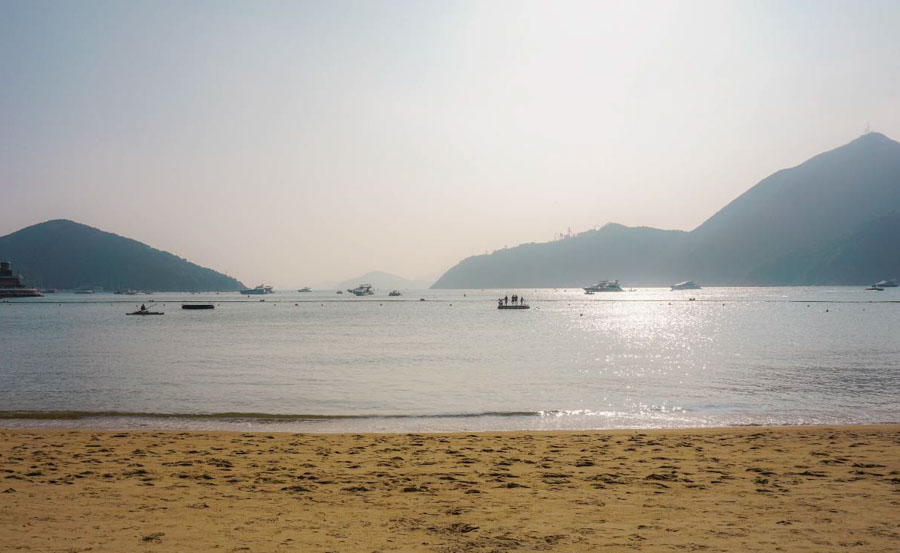 The Best Time to visit Hong Kong
With a long and terribly humid summer, the best time to visit Hong Kong is during the winter season because that's when temperatures and humidity drop substantially making it enjoyable to wander around town.
From November to the end of March is the best time to plan your visit to Hong Kong. You will still be able to spend time on the beach, but won't have to deal with the differences of temperature between the inside and the outside.
How to get around Hong Kong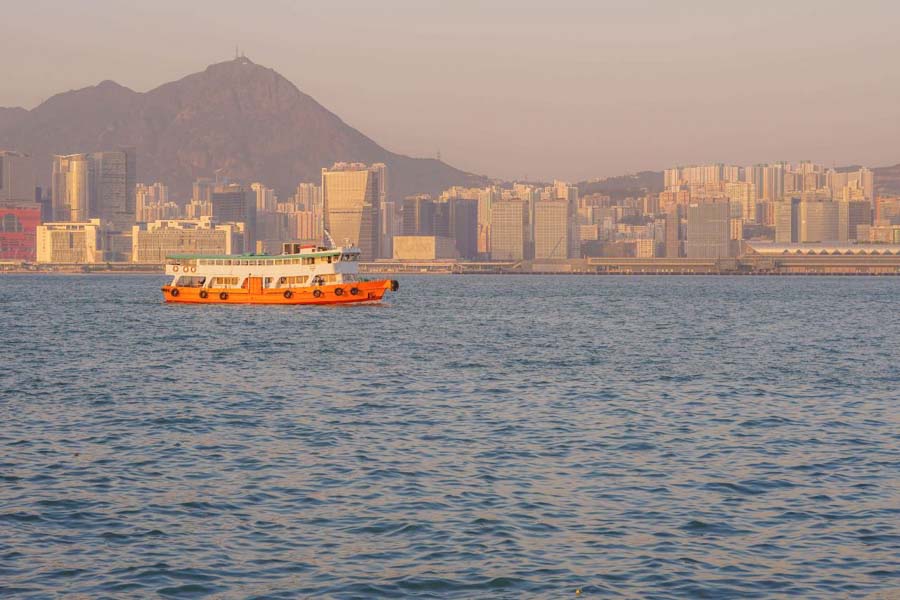 The public transportation system is very well kept and it will get you anywhere in a short time.
Having an Octopus Card will allow you to take any means of transportation without having to worry about buying tickets.
The fastest and easiest way to get around is by local subway, the MTR network linking Hong Kong Island to Kowloon and New Territories.
The most picturesque way of seeing the Northern part of the island is by tram. The double decker historic trams are slow, but will take you around some of the most important destinations on Hong Kong Island.
Big buses and small green buses link various MTR stations to other destinations in the Southern part of the Island, or New Territories – such as Sai Kung.
Traveling by taxi is another easy and affordable way of getting from one place to the other. Red taxies will get you around Hong Kong Island, green taxies run in New Territories, while blue buses serve Lantau Island (where the airport is located).
Where to stay in Hong Kong
Because the city is small and so easy to travel around, it's hard to go wrong when choosing where to stay in Hong Kong.
If you choose a hotel close to the MTR or a bus stop, it won't be hard to travel around to most of the important attractions in town.
The heart of the city and where nightlife and most of the 5* luxurious hotels are concentrated, this is where you want to stay if you are in town only for a few days. Check out the best reviewed hotels here for updated prices and availability.
It is an area popular with expats, a business hub during the day, and a party place during the night.
Still centrally located, very well linked to the rest of the island, close to the sea, from here you will have access to many shopping malls and local restaurants. Check out the best reviewed hotels here for updated prices and availability.
Tai Hang is a more quiet and laid back area, packed with hip coffee places and restaurants.
Across the harbor from Central, only a short ferry or MTR ride away, in TST you can find a more local vibe, while choosing to stay at some of the most luxurious hotels such as the Ritz Carlton or the historic Peninsula Hotel.
Check out the best reviewed hotels here for updated prices and availability.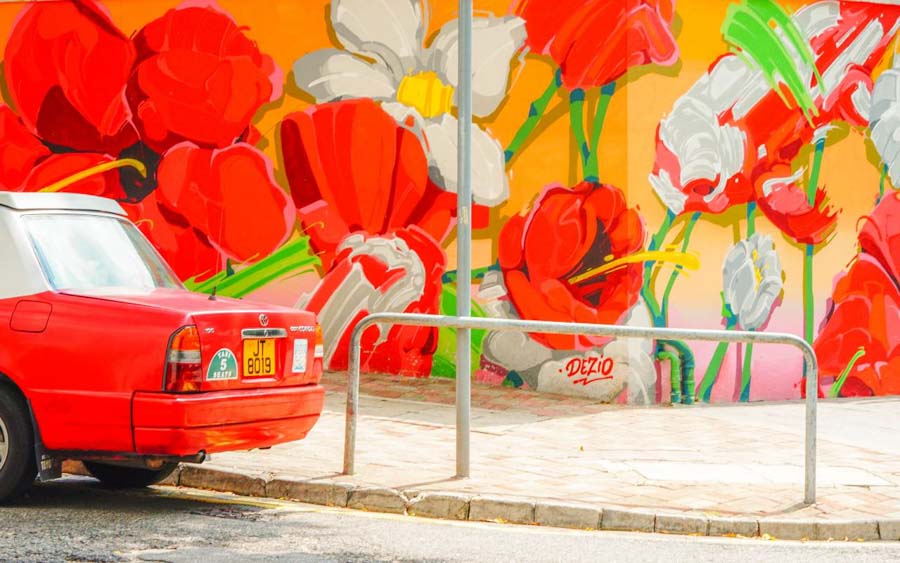 8 Essential things to do in Hong Kong
The Avenue of Stars
Take the ferry at sunset from Wan Chai or Central to TST and walk along the Avenue of Stars. Enjoy the Symphony of Lights with a view of Victoria Harbor lit-up once night falls.
Don't leave without checking-out the Musea Shopping Mall, even if you don't want to shop here, its design will surely impress anyone.
Check out the highlights to visiting the Avenue of Stars below
Climb to the Peak
Take the Peak Tram and make your way to the highest point in Hong Kong, where you can enjoy a meal with a view or simply walk around Lugard Road circling around the mountain and offering stunning 360 degree views.
Check out the colorful Peak Tram ride below
Walk from Sai Ying Pun to Admiralty
Get lost on the streets set on the hills and stop along the way to admire the murals in ArtLane, pet the cats at the dried fish market in Sai Ying Pun, sip a cup of tea or coffee at one of the cool places around Sheung Wan, light an incense stick at Man Mo Temple, shop for local design at PMQ, or learn about the past at the Old Police Station in Central.
Here's a look at this busy and fun walk below
Enjoy the beach
Many might not link Hong Kong to sandy beaches or endless nature. However, you can enjoy both on a day at the beach.
Go hiking and choose any trail in Sai Kung that ends at the beach with blue water and white sand. The easiest way is to take the bus or taxi all the way to the Sai Wan Pavilion and go to Sai Wan Beach, Ham Tim Beach, or Tai Wan Beach. From there, you can book a boat and get all the way back to Sai Kung Village where you can finish your day off with a seafood dinner at one of the many restaurants by the sea.
If you're feeling less adventurous go for Clear Water Bay beaches, or even closer, the beaches on the southern part of Hong Kong Island: Repulse Bay, Stanley, Shek O, or Big Wave Beach.
Here's a fun look at Big Wave Beach below
The Flower Market
While many go to the Night Market in Jordan, skip the crowds (of tourists) and explore the Flower Market on a Sunday.
Get off at Prince Edward MTR station and walk through the tens of stalls filled with colorful flowers, enjoying a very local activity, especially during some of the most important holidays.
Here's a quick tour of the Flower Market area
Lantau Island
Hop on the ferry or the MTR, and make your way to Lantau Island. If you're not into Disneyland, explore nature and take the crystal bottom cable car all the way to Ngong Ping and the Big Buddha.
From there, take the bus and visit Tai O fishing village, for an authentic experience.
Check out the highlights to visiting Lantau Island below
Here's a visit to Lantau Island below
Chase waterfalls
While in order to get to some of the most beautiful waterfalls in Hong Kong you will have to get physical, some are easily reached.
Check out: Silvermine Waterfall (easily reached on a 15 minutes' walk from the ferry pier in Mui Wo), Sheung Luk Stream in Sai Kung, Ng Tung Chai Waterfalls in New Territories.
Here's a look at the Silvermine waterfall below
Splurge on a luxury afternoon tea set
A memory of the British Empire, afternoon tea is a thing in Hong Kong and you will have plenty of options to choose from.
Every fancy hotel in town has its afternoon tea menus that change constantly, but you can find them also at places like The Grand Buffet in Hopewell Center or Madame Fu.
Here's a look at the Grand Buffet and views below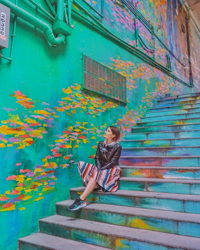 Guest Author: Ingrid Zudor
Bio: After living for almost 2 years in Hong Kong, Ingrid has currently embarked on a new adventure in Seoul, South Korea. She aims to help people make the best out their travels and writes about the places she knows best from both Europe and Asia.
Check out Ingrid's post on Cafes in Hong Kong here for more inspiration.
Social Media: Instagram 
Conclusion of Places to visit Hong Kong
For Hong Kong fun, you'll love explore all fun activities and attractions around this easy trips to explore around Hong Kong. Hope this gives you some great ideas of things to do and see around the town and outlying areas to visit.
Thanks for visiting This Hawaii life and checking out this post on the Places to visit Hong Kong. If you enjoyed reading this post, please do share it with any of the social media buttons on the slider.
Disclosure – some of the links above are to affiliate sites that are either reviews or recommendations if you book helps to keep our site running. We appreciate your supporting our website meanwhile