Places to Visit in Hanoi (Historic and cultural sites, local foods, quirky attractions and fun activities)
Hanoi – the capital of Vietnam – is a city brimming with energy and life. From the moment you arrive, you'll be greeted by the sound of scooters zipping through the streets and the smell of delicious street food wafting through the air.
With its rich history, vibrant culture, and distinctive architecture, Hanoi is a city like no other. If you're planning a trip here for the first time, be sure to add these 14 things to do in Hanoi to your bucket list.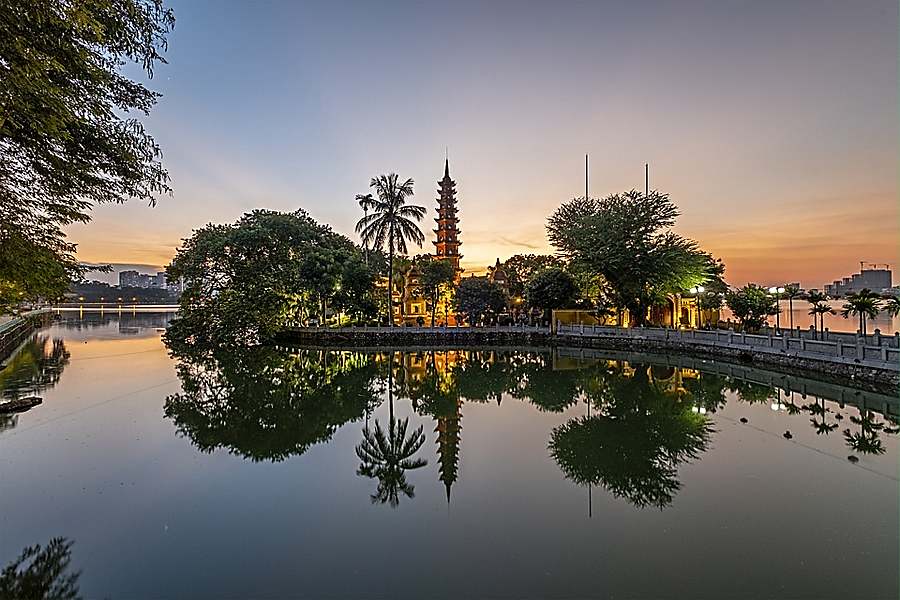 Where is Hanoi, Vietnam located?
Hanoi, the capital city of Vietnam, is located in the northern region of the country. It is situated in the Red River Delta, which is a fertile and densely populated area known for its lush landscapes and agricultural activities. Hanoi is positioned on the right bank of the Red River, offering a scenic setting surrounded by rivers, lakes, and greenery.
There are several ways to reach Hanoi, depending on your starting point. If you are traveling internationally, the most common way is to fly into Noi Bai International Airport, which is located about 45 kilometers (28 miles) north of Hanoi's city center. The airport serves both domestic and international flights, with connections to major cities around the world.
From within Vietnam, you can travel to Hanoi by various means of transportation. Domestic flights are available from other major cities, such as Ho Chi Minh City (Saigon), Da Nang, and Hue. Train travel is another popular option, with Hanoi being a major railway hub connecting to different parts of the country. The Reunification Express, the main north-south railway line, runs through Hanoi, providing convenient access from other cities.
For those who prefer road travel, there are highways and expressways connecting Hanoi to different regions of Vietnam. Buses and private car services are widely available, offering convenient transportation options.
Once you arrive in Hanoi, the city offers various modes of transportation to explore its attractions and move around. Taxis, ride-hailing services, and motorbike taxis (known as xe om) are readily available. Hanoi also has a well-developed public transportation system, including buses and a growing metro network, making it easier to navigate the city.
Whether you choose to arrive in Hanoi by air, train, or road, the city welcomes visitors with its rich history, vibrant culture, and diverse culinary scene. Exploring Hanoi's bustling streets, ancient temples, traditional markets, and iconic landmarks such as Hoan Kiem Lake and the Old Quarter is a captivating experience that reveals the unique charm and allure of the Vietnamese capital.
14 Things to do in Hanoi, Vietnam for first-time visitors
1.     Take a stroll around Hoan Kiem Lake
One of the best things to do in Hanoi is to take a stroll around Hoan Kiem Lake. Located right in the heart of the city, Hoan Kiem Lake is the perfect place to get some fresh air and watch local people going about their days.
Walking around Hoan Kiem Lake, you'll see vibrant scenes of elderly locals exercising, street artists showcasing their talents, students approaching foreigners for a chance to practice their English, and couples hugging under the shades of trees. There are also beautiful flowers by the lake, which make it a perfect place to enjoy a leisurely walk or a morning run if you happen to stay nearby.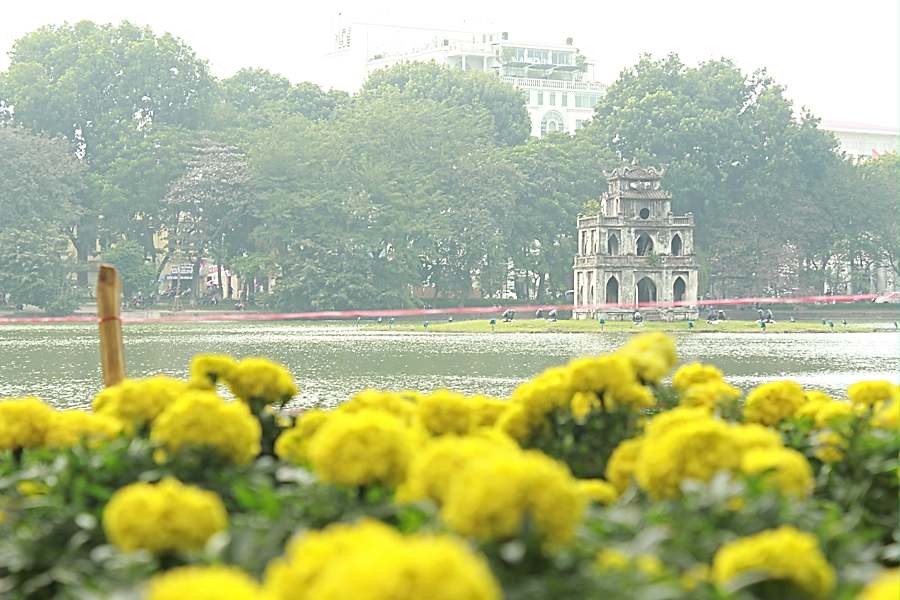 Hoan Kiem Lake in Hanoi is a popular gathering place for locals
1.     Explore the Imperial Citadel of Thang Long
Address: 19C Hoang Dieu Street, Ba Dinh District
Opening hours: 8 AM – 5 PM
The Imperial Citadel of Thang Long in Hanoi
The Imperial Citadel of Thang Long is one of the most popular tourist attractions in Hanoi. It was built in the 11th century and served as the capital of Vietnam for almost two hundred years. Today, the citadel is a UNESCO World Heritage Site and well worth a visit. Here you can explore the ancient ruins, learn about the citadel's importance in Vietnamese history, and take in sweeping views of the city.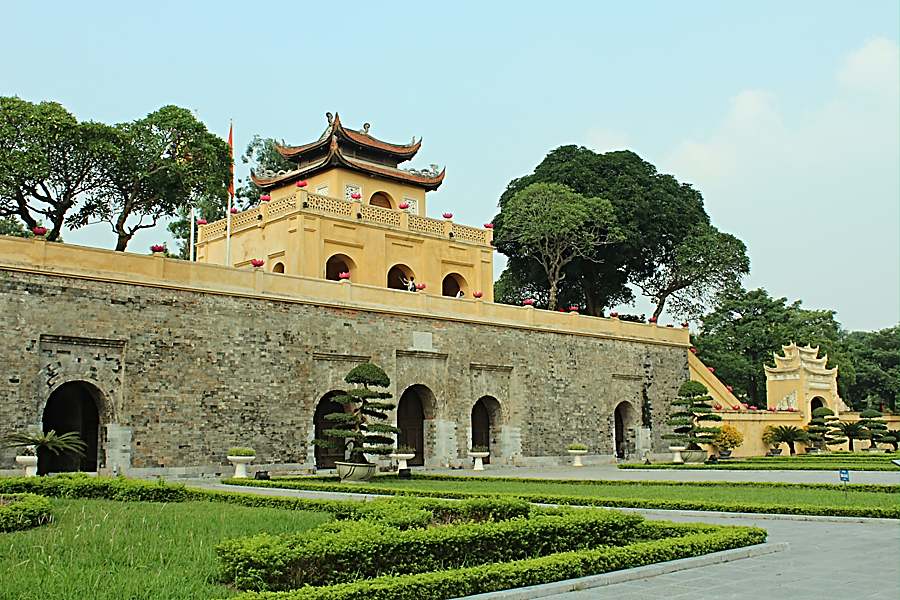 2.     Try the famous egg coffee at Giang Cafe
Egg coffee is a Vietnamese specialty invented by a man named Giang, who was a former chef at the famous Metropole hotel during the 1940s. Although the exact recipe is a closely guarded secret, it is generally made with egg yolks, coffee, condensed milk, and sugar. The result is a rich and creamy drink that has a distinctive flavor. While visiting Hanoi, be sure to head to Giang Cafe to try this unique coffee for yourself.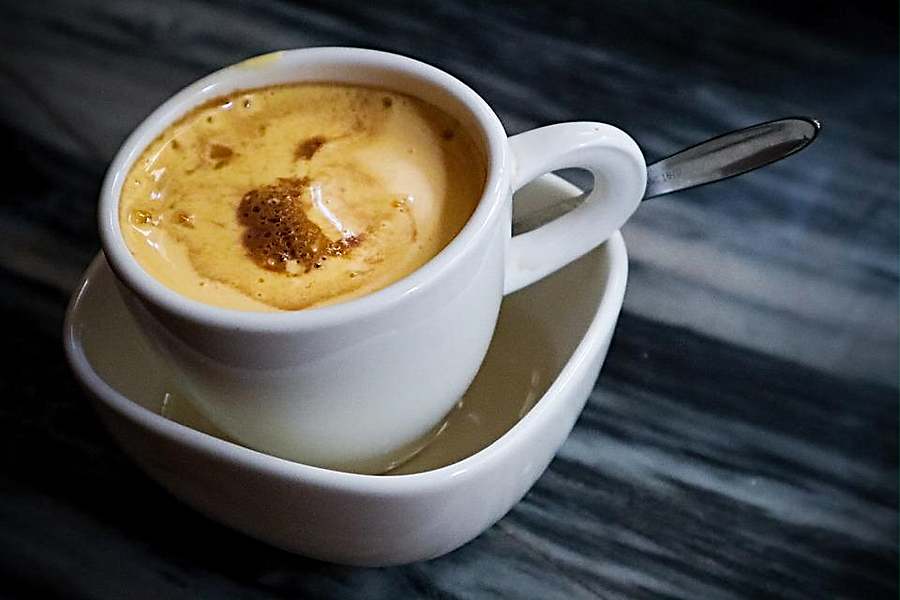 3.   Visit St. Joseph's Cathedral
St. Joseph's Cathedral is one of the most iconic buildings in Hanoi. Built in the 19th century, the cathedral's beautiful French Gothic architecture is sure to impress! Inside, the cathedral is just as stunning, with intricate murals and stained glass windows. Whether you're a history buff or just looking for somewhere beautiful to admire, be sure to add St. Joseph's Cathedral to your Hanoi itinerary.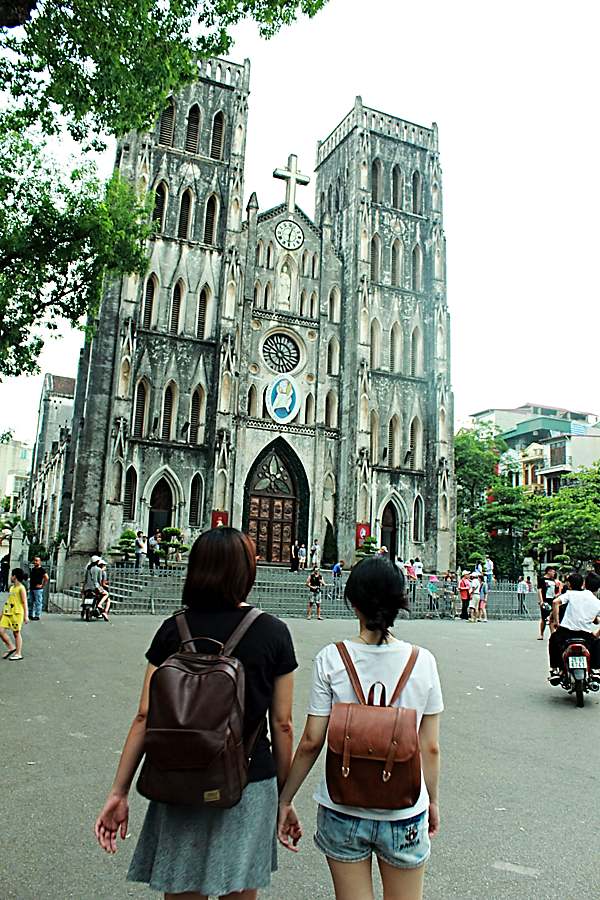 St. Joseph's Cathedral in Hanoi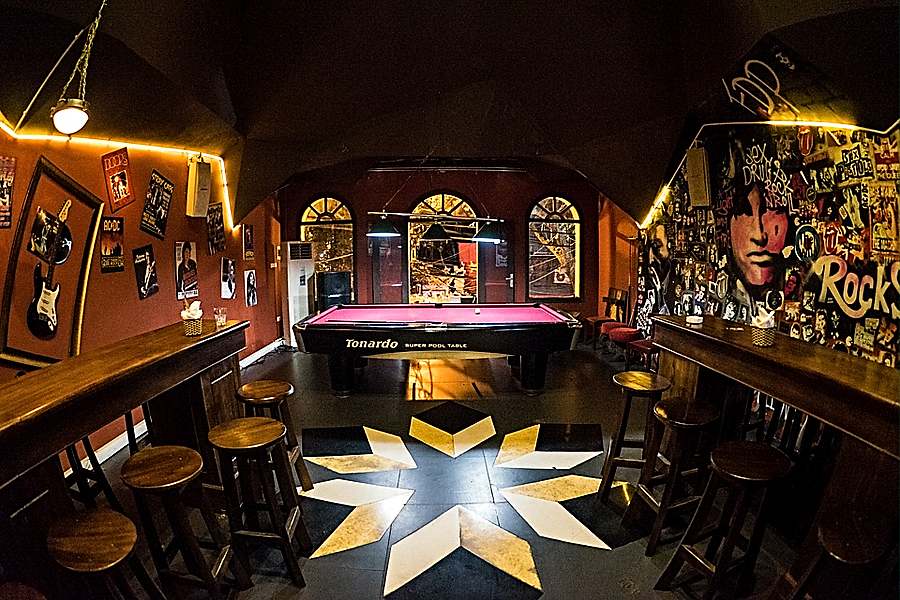 4.   Enjoy Hanoi's nightlife at Ta Hien
When night falls in Hanoi, the city comes alive with vibrant energy and Ta Hien Street is the place to be.
Located right in Hanoi's Old Quarter, this lively street is full of locals and tourists enjoying the nightlife, with plenty of places to get a cold beer and try some delicious street food. You can also find some of the city's best nightclubs in this area.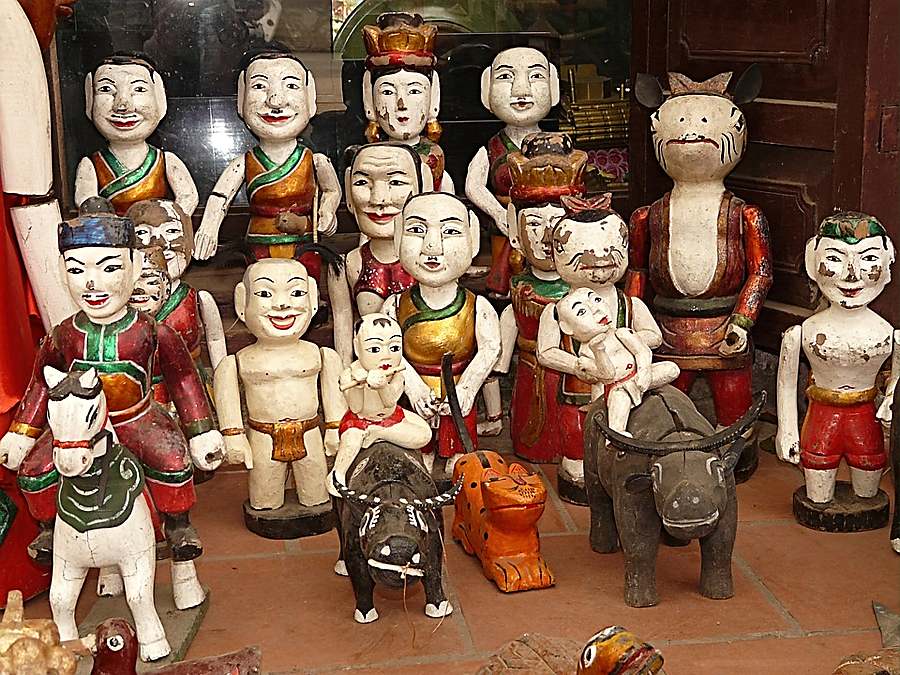 5.     Watch a Water Puppet Show
Watching a Water Puppet Show in Hanoi is considered one of the best travel experiences in Vietnam! These traditional shows date back to the 11th century and give you a glimpse into Vietnamese culture and history. The puppeteers use long rods to control the puppets, which are made of wood and often depict animals or mythical creatures.
The best place to enjoy a water puppet show is Thang Long Water Puppet Theatre with performances lasting up to one hour. Also, there is no need to worry if you don't speak the local language, as the storyline being told in these water puppet shows is very easy to follow.
6.   Visit the Temple of Literature
Address: 58 Quoc Tu Giam Street, Dong Da District
Opening hours: 8 AM – 5 PM
Founded in 1070, this Confucius temple is home to the Imperial Academy, which is also Vietnam's first university. Until today, students in Hanoi still flock to the temple before the annual National University Entrance Exam to touch the turtle statues' heads, believing this will bring good luck to them.
The beautiful temple grounds feature lovely gardens, pavilions, and ponds, while the buildings here are impressive examples of traditional Vietnamese architecture. Inside the main hall, you'll find 82 stone steles covered in calligraphy, each bearing the name of a scholar who passed the country's rigorous imperial exams. It's a fascinating place to explore, and a great way to learn more about Vietnamese history and culture.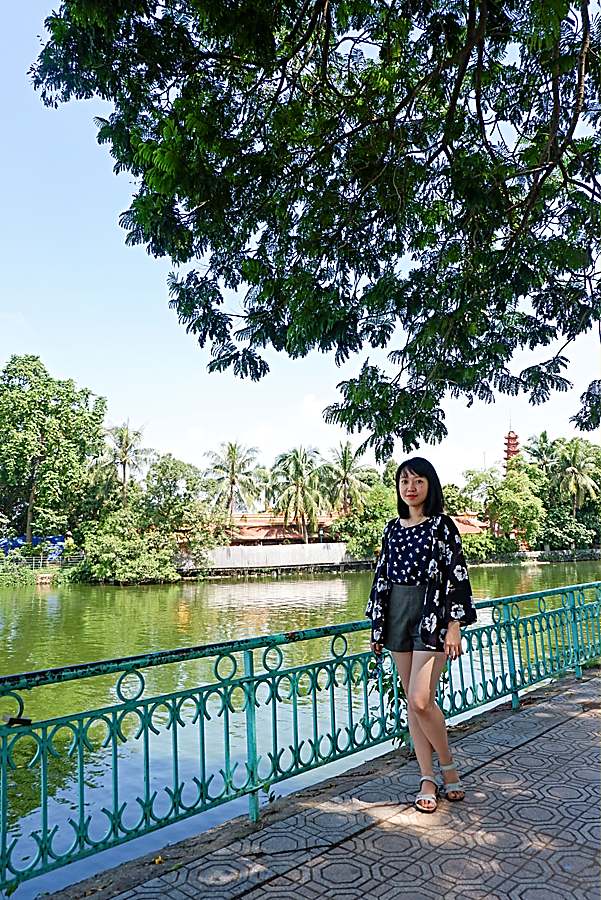 Hanoi's West Lake
7.   Cycle around Hanoi's West Lake
Hanoi's West Lake is a lovely place to take a leisurely bike ride. The lake is surrounded by scenic paths and parks, making it the perfect spot to explore on two wheels. There are also plenty of things to see and do along the way, from visiting temples and pagodas to taking a break in one of the many cafes lining the lake.
8.  Savor Hanoi's local delicacies
One of the most recommended things to do in Hanoi is to savor its local delicacies. Soups are a delicious must try here in Hanoi and what is more satisfying than having a delicious bowl of pho, freshly made and so aromatic and filling.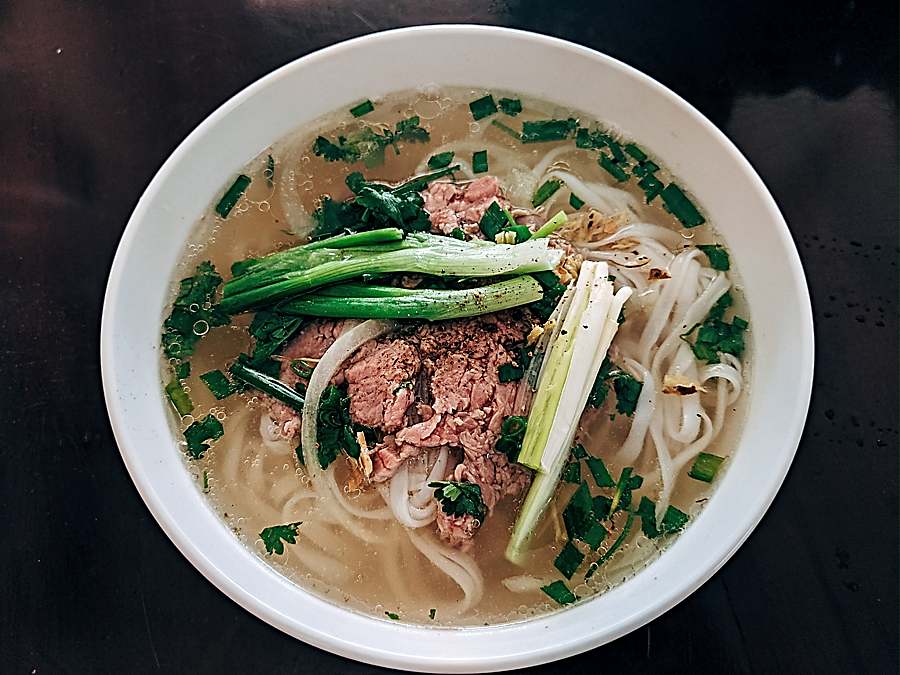 A bowl of pho from Hanoi (Image by Markus Winkler from Pixabay)
Pho, Bun cha, and Cha ca are just some of the famous dishes that you can enjoy while in the city. Pho is a rice noodle soup that is traditionally served with beef or chicken. Bun cha is a dish of grilled pork and rice noodles, while cha ca is a grilled fish dish. These dishes are all cooked with fresh ingredients and flavored with a variety of spices.
The spring rolls noodle dishes are also a must here in Hanoi, try them and you'll see why they're so popular among locals and visitors alike.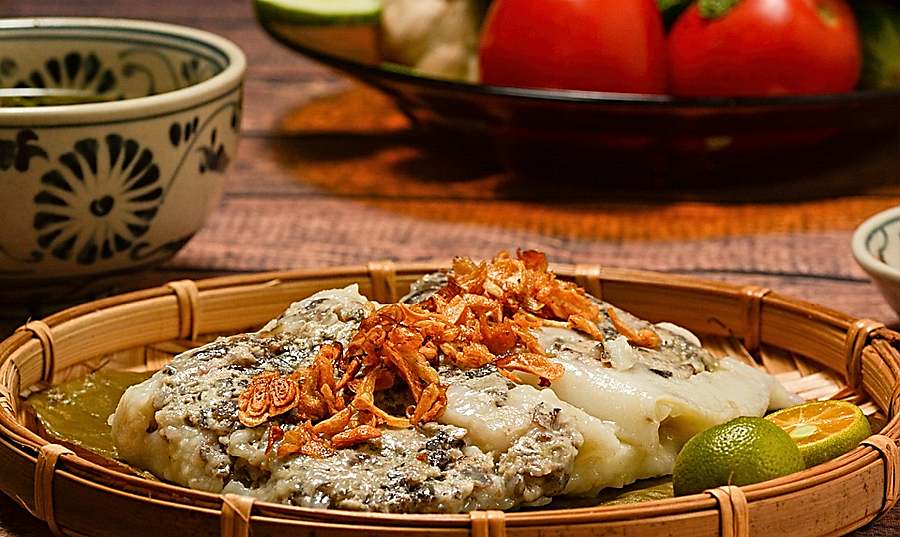 9.  Visit Ma May Ancient House
Address: 87 Ma May Street, Hanoi Old Quarter
Opening hours: 8 AM – 8 PM
Built in the 19th century, Ma May Ancient House is one of the oldest traditional houses in Hanoi. Once the home of a wealthy merchant, Ma May Ancient House has been beautifully restored and turned into a museum today.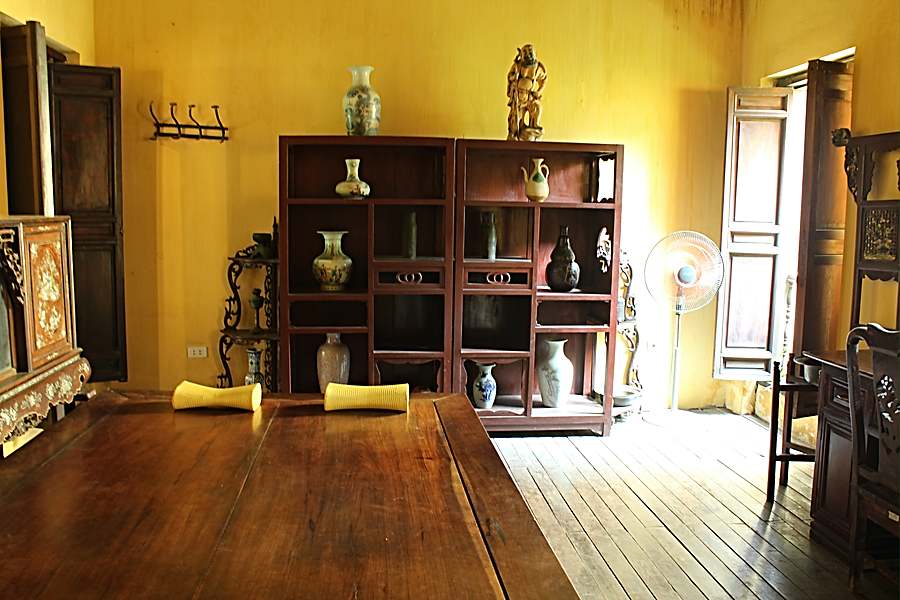 A bedroom inside Ma May Ancient House in Hanoi
Visitors to Ma May Ancient House can explore the different rooms of the house, which are filled with traditional furniture and artifacts. There is also a courtyard where you can relax and soak up the atmosphere. This place is a must-see for anyone interested to learn more about Hanoi's architecture and history.
10. Take photos at Phung Hung Mural Street
One of the most popular attractions in Hanoi for young locals, Phung Hung Mural Street is lined with colorful murals that depict scenes from Vietnamese history and folklore. Visitors can also purchase traditional handicrafts and souvenirs from the many shops that line the street. If you're looking to take some Instagramable photos in Hanoi, Phung Hung Mural Street is definitely the place to be.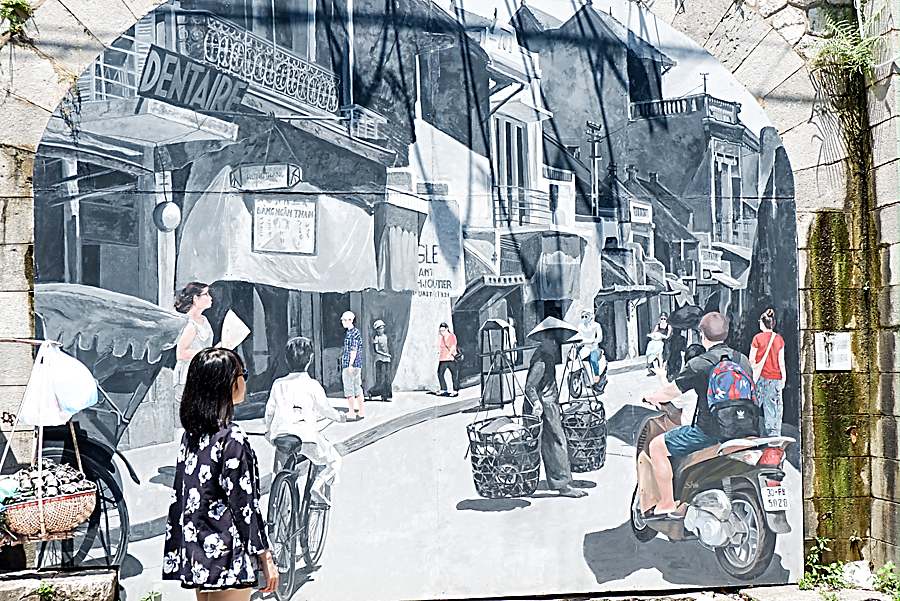 Street art at Phung Hung Mural Village in Hanoi
Walking around the streets of the historic district will bring up some colorful streets that you may also want to capture with all these vivid and exotic homes that you may pass through.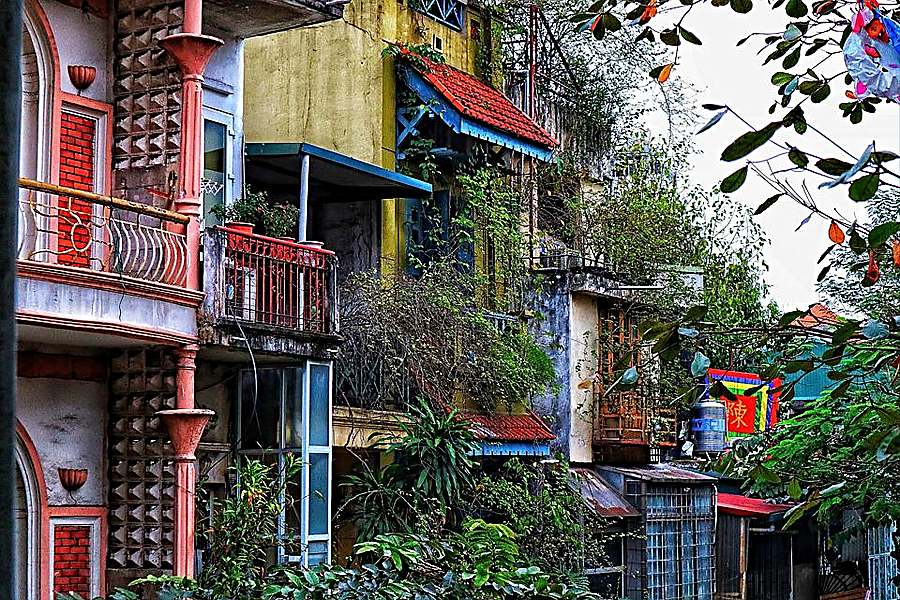 Colorful streets of Hanoi
11. Commune with nature at Bai Da Song Hong Flower Field
Address: Alley 264, Au Co Street, Tay Ho District
Opening hours: 6 AM – 9:30 PM
Open in all seasons, the spacious Bai Da Song Hong flower field is home to a wide variety of flowers that provide a perfect setting for taking photos. Visitors to this flower field can also breathe in the fresh air from the Red River as they enjoy the tranquil surroundings. Such an ideal place to take a break from the hustles and bustles of the city center!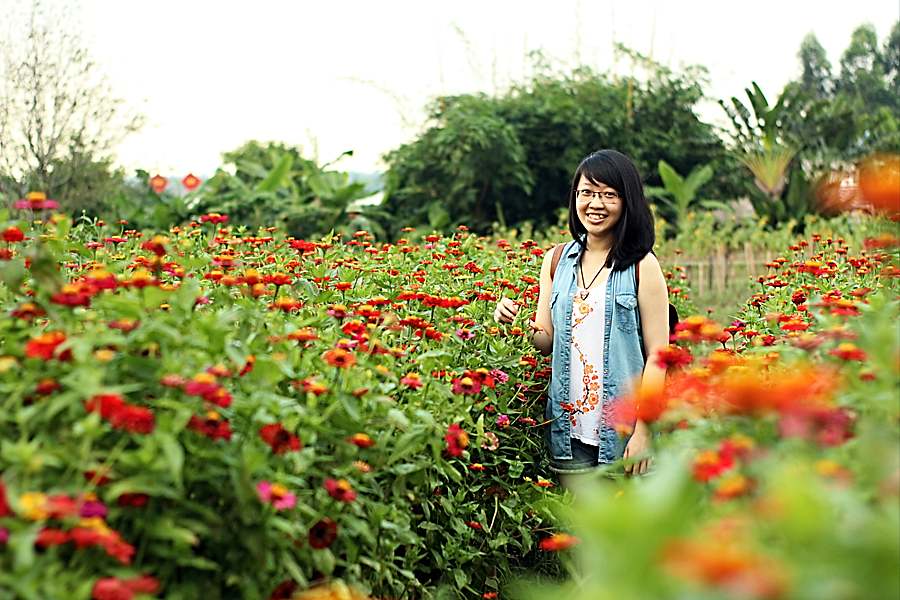 Bai Da Song Hong Flower Field in Hanoi
12.  Take a day trip from Hanoi
Hanoi's rural areas are where you can enjoy a peaceful escape from the bustling city center. If you're keen on exploring beyond the touristy activities, why not have a look at some of the locals' favorite day trips from Hanoi? Destinations including Ba Vi National Park, Duong Lam Ancient Village, Perfume Pagoda, and Bat Trang Ceramic Village are all worth checking out.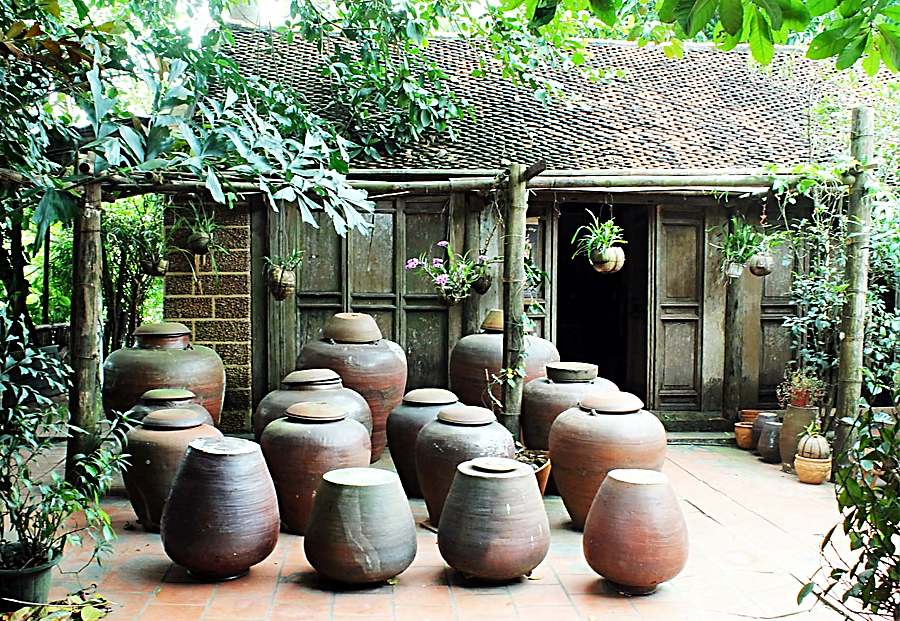 A rural house at Duong Lam Ancient Village in Hanoi
14. Markets of Hanoi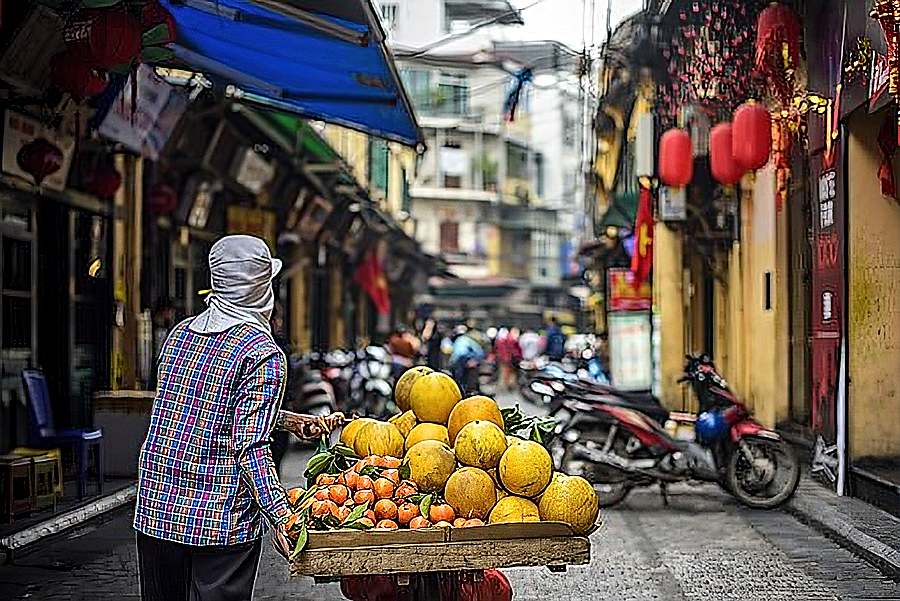 Visiting the colorful markets around Hanoi is a fun experience to try some of the local delicacies, fresh exotic fruits and even capture some of the cool and colorful scenes you'll see at the market places around the city. Some of the best markets to explore around Hanoi includes:
Dong Xuan Market – Hanoi's largest indoor market
Hanoi Weekend Night Market in the Old Quarter  – a lively bazaar with great street food, souvenirs, fruits and veggies and endless food stalls
Hang Da Market – selling mostly imported goods
The Quang Ba Flower Market in Tay Ho district – a fun place to explore with amazing floral stalls and displays
Weather and best time to visit Hanoi
Hanoi experiences a distinct four-season climate, characterized by hot summers, cool winters, and transitional spring and autumn seasons. The best time to visit Hanoi largely depends on your preferences and the type of experience you seek.
Spring (March to April) and autumn (September to November) are generally considered the most pleasant seasons to visit Hanoi. During these periods, the weather is mild with comfortable temperatures ranging from 20°C to 25°C (68°F to 77°F). It's an ideal time for outdoor activities, sightseeing, and exploring Hanoi's attractions. Spring brings blooming flowers and festivals like the Lunar New Year, while autumn offers beautiful foliage and clear skies.
Summer (May to August) in Hanoi can be hot and humid, with temperatures often reaching above 30°C (86°F). It is also the rainy season, characterized by occasional downpours and short-lived thunderstorms. However, if you can tolerate the heat and occasional rain, summer can still be a good time to visit, as the city is less crowded with tourists and there are various indoor attractions and cultural events to enjoy.
Winter (December to February) in Hanoi is relatively cold, with temperatures ranging from 10°C to 15°C (50°F to 59°F). It can be chilly and occasionally foggy, but snow is extremely rare. Despite the cooler temperatures, winter can still be a rewarding time to visit, especially if you want to experience Hanoi's festive atmosphere during the Christmas and New Year period.
Ultimately, the best time to visit Hanoi depends on your personal preferences. If you enjoy milder weather and fewer crowds, spring and autumn are ideal. If you don't mind the heat and occasional rain, summer can offer unique experiences. Winter can be a great choice for those seeking a different side of Hanoi and enjoying festive celebrations. Remember to check the specific weather forecast for your intended travel dates and plan accordingly to make the most of your visit to Hanoi
Summary of 14 things to do in Hanoi for first-time visitors
So there you have it – 14 of the best things you shouldn't miss when visiting Hanoi for the first time. What do you think of these activities? Which ones from this list are you most excited to do? Don't hesitate to let us know by commenting below.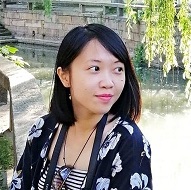 Author Bio:
Fiona Mai is a 20-ish Vietnamese travel blogger who has been to 21 countries so far. She was lucky enough to call herself a past resident of Helsinki, Berlin, Brisbane, Hanoi, and Kingston upon Hull. Even more fortunate right now to be back to where she comes from: Saigon, Vietnam. Read more about her journeys here: http://fionatravelsfromasia.com/