Do you love visiting forts and palaces? Then Jaipur is a must-visit. Also, known as the Pink City, it is one of the most culturally rich cities in Northern India. Not just that, you'd even find some amazing food here. For example, Laal Maas, one of Rajasthan's most popular recipes.
And to help you find these gemstones with such lip-smacking recipes and eye-catching places in Jaipur to some, here's a detailed travel guide.
Top places to visit and top things to Do in Jaipur, India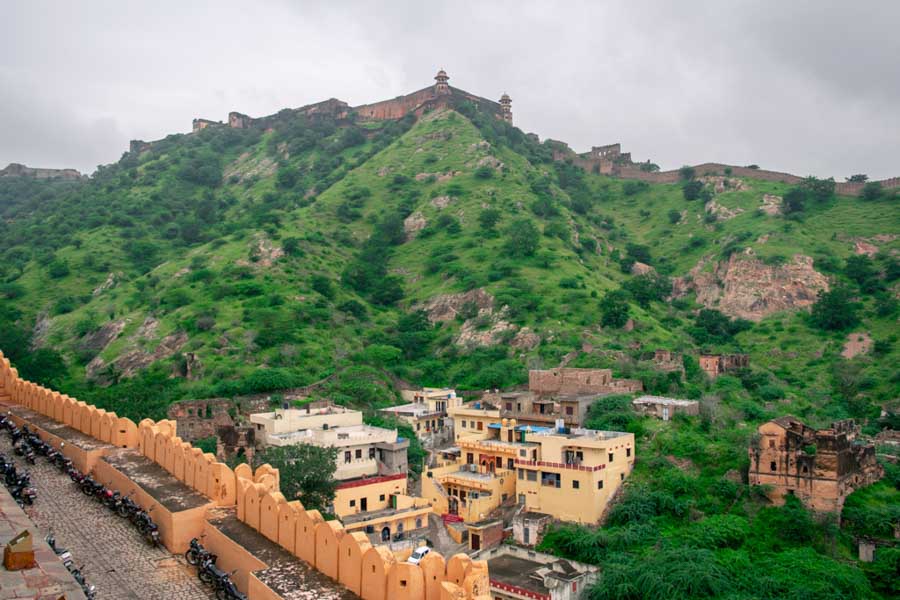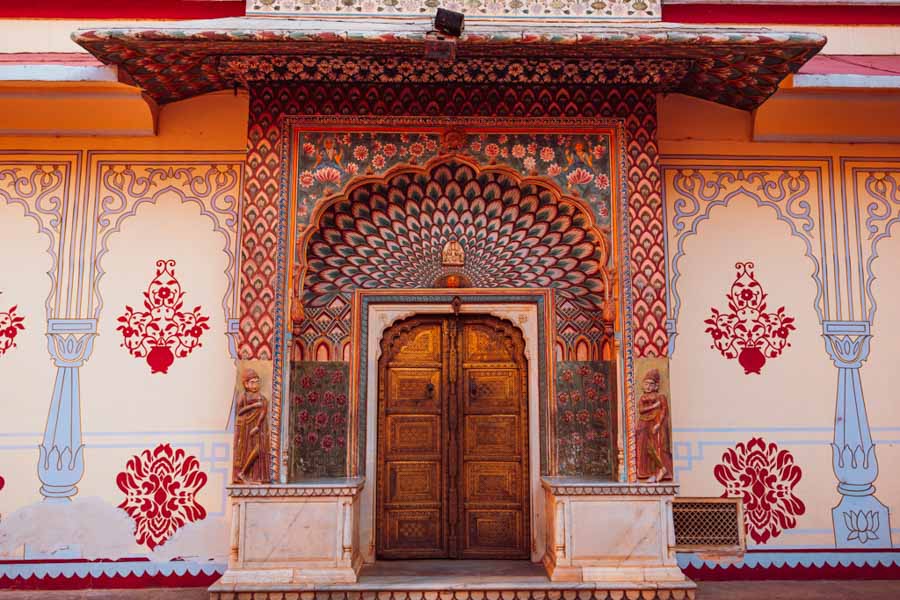 Explore the Beautiful City Palace
 From courtyards, gardens, to beautiful architecture, this palace is everything royal life was all about. Visiting this palace will cost Indians about Rs 300 whereas for foreigners it is about Rs. 500. One of the most beautiful places and top things to do in India, the city place is grand and stil a royal residence.
The entire tour of the palace takes about 2 hours. You can also make your visit grand by checking out the Chandra Mahal, the place where the royal family currently resides, or the amazing light show (and that's something you don't want to miss out on).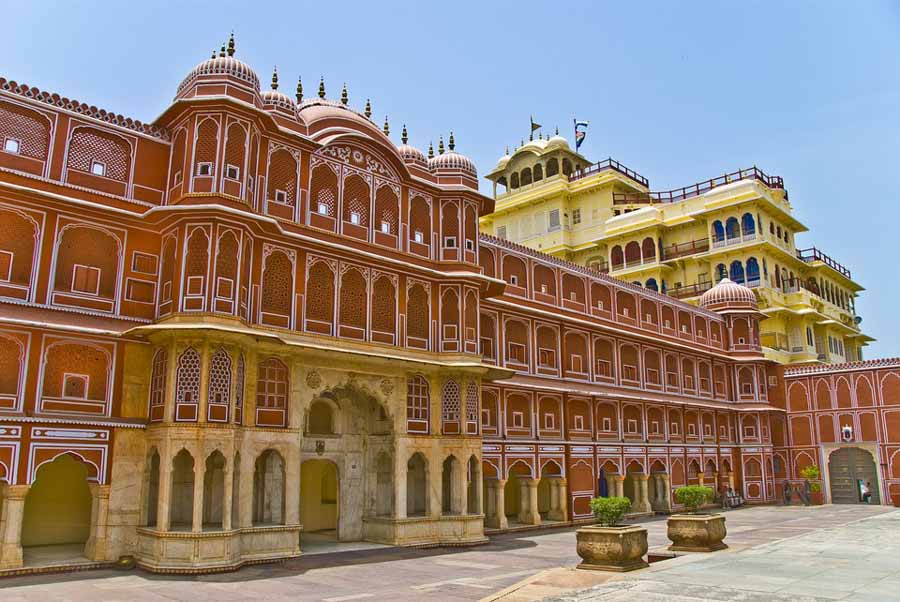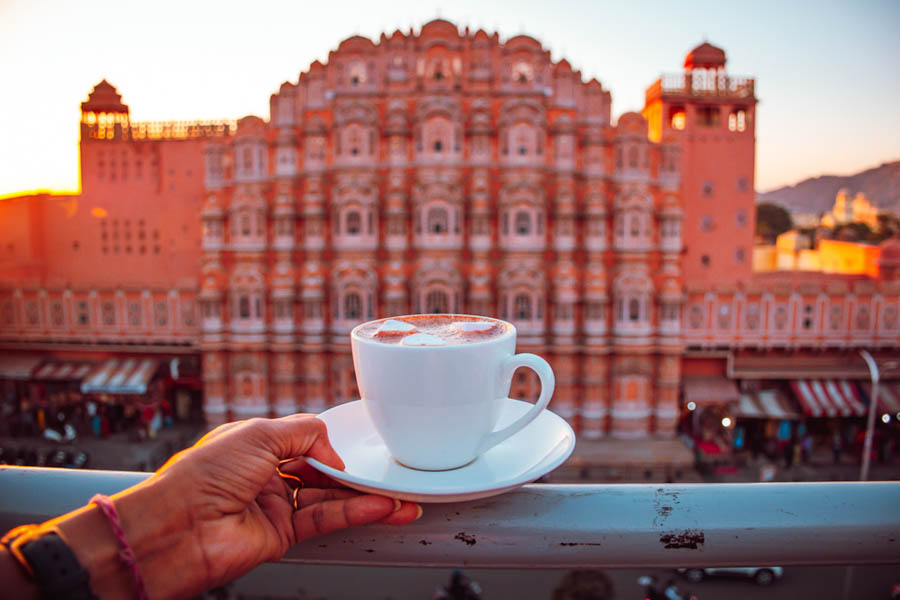 Take Photographs in Front of the Famous Hawa Mahal
After the City Palace, we are off to one of my favorite destinations in Jaipur, i.e., Hawa Mahal. It has numerous small windows that, in ancient times, were used by women to get a glimpse of the entire city without being seen. Sadly, you won't be getting the same view as you aren't allowed to climb atop. But that doesn't mean you can't get amazing photos as well.
The street on the opposite side to the Hawa Mahal is tailor-made for it. And in the evening with all the lights, it sure is one of the most eye-catching spots in Jaipur.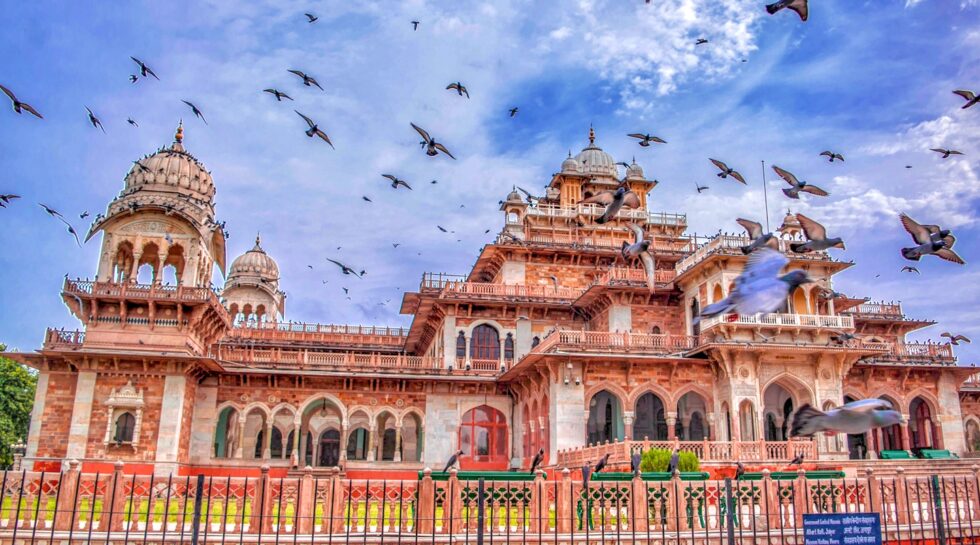 Marvel at the Beauty of Albert Hall Museum
Albert Hall Museums is a sight for history buffs and photography enthusiasts. With its Indo-Saracenic architecture and the exquisite stone ornamentation, this museum is known for its beautiful architecture since its inception in 1976.
Inside the museum, you will find corridors of mural paintings, Persian paintings, and other artworks. There are a total of 16 galleries inside the museum and it will easily take you 2-3 hours to cover them all.
If you are a photography enthusiast, then visit the museum at night to observe the cascade of colors that light it up from the outside.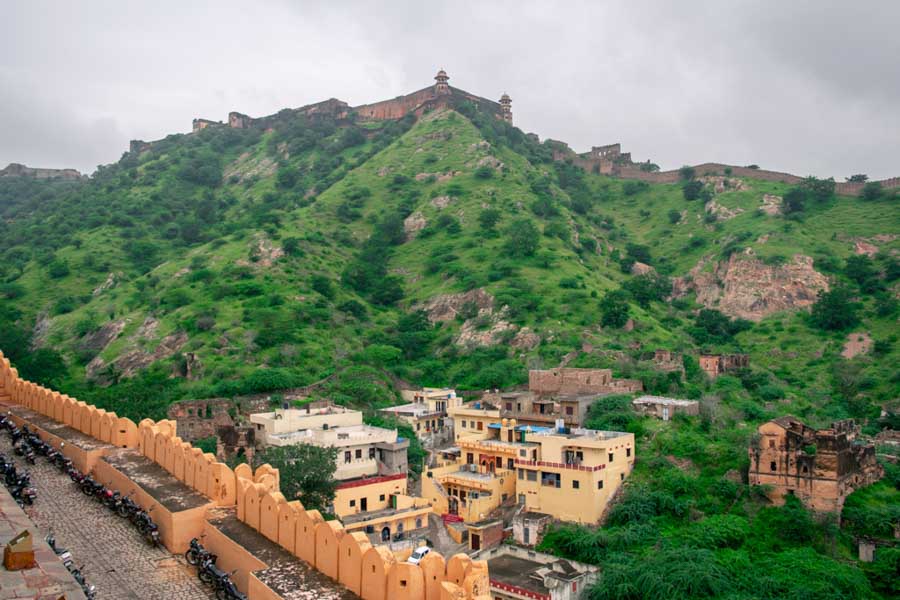 Visit the Gorgeous Nahargarh Fort
If you want picturesque views of the city then the Nahargarh Fort is just the place for you. You can make your trip here even more adventurous by trekking to the fort or by cycling. The ideal time to be at the fort is around sunset and it costs Indian just Rs. 50 whereas for foreigners the entry fee is Rs. 200.
And if you aren't done with forts just yet, there are also the Jaigarh Fort and Amber Fort (another fort that gives you picturesque views of the city).
Try the Local Street Food
From the ever-popular Dal Baati Churma to Kachoris, Puri Sabji, and Chole Bhature, Jaipur has plenty of lip-smacking food to keep those hunger pangs at bay. And since this is all available on the streets of Jaipur it won't cost you a bomb either.
Another famous dish sure to tickle those taste buds is the Pyaz Ki Kachori. My favorite place for it is the Rawat Mishthan Bhandar where it is available for a mere Rs. 30-40. Apart from that, you also want to try out Gatte Ki Sabzi, Daal, Aloo Pyaz Sabzi, and Bejad Ki Roti.
If you are a non-vegetarian, a must-try dish would be Laal Maas. Not exactly street food but there's no way I was going to leave it out (because it is just that damn yummy).
Bring out the Astronaut in you at Jantar Mantar
Does the talk of other planets, stars, asteroids, etc. excite you? Then Jantar Mantar should be high up on your list. One of the most exciting aspects of the place was learning how sundials were used to determine time.
You can also catch a glimpse of the olden accessories and instruments used to find celestial bodies. And all of this will cost you just Rs. 50. If you are an Indian whereas for foreigners the entry is Rs. 200.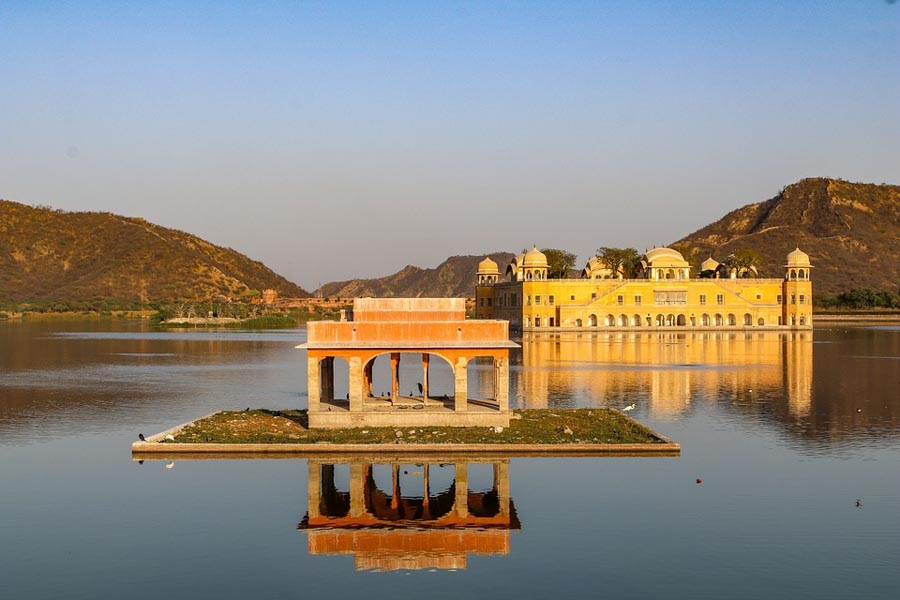 Capture the Beauty of the Jal Mahal
Situated in the Mansagar Lake, about 4-5km from the main city, this architectural marvel is one of the crown jewels of Jaipur.
Sadly though, it has been closed off to the public which means you can only see it from afar. The ideal time to be around it clicking photos would be in the evening when the lights are on.
And to think about it, an underwater construction almost 100 years of back, this is a

Buy Souvenirs at the Local Shops
Jaipur is a paradise for shopaholics as they have a wide range of items to offer to tourists. From sandals to bags, you will find all these amazing items at extremely affordable rates.
If you plan a trip to Jaipur, then you have to buy the traditional Rajasthani costumes, bags, or the famous 'Juttis' here.
There are many streets for shopping where you can get good prices such as Tripolia Bazaar, Nehru Bazaar, and Bapu Bazaar. Make sure you bargain properly because the locals quote a high price to tourists. Also, take a look around before you end up buying from this city as sometimes you could end up finding gems at unbelievable prices only if you are a little patient.
Visit the Wax and Doll Museums
 Want to get clicked with your favorite celebrities? This wax museum is the place to be. From Amitabh Bachchan, Sachin Tendulkar to even Deepika Padukone, this is one place you want to make sure your camera is fully charged. And when you are done being clicked with your favorite stars, don't forget to check out the Sheesh Mahal where you will find mirror inlays.
If you are on the trip with your kids and want to keep them busy, the doll museum is another good place to add on the bucket list. The dolls here are dressed in traditional clothes from various countries making it a learning experience for the kids.
When should you visit Jaipur?
 Rajasthan is one of the hottest states in India and thus, there's hardly a better time to visit Jaipur than the winter season, especially if heat (and trust me, it is really hot) is not something you can handle.
Though keep in mind that tourists are at their peak during the wintertime i.e., October to February. This also means you get a chance to check out the Elephant Festival (March), Kite Festival (January), Jaipur Literature Festival (January).
Monsoons in Jaipur last from July to September and it is your next best time to visit this beautiful city. That is because Jaipur doesn't receive a lot of rainfall. Yes, it will be more humid compared to the winter months but nothing that should bother you too much.
The summer months last from April to June and this is one period you do not want to come to Jaipur.
That is because these months are really dry with the temperature raging above 40-degree Celsius. But if you do not have an option, at least make sure you are drinking a lot of water and keep a few hydrating fruits like watermelons, etc. on hand.
Where to eat in Jaipur
Looking for some yummy, desi breakfast? Kachoris, Puri Sabji, Chole Bhature, etc. served on almost every street in Jaipur is exactly what you need. Not the healthiest of options but if you are as big a foodie like me, street food hardly gets any tastier.
And guess what, these meals will cost you less than Rs 50 and keep you full until lunch even as you walk around exploring the whole of Jaipur.
Dal Baati Churma Restaurant
For lunch, one of my favorite places is the Dal Baati Churma Restaurant. Named after one of the most popular dishes in Rajasthan, if you are a vegetarian, this will be an absolute delight. Though for 2 Baatis you will have to pay around Rs 200.
Handi Restaurant
If you want something non-veg, this is one of the ideal restaurants for you. It is a bit on the higher side as it costs between Rs. 1000-1500 for 2 people but the food, especially dishes like Laal Maas will have you licking your fingers.
Windy View Cafe
The Windy Cafe may not have the best food but it makes up for it with a great view as it overlooks the Hawa Mahal.
I wouldn't suggest you eat your lunch here but you can grab some evening snacks here or some cold drinks to take a break and beat the heat. It is also pretty cheap so won't hurt your budget as well.
Where to Stay in Jaipur
After all that traveling and eating, you'd want a good night's sleep at a clean hygienic place, right? So, here's where I suggest you stay. If you are looking for regular inns and hotels, check out the top places reviewed on Tripadvisor here for details and current prices.
Hostels
If you want something cheap yet good it hardly gets any better than hostels. The Tuk Tuk Backpackers is where I stayed and have only good things to say about them. It will cost you around Rs. 250 per night with AC. Check out these top rated hostels here for the best reviewed hostels to stay in Jaipur.
There are other cheaper ones as well and if you come in the summers or during monsoons, you could easily get something for Rs. 70-100 for a night.
Homestays and Airbnb
Are you traveling with family or friends? Or are you here for your honeymoon? Then an Airbnb would be perfect for you. You can easily find a clean apartment on Airbnb for less than Rs 1000 per night. Check out the best homestays reviewed here for the current availability and current prices in Jaipur.
If you prefer something fancier do check out websites like Booking.com or Goibibo.com for exclusive deals. There are plenty of resorts and 5-star hotels that come with beach facing rooms
Traveling in Jaipur
To travel internally, buses are the cheapest option. You can also opt for the metro which is pretty well connected. In case you are traveling to a nearby location there are plenty of e-rickshaws and auto rickshaws.
There are also Uber and Ola in case you are looking for a cab but keep in mind that will cost you a tad higher. Not just that, you might also have to spend some time waiting for them to arrive.
Thus, if you happen to be in a hurry, I would suggest opting for public transport.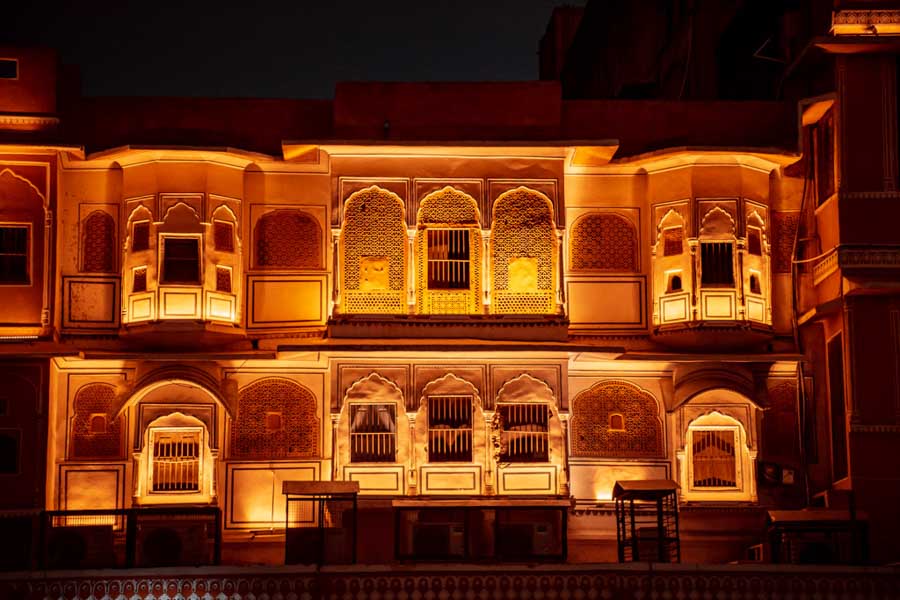 Summary of Jaipur and things to do around the city
Jaipur is hands down one of India's most colorful and vibrant cities and if you haven't yet visited here, trust me, this is a weekend trip you want to take.
If you have already been here, do share your experience in the comments below. You can also leave your suggestions and tips to help others enjoy the place to the fullest.
Conclusion on Places to visit in Jaipur
Have you visited any of these places to in Jaipur? We would love your tips and observations to visiting these spectacular sites around India.
Please share your thoughts and other recommendations in the comments below with your tips and suggestions for additional things to do in the city.
Thanks for visiting today and checking out this post on Best places on Places to visit in Jaipur. I hope you are inspired to plan a visit and enjoy these wonderful attractions. If you enjoyed the images and post, could you please share it with any of the social media buttons located around the post.
Disclosure – Some links in this article on Places to visit in Prague are affiliates which provide a small commission to support this site at no extra cost to you. Thank you for reading, and happy travels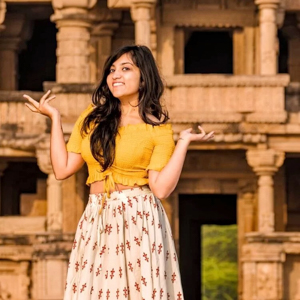 BIo Author
Rachita Saxena is a travel blogger from India who has been traveling full-time for 3 years now. She shares her travel stories on her blog – Meanderwander and loves trying new food and experiences in a new destination. When she isn't traveling, she loves reading about new places and plan her next trips!