Places to visit in Tbilisi –  a beginner's guide to exploring the city
Tbilisi is a capital of Georgia and very much a hidden gem in Europe. Famous for its delicious food, hospitable people and an eccentric nightlife, it is a city which will not disappoint.
Georgia has recently opened up its borders for travellers from all around the world, so I have put together this beginner friendly guide to help you know exactly what to expect when visiting one of my favourite cities in the world.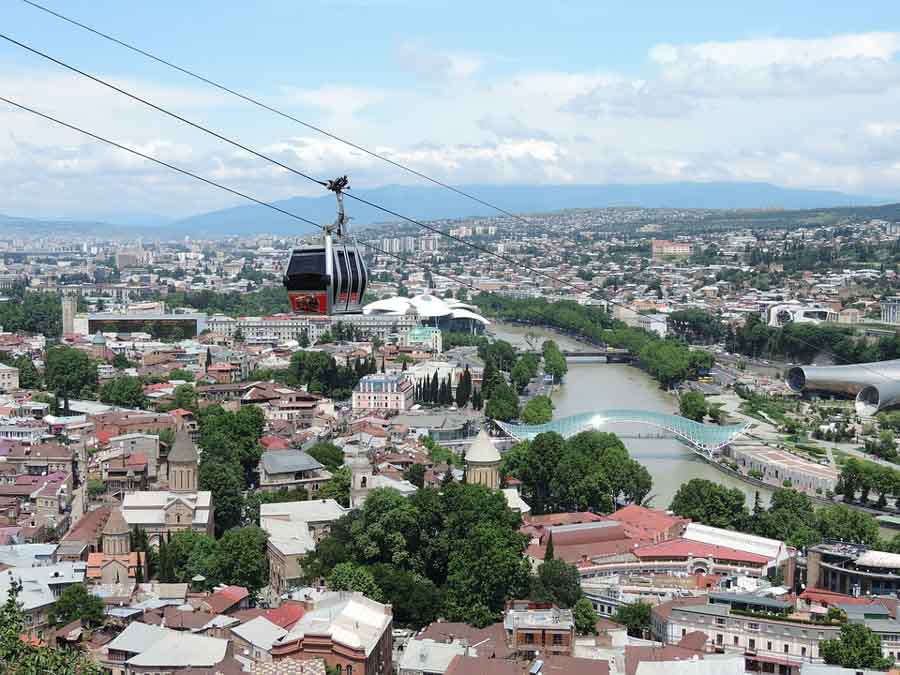 What you should know before you go
Here are a few things you need to know before visiting Tbilisi for the first time:
Currency: Lari
Language: Georgian
Population: 1.1 million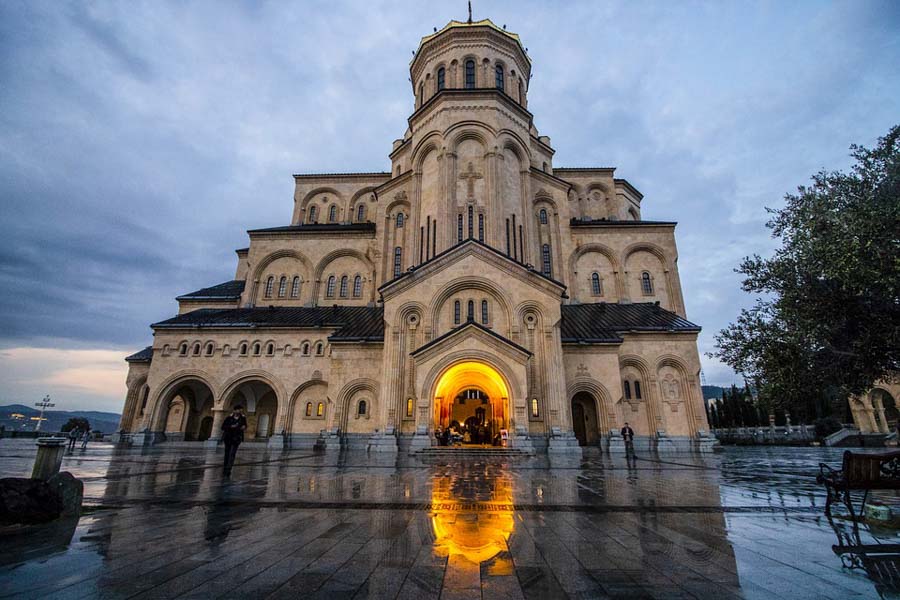 The Best Time to Visit Tbilisi
The weather in Tbilisi is pretty similar to any other city in Europe. It gets very cold and sometimes snows in the winter and the temperatures can get as low as -2.4°C. In the summer, however, it gets quite hot in the capital. A lot of Georgians like to escape to the mountains or to the beach because the heat can feel unbearable.
Therefore, the best time to visit Tbilisi is around May or September. This way you are escaping the touristy season as well as avoiding the scorching heat.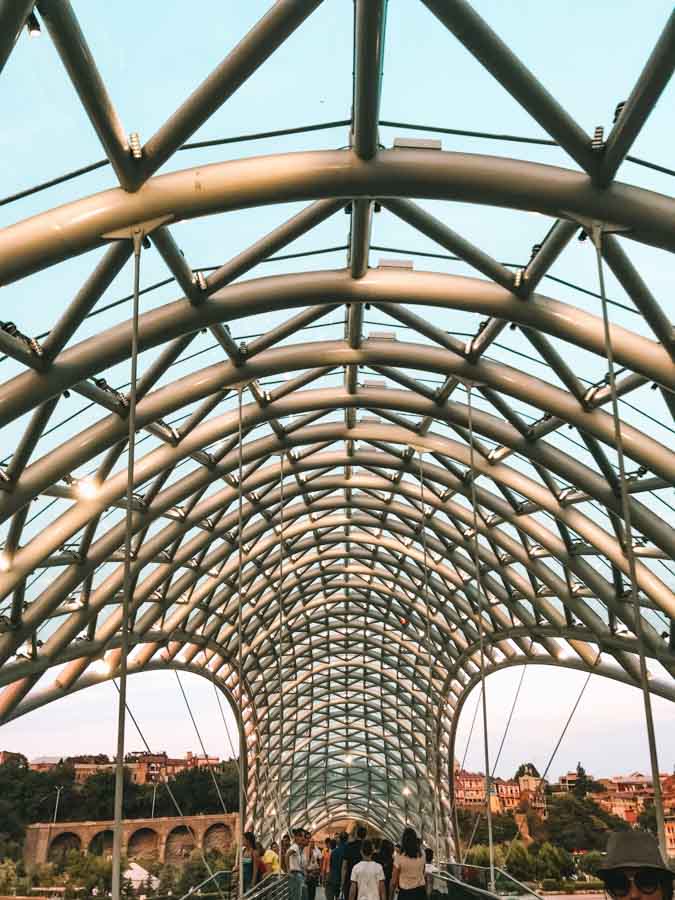 How to get around Tbilisi
If you are only visiting Tbilisi and do not plan to visit any other parts of Georgia, then you will be fine getting around via buses and taxis. The taxis in Tbilisi are quite cheap and are definitely one of the best ways to get around the city.
Where to stay in Tbilisi 
There are a few nice hotels in Tbilisi, depending on your budget:
Cheap option: Fabrika
Fabrika is one of the coolest hang out spots in Tbilisi, but it is also a hostel. You can stay here if you want to meet a lot of young people from all over the world.
Affordable option: Amante Narikala by Tbilisi Luxury Boutique Hotels
Hotel Amante Narikala is a beautiful hotel has some of the most amazing views in all of Tbilisi. It also has a spa and the location is very central which makes it a perfect hotel to stay at.
Expensive option: Stamba Hotel
Stamba is also a restaurant that the locals love to frequent often. It is a very stylish, beautiful and luxury hotel and is perfect for every type of traveller.
Check out all these other popular and well reviewed hotels in Tbilisi here for updated prices, availability and amenities.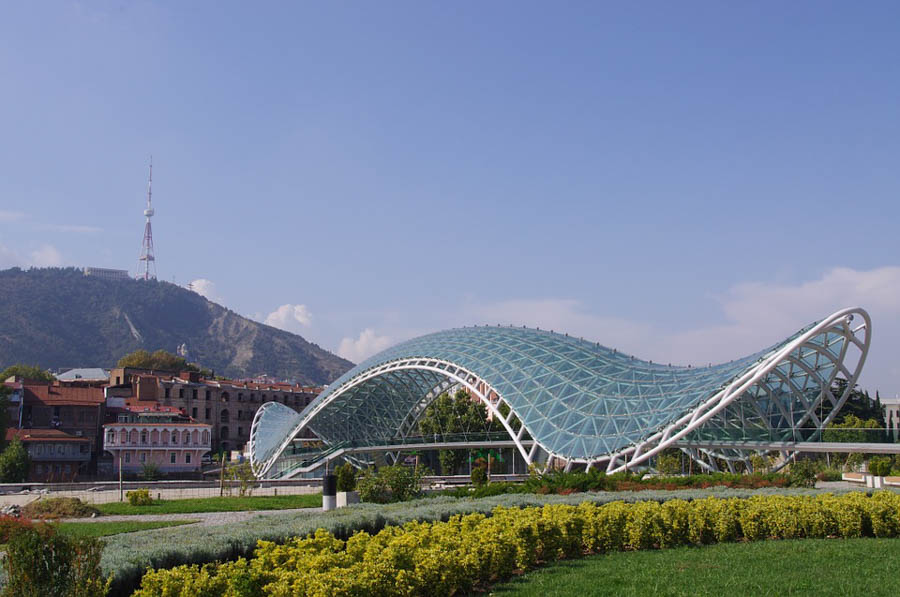 5 things you must do in Tbilisi
Visit the Bridge of Peace
One of the things that you really must do when visiting the city of Tbilisi is to visit the Bridge of Peace. This is a bridge which separates the Old Town from the new city, and the design itself is quite unique. For a very long time, when the bridge was built, it was given a funny nickname of Misha´s Nappy (Misha being the president who constructed it), which has to do with the way it is shaped.
The bridge is also an ideal place to visit in Tbilisi because of its location. If you want to take a stroll around Tbilisi, the bridge is a really great place to start. You can visit the Old Town and then cross over to the New Town or vice versa.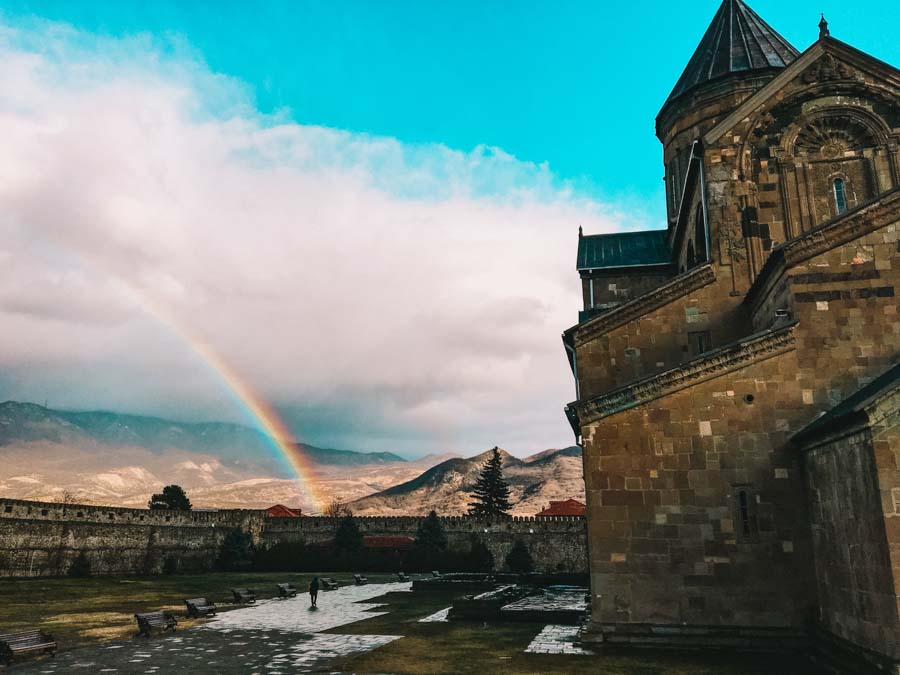 Visit the Sameba church
This impressive church is one of the staples of Tbilisi. Built in the 20th century, it is considered to be the third tallest Eastern Orthodox cathedral in the world.
When going to any church in Georgia, make sure to wear a skirt and a head covering of you are woman and trousers (not shorts) if you are a man.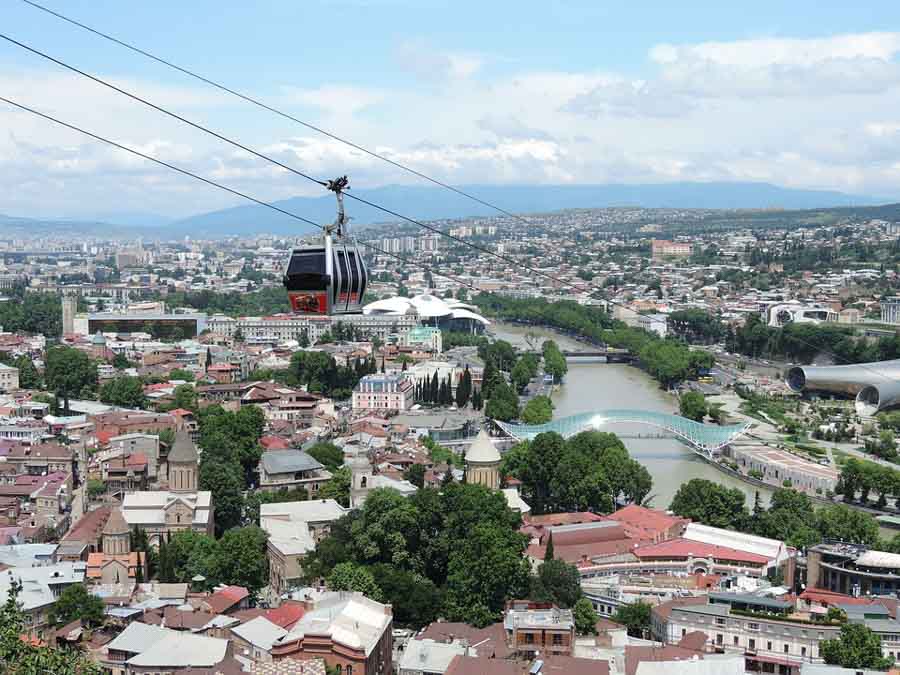 Take the cable car to Mtatsminda park
As a local who visits Tbilisi twice every year, this is an activity I never get tired of doing. This is particularly a fun activity to do if you are a first-time visitor, as the Mtatsminda Park has some of the best views of the city. Whether you come here at night or during the day, you are guaranteed to have the most spectacular views of Tbilisi. You can also visit in order to admire and point out all the famous city landmarks from above.
It is also worth mentioning that up here you can try some of the best Adjarian khachapuri (the Georgian cheese boat with an egg) in the whole town. Make sure to follow it up with a ponchiki (a donut) which are also pretty popular here.
Additionally, iIf you are a fan of amusement parks and attractions, then you may want to pay a visit to Mtatsminda Park itself. It can be a fun place to visit with friends.
Go to a sulphur bath
The name of the capital Tbilisi originates from the Georgian word 'tbili', which means 'warm'. Legend has it that when King Vakhtang Gorgasali was hunting, he shot a pheasant. That pheasant fell into a hot spring, which the king eventually found. He then decided to build a city there and call it Tbilisi.
Therefore, visiting a sulphur bath is a very popular activity to do in Tbilisi. A great one to visit is called the Chreli Abano, which also happens to be a well-known Instagram able spot in the city.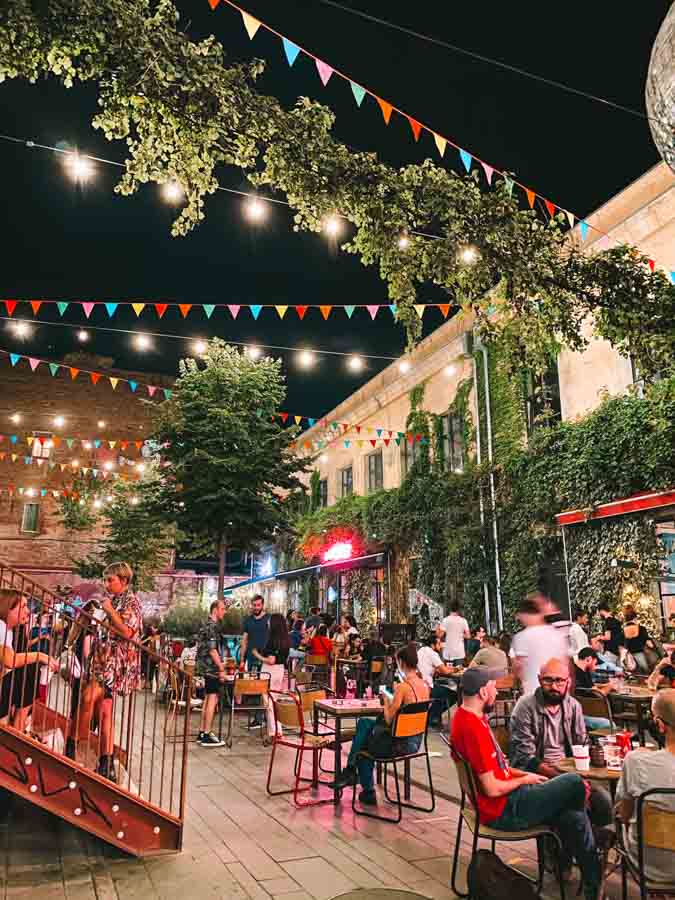 Eat a lot
If you should know anything about Georgia, it is the fact that it is known for its food and wine. The Georgian culture generally is very hospitable, so much so that for a while every foreigner entering the country was given a free bottle of Georgian wine on arrival.
The Georgian tradition also revolves very much around food. A supra is put out for almost every occasion. This is a table full of Georgian food, often headed by a Tamara. The Tamada is the leader of the table, who gives speeches and encourages everybody on the table to take a drink with each toast.
Some of the traditional Georgian food which you must try when in Tbilisi includes khachapuri (the cheese bread), khinkali (dumplings with a mince and soup inside), a tomato and cucumber salad, and many more others. It involves a lot of meat, cheese and heavy foods. This is what usually gets put on the table for the supra.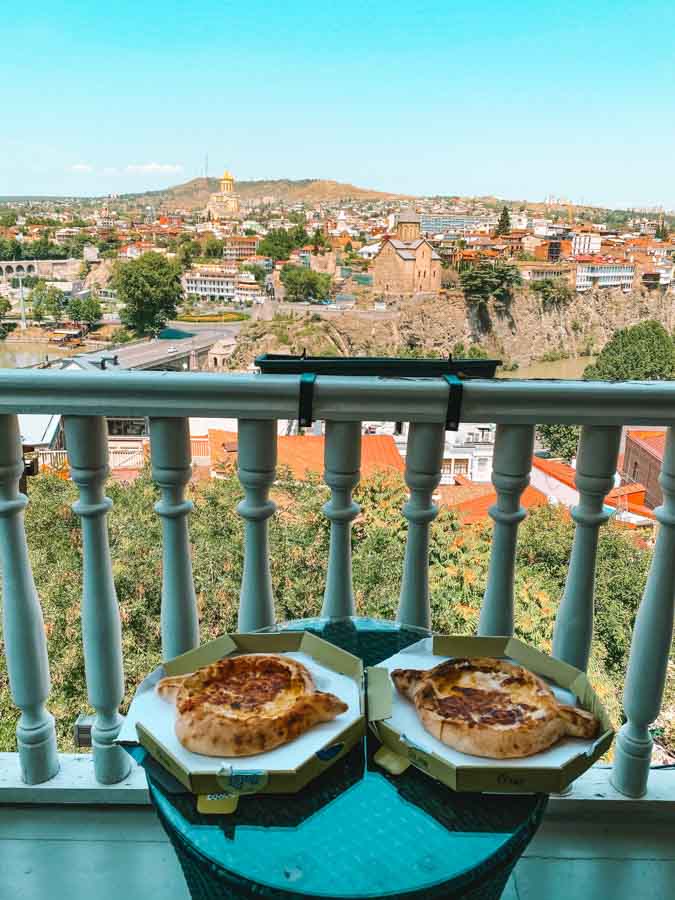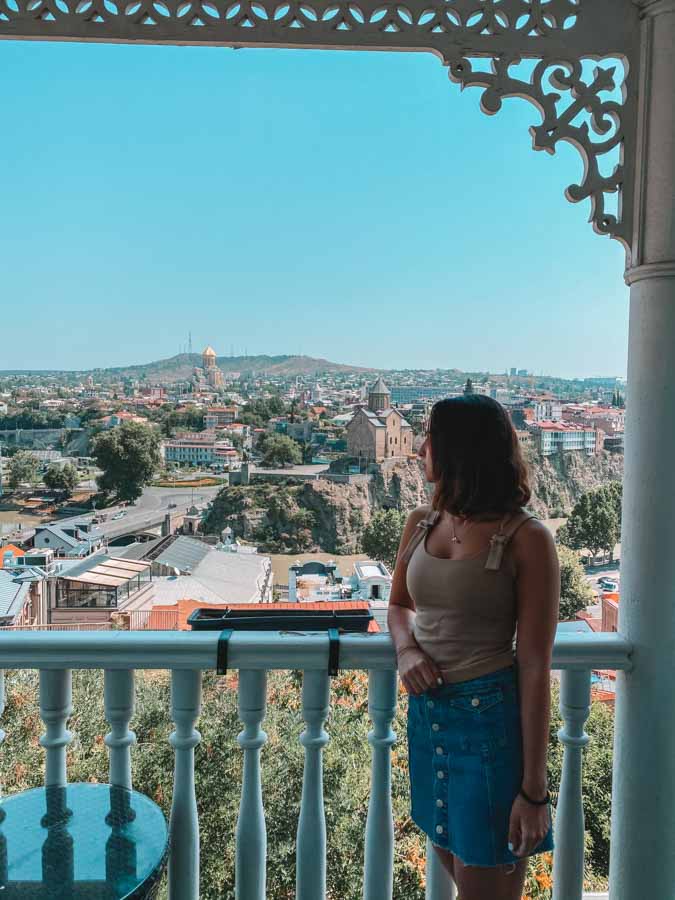 Guest writer Bio
Anna is a travel blogger from Georgia based in London, UK. She has been travelling with her family since she was very young and fell in love with travel. Now she enjoys sharing her experiences on her blog nospaceinmypassport.com
Conclusion on Places to visit in Tbilisi
Tbilisi is one of those places that once you set your foot in, you're taken by the thrill of the activities and attractions in Tbilisi, the historic district and newer areas, fantastic neighborhoods and other neighboring towns, and the charming and historic vibe of Tibilisi itself. Travel destinations don't come better than this.
That's all for the Places to visit in Tbilisi! Do tell us if you found the post helpful and drop in any questions in the comments section below.
Disclosure – Some links in this article on Places to visit in Tbilisi are affiliates which provide a small commission to support this site at no extra cost to you. Thank you for reading, and happy travels