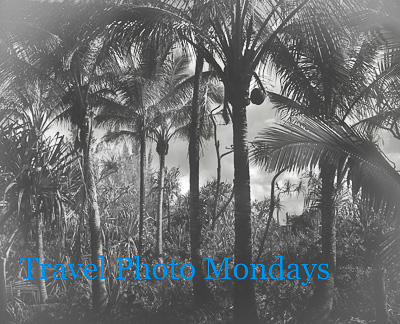 Welcome to Travel Photo Mondays
It's Monday morning, time to enjoy some gorgeous travel photography and inspiration from around the world. Let's banish those Monday blues by sharing gorgeous imagery and story telling.
Point Reyes National Seashore
Today I'm taking you to one of my favorite hikes at the Point Reyes National Seashore in Marin County, California.  Point Reyes was first discovered by Sir Francis Drake in 1579, the famous British captain that set out to explore the entire California coastline and making a stop at Point Reyes to fix his ship's hull. He then claimed all the lands in the 'New World' for Queen Elizabeth before continuing southwest to circumnavigate the world on his return back to England in 1580. It's also interesting to note that Spanish galleons plied the waters of Northern California on their way back from the Philippines to Mexico loaded with porcelains and spices from the orient.
Bear Valley trail at Point Reyes
One of the most popular trails at Point Reyes is the Bear Valley trail which starts from the visitors center and covers varied terrain all the way to the ocean and covering about 8.2 mi/ 13.2 kl roundtrip and takes about 5-8 hours depending if you want to take breaks or enjoy the coast at the end of the trail. The hike goes through grassy open areas and then to shady forests while walking along side the Bear Valley stream. Beautiful old growth Douglas fir, oak trees and redwoods majestically grow in this area with a variety of California native plants.
It's a peaceful and meditative walk going through the trail and enjoying the scenic vistas and natural wonders. At the end of the trail at Arch rock, you are rewarded with panoramic views of the cliffs and coastline from Point Reyes to the southern point and light house. The views on a sunny day or even cloudy days when it's likely to happen is also wonderful for photography, here's one last image of the coastline.
 Visiting the national park
It's easy to spend a pleasant morning or even most of the day enjoying the magnificent trails and observing nature at Point Reyes National Seashore in Marin County, California. If you are interested in visiting Point Reyes National Seashore, check out their website here for more information.
I hope you enjoyed your visit to Point Reyes, please come and visit these other bloggers below sharing their photo essays.
If you like this post, please consider subscribing to the blog via RSS feed or by email  below – also 'like' my Facebook page on the sidebar, I show more images, tips and inspiration on my Facebook page, come and visit!
[inlinkz_linkup id=322650]