Popular Southern Cuisine: Soulful Journeys into the Flavors of the South (updated 2023)
When you travel around the Southeastern United States, you should try some of the most popular southern cuisine and comfort food throughout the area to get a flavor of what foods makes each area unique and special. Each region specializes in dishes that use local and fresh ingredients and recipes that have been passed down through the generations.
We explore the culinary traditions and mouthwatering dishes that have made the South a renowned food destination. From soulful soul food to tangy barbecues, from crispy fried chicken to comforting bowls of gumbo, Southern cuisine is a rich tapestry of flavors, techniques, and cultural influences. Join us as we delve into the essence of Southern cooking, savoring its bold and savory delights while uncovering the stories and traditions behind each dish. Get ready to tantalize your taste buds and discover why Southern cuisine holds a special place in the hearts and palates of food enthusiasts around the world.
Check out these local favorites shared by travel and food bloggers of the best Southern foods to try in the USA.
Best southern foods to try in the South
So many amazing places to explore in the Southeast and so many delicious foods to enjoy – check out all these traditional comfort foods of the South below for your inspiration.
Southern Food FAQ
What are typical southern dishes?
Traditional Southern dishes includes:
Barbecue.
Fried chicken.
Pork and ham.
Variety of steamed or sauteed vegetables
Rice and beans
Sweets and pastries.
Seafood boiled
The most popular dish you'll find in the south is fried chicken, this iconic dish is popular for gatherings, poplucks or any eateries you'll come across the souther
n states. The whole chicken is cut at the joint leaving the skin and bones intact. These pieces are then battered and deep fried, producing a crisp coating on the exterior of each piece.
Popular breakfasts in the south typically include scrambled eggs, creamy cheesy grits and buttermilk biscuits and salty ham and gravy or bacon.
Experience a low country boil
What's more southern than a real low country boil that you'll come across in all the lower coastal areas of Georgia , Florida and the Carolinas. It's easy, finger lickin good and a lot of fun to dig in to the pile of seafood, corn and potatoes you can eat to your hearts content. The ingredients are fairly easy to make the boil and the complete cooking process is below with ingredients that make up this delicious food and past time from the low country areas. Having a Low Country Boil is a favorite seafood extravaganza you'll see at popular restaurants and venues all across the Southeastern USA coastal areas.
Noel with Travel Photo Discovery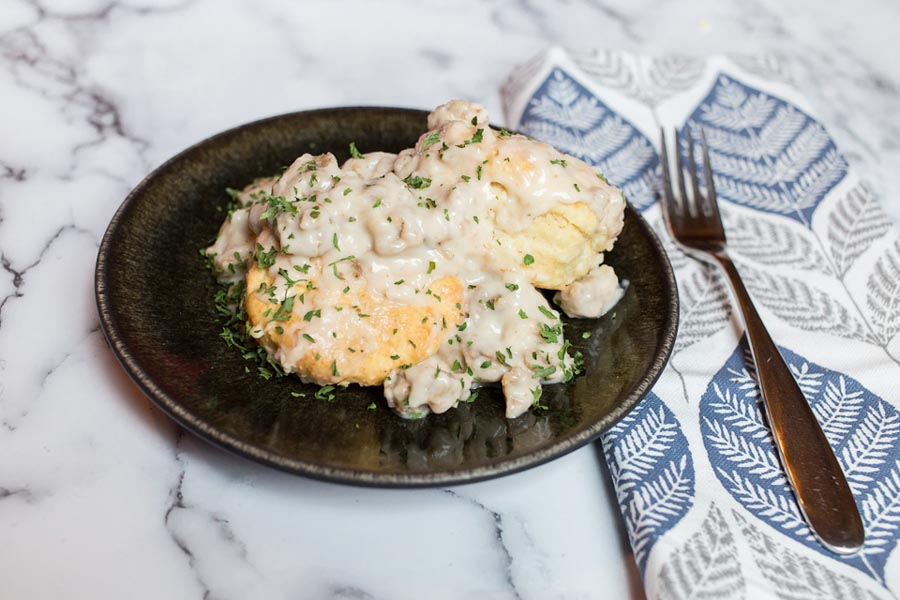 Southern biscuits and gravy
Biscuits and Gravy are a traditional southern dish that trace their lineage back to the civil war! There are a variety of versions of Biscuits and Gravy, some, like in Appalachia, have more meat heavy gravies whereas Southern States like Mississippi and Lousiana modify and add seafood to gravy! There are even 
vegan biscuits and gravy
 if you don't eat meat and want to try this southern staple! The best part is that making this dish is easy. Make the biscuit of your choice and slather it in the gravy of your choice! The gravy may depend on region, but they are pretty much all delicious!
Victoria with Wow it's veggie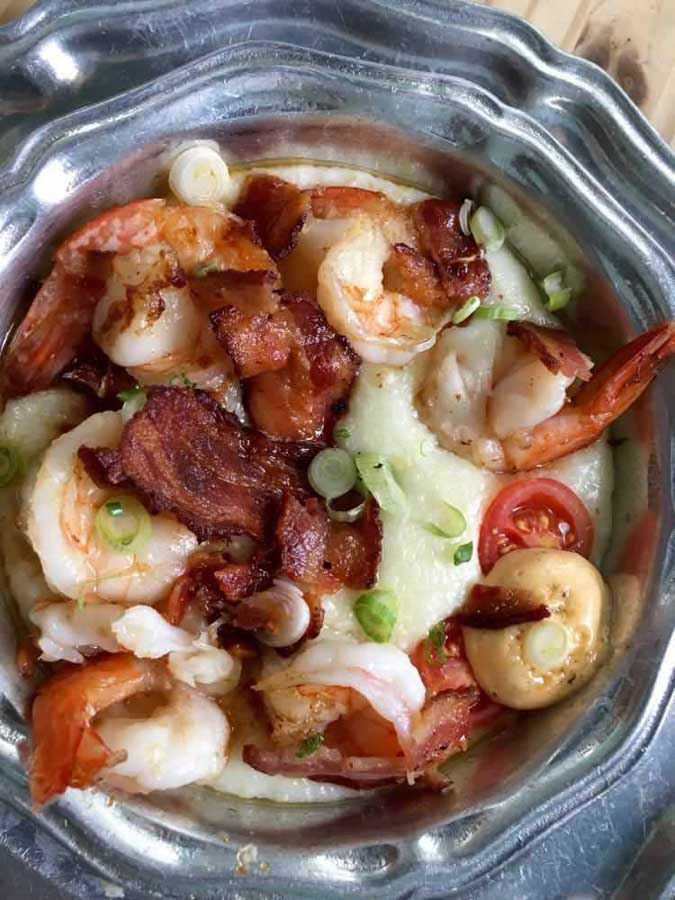 Shrimp and grits
Shrimp and grits is a culinary staple of the US South but can be found all over the United States. Its origin, though, can be traced to the South Carolina Low Country, where it was served to fishermen as a breakfast meal. While certainly the closer to Charleston, SC you are, the more "authentic" the shrimp and grits will be,  the beauty of this dish is that variations can be creative while still being true to the classic. Grits can be stoneground, watery, usually cheesy, with or without veggies or other ingredients. And shrimp can be grilled, blackened, boiled, with different levels of spiciness. Other ingredients can include garlic, lemon juice, bacon, diced tomatoes, okra, and whatever the cook wants to include for flair. For me, shrimp and grits is my default order at most US Gulf Coast restaurants, because the shrimp is as fresh as it can be, directly from the Gulf of Mexico. 
Charles with McCool Travel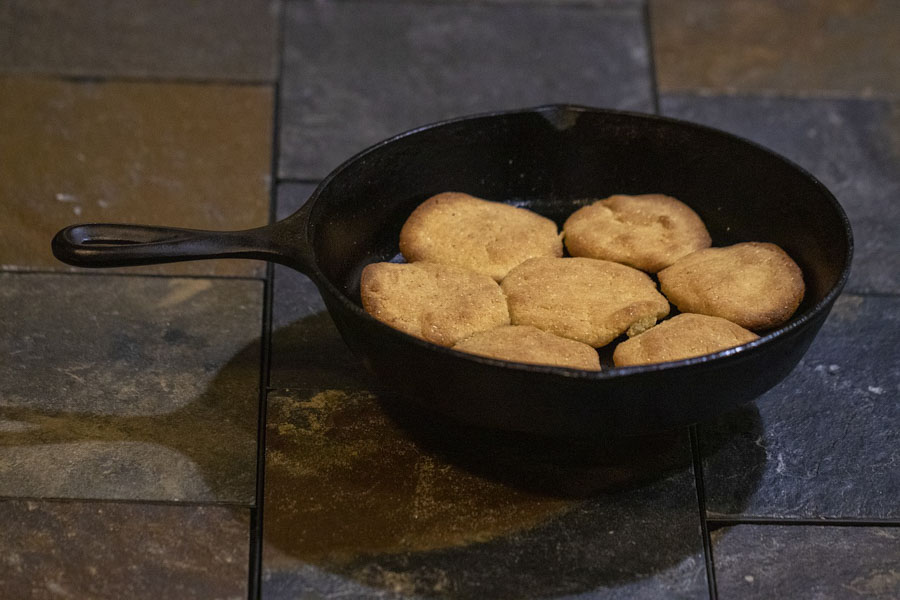 Southern Cornbread
Want to make any Southerner happy? Serve them a heaping plate of black-eyed peas, turnip or collard greens, fried okra – and, crucially, a steaming mound of cornbread. Go into an old-fashioned roadside café in the South, and you'll see this 'vegetable plate' featured on the menu, and it's on most Southern dining tables on Sundays, too.
Come Monday and Tuesday, that cornbread takes on a new purpose – as the main ingredient of Potlikker soup. Put the left-over blackeyed peas with their liquid into a pot. Throw in the leftover greens, and then crumble up heaps of cornbread until it makes a stick stew. Delicious, nutritious and filling.
As with so many dishes, there's no one way to make it. My grandma used to make hers in a skillet, flat like a pancake, and slathered in so much butter it turned bright yellow. Within five minutes of her bringing it to the table to serve up slabs straight from the pan, not a single crumb was left.
My mama makes hers fluffy, with a cake-like texture, and poured into a piping-hot cast-iron corn-stick pan.  These create slender, individual corn sticks with heaps of ridges to maximise the crispy edges – heaven!
Now I've heard tell of people who add sugar to their cornbread to make it sweet, but the less said about that abomination, the better. Since moving to Europe, I've struggled to find the most crucial ingredient – Self-rising Cornmeal Mix. But I've discovered how to make my own. To make Self-rising Cornmeal Mix, start with 3/4 cup cornmeal – or polenta will do in a pinch, as long as it's the kind made from corn. Then mix in 3 tbsp All Purpose Flour, 1 tbsp Baking Powder and a dash of salt.
My mama's Cornbread:
·         1 cup (120g) Self-rising Cornmeal Mix
·         1/4 cup (55g) cooking oil
·         Around 1/3 cup (80g) buttermilk
Mix it up, adding the buttermilk a little at a time until it's still a bit loose (i.e. not too wet). You might need a bit more or less than 1/3 cup. Pre-heat oven to 500F / 260C. Put a little oil in your cast iron cornstick pan or skillet (or muffin or cake pan, if you don't have cast iron) and heat it up in the oven for a few minutes until it's hot. Take out the pan, pour in the mix, then bake for 15-20 minutes until the centre is light and fluffy and the edges brown. Serve with vegetables, salads, soups or on its own with butter.

Fried Okra
Fried Okra is synonymous with Southern cuisine. Like many of the South's best dishes, it originally comes from Africa. Okra was cultivated in Ancient Egypt and spread throughout Africa and the Middle East. Enslaved Africans brought it to the colonies in the West Indies and eventually the plant was brought to America. Okra is an important part of Cajun food and is the thickening agent and key ingredient in gumbo. However, the fried version is a popular side dish. To fry it, cut the okra into bite-size pieces, dip them in egg, and cover in cornmeal. Fry them until the cornmeal and egg have set into a nice golden brown. It's nice to serve with a napkin under them to catch the grease. They can be very greasy when they first come out of the pan! The flavor comes out the best if you fry it in a cast-iron skillet (since this is the South!), but you can fry it up in any frying pan that you have handy.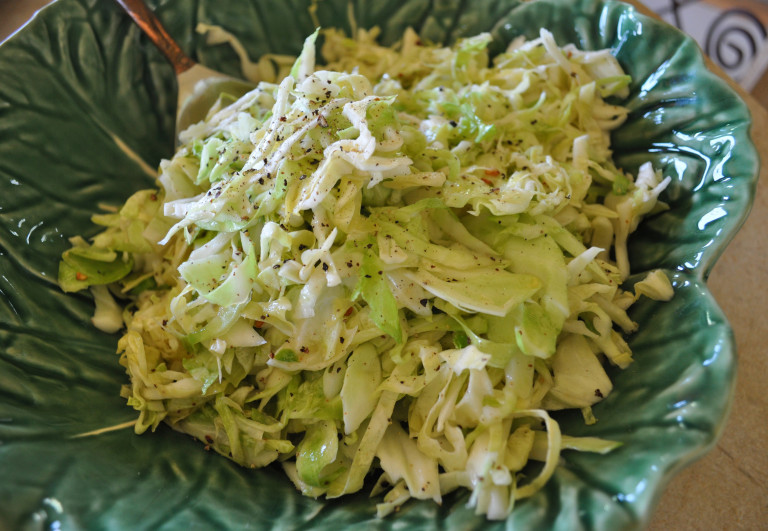 North Carolina coleslaw
In North Carolina we usually serve coleslaw on burgers and BBQ sandwiches or alongside of pulled pork or ribs. The vinegar style vs creamy coleslaw helps cut the greasy food. You also see it served with fried chicken, another staple of North Carolina picnics.
Here is the simple recipe: 1/2 cup of cider vinegar 1/2 cup of white wine vinegar 1/4 cup olive oil (optional but I find it makes the salad smoother tasting) 4 tablespoons sugar or agave syrup 1 teaspoon salt 2 teaspoons fresh cracked pepper 1 teaspoon celery seeds (optional) 1 pinch of crushed red pepper 1 tablespoon of Tabasco sauce (optional) 1 head green cabbage Mix all ingredients except the cabbage together and stir well till the sugar is dissolved. Shred the cabbage. I use the slicing blade on my food processor, but you can slice by hand or with a grater that has a slicing blade. You do not want this to be grated in small pieces as with a creamy cole slaw. 20-30 minutes before serving toss the dressing with the cabbage and chill till serving time, toss again and add more black pepper.
Devany with Sassy Spoon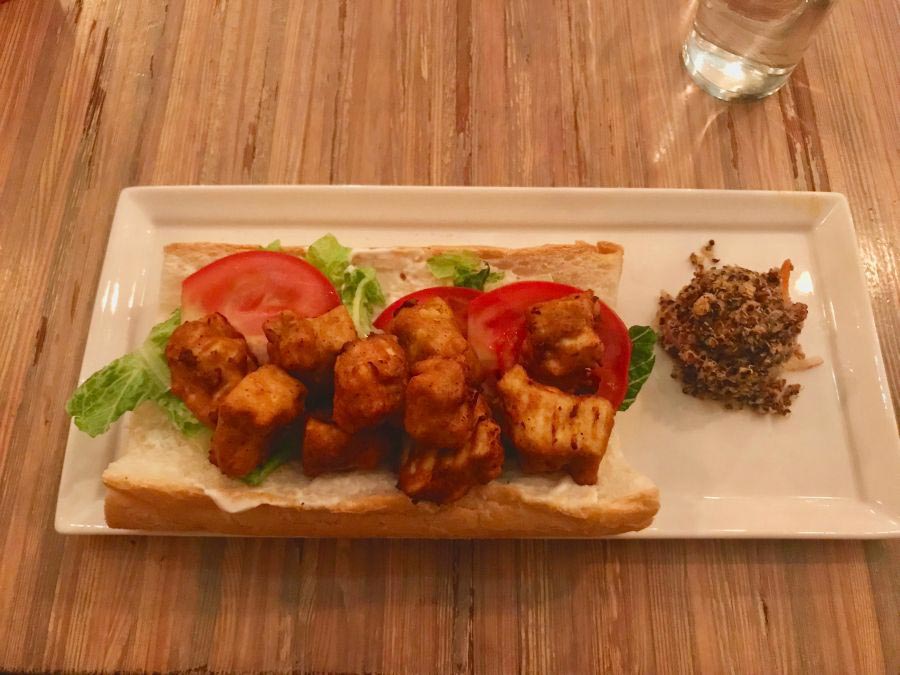 New Orlean's Po'boy
A po'boy is a traditional sandwich from Louisiana that's served on New Orleans "French" bread, similar to the baguettes that you find in France. As for the sandwich filling, it's most often fried oysters or some other type of fried seafood. Of course, nowadays there are many unique twists on the original classic, and you can also find vegetarian and vegan versions in New Orleans' restaurants. Killer Po'Boys, for example, offers a roasted sweet potato po'boy with black-eyed pea and pecan spread and braised greens.
As for the name, it's simply the words "poor boy" pronounced with a Louisiana accent. It's thought to have originated in a New Orleans restaurant owned by two brothers, Benny and Clovis Martin, who invented the sandwich to feed the dock workers, farmhands and other "poor boys" who frequented their restaurant. These days, po'boy shops can be found on many street corners in New Orleans and continue to be a staple among its working-class citizens.
Wendy with the Nomadic Vegan


Pimento Cheese in Georgia
Pimento cheese is a extremely popular dip in Southern USA, especially in Georgia where I first tried this creamy mixture of cheddar cheese and pimentos (canned, sweet, red peppers). The original recipe dates back to 1908! However, despite what many southerners like to think, it was not necessarily invented in the south.
It was published in a Good Housewives Book and became a nationwide success. After that success, pimento cheese was mass-produced and Georgia became the key producer of canned pepper (pimentos), which were roasted and canned to be used for things such as pimento cheese.
So how did pimento cheese became a southern signature dish instead of a nationwide one?
The truth is, no one knows exactly. What they do know is that while pimento cheese became less and less popular in other states, the south made some significant adjustments to the dip. The most important one was the addition of firm cheeses such as cheddar to the mixture, which resulted in pimento cheese as we know it!
So how exactly do you make pimento cheese as we know it?
For 12 servings you need:
A mix of sharp and mild shredded cheddar cheese, preferably shredded by yourself (2 cups)
Cream cheese (8 ounces)
Diced pimentos (4 ounces)
Salt, pepper, onion powder, garlic powder, and cayenne pepper (to taste)
Mayonnaise (½ cup)
Then, you mix it all together in a bowl, and voila you've got your southern pimento cheese! Serve it with crackers, pretzels, chips, raw vegetables or as a spread on sandwiches or burgers.
Lara – Both Feet On The Road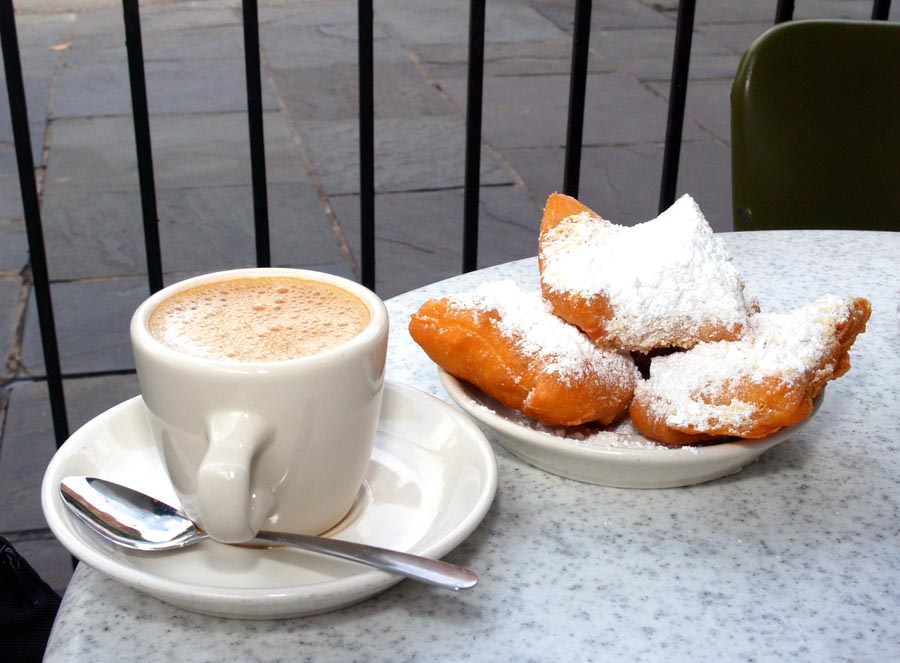 New Orleans Beignets
Ah Beignets, a dessert so mouthwatering good it can make you emotionally unsettled. Immigrating originally from France, these tasty treats made
their way across the pond and landed in Louisiana. Here they found a new home and quickly became part of the soul of New Orleans culture.
Translated from French, Beignets means "fritter. And Even though they are considered donuts, Beignets have a unique shape, taste, and
consistency that put them in their own category.
Beignets aren't your ordinary – run of the mill – donut.  Given more yeast than your average donut is the first, and most important, way
Beignets are different. This extra shot of yeast injects Beignets with a couple of special properties. First, it causes them to rise more, allowing for a more airy and pillowy texture, like biting into a cloud.
The extra puff also cuts down the overall sweetness of the dessert. (Unlike many other popular donuts around the States.) Staying with the reduced sweetness, Beignets aren't normally filled with cream or fruit. Instead,  the heavenly texture of the inside remains untouched. With most bakers dust the tops with a lite layer of powdered sugar to finish them off.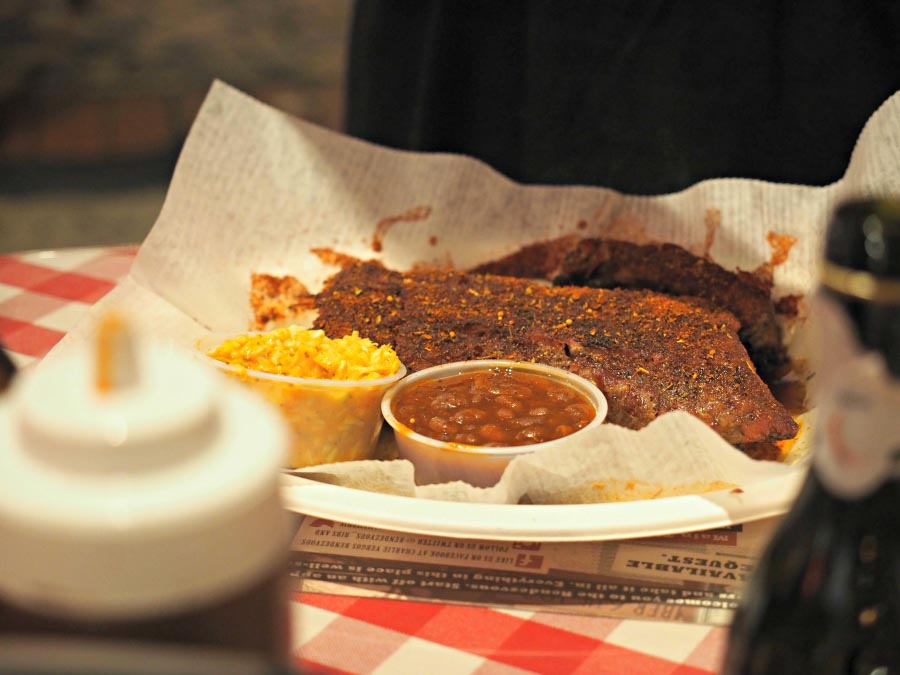 Memphis dry rubbed baby back ribs
Ribs in Memphis, Tennessee are serious business and the places that serve them are world famous. However, none are more popular than the Rendezvous—a back-alley, basement rib joint known for their dry rub.
Most people think ribs need to be slathered in barbecue sauce, but such is not the case in Memphis. In 1948 Charlie Vergos, a WWII veteran and the son of Greek immigrants, opened the Rendezvous in downtown Memphis. He created a never-before-tasted mix of spices previously used in his father's Greek chili recipe and left it at that. This rub covers the ribs before they're cooked and nothing else is added between smoker and mouth.
Memphis ribs dry rub includes: salt and pepper, brown and white sugar, paprika, garlic powder, onion powder, cumin, allspice, rosemary, and a few more. Every dry rub recipe you find is slightly different but no less delicious than any other. The important thing to remember is that your ribs stay sauce-free.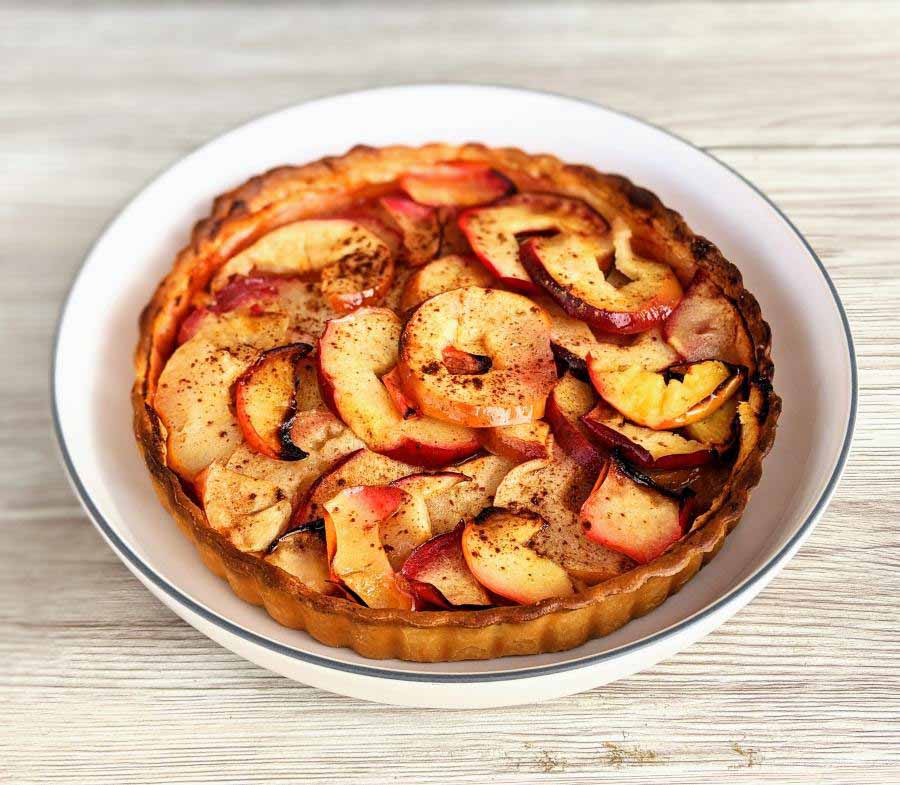 Southern Peach Cobbler
Resembling a thick-crusted, deep-dish pie with both a top and bottom crust, the peach cobbler is the ideal way to end a meal in the Deep South. The sweetness of the freshly sliced peaches is perfectly balanced with the spices and crisp topping. Interestingly, cobblers were never meant to be pretty and was considered a weird food in the early 1800s, emerging as a makeshift version of the ever-popular pie recipe. It wasn't until the late 19th century that the peach cobbler was officially labeled as a dessert. Fortunately, it is pretty easy to make. All you need are fresh peach slices, cinnamon, lemon juice, and some baking powder. The mixture is then poured into a pan and baked in preheated oven for 30 to 40 minutes, or until the crust turns golden brown. As per local tradition, serve it topped with whipped cream or some vanilla ice cream and you're good to go. 
Rai with A Rai of Light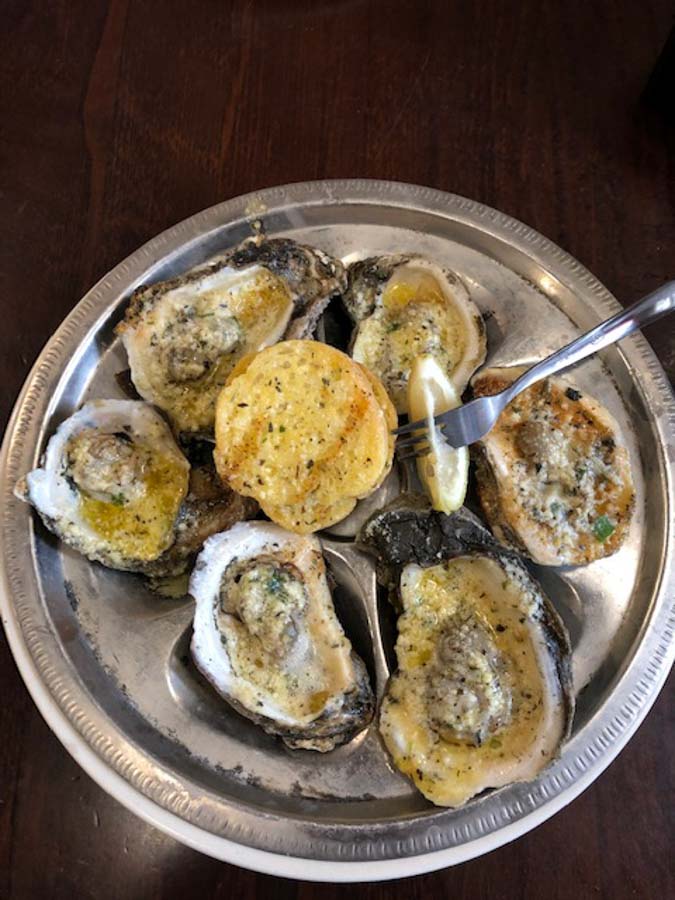 Chargilled oysters from New Orleans
Chargrilled oysters is a popular seafood dish from New Orleans. This dish was originally created by Drago's Seafood Restaurant and named charbroiled oysters. It's become one of the culinary staples of New Orleans, and you can now sample this delicious dish in many eateries across the city. Chargrilled oysters are such a unique way to eat this particular seafood which is typically enjoyed raw. In this dish the oysters are fully cooked.
Chargrilled oysters are cooked on the half shell on the hottest part of the grill. After the oysters begin to bubble, they are topped with a mixture of butter, garlic and cheese. They are served sizzling on a platter with warm bread. Some of the best spots to sample chargrilled oysters in New Orleans include Drago's, Acme Oyster House, Antoine, Basin Seafood and Katie's among many others! If you want to try and make your own chargrilled oysters at home on the grill, this is the original recipe from Acme 
Julie at Wandering Sunsets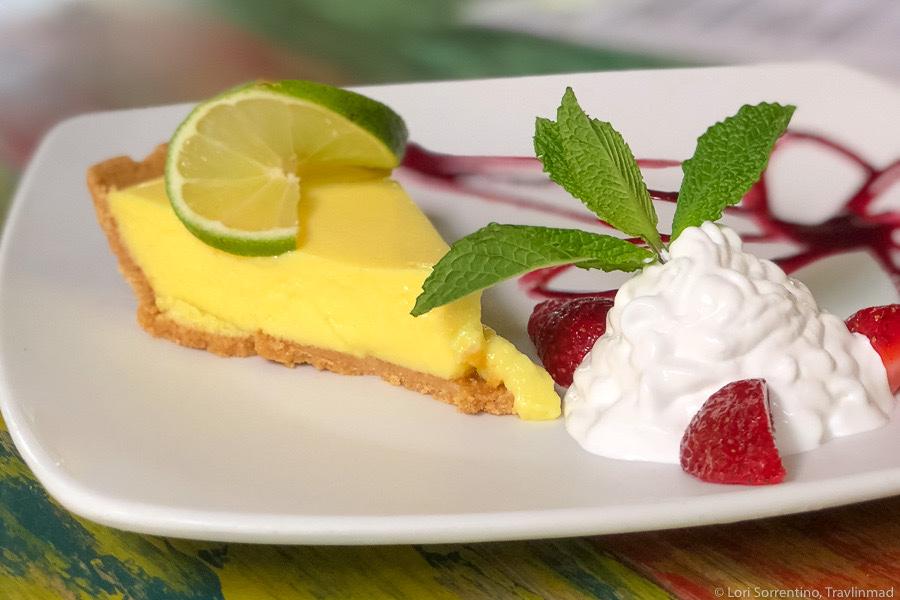 Key Lime pie from the Florida Keys
One of the most iconic dishes to be found in the southeast USA, and a specialty of Key West, is Key Lime Pie. In fact, the dessert is so popular that it's been designated as the "Official Pie of the State of Florida".
There's an ongoing debate as to what makes key lime pie so special, but purists insist that there only be three basic ingredients — sweetened condensed milk, a graham cracker crust, and 100% pure key lime juice. While some pies are baked and others are not, and some bakers prefer a graham cracker crust over pastry, all will agree that the main ingredient must be only key lime juice and not the juice of Persian limes and absolutely, positively no green Jello. Key lime pie should always be a shade of yellow, never green.
The best pie always has a balanced flavor, never too sweet or too tart. If you find a place serving it topped with fresh whipped cream and served in a bowl, sit down and enjoy. If it comes to you green, move on!
Key limes are abundant in south Florida, and the fresher the limes, the better the pie. Key lime pie can be found almost anywhere in south Florida but nowhere is it better than in the Conch Republic itself where competition for the 
best pie in Key West
 is fierce. Do a DIY tour when you're there — just be prepared to put on a pound or two!
Lori with Travelin Mad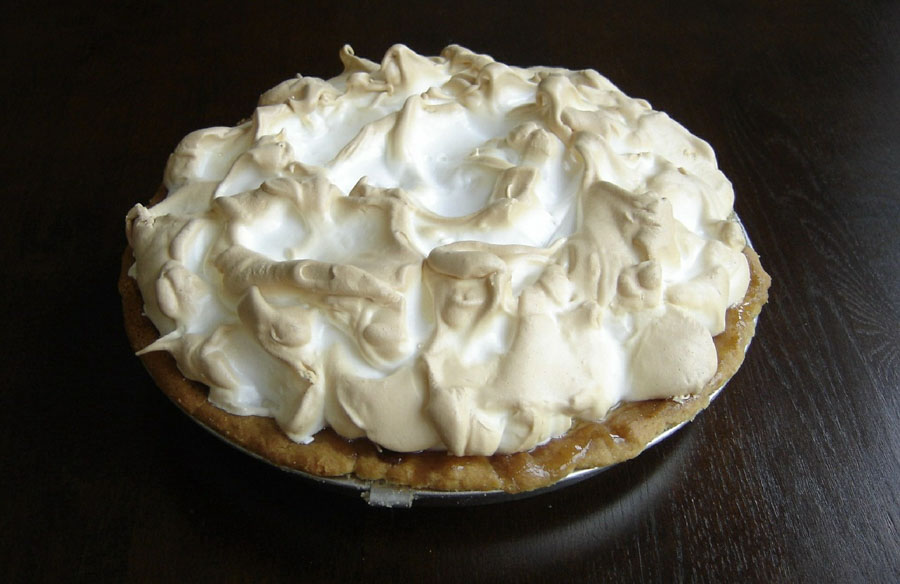 Atlantic Beach Pie
A new tradition based on an old tradition that hits all the perfect dessert spots. The Atlantic Beach Pie features a salty crust with a sweet and tart filling. It balances a thick, crunchy crust with a fluffy creamy topping. It is the ideal tribute to North Carolina's coastal living, which you can appreciate while driving through North Carolina's Outer Banks.
While the lemon pie has been a coastal tradition for most of the 20th century, it owes its more recent revival to Chef Bill Smith of Crook's Corner in Chapel Hill. He tweaked the recipe he remembered from when he was a child in the 1950s and his family would go to the beach. After an appearance on NPR, the recipe became a sensation.
There are certainly some heated debates about the exact ingredients. Some people feel the pie should be topped with a meringue, to use up the egg whites. Some feel that lemon juice is more true to the roots of the dish. But Chef Smith's recipe is the one that reignited the trend and caught the eye of Southern Living and his recipe is the one featured below.
The basic version:
1 ½ sleeve of saltines
½ cup of room temperature (softened) unsalted butter
3 tablespoons sugar
1 can sweetened condensed milk
4 egg yolks
½ cup lemon and lime juice (¼ cup each)
Fresh whipped cream
Coarse sea salt for garnish
Preheat the oven to 350 degrees. Crush the crackers finely (by hand is fine, not so crushed that they are dust). Add the sugar, then knead in the butter until the crumbs start holding together like dough. Press into an 8-inch pie pan. Chill for 15 minutes. Bake for 15-18 minutes or until the crust colors a little.
Let the crust cool a bit. Beat the egg yolks into the sweetened condensed milk, then beat in the juice, beating completely in. Pour into the shell and bake for 16 minutes so that the filling sets. Allow the pie to cool completely (about 4 hours) before serving. Top with fresh whipped cream and just a touch of sea salt.
Check out this recipe on Atlantic beach pie
Annick with The Common Traveler
How about some sides with that Southern food?
If you want to try any of the delicious southern foods above, don't forget to have some yummy sides to go with them below.
Certainly! Southern cuisine is known for its delicious side dishes that complement main dishes perfectly. Here are some popular Southern side dishes:
Collard Greens**: Cooked until tender with seasonings, these leafy greens are a classic Southern side.
Macaroni and Cheese**: Creamy and cheesy, it's a comforting side that's hard to resist.
Red Beans and Rice**: A hearty and flavorful combination of red beans and seasoned rice.
Grits**: Made from ground corn, grits are creamy and often served as a breakfast side or with shrimp as a main dish.
Hushpuppies**: Deep-fried cornmeal balls, crispy on the outside and soft on the inside.
Corn on the Cob**: Grilled or boiled corn on the cob, often served with butter and seasoning.
Fried Green Tomatoes**: Sliced green tomatoes coated in cornmeal and fried until crispy.
Sweet Potato Casserole**: Mashed sweet potatoes topped with a sweet and crunchy pecan or marshmallow topping.
Black-eyed Peas**: Often served on New Year's Day for good luck, these peas are typically simmered with spices.
Potato Salad**: Creamy and tangy, Southern-style potato salad is a favorite at picnics and barbecues.
Baked Beans**: Slow-cooked beans in a sweet and savory sauce, a staple at cookouts.
These sides add depth and flavor to Southern meals, creating a rich and satisfying dining experience.
It's all so good, but did we miss anything?
Hope this covered all the good foods of the south to try. But, if we missed anything, please do share your favorites or recipes in the comment section below.
Please share or pin this for later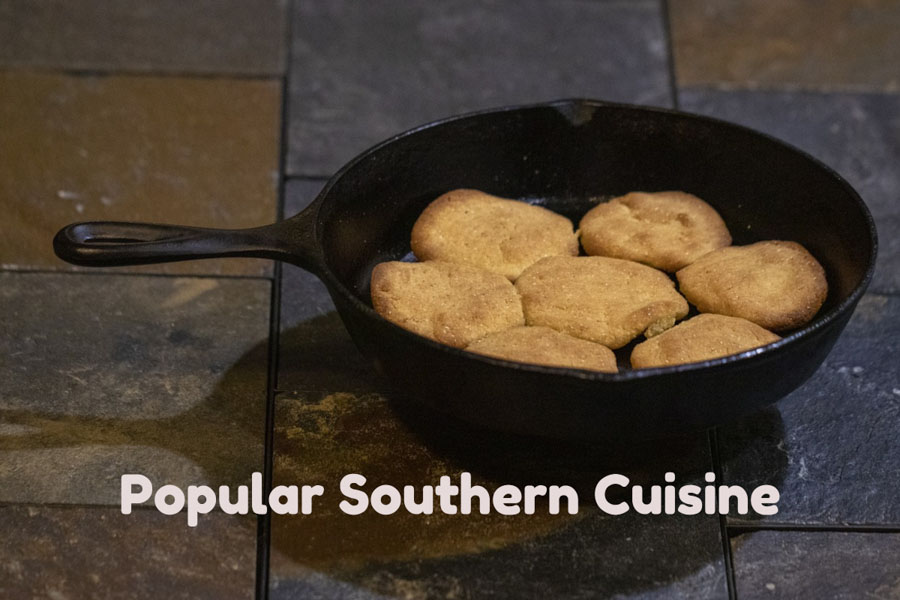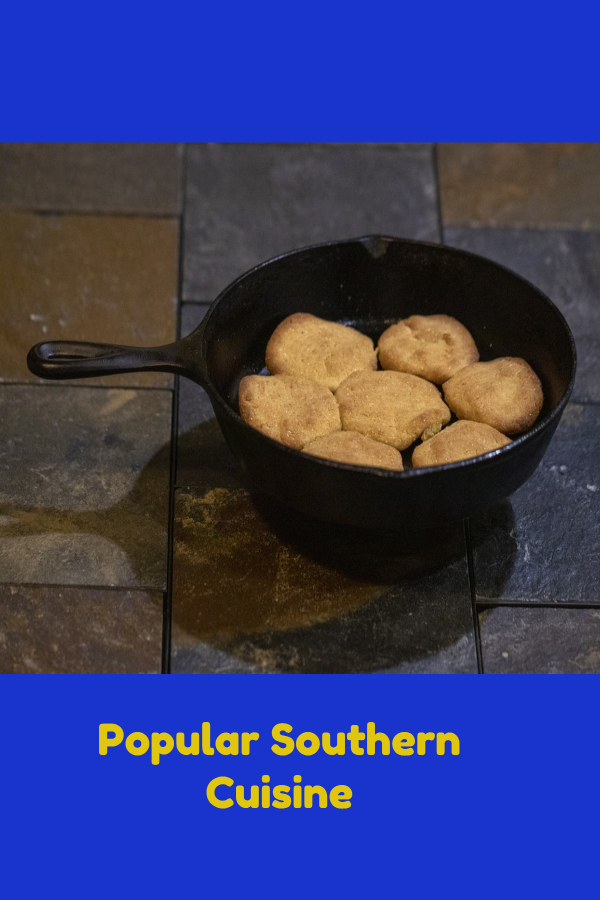 Conclusion to trying the best southern foods in the USA
Southern food in the USA is a culinary tradition that is as rich in history as it is in flavor. It represents a vibrant tapestry of cultural influences, regional variations, and time-honored techniques. From the Lowcountry of South Carolina to the bayous of Louisiana, Southern cuisine has captivated food lovers with its soulful dishes and comforting flavors.
The essence of Southern food lies in its ability to bring people together, fostering a sense of community and hospitality. Whether it's a backyard barbecue, a Sunday brunch, or a family gathering, Southern meals are meant to be enjoyed with loved ones, creating lasting memories and cherished traditions.
From classics like fried chicken, biscuits and gravy, and shrimp and grits, to the iconic dishes of New Orleans like gumbo, jambalaya, and beignets, Southern cuisine offers a diverse range of flavors that reflect the unique cultural heritage of the region.
Thanks for visiting and checking out this post on Popular Southern Cuisine. Bookmark this post for future reference when you are looking for some Hawaii activities, adventure or fun experiences.
Please do share this post with any of the social media icons on the side bar and thanks for visiting today!