If you are planning on visiting Puerto Vallarta and not familiar with what type of food and fun food venues that are the must visit spots for local dining, street food and amazing cocktail and bar venues to visit in town, then you should take a food tour. A visit to Puerto Vallarta, Mexico really brings you into the heart of dining and experiencing really good local foods that are worth the effort and taking a food tour takes out all the mystery and research with fantastic dining spots that are a fun food experience.
A fun 
Puerto Vallarta 
food tour in Mexico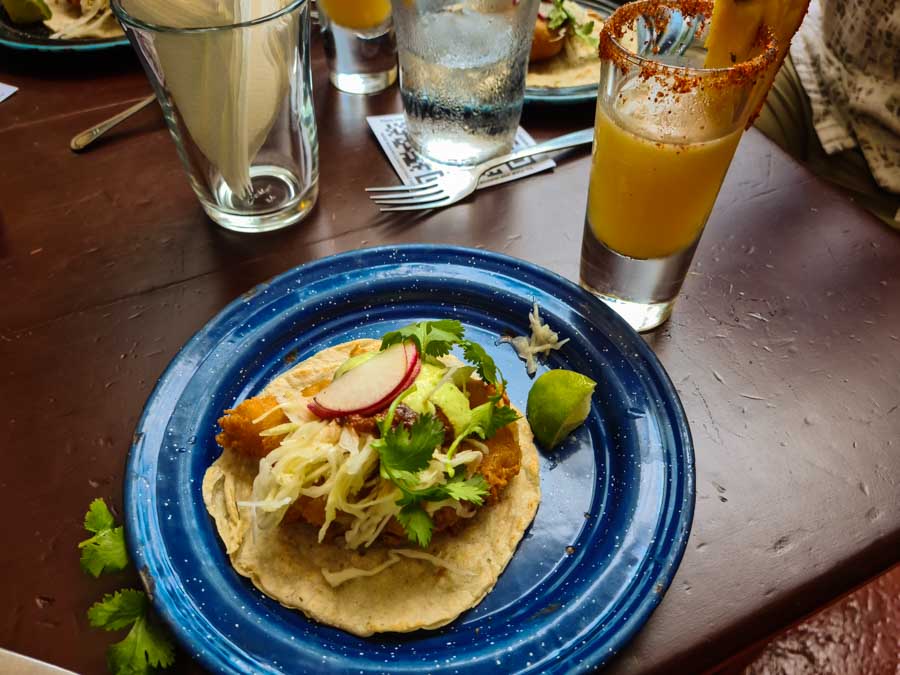 Why do a food tour experience in Puerto Vallarta?
Not only are food tours fun and exciting to do in this city, but the stories, knowledge and fantastic guides really do make an impact on visiting and trying out new things and places in the city. Finding out the really local places and even the artisanal spots around the city takes a lot of research and effort to do on your own and any of the food tours experiences will really give you a fantastic local experience to visiting and tasting the delicious foods and drinks in the area.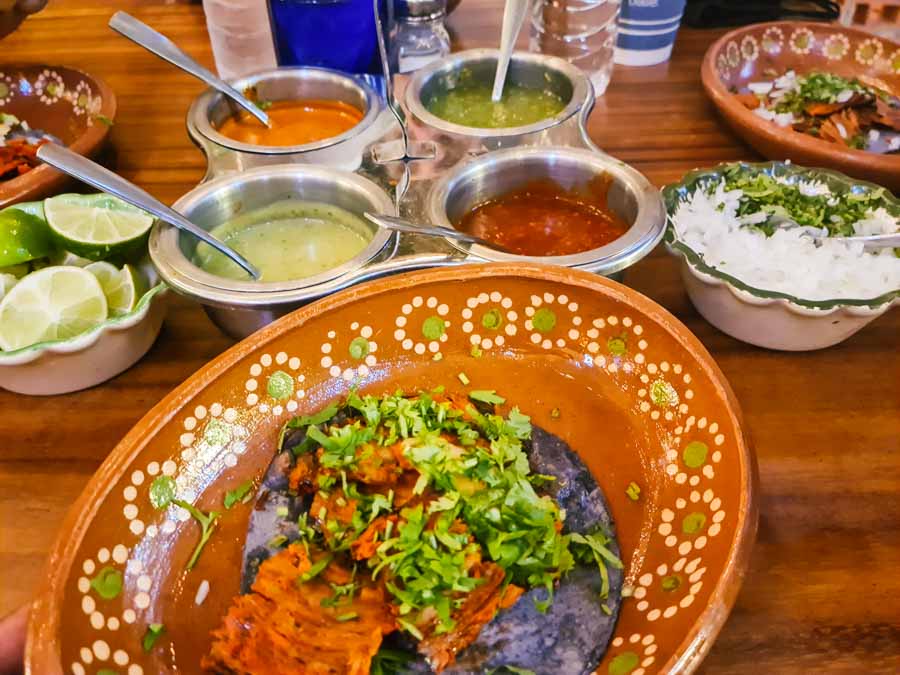 Experience Vallarta Food tours
I signed up for a local tour with local outfitter Vallarta food tours which offers a nice selection of food and city walking tours in different areas that are fun. With flexible plans and different tour programs, you'll be happy with all the different foodie choices here. My choice was their Mexocology and food walking tours around the Romantica zone which is filled with amazing bars and restaurants that specialize in different foods and specialty drinks.
I made sure to check out where the meeting area and making sure to have an empty stomach before starting, I was happy with both the local food choices and amazing drinking venues that were chosen for this experience.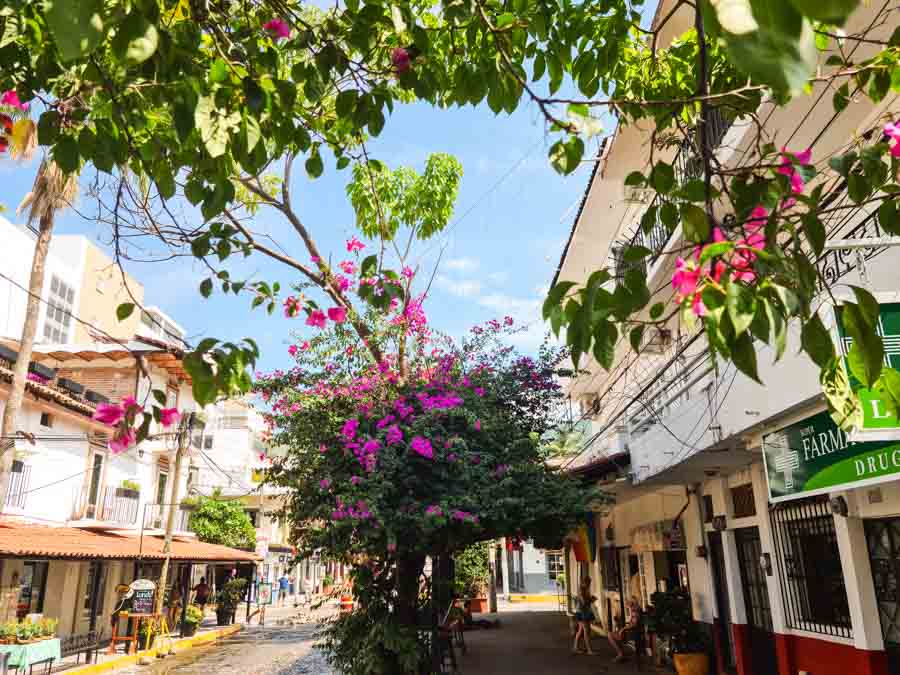 Exploring the Zone
The Romantica zone of Puerto Vallarta is packed with food, dining and drinking venues that are made purposely for dining and entertaining venues and socializing in the area and also a melting pot area. Considered the gay district of Puerto Vallarta but with an international flair for hanging out and exploring, the Romantica zone is perfect for trying out all the different food choices and the Vallarta food tour experience here showcases classic traditional food venues, street food to artisanal places that share a unique and flavorful experience. You'll find some of the best food to eat in Puerto Vallarta here in the Romantica Zone especially on this food tour.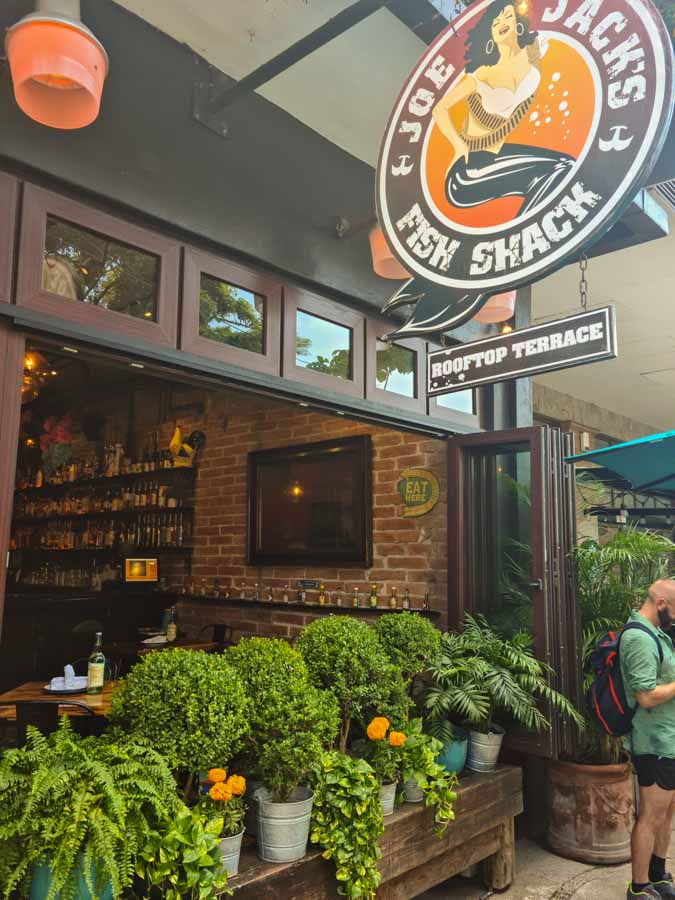 Start of the Food tour
Our starting meeting point was a Joe Jacks Fish House, a classic and colorful institution in the area serving amazing fish tacos and other local specialties. We had a small gathering and went up directly to the top covered pavilion upstairs which was beautifully decorated and sat down into the reserved seating area and then promptly served their specialty fish tacos which I admit was perfect, lightly battered and crunchy with flavorful and most fish meat on the inside that was so delicious. This was paired with a perfect mezcalini cocktail that was refreshing and smooth – a really the best start of our tour. We were off to a fantastic start and ready for more surprises in store.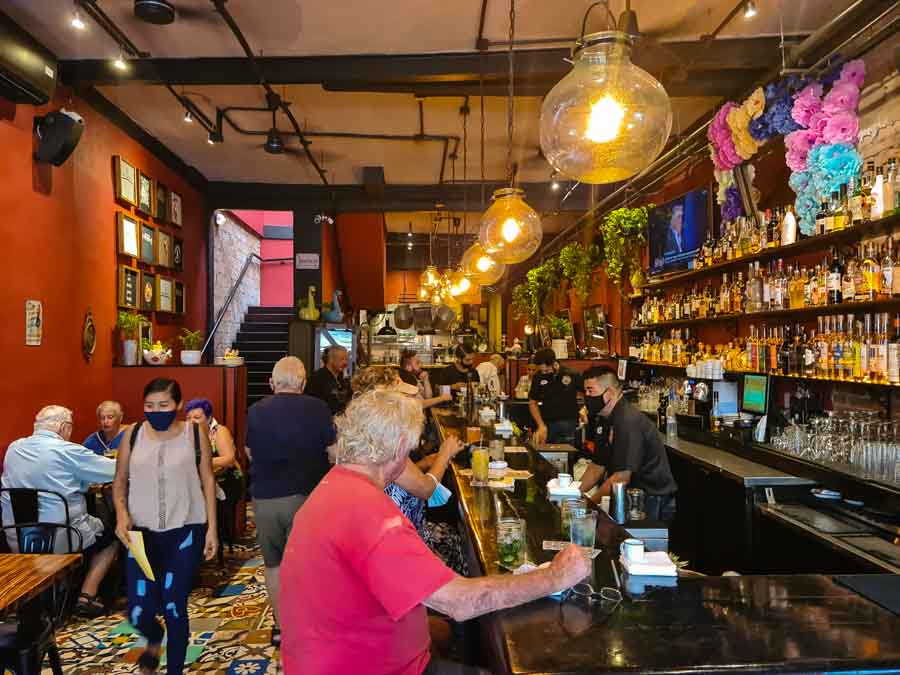 Trying some delicious fish tacos that are perfect with Mezcalinis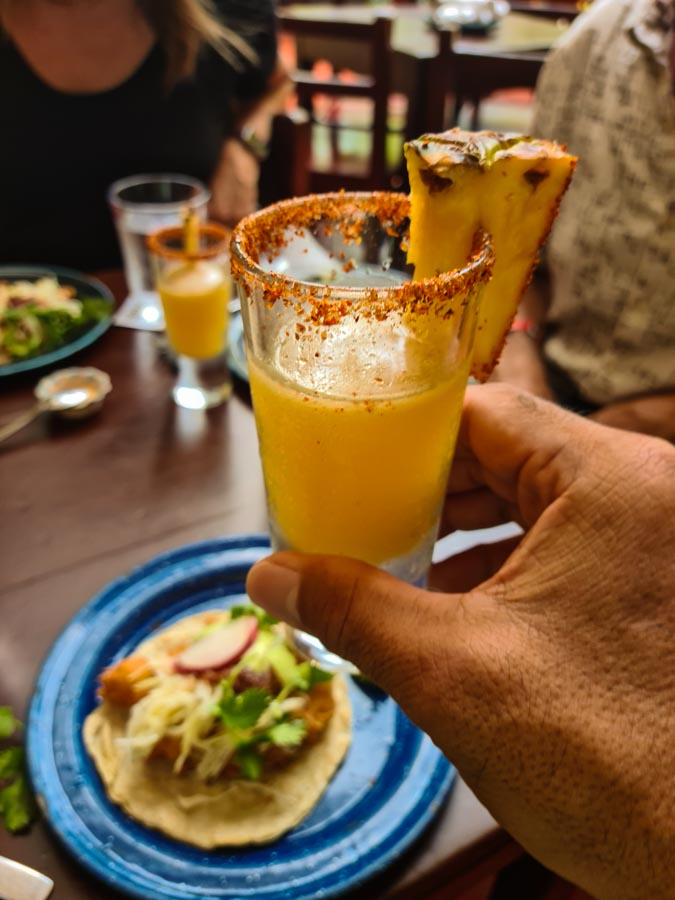 Delicious foods and drinks to experience on the Vallarta food tour
Unlike the other tours offered by Vallarta food tours, this Mexology tour was broken down into equal mixes of food and drink with specialty drinks, Mezcal tasting to even the local favorite and very cheap Pulque and racilla which is a fermented drink made from local fruits and agave. The tour included 7 food or drink stop experiences in the neighborhood. Without showing you each of the specific stops, let me just show you the highlights as a teaser to try out this food tour or any of the others offered by the top food tour operator in the city.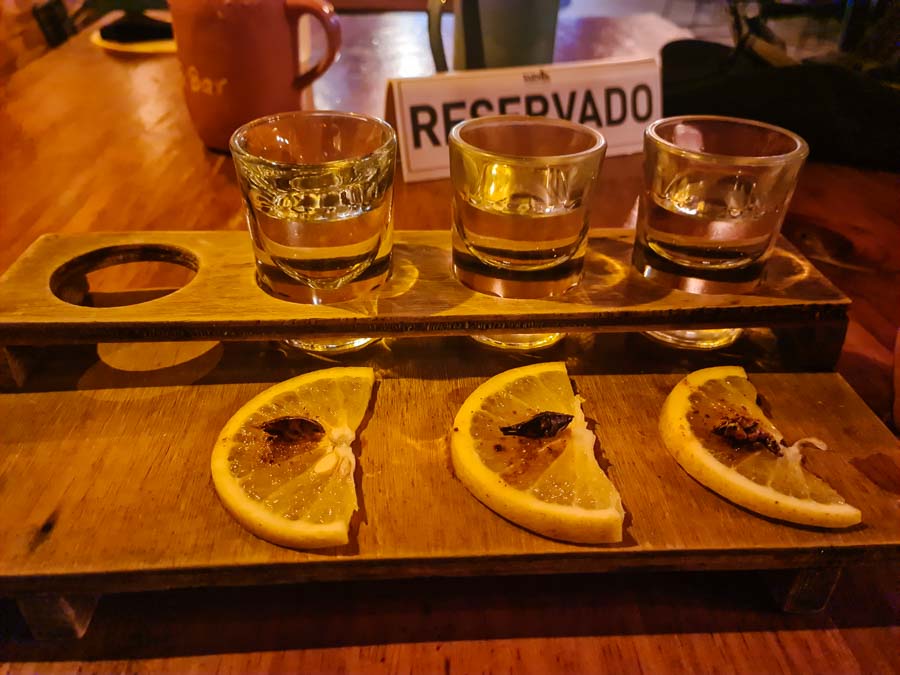 Trying a local taco stand that has been operating as a family business for over 45 years
On an unassuming street corner is the taco stand run bay a family for over 45 years. The taco asada is popular here and is good, basic and what you see is what you get, fresh, tasty and a cheap meal for under $1 per taco. Our guide gives us the low down on the family business and how each taco stand commands a local audience base in each corner spot of the neighborhood. The good thing about these tours is that you don't have to worry about the quality and safety of the food being served because the vendors are al vetted.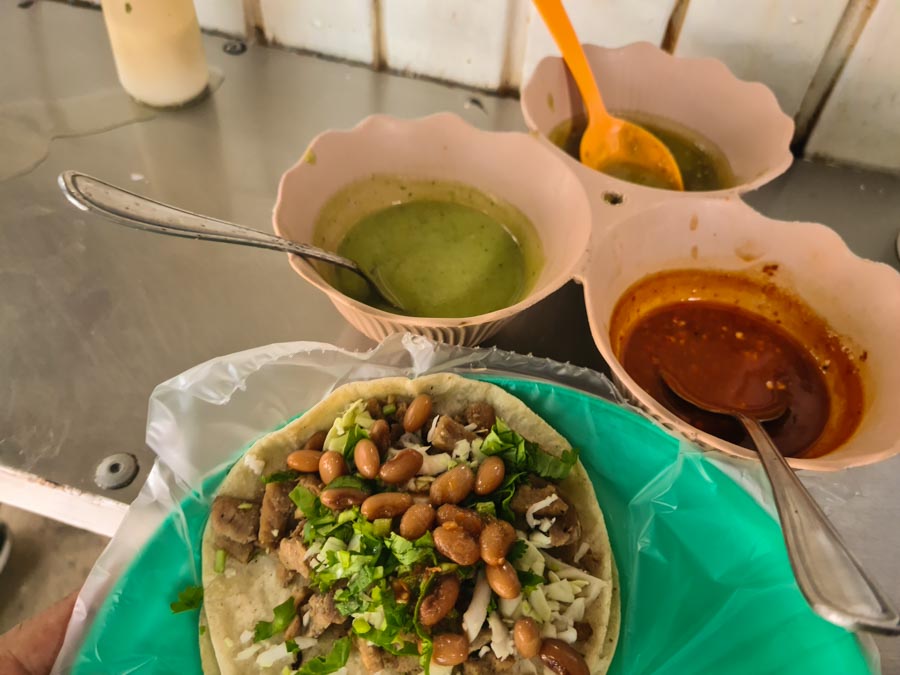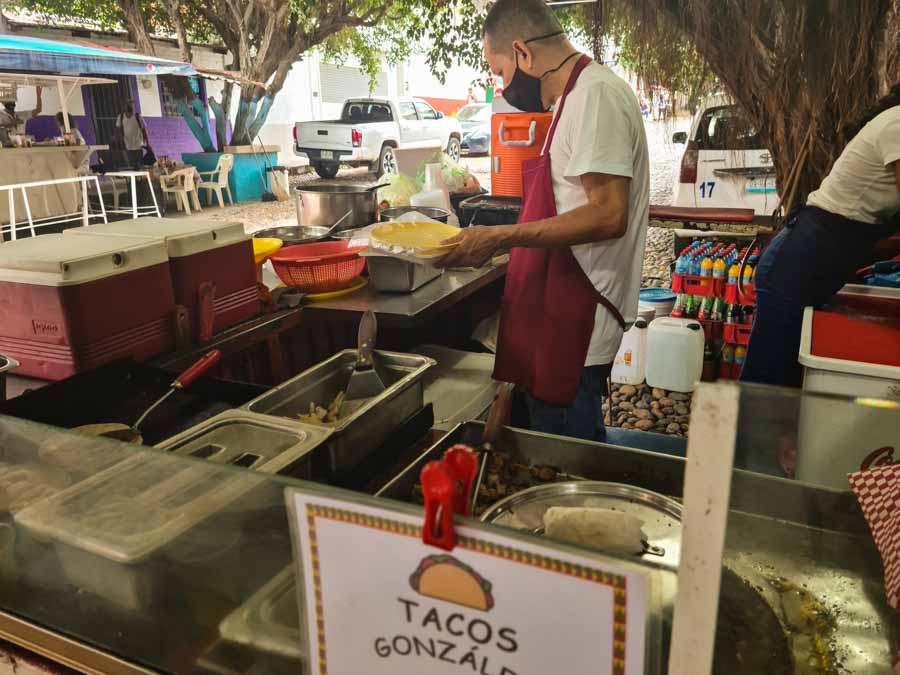 Experience a delicious local seafood restaurant and some local Racilla spirits
A treat to visiting was going to this wonderful and local seafood restaurant off the beaten path and enjoying the local racilla spirit which is a more local type of spirit like a tequila typically made by families or small entrepreneurs selling to the local market. In a word both experiences combined were really amazing and a fun experience.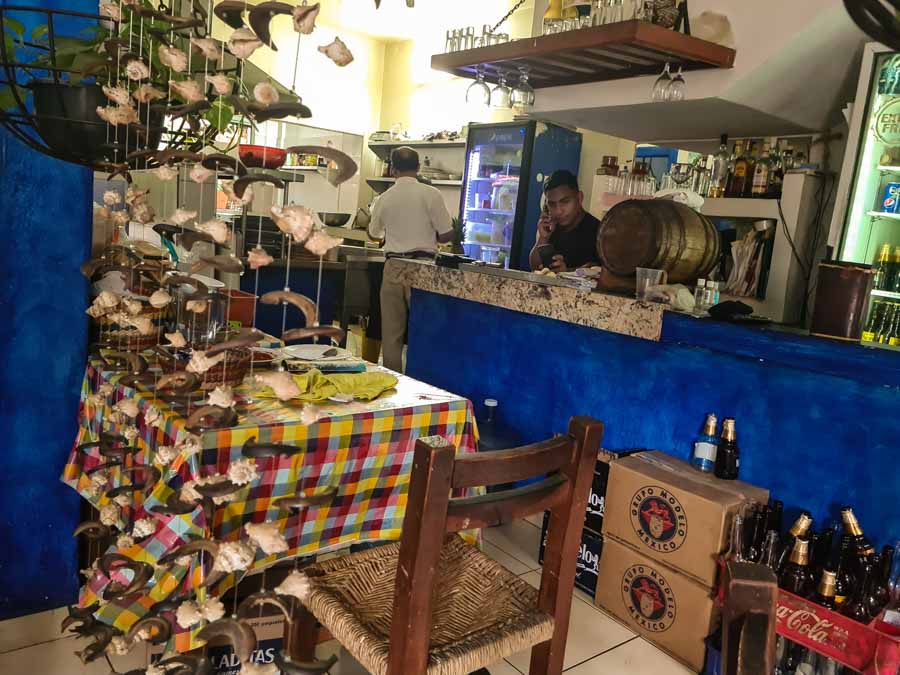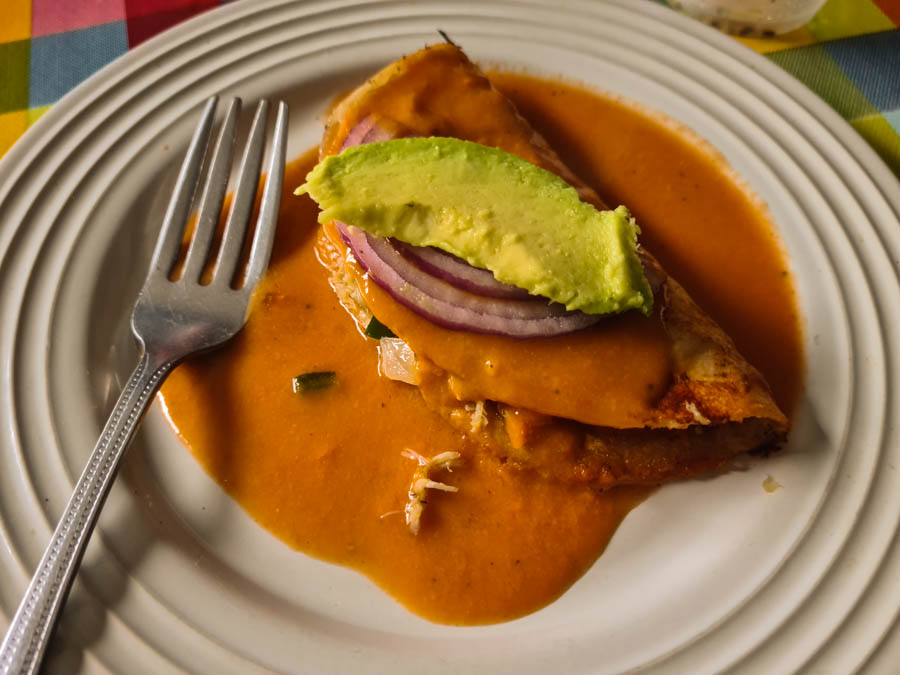 First in Mexology bars in Puerto Vallarta
Tasting a jalapeno margarita is what this bar is all about and enjoying the street scenes and views of the park and ocean just down the block. If you haven't experienced a jalapeno margarita, then this is definitely the bar to try and this Mexology tour is where you should experience it with new friends that love to have a great time.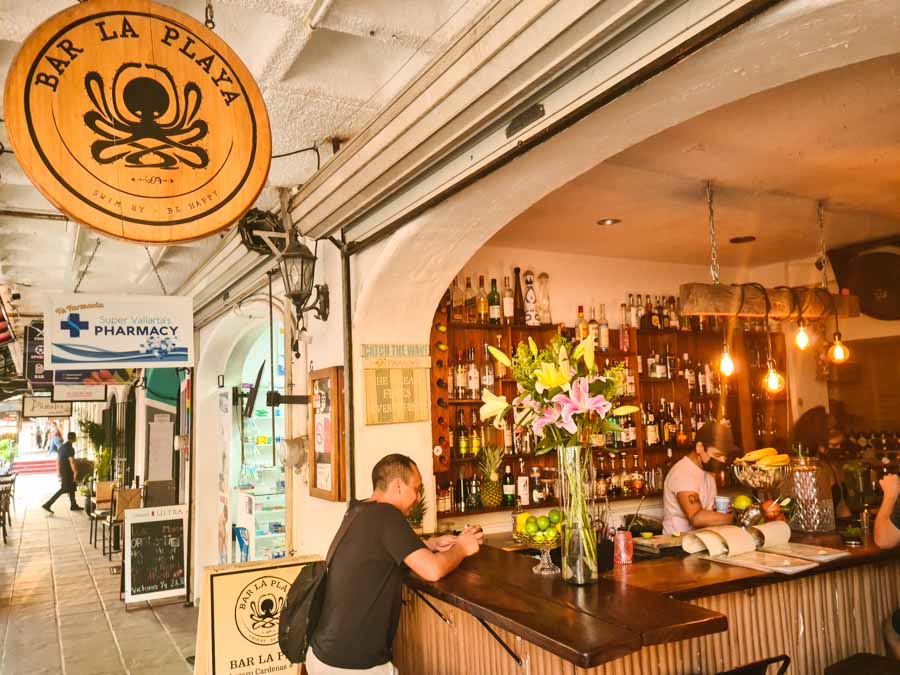 Would you like to try their jalapeno margarita or some other specialty drinks on the menu?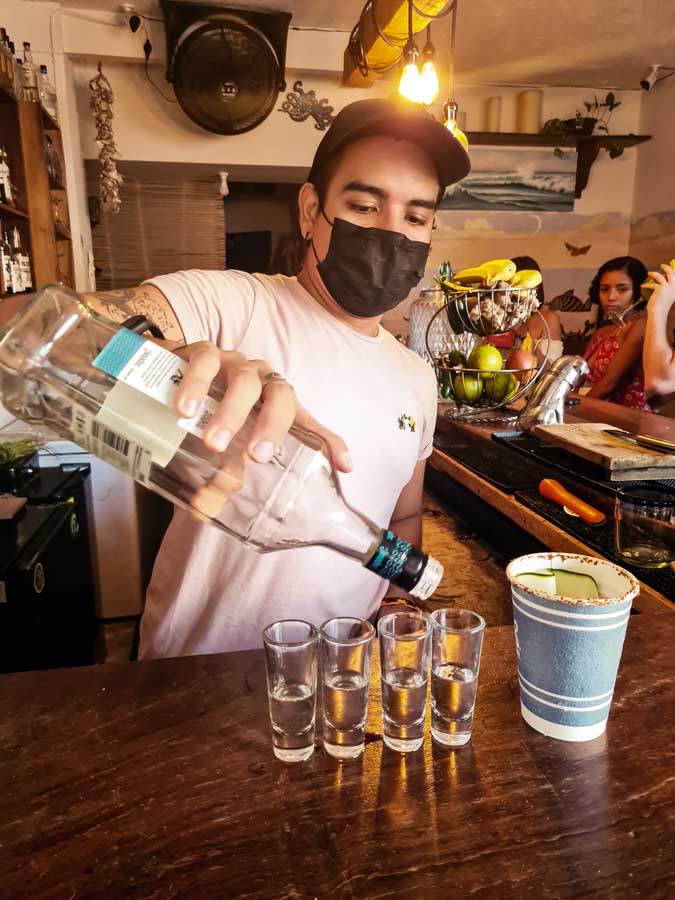 A local pulque tasting
Another local drink that is more down and dirty and locally sold and made are pulque (made with fermented agave sap) which used to be the local drink before beers started to come out into the market. Known as the oldest fermented drinks in America, these pulque spirits almost died in Mexico but are starting to slowly come back into fashion with the help of small pulque bars like this that serves local clients that just want to hang out and drink something local and from the area. The taste of pulque ranges from sweet to earthy and raw tequilla tasting but mixed with other things could be very tasty.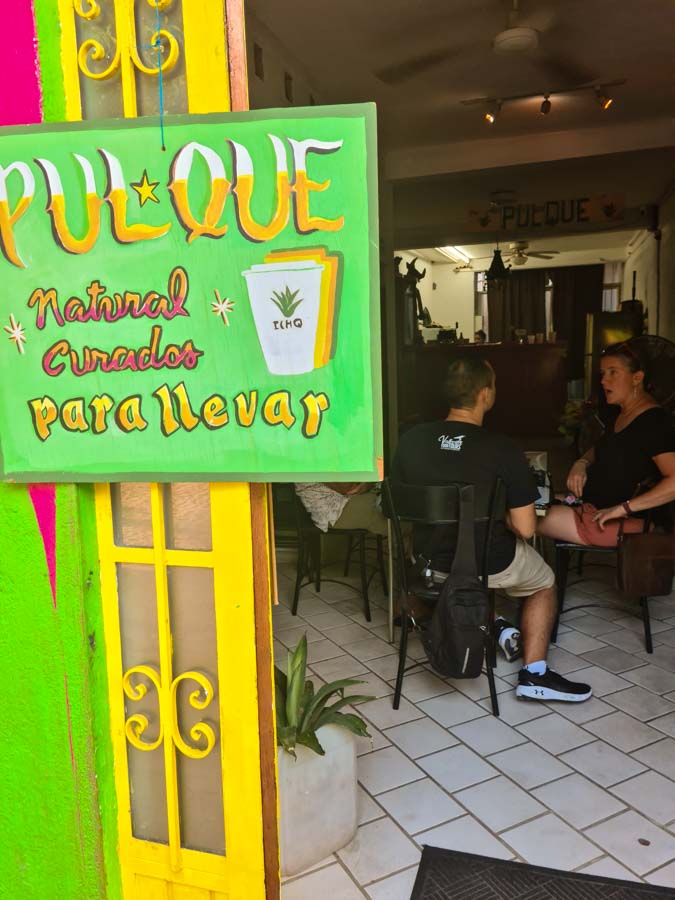 Seved in these raw bowl cups, the size and tasting was perfect when you sip it slowly to savor the flavor.
The King of Tacos – Al Pastor
Definitely the best type of taco experience in the area and in a beautiful restaurant that is vibrant, clean and serving delicious Al Pastor tacos with margaritas was a perfect combo here. I could have tried another Al Pastor but we had to continue on our tour and I noted the name of the restaurant to come back another time. Trying all the popular foods in Mexico wouldn't be complete without trying the King of Taco's and trying Al Pastor was definitely one of the highlights of this food tour.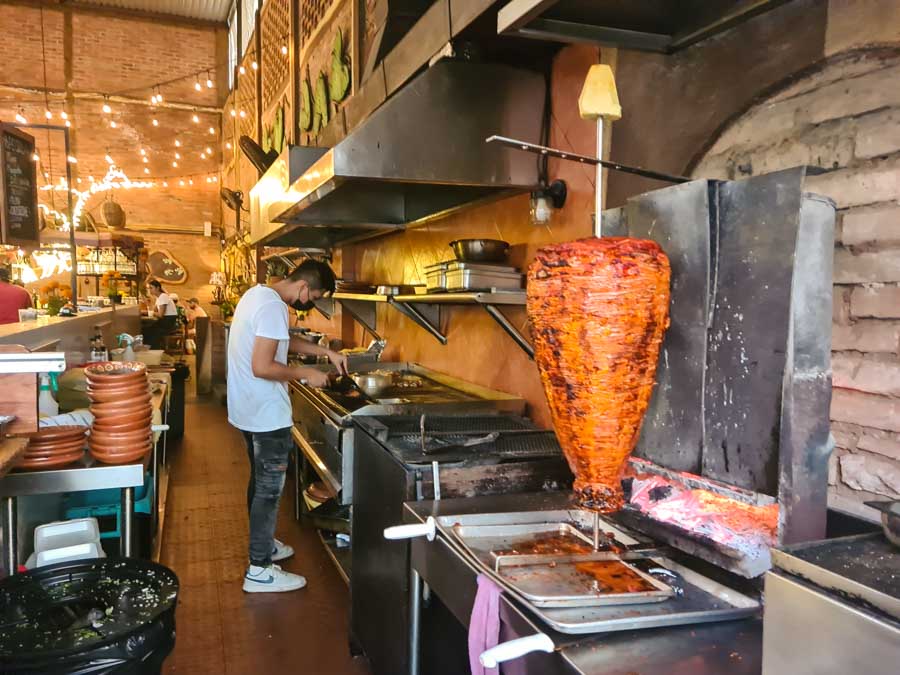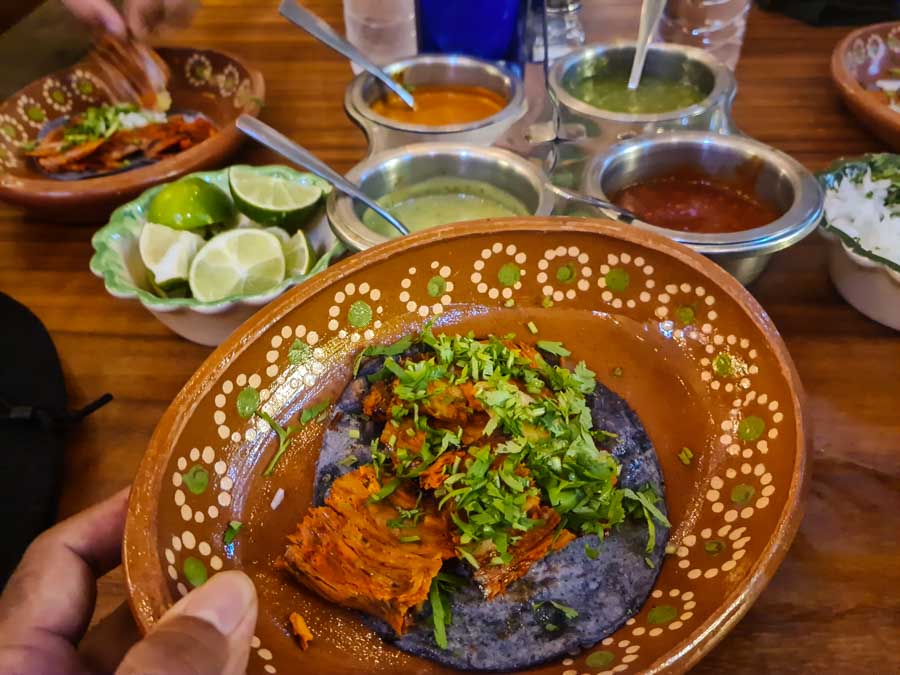 A Mezcal tasting experience to die for in Romantica zone
Our next stop was at a trendier cocktail bar in Romantica, we stopped by this artisanal bar that also serves various small bites but we were in for a surprise. In a beautiful box came out this performance of smoke essence, fresh flowers and beautiful presentations of this mezcal tasting that was out of this world and a one-of-a-kind experience.
The experience was a total surprise and filled with wow factor with the smoky essence coming from the boxed presentation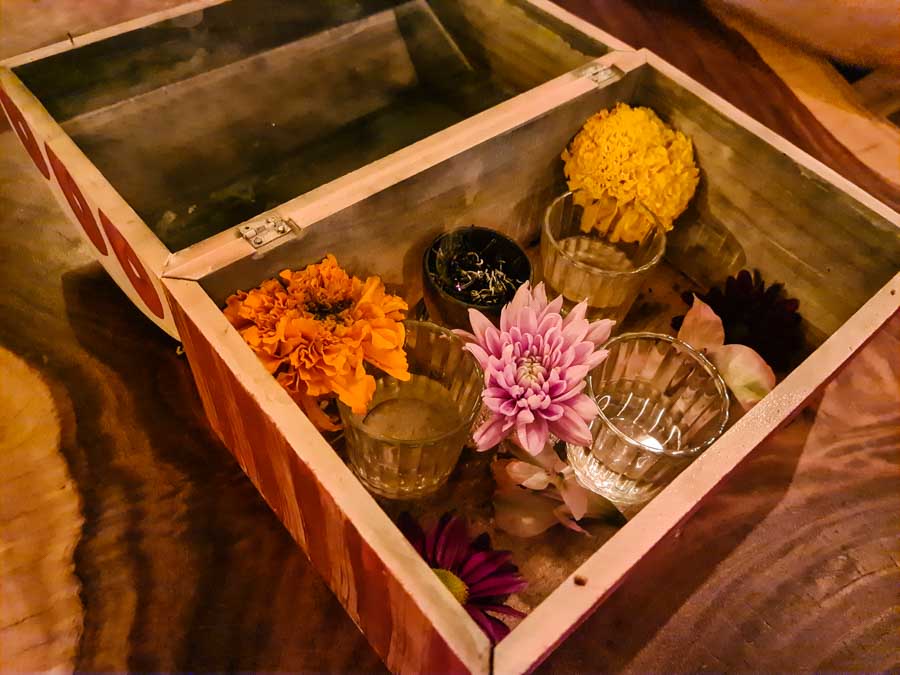 This was an exceptionally fun and unexpected experience at this Mezcal bar in Romantica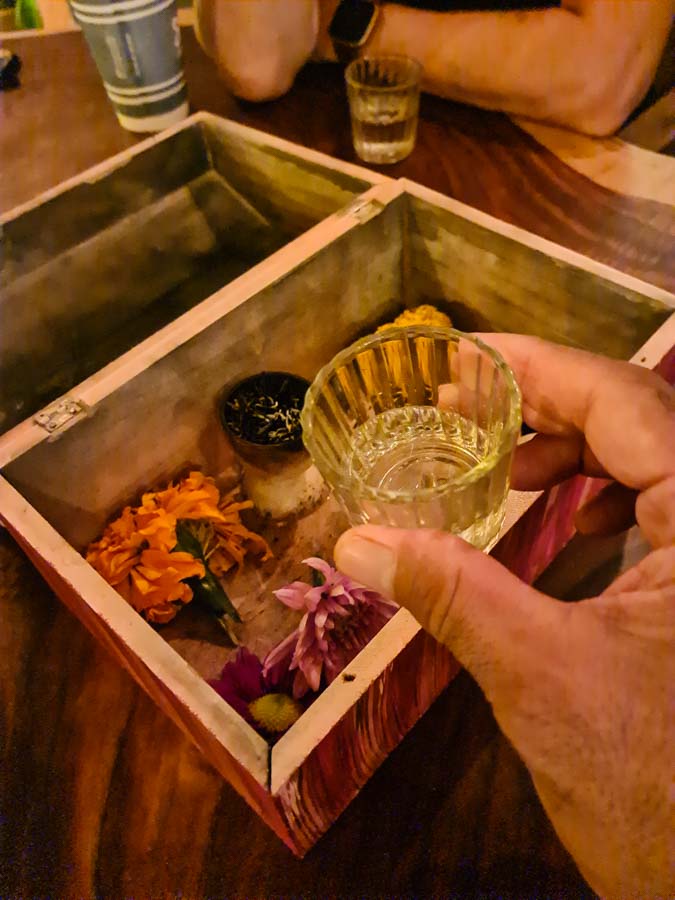 Of course there's always time for Churros
A local institution in the area, churros from this vendor is a staple visit in the area and they were just starting to fry up some delicious churros so our timing was perfect. Fun to see the churros made in person and tasting this fresh from the boiling pan, this was a delicious sweet stop on your tasting food tour with a sweet bite.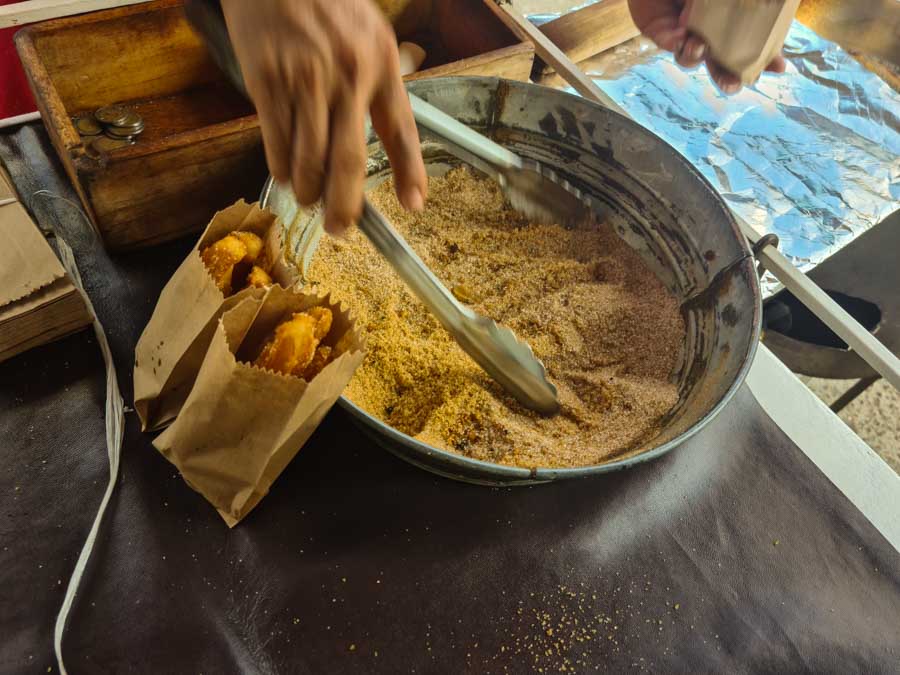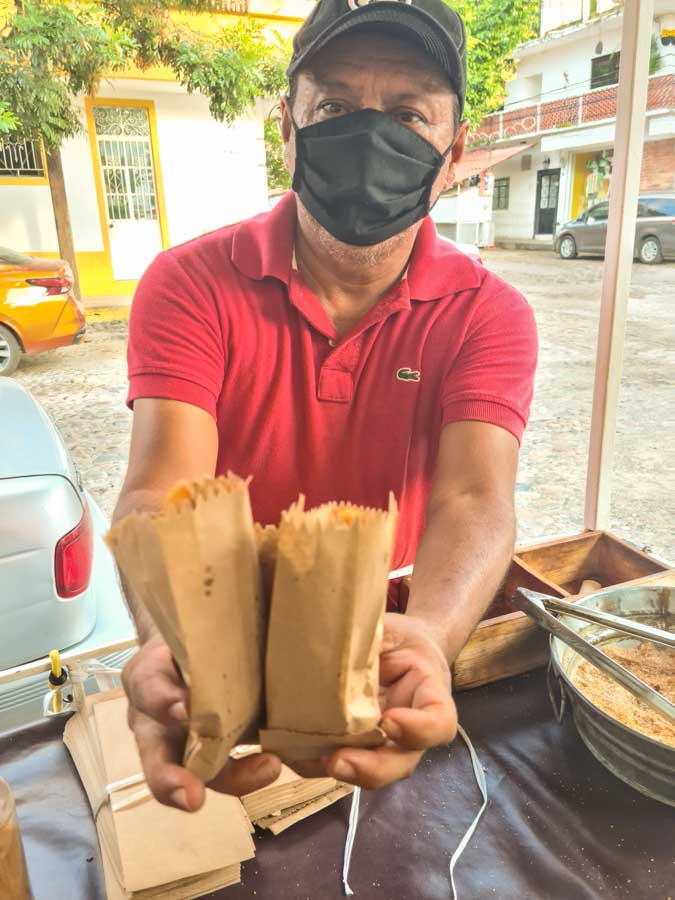 A local bar experience in Romantica Zone
For a more typical bar experience in the area, we visited a friendly local bar and tried some Tequila paloma cocktails and also a mezcal tasting. Both were fun, refreshing and a wonderful bar experience in the area. Paloma refers to a mixed cocktail with grapefruit and lime juice mixed in with tequilla  and a fresca soda to create a light and refreshing summery drink perfect for the area. We also had a chaser Mezcal drink to start off our experience at this casual and fun bar.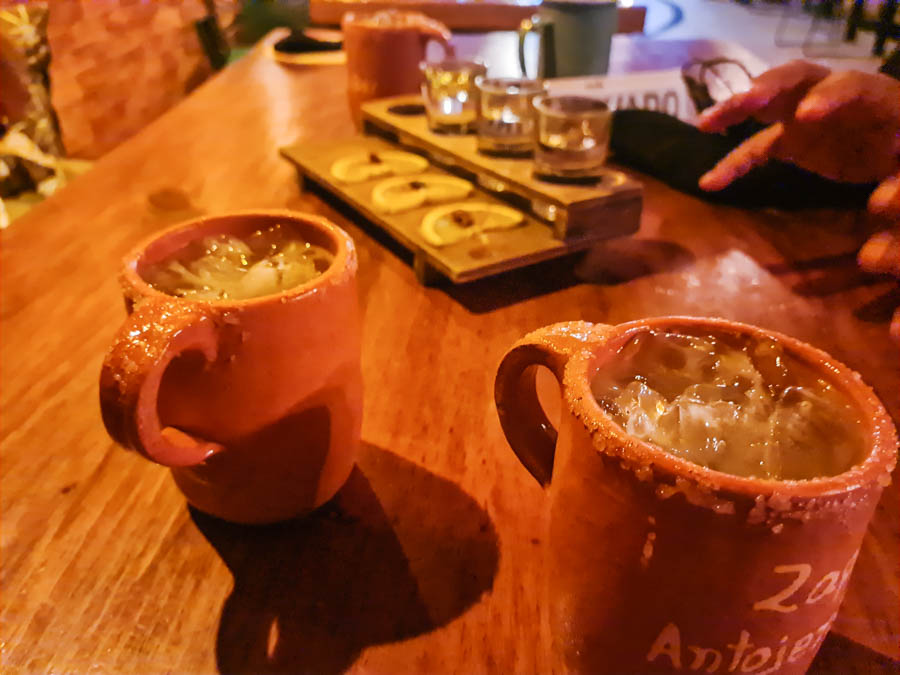 Check out these other Puerto Vallarta topics
Popular things to do in Puerto Vallarta now
A visit to Puerto Vallarta, Mexico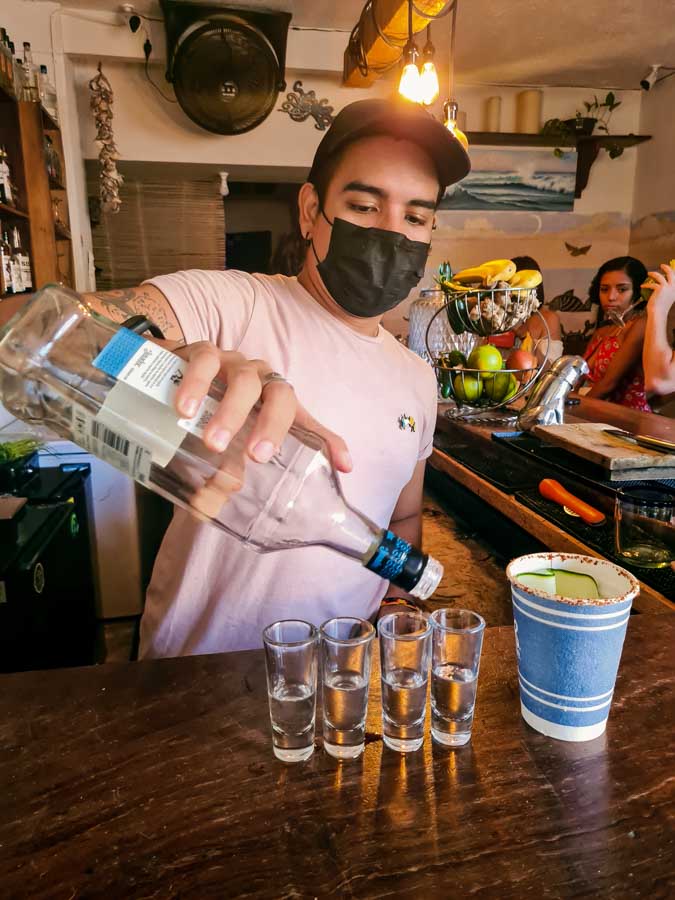 Conclusion to doing a food tour in Puerto Vallarta
There was a lot of tasty food and some pretty stiff cocktails served at this Mexology tour in the Romantico zone and the whole tour was perfect but I did have to walk back to my hotel to quell the slight buzz from the whole tour, over all it was really fun and a lot to eat and drink.
If you want to experience a variety of bites, delicious drinks while exploring different areas of the city in a unique and fun way then taking a food tour in PV is a wonderful experience. I enjoyed my food tour experience with Vallarta food tours and they offer so many different tours and experiences that may fit your time and needs.
Check out their website here for a complete list of their tours and schedule and hopefully you'll also have a fantastic food tour experience in Puerto Vallarta.
Disclosure – I was invited to experiencing a food tour with Vallarta Foods and enjoyed the entire experience which did not affect my thoughts on doing a food tour experience here which I highly recommend.