Get inspired visiting Rome in 20 pictures around the city (updated)
I'm hanging out late in the afternoon at the Piazza Navona in Rome, and my timing is perfect.  This is the time for Passeggiata, the afternoon ritual of strolling and enjoying the end of day in many communities around Italy, even here in busy Rome. The afternoon light is casting this yellow glow everywhere and setting a romantic tone over the entire piazza. I noticed that everyone seems to be in a playful mood. Sitting alone, I observe everything by the fountains: nuns walking quickly and quietly, children playing on tricycles, a few people tossing coins in the fountains. I hear this gushing sound of water emanating from these remarkable animals and beasts around the fountain. How is it that all these ancient pipes seem to still work perfectly, I wonder? I'm fascinated by all these ancient places to visit in Rome and Piazza Navona is a great first spot to visit in this amazing city. Enjoy this post on Rome: 20 pictures to inspire you to visit – see if you've been to most of these romantic places in the city. Also, check out these tips to visiting Rome to make your visit effortless.
What is the best time to visit Rome, Italy?
The absolute best time to visit Rome is from October from April, the main shoulder season in visiting this magnificent city. There are less crowds and tourists, cheaper prices for hotel accommodations and easier bookings to popular attractions, restaurants and historic sites to exploring the city. Weather in October through Mid November is mild and still pleasant but turns colder after mid November timeframe. April to July time frame is the busiest and most popular times to visit Rome which tends to also be very full and difficult to see many of the attractions around the city.  Spring and fall time tends to be the cooler months with hotels not offering any heating typically during this timeframe. June, July and August are hot with average temperatures hovering around 90 degrees. Many of the modern hotels will have air conditioning systems available for tourists staying during this time of year.
Here's where to see the best of Rome's beautiful squares, churches and historic sites.
Piazza Navona
After spending a busy morning walking through the many ancient landmarks around the city, it's nice to relax and unwind at the piazza. The smell of roasting chestnuts nearby makes me want to grab a bag and eat some of those plump chestnuts, sitting next to one of the fountains and just enjoy the scene at the piazza. There must be hundreds of people visiting the square and enjoying their end of day rituals with loved ones. I end up strolling the entire length of the square with its three fountains and approach the monumental  fountain created by its master, Bernini. The famous Fontana dei Quattro Fiumi, or fountain of the four rivers is topped with a grandiose obelisk from the remnants of the  Circus of Maxentius.  I take in the stunning details and photograph some of the striking vignettes and amazing sculpture.  Then I check out the other two fountains which are completely different and just as spectacular as Bernini's masterpiece.  It's so wonderful that all these  magnificent works of art are outdoors and free for everyone to appreciate, like many of Rome's incredible landmarks.
Of all the nice things to do in Rome, it's easy just to sit and take an entire afternoon to appreciate all these stunning piazzas and monuments around Rome, but there are just too many other locations to visit. So, let me take you on some of my favorite hangout spots and famous landmarks around the city. Hopefully, this will inspire you to visit Rome soon.
The best 20 pictures to inspire you to visit Rome now.
 Campo Fiori
After visiting Piazza Navona, I decide to head out to another famous Piazza called the Campo Fiori. Walk to my next destination, I find the streets are filled with spectacular architecture,  more outdoor art and sculpture, with surprises tucked in many spots along the way. I think walking around Rome is a great way to explore the city, there are so many things to see in Rome when you walk through all these wonderful areas. You never really know what you will see along the way, and usually it is always something unique and spectacular – and Campo Fiori is so colorful especially on market days.
While wandering around the streets outside, the Campo Fiori, I saw this stunning portal (image above) looking straight into the façade of this ornate building, completely blown away by all the magnificent details and artwork of the exterior. Little surprises like this are one of the reasons why I love visiting this amazing city, again and again.
Late in the afternoon,  the piazza is still busy with the daily market. The vendors are barking their last sales of the day while starting to pack away all their perishables and finished goods into stacked boxes. Even when it comes to selling product at the market, there's an Italian way of presentation with colorful displays and arrangements. Everything is artfully set and decorated, making it tempting for you to stop and pick up something delicious or even a souvenir to take back home. For me, markets are fun to explore and look locally made products and taste some new and interesting, and it usually is 'Delicioso'.
I'm almost tempted to take this bike (below) on a spin around the Campo Fiori while eating some of those luscious oranges, or try eating some of the chestnuts which I've never tried eating raw before. Fortunately, the scene was a perfect vignette worth taking a picture. When the market is finally done, the cafes roll out their tables to extend the limited indoor seating to capture diners who want to see and be seen outdoors in the piazza.
Tip: if your into the dining scene, then late in the afternoon to evening is the best time to visit when all the cafes around the piazza are set up for outdoor dining at its best in Rome.
Continuing my walk pass the Piazza Campo Fiori to Trastevere, I happened onto this hidden church with these amazing sculptures from an unknown artist, but for some reason I lost my information (scribbled notes) about the church or the artist. In any case, this is what I saw from a distance (image below), with the wooden doorway and a few pieces of sculpture peeking through. I was quite curious and had to cross a busy street to check out the basilica and artwork scattered around the courtyard. I've tried Googling the church with no luck,  so if you know this church, please share it in the comments section below so I can update this post.
Are you tempted to take a peek inside?
Inside the courtyard of the basilica are these marvelous sculpture from a contemporary artist I have yet to know anything about, all the bronze figures are magnificent and each of them are unique in their poses. Stepping inside the basilica, I immediately notice the ornate altar and cupola. And looking up into the cupola were these huge stars and little cupids that  were floating up in the heavens, quite unusual and animated. The cheerful cherubs didn't remind me of any of the stuffy or overly decorated churches around Rome.  I loved how the cheerful interiors also matched the exterior wedding cake like façade and tower.
**Update – I'm excited to receive a reply in the comments from Esther Urbano about this mysterious church which is named Saint Yves at Sapienza (as part of the University of Rome). More details on the church is shared by Esther below in the comment section including a wiki link to the site.
Angels and stars up in the heavens
Visiting the Trastevere
A short walk through a bridge crossing the small island, Isola Tiberina and you are in the edge of Trastevere. Once the ancient Jewish community of Rome, Trastevere is now a hip neighborhood with trendy bars and cafes along with some wonderful promenades and active street life. Of all the places in Rome, I love the small city within a city vibe of this neighborhood, especially at night when all the locals come out and enjoy spending some time outdoors, sitting in an outdoor café and taking part in 'La Dolce Vita' (the good life).
The whole neighborhood feels intimate, alive and so much more relaxed than some of the more formal areas around the city. It's surprising when visitors do some Rome sightseeing, they don't include a visit to this wonderful neighborhood and it truly is a gem. So when you visit Rome, first come to Trastevere and experience a real Roman neighborhood.
I also love that Trastevere is an area with many specialty food ventures including this wonderful delicatessen (above) with a huge selection of local cheese and quality meats made from the region. This popular institution called Antica Caciara is a local favorite along with the local bread shop (below) called Forno Pane cotto A legna. When the oven is filled and ready to be opened, there are long lines out the door with dedicated patrons who want their bread fresh, crunchy and moist on the inside. I just wrote a wonderful post about touring the specialty food vendors, cafes,  wine bars and restaurants in Trastevere, take a look at my Trastevere post here for more details.
Of course the popular meeting and hang out spot for the evening in Trastevere is the main Piazza called Piazza di Santa Maria in Trastevere.  The square and surrounding buildings are wonderfully lit up at night including the central fountain. This fountain is said to be the oldest fountain in all of Rome and built around the 8th century.  Nowadays, the square is the main gathering place where people meet and enjoy the street scenes and maybe a nice meal from any of the trattorias around the piazza.
Tip: a great way to visit the Trastevere neighborhood is to take a food tour with many of the specialty food purveyors, cafes and bars in the area. One of my favorite food tours for the Trastevere is offered with Eating Italy.
National Monument to Victor Emmanuel II
At night the National Monument to Victor Emmanuel II or Monumento Nazionale a Vittorio Emanuele II is quite majestic. Lit up brilliantly with its columns, statuary and majestic pediments, the monument in honor of Victor Emmanuel (first king of a united Italy), is a sight to see and walk through at night. Inaugurated in 1911, the monument is decorated with all the flourishes of a Roman monument: Corinthian columns, equestrian sculpture and goddesses, fountains and a monumental central bronze sculpture of Victor Emmanuele riding majestically on a horse.
Tip: there is a fantastic aerial view of Rome from the top of the monument which you can take an elevator ride. Before the elevator is an outdoor café, which is a perfect place for taking a nice break.
Pantheon
Eventually everyone makes it to one of the most popular attractions in Rome, the Pantheon. The entire piazza around the Pantheon is always packed with tourists from early in the morning until late at night and all the cafes are filled around the piazza and promenades leading up to the Pantheon. Typical of many significant ruins and monuments in Italy, the Pantheon was initially dedicated to the Roman gods, actually the 12 main gods of ancient Rome. Later, the Pantheon was converted into a Catholic basilica dedicated to St. Mary and various Martyrs.  Christian changes and chapels were added to the expansive interior, along with a choir nitch and many burial chambers, including the famous Italian painters Raphael and Annibale Carraci.
Tip: the Pantheon is still an active church and you can visit and see services every day. To find Raphael's tomb, look for the golden twin doves facing each other.
Fountain details at the Pantheon
 Piazza Colonna
In the heart of central Rome, Piazza Colonna is named for the large marble column topped with a statue of Saint Paul. Surrounding the square are government buildings, shopping arcades, an elaborate villa and a basilica. These combined  create this grand and ancient square that has been in existence since the time of Marcus Aurelius where a temple stood to honor him and is now the site of the villa called Palazzo Wedekind.


Visit to the T
revi Fountain
After a long restoration period, Trevi fountain is magnificent to view with sparkling statues, carvings and fountains to enjoy. The Trevi fountain is popular to visit day time and late into the night when it is light up and a popular hang out spot in Rome..  Close by, I spotted a beautiful medallion on the corner of one of the buildings fronting the fountain, so I am including that as an extra photo to compensate for this limited view of the Trevi fountain.
Tip: the fountain is very busy all day long and into the night, the best time to actually visit is late in the evening when the fountain is illuminated and has a spectacular glow along with less crowds visiting this very touristy site.
Where to stay in Rome
There are so many wonderful classic Roman hotels in fantastic neighborhoods to walk around – it's best to be central and in the heart of the city. Here are some of the best places and highly rated hotels worth staying in. For something really unique you might want to try staying at a convent in Rome for inspiration and a quiet nights stay.
Hotel Santa Maria – Truly a charming boutique hotel with lovely courtyard, rooftop deck, beautiful rooms and is easy walking distance to many sites.
Hotel Artemide – a classic style Roman hotel with beautiful features, comfortable rooms and friendly service and far enough from the bustle and tourist crowds.
Quirinale Hotel – Classic style and close to many popular attractions, elegant features, spacious rooms attentive service and priced well.
Boutique Hotel Campo Fiori – Located in quiet Campo Fiori, this boutique hotel is all done in beautiful Roman details and fabrics, classic features, elegant rooms and friendly service.
Check out all these other reviews of Rome hotels here for more information and current rates.
Check out these other posts on Rome!
Save or Pin this for later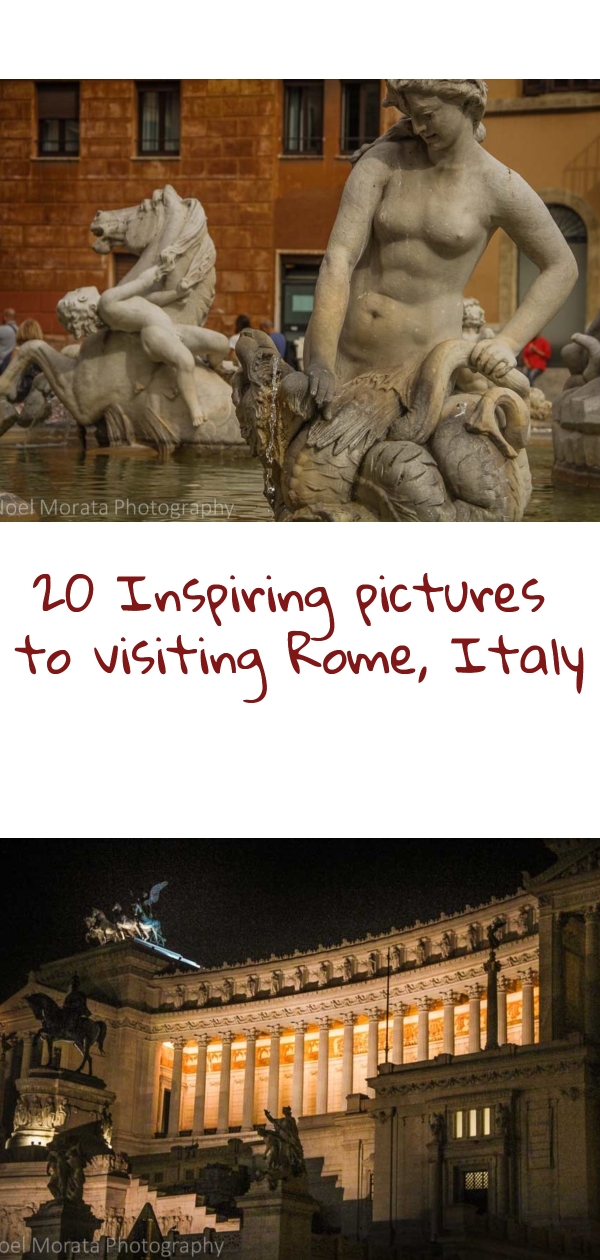 Have you visited Rome?
Do these popular attractions and places in Rome inspire you to go back? Which places would you go to first? Please share in the comments below.
Thanks for visiting today and checking out this post on the Rome: 20 pictures to inspire you to visit, hope you are ready to do these things in San Diego today. If you enjoyed the images and post, could you please share it with any of the social media buttons located around the post.
If you like what you see, come and check out my other social media channels for more updates, including Instagram, Pinterest and Twitter
Disclosure – There are affiliates links on this posts which provide a small commission to support this site at no extra cost to you. Thank you for reading, and happy travels